The Motley Fool is a premium subscription service used by investors looking to educate themselves about playing the stock market.
Our guide will tell you everything you need to know about the service, including how to cancel the Motley Fool membership.
First, more on Motley Fool…
In addition to offering advice and trends for the stock market, The Motley Fool also includes information about how cryptocurrency works for investors interested in the crypto space.
Motley Fool Premium Subscription
As part of a Motley Fool premium subscription, you also get access to an array of stock market features as well as tips on how to invest and save for retirement.
However, if you don't feel like you are getting smarter, richer, happier, and satisfied, then you can always cancel your premium subscription.
You don't have to be locked into a premium subscription you don't use if you take a few seconds out of your day to drop your Motley Fool subscription.
Ready to build your portfolio? With Public.com you can follow other investors, discover companies that are inline with your beliefs, and invest into stocks and crypto with very little money! What are you waiting for? Check out Public Now!
What is The Motley Fool?
The Motley Fool is a financial services company started by two brothers who wanted to help lighten and explain a serious subject, investing.
That isn't to say they think financial planning is a joke because when it comes to stock market performance, they know their stuff.
At the end of the day, the company's approach is geared toward making people more comfortable with trading and the stock market so they can be smarter, happier, and richer.
In addition to premium subscriptions that offer trading secrets, advice, and even personalized portfolio recommendations, The Motley Fool offers a lot of free content to potential clients.
As stated, the organization is aimed at making trading more accessible and natural, which is why it offers free podcasts, articles, videos, blog posts, and more.
How to Cancel The Motley Fool
Ready to cancel your Motley Fool membership?
If you know that the time has come to end your Motley Fool subscription you have several options.
A lot of people fear canceling any subscription service, but the Motley Fool provides plenty of easy ways to cancel.
When investing you need to be comfortable with your financial advisors.
So if your subscriptions aren't paying off take advantage of The Motley Fool's 30-day guarantee and call support or go online to cancel the Motley.
Let's take a look at how to cancel the Motley Fool Membership.
Phone
If you need to cancel the Motley and feel better ending subscription services definitively, you can easily call to cancel the Motley Fool.
Simply call 1-844-408-4263 Monday through Friday and talk to a customer agent.
During the call, you can tell them that you need to cancel The Motley Fool subscriptions and explain why if you want to.
There is no pressure for you to defend your decision, unlike many other subscriptions that force you to jump through hoops to cancel your membership.
The sales agent will simply let you cancel The Motley Fool so you can move onto another stock strategy that fits your stock personality better.
Email
If you prefer to cancel the Motley Fool over email so you can have proof of your request to cancel your Motley Fool, simply email billingquestions@fool.com.
Within the email provide your account information and indicate that you wish to cancel the Motley Fool.
Online Form
You also have the choice to cancel the Motley Fool by using its own contact form.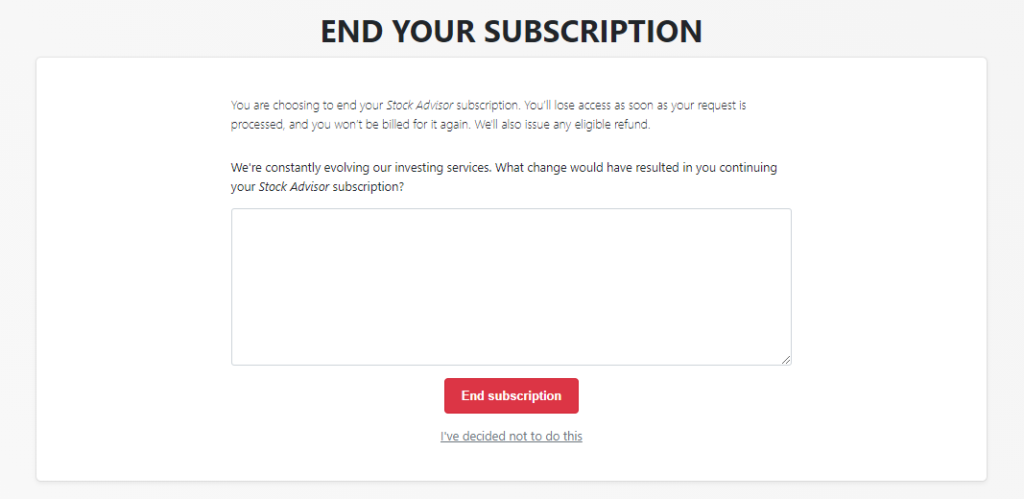 All premium members have the option to cancel online through this route.
Those who don't want to call or email may enjoy the two-click process of the contact form.
Those with certain subscriptions will see an option to end their subscription when they choose "subscription services" within their online account.
If you have this option, fill in the contact form that appears after clicking end subscription.
This is by far the easiest method for those who want to know how to cancel the Motley Fool.
Motley Fool Offers a Range of Memberships
The Motley Fool recognizes that everyone has different financial situations and needs.
For this reason, the service offers several unique tiers of membership accounts.
Motley Fool can help you sort through them, or you can read our quick explanation.
Contact them with further questions about subscriptions or hang around to find out how to cancel your Motley Fool account if you already have a subscription.
How Much Does The Motley Fool Cost?
Before investing in The Motley Fool, you may want to take a look at the free articles or learn how much it costs to become a member.
With different membership tiers, there is a price point for everyone who wants to be smarter, happier, and richer.
How much you want to spend and what you want to get out of your Motley Fool subscription services has a lot to do with which Motley Fool premium subscription you choose.
Here is a quick lowdown of the most popular Motley Fool subscription services.
Stock Advisor
Stock Advisor is the most popular Motley Fool subscription service.
For just $99 a month, members receive:
Two new stock picks every month

Ten recommended buys chosen from 300 popular stocks

A customized starter stock list

An array of investing resources, including online articles, phone support, and email newsletters
Before you cancel the Motley Fool it's important to know what you are giving up.
You might not be using enough of the subscription services, and using them could help change your mind about canceling your Motley Fool premium subscription.
Rule Breakers
Rule Breakers is the second most popular Motley Fool subscription service.
As the name implies, it looks at high-growth businesses that are poised to break the rules and jump up the stock market charts.
While the risk is marginally higher because we are talking about high jumps, the payoff is potentially larger.
With this Motley Fool premium service, you receive alerts when small businesses are about to explode on the market.
If you are subscribed but not receiving alerts, fill out a contact form or make sure that your account information is entered correctly on the contact form.
You should see alerts on the platform and in your email.
Other Services
In addition to the above-mentioned Motley fool subscription services, other services might make your membership more useful.
Before you cancel your Motley Fool subscription, take a minute to review other Motley Fool services.
There is a reason why members feel that The Motley Fool makes the world smarter, happier, and richer because they take their job seriously.
Other services include:
Everlasting stock recommendations for long-term investments

Everlasting portfolios designed off the Motley Fool's stock portfolio

A Golden Subscription to the Motley Fool called "One" that unlocks every single membership service
How to Reach The Motley Fool Customer Support
As noted, you can reach The Motley Fool to cancel via phone, email, or the online contact form.
Customer Support Hours
The Motley Fool customer support phone line is open Monday–Friday from 9:30 am to 4 pm Eastern.
Final Thoughts: How To Cancel The Motley Fool
Now you know how to cancel your Motley Fool membership should you wish to.
However, the services provided by The Motley Fool come highly recommended by many investors, so don't throw in the towel too early!
If you have any questions, you can contact The Motley Fool through one of the ways mentioned above for more help about canceling membership subscriptions.