The Motley Fool offers a wide range of top-notch research services that cover many investing niches. But what's their cancellation policy? If you want to know how to cancel the Motley Fool membership, read on to find out.
What Is The Motley Fool?
The Motley Fool is a multimedia financial services company that was founded by brothers Tom and David Gardner and Erik Rydholm.
They set out to help explain the serious subject of investing through funny but insightful commentary. That isn't to say they think investing and financial planning is a joke because they know their stuff about trading.
Its services are crafted with a single goal: to "make the world smarter, happier, and richer."
In addition to The Fool's premium services, it also has a ton of free investment insights through its blog and other media. It offers free podcasts, articles, videos, blog posts, discussion boards, marketing emails, and plenty of other additional services.
That being said, if you want the firm's best analysis, you'll need to sign up for a paid product. We have reviewed many of the Fool's services, and we can say, without a doubt, that they're all worth the price of admission.
Some of our favorites are Stock Advisor, Rule Breakers, and let's not forget Motley Fool Options.
How to Cancel The Motley Fool
Motley Fool is a cut above the rest when it comes to customer service. If for any reason, you want to cancel your subscription to The Fool, you're free to do so.
If you haven't picked up a subscription yet and are doing your due diligence, we'll let you know out of the gate that Fool puts customer satisfaction above all else. And this is reflected in their generous refund policies.
Is It Hard to Cancel Motley Fool?
The Motley Fool team makes it easy to cancel any of its premium subscriptions.
If you've been burned in the past by unscrupulous research services, you'll be happy to know that The Fool does not make you jump through any hoops to cancel.
This is a grade-A research firm that takes customer satisfaction as seriously as its stock picks.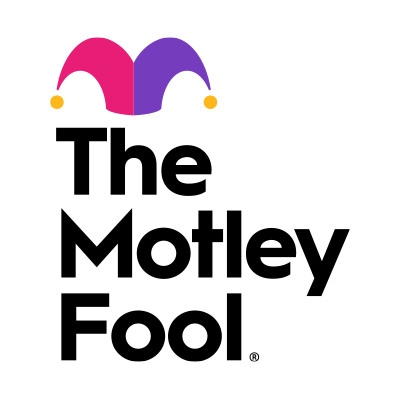 Motley Fool Refund Policy
Many of Motley Fool's services offer a 30-day money-back guarantee that lets you test drive the service. During this time, you can request a refund.
What we like most about Motley Fool's refund policy is that many of its subscriptions offer full cashback.
There are two reasons why this matters:
Cash-back is fantastic. Full stop.

It demonstrates that The Fool has full confidence in its research
In most cases, you can have your money refunded directly to you. However, other Fool subscriptions offer in-house credit.
The services that provide in-house credit offer most of their value up-front, so this policy is more than fair. Motley Fool Options, for example, grants immediate access to extensive educational materials.
Here are some services that offer a full money-back guarantee:
Rule Breakers

Stock Advisor

Everlasting Stocks
Here are services that offer in-house credit:
Motley Fool Options

Everlasting Portfolio

Next-Gen Supercycles
These are just a few of the subscriptions available: Motley Fool has plenty more.
Because The Fool has so many research services under its umbrella, it's a good idea to check out its catalog after getting a refund. For instance, Stock Advisor is a solid alternative to Rule Breakers and vice versa.
There's also Millionacres if you're interested in real estate investing.
If you're looking for the refund policy, one of the first places to look is on the service's dedicated page.
For instance, the refund policy on the Rule Breakers page is underneath the signup.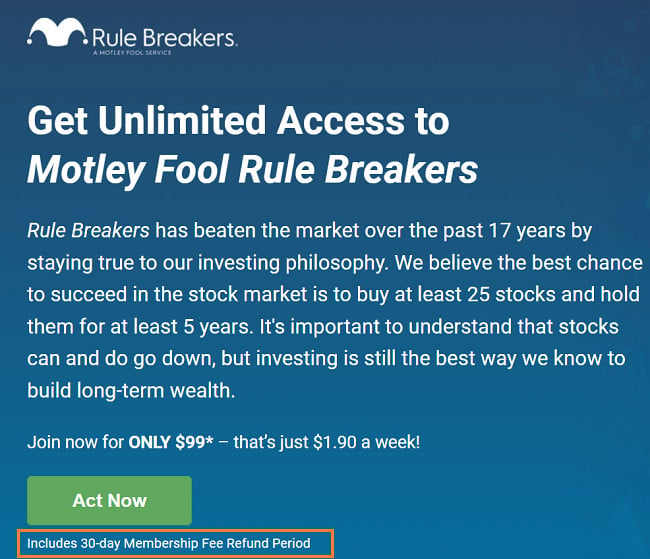 Now that we've covered the basics of Motley Fool's refunds, let's move our attention over to automatic renewals.
Automatic Renewal
By default, every Motley Fool Subscription is set up for automatic renewal. This means that when your annual subscription is up, the service will auto-charge you for another year.
Motley Fool outlines in plain English why it uses auto-renewal:
"All Motley Fool premium subscriptions are set to automatically renew for your convenience and to ensure uninterrupted access to your premium service's investing guidance. If you would like to turn off the automatic renewal feature, we can assist."
Many services, including Fool's flagship Stock Advisor, recommend that you grab every stock pick. Something as small as missing a day for an alert can set you back and disrupt your trading strategy.
In most cases, you can cancel the automatic renewal feature by heading to your account settings page and changing your settings from there.
But if you want your subscription to automatically renew, you'll want to keep this turned on.
Canceling Your Motley Fool Subscription
We touched on this earlier, but Motley Fool makes it exceptionally simple to cancel your subscription.
There are three ways you can cancel:
Keep reading for a full breakdown of canceling your subscription.
Cancel The Motley Fool By Phone
If you prefer the personal approach, you might want to cancel your Motley Fool account over the phone.
Simply call 1-844-408-4263 (Monday through Friday) to contact customer service. During the call, you can tell them that you need to cancel your Motley Fool subscription and explain why (if you want).
There's no pressure for you to defend your decision, unlike many other subscriptions that force you to sit through an uncomfortable grilling to cancel your membership.
We've said this before in our reviews of Motley Fool premium subscriptions, but we really appreciate the option to cancel by phone.
Many research providers on the market are slowly phasing out phone support (even with paid membership) so The Fool scores extra points here.
Cancel The Motley Fool By Email
If you prefer to cancel the Motley Fool over email, simply email billingquestions@fool.com.
Within the email, provide your account information and indicate that you wish to cancel the Motley Fool.
While we prefer the phone approach, emails are also a solid option. It's nice to know that you have a receipt in the unlikely event that the Fool team makes an error with the cancellation.
If you're not a fan of emails, Fool gives you another option to cancel online.
Cancel The Motley Fool By Online Form
You also have the choice to cancel the Motley Fool by using its contact form.
All premium members have the option to use Motley Fool's online customer service to cancel their subscription. And those who don't want to call or email can use the two-click process of the contact form.
Here's what the form looks like…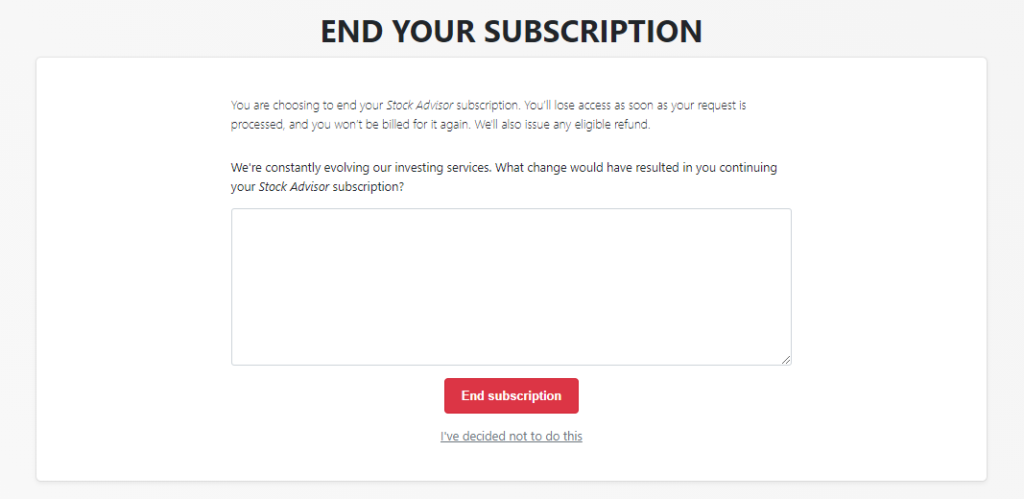 Customer Support Hours
The Motley Fool customer support phone line is open Monday–Friday from 9:30 am to 4:00 pm Eastern.
Motley Fool Services
If you decide that a certain Fool service no longer appeals to your investment strategy, there are plenty of other subscriptions offered by the firm that you can consider.
Here are some of The Fool's top subscriptions.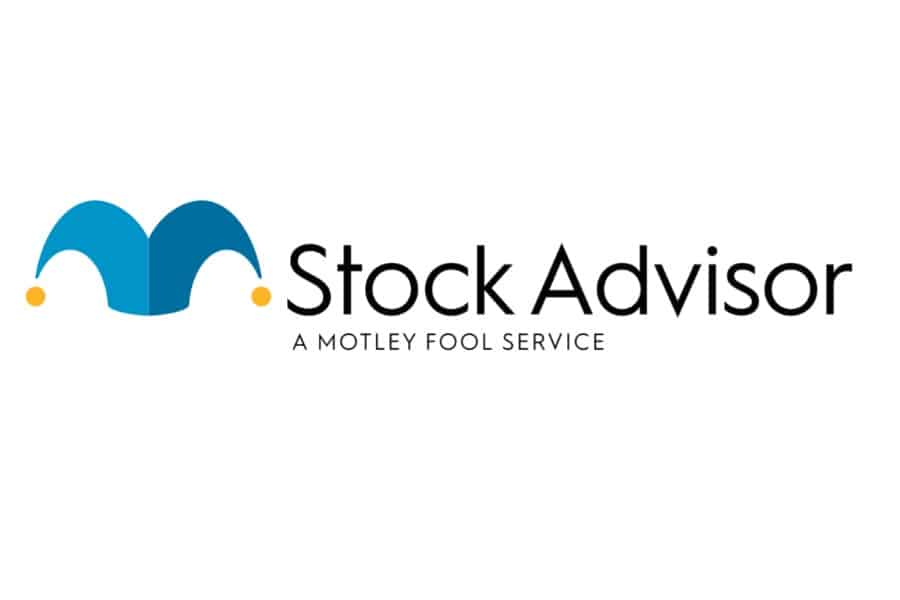 Stock Advisor
Stock Advisor is the most popular Motley Fool subscription service.
For just $199 a year, members receive:
Two new stock picks every month

Ten recommended buys chosen from 300 popular stocks

A customized starter stock list

And more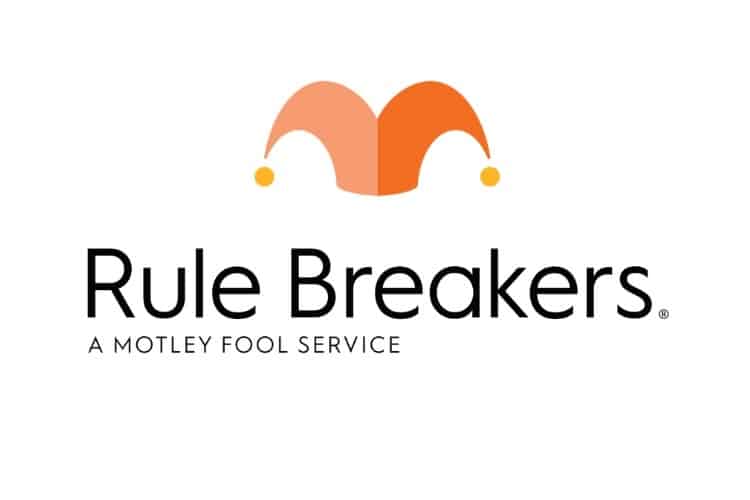 Rule Breakers
Rule Breakers is the second most popular Motley Fool subscription service.
As the name implies, it looks at high-growth businesses that are poised to break the rules and jump up the stock market charts.
Many of the stocks recommended have a riskier profile than Stock Advisor, but the potential returns are higher.
For only $299, the subscription gives you access to:
Two new stock picks each month

Best Buys Now

Starter Stocks

And more
Other Motley Fool Services
While Stock Advisor and Rule Breakers are among the Fool's most popular services, there are many more.
Other services include:
Everlasting Stocks

Rule Your Retirement

Everlasting Portfolio

Motley Fool Options
Canceling Motley Fool: Final Thoughts
The Fool has earned a stellar track record over the years for providing quality customer support that few competitors can match.
If you want to cancel your subscription, you can rest assured knowing that getting a refund is simple and straightforward.
Plus, many subscriptions are backed by a 100% money-back guarantee.
The Fool offers a wide array of services, so if one doesn't seem right for you, you have plenty more options to choose from.