Motley Fool Everlasting Portfolio offers exclusive access to stock picks straight from Tom Gardner's personal portfolio. But are these stock picks legit? Tune into our Motley Fool Everlasting Portfolio review to find out.
About Motley Fool
Motley Fool is an elite research firm founded in 1993 by brothers Tom and David Gardner and Erik Rydholm. Its analysts scour the market for investment opportunities mostly around long-term growth.
The firm has made a name for itself by providing everyday people investing intel on buy-and-hold plays. Many prefer this approach over chasing volatile stocks in hopes of a quick cash grab.
During its three-decade run, Fool has amassed a catalog of research services that cover almost every investing angle you can think of.
Some Motley Fool services include:
Stock Advisor

Rule Breakers

Motley Fool Options

And much more
Now that you're acquainted with the firm, let's take a look at Everlasting Portfolio.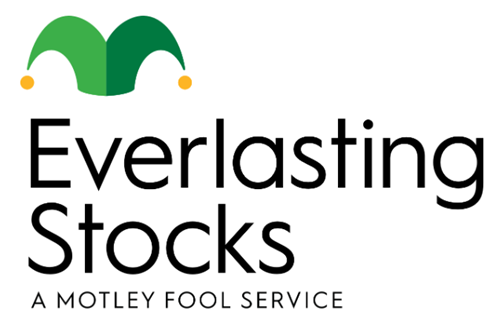 What Is Motley Fool Everlasting Portfolio?
The Everlasting Portfolio is an elite Motley Fool service that offers subscribers unprecedented access to Fool-founder and CEO Tom Gardner's personal "best-of-the-best" portfolio.
This ambitious portfolio service only includes publicly traded stocks that Tom Gardner personally owns, and the portfolio is backed with over $12 million of the Motley Fool's investment capital.
Since its launch, Motley Fool's positions in the Everlasting Portfolio are up 579%, and the Fool fans have been chomping at the bit to see what's inside.
Fortunately, the public can now get unprecedented access to Tom Gardner's personal portfolio through the Motley Fool's Everlasting Portfolio service.
As a result, it could be an ideal lineup for anyone interested in buying stocks for the long haul.
What Stocks Are in the Everlasting Portfolio?
Everlasting Portfolio primarily deals in growth stocks that Tom Gardner believes could have serious upside potential.
The service prioritizes long-term success, so it focuses on high-quality companies that are built to last.
It includes the top growth stocks from Motley Fool services and even some unique picks, so you get the best of the best from across the Fool universe.
Everlasting Stocks vs Everlasting Portfolio
There's a lot of confusion about the difference between Motley Fool Everlasting Stocks and Everlasting Portfolio, so we'll give a quick comparison.
Everlasting Stocks is a newsletter that gives monthly stock picks, while Everlasting Portfolio provides you with a model portfolio curated by Tom Gardner.
While there is an Everlasting Stocks portfolio, it doesn't give you direct access to Gardner's personal picks.
In reality, Everlasting Stocks has more in common with the firm's other services, such as Motley Fool Stock Advisor.
We have an Everlasting Stocks review and a Stock Advisor review if you want to know more, but they're not required reading for Everlasting Portfolios.
With that out of the way, we're going to take a deep dive into this service in our Everlasting Portfolio review.
But, first, who is Tom Gardner, and is he worth following?
>> Sign up for Everlasting Portfolio here <<
Who Is Tom Gardner?
Tom Gardner has become an investing rock star over the past two decades.
He and his brother David Gardner first rose to prominence as the founders of the Motley Fool, and their reputations grew over the years.
Thousands of people have advanced their investing knowledge with Motley Fool services, and the firm has become one of the leading voices in the investment industry since its launch.
Tom Gardner has earned a reputation as a top-tier stock picker for his work with Motley Fool's Stock Advisor service, and many people are eager to hear his stock market insights.
The Motley Fool Everlasting Portfolio is finally giving the people what they want. It gives unfettered access to Tom Gardner's top stock recommendations and much more.
>> Sign up now to access Tom Gardner's Everlasting Portfolio <<
What's Included with Everlasting Portfolio?
Unlimited access to the Everlasting Portfolio

Detailed portfolio guidance

Real-time portfolio alerts

Everlasting portfolio investment guides

Limited satisfaction guarantee
Everlasting Portfolio
The Motley Fool Everlasting Portfolio stock picks are the main course of this service.
It's where you'll find the latest growth stocks from Tom Gardner, along with supporting research and more.
Tom Gardner's portfolio picks include a broad sampling of high-quality stocks, including large-cap, small-cap, and international stocks.
Gardner surveys the market every quarter and pinpoints what he believes are the best stock picks and presents these to Everlasting Portfolio members.
As we mentioned earlier, the Motley Fool and Tom Gardner invested in each of the stocks picked in Everlasting Portfolio!
That's a clear demonstration that the Fool is willing to put its money where its mouth is, but Tom Gardner takes this concept further.
Tom Gardner has unequivocally stated that he plans to own every stock featured in the Everlasting Portfolio for a minimum of five years.
However, as talented of a stock-picker as Tom Gardner is, he can't see the future.
Sometimes, he might sell a position in less than five years if a change in circumstance warrants it, but he always notifies his followers in the rare event of such a change.
Frankly, we've never seen this type of commitment from another research service.
Tom Gardner and the Fool have made it very clear that they believe in these picks, and they're putting money on the line to prove that their insights are more than just lip service.
Anyone who has already signed up for another Fool service, like a Stock Advisor subscription, might not be surprised, though.
>> Get started with the Everlasting Portfolio here <<
Detailed Portfolio Guidance
The Motley Fool Everlasting Portfolio is more than a stock-picking service.
It's a real-money portfolio service, which means it offers a lot more than what you'd get with a basic research newsletter.
As a real-money portfolio service, Everlasting Portfolio provides detailed guidance on Tom Gardner's stock picks.
Each recommendation also includes information on how much you should allocate towards each position and estimated holding periods.
This type of guidance puts the Everlasting Portfolio on another level.
Most services simply send you a stock pick and let you figure out the rest, but Everlasting Stocks helps you navigate the market more effectively by providing a detailed blueprint for investing success.
Portfolio Alerts
Whenever there's a change to the Everlasting Portfolio, you'll receive an email notification explaining the update in detail.
If it's time to exit a position early, Motley Fool will let you know.
The same goes for when there's a new recommendation, a change in allocation guidance, or any other update to the Everlasting Portfolio.
The Everlasting Portfolio's alerts ensure you never miss a beat.
>> Sign up now to start getting Tom Gardner's alerts <<
Investment Guides
Your Everlasting Portfolio membership also includes full access to Motley Fool's investing guides and educational resources.
The Fool has a vast catalog of educational resources that can help you sharpen your investing skills and improve your market instincts.
Fool also regularly releases research reports and other stock market analyses, and you get access to these premium resources with your Everlasting Portfolio subscription.
With the Everlasting Portfolio and Motley Fool's educational resources, your membership provides everything you need to excel in the stock market.
Everlasting Portfolio Refund/Cancellation Policy
Many of the Fool's services come with a full 30-day money-back guarantee, but the firm has to handle the Everlasting Portfolio a little differently.
This service has so much upfront value that the firm offers refunds for Everlasting Portfolio in the form of a credit. So if you sign up and decide that the service is not right for you, you can put your money into another Fool product.
Fool offers a wide array of research services, so you'll still have a lot of options if you're not satisfied with the Everlasting Portfolio.
Everlasting Portfolio Track Record
The Everlasting Portfolio has performed exceptionally well as of late.
As a result, members have had the opportunity to 6X their money over the last eight years with only publicly traded stocks.
The Fool reports that the Everlasting Portfolio produced a 655% gain as of May 2021, and it consistently outperformed the S&P 500 since its public debut in 2014.
Better yet, The Fool believes the next decade could be even stronger for the Everlasting Portfolio.
This basket of top-tier stocks is showing no signs of slowing down, and it could continue on an upward trajectory for years to come.
Many research services are exceedingly vague about the performance of their picks.
Most times, they promote their winning picks and ignore the losers, and it's hard to determine whether the so-called gurus even own the picks they're promoting.
But, Fool is a different breed.
Tom Gardner and the Fool are personally invested in these stocks, and their track record is nothing short of impressive.
So it's easy to see that the Everlasting Portfolio team is making what they truly believe are the right calls.
>> Join Everlasting Portfolio to access top recommendations like these <<
Is Motley Fool Everlasting Portfolio Legit?
Motley Fool Everlasting Portfolio is a legit research service that gives you first-hand insights into the mind of David Gardner.
Gardner has built a rock-solid reputation for his stock-picking prowess, and his analytical skills really shine in this service. Understandably, most gurus keep their cards close to their chest, but Gardner is laying his hand on the table for subscribers.
Motley Fool Everlasting Portfolio Reviews
While there are plenty of independent reviewers praising Everlasting Portfolio online, we couldn't find any ratings from aggregate review sites.
We'll keep you posted if this changes in the future.
But for now, we can say that we are very impressed with the service.
Everlasting Portfolio Pros and Cons
Motley Fool's Everlasting Portfolio has a lot going for it, but what are the downsides to the service?
Here are the most notable pros and cons:
Pros
Diversified portfolio curated by David Gardner

Detailed guidance including allocations, price points, and more

Real-time portfolio alerts

Quarterly portfolio reviews

Issues new recommendations when worthwhile opportunities arise

Fool has more than $12 million invested in this portfolio

Features buy-and-hold stock picks with long-term holding periods

A 30-day satisfaction guarantee for new members

Unlimited access to the list of publicly traded companies in Fool CEO Tom Gardner's personal portfolio

Includes unlimited access to Fool's vast catalog of investing resources and tools
Cons
May be price prohibitive for some

No regular schedule for Motley Fool's stock picks

Does not connect directly to a brokerage account
Is It Right for Me?
The Motley Fool's Everlasting Stocks service has a lot to offer, but some people may get more out of it than others.
These folks may be a perfect fit for the service:
Long-Haul Holders
If you're a fan of the "set it and forget it" investing approach, you're an excellent fit for the Everlasting Portfolio.
Tom Gardner aims to hold each investment for a minimum of five years, and he often holds the best stocks even longer.
Business Fundamentals
As a CEO himself, Tom Gardner has an excellent eye for solid business fundamentals.
His investment mantra centers around buying quality companies that are built for long-term success, so his recommendations work well with a fundamentals-focused approach.
Growth Is Good
The market has been ga-ga about growth over the past few decades, and The Motley Fool built the Everlasting Portfolio with this concept in mind.
These stocks have the potential to achieve significant long-term growth as the companies grow and mature.
Fool Fanatics
The Motley Fool Everlasting Portfolio includes top plays from across the Fool universe, so you don't have to sign up for countless Motley Fool services to get the best picks from each.
Instead, join the Everlasting Portfolio and get the top picks from Tom's personal portfolio in one convenient place.
>> Sound like a fit? Get started with Everlasting Portfolio here <<
How Much Does Everlasting Portfolio Cost?
The Everlasting Portfolio is one of Motley Fool's elite services, so it carries a higher cost than some of the firm's entry-level offerings.
Typically, you'd pay $2,999 to access the service for one year.
However, you can save significantly with the Fool's special introductory offer.
Motley Fool Everlasting Portfolio Discount
If you sign up now, you can join the Motley Fool Everlasting Portfolio for just $1,599 for the first year.
That's a significant discount over the full sticker price, and you still get full access to the service.
Is Motley Fool Everlasting Portfolio Worth It?
At $1,599 per year, you're paying a monthly average of less than $134.
Of course, you can find more affordable services, but few can offer the level of comprehensive guidance that the Everlasting Portfolio provides.
You can't compare the Everlasting Portfolio with run-of-the-mill research newsletters because it's a real-money portfolio service.
Our Everlasting Portfolio review found that it provides comprehensive guidance for each recommendation, including allocations, price points, and more.
It also includes top picks from across the entire Motley Fool universe, so you're getting a lot of variety within the service.
Furthermore, Everlasting Portfolio includes unlimited access to Motley Fool's extensive selection of stock market tools and investment resources.
With all that in mind, we believe that Everlasting Portfolio is an excellent value despite its higher price tag.
If you're looking for serious stock market recommendations, the Motley Fool Everlasting Portfolio is the type of service you want.
Everlasting Portfolio Review: Final Verdict
The Everlasting Portfolio is a unique service that offers unrestricted access to an impressive selection of hand-picked stocks from Motley Fool and star stock-picker Tom Gardner.
Motley Fool has invested more than $12 million into these stock picks, and they're committed to holding them for the long term.
The service also includes stocks from across various Motley Fool services, so you aren't likely to miss out on any of the firm's top stocks.
You can't find many services that offer the Everlasting Portfolio treatment.
If you want a service that's a cut above the rest, you need to give Motley Fool Everlasting Portfolio a long look.
>> That's it for our Everlasting Portfolio review. Claim your discount here. <<