Chaikin PowerTrader is a powerful trading system that uses a variety of indicators to identify potential trading opportunities. I'm putting this new service under the microscope in my Chaikin PowerTrader review, so stay tuned for an in-depth look at its strengths and weaknesses.
What is Chaikin PowerTrader?
Chaikin PowerTrader is a research system that uses a variety of indicators to identify potential trading opportunities.
Created by legendary Marc Chaikin, Chaikin PowerTrader combines several of Marc's most powerful indicators in one platform, so users make more informed trading decisions.
Some of the indicators utilized by this breakout new option from Chaikin Analytics include the Chaikin Money Flow, Chaikin Oscillator, and more.
The easy-to-use system parses thousands of market data points to identify stocks that could be on the verge of entering a new positive or negative trend.
PowerTrader's easy-to-use interface is a game-changer for users of all skill and experience levels, and it can be an extremely valuable resource for navigating today's uncertain market.
Before we dive into my Chaikin Power Trader review, let's take a moment to zero in on the man behind the curtain, stock market rock star Marc Chaikin.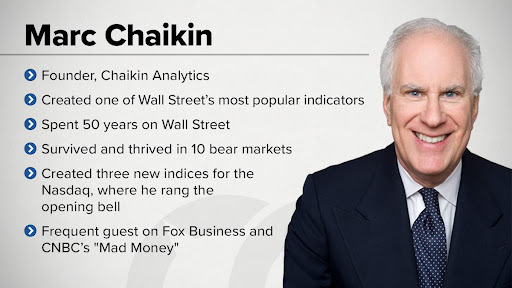 Who is Marc Chaikin?
Marc Chaikin is a legendary analyst and market expert with a distinguished career spanning over five decades.
He is the founder of Chaikin Analytics, a leading provider of cutting-edge investment research and analytics.
Chaikin has an unmatched understanding of market dynamics, and he's developed an innovative approach to analyzing the stock market with unique data-focused indicators.
Through his long career, Mr. Chaikin has developed a keen eye for profitable investment opportunities, and he's earned a reputation as one of the best analysts in the business.
Chaikin's groundbreaking work has been widely recognized among his peers, and he's received several industry awards as a result of his hard work and innovation.
Marc Chaikin launched his own name-sake research firm, Chaikin Analytics, to empower everyday folks with the professional-grade data and tools they need to keep up in the modern, data-focused stock market.
>> Sign up for Chaikin PowerTrader today! <<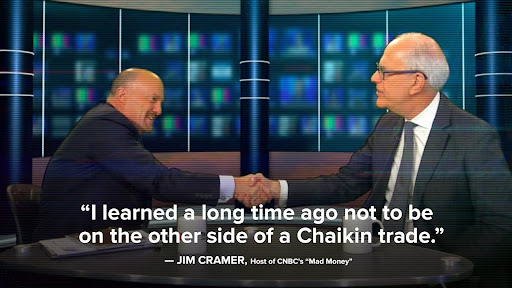 Marc Chaikin Review: Is He the Real Deal?
Few analysts can boast as impressive of a resume as Marc Chaikin. This guy is the absolute real deal.
Most research gurus talk a good one, but their resumes are dubious at best.
Chaikin doesn't fall into that category. All you need to do is glance at a list of Wall Street firms using his proprietary indicators, and you'll quickly see he is 100% legit.
However, his resume and Wall Street reputation are just the start. Chaikin has been delivering for the "little guys" too.
Chaikin's entry-level service, Power Gauge Report, has been tremendously successful since its debut, and members are singing his praises.
You don't need to worry about credibility when you're dealing with Marc Chaikin. He's a true stock market legend, and you can rest assured he's qualified to lead this research service.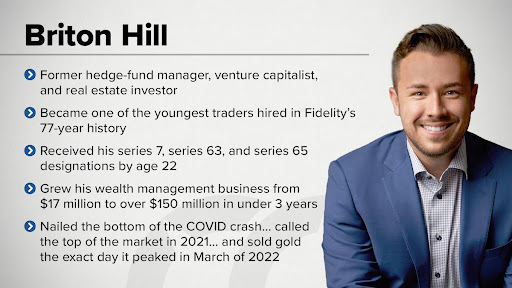 Who is Briton Hill?
Briton Hill is a respected analyst and investor that was featured alongside Marc Chaikin in his latest presentation for Chaikin PowerTrader.
He's not Marc Chaikin, but this young up-and-comer's resume is nothing to snuff at. He has amassed extensive experience as a hedge-fund manager, stockbroker and much more.
Not only that, but he was also one of the youngest traders ever hired by Fidelity in the company's 77-year history.
Briton is also an accomplished stock-picker with an impressive track record, and he has accurately predicted some of the stock market's biggest turning points over the past few years.
He recently joined the team at Chaikin Analytics and appeared alongside Marc Chaikin in his latest presentation for PowerTrader.
Briton Hill Review: Is He Legit?
In his latest presentation for PowerTrader, Marc Chaikin said he believes Briton Hill will be "the future of Chaikin Analytics." That's high praise from the man who started the firm.
Briton Hill has also been featured in Business Insider and other prominent publications. He's even rung the opening bell at the NYSE.
In his latest presentation, Marc also provides numerous examples of Briton's latest successful trades, and they're impressive, to say the least.
There's no arguing with results. Judging by those charts, it sure seems like Briton has a knack for reading the market.
He checks all the boxes for a successful investor, and he has Marc's endorsement. I think Briton Hill is legit.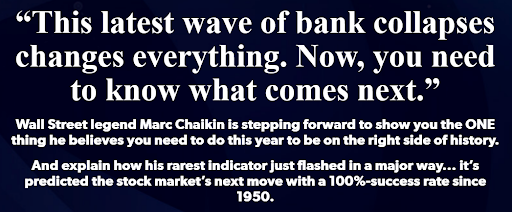 >> Discover the power of Chaikin Analytics. Get started now! <<
Marc Chaikin's Warning for 2023
Marc Chaikin recently hosted a special presentation to warn the public about the latest signals coming out of the stock market.
After the recent string of bank failures, the market is beginning to flash a rare signal that indicates a tremendous shift in is coming. Historically, this signal has been 100% accurate.
This shift could be a disaster for the ill prepared, but it could be an enormous opportunity for early movers.
Next, I'll cover Marc's message and presentation in my Chaikin PowerTrader review.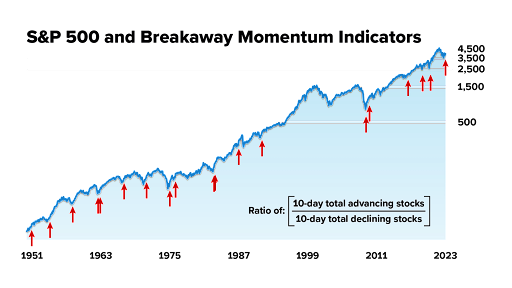 The S&P 500 and Breakaway Momentum Indicators
The Breakaway Momentum Indicator is a metric developed by Walter Deemer, an iconic long-term investor.
The indicator measures the relationship between stocks that are advancing and stocks that are declining over a 10-day basis.
Chaikin says he follows the Breakaway Momentum Indicator closely because it's rare and very accurate. In fact, it's only trigger 18 times over the past 72 years, and it's never been wrong.
Since its inception, Breakaway Momentum has accurately predicted 18 major run-ups in the stock market.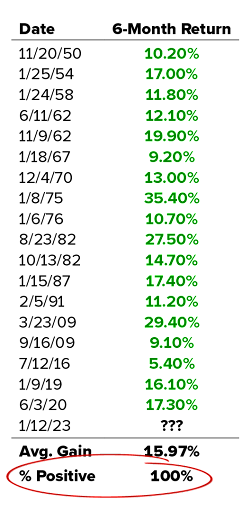 Now, for the first time since 2020, the indicator is flashing again, and Chaikin believes it's the harbinger of a major stock market breakout.
If he's right, it could be a huge opportunity for anyone who can pick the right stocks. Fortunately, it appears that Chaikin has already done most of the heavy lifting for us.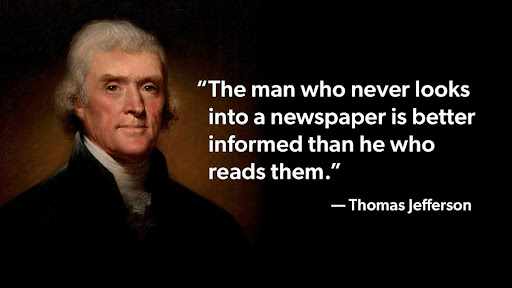 How to Capitalize on What's Next
Every time the Breakaway Momentum indicator flashed in the past, a major rally wasn't far behind. This time around, Chaikin believes it could shake out it a similar manner.
Chaikin predicts the S&P 500 could rally as much as 20% in the 12 months ahead. However, he also expects there will be plenty of volatility along the way.
The key to making the most of this historical opportunity is skillfully navigating the pullbacks and dips. By accurately timing the market, you could see spectacular results.
This is where the Chaikin PowerTrader system comes in. It combines Marc Chaikin's most powerful indicators into one game-changing analytics platform.
>> Find out if Briton Hill's predictions are right. Join today! <<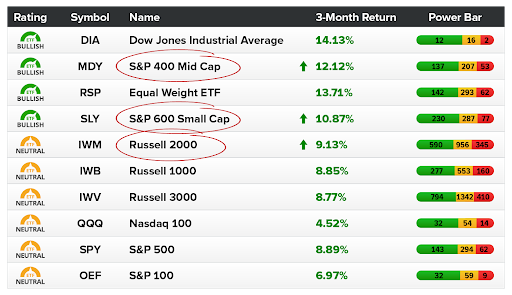 Chaikin's indicators have been incredibly accurate at predicting the road ahead for the market, and they could be an extremely valuable tool in the hands of anyone serious about their finances.
You don't need to be a rocket scientist to use Chaikin's indicators, either. They provide easy-to-understand, actionable insights that can help you successfully navigate the market.
Chaikin believes this historic breakout opportunity could be right around the corner, so now is a great time to upgrade your financial tool box with Chaikin's PowerTrader service.
Better yet, Chiakin just launched a new bundle that's jam-packed with value, so you can get an especially good deal, plus tons of bonus extras, if you sign up now.
Next, my Chaikin PowerTrader review will take a deep dive into everything that's included with this deal, so you can see if it's right for your trading needs.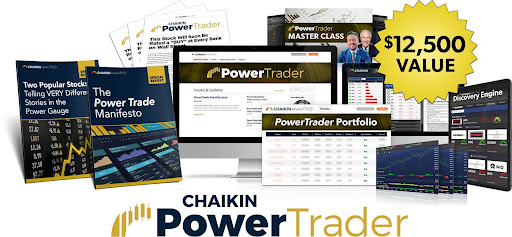 What Comes with the Service?
Here's what you get when you sign up for Chaikin PowerTrader under Chaikin Analytics' latest deal.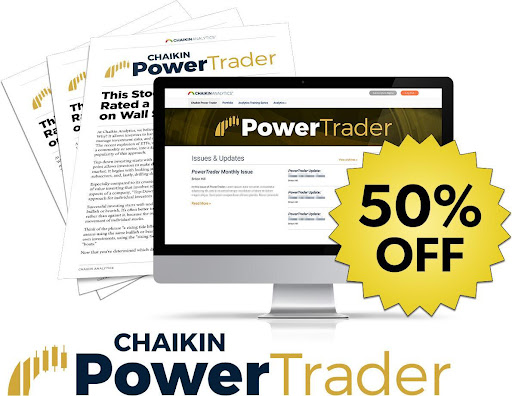 One-Year Subscription to Chakin PowerTrader Newsletter
Chaikin PowerTrade is a brand-new service from Marc Chaikin & Briton Hill featuring tailored stock picks from the duo and their team of veteran analysts.
This service combines the most sophisticated elements of Chaikin's indicators and technical analysis tools to pinpoint stocks that have the potential to double your money in a short time.
Each month, you'll receive a new report highlighting a promising stock that could be on the verge of a big breakout, along with detailed analysis, strategy guidance, and more.
Most importantly, Chaikin's Power Trade recommendations will give you a tremendous an edge in navigating the treacherously volatile market conditions expected to be ahead.
If Chaikin is right, we could on the verge of one of the most promising opportunities of recent memory, and Chaikin PowerTrader gives you all the tools you need to make the most of it.
>> Get instant access to Chaikin PowerTrader now! <<
"Perfect Power Trades" Model Portfolio
Your subscription also includes instant access to a short-list of the perfect Power Trade stocks in a new model portfolio from Marc and Briton.
Thanks to the model portfolio, you can hit the ground running with PowerTrader. It includes several promising stocks, so you won't have to wait for monthly trade ideas to trickle in.
The portfolio also includes useful info on each recommendation, along with notes on their progress, so you can conveniently track and explore each potential trade without navigating several sites.
I think the model portfolio is an excellent addition to the service. Unlike other services that dole out piece-meal picks, Chaikin Analytics delivers a full list of new recommendations.
Trade Alerts & Portfolio Updates
You don't have to worry about missing an opportunity with this service because PowerTrader keeps you informed with alerts on moving stocks and other potential opportunities.
These timely alerts give you the freedom to go about your day without being preoccupied about the recommendations, so you won't have to constantly check your app to stay informed.
Alerts and updates aren't uncommon in the research service industry, but Chaikin somehow manages to top the competition once again in this area.
Chaikin's alerts are timely, succinct, user-friendly, and insightful. These reports checked all the boxes I wanted to see from a research service of this caliber.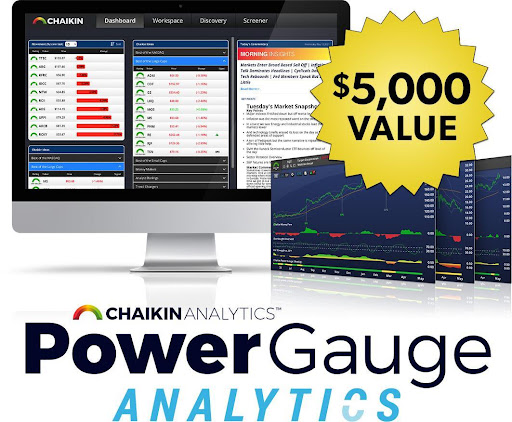 FREE Access to the Power Gauge Analytics system
The Power Gauge Analytics system is an user-friendly version of Marc Chaikin's famed Power Gauge system.
Marc usually charges $5,000 to access his legendary Power Gauge system, but you'll get access to this system for free when you sign up for PowerTrader.
The database features detailed technical analysis for thousands of publicly-traded stocks, plus an easy-to-understand rating system that combines all the metrics to come up with one simple rating.
Simply type in a ticker, and you'll get a no-nonsense rating for each stock. It breaks down all the data, and tells you if it's a "BULLISH", "BEARISH", or "NEUTRAL".
It doesn't get much easier than that, and, best of all, you have unlimited access to this system, so you can explore whatever stocks you want.
After a close look at this platform, I'm convinced that the Power Gauge Analytics system is one of the most valuable aspects of this limited-time deal.
It could lead you to hundreds of promising stocks over a one-year subscription, but that's not all. You can also use it to vet your portfolio, so you can dump stocks that may sell off soon.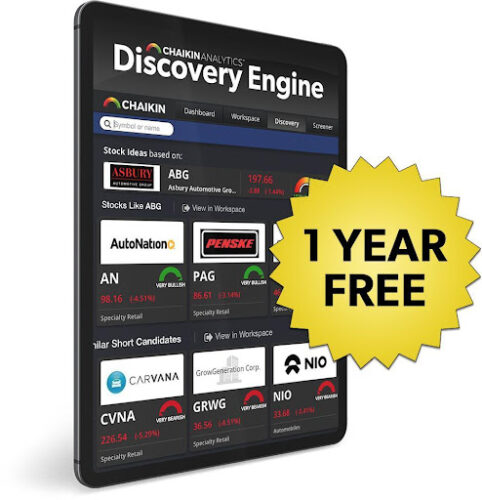 >> Try the Discovery Engine tool with PowerTrader <<
Marc's Discovery Engine Tool
Finding promising companies is never easy. After all, there are thousands of stocks on the market, and spotting the hidden gems is a difficult task.
Fortunately, Chaikin has developed a tool that can help you find up-and-coming stocks as easy as you find new shows on your favorite streaming service: The Discovery Engine tool.
All you have to do is type in a ticker, any ticker, and the system will present you with a list of similar stocks with explosive growth potential.
You can also use the Discovery Engine to weed out any potential underperformers, so your portfolio doesn't get weighed down by a bad trades.
The Discover Engine really rounds out this bundle. Combined with the other resources, you're equipped to squeeze every ounce of opportunity out of the volatile market ahead.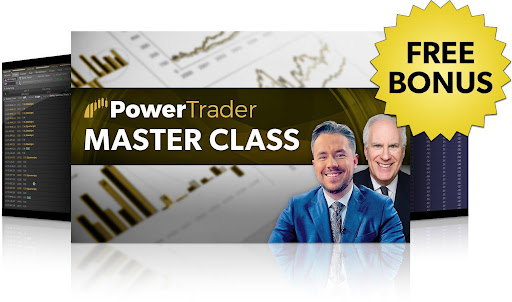 The PowerTrader Master Class
If you're a beginner, you might be intimidated by Chaikin PowerTrader's vast suite of technical tools, but there's no need to fear because Marc and Briton have you covered.
They developed an in-depth PowerTrader Master-Class to show their members how to take full advantage of all the tools included with their new service.
This video course includes a step-by-step trading course from Briton Hill, where he shows you exactly how you can make your own power trades with the tools included in this bundle.
Best of all, you can dive into this course with any level of experience because it covers all the basics, such as how to set up a trading account, how to place a trade from your PC, and other foundational skills.
It also covers advanced techniques for maximizing your PowerTrade membership, and each video is brief an easy to follow.
The Master Class is the cherry on top in this jam-packed bundle. Chaikin has taken this deal to another level by including this resource.
I'm a pretty advanced trader, and even I learned a lot from this class. I found the lessons to be highly informative and easy to follow. Chaikin's Master Class gets a big thumbs up in my book.
Bonus Reports
Next, my Chaikin PowerTrader review takes a look at the collection of bonus reports included with this bundle.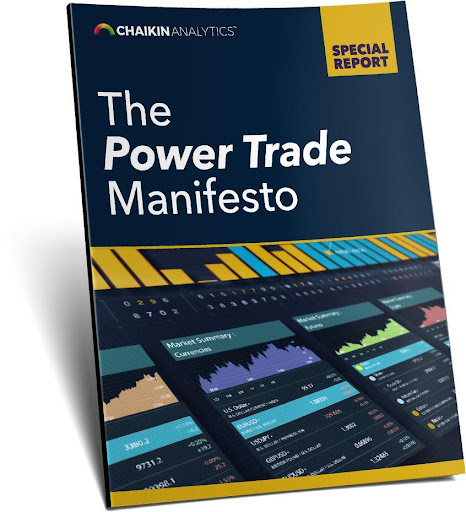 The Power Trade Manifesto
First up, we have Chaikin's Power Trade Manifesto. This report provides a valuable reference source for new members that will help them master the Power Trade system.
It includes step-by-step instructions on how to place Power Trades, as well as guidance on how to build an effective portfolio in the months ahead.
You'll also learn how to effectively use the "Power Trade Signal" to chase gains as high as 1,000%, over and over again.
And, that's just the beginning. When I tell you this report is jam-packed, I am not kidding. There are so many resources to explore, and each tidbit of info will sharpen your trading skills.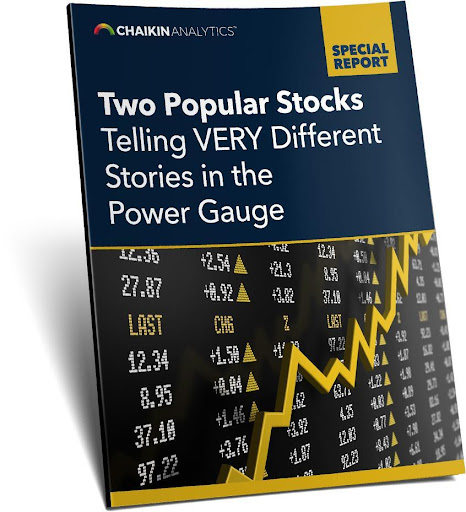 Two Popular Stocks Telling VERY Different Stories in the Power Gauge
Marc Chaikin's Power Gauge has led him to two stocks that tell two very different stories about the outlook for the market, and he reveals all his findings in this ebook.
Two Popular Stocks features a comprehensive analysis of each of these stocks. One is a promising "BULLISH" that could see huge growth in the months ahead.
The report also examines a "BEARISH" stock that could be on course for a big downturn, but there's on catch.
Both stocks are very popular, so there's a good chance you're holding one or even both of them. However, Marc's view is the opposite of the prevailing public sentiment.
The Power Gauge says the market has their wires crossed on these two stocks, and Marc explains why in this report.
Two Popular Stocks gives readers a glimpse at the inner-workings of the Power Gauge so they can better understand how it works. Plus, you'll also get the heads up on these popular picks.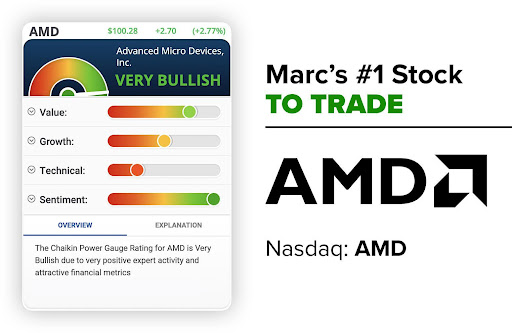 >> Explore the features of Chaikin PowerTrader today <<
FREE Bonus: Marc Chaikin's #1 Stock to Trade
During his presentation, Marc shares a secret with viewers for free. It's Marc Chaikin's #1 stock to trade right now. Drum roll, please….
As you may have seen in the graphic above. Marc's pick is none other than one of the most dominant semiconductor stocks on the market, Advanced Micro Devices, or AMD.
Marc lays out a convincing bull case for this stock in his presentation. If you're here, you've probably already seen it, but you can check it out here if not.
AMD is a great company, so I agree with Marc's assessment that this stock has excellent growth potential. I would recommend keeping an eye on it in the months ahead.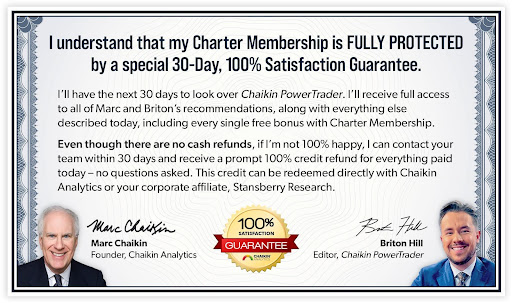 Marc Chaikin's 100% Satisfaction Guarantee
Marc Chaikin and Briton Hill are putting their money where their mouths are with a robust satisfaction guarantee for 30 days.
The guarantee covers your purchase for a full 30 days, and you can elect for a refund for any reason whatsoever if you aren't 100% satisfied with PowerTrader.
However, there's one important caveat. The policy only extends to a credit refund, so you cannot get a cash refund under the guarantee.
My Take on the Refund Policy
Obviously, a cash refund would be preferable for most, but Chaikin has good reason for enacting this policy.
PowerTrader is a top-tier research service with a price tag to match. You'll get some of the most valuable analysis Chaikin Analytics has to offer with this service.
Wall Street firms pay Chaikin big bucks for his insights, as do his retail subscribers. Unfortuntaely, a cash-back policy would open the door for bad actors to exploit it.
It's simply unfair to Chaikin Anlytics' customers if the policy allowed people to stroll in, buy the product, get access to all this valuable research, and request a cash refund after 29 days.
However, the duo wants you to know they stand by their work and walk away satisfied, so the credit-back guarantee is a worthwhile compromise that's fair for everyone.
It's hard to argue with Chaikin's position here. I understand that a cash-back policy would be more reassuring, but I think this is a fair policy considering all the complexities involved.
Pros and Cons
Nobody's perfect, and Chaikin PowerTrader is no exception. Here are the most notable pros and cons.
Pros
Led by legendary investors Marc Chaikin & Briton Hill

Get 50%-off your first year with this deal

Easy-to-read "BULLISH", "BEARISH", and "NEUTRAL" signals for each stock

New stock picks every month for a year

Full access to Chaikin's Power Gauge Analytics platform

Find new stocks with the Discover Engine

Educational resources to help you master each tool

30-day satisfaction guarantee

Model portfolio featuring a short-list of promising stock picks

Two e-books included free
Cons
No cash back refunds

May be price prohibitive for some

No community forum or chat
Chaikin PowerTrader vs Power Gauge Report
Don't confuse Chaikin's PowerTrader service with Power Gauge Report. They are two totally different service, although they share some common themes.
Power Gauge Report is a more entry-level service. It comes with a lower price tag, but it has much fewer features that Chaikin's new PowerTrade service.
If you're interested, check out my Power Gauge Report review here.
Conversely, PowerTrader offers a much more comprehensive set of technical tools, research, and features in exchange for a higher price.
Both services are excellent, so it really depends on your needs. If you want the first-class experience, I'd suggest you stick with PowerTrader.
Marc Chaikin's Track Record
Marc Chaikin has one of the most impressive track records of any guru I've covered. He's a household name on Wall Street, and he's been a respected player in the market for decades.
He's demonstrated time and time again that his tools can forecast the market with incredible accuracy. Take this example from earlier this year:
>> Unlock the potential of Breakaway Momentum <<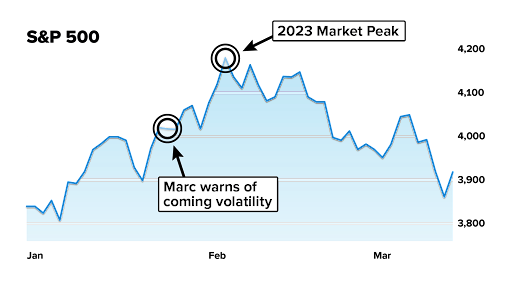 Marc warned that volatility was coming just weeks before the brief early-2023 rally pivoted to a downturn. His prediction was primarily based on signals coming out of his Power Gauge.
If you were following his work, you would've had a month's warning before the S&P 500 sold off for 29%.
Later, Marc announced we reached the bottom, and the S&P 500 soared 41% over the next three months.
And Marc's insights don't just extend to indexes and macro-scale trends. His Power Gauge also signaled "BUY" on several big stocks that went on to soar in recent years.
It's hard to poke holes in Marc Chaikin's track record. His track record speaks for itself, and I am downright impressed with his Power Gauge insights.
The market is inherently tricky, so nothing is guaranteed. However, having Marc Chaikin and the Power Gauge in your corner is a tremendous asset.
Power Gauge Report Reviews by Members
I'm not the only one who's impressed by Marc Chaikin. Just take a look at these rave reviews from some of his members:
Keep in mind, these Marc Chaikin reviews came directly from Marc's latest PowerTrader presentation, so I recommend you take them with a grain of salt.
Nonetheless, they provide some useful insights on users' experience with the service.
>> Learn more about Marc Chaikin's warning for 2023 <<
What Type of Trader is Chaikin Analytics Best For?
Chaikin PowerTrader is probably a good option for you if you appreciate these types of strategies:
Technical Analysis
Marc's PowerTrader gives you full access to an unmatched suite of technical analysis tools. You can't find a collection of tools like this anywhere else.
Swing Trades
The Power Gauge is tailor-made for swing trading. Its easy-to-use signals make it much easier  to time the market, so you can pounce when the time is right, over and over again.
Beginners & Veterans
Regardless of your skill level, this service has a lot to offer. Veterans can dive right into its sophisticated tools, and beginners can build their skills with comprehensive educational materials and resources that will help them take their trades to the next level.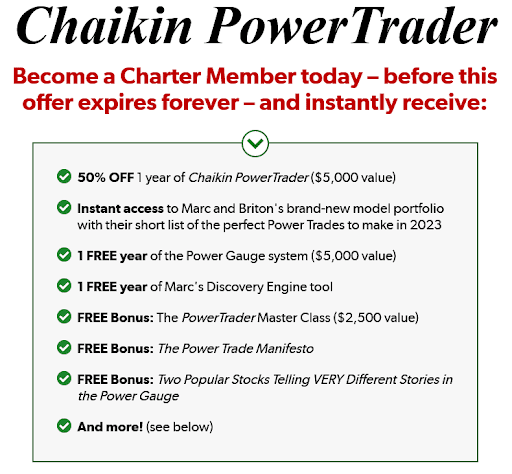 How Much is this Deal?
Chaikin PowerTrader is not your run-of-the-mill monthly research newsletter. Its rare combination of tools, expert analysis, stock picks, and educational resources offer true value.
With so many premium features in one package, PowerTrader commands a higher price tag than most entry-level research services.
Subscriptions to Chaikin PowerTrader typically go for $5,000 per year. However, Chaikin is offering a special deal to celebrate this new service's launch.
For a limited time, you can take advantage of a 50% discount on PowerTrader if you sign up now. That means you'll pay just $2,500 under this deal.
Better yet, that $2,500 rate will be locked in if you renew at the end of the year. There's no bait-and-switch introductory pricing, like I've seen with some competitors.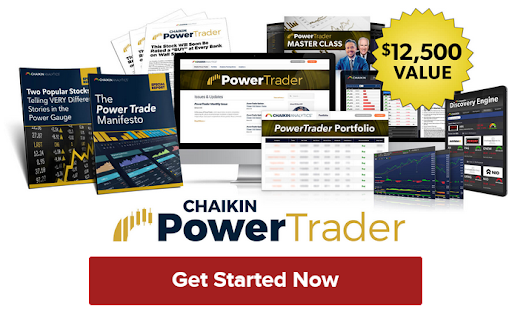 Is Chaikin PowerTrader Worth It?
At the discounted rate, the cost of an annual subscription to PowerTrader breaks out to just $208 per month. That's a small price if you're serious about making a run at the stock market.
Unlike other services, Chaikin PowerTrader gives you access to a comprehensive collection of sophisticated tools that will help you dominate the market.
This single membership could equip you to navigate the market like a true pro. Not only will you get insights and analysis from Marc & Briton, you also get the tools you need to find your own Power Trades.
I understand that the price can be prohibitive for some budgets, but it's more than justified given the amount of value this service provides.
This deal is a tremendous value, with monthly stock picks, Power Gauge Analytics access, Marc's Discovery Engine, e-books, and much more. It's the full package.
After a thorough Chaikin PowerTrader review, I can confidently say that this service is 100% worth it. If you want the best suite of trading tools on the market, this is it.
If you want to make a move, I recommend you check it out soon. There's no telling when this 50% discount will go away, so check out Marc Chaikin's Power Trader bundle today.
>> Master the art of Power Trades. Enroll in the PowerTrader Master Class now! <<