In a world of fast-paced investment strategies and a constant hunt for the next high-yield opportunity, the Contrarian Income Report, led by experienced investor Brett Owens, offers a refreshing approach to possibly achieving financial success.
This comprehensive review explores the legitimacy of Owens and the effectiveness of his Contrarian Income Report. Through long-term thinking, patience, and a focus on undervalued stocks, the contrarian investment strategy has gained traction among speculators seeking consistent income generation.
The newsletter provides valuable insights, resources, and recommendations that simplify contrarian investing and offer the necessary tools to succeed, especially during economic downturns.
As we delve deeper into the Contrarian Income Report, we will examine the pros and cons of this service, analyze the various components offered, and evaluate whether it lives up to its promises.
By the end of this Contrarian Income Report review, you will have a clearer understanding of Brett Owens' legitimacy and whether the Contrarian Income Report is a worthwhile investment for your financial goals.
What Is Contrarian Income Report?
Contrarian Income Report is an online newsletter that offers members stock picks, trade alerts, market analysis, and much more. It's led by stock picker Brett Owens and published by Contrarian Outlook.
Recommendations target investments that provide the opportunity for a steady monthly income stream.
As the name suggests, this service uses a "calculated contrarian" strategy that strays away from conventional stock market wisdom.
Contrarian investing calls for second-guessing the group-think hype in favor of a more critical approach.
Instead of buying the hot stocks, contrarians prefer "diamonds in the dirt" or stocks that aren't getting the support from the market they deserve.
Something I like about the team's approach right out the gate is that they target a collection of dividend stocks for the chance at monthly payouts.
A staggered payout strategy could be great for someone looking for monthly income, like a retiree.
Sound like a good fit? Sign up and SAVE 60%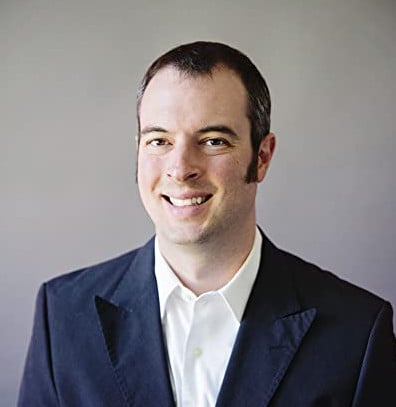 Who Is Brett Owens?
Brett Owens is a very talented stock picker with a keen eye for quality companies.
What sets him apart from other investors is his sole dedication to income opportunities.
Many treat dividends as a nice bonus, but Brett incorporates this as a core feature in his wealth-building strategy.
He's a former Silicon Valley startup founder, dividend investor, and chief investment strategist for Contrarian Income Report.
His fascination with investing in the dividend market started nearly two decades ago. He found himself quickly drawn to stocks with dividend yields as high as 8%.
Some of his picks even produced double-digit gains. This is in addition to dividend payouts.
Since launching Contrarian Income Report, his subscribers have had the chance to enjoy dividends that are four times higher than the S&P 500 average.
Something I appreciate is Brett's more grounded approach to income investing ideas.
He does not chase hype or follow wild hunches.
His supporting research is also top-notch and very easy to understand.
Overall, there's a lot to like about his purposeful approach, and I'm impressed with how carefully Brett Owens selects his recommendations.
Contrarian Outlook made him chief investment strategist for a reason.
What Is Contrarian Outlook?
Contrarian Outlook is an excellent company known for its research on income investing opportunities.
Its newsletters include Contrarian Income Report, Hidden Yields, Dividend Swing Trader, and CEF Insider.
There are also free posts on the leading site that offer income investing analysis. But its best insights can be found in its premium newsletters.
This is one of the few publishers I've seen that exclusively burrows down in the incoming investing niche. Even better, each service offers its own unique strategy.
If you're big on dividend investing, this could be a great research publisher to check out.
Contrarian Outlook prides itself on bringing subscribers high-quality, independent research with no double-talk or hidden agendas. This is why its team has earned such a solid reputation over the years.
You can count on each subscription to deliver objective research and unbiased investing ideas.
Its catalog of newsletters also follows a quality-over-quantity approach, which is another plus, in my opinion.
Some publishers can be a little hit or miss if they overextend and reach for too many niches. Its laser focus makes Contrarian Outlook a nice change of pace.
What is Contrarian Strategy?
Contrarian strategy is an investment approach that deviates from conventional market sentiment, often resulting in the pursuit of overlooked opportunities. Instead of following the crowd, contrarian individuals embrace a unique mindset, seeking value where others may not.
This distinctive investment style encompasses several essential elements:
Comprehensive Market Analysis: To employ contrarian strategies effectively, individuals must conduct thorough market research that delves into long-term market fluctuations. By examining market trends over an extended period, they can better understand the factors that influence stock prices and identify potentially undervalued assets.
Focused on the Long Haul: While many investment strategies prioritize swift and substantial returns, contrarian methods emphasize long-term growth. Adopting this perspective enables individuals to target stocks with the potential to appreciate steadily over time, rather than chasing short-term gains.
Patience is Key: As the famous investor Warren Buffet once stated, individuals who are unwilling to hold a stock for a decade should not purchase stocks at all. Contrarian individuals must exercise patience, allowing their chosen stocks to mature and eventually produce the desired returns.
Capitalizing on Market Downturns: Contrarian individuals perceive economic downturns as opportunities rather than setbacks. They take advantage of recessions and depressions by purchasing stocks at reduced prices, confident that the market will eventually recover.
Contrarian Outlook and Contrarian Income Report serve as valuable resources for individuals interested in implementing contrarian strategies within their long-term portfolios. By concentrating on long-term growth and recognizing when to enter or exit the market, these publications provide readers with strategic guidance to enhance their investment success.
Monthly Dividend Superstars
In his latest presentation, Brett Owens draws attention to the cash-generating power of monthly dividends with his exclusive monthly payer portfolio.
This portfolio features stocks with yields of 7%+ with upside potential.
And the model portfolio's investment strategy is geared toward helping people find opportunities to generate steady income on their retirement savings.
It also uses monthly dividends that could provide regular distributions and increased spending flexibility.
There are many nuances to consider in this sector, and you can quickly run into trouble if you attempt to navigate this angle without a solid strategy.
That's why Brett has built a model portfolio containing many of his top monthly dividend stocks and shares it with his subscribers.
It's called Monthly Dividend Superstars.
I'll cover the entire collection of special reports in our Contrarian Income Report review and explain the benefits of each resource.
Tap into the Monthly Dividend Superstars
What Comes with the Service?
The newsletter is just the tip of the iceberg.
Keep reading for a breakdown of each feature.

Annual Contrarian Income Report Newsletter Subscription
The monthly research newsletter includes the team's latest research into monthly dividend stocks, preferred shares, and other hidden yield opportunities.
You get a new issue on the first Friday of each month directly in your inbox. It typically includes at least one new recommendation.
The newsletter also comes with:
Model Portfolio

– The Model Portfolio serves as an exceptional tool, offering a comprehensive perspective on all the service's active positions in a user-friendly format. It delivers in-depth analysis for each stock, empowering subscribers to make well-informed investment choices.

Flash Alerts

– Whenever recent news has the potential to affect the Model Portfolio, Brett Owens sends Flash Alerts to his subscribers. These alerts come in the form of an email, elaborating on the news, clarifying its consequences for the impacted positions, and providing a strategic course of action.

Weekly Market Analysis

– Recognizing that the market's rapid pace can be challenging to follow with only a monthly report, the team also provides Weekly Market Analysis. These updates encompass secondary investment ideas and particulars on stocks the team monitors, ensuring subscribers remain well-informed and prepared to make timely decisions.
These are all great features, but I especially like the weekly market analysis and flash alerts.
Some stock-picking services send you on your way after dropping a recommendation. However, this team does a good job of keeping members up-to-date.
Quarterly Webinars
Brett Owens holds a live members-only webinar broadcast for his subscribers about every three months.
These webinars discuss model portfolio positions, developing market trends, and more. He also answers pressing questions from members and discusses the latest news.
The webinars are very personable and friendly. It's a breath of fresh air compared to the stale presentations most gurus are offering.
So don't be surprised if you end up looking forward to these sessions every few months.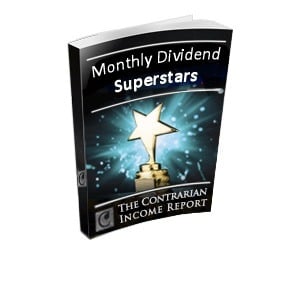 Monthly Dividend Superstars
Monthly Dividend Superstars is the featured special report for the latest deal.
It includes a wealth of information on the team's top-3 high-yielding dividend plays, including buy-up-to prices, supporting research on each opportunity, and more.
The picks are closed-end funds. The funds only very rarely issue additional shares, and they won't accept any more capital. However, people can still trade shares through public exchanges.
Here's a little background:
The first opportunity pays a 7.7% yield and operates in one of the highest-demand sectors on the market right now.

The second fund comes from one of the top investment managers on the planet, and it pays a 7.4% yield.

Finally, the last company has a rock-solid position and trades at a discount to its net asset value. It's paying a yield of about 6.3%.
You get a detailed analysis of each opportunity in the Monthly Dividend Superstars report.
24/7 Members Website
Upon subscribing to the Contrarian Income Report, you can access a highly secure, password-protected website designed to safeguard your financial data. This online platform offers a wealth of information surpassing the scope of Owens' monthly and weekly publications, ensuring you stay well-informed on investment strategies.
The site features current and previous Contrarian Income Report issues, exclusive bonus reports, and the No-Withdrawal Portfolio. However, it lacks a social interaction component for members to share their strategies based on the reports.
Monthly Research Bulletins
Each month, subscribers receive in-depth research bulletins that reveal high-yield investment opportunities, updates on prior recommendations, and numerous investment suggestions from Brett Owens. These comprehensive reports allow investors to stay informed and make well-informed decisions based on expert analysis and insights.
Monthly Payer Portfolio
Brett Owens shares a meticulously curated portfolio of investment options every month, focusing on at least 4% dividends. These selections are thoroughly researched to minimize risk and are tailored for long-term investments. By adhering to a contrarian investment philosophy, these choices emphasize future-oriented strategies, ensuring consistent income generation over time.
Dedicated Customer Support
Contrarian Income Report subscribers benefit from an exceptional customer support team ready to address various concerns and questions. This dedicated team ensures a smooth experience, allowing investors to focus on their investment strategies and portfolio growth.
Access these features and more for 60% OFF
New Member Bonuses
A Contrarian Income Report subscription is packed with a bunch of fantastic add-ons, including exclusive bonus reports.
Here's what you get when you sign up.
Best of Both Worlds: 3 Fixed-Income Funds That Beat Stocks
As the name implies, this report reveals three fixed-income funds with the potential to beat the broader market.
Brett goes as far as saying that these are his "favorite high-dividend funds."
One of the main draws is that they pay average dividends upwards of 9%.
The report also includes detailed research on each featured fixed-income fund, including management profiles, preferred investing strategies, and more.
Fixed-income assets offer many benefits.
And the opportunities outlined in the report could be particularly fruitful.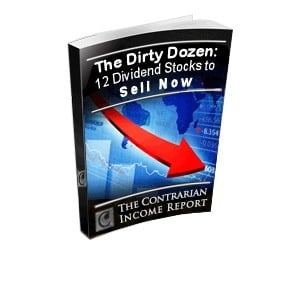 The Dirty Dozen: 12 Dividend Stocks to Sell Now
Trading in the dividend space is tricky.
All payouts are not created equally, and your dividend yield isn't worth anything if a company suddenly decides to cut its dividend after a bad quarter.
Unfortunately, many people have fallen into the "dividend trap." They see a stock with an excellent dividend rate only to see the company reduce or eliminate its dividend
And they could be left holding the bag while share prices tumble.
To help you avoid running into similar circumstances, the team is including a report detailing a dozen popular dividend stocks and funds that could be on course for disaster.
Even if you don't own them, this info could still prevent you from making a costly mistake down the road.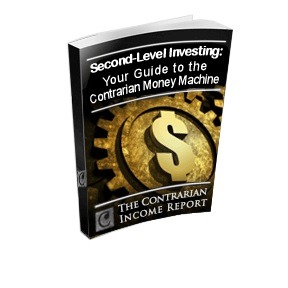 Second-Level Investing: Your Guide to the Contrarian Money Machine
In this report, Brett Owens explains contrarian investing fundamentals so you can put them to use for yourself.
The report includes a step-by-step blueprint for utilizing this practical philosophy, and it outlines every step of the process in meticulous detail.
As a member, you'll have instant access to this report, and you can review it at your leisure.
60-Day Money-Back Guarantee
Contrarian Income Report has an excellent refund policy. Your purchase is covered with a 60-day 100% money-back guarantee.
So you have nearly two full months to review the service after you sign up.
If you're unsatisfied for any reason, you're eligible to receive a refund at any point during that time.
You can't get much better than a 100% cash-back guarantee. Plus, it gives you more time to evaluate your purchase than many other services, which typically only allow refunds for 30 days.
Contrarian Income Report Review: Pros and Cons
I'm very impressed with this newsletter, but there are a few rough edges to keep in mind.
Pros
Calculated approach to dividend-paying stocks

Pinpoints undervalued stocks

Several high-quality special reports

60-day money-back guarantee

Weekly updates on the stock market

Aims for monthly income streams
Cons
No forums, chats, or other social components

Doesn't cover options or futures
Contrarian Income Report Reviews
Contrarian Income Report has locked in an impressive 4.1 rating on Stock Gumshoe.
This is out of 837 reviews, which is a solid sample size.
Here's a look at the rating: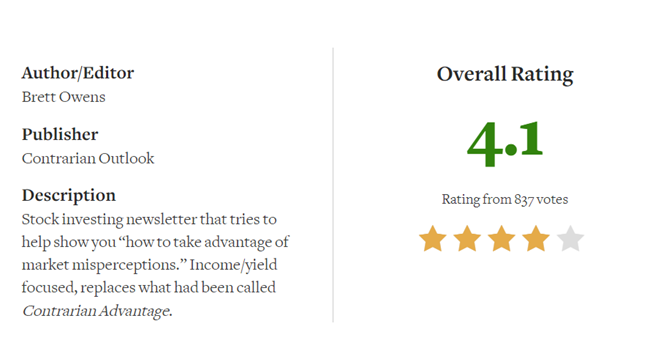 There's one caveat with these votes, however. Stock Gumshoe is a third-party site, so I can't verify the veracity of the data.
Still, it's a good sign that the service appears to have had a positive reception over the years.
Not every newsletter fairs as well.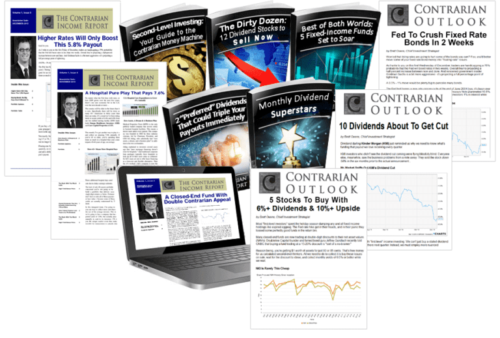 Is the Service Right for Me?
Contrarian Income Report is best suited for folks in the market for a measured approach to income investing.
Retirees could find a lot to like about Brett's particular niche, as many see dividend investing as an opportunity to stretch out savings.
If you already have a portfolio paying painfully slow quarterly dividends, the Monthly Dividend Superstars provide the opportunity to capture more consistent monthly income.
As you can see, the service could appeal to a rather wide audience.
Though, the team's risk-averse and cautious approach might not gel with everyone.
While Brett Owens also dials in on stocks that he believes have the potential to produce solid returns, he's not targeting high-octane plays.
The goal here is to dial in on quality businesses with the wherewithal to provide the opportunity for consistent payouts.
So if you're searching for someone swinging for the fences, this service probably won't be a good match.
How Much Does It Cost?
Contrarian Income Report typically costs $99 per year. That's a solid deal in its own right, considering what you get in return.
However, you can get an even better bargain right now.
For a limited time, the team is offering annual memberships for just $39.
Even better, this includes everything covered in my review.
The discount saves you more than 60% off the usual retail price, and your subscription cost breaks down to less than $4 per month.
In my experience, many of these introductory newsletters (with discounts) cost about $49 to $79 for the year.
So Brett's service is on the more affordable end of the spectrum.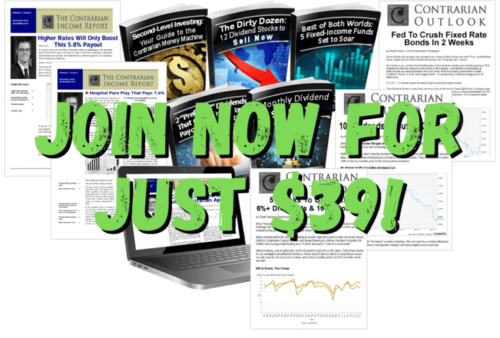 Is Contrarian Income Report Worth It?
Contrarian Income Report is a great investment newsletter that's well worth the price.
For just $39, you get first-hand access to exclusive investing techniques and reports that could set you up for success in income investing.
These high-yielding dividend strategies could be a game changer for any income investing portfolio.
It's hard to find quality dividend stocks, but the 7% Monthly Payer Portfolio showcases several top-tier opportunities worth considering.
And Brett Owens takes the time to explain his thought process behind every trade so you can get the most out of the service.
You'll also have a continuous line on the latest financial news with monthly and weekly reports, so you can make sense of whatever the market throws at you next.
Cap it all off with a 100% money-back guarantee, and you're looking at one excellent bargain.
That's it for my review. Claim Your 60% discount HERE