Marc Lichtenfeld claims that a downturn might be looming on the horizon. But does his latest package offer solid insights for making out better on the other side? Read my Oxford Income Letter review to find out.
What Is Oxford Income Letter?
Oxford Income Letter is an investment newsletter that pays particular attention to income-producing opportunities.
It's published by the widely popular research company The Oxford Club.
Marc Lichtenfeld launched the newsletter over nine years ago. So the service has hung around for much longer than many of its contemporaries.
Some features include stock picks, bonus reports, regular alerts, and model portfolios.
There are plenty of standout perks with the service, but the two biggest draws are its distinct focus on dividend payers and multiple model portfolios.
Many similar services only offer one portfolio. But this newsletter caters to four different investment philosophies.
>> Already Sold on? Sign up HERE for 80% off <<
Who Is Marc Lichtenfeld?
Marc Lichtenfeld is a great analyst with a keen eye for dividend stocks. He's the chief income strategist for The Oxford Club.
He kicked off his career in finance at Carlin Equities. Later on, he worked over at Avalon Research Group as a senior analyst.
Marc eventually moved over to the research space to share the same tips he learned with folks on Main Street.
Many know him for his proprietary 10-11-12 system. It stands for 11% yields and 12% average annual total returns in 10 years.
This is the same system used to scout out investment ideas for Oxford Letter.
While he might be best known for sharing his insights at Oxford Club, he also has made appearances on CNBC, Fox Business, and Yahoo Finance.
>> Access Marc Lichtenfeld's stock picks today <<
The Era of Valorem
In The Era of Valorem presentation, Marc spells out a massive change that might be coming to the stock market.
The team believes the consequences of unchecked government stimulus propping up the tech sector are finally starting to materialize.
Marc says that a potential downturn could sweep up many growth stocks, 401(k)s, and IRAs during a resulting market shift.
Not all hope is lost, as the team claims we could be about to usher in a time of Valorem (value) stocks.
The latest deal offers a complete research package to mark the event.
>> Click here for the top Valorem stocks <<
What's Included with the Service?
The latest deal is packed to the brim with standout features.
Read along for a breakdown of each one.
Oxford Income Letter Newsletter
A new issue Oxford Income Letter drops once a month and offers members a brand-new investment idea.
It can be either a stock or bond — with a bigger emphasis on stocks.
Members can follow along with analysis and supporting research for the monthly pick.
Marc and the team's analysis is thorough, but they do a great job making their insights easy to grasp.
Also, while many of the recommendations lean on the long term, there are some short to mid-term plays.
Model Portfolio
The model portfolios track the team's open positions.
Depending on the traits of the trade, it will fall into one of these four categories:
The Compound Income Portfolio

The Instant Income Portfolio

The High Yield Portfolio

Fixed Income Portfolio
I'm going to give the service major credit here.
Most alternatives only offer one model portfolio, but Income Letter members get access to four.
You also get access to several "buy now" stocks as soon as you join.
Weekly Portfolio Updates
Each week, the team sends out an update on changes to the portfolios and information on the markets in general.
They carefully explain why the market behaves a certain way and whether it's time to buy or sell.
You'll always be in the loop thanks to the regular updates. Any time something big is brewing, you'll be the first to know.
Many services offer portfolio updates, but Oxford's updates seem to be of higher quality, with more insightful research and analysis.
Oxford Income Blasts
The stock market moves quickly, and sometimes a monthly newsletter or weekly update isn't fast enough to receive information.
To compensate, Oxford Club sends out income blasts with urgent information that members should act upon immediately.
You'll never miss a beat in the market thanks to Oxford Income Blasts. This market daily newsletter is an excellent companion piece to the monthly write-ups.
Marc's Invite-Only Private Executive Call
Marc held the first invite-only private executive call on April 6th for everyone with an active Oxford Income Letter subscription.
The analyst took questions in advance and worked to customize responses to those in attendance.
Although a date for the next executive call hasn't been announced, anyone signing up for the Era of Valorem will be on that invite list.
Oxford Income Mailbag
Members are encouraged to send Marc investment questions as they have them.
Once per week, he goes through and answers the most popular questions.
The mailbag gives members the opportunity to communicate directly with the service's lead analyst.
Few newsletters give readers any access to their guru whatsoever, let alone the opportunity to ask questions directly.
So once again, the Oxford Income Letter gets high marks here.
>> Access these features and more <<
Bonus Features
As part of the latest deal, new members will also receive bonus reports and other excellent add-ons.
Read on for the full scoop.
How to Get Rich in the Era of Valorem
This special dossier contains the team's top-three value stocks for the immediate future.
Each pick is inexpensive, a great value, and has tons of potential.
These opportunities come from three unique markets — finance, energy, and biotech.
Better yet, these are dividend stocks that have increased yields every year since 2009.
Of course, the only way to find out about these stocks is through the dossier.
5 Growth Stocks to Avoid in 2022
The team shares the names of five stocks to avoid like the plague.
What's worse, these securities have recently made headlines as investment recommendations.
You'll want to get your hands on this journal to learn what they are, as these common stocks may be sitting in your portfolio right now.
This exclusive book is included in the Era of Valorem.
101 Ways to Grow and Protect Your Retirement Savings
This special report is stacked with 162 pages of retirement secrets Marc has stumbled upon in his 30+ years of investing.
In addition to income strategies, you'll also find information on things like discount prescriptions and how to generate small amounts of income apart from the stock market.
With over 100 tips, you can feel much more confident about planning for your retirement.
The Complete Oxford Income Letter Options Guide
The team also strongly believes in options trading and the upsides it can bring.
However, options can be a struggle if you get in over your head.
You'll learn investment tips to reduce unnecessary risk and how to find the opportunity to make more with less.
Dividend Riches: Marc's Income Investing Video Series
Dividend Riches is a six-part video series revealing strategies that members could use for the opportunity to bring in more money.
With each video, you have the flexibility to watch and rewatch as you see fit to get the most out of each one.
Segments focus on dividend stocks and the power of these passive income streams.
100% Satisfaction Guarantee
The team is offering new members an alluring 2-part guarantee.
Here's how it works:
Guarantee #1
Marc stands behind all the information in this Oxford Income Letter package.
He's so confident that he's offering a one-year money-back guarantee.
If you don't feel the service is a good fit, you can request a full and prompt refund on the price of your subscription.
You can even keep all the bonus materials without any questions asked.
Guarantee #2
Marc also stands by the three picks he shares in How to Get Rich in the Era of Valorem.
If his choices don't outperform growth stocks during the next year, give the Oxford Club team a call.
He will make it up to you by offering a $249 credit toward any Oxford Club service.
>> Sign up under Marc's guarantee <<
Is Marc Lichtenfeld Legit?
Marc Lichtenfeld is legit and has an extensive career in the research space.
The Oxford Club's Chief Income Strategist is a seasoned analyst, making appearances on Fox Business, CNBC, and Bloomberg Radio.
His writings have also made it into Yahoo Finance, The Wall Street Journal, Investor's Business Daily, Marketwatch, and Forbes.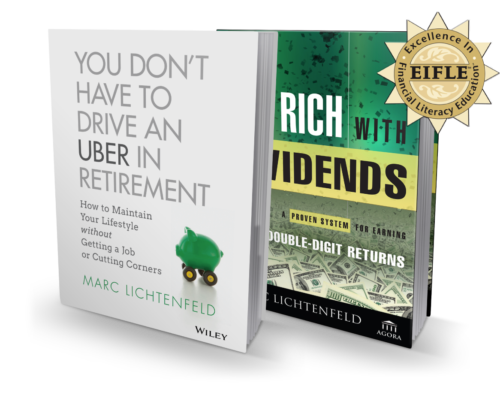 Both of Marc's books displayed above were bestsellers on Amazon and won Book of the Year awards.
If that wasn't enough, his daily column Wealthy Retirement has over 200,000 readers.
Oxford Income Letter Pros and Cons
The Oxford Income Letter has a lot going for it, but it isn't perfect.
Pros
Contains a mix of stock picks and high-yield dividend stocks

Four unique portfolios with low-risk income potential

Weekly updates and income blasts

Six educational videos on dividend stocks
Cons
No community forum

80% discount only applies to first year of service
Oxford Income Letter Reviews
Marc Lichtenfeld's Oxford Income Letter has earned a 4.6/5 rating on Stock Gumshoe. This is out of nearly 3,900 reviews.
Both the high rating and sheer number of reviews are impressive accomplishments for the newsletter.
Most newsletters I've seen don't come close to this level of notoriety.
Here's a quick snapshot of the rating:
Something to keep in mind, however, is that this is a third-party rating site. So I can't verify the veracity of the votes (good are bad).
Still, it could be seen as a positive sign that so many seem to give the service high marks.
>> See what all the hype is about <<
Is the Service Right for Me?
Oxford Income Letter is best suited for folks in the market for dividend-paying stocks with a long-term outlook.
Marc looks to find quality investments that could steadily appreciate over time — all while providing the potential to produce regular income.
His sustainable dividend yields strategy could also be a solid fit for someone nearing or in retirement.
Bond recommendations are on the table, as well, so anyone looking for a little more variety is accounted for.
That said, the core focus is stocks.
Lastly, the service offers a great blend of insights and opportunities to communicate with its lead. This could be very helpful for fresh faces on the stock market looking to build a dividend portfolio.
How Much Does Oxford Income Letter Cost?
An annual subscription to Oxford Income Letter usually costs $249.
But members can sign up under the latest deal for just $49 for the entire year.
This shakes out to an 80% discount — not too shabby.
For a little less than 50 bucks, members receive a monthly trade idea, four model portfolios, and access to the mailbag.
Basically, the newsletter provides a premium experience at a fraction of the cost.
Something to keep in mind is that the $49 is an introductory offer. When the subscription renews, it will cost $79.
I'd prefer the full discount to carry over, but it's a fair compromise for quality research.
Is Oxford Income Letter Worth It?
Oxford Income Letter is an excellent newsletter with a great price.
Considering you're getting nearly $1,800 worth of material, frequent updates, and a monthly newsletter for $49, it's a solid value.
Better yet, Marc's Era of Valorem bundle includes loads of bonus research and a drastic 80% discount.
You can save $200 on a one-year subscription and get tons of additional bonuses with this limited-time deal.
The bundle provides everything you need to build up a portfolio of steady income investments. So it's an especially good fit for anyone struggling to adapt to worsening market conditions.
You get a ton of bang for your buck with this top-tier income investing research service thanks to the steep discount and treasure trove of bonus reports.
Last but not least, your subscription is covered with an airtight double-headed satisfaction guarantee.
After a thorough Oxford Income Letter review, we're impressed with what we saw.
If you're interested in the opportunity to generate regular income from the stock market, this service should be at the top of your list.
>> That's it my review! Sign up and save today <<