The Era of Valorem is coming, and unprepared investors might get left in the past. What exactly is going on with the economy, and how can traders use changing times to their advantage? This Oxford Income Letter review has all the answers.
What is Oxford Income Letter?
The Oxford Income Letter is an investment newsletter that pays particular attention to long-term investment strategies.
It was created nine years ago by investment expert Marc Lichtenfeld to showcase information he's gleaned from his time on Wall Street.
Lichtenfeld still faithfully writes the Oxford Income Letter every month, keeping up with the latest happenings on the market.
He fills its pages with specific insights to ride out economic shuffles while positioning readers for success.
>> Already Sold on Oxford Income Letter? Sign up HERE <<
Who is Marc Lichtenfeld?
Marc Lichtenfeld is the Chief Income Strategist for the Oxford Club and founder and senior editor of the Oxford Income Letter.
Known as one of America's retirement experts, Marc combines dividend stocks with other income strategies to maximize savings.
Lichtenfeld has over 30 years of experience with stock picks and a proven track record that has generated a large following.
He predicted the crash from Covid and the rampant inflation the United States is currently dealing with.
Now, Marc foresees a shift in the stock market that investors need to be aware of.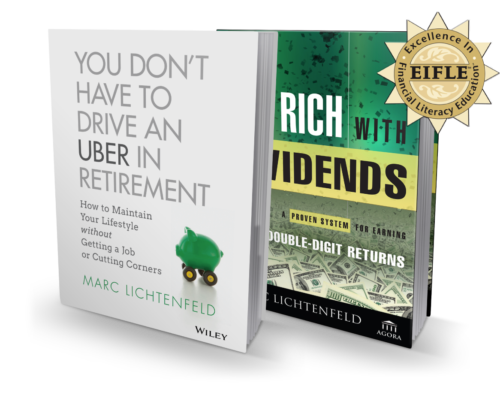 Is Marc Lichtenfeld Legit?
Marc Lichtenfeld is certainly legit in his knowledge and expertise of the stock market.
The Oxford Club's Chief Income Strategist is a seasoned analyst, making appearances on Fox Business, CNBC, and Bloomberg Radio.
His writings have also made it into Yahoo Finance, The Wall Street Journal, Investor's Business Daily, Marketwatch, and Forbes.
Both of Lichtenfeld's books displayed above were bestsellers on Amazon and won Book of the Year Awards.
If that wasn't enough, his daily column Wealthy Retirement has over 200,000 readers.
>> Access Marc Lichtenfeld's stock picks today <<
Oxford Income Letter: The Era of Valorem
In the Oxford Income Letter: The Era of Valorem, Lichtenfeld spells out a massive change coming to the stock market.
Stocks are overinflated and cost more now than at any other point in the market's history.
Like the Dot com bubble of 20 years ago, Marc estimates another downturn is fast approaching.
If this is any indication, several growth stocks, 401(k)s, and IRAs will fall out from under those planning for the long-term before they know what happened.
Everyone will move out of overvalued stocks, but some may not do so until it's too late.
Not all hope is lost, as Lichtenfeld believes we're about to usher in a time of Valorem stocks.
The Faltering Tech Trade
The tech trade reached record highs as the global pandemic first set in.
People were forced to stay at home, leading to a boost in companies like Zoom, Roku, and Peloton.
Federal stimuli flooded the economy, driving up liquidity.
In turn, people had the time and money to invest in the stock market.
Here we are two years later, and times are rapidly changing.
Inflation is rearing its ugly head, and investors are jumping ship from the tech trade as fast as possible.
The result is plunging share prices with no sign of recovery.
What Are Valorem Stocks?
The term "Valorem" is nothing more than the Latin equivalent of the word "value".
That's right – Valorem investing is a method of finding stocks trading well below their fair market value.
Value stock picks almost always outperform growth stocks over the long term.
At this crucial point in economic history, Lichtenfeld predicts that Valorem stocks will provide the rally investors need to stay afloat.
>> Click here for Marc Lichtenfeld's top Valorem stocks <<
Inflation Resistant Growth
With Valorem stocks, Marc uses a special system he believes will drum up the most income in the foreseeable future.
The gap between value and growth stocks is currently higher than it's been in over 100 years.
Lichtenfeld says the market is primed to swing toward Valorem, thanks to rising inflation rates.
Where growth stocks struggle during periods of inflation, value stocks are extremely resistant.
Let's take a deep dive into The Era of Valorem bundle and give you a tour of all the investing resources included with this deal.
What's Included with The Era of Valorem?
12 months of the Oxford Income Letter newsletter
Access to four income-focused model portfolios
Weekly model portfolio updates
Oxford Income Blasts
FEATURED dossier "How to Get Rich in the Era of Valorem"
5 Growth Stocks to Avoid in 2022
Dividend Riches: Marc Lichtenfeld's Income Investing Video Series
101 Ways to Grow and Protect Your Retirement Savings
The Complete Oxford Income Letter Options Guide
Mark's Invite-Only Private Executive Call
Oxford Income Mailbag
Mark Lichtenfeld double 100% risk-free guarantee
>> Get all of these Oxford Income Letter features <<
Oxford Income Letter Newsletter
The Oxford Income Letter first hit digital shelves in 2013 as a way for Lichtenfeld to share learnings from his days on Wall Street.
The monthly newsletter grew from nothing to tens of thousands of readers.
Within the Oxford Income Letter, readers are greeted with income strategies stocks with sustainable dividend yields to consider investing in.
Marc also reveals his proprietary 10-11-12 system, explaining how to pick dividend stocks that generate 11% yields and 12% average annual total returns in 10 years.
Subscribers will receive 12 issues, with a new one hitting their email inbox at the beginning of each month.
Model Portfolios
Signing up for the Oxford Income Letter also unlocks four model portfolios, carefully laid out to meet common income goals for different types of investors.
You'll have access to the following:
a fixed income portfolio
a compound income portfolio
an instant income portfolio
and a high-yield dividend portfolio
You also get access to several "buy now" stocks as soon as you join.
Oxford Income Letter deserves credit here. Most services only offer one model portfolio, but Income Letter members get access to several.
Multiple portfolios means more stock picks, more options, and a lot more value for members, so we give Oxford Income Letter an excellent rating in this category.
>> Access Oxford Income Letter's exclusive portfolios <<
Weekly Portfolio Updates
Each week, Lichtenfeld sends out an update on changes to his portfolios and information on the markets in general.
He carefully explains why the market behaves a certain way and whether it's time to buy or sell.
You'll always be in the loop thanks to Marc's regular update. Any time something big is brewing, you'll be the first to know.
Many services offer portfolio updates, but Oxford's updates seem to be higher quality with more insightful research and analysis.
Reading Oxford Income Letter's portfolio updates will keep you up to speed on the service's latest trades, and Lichtenfeld's research will teach you a lot about the stock market.
Oxford Income Blasts
The stock market moves quickly, and sometimes a monthly newsletter or weekly update isn't fast enough to receive information.
To compensate, Oxford Club sends out income blasts with urgent information that investors should act upon immediately.
You'll never miss a beat in the market thanks to Oxford Income Blasts. This market daily newsletter is an excellent companion piece to Lichtenfeld's monthly write-ups.
>> Stay up to date with Lichtefeld's Income Blasts <<
Era of Valorem Bonus Reports
As part of Lichtenfeld's lucrative Oxford Income Letter deal, new members will also receive two bonus reports valued collectively at over $400.
Let's check them out now.
FEATURED dossier "How to Get Rich in the Era of Valorem"
This special dossier contains Marc's top-three value stocks for the immediate future.
Each pick is inexpensive, a great value, and has tons of potential.
These opportunities come from three unique markets – finance, energy, and biotech.
Better yet, these are dividend stocks that have increased yields every year since 2009.
Of course, the only way to find out about these stocks is through the dossier.
5 Growth Stocks to Avoid in 2022
While you're making money with Valorem, you certainly don't want to be losing funds through underperforming growth stocks.
5 Growth Stocks to Avoid in 2022 shares the names of five stocks to avoid like the plague.
What's worse, these securities have recently made headlines as investment recommendations.
You'll want to get your hands on this journal to learn what they are, as these common stocks may be sitting in your portfolio right now.
This exclusive book is included in the Era of Valorem.
>> Are Lichtefeld's stay-away stocks in your portfolio? <<
101 Ways to Grow and Protect Your Retirement Savings
This special report is stacked with 162 pages of retirement secrets Marc Lichtenfeld has stumbled upon in his 30+ years of investing.
In addition to income strategies, you'll also find information on things like discount prescriptions and how to generate small amounts of income apart from the stock market.
With over 100 tips, you can feel much safer about planning for your retirement.
The Complete Oxford Income Letter Options Guide
Marc also strongly believes in options trading and the upsides they can bring.
However, options can be a struggle if you get in over your head.
The Complete Oxford Income Letter Options Guide explains how to capture quick gains using options as you watch value stocks grow.
You'll learn investment tips to eliminate unnecessary risk and how to make more with less.
More Oxford Income Letter Bonuses
We've already looked at nearly $700 worth of free materials, but the buck doesn't stop there.
Dividend Riches: Marc Lichtenfeld's Income Investing Video Series
Dividend Riches is a six-part video series revealing strategies investors can use to bring in more money.
With each video, you have the flexibility to watch and rewatch as you see fit to get the most out of each one.
Segments focus on dividend stocks and the power of these passive income streams.
>> Learn income investing from a real pro <<
Marc's Invite-Only Private Executive Call
Marc held the first invite-only private executive call on April 6th for everyone with an active Oxford Income Letter subscription.
The analyst took questions in advance and worked to customize investment advice to those in attendance.
Although a date for the next executive call hasn't been announced, anyone signing up for the Era of Valorem will be on that invite list.
Oxford Income Mailbag
Oxford Income Letter members are encouraged to send Marc investment questions as they have them.
Once per week, he goes through and answers the most popular questions based on what he receives.
The mailbag gives members the opportunity to communicate directly with Oxford Income Letter's lead analyst.
Few services give readers any access to their guru whatsoever, let alone the opportunity to ask questions directly. Once again, Oxford Income Letter gets high marks here.
Satisfaction Guarantee
Lichtenfeld believes so much in this package that he's offering not one but two satisfaction guarantees for anyone signing up.
These comprehensive guarantees show you first-hand just how much Lichtenfeld believes in his service.
You can count on Oxford Income Letter to live up to your expectations thanks to this double-sided guarantee:
Guarantee #1
Lichtenfeld stands behind all the information in this Oxford Income Letter package.
He's so confident that he's offering a one-year money-back guarantee.
If there's anything you don't like about the Oxford Income Letter or any information in this package, Marc and his team will issue a full and prompt refund.
You can even keep all the bonus materials without any questions asked.
Guarantee #2
Marc also stands by the three picks he shares in How to Get Rich in the Era of Valorem.
If his choices don't outperform growth stocks during the next year, give the Oxford Club team a call.
Lichtenberg will make it up to you by offering a $249 credit toward any Oxford Club service.
>> Take advantage of Lichtenfeld's airtight guarantee <<
Oxford Income Letter Review: Pros and Cons
The Oxford Income Letter has a lot going for it, but it isn't perfect.
Check out these pros and cons of the service.
Pros
Insane value for the amount of material included in the package
Lichtenfeld is a proven stock analyst
Contains a mix of stock picks, high-yield dividend stocks, and options
Four unique portfolios with low-risk income potential
Weekly updates and income blasts
Six educational videos on dividend stocks
Cons
May be too complicated for new traders
Picks are not guaranteed to succeed
Oxford Income Letter Track Record
Marc and the Oxford Income Letter have already shown what they can do, picking stocks like Intella Therapeutics and Innovative Industrial Properties years ago that have exploded since.
He also predicted that REITs would climb to the top after the Covid crash in 2020.
Inflation is rising at alarming rates, something Lichtenfeld was screaming from the rooftops when others said it was no big deal.
With his proprietary strategy, he's led investors to increases 100% higher than gains from price only with picks like Raytheon Technologies and Texas Instruments.
Oxford Income Letter Reviews by Real Members
Don't just take it from us, listen to what these real Oxford Income Letter members have to say about the service:
Not everyone will have life-changing success with Oxford Income Letter, but the program certainly does work.
>> See what all the hype is about <<
Alternatives to Oxford Income Letter
Oxford Income Letter is an excellent newsletter. However, there are alternatives worth considering.
Some of these services tackle different niches, which could complement Oxford Income Letter and add even more diversity to your portfolio.
If you're in the market for multiple research products, these alternative services might also be a good fit.
How Much is Oxford Income Letter?
The Oxford Income Letter package contains nearly $1,800 worth of materials.
The monthly newsletter alone typically costs $249 for a year's worth of issues.
With Lichtenfeld's current deal, you can have the entire gamut of information and a year of Oxford Income Letter for just a one-time payment of $49.
You'll receive all the bonus content sent directly to your inbox within minutes of signing up.
You can also get a printed subscription to the Oxford Income Letter and printed copies of all three Era of Valorem bonus reports for only $79 for the year.
Finally, digital plus print combination subscriptions to Oxford Income Letter are available for just $129.
Is Oxford Income Letter Worth It?
Considering you're getting nearly $1,800 worth of material, frequent updates, and a monthly newsletter for $49, the Oxford Income Letter is an excellent value at a fantastic price.
Better yet, Lichtenfeld's Era of Valorem bundle includes loads of bonus research and a drastic 80% discount.
You can save $200 on a one-year subscription to Oxford Income Letter and get tons of additional bonuses with this limited-time deal; all at an average monthly cost of just over $4.
The bundle provides everything you need to build up a thriving portfolio of steady income investments, so it's an especially good fit for anyone struggling to adapt to worsening market conditions.
Oxford Club is one of the best research firms in the business, and we've been fans of their services for years. However, the firm has really raised the bar with Lichtenfeld's Era of Valorem bundle.
You get a ton of bang for your buck with this top-tier income investing research service thanks to the steep discount and treasure trove of bonus reports.
Last but not least, your subscription is covered with an airtight double-headed satisfaction guarantee, so you're sure to walk away satisfied or Oxford Club will make things right.
After a thorough Oxford Income Letter review, we're impressed with what we saw. You simply can't go wrong with a deal like this.
If you're interested in generating regular income from the stock market, Marc Lichtenfeld's service should be at the top of your list.
>> That's it for our Oxford Income Letter review! Sign up and save today <<