Stock Rover is touted as a sophisticated web-based stock screener and research platform that's loaded with easy-to-use features. But does it live up to the hype? Read our Stock Rover review to find out.
Stock Rover Review: Overview
Stock Rover is a stock screener and stock market research platform designed for everyday investors. It aggregates a vast collection of stock market data into one centralized research platform and makes it easy for users to find what they need.
Essentially, Stock Rover is a hub for all things stock market and its tools provide quick insights that would take hours to find without it.
Some of its stock research tools include:
Detailed stock reports

Stock ratings

Portfolio analysis

Portfolio management

And much more
With so many robust research features, Stock Rover could be a powerful addition to your trading toolbox and investment strategy.
Even better, Stock Rover supports brokerage integration, but you can also set up your portfolio manually.
Let's dive deeper to learn more about this platform's full capabilities.

Is Stock Rover Legit?
Stock Rover is a legit screener and research hub that provides you with valuable data that could help improve trading outcomes.
Few platforms provide such an extensive catalog of functions and features.
Each feature provided by this stock screener feels very deliberate: it's not just tacking on half-baked tools to check boxes. What the platform does, it does exceedingly well.
Is Stock Rover Safe?
All of your data is stored on climate-controlled secure encrypted servers and no one person has access to your personal information.
Here's a quote from the Stock Rover FAQ:
"Our data centers are locked and accessible to only authorized Stock Rover personnel. Stock Rover servers are protected by multiple layers of firewalls…"
Stock Rover is not a trading app and has no control over your money, so you don't have to worry about hackers cleaning out your account. It's simply a stock screener and research platform that tracks stock market data.
The platform does not sell your email address to third parties, either: it only uses your email to communicate with you about your account.
>> Already sold? sign up now <<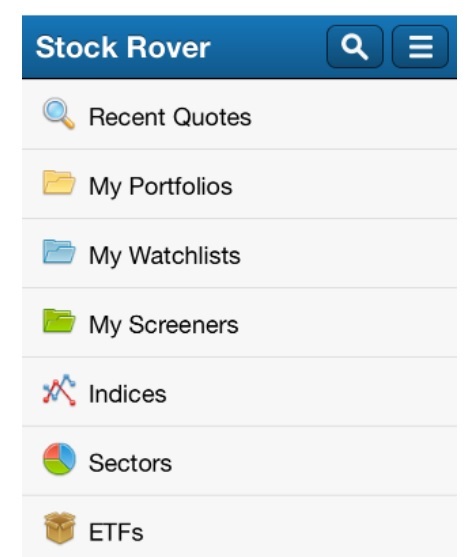 Is There a Stock Rover App for Mobile or Tablet?
Stock Rover is an app that can run on desktop, mobile, and tablet. But it does not have apps specifically for each device. So you can't download a Stock Rover App from Google Play or the Apple Store.
That being said, if you log into Stock rover using a phone or tablet, there's a dedicated UI for each device.
Stock Rover Review: How Does It Work?
Compiling stock data and analyzing investment research on Stock Rover is very simple.
The platform has pricing data for 40,000 stocks on these North American exchanges:
New York Stock Exchange (NYSE)

NASDAQ

NYSE Alternext US (formerly American Stock Exchange)

NYSE ARCA (formerly Pacific Exchange)

Toronto Stock Exchange

TSX Venture Exchange

NEO Exchange

CNQ Exchange

BATS Exchange
Depending on your subscription level, there are tons of exceptional portfolio tools at your fingertips, including portfolio analytics, but we'll get into that a little later.
These tools are easily accessible through the dashboard. It's marked in red (on the left side)…
If you're tired of messy UIs and want an organized platform, Stock Rover is a great option.
You can also remove unwanted sections from the dashboard. This is nice if you're using other services to track watchlists and don't want wasted space for a feature you won't use.
Also, Stock Rover focuses entirely on research applications, so users cannot execute trades directly through the platform. Some competing screeners let you do both, but you're typically limited to using a few brokers.
You can use Stock Rover to:
Perform stock research and correlation analysis

Analyze market data and historical data

Screen for potential trades

Brush up on market-moving news
The Stock Rover platform also includes a fully customizable portfolio tool that you can set up to track holdings, follow your favorite stocks, and much more.
There is a free account, but the best functionalities can be found in the premium plans.
>> Join Stock Rover for Free and Enjoy 14 Days of Premium Plus <<
Stock Rover Review: Features
Stock Rover screener

Stock and ETF comparisons

Portfolio management

Watchlists

Alerts

News and press

Displays (Table, Chart, and Insight Mode)

Stock and ETF comparison

Stock Rover ratings

Research reports

Brokerage integration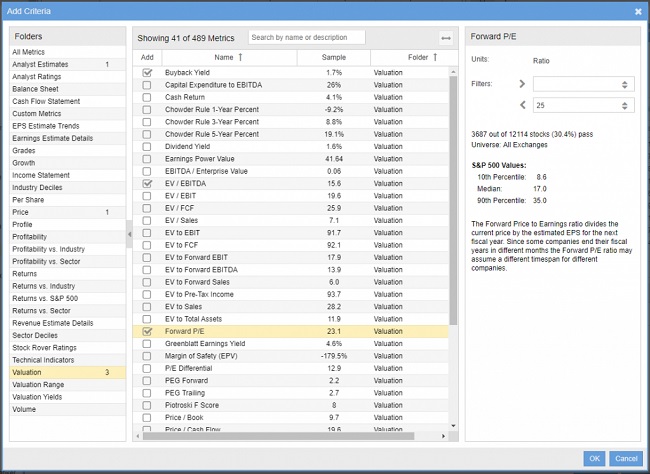 Stock Rover Screener
Stock Rover's built-in stock screener is a great resource for identifying new trade ideas.
The screener tool has over 14 distinct screens that can target stocks based on several attributes like analyst ratings.
Examples of targetable categories include fair value, margin of safety, growth stocks, dividend growth, and more. The screener pours through a vast catalog of historical data to find opportunities that fit your criteria.
Each Stock Rover Stock Screen can be fully customized with your own metrics as well, and you can even apply a second screen layer on top of the first for a truly refined search.
With the Premium Stock Rover subscription, you can also access more than 600 indicators and a wide array of other analysis tools.
Stock Rover's screener uses real-time statistics and fundamental data, so you can screen stocks using the most up-to-date information.
Stock Rover's software engineers even included a logic function, which allows you to design custom equations to find the perfect stocks for your trading style.
Stock Rover Portfolio Management
Stock Rover allows you to set up custom portfolios that will track whatever stocks you want.
You can also import your portfolio from your broker, and the platform integrates with many major brokerage firms, including TD Ameritrade, E*Trade, and more.
Once you link your portfolio, you can access a wide array of portfolio tools through the Stock Rover dashboard.
The sky's the limit when it comes to the portfolio feature. With this tool, you can benchmark your portfolio performance against prominent indices like the S&P 500 and set up automatic tracking reports
Stock Rover can also help you rebalance your portfolios and simulate how your holdings might fare pending hypothetical transactions and sales.
The portfolio management tool also allows you to set up alerts based on triggers such as changes in PE ratio, cash flow indicators, price action, and more.
The Stock Rover portfolio also allows you to set up watch lists.
Watchlists
If you have a list of stocks that you're looking to keep an eye on, you can effortlessly create a dedicated watchlist.
There are a few ways to set these up, but the easiest is probably creating one through the navigation panel. You can run multiple lists so you can track and group stock categories, such as value, dividend, momentum, etc.
You can add multiple stocks at once by either separating your tickers with commas or spaces.
This feature can also be used with charts, allowing you to view and compare your lists against stocks, industries, portfolios, indices, and other watchlists.
>> Already sold on Stock Rover? Click here to sign up today! <<
Alerts
Stock Rover issues alerts to you through text or email when an event meets your preset criteria.
For example, you receive an alert if a stock or ETF exceeds or plummets below a predetermined price point.
This is a handy feature for folks on the go who don't want to spend their entire day with their eyes glued to a screen.
Some alerts you can set up are:
Price movements passing thresholds

Earnings surprise events

Prices nearing 52-week highs or lows

P/E shifts

And more
Most screeners have some sort of alerts baked in the formula, but Stock Rovers' options are surprisingly flexible.
These alerts can be either set up in your portfolio or watchlists and can even track indices like the S&P 500.
News and Press
News and press feature displays the latest news on the markets and stocks in your portfolio.
This is an excellent addition for folks looking for an all-in-one platform that doesn't force you to split your attention between software or swap through browser taps trying to keep up on the latest happenings.
You can customize your feed by using the dropdown menu to add or remove news from specific sources.
Some feeds you can tap into include:
Benzinga

Zacks

Seeking Alpha

Google

Investopedia

Forbes

And much more
Displays
Stock Rover has three panels you can use to provide different insights and visualizations of data for your stocks.
These modes are:
They have different indicators that you can sift through to find the exact data point you're looking for.
As mentioned earlier, this level of organization plays a major role in the platform's usability. Stock research platforms aren't exactly known for uncluttered UIs, so this is a big plus for Stock Rover.
Table Mode
Table Mode is a good option for comparing multiple stocks. This view allows users to sort search elements using a wide selection of market data, including fundamental and technical analysis indicators, and more.
You can use Table Mode to organize your stock research into a convenient spreadsheet-like display. This makes it easy to compare different stocks across multiple categories
Table Mode also allows users to incorporate data from the Stock Rover library, which includes info from balance sheets, financial statements, historical data, and more.
You can sort using analyst rankings, cash flow, dividend yields, and other statistics. For example, you can search stocks and exchange-traded funds by their returns versus the S&P 500.
This feature also allows you to create custom views to fine-tune each table to your preference.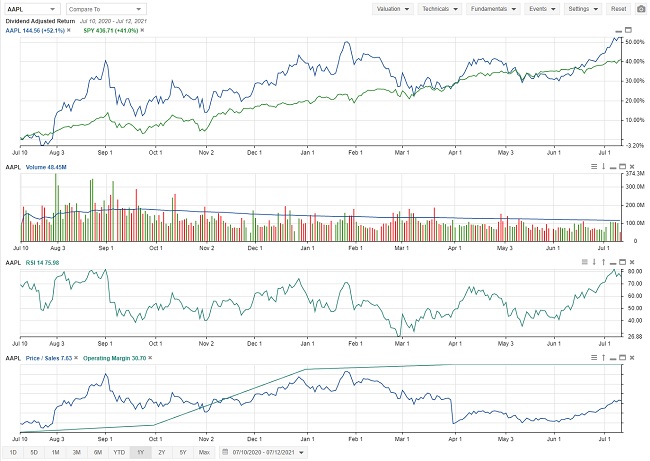 Chart Mode
Stock Rover's Chart Mode comes loaded with useful drawing tools, chart overlays, built-in technical analysis indicators, and much more.
This mode offers a wide array of options, including technical fundamental analysis indicators.
You can customize the chart display to show candlesticks, mountain graphs, line charts, and more. Available indicators include moving averages, MACD, RSI, and other popular options.
Chart mode is the best view for conducting chart-based technical analysis and analyzing price trends.
If you favor technical investing strategies, you will probably use this view often.
Advanced Charting Tools
Charting is arguably Stock Rover's strongest investment tool. From the chart view mode, you can adjust the timeline back decades and set up as many technical indicators as you want.
With the premium subscription, you can access more than 600 indicators, including moving averages, MACD, Bollinger Bands, and many more.
Chart data updates continuously during the day. And it lets you plot multiple securities on the same chart, making it easier to compare performance regarding various technical indicators.
The chart tool is also not restricted to plotting time against price, either: you can use any metric you'd like to plot the chart.
Stock Rover's customizable charts are a unique and useful feature that makes conducting research much more streamlined and efficient.
>> Access Stock Rovers Advanced charting tools <<
Insight Mode
Insight Mode breaks down individual securities into an easy-to-read snapshot report for quick reference.
The reports produced by Stock Rover's Insight Panel combine everything you need to know about a particular stock into one convenient one-page summary.
This view shows a lot of information at once, but don't be intimidated.
The Stock Rover's Insight Panel provides info on:
Company news

Dividend analysis

Financial statements

Earnings transcripts

Analyst ratings

Cash flow
Also, Stock Rover clearly labels and explains each section, which makes it much easier to take in all the collected data.
Insight Mode is best for conducting in-depth research of individual securities.
Stock and ETF Comparison
This stock research tool lets you conduct side-by-side investment analysis on individual stocks using any combination of criteria and metrics you want.
The comparison tool runs through the Table view and offers an exceptionally simple UI that's packed with rich data insights.
You can arrange and organize the data with just a few clicks, and Stock Rover does the rest of the work for you. The stock comparison tool is set up somewhat like Microsoft Excel and can integrate with popular indices and watch lists.
The outstanding breadth and depth of these comparison tools are overwhelming at first, but once you get used to them, you'll realize how useful and intuitive they can be.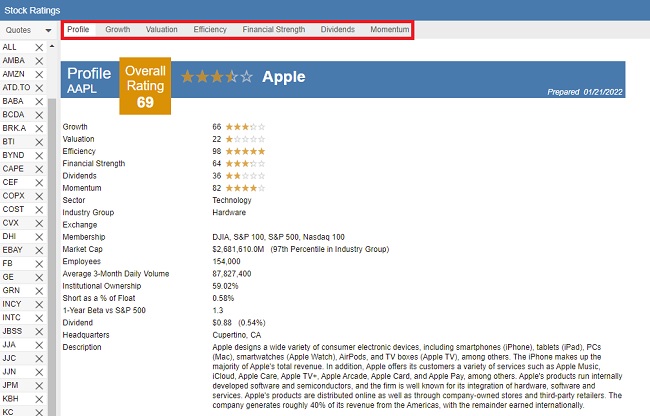 Stock Rover Ratings
Securities also have Stock Rover ratings that provide quick insights into potential investments with only a glance.
It's an exceptional, intuitive system that aggregates a wealth of data and compares it to other stocks.
Here are some of the ratings based on stock comparison:
Dividends Rating vs. Peers

Efficiency Rating vs. Peers

Financial Strength Rating vs. Peers

Growth Rating vs. Peers

Momentum Rating vs. Peers

Overall Rating vs. Peers

Valuation Rating vs. Peers
The ratings feature is fantastic. The one drawback is that it's only accessible through the Premium Plus plan.
>> Get started with Stock Rover here! <<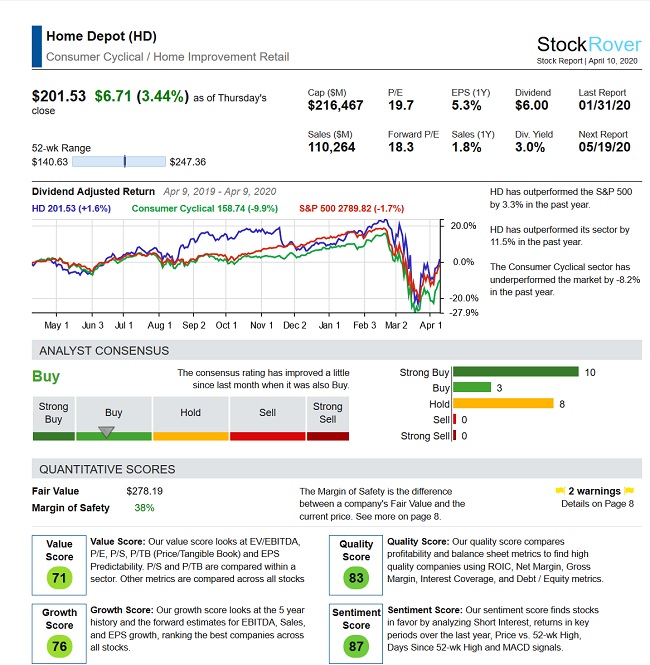 Research Reports
Stock Rover research reports allow users to export detailed information on stocks and ETFs that are tracked by the platform.
Currently, you can pull up data on more than 7,000 stocks.
These eight-page reports are jam-packed with valuable data, including:
Overview of the stock

Analysis

Ratings vs peers

Dividends

Financial statement summary

Valuation and profitability history

Warnings

Footers (report tips and disclaimers)
This is a serious stack of insights and dramatically cuts down on the hours you would typically spend collecting and organizing this data.
Also, because the data follows the same pattern for each report, you can effortlessly browse the document for key data points. No more fumbling through a sea of browser tabs to find dividend history, income statements, or earnings reports.
Stock Rover's research reports are at your fingertips and ready to read as soon as you load them up.
Here's a snippet from the dividend section on American Express…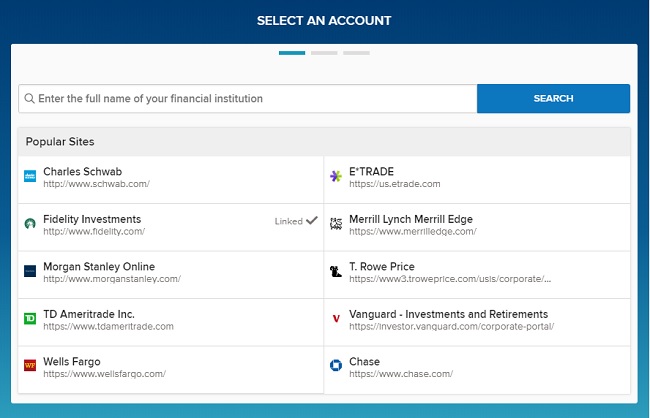 Brokerage Integration
Stock Rover allows you to connect select brokers through Yodlee, which is a cloud-based account aggregator.
The platform is compatible with over 1,000 brokerages, and you can connect multiple portfolios to your Stock Rover account.
Yodlee syncs data from your broker directly to your Stock Rover account. This means you won't have to hassle with manually importing your data.
Some supported brokers include:
Charles Schwab

E*Trade

Fidelity Investments

TD Ameritrade

And much more
>> Try Out Stock Rover's Screening Tool Now <<
Stock Rover Review: Pros and Cons
Stock Rover offers a lot of benefits and some drawbacks.
Here's what we found during our review of Stock Rover.
Pros
Track data on stocks, bonds, ETFs, commodities, mutual funds

Robust portfolio analysis tools

Well-organized investment research platform

Easy to compare stocks through portfolios and watchlists

Fantastic for trade planning

Integrates with brokerages to track portfolio positions
Cons
Doesn't track crypto, options, or forex data

Cannot trade through a brokerage account

Only collects data on North American markets (lack of foreign stock exchanges)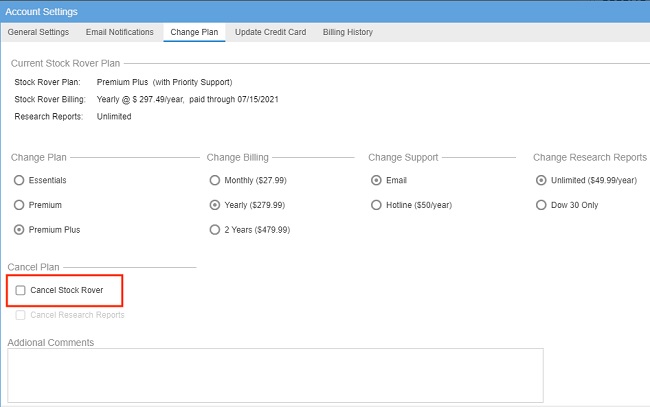 Stock Rover Review: Cancellation Policy
Stock Rover makes it easy to either cancel your subscription service or delete your account entirely.
If you want to cancel your subscription, simply go to your account page and change or cancel your plan.
If you're using a paid subscription, you can still use the software until the end of the paid term. This means that if you cancel your account on day 5, the features of your plan will remain accessible for the next 25 days.
Afterward, your account will revert to the free version.
Refund Policy
Stock Rover says in no uncertain terms that there are no refunds for paid subscriptions.
You will have to pay at least one month's worth of a subscription to try the software, and you won't get your money back if you decide the service isn't right for you. However, you're only on the hook for a month, so it's not a huge cost.
It's also worth noting that the platform provides a lot of upfront value, so it's understandable why the company takes this position. There's a 14-day free trial if you sign up for the Premium Plus Plan.
Stock Rover Review: Pricing Plans
Stock Rover pricing offers 4 main subscription plans:
Free

Essentials

Premium

Premium Plus
Free Plan
The free plan option is completely free to use and provides basic stocks and ETF data.
You can also track portfolios and integrate holdings from your broker.
However, the free version leaves out most of Stock Rover's most powerful investment research features, such as stock analysis tools, stock screeners, and more.
If you just need a simple portfolio tracker, the free plan will do just fine, but it falls well short of Stock Rover's full capabilities.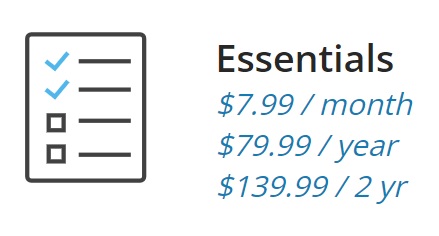 Stock Rover Essentials
The Essentials plan costs $7.99 a month, and annual packages go for $79.99.
This plan includes up to 5 years' worth of stock and ETF data, plus Stock Rover's signature stock screening tool.
You can also set up email notifications with the essential tier and access more sophisticated portfolio tracking tools. However, the Essentials plan doesn't include access to Stock Rover's fundamental metrics and technical indicators.
You also cannot set any custom fields or metrics.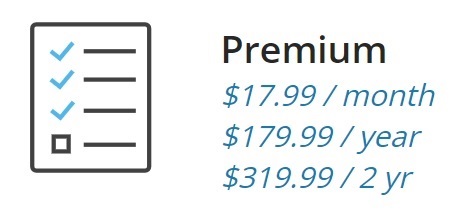 Stock Rover Premium
The Stock Rover Premium plan goes for $17.99 per month or $179.99 per year.
It includes access to all of Stock Rover's fundamental metrics and technical indicators. You also get higher data limits, improved chart tools, and more detailed portfolio analytics.
The tool has extra features like correlational analysis and future dividend income projections.
However, you still will not be able to make custom fields until you upgrade to the next plan.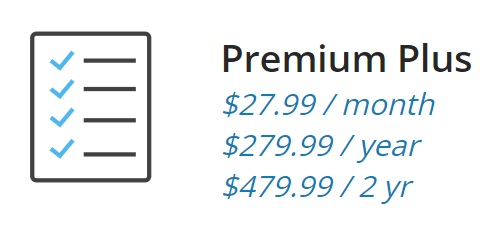 Stock Rover Premium Plus
Premium Plus gives you full, unrestricted access to the Stock Rover platform and costs $27.99 per month or $279.99 per year.
With this package, you can use every tool in the Stock Rover arsenal. It also increases limits on extra portfolios and custom screens.
Additionally, this plan allows you to use unlimited custom fields for charts, tables, and graphs. Even better, there's no limit to the number of portfolios that you can have.
Stock Rover Free Trial
Stock Rover gives every new subscriber a free 14-day trial to the Premium Plus plan.
You don't even have to give a credit card when you sign up for the trial, so you won't have to worry about any unexpected charges. The account simply reverts to the free version when the trial expires.
Stock Rover Coupon Code
From our research, it doesn't look like Stock Rover has any active coupon codes. Fortunately, you can get a discount depending on the length of the subscription that you sign up for.
Stock Rover Discount
Stock Rover does offer discounts if you sign up for the one- or two-year subscription. If you're still on the fence, it might be best to test the service out for a month first.
>> Sign Up for Stock Rover's Free Premium Plus Trial Now <<
Stock Rover Reviews
If you check out independent reviewers, the general consensus seems to be that Stock Rover is a standout screener packed with valuable tools.
However, we couldn't find any reviews on third-party sites.
The Stock Rover site hosts plenty of positive reviews of the service, though.
Here's what others have to say about Stock Rover: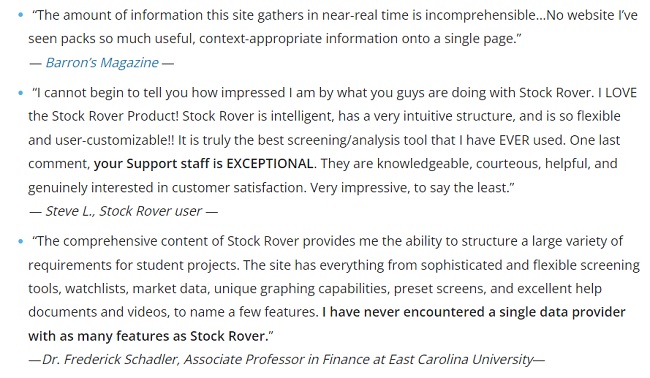 Because these are directly from the Stock Rover site, you might want to take them with a grain of salt.
>> Try Stock Rover now for free <<
Stock Rover Review: Is It Right for Me?
Stock Rover is a great platform with many powerful features, but some people will find it more valuable than others.
Here are some examples of investors who could benefit from the platform.
Active Traders with Multiple Portfolios
If you have multiple portfolios with different brokerages, then Stock Rover can be an excellent option.
It allows you to follow all your holdings in one centralized location and conduct an overview analysis.
Day Traders
Stock Rover's real-time stock charting and trade tracking make it a natural fit for day traders and other short-term investors.
The platform makes it easy to follow your open positions closely, so you can make snap decisions and take advantage of developing moves to maximize your profits.
Technical Analysis Fans
One of Stock Rover's best features is its excellent charting tools.
These highly customizable charts allow users to conduct detailed analyses using a wide selection of indicators and other custom inputs.
It's a natural fit for technical analysis proponents who use charts to conduct the majority of their research.
Long-Term Investors
Long-term investors will likely appreciate Stock Rover's ratings and research reports.
If you have the time to run through them, they provide a range of valuable insights on a company you've got your eye on.

Stock Rover Review: Is It Worth It?
Stock Rover is an excellent screener, and its features come at a great price. The platform offers a comprehensive selection of research tools that can help you take your research and trade execution to the next level.
It also combines several powerful services into one platform, making it very versatile and easy to integrate into your trading strategy. You can replace several stand-alone tools with a Stock Rover subscription, which could save you time and money over the long run.
Stock Rover's massive research library, research reports, and stock ratings are also major perks. Plus, the platform updates its data in real-time, so you always get the most accurate, up-to-the-minute take on the market.
If you don't want to pay, you can still enjoy some limited functionality with the free version of the software. Either way, Stock Rover is a good choice for both self-directed investors and professional traders.
We think this underrated platform can be a powerful addition to your research toolbox, and we highly recommend trying out the free version to see if it's right for you.
Though, keep in mind that the free version does not include stock screening. So if you want to use it as a stock screener, you might want to consider upgrading for a month to test the service out.
You can also test drive the service for 14-days by picking up the Premium Plus free trial by clicking any of the links on our review.
>> Click Here to Claim Your Free 14-Day Stock Rover Trial Now <<