The Stock Dork is reader supported. We may earn a commission, at no additional cost to you if you buy products or signup for services through links on our site.
If you like to spend time day trading stocks, then you know that the quality of your trading experience is largely determined by the tools you have in your arsenel. Stock trading tools try to give users the most streamlined experience for trading stocks and performing stock research and in this Stock Rover review, we see if this trading tool lives up to the hype!
Stock Rover is a premier web-based stock and ETF research and analytics platform.. With Stock Rover, you can analyze market data, screen potential portfolio choices, and brush up on the latest investment research and trends in the industry.
There are a lot of stock trading services out there. So how does this platform distinguish itself from the others? Is Stock Rover worth trying out? We will answer these questions and many more in our Stock Rover review. We will review Stock Rover and see if it is the best choice for a day trader.

Stock Rover Review: Overview
Stock Rover is, in essence, a DIY platform devoted primarily to stock research. We should say this loud and clear at the front: Stock Rover is not a platform for buying and selling stocks. Rather, Stock Rover is a research platform where you can consolidate all of your market research. Stock Rover features stock tracking tools hook up to your existing stock portfolios to track them, analyze their performance, and help you find the best trading opportunities. In other words, Stock Rover is meant to be a kind of informational hub for all of your trading information.
So the real benefit of Stock Rover is how it streamlines everything into the same research platform. The portfolio tools let you examine several financial metrics and even make custom metrics of your own for unique applications. Managing stock data can be very hard without the right tools so Stock Rover gives you stock screener tools and more useful tools for traders.
How Does Stock Rover Work?
Stock Rover is designed to be very simple. First, you need to visit the website and make an account. You will be prompted to enter a username and a password, along with your email. With this info, Stock Rover will create your account and also send you weekly emails with useful investing tips, articles, webinars, and more.
Once you have your account created, you can either import an existing portfolio or start building your own portfolio from scratch. Stock Rover is compatible with most major brokerage firms such as TD Ameritrade and Etrade. Once you link your portfolio, your data will automatically be imported and Stock Rover will start calculating your returns.
Create a Fantasy Portfolio
You can also start making your own "fantasy" portfolio and practice/experiment with different combinations of securities. Stock Rover has historical data on over 10,000 stocks and ETFs along with analyst ratings so whatever you need to know you can find it. From the home page, you can cycle between the three viewing modes: Table, Chart, and Insight.
Table Mode
Table mode is a good option for comparing multiple stocks and sorts selected search elements by their Value Score. Stock Rover has a ton of indicators that you can sort and organize table-formatted data by, such as balance sheets, cash flow, dividend yield, growth, momentum, etc. For example, you can search stocks and ETFs by the Returns vs S&P 500. You can also create custom views for unique insight.
Chart Mode
The chart mode is, as you might expect, packed full of useful charting tools and technical analysis indicators. The charting tool has most of the standard indicators such as candlesticks, moving averages, and various line options. You can set timeframes for line graphs and browse hundreds of popular technical analysis indicators for stocks.
Insight Mode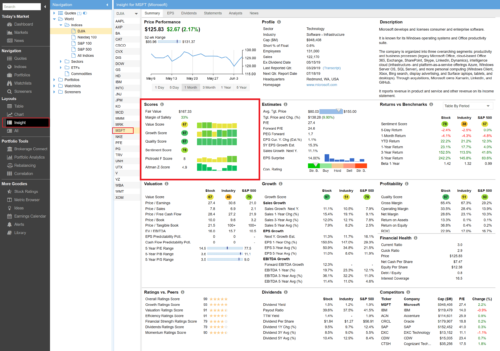 The Insight screener mode is a bit more unique and focused on getting a snapshot of a complete company at a point in time. Viewing insight for a stock will show a comprehensive report on the company you select, including stock performance, growth, profitability, and more. This screener view puts a lot of information on the screen so it might seem initially intimidating but all the information is clear with labels and descriptions.
>> Already sold on Stock Rover? Click here to sign up today! <<
Is Stock Rover Legit?
Yes, Stock Rover is 100% legitimate. Stock Rover is not a trading app so you do not have to worry about hooking up your financial account to it. All it does is track your portfolios so even if someone got into your account, they could not buy and sell your assets. Further, Stock Rover never needs to be hooked up to any of your financial accounts. You can just create fantasy portfolios for analysis and try those out on your actual trading platform.
Stock Rover does not sell your email address to third parties and only uses it to communicate with you about weekly newsletters. All of your data is stored on climate-controlled secure encrypted servers and no individual person has unfettered access to your personal information.
So yes, Stock Rover is entirely legitimate and is not a scam. It will not steal your money, it will not overload your inbox with spam, and they do not sell your personal info to third-parties. They are just for helping you make better stock decisions.
Stock Rover Review: Features
Here is a comprehensive overview of all the portfolio management tools and financial metrics that Stock Rover has for investing.
Screening
Comparison
Research Report
Portfolios
Charting
Screening
Stock Rover's stock screener tool is a great tool for analyzing picks. The stock screener tool has over 14 distinct screens that corral stock picks for different categories, such as fair value picks, margin of safety calls, and growth stocks. Each Stock Rover Stock Screeners table can be fully customized with your own metrics and you can apply a second screen on top of a primary screener.
With the Premium Stock Rover subscription, you get over 600 technical and fundamental indicators to use with the stock screening analysis tools in real time and can incorporate balance sheet, dividend growth stock rating, stock ratings, and much much more. There is also a neat logic function so you can build custom equations for filters for the screener.
Comparison
Stock Rover also has a side-by-side comparison tool for scanning specific criteria and metrics. For example, Stock Rover will handle all the data for you and you can arrange and organize the data with just a few mouse clicks. The stock comparison tool is set up somewhat like Microsoft Excel and can integrate with popular indices and watchlists. The amazing breadth and depth of these comparison tools are overwhelming at first, but once you get used to them you realize how useful and intuitive they can be.
Research Reports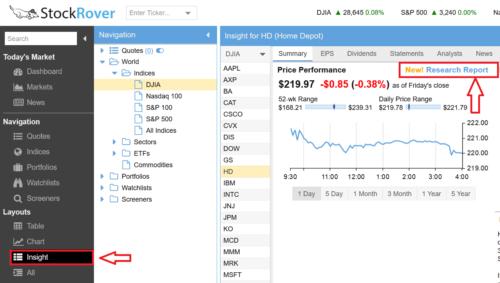 Stock Rover recently introduced their Stock Rover research reports in 2020, which allows you to export all relevant financial data into PDF format for analysis. The research report view is excellent if you need physical copies of your stock information or want to take a snapshot of a particular state of affairs at a specific time. The research report function is one thing that is not included with a Stock Rover subscription. It must be bought as an additional add-on.
Portfolios
Portfolio compatibility is another major feature of Stock Rover. The platform is compatible with over 1,000 brokerages and you can connect multiple portfolios to your Stock Rover account. With this tool, you can benchmark your portfolio performance, index performance to key metrics like the S&P 500, and set up automatic tracking reports. Stock Rover can also help you rebalance your portfolios whenever you want and see how your portfolio might fare pending certain transactions and sales.
The portfolio management tool also allows you to set up alerts for various occurrences such as PE ratio boundaries, cash flow indicators, the price per share levies, and more. Stock Rover Alerts can be set up for your email notifications and keep an eye on watch lists for your Stock Rover portfolio. The watch lists can include ratio charts, market news, stock ratings, investor warnings, f score ratings, and other forms of investing analysis.
Charting
Charting is arguably Stock Rover's strongest feature. The Stock charting tool is vast and immensely helpful. From the chart view mode, you can adjust the timeline back decades and set up as many technical indicators as you want. With the premium subscription, you get over 600 indicators to use. Most of them are very common too such as moving averages, candlesticks, Bollinger bands, and many more.  Data on the charts update continuously during the day and you can plot multiple stocks or ETFs at the same time to compare their performance with respect to various technical indicators.
The chart tool is also not restricted to plotting time against price either. You can actually plot any metric that you want. This is a very unique feature that greatly improves the scope of analysis that the charting tool can manage.
>> Like the Stock Rover features? Get started using Stock Rover today by clicking here! <<
Stock Rover Cancellation Policy
Stock Rover makes it very easy to either cancel your subscription service or delete your account entirely. If you want to cancel your subscription, you can click on the down arrow next to your name on your account page and hit Change Plan. From there, you can navigate to the bottom of the screen and select the box Cancel Stock Rover. You can still use the subscription services until the end of the paid subscription period. This means if you cancel near the beginning of a month, you would still get a subscription service for the rest of the month. Afterward, your account will revert to the free version.
If you want to delete your account entirely, click on the same arrow next to your name on your account page and select the Delete Account option. When you delete your account, all of your information disappears from Stock Rover's servers.
How Much Does Stock Rover Cost?
Stock Rover pricing offers 4 main subscription plans: free, Essentials, Premium, and Premium Plus.
Free Plan
The free plan option is completely free to use and provides basic stocks and ETF data. The free option also allows for portfolio tracking so you can integrate your stock portfolio for whatever broker you have. However, the free version leaves out most of the technical and analytics tools, screener, and customization features that make Stock rover so unique. However, if you just need a simple portfolio tracker with basic information, then the free plan will serve you well.
Essentials Plan
The Essentials plan costs $7.99 a month or $79.99 a year. The Essentials plan comes with up to 5 years of stock and ETF data along with the signature stock screener tool. You also are allowed to make alerts and email notifications. However, the Essentials plan does not include a large number of fundamental metrics and technical indicators. You also cannot set any custom fields or metrics.
Premium Plan
The Premium plan is the next tier plan and costs $17.99 per month or $179.99 per year. This plan gives you access to all of the available fundamental metrics, technical indicators, and chart tools. This version also has a more advanced portfolio analysis tool. The tool has extra features like correlational analysis and dividend income projection. However, you still will not be able to make custom fields until you upgrade to the next plan.
Premium Plus Plan
The Stock Rover Premium Plus plan is the highest tier plan available. It costs either $27.99 per month or $279.99 per year. The Premium Plus plan gives you access to every tool Stock Rover has and gives you extra portfolios and custom screens you can have. Also, you can finally make as many custom fields as you want for charts, tables, and graphs. There is also no limit to the number of portfolios that you can have.
Keep in mind that whenever you first make an account with Stock Rover, you will automatically get a free 14-day trial to the Premium Plus plan. You don't have to give any credit card information when making an account. This means you will not automatically get a charge when the first 14 days are up. The account will just revert to the free version until you manually sign up.
>> Are Stock Rover's costs good for you? Click here to sign up for one of the plans today! <<
Stock Rover Review: Pros & Cons
Stock Rover offers a lot of benefits and drawbacks. Here are the most relevant and important ones.
Stock Rover Pros
Lots of research. Stock Rover's immense library of research on over 10,000 stocks, ETFs and mutual funds. They cover a broad spread of exchanges out there. No matter what piece of information you are looking for, Stock Rover will probably have some record of it.
Over 600 metrics included. The charting tool is one of the best in the business and the full version has over 600 technical indicators, including things like moving average, margin of safety candle bar charts, and more. There is also the option to define your own metrics and equations using the built-in logic tool.
Highly customizable. One of the best features of Stock Rover is how flexible it is. You can set charts up for virtually anything you want and organize them however you want. On the higher subscription plans, you basically have free reign to make the charts track whatever pieces of information you want.
Tracking and rebalancing. Stock Rover is very good for tracking your profile with its projection and rebalancing tools. Stock Rover can integrate portfolios from over 1,000 brokerages and keep track of your earnings. You can set alerts to make sure that your allocations fall within the ratios you want. The alerts will also notify you of benchmarks being met.
Stock Rover Cons
Free version is highly limited. The free version of Stock Rover is very useful but it is highly limited for traders. You can track your portfolio and look at stock research. However, most of the technical analysis tools and charting tools are not included. It's not until you get to the premium version that you get all the technical indicators.
Complicated at first. Stock Rover offers a ton of information and initially can seem very intimidating. The screen looks cramped at first. However, once you get used to it the layout is easy to navigate and intuitive. Just don't get discouraged from all the information on the screen at first.
Technical indicators are limited. Stock Rover has a lot of technical indicators but most of them are variations on certain key metrics. There are more complicated metrics that might be useful but that Stock Rover does not include. This issue is mitigated slightly as you can just make custom metrics if they are not included.
Is Stock Rover Right for Me?
If you are a fairly active day trader or have multiple portfolios with different brokerages, then Stock Rover can be a great comprehensive suite of investment tools for portfolio analytics. With Stock Rover stock screeners, traders get access to years of historical data and fundamental metrics in real time. If you need a large source of stock info then Stock Rover would be a good choice.
On the other hand, if you are new to stock and the world of trading, then Stock Rover might be a bit too much at first. It might be better to start with the free version so you can understand to the tracking tools before going wild with the charting and graphing tools. Once you get used to reading the trader tools, then you can upgrade to the full suite of tools.
Final Review: Is Stock Rover Worth It?
So, is Stock Rover worth it? Can it help you manage all of your investment accounts and keep track of your trades? We say yes, Stock Rover is 100% worth the subscription. Stock Rover offers a comprehensive platform for managing your stocks. It has a lot of good features for traders such as screening tools, charting tools, and multiple viewing modes. Stock Rover also has a massive library of analyst ratings, stock ratings,  stock investment research so you always have the top information. The customer service team is also very responsive so you can always get in contact with customer service.
So based on our Stock Rover review, we say that it is worth it. Even if you do not want to pay, you can just sign up for the free version and use the tracking tool.  Either way, Stock Rover is a good choice and will help you manage your wealth to the best of your ability. It has a high ease of use and the Stock Rover platform is great for professional investors, traders, and those investing with many accounts. If you are a day trader then Stock Rover is good for keeping track of your information. Hopefully, this Stock Rover review can help you make the right decision.
>> Ready to make the most out of investing with Stock Rover? Click here to become a member now! <<