Manward Money Report is causing a splash in investing circles, and I'm here to see if Shah Gilani's analysis lives up to the hype. Check out my full Manward Money Report review for my take on this stock-picking service.
What Is Manward Money Report?
Manward Money Report (formerly known as Money Map Report) is a monthly newsletter with stock recommendations, trade alerts, daily briefings, and more. Shan Gilani is lead stock picker, and it's published by Manward Press.
The newsletter cues members into small companies that Shan Gilani believes could have potential for substantial growth. He calls them Alpha 7 stocks — more on this later.
Each issue provides three to five income-generating stock ideas that typically follow a short-term investment horizon.
The stock picks are just scratching the surface of what's on offer: Manward Money Report is packed with features.
This one of the few research services I've seen that focus on small, fast-growing companies that are trading for less than $5 a share.
So, if you're the kind of person that likes to root for the "underdog," these small companies could generate enormous cash flow.
But how does the Manward method work? I'm going to take a look at Shan Gilani's investment strategy to find out.
>> Sold on Manward Money Report? Sign up now <<
Manward Money Report Review: Trading Strategy
As I alluded to earlier, the Manward strategy is all about investing in small companies for the chance at big gains.
The Manward Money Report service doesn't deal in huge names like Apple, Google, or Microsoft. These stocks are already over-saturated, and many have major shareholders on Wall Street.
Instead, this newsletter focuses on new opportunities no one else has yet spotted.
Shah Gilani focuses on little-known stocks that are on the verge of seeing 10 times, 20 times, even 30 times their current profit in as little as a few months.
And the best part is that all of these stocks are trading for less than $5 per share.
These companies are so small that Wall Street doesn't bother with them. However, they could outperform common large-caps and blue-chips by a large margin.
Shah Gilani makes frequent appearances on Stuart Varney's Fox Business TV show.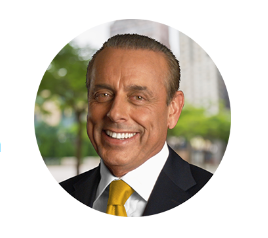 Who Is Shah Gilani?
Shah Gilani is an excellent analyst, and I think he provides quality insights on breakout companies.
Gilani is the Chief Investment Strategist of Manward Money Report and Money Morning — and he's regarded as a top financial expert in the investing space.
In his 40+ years as an investment professional, he's done everything from trade on the exchange floor to run hedge funds to help establish the VIX index, and more.
Now, Gilani pours all his market analysis expertise into helping ordinary people build wealth in the stock market. He has several successful publications under his belt, including:
Manward Money Report

L.A.U.N.C.H. Investor

Hyperdrive Portfolio
Each of these services has earned high acclaim since their run. Given Shah Gilani's reputation as a stellar stock picker, I'm not surprised.
What Is Shah Gilani's Net Worth?
I couldn't find any credible figures for Shah Gilani. There also isn't a Shah Gilani Wikipedia to go from.
Shah Gilani has a long history in finance, so he could be doing pretty well for himself. However, I can't know for sure unless it comes straight from the source.
>> Access Shah Gilani's complete model portfolio now <<
Shah Gilani Track Record
Shah Gilani's track record dates back to 1982 when he ran his first hedge fund. He's spent over 40 years since then working for some of the biggest companies in the world.
His steady presence throughout the decades makes him one of the most trusted and admired experts in the investing space.
Gilani believes his Manward Wealth Alliance program is one of the easiest ways to generate long-term wealth — and he and his team spend hundreds of hours each month researching which stocks could help you get there in record time.
What Is Manward Press?
Manward Press is an excellent publisher of stock research, and I appreciate its emphasis on helping everyday folks navigate the markets.
The company's mission is rooted in its desire to help ordinary people access groundbreaking money-making opportunities around the world.
Manward Press has a whole string of successful publications under its belt, including big names like the Manward Money Report, Alternative Wealth Network, and more.
Another popular service from Manward Press is Tom Gentile's Fast Fortune Club.
Manward Press is a legit financial research publishing firm. There's even a Manward App.
The company has an A-rating with the Better Business Bureau thanks to its financial stability and willingness to quickly handle customer complaints. (It's been in business for over 14 years).
What is Artificial Super Intelligence?
I've been keeping tabs on AI ever since it came out, and I admit I've been blown away by what it can do. It's already able to perform monumental tasks and solve problems we didn't think it could do.
The crazy part is the AI we have now is just the beginning. Shah Gilani says Artificial Super Intelligence is right around the corner and will make everything we've seen so far like child's play.
Artificial Super Intelligence (ASI) is, in a sense, AI that can do everything the human mind can without any limits – and then some.
This is AI that thinks for itself and writes its own code. It no longer needs its handlers to feed it information.
It's going to be an absolute game-changer for our society, for better or for worse. When ASI gets here, Shah predicts it will consume millions of jobs across all sectors.
Gloom and doom for some. The good news is it's still far off, right?
>> Join now to get Gilani's top ASI stocks <<
Shah Gilani's Prediction
Artificial intelligence is growing at an alarming rate. Experts once predicted ASI would get here around 2040, but the current climate has them believing it could be as little as three months away.
Many people are going to be caught off guard and left with nothing.
Shah sees ASI as the next great tech evolution and the biggest one we've ever seen. PricewaterhouseCoopers estimates AI will add $15.7 trillion to the global economy in the next ten years.
Like these AI data companies Shah and his team believe could grow 1100 to 12,400%.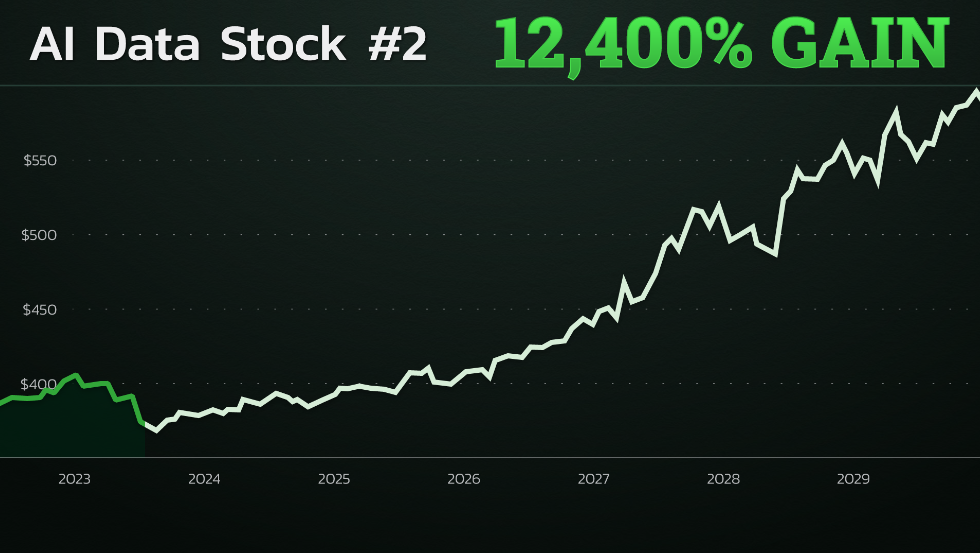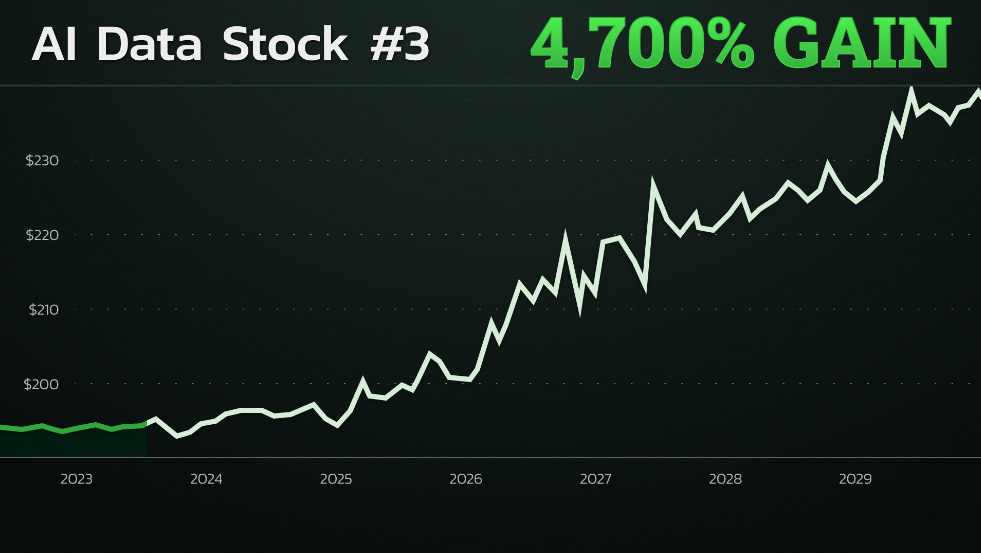 All this information got my heart beating, but all hope is not lost. It's not too late to grab hold of this explosive trend before it really takes off.
That doesn't mean you should run out and buy every AI stock you can find. We saw what happened with the internet bubble back in the 90s.
Many companies are trying to get on the AI bandwagon and earn some profits of their own. Seems impossible to know for sure where you put your money.
Luckily, Shah's team has spent a year researching the best AI opportunities on the stock market. His solution? Not to invest in AI itself but in the data that drives it.
Three Steps to Take Immediately
Gilani warns that the moment ASI goes live, fortunes will be made and lost.
I've seen countless similar claims over the years – some hold true and others amount to nothing. With everything AI's already done, Shah's words speak volumes.
He's devised a three-step plan for folks wanting to win big when ASI takes center stage. It's not available to anyone, though.
His game plan is carefully rolled up into a series of special reports he's only sharing with Manward Money Report subscribers. You can get instant access to all the content if you sign up for Manward Money Report today.
Here's everything you'll get:
>> Get the Artificial Super Intelligence bundle here <<
Manward Money Report Review: What's Included?
Shah's complete research on ASI is only available to Manward Money Report subscribers. He's offering a steep discount and tons of bonuses if you get started now, including:
Manward Money Report Newsletter
Manward Money Report is a monthly newsletter where you learn about three to five income-generating stocks that could see massive growth in the near future.
It's called the "Manward Money Report" because Gilani designed it to serve as a roadmap that helps you build wealth through every stage of life.
Each month, Gilani shows you exactly how to invest in each of his stock recommendations. He also includes tons of videos, explainers, and detailed market trends to help walk you through the process of buying, selling, and maximizing gains.
>> Get started with Shah Gilani's Manward Money Report Here <<
Manward Alliance Model Portfolio
The Manward Alliance model portfolio is made up of all of Gilani's top stock recommendations, and it's designed to help you get up and running in no time.
You can view the model portfolio in the member's portal of the website. And you can track its progress in real-time to see if you want to build a similar portfolio with your own investments.
Manward Press Members Portal
The members' portal is the home base for all your Manward Money Report subscription benefits. Here, you can manage your account, access membership perks, browse the research archives, and more.
You can access the members' portal on the Manward Press website. From there, you can access all the benefits listed in this review, plus a lot more.
The Manward archives are a particularly valuable addition to the lineup. Here, you can explore all of Shah's past alerts and research reports.
This is also where you can check up on the latest position updates in the model portfolio, browse the latest trade alerts, and more.
Having a centralized location where you can access all your membership benefits comes in handy, especially if you have a busy inbox and tend to lose track of emails.
Weekly Updates with Rundowns of Critical Market Info
Gilani sends out recommendations, trade alerts, and possible profit opportunities as they arise.
Combined with the monthly newsletter, his updates and alerts will keep you informed so you can react quickly to any openings.
And the best part is, you get instant access to these benefits as soon as you sign up for Manward Money Report, so you can start getting his updates right away.
>> Join MMR today for instant access to updates and alerts <<
Bonus Reports and Resources
Gilani's Artificial Super Intelligence deal also includes several bonus reports featuring his top picks.
FEATURED REPORT: ASI Profit and Protect Playbook
The ASI Profit and Protect Playbook is your guide to navigating the advent of Artificial Super Intelligence and its aftermath. It took a year to develop and holds Shah's game plan for not only protecting yourself but winning big from the tech breakthrough.
You don't need to be a software expert to read it. Everything's laid out in plain English and takes about 10 minutes to read.
It should only take 15 minutes to implement the steps.
Gilani breaks the playbook down into three critical steps. Let's take a brief look at these now:
Part 1: Buy for Profit
AI is nothing without the data it relies on. Shah claims to have found three data companies that are absolutely essential to ASI's success.
These companies need to scale at the same rate as AI to keep "feeding" it the information it needs to thrive. That means the profit potential here is through the roof.
This special report shares the names of these three companies and all the details you need to get involved.
>> Join now to unlock your profit potential <<
Part 2: Hold for Income
Hold for Income features a company in a niche industry known as the "physical epicenter of AI". This one's already proven itself, doubling alongside AI since 2020.
If that wasn't enough, it's required by the government to pay regular dividends. Profit plus steady income.
Shah throws in two additional stocks following the same pattern for good measure. With so much unpredictability on the horizon, having a stable source of income is key.
Part 3: Sell for Survival
A bunch of companies aren't going to fare so well when ASI arrives on the scene, for whatever reason. You'll want to cut ties with these stocks as soon as possible so you don't go down with the ship.
Sell for Survival lists 14 businesses Gilani deems destined to die at the hands of AI. If his predictions are right, these are among the first that will go bankrupt.
Going Nuclear: The Ultimate AI Energy Stock
AI relies as much on energy as it does on data. Gilani's located an underrated nuclear energy play he's counting on for triple-digit gains in the next six to 12 months.
It stands out thanks to a low price and its proximity to the government. The CEO is a former U.S. Secretary of Energy.
That connection all but ensures its quick success.
You'll get the full scoop on this company inside, including name and ticker.
>> Join now to get these special reports <<
Manward Wealth Alliance VIP Services Team
As a Manward Money Report member, you get direct access to a VIP customer service team that's on standby to answer any and all questions you may have.
So, if you can't figure out how to renew your membership or aren't sure where to find a free bonus, just email or call them, and they'll help you out.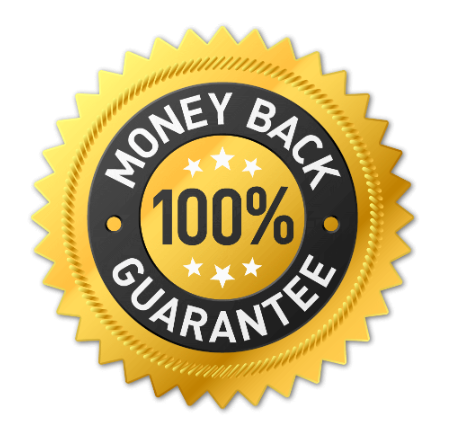 Shah's 365-Day Guarantee
Shah wants to make sure folks aren't waiting to invest in the next tech revolution, and his strategy could very well be the best. He's rolled out an unbelievable 365-day guarantee to back up his new deal.
If you're not happy for any reason, Shah's team will give you a Money-Back Guarantee for up to a full year. Contact Gilani's U.S.-based support team for a full refund – no questions asked. You'll get to keep the materials you've collected until that point.
>> Join today, risk-free for 365 days <<
Manward Money Report Review: Pros and Cons
You get a lot of really great benefits when you become a Manward Money Report member. However, there are some areas the service could improve on.
Take a look at what I found:
Pros
Immediate Access to Four Alpha 7 Stock Dossiers

Monthly Alpha 7 Hotlist

Profit Accelerator Video Series

Monthly

Manward Money Report

Daily Briefings

Private Members-Only Calls

Crypto Warp-Speed Profits

24/7 Access to the Members-Only Website

Two bonus reports worth $198 (yours free when you lock in a two-year membership)
Cons
Manward Money Report Track Record
Over the years, Gilani has recommended some unassuming stocks to his Manward Money Report readers that have turned out to be huge winners.
One example he mentions in his latest presentation is MSFT, which went on to gain 245% after his call.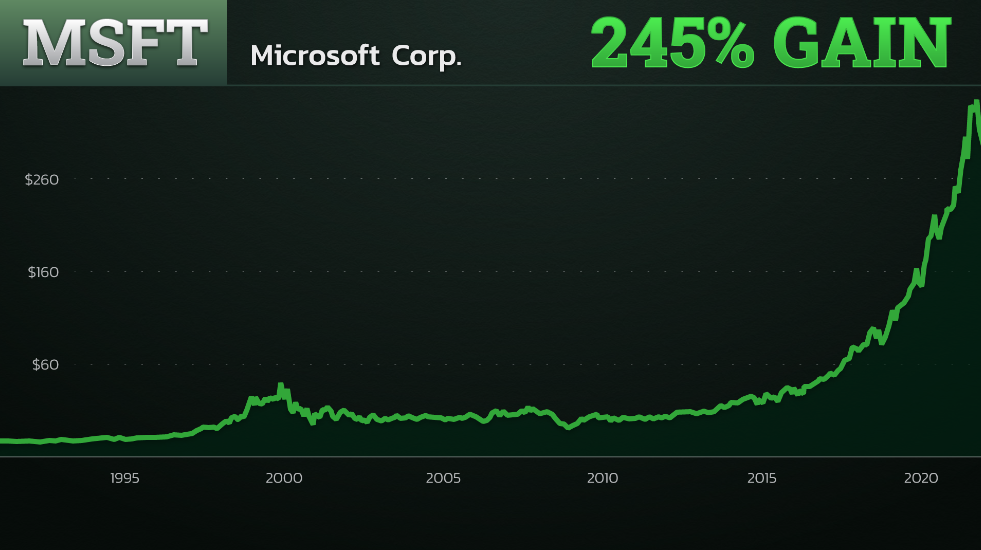 In an earlier presentation, Gilani also mentioned these picks. They might be dated, but they still give you an idea of Gilani's stock-picking skill.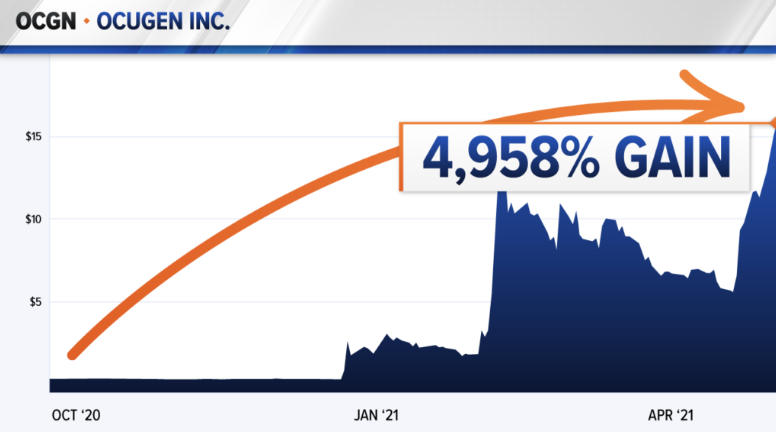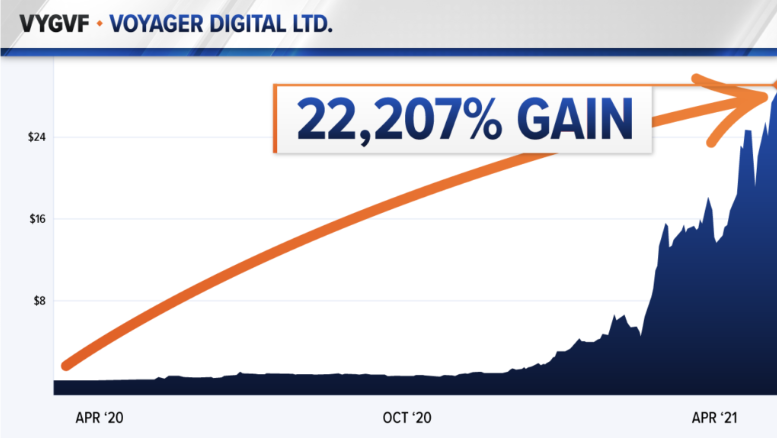 It's hard to argue with Gilani's track record. He has a masterful eye for growth potential, and he's been a rock for his followers. Shah is the real deal.
>> Click here to get top-rate stocks like these <<
Manward Money Report Reviews by Members
I couldn't find any direct reviews for Manward Money Report but there's a lot of high praise online for the Manward Press. Just look at some of these reviews:



These Manward Press reviews came from their website. They came straight from the horse's mouth, so take them with a grain of salt.
How Much Does Manward Money Report Cost?
You've got your choice of two membership options for joining Manward Money Report – a one-year and a two-year plan.
Both plans include monthly issues of the namesake newsletter, two new trades each month, and all the free bonuses we covered earlier.
You'll also get access to the Manward Money Report model portfolio, frequent stock market updates, and the archive of special reports.
The two-year membership is clearly the best deal at $199. That boils down to around a quarter per day for all of Shah's research.
Go for the one-year subscription if you're not ready for a longer commitment. At $129, you're still only paying $0.35 per day for all this great content.
>> Get your 1-year membership today! <<
Manward Money Report Review: Is It Worth It?
Manward Money Report is an excellent service, and it has a very solid price. On average, you're paying $8 a month for several trade recommendations.
And you get way more than just a monthly newsletter full of stock picks (although that's an enormous value by itself). It is jam-packed with tons of expert research, live calls with Gilani and his team, daily plays, free bonuses, and more.
Plus, it's all cushioned with an impressive 365-day money-back guarantee, making it easy to say yes.
Manward Money Report is a great choice for anyone who wants to go after underdogs in the stock market that could be on the cusp of winning big. The market analysis and trade alerts alone make it well worth the money.
So, give it a try and see what you think. There's nothing to lose with the money-back guarantee, but a whole lot to gain if it works out.
>> Claim your discount on Manward Money Report before it's gone for good! <<