Check out our Stansberry's Credit Opportunities review for a full breakdown of this elite newsletter service.
Stansberry Research is widely recognized for its family of stock market research services.
But few investors know that the firm also has an advanced research newsletter focused on corporate-bond investing.
So does this newsletter deliver?
Tune into our Stansberry's Credit Opportunities review to find out!

What Is Stansberry's Credit Opportunities?
Stansberry's Credit opportunities is a research service offered by Stansberry Research.
The firm was founded by Porter Stansberry.
As an elite service, Stansberry's Credit Opportunities is designed for people with bigger budgets.
According to Stansberry, the Credit Opportunities trading strategy is "very conservative."
This makes sense because a typical holding period can run from three to five years when it comes to bonds.
Is Porter Stansberry Still with Stansberry Research?
Yes, Porter Stansberry is still with Stansberry Research.
While he's not writing Credit Opportunities reports, it's good to know that he's still heading the research firm he propelled into mainstream investing circles.
More on Credit Opportunities
Each Stansberry's Credit Opportunities investment primarily targets lower-risk, discounted corporate bonds with the potential for huge returns.
Lead Editor and Stansberry Research veteran Mike DiBiase is the main writer, but Stansberry's data analyst Bill McGilton also assists.

Stansberry's Credit Opportunities model portfolio includes between six and 15 open positions at a time.
Once you join, you'll get a list of all actionable open bond recommendations as well as new bond recommendations through the Stansberry's Credit Opportunities newsletter on the third Wednesday of each month.
Each issue also includes:
In-depth analysis and supporting research for each recommended bond

Model portfolio updates on active positions

An overview of the latest news and prices in the bond market

Lists of bonds that Mike and Bill are watching in various risk categories based on their proprietary credit-scoring system
How Much Capital Should I Have?
The research firm recommends new members have $50,000 in capital on hand to get started.
That's it for our general overview of this research firm.
Keep reading our Stansberry's Credit Opportunities review to find out more about Mike DiBiase.
>> Already sold on Credit Opportunities? Click here to save 50% <<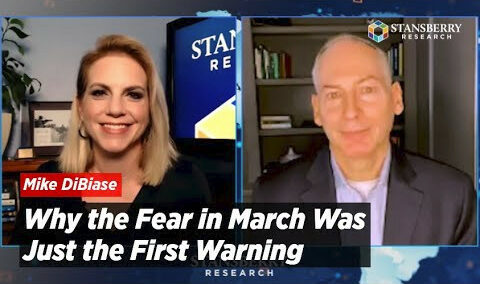 Mike DiBiase Review
Mike joined Stansberry Research in 2014 and is a 25-year financial veteran.
He has an impressive resume that includes a long career with a large, publicly traded software company, where he last served as Vice President of Finance and Planning.
During his time at the software firm, the company's revenues went from $40 million to $1 billion, and Mike played key roles in the company's mergers and acquisitions activities.
Earlier in his career, Mike spent five years working as a public accountant, including at one of the "Big Four" international accounting firms.
At that firm, he conducted audits of financial statements, tested clients' internal controls, and prepared income tax returns.
As a former CPA with bachelor's and master's degrees in Accounting, Mike's accounting knowledge and analytical abilities are top-notch.
Having worked for a publicly-traded company for nearly 15 years, he is very familiar with U.S. Securities and Exchange Commission ("SEC") filings and rules.
In fact, Mike is such an ace with data analysis that he also crunches numbers for Stansberry Data, where he also serves as a contributor for Stansberry's flagship research service, Stansberry's Investment Advisory.
Bill McGilton Review
Bill McGilton, Mike's "second in command" on Credit Opportunities, also joined Stansberry Research in 2014.
He's an expert at analyzing legal documents and reviews the bond documents and credit agreements for publication.
Bill holds a bachelor's and Juris Doctor degree and has been a lawyer since 2001.
Most of his experience is in corporate litigation and research.
He worked on behalf of large commercial banks and large publicly traded companies — and his background includes securities, contracts, and antitrust activities.
Bill is also the editor of Stansberry's Big Trade, an options-trading service, and a senior analyst and contributor to Stansberry's Investment Advisory.
After an in-depth review of Mike DiBiase's and Bill McGilton's backgrounds and resumes, we can confidently say that they're more than qualified to lead the service.
>> SIgn up now to get a direct line on Mike DiBiase's latest research <<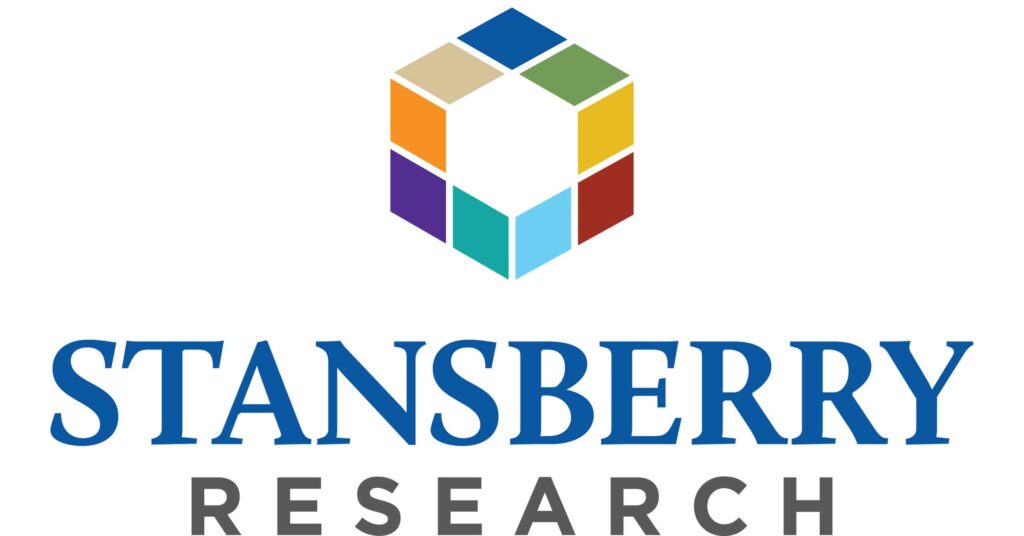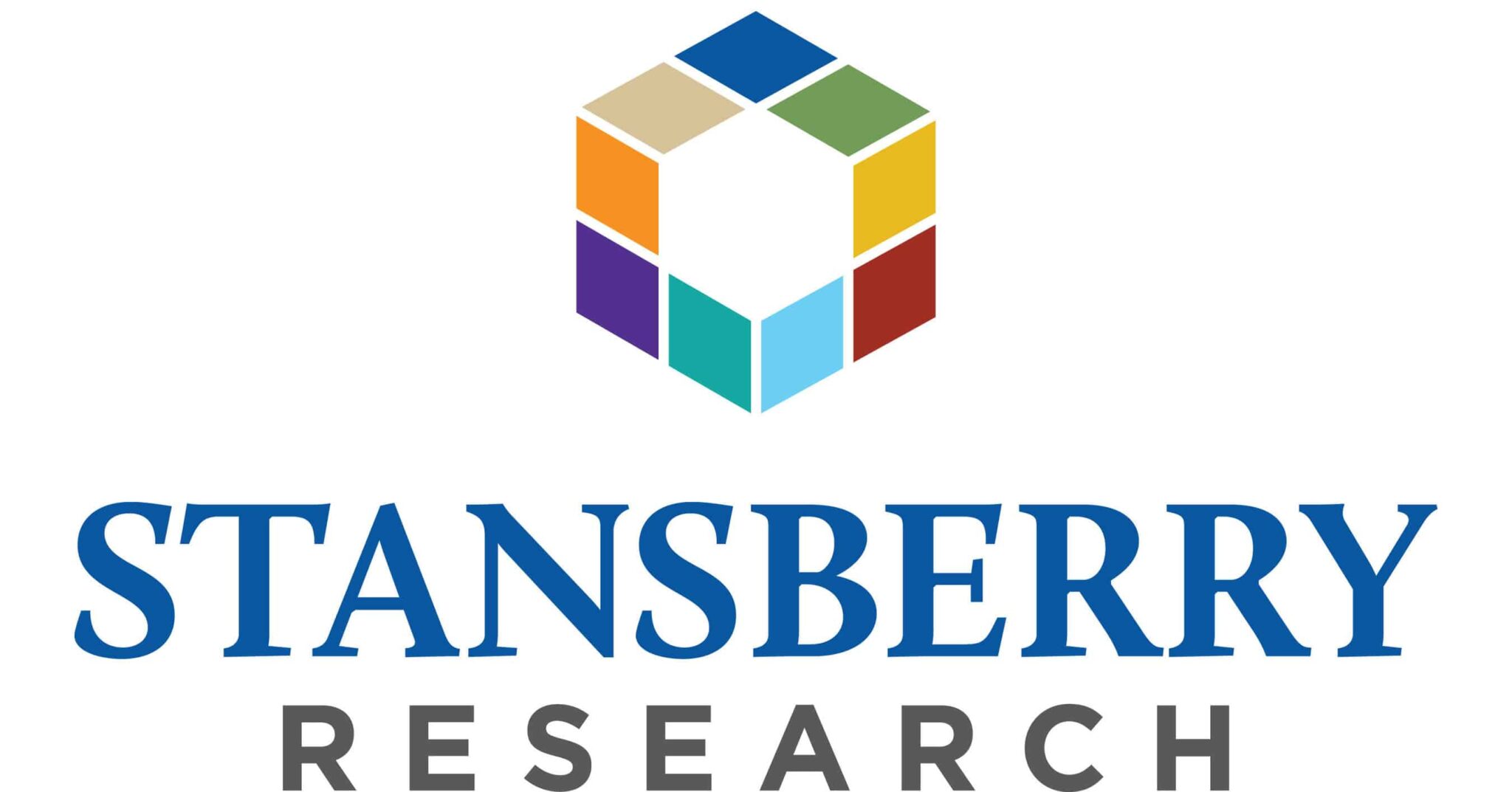 Stansberry Research Review
Stansberry Research is a leading financial research firm that brings professional-grade research to the public through a vast collection of publications.
Founded in 1999, Stansberry has since grown to be a research powerhouse with hundreds of thousands of readers across more than 100 countries.
The firm's original flagship service is Stansberry's Investment Advisory, and it remains one of the company's most popular services to this day.
Stansberry also publishes many other retail research services, including Credit Opportunities and many more.
Credit Opportunities is the firm's highly specialized corporate-bond research service, and it has developed a cult following over the years.
You should also know that Stansberry Research is a quality, U.S.-based company with an excellent customer support team.
You can trust Stansberry to "give it to you straight" and deliver high-quality research.
Credit Opportunities' latest presentation features a testimonial from an actual paid-up member of the service, and he lays out a compelling case for dumping stocks and going all-in on bonds.
>> Join here for full access to The Coming Credit Collapse special report <<
Rob Lamoureux Review
Rob Lamoureux is an actual Stansberry's Credit Opportunities subscriber who has found tremendous success with the service.
Lamoureux has an incredible story.
With the help of the strategy involved in Credit Opportunities, he managed to retire at just 52 years old.
Better yet, he's living his retirement stress-free thanks to his decision to drop stocks and transition to an all-bond portfolio.
Now, Lamoureux doesn't worry about the market's ups and downs.
He gets guaranteed payments through his bond holdings, and he couldn't be happier with his decision.
Stansberry Research asked Lamoureux to share his experience with Credit Opportunities to demonstrate the kind of results that users could achieve with this program.
Although his experience isn't typical, incorporating bonds into his trading regimen was a game-changer for Lamoureux.
Bonds could make a big difference for you, too, and Stansberry's Credit Opportunities' expertise and insights could help you find tremendous success in the credit markets.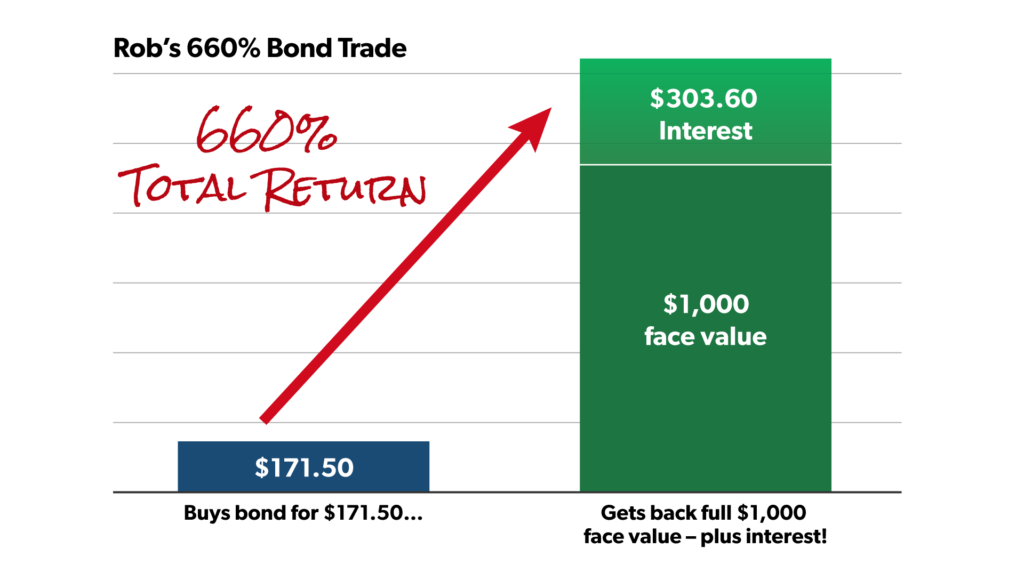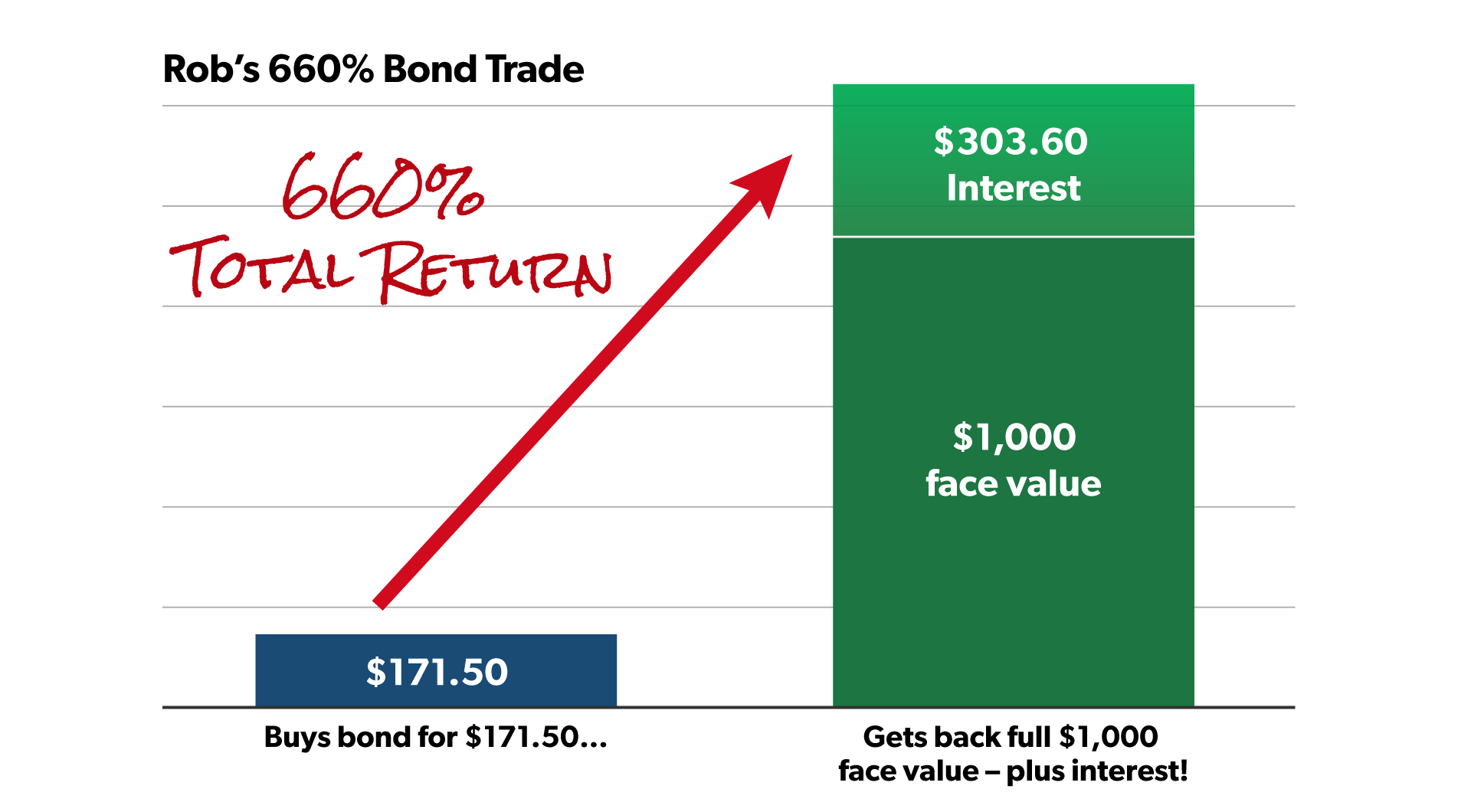 What Are Bonds and Why Buy Them?
You might already know what a bond is, but we'll provide a very brief refresher.
A bond is essentially a debt security that acts as a promise for a borrower to pay back the lender.
Bonds come in a variety of flavors, including:
High yield

Corporate

Municipal
How Bonds Work
Many bonds trade in the public market, and people can buy them through their brokers.
Each bond includes a set interest rate and maturity date.
The borrower pays bond investors regular interest coupons (based on the interest rate) twice per year.
And it pays the $1,000 principal balance (called its "par value") in full on the maturity date.
>> Get instant access to Stansberry's bond insights when you join here <<
Why Buy Bonds?
Bonds investing offers several notable benefits over traditional stocks.
Unlike with a stock, companies are legally obligated to pay you all of the interest coupons you are owned on time as well as the full amount of the principal at maturity.
Nothing short of bankruptcy can get them off the hook.
With stocks, companies can stop paying dividends whenever they want, and there's no guaranteed return of capital at a future date.
You have to hope the stock price goes up.
On the other hand, when you invest in bonds, you know exactly when and how much you will be paid because you are legally owed these payments.
That's why you can calculate exactly what your return will be when you purchase the bond.
With stocks, you only know your return after you sell your stock.
Bonds that trade in the public markets often trade for more or less than their $1,000 par value.
This can happen because interest rates are rising or falling, and bonds that are perceived as riskier often trade for well below their par value.
These are called "distressed bonds."
These are the types of bonds that Bill and Mike recommend in Stansberry's Credit Opportunities.
With distressed bonds, you can earn not only large interest payments but also capital gains when you're paid the $1,000 principal of your bond at maturity, regardless of what you paid for the bond.
>> Get started with distressed bonds here <<
The Bottom Line with Bond Investing
Stocks are more mainstream, but bonds give investors several notable advantages over traditional equities.
Many people believe the bond market is much more complicated than the stock market — and in some ways, they're right.
Buying bonds can take a little extra work than buying a stock.
You'll have to remember a nine-digit unique identification number for each bond (called a CUSIP) instead of a stock ticker.
And you might have to call your broker or shop around to more than one broker if a bond you're interested in buying is not available for purchase online.
But the extra work is worth it, as bonds are much safer than stocks.
Stansberry's Credit Opportunities Review: Features
Credit Opportunities monthly portfolio updates
Model portfolio access
Members-only website content
The Stansberry's Credit Opportunities Primer
Your Complete Guide to the Coming Credit Collapse
Special report archives
30-Day Satisfaction Guarantee
>> Get access to these perks and more when you join Credit Opportunities <<
Credit Opportunities Newsletter Review
The Credit Opportunities service revolves around a model portfolio selection of top distressed-bond opportunities, but the bond market isn't static by any means.
Credit Opportunities wants to make sure you're always up to date on where the model portfolio stands, so the team sends out monthly updates that include the latest news relating to the model portfolio's holdings and the bond market at large.
Stansberry Research also uses these monthly updates to announce new recommendations and other changes to the model portfolio.
A new update comes out on the third Wednesday of every month.
Typically, the best opportunities appear when some level of fear exists in the credit market.
However, even during times when the market is expensive, you can usually find a few good mispriced bonds.
They're safe bonds that are far cheaper than they should be, given their risk.
And if there are no good opportunities in a given month, Credit Opportunities is very selective and might not issue a new recommendation.
However, even in those cases, the monthly updates provide detailed financial analysis and other pertinent stock market news.
Model Portfolio Review
The Credit Opportunities model portfolio showcases the service's active bond recommendations, and your membership includes unlimited access to the entire lineup.
The investment opportunities in the model portfolio also include pertinent information on each recommendation, so you can quickly find the info you need.
As an advanced research service, the Credit Opportunities team utilizes sophisticated strategies to make these picks, and they support every recommendation with extensive research.
Members-Only Content Review
Credit Opportunities members also get a ton of bonuses when they sign up.
These extras are included with the latest deal.
>> Join here to access this members-only content now <<
Stansberry's Credit Opportunities Primer Review
For people new to buying corporate bonds, Stansberry's Credit Opportunities Primer provides a step-by-step blueprint for buying bonds and explains every aspect of the process in detail.
You'll learn how to buy bonds and how they work, and while the team can't recommend individual brokers, they do suggest using a large reputable brokerage firm.
The Primer even explains what to say when you're on the phone with a bond desk, so you can place your orders like a pro.
The Primer is a perfect accompaniment to Stansberry's Credit Opportunities' research because it provides the background you need to take full advantage of the service.
Your Complete Guide to the Coming Credit Collapse Review
This guide is Credit Opportunities' latest featured research report.
U.S. national debt has exploded in the past few years, and the country's runaway debt could eventually trigger another currency crisis.
Corporate debt has also exploded, nearly doubling to $11 trillion since the last financial crisis.
If the economy takes a downturn, bad debt defaults could sweep across the economy.
Buying bonds in the face of so much uncertainty is no easy task.
You need to understand which bonds are safe, and which are not.
Credit Opportunities can help you navigate the waters with confidence.
This report's featured game plan could be the difference between opportunity and disaster in the event of a sudden economic downturn.
It includes tried and true strategies for riding out market volatility and protecting your assets.
Stansberry Research also reveals exactly what the company expects to unfold over the coming months in this report, along with strategies for overcoming the resultant adversity.
If the analysts are right, this plan could produce gains above 500% in certain cases.
These could be the biggest gains we've seen since the financial crisis.
Your Guide to the Coming Credit Collapse is a truly epic research report, and the strategies contained within could be extremely valuable down the road.
It's a compelling addition to the Credit Opportunities lineup.
Credit Opportunities Archives
Your subscription doesn't end with these two research reports.
In fact, your membership includes unlimited access to the Credit Opportunities archives, which feature every past issue of the monthly research report and every previous special report.
You'll also get instant access to every additional research report that comes out for as long as you're a member.
The next time Credit Opportunities puts out a report like the ones mentioned above, you'll be among the first to access it.
You can also find additional trading ideas by perusing past reports and issues.
This could add significant value to your membership and lead you to even more bond-buying ideas.
>> Get instant access to the Credit Opportunities archives when you join here <<
30-Day Satisfaction Guarantee

Stansberry Research offers a 100% satisfaction guarantee on Credit Opportunities, so you can buy with confidence.

You'll have 30 days from your purchase date to request a refund if you're not satisfied, and you'll receive a 100% credit toward other Stansberry products.

Credit Opportunities doesn't offer a cash-back guarantee because it gives members instant access to the entire model portfolio when they sign up.

It's understandable why Stansberry Research has to stop short of offering its typical money-back policy for Credit Opportunities.

Doing so would undermine the company's business model, and such a policy would be unfair to loyal members.

This advanced research service has a sophisticated model portfolio that's extremely valuable as a research asset.

A 100% Stansberry Credit is an acceptable substitute, and it gives you the time you need to conduct your due diligence and determine if Credit Opportunities is right for you.

Stansberry's Credit Opportunities Review: Pros and Cons

Credit Opportunities has a lot to offer, but it's not perfect.

Here are the best and worst aspects of the service.

Credit Opportunities Pros

Unique strategies for buying high-value bonds for cheap by targeting discounted corporate bonds

Newsletter updates on the third Wednesday of every month

Explores various classes of corporate assets

The model portfolio includes 10 to 15 investment opportunities

The Stansberry's Credit Opportunities Primer gets you up to speed fast

Includes research on so-called "junk" bonds and distressed credit, and more

100% satisfaction guarantee for 30 days

Includes the Complete Guide to the Coming Credit Collapse report

Access to past reports and newsletters through the archives

Dork readers save 50%

Conservative investing style

Credit Opportunities Cons

May be price-prohibitive for some

Bonds can sometimes be capital intensive (even discounted corporate bonds)

No chat room or social component
>> Join Credit Opportunities to access these benefits now <<
Is Stansberry's Credit Opportunities Right for Me?
Stansberry's Credit Opportunities is a very appealing research service, but some people are better suited than others.
Here are a few types of people who seem like a great fit for the service…
Bond Bulls
If you like the outlook for the bond market, this is an excellent service for your goals.
Stansberry's Credit Opportunities' research guides you to some of the best bonds on the market, so you don't waste time and money when you're ready to start buying bonds.
Conservative Returns
Stansberry's Credit Opportunities takes a strategic and meticulous approach to the bond market.
According to its page on Stansberry's site, the service has a conservative risk profile, so it's a good option for people who want to avoid undue risk.
New to Bonds
Credit Opportunities include a wealth of educational resources that provide a quick and efficient introduction to the bond market.
The Stansberry's Credit Opportunities Primer tells you everything you need to know to start, and you'll constantly refine and sharpen your skills by following the service's research.
Too Concentrated About Stocks
Many experts are starting to worry about the stock market.
And if they're right, it could lead to disastrous consequences for people who aren't diversified beyond stocks.
If you have concerns about your stock portfolio, Credit Opportunities' research will show you how to build out a bond portfolio that can deliver stock-like returns.
>> Sound like a fit? Join Credit Opportunities Here <<
Credit Opportunities Track Record Review
According to Stansberry, Credit Opportunities has seen some tremendous successes since its most recent relaunch.
Members have had the opportunity to see gains as high as 335% annualized, according to this Credit Opportunities breakdown: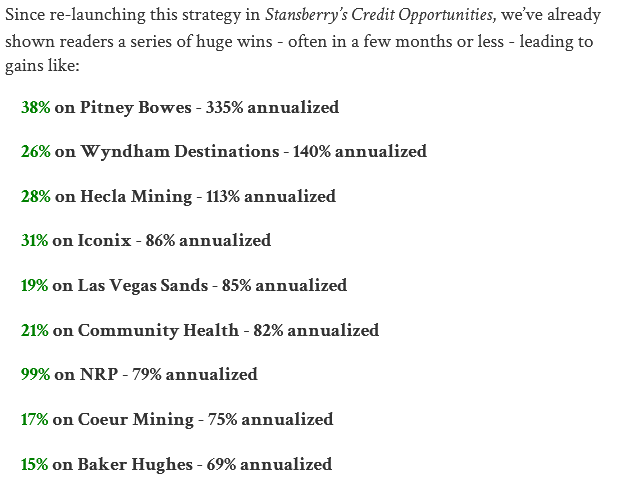 Since launching the service in November 2015, Stansberry's Credit Opportunities has closed 50 positions with an 86% win rate (43 were winners).
The average return of all 50 positions is 15.7%, with an average holding period of just 316 days.
That's an annualized return of 18.2%.
That crushed the 8.1% annualized return of the high-yield bond market over the same holding periods.
And it came close to the stock market's 21.1% annualized returns while taking on far less risk.
Those numbers are impressive, and Stansberry's Credit Opportunities is clearly doing something right.
Stansberry's Credit Opportunities Reviews
Stansberry's Credit Opportunities is a niche service, so finding reliable online reviews is no easy task.
However, we managed to pull a few user testimonials from Stansberry's presentation to give you some background on the service.
"You are doing a fantastic job. I have made more money with your research than any other financial newsletter that l use. Thank you."

– Larry P. / Stansberry's Credit Opportunities subscriber

Another Stansberry's Credit Opportunities review reads:

"I have really benefitted from your Credit Opportunities. I had never bought a bond before in my life although I have been in the stock market for over 20 years. You gave me a basic understanding of how the bond market works and gave clear instructions on how to do it. I have already booked some profits and own a few bonds now. I love this program and it has helped me diversify in a way I never could before."

– Russ B. / Subscriber of Stansberry's Credit Opportunities subscriber
These users gave Stansberry's Credit Opportunities high marks.
Although their experiences are probably not typical, these accounts provide a striking example of what kind of potential benefits you could receive from following this research.
>> Join these satisfied Credit Opportunities subscribers here <<
Stansberry Research Subscription Cost for Credit Opportunities?
Stansberry's Credit Opportunities is a specialized, highly advanced niche research service, so it costs more than most typical Stansberry offerings.
A one-year membership to Stansberry's Credit Opportunities typically costs a hefty $3,000.
That price tag could put the service out of reach for many investors, but we managed to get a special discount for our readers who are interested in the service.
Special Discount
You have the opportunity to save 50% on your first year of a Stansberry's Credit Opportunities membership if you sign up with this deal.
The discount cleanly cuts the price in half.
You save $1,500 on the sticker price and get full access to the service for just $1,500 for the year.
That rate comes out to just $125 a month, on average, and makes it much easier to get started with the service.
>> You can claim your 50% discount and save $1,500 here <<
Is Credit Opportunities Worth It?
Credit Opportunities is one of the more expensive offerings from Stansberry Research, but it provides a unique blend of research that you would be hard-pressed to find anywhere else.
The upfront cost required to join is somewhat steep, but the benefits could justify the added expense if you commit to taking full advantage of the service's insights.
Corporate bonds can be very tricky for the uninitiated, so wading into the market on your own can be a risky move.
Fortunately, Stansberry's Credit Opportunities is an all-in-one solution for people interested in bonds.
When you compare its price with competitors, Credit Opportunities falls right in line with what you'd expect.
Effective bond trading requires a higher level of expertise than stocks, so bond-focused services are often higher priced than their stock market counterparts.
Plus, you also get a 30-day, 100% satisfaction guarantee that gives you a bailout option in the event you don't like the services.
With all that in mind, we can say with conviction that, yes, Credit Opportunities is worth the cost of admission.
>> That's it for our Credit Opportunities review. Claim your $1,500 discount here. <<