Most people believe that copper will be very important in the future. But where you connect to it could make a big difference in terms of success or failure.
John Carl and Nick Hodge are calling attention to one such opportunity, and they're sharing their findings with members of their new research service.
I'll walk you through everything you need to know about this game-changing blue water copper stock and much more in my Profit Cycle Pro review.

What is Profit Cycle Pro?
Profit Cycle Pro is the latest service from private investment guru Nick Hodge. He uses it to inform the masses about the best market moves and how to benefit from them.
It's the PRO version of his wildly popular Daily Profit Cycle designed to bring profits to a whole new level. He's partnered with financial publishers John Carl and Ryan Stancil to keep the content fresh and engaging.
Let's learn a bit more about each of these experts now.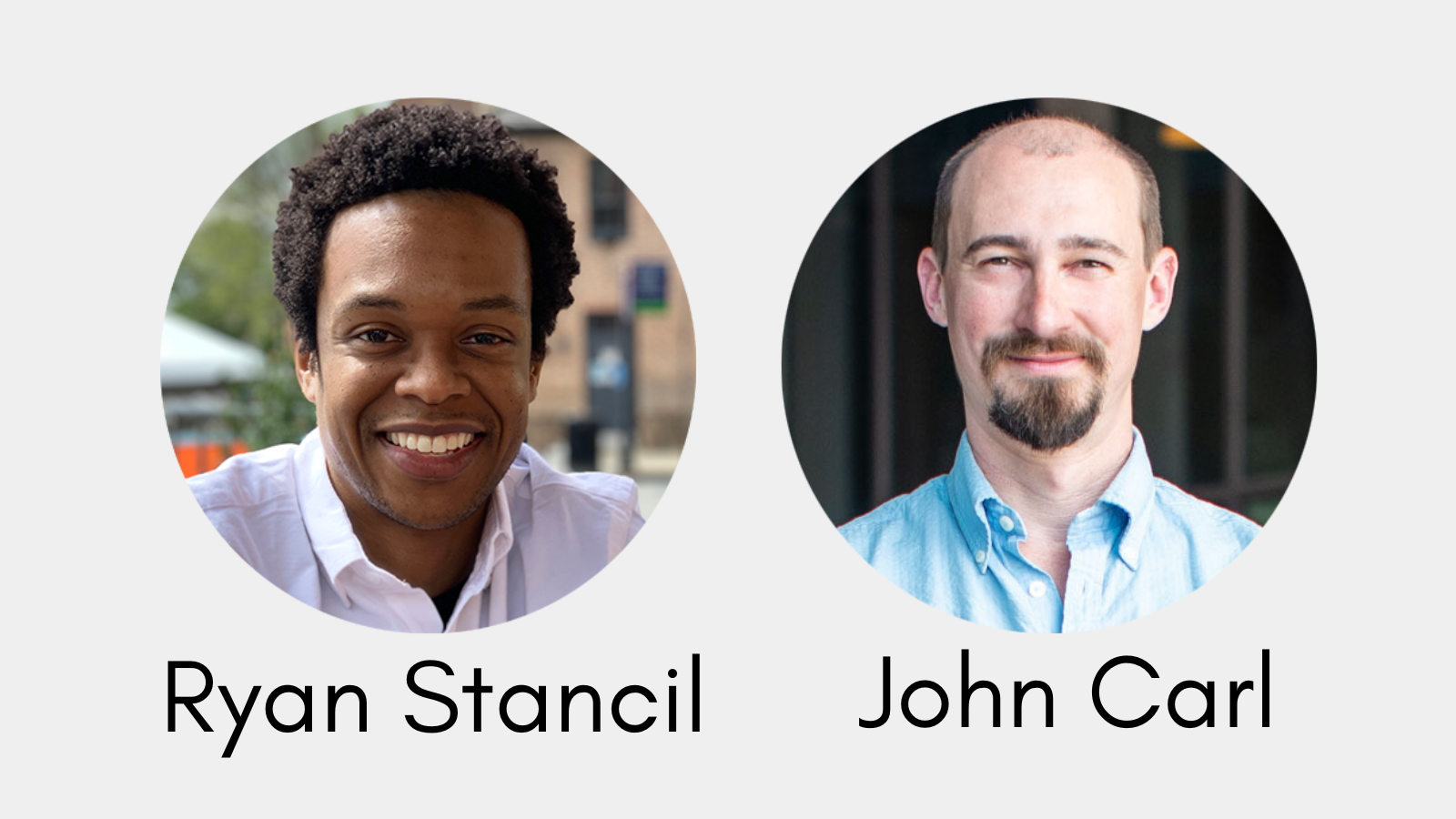 Who are John Carl and Ryan Stancil?
John Carl and Ryan Stancil are the lead editors of Profit Cycle Pro.
Carl started his financial journey in 2009, earning some serious dough with investments in Chipotle, Green Mountain Coffee, and Netflix.
Some tough luck day trading led him back to investing in big names, where he earned back all he lost and then some.
He segued into financial publishing shortly after that, eventually making a career out of writing for Digest Publishing.
Ryan's been in the publishing industry for over half a decade, where he brings insights on the latest tech and geopolitical happenings. He helps readers wade through the latest happenings and how changes can affect their investments.
His concise, no-nonsense writing style is a breath of fresh air to the normal market ramblings. Folks appreciate how he lays all his cards on the table.
Stancil's already been an editor and regular contributor for years on Daily Profit Cycle newsletter. He's using Profit Cycle Pro to spread his wings and become a leader in his own right.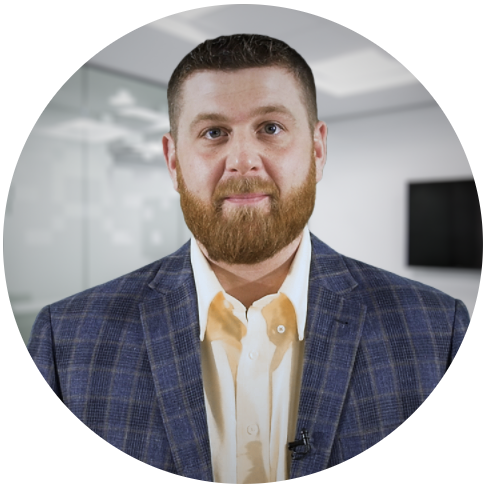 >> Access Nick Hodge's market wisdom and latest insights <<
Who is Nick Hodge?
Nick Hodge is co-owner of Digest Publishing and a major contributor to many of its publications.
His accolades don't start and end there. He founded Hodge Family Office and the Outsider Club to help hundreds of thousands of people make some serious money.
Hodge is well-known for his success on the stock market. He's appeared on major media outlets and met with top executives around the world.
His primary focuses now include hot sectors like tech, resources, and energy.
A few of his big wins include triple-digit gains during the 2008 market downturn and enormous profits from the first lithium boom a few years back.
Now Nick works closely with John Carl and Ryan Stancil to produce Profit Cycle Pro.

The New "Blue Water" Formula
Guru John Carl ventured into the Arizona desert to tell us about a new and quite secret blue water formula making waves in certain circles.
No, it's not some new health craze or an invitation to some cult. This blue water could hold the key to helping America keep up with its copper demand.
As crucial as copper is right now, I knew this was an opportunity worth checking out. Read on to find out why.
>> Get the inside scoop on the secret blue water formula <<

Resource Stocks Will Change Forever
Raw materials are flying off the shelves faster than mining companies can stock them. Supply is down, recycling's not a perfect science, and we're looking at a $12 trillion supply gap. Copper is a huge part of this.
Carl hints that blue water's about to change the resource industry forever. He says it will replenish our empty copper stockpiles and finally help manufacturers keep up with demand.
Let's look at just how big an opportunity we're dealing with.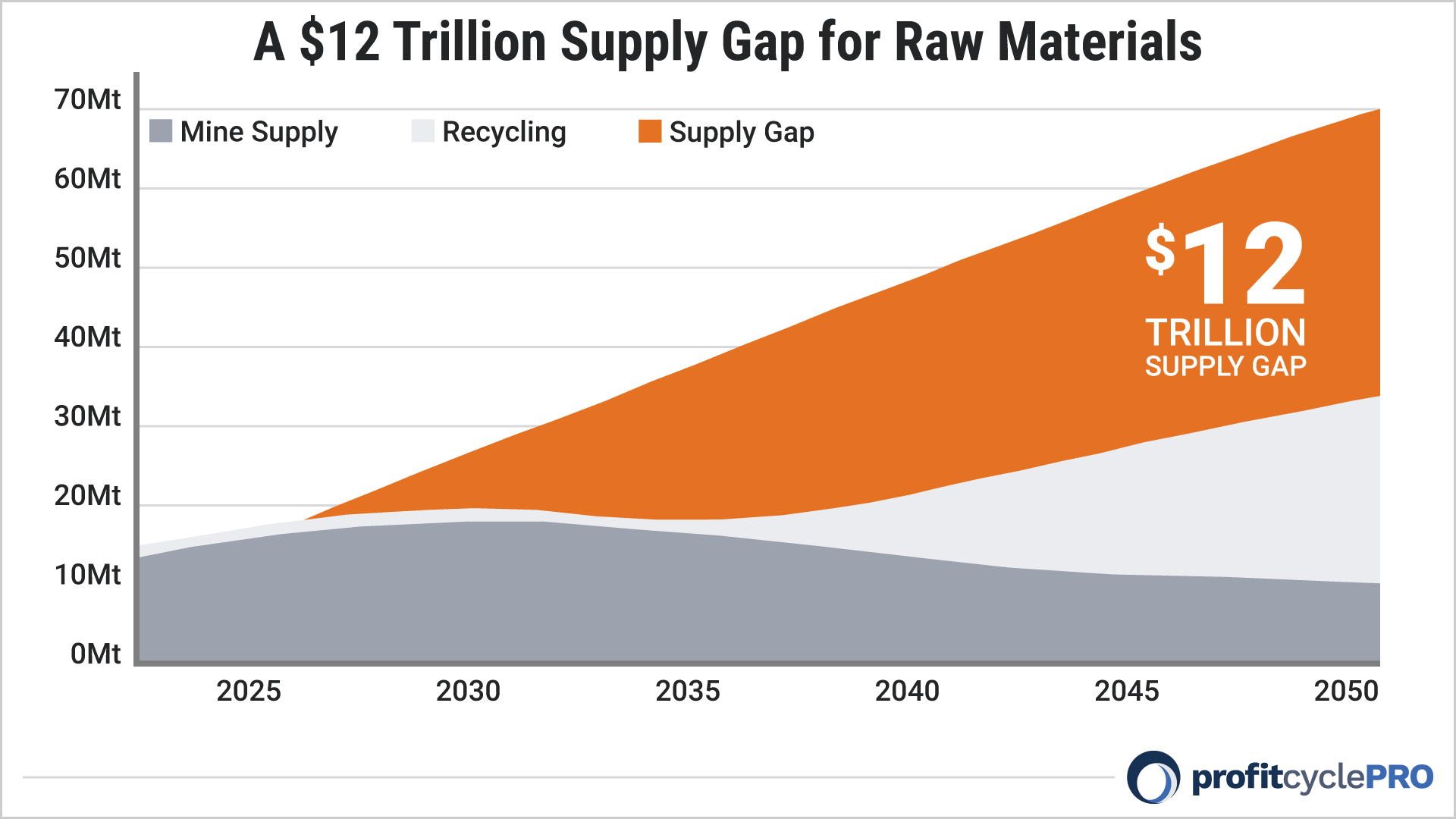 A Massive Opportunity
Copper has been in use for eons in jewelry and tools. Only in recent times have we realized its potential in electronics.
I've been watching the demand for copper climb ever since Elon Musk began ramping up production on his electric vehicle (EV) empire. The dude's already spent more than $100 billion sourcing the copper needed for each car.
Tesla currently produces two million EVs per year, and the company plans to increase this amount tenfold by 2035. Let's not forget about all the other auto manufacturers scrambling to follow suit.
Did I mention America's copper-based electrical grid or the copper pipes in each of our commercial buildings?
We're going to need a lot more copper.
If I were a copper miner right now, I'd be doing everything I can right now to increase production. To the winner go the spoils, and the champion's going to look great to investors as well.
John Carl and his partner Gerardo Del Real believe they've figured out who's got the copper everyone's looking for.
>> Explore the massive opportunity in copper – Get started now! <<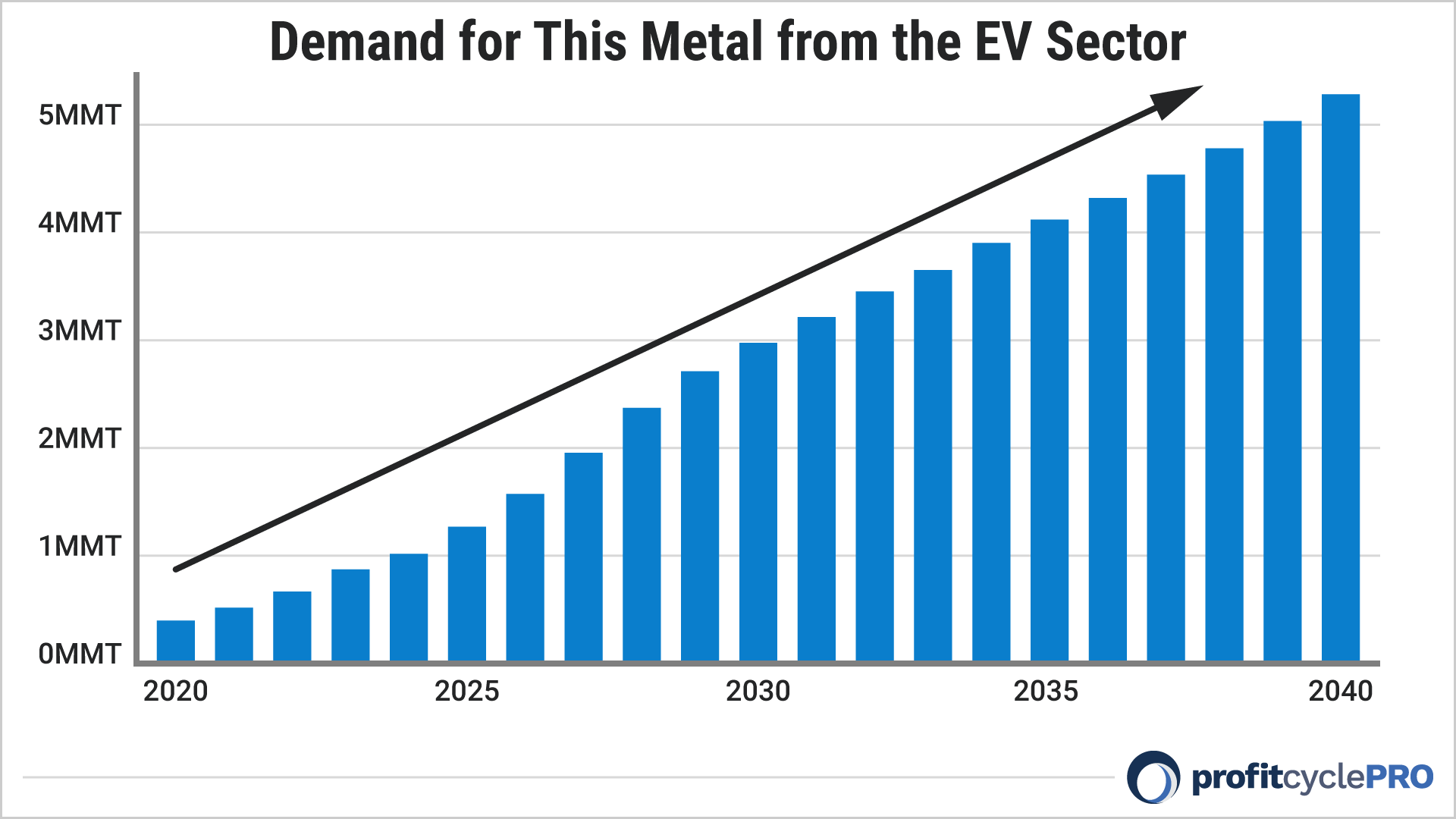 The Holy Grail of Copper
Miners have known where to find copper for years. They just haven't been able to get to it.
It's trapped in a mineral known as chalcopyrite, which by itself is quite useless. My son's an avid rock collector and I've seen this stuff dissolve in my hand.
Trying to get the copper out through traditional means yields such poor-grade material it's not worth the effort.
Until now, anyway. This is where blue water comes in.
Blue water is a perfect mix of chemicals and new technology that can leach copper right out of chalcopyrite. It's basically the same concept as recharging a battery, but forms beautiful layers of pure copper.
I don't know what the chemicals are, but the logic's quite sound.
Mining companies now have the means to draw copper out of a mineral they've just been throwing into the trash. That could mean enormous value for them and for us if we know where to put our money.
Profit Cycle Pro is the only place I'm aware of with the info you need to capitalize on this opportunity, and only subscribers get that access.
Check out everything you get the moment you become a member:
>> Get instant-access to this blue water copper stock when you join now <<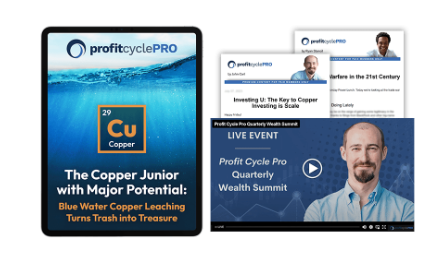 What Comes With Profit Cycle Pro?
There are a ton of goodies crammed into this Profit Cycle Pro bundle. Let's check out each one now.
24/7 Access to Profit Cycle Pro
Members get unlimited access to brand-new investment service Profit Cycle Pro. It's a beefed-up version of Daily Profit Cycle for folks wanting to kick returns into high gear.
The Profit Cycle Pro website is home to John and Ryan's current Macro Markers. These indicators reveal which market sectors to buy and which ones to avoid.
Weekly Market Updates
John and Ryan kick off each week with a Monday Power Lunch blast so you know where to focus your attention. The duo sifts through all the noise to get you the most important market news.
They end the week with a Friday Wrap Up email to help you close out your week. With a bit of luck, you'll start your weekend with some nice gains in your pocket.
>> Get started now to access these features & more <<
All-Access-Pass to Four Quarterly Wealth Summits A Year
You're invited to join the Digest Publishing team four times a year for up close and personal insights. You'll hear more about what the editors are buying and learn valuable tips you can't get anywhere else.
"Investing-U" Masterclass Series
The Investing-U Masterclass is jam-packed with videos and reports to help you master the markets. It covers everything from market basics to tips for finding hidden returns.
The first episodes are already available to Profit Cycle Pro members. Additional topics hit the shelves each month.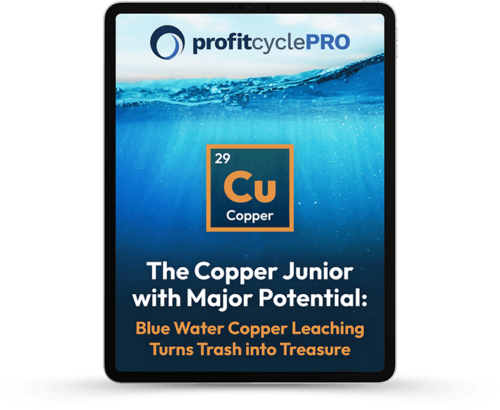 FEATURED BONUS: The Copper Junior with Major Potential
Copper Junior with Major Potential is your ticket to the blue water show. The report contains the name, ticker, and everything else you need to know about the maker of the copper-leaching goo.
This resource company isn't new to the copper scene. They've already seen copper shortages and have a plan to deal with the upcoming demand.
You'll learn how this junior miner's business model is set up and how it plans to grow with the copper demand. John and Gerardo have scoped the company out and really did their homework.
They're really happy with what the leadership team's doing and documented full interviews with the VP of exploration and head geologist that you can read.
The gurus even share buy recommendations so you're not left guessing when to jump in.
>> Sign up now to access the #1 copper stock <<

VIP Charter Bonus: The Junior Company That's Pumping Copper Straight Out of the Ground
There's another blue water player with their own spin on the new technology. They're not bringing copper to the blue water; they're bringing the blue water to the copper.
This junior resource company does in-situ leaching where they pump solvents directly into the ground. Blue water loaded with copper then gets pumped back out.
A total of 41 wells are already operational with a goal of more than 4,000 on the horizon.
Since it's still in the testing phase, share prices are a steal right now. It likely won't stay that way for long.
The report gives the inside scoop on the mining company, including a facility tour and exclusive interviews with top execs.
Note that this report is only available for VIP charter members which I'll break down in more detail later in the review.
>> Get instant access to these reports when you JOIN NOW <<
60-Day Zero-Risk Guarantee
Head of Digest Publishing Nick Hodge wants to make your subscription a no-brainer. He's offering a 60-day zero-risk guarantee, so you can try everything out before making a long-term commitment.
If Profit Cycle Pro doesn't live up to your expectations, simply reach out within the first 60 days of your subscription to get a full refund of the purchase price.
You'll get to keep everything you've received up until that point, including the bonus reports and insights from the gurus.
Pros and Cons
Profit Cycle Pro is an excellent service, but it's not perfect. Here are the top pros and cons:
Pros
Immediate access to Profit Cycle Pro

Insights from Macro Markers

Twice-weekly updates sent to your inbox

Insider information from Digest Publishing editors

Investing U Masterclass

Three bonus reports

60-day money-back guarantee

50% off VIP Charter subscription
Cons
No community chat or forum

Doesn't cover options

>> Don't miss out on the opportunity – Join now at half the price! <<
How Much Does Profit Cycle Pro Cost?
Right now, you can pick up a two-year VIP subscription to Profit Cycle Pro for just $149. That's 50% off the normal cover price.
Doing the math, you're looking at just $0.20 per day for all the content covered in our review.
This VIP membership is the only way to get your hands on the exclusive Blue Water Bonus: The Junior Company That's Pumping Copper Straight Out of the Ground special report.
If you struggle with commitment, you can pick up a yearly membership for $79. It's not quite as good of a deal, and you don't get the VIP bonus.
Your other option is a rather costly quarterly membership where you'll get charged $24.99 every three months.
The choice is yours, but you get the most with the two-year plan.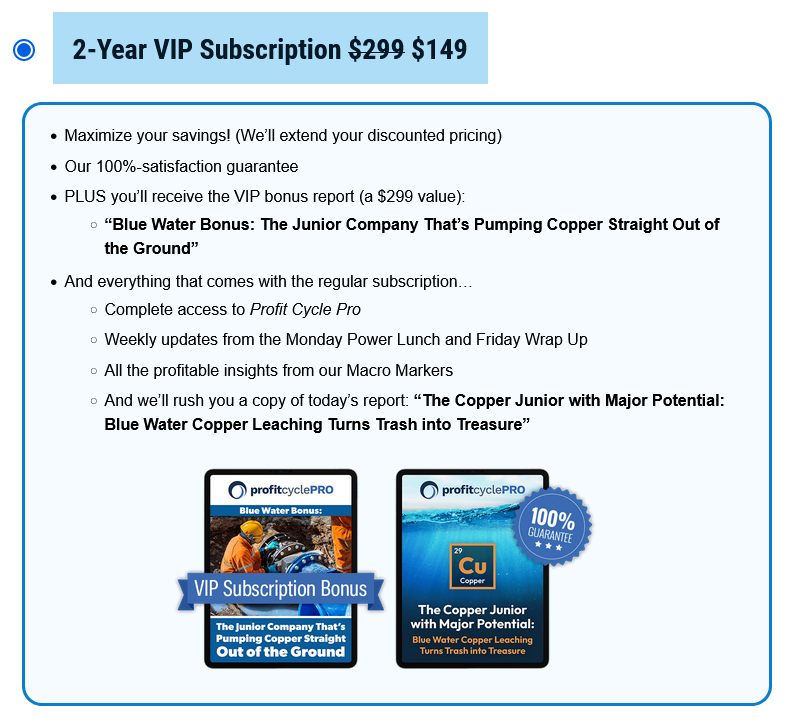 Is Profit Cycle Pro Worth It?
Profit Cycle Pro is well worth the normal $299 sticker price for a two-year membership, but you can get it right now at the crazy-low price of $149. That's one heck of a deal.
You get tons of valuable resources and features with this bundle, not to mention 50% off the normal sticker price.
If you're unsatisfied for any reason, you're protected under the money-back guarantee, so what do you have to lose by giving this service a shot?
You won't find many people who doubt that copper's the future. Where you get plugged in though could be the difference between feast or famine.
Profit Cycle Pro could be exactly what you need to take advantage of the explosive opportunity in the resource industry, and you can save 50% on this limited-time deal.
After a thorough Profit Cycle Pro review, I can say with certainty that this service is legit. I highly recommend you give it a close look if you want to harness the epic growth potential of the resource sector.