Crypto Revolution is a well-known name in the cryptocurrency space, and folks have been clamoring their Crypto 101 BlackBox project ever since Bitcoin started its red-hot run. Today, we'll put this premium cryptocurrency guide to the test in our Crypto 101 BlackBox review.
Stay tuned to see if these research guides can really help you cash in on crypto.
Crypto 101 BlackBox Review Overview
The Crypto 101 BlackBox package includes some of Crypto Revolution's best cryptocurrency research and educational resources.
The widely popular service is gaining even more traction, as the crypto space is seeing an insane amount of mainstream financial movement.
All in all, the package includes 10 exclusive research reports and tons of additional bonus research.
The Black Box also guides investors to some of the hottest opportunities in the crypto industry.
Regardless of your skill or experience level, you're sure to learn something new with the Crypto BlackBox.
The package includes tons of advanced research and guides that can help you take your trades to the next level.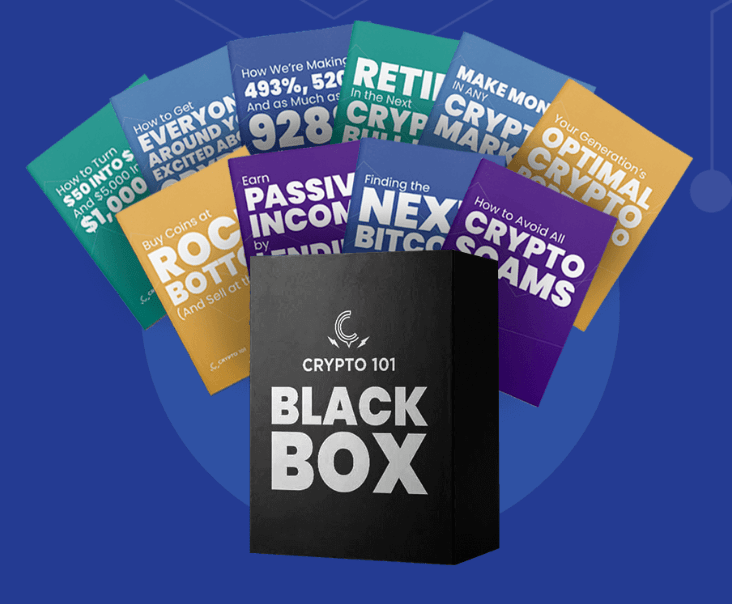 Bryce Paul Review
Bryce Paul is one of the experts behind the Crypto Revolution book and Crypto 101 podcast and is based in San Diego, California.
Bryce has been an integral voice in nearly 400 podcasts, sharing his insights since the early days of the Bitcoin bonanza.
Paul pursued a career in filmmaking before switching gears and embracing the cryptocurrency game.
The crypto guru is no stranger to the crypto world and is well accomplished in business development.
He's worked with a wide variety of companies, establishing blockchain partnerships in areas like smart cities and artificial intelligence.
As a crypto expert, Bryce has spoken about blockchain technology and crypto at high-profile conferences all over the world.
Aaron Malone Review
Aaron "PizzaMind" Malone is the other half of the dynamic duo behind both Crypto Revolution and the Crypto 101 podcast.
Malone is a long-time entrepreneur with over two decades in the emerging tech space.
While paving his way through upcoming tech, he's become the owner of eight different companies.
Malone turns his knowledge now to cryptocurrency and is one of the few to understand both the financial side and the complex technology that goes along with it.
Aaron is a huge contributor to the blockchain world, frequently sharing his insights with some of the big players.
The crypto expert has also frequented crypto conferences around the globe as a speaker and serves on the advisory board for several organizations.
Is Bryce Paul Legit?
With so much talk about his exponential success, a more comprehensive Bryce Paul review is in order to reveal if the man is more than just talk.
Bryce is quite transparent in his approach and shares his crypto trading knowledge through his books and podcast.
In addition, his crypto trading strategy has earned him over one million dollars to date.
Bryce has over 6.5 million podcast listeners with nearly 400 podcast episodes and counting.
The Crypto 101 podcast has even featured interviews with some crypto big-wigs like Binance CEO Changpeng Zhao and hedge fund manager James Altucher.
If these respected crypto industry leaders think Bryce is worth their time, he must be doing something right.
With this Bryce Paul review, it's safe to say he is everything he says he is.
Crypto 101 BlackBox:

What's Included?

Crypto 101 BlackBox provides everything you need to dive into the crypto market with confidence.

​Retire in the Next Crypto Bull Run
​Make Money in Any Crypto Market
​Finding the NEXT Bitcoin
​How to Avoid All Crypto Scams

BUY NOW →
>> Get the BlackBox now and discover Bryce and Aaron's top crypto tips <<
Crypto Revolution Review
Crypto Revolution publishes some of the best research reports available on emerging opportunities in the crypto market.
While most of the mainstream crypto content focuses on Bitcoin, Crypto Revolution's expertise goes well beyond the purview of basic blockchain investments.
The company has a reputation for uncovering red-hot altcoin plays and much more.
According to the latest projections, several alt-coins could see gains of 1,000% in 2021, and Bitcoin could break past $100,000.
That's all well and good, but how can you take advantage of the potential opportunities in the crypto market?
You might be kicking yourself in a year or two if you don't make a move before a crypto bull run kicks off, but the crypto market intimidates some investors.
Fortunately, Crypto BlackBox 101 provides a complete guide to the crypto market for beginners, as well as an extensive research package covering the hottest cryptocurrencies for 2021.
It's an excellent introduction to the crypto space, but don't take our word for it.
Let's explore the latest Crypto 101 BlackBox 101 deal in detail.
Crypto 101 BlackBox Review: What's Included?
"How We're Making 493%, 520%… And As Much As 928%… Investing In Three Alt-Coins"
​Retire in the Next Crypto Bull Run
​Make Money in Any Crypto Market
​Finding the NEXT Bitcoin
​How to Avoid All Crypto Scams
​Buy Coins at Rock Bottom (and Sell at the Peak)
​How to Get Everyone Around You Excited About Crypto
​Your Generation's Optimal Crypto Portfolio
​Earn Passive Income By Lending Crypto Like a Bank
How to Turn $50 Into $5,000 and $5,000 Into $1,000,000
"Ironclad money-back guarantee"
>> Access the complete Crypto 101 BlackBox now <<
How We're Making 493%, 520%… And As Much As 928%… Investing In Three Alt-Coins
Out of the ten reports included with Crypto 101 BlackBox, this is probably the most self-explanatory.
It's also one of the hottest new Crypto Revolution reports and the flagship of the Crypto 101 BlackBox package.
In this report, the Crypto Revolution team covers their system for reaping triple-digit returns in cryptocurrency.
Given the breakneck pace of this year's bull run, there's no shortage of opportunities.
Beginners love this guide because it utilizes a low-risk, high-reward trading strategy.
Experts love it too because it has the potential to produce high market-beating returns!
The report also includes detailed research on three cryptos that could skyrocket in 2021.
So far, the Crypto Revolution team has produced huge gains with these three cryptos, and this report includes a step-by-step blueprint for how it's done.
This could be the most important report in the package.
It provides an excellent introduction to the alt-coin space and breaks down the best blockchain opportunities for potential investors.
So this is the perfect way to hit the ground running in the crypto sector.
​
​Retire in the Next Crypto Bull Run
Bitcoin went from $3,500 to more than $30,000 in 2020, but the bull run could still have a lot of gas left in the tank.
Crypto Revolution believes the blockchain bull market will hit its stride in 2021, but it won't be a repeat of 2017.
This report reveals new strategies that could tip the scales in your favor this year.
It also outlines Crypto Revolution's highly secretive system for identifying alt-coins with 1,000%-plus profit potential and breaks down cyclical trends that could help you get the most out of your money.
You'll also discover a "failsafe" strategy that will prevent you from losing a large chunk of your gains if the market unexpectedly moves south.
The content covered in this report can have a huge impact on your crypto returns in 2021.
Make sure it's one of the first reports you look over so you get the most out of your cryptocurrencies this year.
It's important to note, though, that while the service can provide the opportunity to improve your crypto trades, following this advice is done at your own risk.
​Make Money in Any Crypto Market
Anyone can make money in a bull market, but it takes real skill to generate returns when things turn bearish.
This central trading tenant also applies to the crypto sphere.
But, if you're only trading bull markets, you're missing out on a lot of trading action.
With a little practice, you can generate consistent profits in cryptocurrencies when the market is down.
This report features a guide for making money in any market so you can greatly multiply your potential returns over time.
This is a must-have skill for investors of all skill levels.
You'll learn how to make trades that can generate returns when the market is going up, down, or sideways so you don't have to sit on the sidelines the next time the market is in a funk.
These strategies can help you dive in full force and get the most out of your money while other investors are busy licking their wounds.
>> Get the strategies you need to win in crypto now <<
​
Finding the NEXT Bitcoin
Bitcoin is a blockchain rockstar, but there are hundreds of up-and-coming cryptocurrencies aiming at the top spot.
We've seen Bitcoin's incredible gains first-hand, but this crypto pioneer won't have the top spot forever.
Pretty soon, a new cryptocurrency will challenge Bitcoin's dominance.
The so-called NEXT Bitcoin could be even bigger.
Crypto 101 estimates this coin could ultimately produce gains as large as 500,000%.
Yes, you read that right — 500,000%.
Now, here's the twist.
This new opportunity might not be a cryptocurrency at all! Just like Bitcoin introduced the world to blockchain technology, the next big thing could also have an enormous impact on the market.
Up-and-coming technologies like self-driving cars, artificial intelligence, and more could be fueled by the blockchain, so crypto could play an even bigger role in the market in the future.
It always pays to be ahead of other investors, and this under-the-radar opportunity is a well-guarded secret.
You could be in for a major windfall if you get in on the ground floor.
​How to Avoid All Crypto Scams
We all know the crypto industry was like the Wild West in its early days, but the industry has greatly cleaned up its reputation since the dark days of Ross Ulbricht and the Silk Road.
However, there's never any shortage of bad actors looking to defraud investors, and financial con artists love the crypto sector for its comparatively lax regulations.
Crypto scams are a major problem, but they're easy to avoid if you know what to look for.
This report breaks down all the red flags so you can spot any funny business well before you risk your hard-earned cash.
It's a must-read for any novice needing to know how to spot crypto scams before buying in.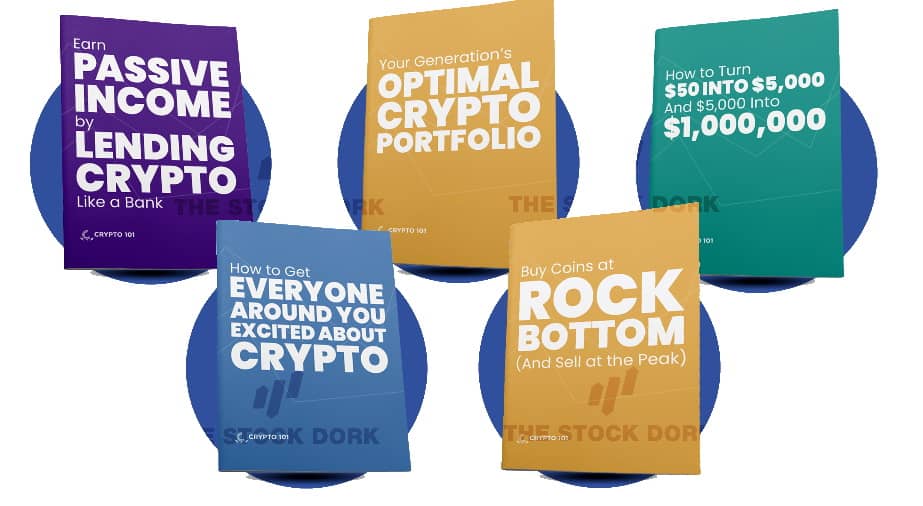 ​
Buy Coins at Rock Bottom (and Sell at the Peak)
Trading 101: Lesson 1. Buy low, sell high.
Seems simple enough, right?
Unfortunately, many investors struggle with this fundamental trading skill.
Trade timing is one of the most difficult skills to master, but, as usual, Crypto 101 provides an effective, user-friendly guide for mastering these techniques.
This report breaks down the most important metrics for measuring a potential alt-coin investment.
It's like a pair of x-ray goggles that allow you to see the real value behind every coin.
Once you know the coin's true value, all you have to do is look at the market price to know what your best move is.
Learning this system can instantly benefit your portfolio, so make sure you give this report a thorough read.
​How to Get Everyone Around You Excited About Crypto
The crypto market is rife with opportunities.
Otherwise, you probably wouldn't be reading Crypto 101 Blackbox reviews!
However, you probably can't say the same about your friends, family, and loved ones.
Most people are just too busy to appreciate the potential profits in cryptocurrencies, but that doesn't mean you can't guide them to the light.
This report provides a host of tips and tricks for infecting your friends with crypto fever.
It includes fun and easy ice-breakers so you can get the conversation started.
Plus, facts and numbers to support your arguments and much more.
By the time you're done reading this, you'll be able to justify your bullish stance on cryptocurrencies to just about anyone.
Even the most zealous skeptic won't be able to stand up to these cold-hard facts.
​Your Generation's Optimal Crypto Portfolio
Investment objectives vary with age, so there's no one-size-fits-all advice when it comes to cryptocurrencies.
An 18-year-old doesn't have the same goals as a 50-year old.
Each age group has different priorities based on how close they are to retirement and other underlying factors.
To simplify the process, Crypto 101 outlines the best model portfolios for every age group in this special report.
Younger investors can discover the ideal holdings for building long-term wealth, while older investors can explore capital preservation strategies and more.
Investors of all skill levels can get a lot from these model portfolios.
For beginners, it serves as a guide to what a proper portfolio should look like, and experienced traders can use them to find new trade ideas.
>> Sign up now for instant access to these reports <<
​Earn Passive Income By Lending Crypto Like a Bank
Crypto lending is rapidly shaping up to be one of the hottest new crypto trends in 2021.
For the first time ever, regular people can generate profits by lending cryptocurrency, just like banks!
This is an absolute game changer for retail investors.
Now, everyday crypto traders can generate returns on their holdings safely and efficiently.
Crypto lending will likely be a hot topic in 2021, and you could reap significant benefits by being ahead of the curve.
How to Turn $50 Into $5,000 and $5,000 Into $1,000,000
Even if you only have a small piggy bank to start with, it's never too early to start investing.
One of the best things about the crypto space is that you can get started with a relatively small core position.
Cryptocurrencies can produce such outsized gains that even a small position can quickly balloon into a significant nest egg.
This report outlines reliable techniques for growing an initial investment of $50.
By the time you're done, your initial investment could be worth as much as $1,000,000.
Surely, it's not as easy as it sounds, but the wealth creation techniques still stand.
Make sure you check out this report to pick up these important trading fundamentals before you hit the crypto market.
Money-Back Guarantee
You get instant access to these legit Crypto Revolution guides as soon as you sign up.
Most of the time, companies use that as an excuse to not accept refunds.
However, Crypto 101 stands out with its exceptional money-back guarantee.
Once you get the reports, you have 60 days from the purchase date to try them out and, if you're anything short of 100% satisfied, you qualify for a full refund.
This is a really bold step for Crypto Revolution and Crypto 101, and it serves as indisputable proof that this team stands behind their work.
You will get the reports right away, and you can read them all within 60 days.
It's safe to assume that Crypto 101 would be hemorrhaging money if they weren't producing high-quality products.
The 60-day guarantee gives you the peace of mind of knowing you're covered if you're not satisfied.
You never have to worry about buyer's remorse with the Crypto 101 BlackBox.
How Much Does Crypto 101 BlackBox Cost?
Each of these ten reports has a sticker price of $97 apiece.
That adds up to a grand total of nearly $1,000, and that's before you even factor in tax!
Fortunately, you can get an amazing limited-time discount if you sign up under the current deal.
Right now, you can purchase the complete Crypto 101 BlackBox research package for just $97.
That's 90% off the combined retail price of these reports.
It's a truly spectacular deal and an excellent opportunity for any aspiring cryptocurrency investor.
The content in these reports covers everything you need to know to start effectively trading in the crypto industry.
Crypto 101 BlackBox is an all-in-one guide to the crypto market, and it's extremely affordable at just $97.
It's an excellent choice if you want to get more out of your money without breaking the bank.
>> Get the complete Crypto BlackBox now for just $97 <<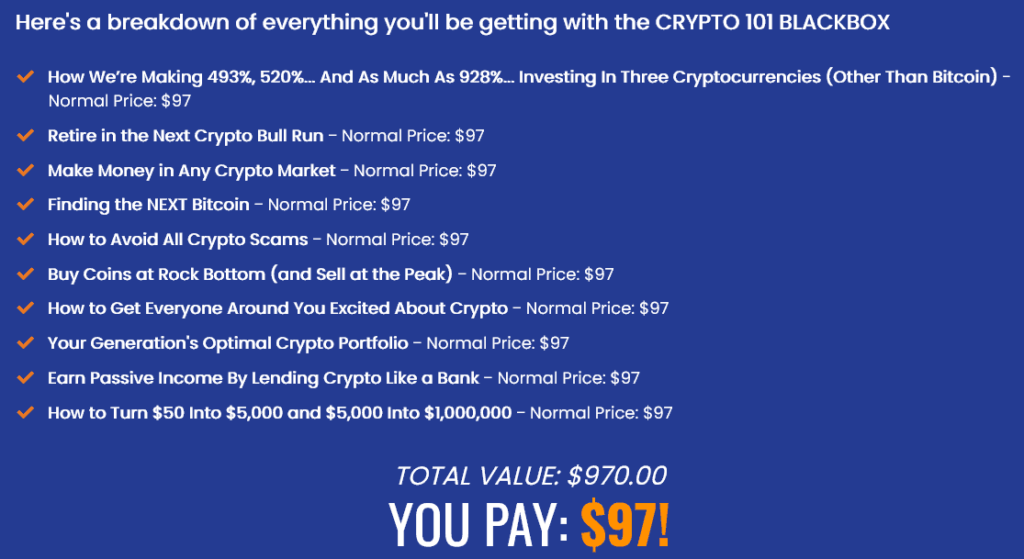 Crypto 101 BlackBox Review: Pros and Cons
Crypto 101 BlackBox isn't perfect, but it's certainly exceptional.
Here are the best and worst aspects of this service:
Crypto 101 BlackBox Pros
Very affordable at just $97
Includes 10 detailed research reports and legit Crypto Revolution guides
An iron-clad money-back guarantee ensures you walk away satisfied
Guides readers to the hottest opportunities in crypto and altcoins
Content is written in a user-friendly, easy-to-read style
Includes detailed educational resources; perfect for beginners investing in the crypto space
Reports contain several model portfolios catering to investors of all ages
Introduces readers to data analytics and other advanced trading topics
Reputable company with a lengthy track record of success
Crypto 101 BlackBox Cons
Doesn't include a newsletter or a subscription to receive new picks.
Only covers cryptocurrency; no stocks.
Is Crypto 101 BlackBox Right for Me?
Crypto 101 BlackBox has a wide appeal, but some people might get more use out of the reports than others.
If you fall into any of these categories, you'll get a lot out of this service.
Crypto enthusiasts of all skill and experience levels
People interested in crypto who want to explore the crypto market
Higher net-worth individuals looking to diversify their assets
Anyone interested in speculative, high-growth investment opportunities
Younger folks with an interest in aggressive growth strategies
People looking to preserve capital and diversify their portfolio
Anyone looking for an affordable cryptocurrency crash course
Don't fit into any of these categories?
No problem!
You can still get tons of value out of this service.
Try it for up to 60-days risk-free with the 100% satisfaction guarantee and return it if you don't like it.
You might as well try it because you have practically nothing to lose by checking it out!
>> Get the BlackBox now and play the crypto market like a pro <<
Is Crypto 101 BlackBox Worth It?
After a thorough review, we can say with confidence that this package is one heck of a value.
Crypto courses typically cost thousands of dollars because it's so hard for companies to find qualified experts in the space.
Most mainstream publishers charge significantly more for crypto products than their traditional stock research services, so you can easily end up spending $3,000 for a full course.
Fortunately, you don't have that issue with this company.
Crypto Revolution only covers crypto, and the BlackBox is extremely affordable at just $97.
For a one-time upfront investment, you get immediate access to a complete library of crypto trading resources.
It's no exaggeration to say these reports could guide you to enormous gains, although it's up to you to apply this knowledge effectively and at your own risk.
If you're serious about trading crypto, you can't go wrong with Crypto 101 BlackBox.
It's extremely affordable, backed by a knowledgeable team of experts, and includes ten full-length research reports.
Crypto 1010 BlackBox Review: Final Verdict
Crypto 101 BlackBox provides everything you need to dive into the crypto market with confidence.
They're also offering a more than 90% discount on the full retail price, and it's all covered under Crypto Revolution's air-tight satisfaction guarantee.
It's no exaggeration to say this service has it all.
It's one of the best all-in-one crypto training products around, and anyone looking to get into crypto should give it serious consideration.
>> That's it for our Crypto 101 BlackBox review. Click here for instant access to this limited-time deal <<