Are you among the many people who hate the stressful ups and downs of the stock market? A solid investment one day can be in the tubes the next due to countless factors you weren't even aware of. At its best, it's a guessing game.
Chris Graebe believes he's found a much better system for making money through investments. Why not start at the very beginning and cut much of that nonsense out?
Did I mention the profit potential there is much, much higher as well?
His secret lies in what he calls the Alpha Round. This Deal Hunters Alliance review explains this lucrative investment opportunity and everything you need to know to get involved.
Deal Hunter Alliance Review: Overview
Deal Hunters Alliance is a private investing service led by guru Chris Graebe. He's teamed up with the experts at Weiss Ratings to bring you a top-tier investment bundle.
Chris uses the platform to share his insights on the best companies beginning their fundraising campaigns. Each recommendation comes only after several hours of careful analysis.
The goal? To take advantage of new regulations and help you see profits previously available to accredited investors.
The Deal Hunters Alliance system is only possible because of Chris. Let's meet him now.
>> Already sold? Get a discount here <<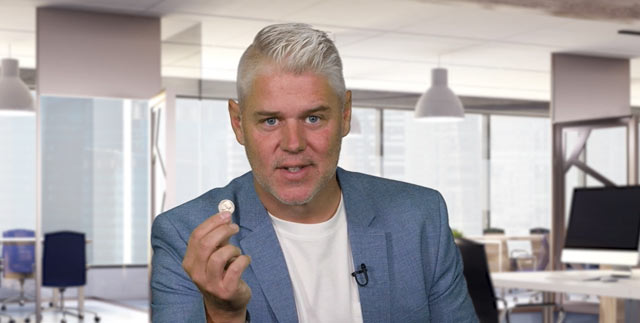 Who is Chris Graebe?
Chris Graebe is a private deal investor with roughly ten years of experience in the space. His claim to fame is locating unknown startups and buying in before they go public.
He discovered the opportunity after starting an e-commerce business of his own. The potential for investors to make money by investing in his business was off the charts.
It didn't take long for Chris to put his money where his mouth was. His system has earned him some major income.
Don't just take my word for it. Chris was one of the first to invest in ThisWayGlobal, an artificial intelligence company that recently struck big partnerships with IBM and Google.
He also got in early with Beat Box Beverage and MC Squares. Both companies received investments on Shark Tank.
In all, Chris has made more than a dozen similar moves. He's rejected dozens more thanks to his proprietary research method.
Now, he's ready to share his system with the masses.
Graebe recently teamed up with Weiss Ratings to bring these incredible opportunities to us. It's all part of his Deal Hunters Alliance package.
What is Alpha Round Investment?
Most folks wait until after a stock goes public before investing. Graebe warns that we're losing out on the potential for massive gains this way.
He says, in many cases, the lion's share of the money is made by getting in BEFORE the company has its IPO. Alpha Round Investment makes it possible to do just that.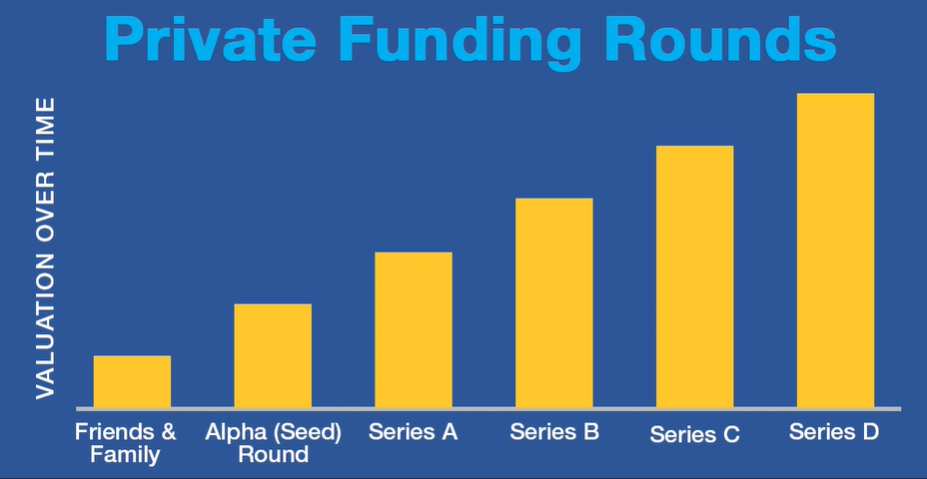 The Alpha Round is the first time a company pokes its head out of the ground and asks for money. It's the most lucrative step of the process and sets you up for the biggest run at growth.
This round of pre-IPO investing hasn't always been available to everyone, though.
An unfortunate government regulation after the stock market crash of 1929 made it possible only for accredited investors to get involved.
These accredited investors were able to make tons more cash by getting in at such an early stage. We were stuck waiting for the open invitation at IPO.
Obama's JOBS Act and Trump's reforms changed all that. Equity crowdfunding now makes it possible for any of us to exchange a few bucks for a piece of a startup.
Let's investigate what makes the Alpha Round worth checking out.
>> Join now to get Chris Graebe's latest picks <<
America's #1 Recession-Proof Deal
Equity crowdfunding removes a lot of the turbulence in traditional markets. Investing while a company is still private avoids the ups and downs of economic buzz-kills like recession or inflation.
It doesn't have to cost an arm and a leg to get involved, either. You can get started for as little as $100.
The returns you can earn here are so much greater than anything you'll see on the other side of an IPO. Early investors in Meta and Airbnb were looking at six or even seven-digit gains.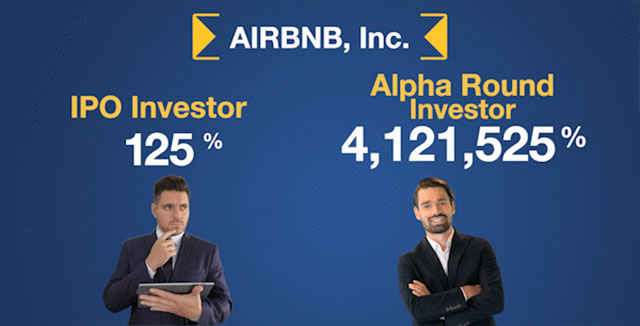 Compare that to three-digit gains after the IPO. Not bad by any means, but nowhere near as impactful.
Not every company deserves a chance in the spotlight. Many crumble during this crucial phase and never recover.
That's why Chris invented his FIVE methodology to sift the wheat from the chaff.
Chris put his FIVE methodology through its paces, growing a small amount to more than $400 million today.
FIVE: Founders, Industry, Valuation, and Exit Potential.
The formula checks four crucial business components to see if a company has what it takes to reach monumental heights.

First, Chris researches the founders. He wants to ensure they've left a trail of success in their wake and have already scaled and exited a business.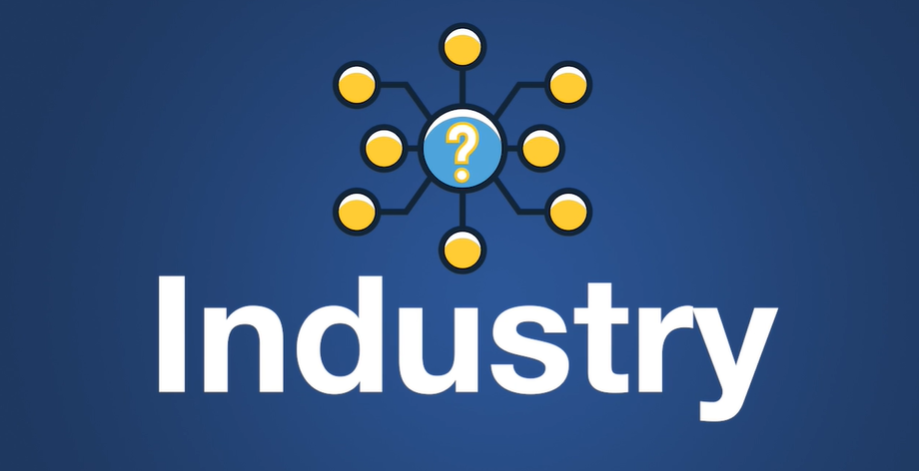 Next, he checks which direction the industry is trending. Unpopular industries rarely have the momentum to push companies up.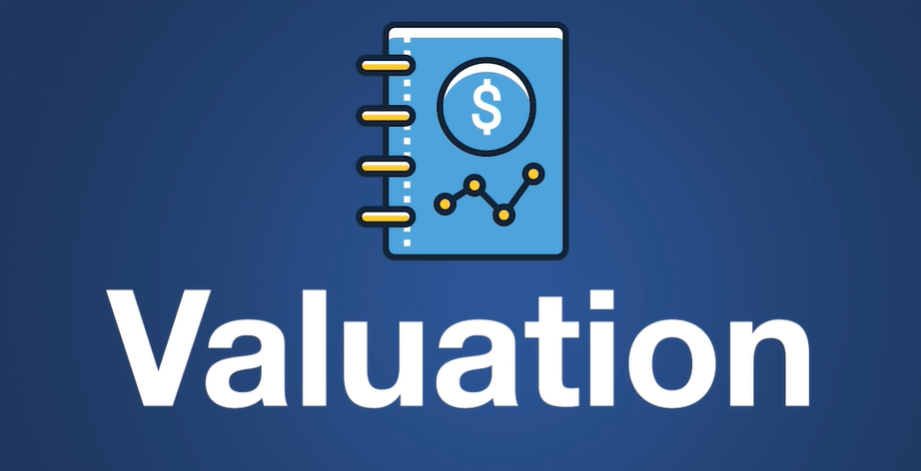 Chris and his team then meet with financial wizards at a company to validate their numbers. If anything seems off with their valuation, he moves on.
Finally, he checks the possibility of an exit strategy. This could be an IPO or a buyout. In either case, it's here that folks getting in at the Alpha Round make their money.
The law's in our favor now, but crowdfunding opportunities can only stay open until the company reaches its goal.
Unsurprisingly, Alpha Rounds for companies checking all these boxes can fill up in days. It's essential to move quickly to secure your spot.
>> Get started now to lock in your spot <<
Alpha Round Investing vs Other Types of Private Investing
Alpha Round investing is your ticket to company equity at the beginning of its fundraising journey. It's here that a company's valuation is the absolute lowest.
You're already there through subsequent funding rounds and the growth each one brings. There's nothing left but to sit back and watch venture capitalists and banks grow your initial investment.
The public adds their money to the mix at IPO, driving up company shares that much more.
Even if you somehow find the means to invest at a later funding cycle, you're still missing out. There's simply nothing better than the Alpha Round for maximizing profits.
One of the few ways to access Alpha Round investing is through a membership to Deal Hunters Alliance.
Deal Hunters Alliance Review: What Comes With a Membership?
Here's what you get when you become a member of the Deal Hunters Alliance:
Minimum 4 Alpha Round Deals per year (+ total 12 Investor Dossiers)
Chris Graebe and his team sift through hundreds of companies every quarter looking for ones that might explode. They do all the research so you don't have to.
From that long list, they pull out at most three names as viable investment opportunities. The focus here is on quality over quantity. Chris typically recommends just one pick to maximize your chances for success.
That's at least four Alpha Round deals per year. Each comes with an Investor Dossier detailing when, where, and why these picks are worth your interest.
Chris throws in Investor Dossiers for the other two finalists each quarter for good measure. It's up to you to decide whether they're worth pursuing.
You'll receive the new opportunities in your inbox the moment Graebe recommends them.
>> Join now to get the latest Alpha Round deals <<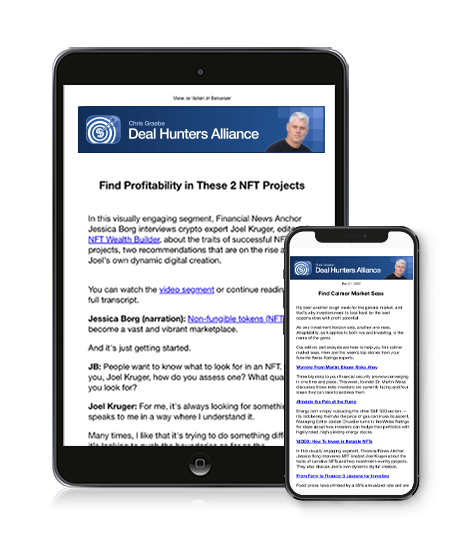 FIRST ACCESS to Alpha Round Deals!
Alpha Round deals can fill up in less than 24 hours. Act too slowly and you may find yourself waiting until the next opportunity three months down the road.
Alliance Member subscribers have the considerable advantage of being at the front of the line. You get the scoop before literally everyone else.
This gives you the peace of mind to invest wisely instead of scrambling to get in before the deal closes.
Private Deal Grades Reports
Recommendations also feature ranked investor-grade reports from the experts at Weiss Ratings.
In case you're unaware, the crew at Weiss Ratings have created one of the best rating systems in the world. It contains more than 56,000 stocks, mutual funds, ETFs, banks, and a host of other products.
They've expanded their system to now include private deals. Every one of Chris's recommendations has earned a positive grade to make the cut.
You'll get to peruse the full report on each company as a Deal Hunters Alliance member.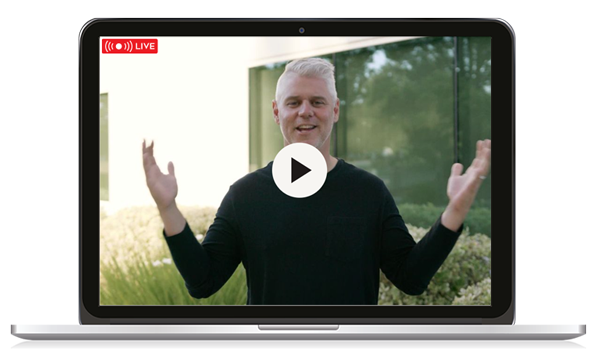 Private Deal MasterClass (Lifetime Access)
Chris wants to make sure you know how to navigate the private sector and capitalize on the money within.
To accomplish this goal, he created a 12-video set he calls the Private Deal MasterClass. These videos explain the step-by-step process for making investments so you're ready when the time comes.
You'll also discover detailed information on Chris's FIVE method and his criteria for picking each stock.
The video series isn't a requirement for winning big. It's certainly a nice tool though for getting a leg up on the competition.
>> Get started now to see the latest deals <<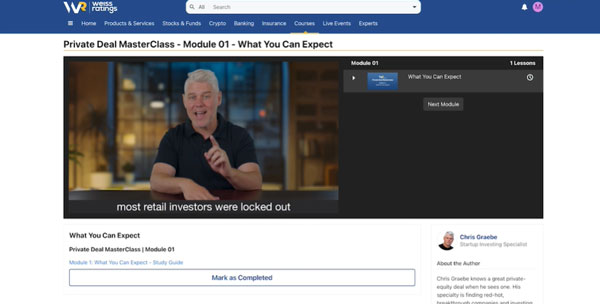 Members-Only Online Events
Subscribers are invited to join members-only digital calls with Chris Graebe himself. Chris invites founders or managers of companies he recommends on the line as well.
You'll get the chance to ask questions and hear the company's plan straight from the source.
LIVE Alliance Member Retreats
Chris is taking his video calls to the next level. He's going to invite lucky folks to strategic in-person events.
You'll get to meet company founders face-to-face and tour their facilities. Seeing is believing, and you can walk through the halls of your investment yourself.
In all my years I've never heard of a better way to get exclusive insights on what you're investing in.
Refund Policy
There's no refund per se when you sign up for Deal Hunters Alliance, but you can cancel at any time.
You'll get a credit for the unused portion of your subscription to use elsewhere within Weiss Ratings at your leisure.
Deal Hunters Alliance Review: Pros and Cons
Deal Hunters Alliance has a lot going for it, but it's not perfect. Here are the pros and cons of the service.
Pros
Full-year access to Deal Hunter Alliance

Between 4 and 12 recommendations per year

From pre-IPO expert Chris Graebe

Complete dossiers on each pick

Ranked reports from Weiss Ratings

Lifetime access to Private Deal MasterClass

Member-only video calls and retreats

Heavily discounted price
Cons
Covers a very particular niche

No community chatroom
How Much Does It Cost?
A membership to Deal Hunters Alliance normally costs $5,000. As part of this special package, you can get all the content above for just $2,497. That's over 50% off the cover price.
You're looking at just $200 per month or $7 per day for a shot at five or even six-digit gains. That's a very small price to pay in the long run.
That's not to mention you get to keep this discounted rate as long as you're a member. Automatic renewals come in at precisely the same low price.
Is Weiss Ratings' Deal Hunters Alliance Worth It?
The $2,497 membership fee may seem steep, but it's well worth the price of admission.
This is your ticket to getting in at the forefront of a company's valuation journey. The potential returns you can reap are limitless.
You get at least four recommendations to invest in each year. There's no need to randomly guess where to put your money.
It's awesome that Chris and his team do all the research for you. They vet each company with their FIVE criteria to ensure you get a quality pick.
You're also privy to the Private Deal MasterClass series and opportunities to hear directly from company owners.
Best of all, Deal Hunters Alliance gets you into the event before anyone else. These fundraising rounds close so quickly that it's your best chance to get a seat.
Subscribe to Deal Hunters Alliance today so you don't miss out.