Nomi Prins' options trading service is making waves online, and I wanted to see what the fuss is about. Check out my Distortion Money Matrix review for the full story.
What Is Distortion Money Matrix?
The Distortion Money Matrix is an investment newsletter published by Rogue Economics and led by Nomi Prins.
Some membership perks include two monthly options recommendations (on average), bonus reports, and trade alerts.
The X factor is Prins' proprietary system that identifies "distortion signals." These signals alert her to a potential shift in a stock's pricing.
Nomi will then issue a recommendation based on which direction she believes the price may be headed.
While most of Nomi's research focuses on market distortions, this is the only newsletter in the line-up that uses her proprietary signals.
It's a unique focus that could appeal to folks searching for a new angle on the options market.
>> Sound like a good fit? Sign up for 37% off HERE <<
How Do Distortion Signals Work?
Because distortion signals are proprietary technology, Nomi Prins can't divulge the specifics of how her system works. That said, she does provide an overview of what they are and how she uses them.
These signals are indicators that Nomi uses to identify when money looks like it might flow into or out of a stock as a result of market distortion.
Because Distortion Money Matrix leverages options, Nomi's recommendations have the potential to make money if a stock trades up or down.
If she believes the stock could rise, she recommends call options. On the other hand, she will recommend puts if the stock looks like it might drop.
Here's a visual aid of a signal provided in the $4 Trillion Market Shock presentation.
Nomi's distortion signal warned that Wynn Resorts (NASDAQ: WYNN) may experience a dropoff.
Listeners who positioned themselves had the opportunity to grow a $1,000 investment into $8,380.
There are no crystal balls in the stock market. So Nomi can't guarantee results like this on every trade. However, she does make a strong case for the viability of her distortion signals.
I'll dig into the details more in my review. But first, who is Nomi Prins, and what are her credentials?
>> Discover where distortion signals are pointing now <<
Who Is Nomi Prins?
Nomi Prins is an investment analyst who specializes in pinpointing market distortions. She's also a former Wall Street insider.
You may recognize her from the best-selling books she's written or her frequent appearances on CNN, CNBC, Fox, PBS, and other prominent television networks.
Nomi began her career as an analyst at Chase Manhattan Bank. She also spent seven years at Bear Stearns, as well as another two at Goldman Sachs.
In addition to her uncanny foresight into the stock market. Nomi also showed real talent as a programmer.
"Well, after Wall Street learned about my programming skills, they hired me at the age of 19.

At that time, all major banks on Wall Street were starting to apply computers to trading to get an edge over their competitors. I even wrote a software program at Chase that totally revolutionized the way they traded options."

— Nomi Prins, $4 Trillion Market Shock
Prins eventually left Wall Street after witnessing rampant corruption between the banking industry and Big Gov. She soon began exposing how financial systems can be manipulated for the profit of an elite few.
She shares these insights and her inside knowledge with Rogue Economics members.
Nomi leads many popular services, including Distortion Money Matrix and Distortion Report. Her recent endeavors spotlight what she calls the Great Distortion.
Distortion Money Matrix's latest presentation, $4 Trillion Market Shock, follows the "next chapter of the Great Distortion."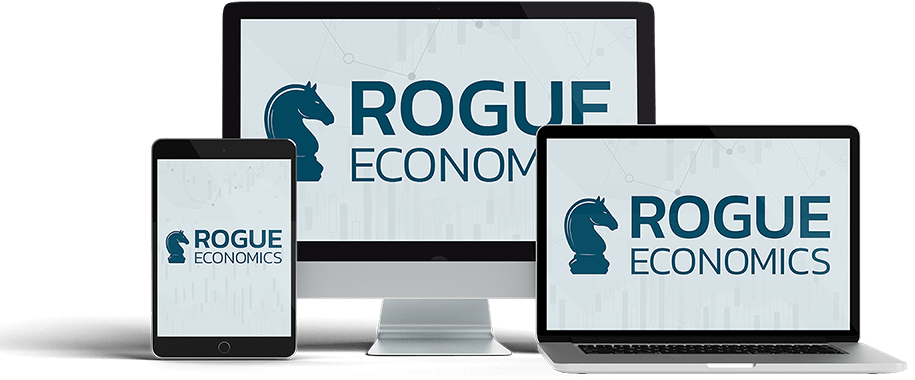 What Is Rogue Economics?
Rogue Economics is a research publisher that places a heavy emphasis on distortion events and financial independence. Its newsletters tackle a broad range of topics, such as stocks, options, and commodities.
This publisher has a solid catalog of investment newsletters under its umbrella.
Rogue Economics has also enlisted a roster of professional analysts. Some members include Nomi Prins, Eoin Treacy, and John Pangere.
Unlike many publishers out there, the team pens research about what's going on around the globe — not just in the US.
The financial sector is a big place. And events can have a tremendous impact on the direction of domestic companies.
There's a blend of expertise on offer, which gives this publisher a broader appeal.
>> See why so many trust Rogue Economics <<
The Great Distortion
Nomi Prins previously warned listeners that a global economic crisis was just around the corner.
She called it the Great Distortion, an enormous transfer of wealth to the tune of trillions from the real economy to the financial markets.
But the Great Distortion isn't a singular event. Rather, it's a chain reaction between smaller distortions that add up to a larger whole.
So what started the Great Distortion?
During the COVID crisis, the central bank printed trillions of freshly minted bills. The financial markets and government officials used this as an opportunity to line their own pockets.
Essentially, they pick and choose where the money flows.
It turns out that government officials, bureaucrats, and the financial elite are not only pulling strings behind the scenes and deciding where the money is going…
But they're also profiting from it.
An example of a distortion that Nomi points to is the Covid crash. Congress knew what was in the works long before the public was made aware.
Meanwhile, Nancy Pelosi was assuring the public that everything was fine and that there was nothing to worry about.
Behind the scenes, however, members of Congress were already dumping their stocks.
The markets plunged head first while government officials and insiders protected their wealth.
This was just the start…
Lockdowns were announced, and small businesses were leveled. These market conditions became fertile ground for tech stocks.
Again, Congress knew well in advance where the market was headed and began loading up on tech stocks.
Although stocks like Google saw a recent downturn from the initial hit, Nomi's distortion signals caught wind of a potential rebound.
Google's share price exploded, leaving Main Street in the dust.
The $4 Trillion Market Shock is the latest in a long string of distortion events stemming from the Great Distortion.
As the name suggests, Nomi believes this recent distortion could result in a $4 trillion shift — one of the biggest yet.
$4 Trillion Market Shock
Nomi's $4 Trillion Market Shock is a massive market distortion she believes will be set in motion as a result of central banks flooding the market with new money.
It's true that they've been on a money-printing spree for the last few years. However, Nomi believes this is just the tip of the iceberg.
She says Central banks are gearing up to capitalize on a spiraling stock market and looming fears of a recession.
Whenever the stock market suffers a correction, like the one we're seeing right now… it's a pedal to the metal for central banks… full force ahead with more money printing… more stimulus… more easy money.
Fortunately, Nomi has research tailored to helping everyday folks come out better on the other side of this distortion.
There are other bonuses with the recent deal that I'll cover in the next section.
>> Get ahead of the $4 Trillion Market Shock <<
What Comes with Distortion Money Matrix?
Under the $4 Trillion Market Shock deal, members can access a slew of excellent features.
Follow along for a breakdown of each one.
Annual Subscription to Distortion Money Matrix
As mentioned, Nomi Prins delivers an average of two trade recommendations based on strong distortion signals picked up by her proprietary system.
These trade ideas are sent out bi-weekly.
While she does aim for two a month, this can vary. Nomi admits that she's picky when it comes to her trade recommendations.
So she won't recommend a position unless it can withstand her strict vetting process and check all the boxes.
As nice as it would be to have a guaranteed two recs every month, I appreciate that Nomi is so selective. It shows that she cares about the quality of her research.
Buy and Sell Alerts
Nomi Prins issues timely alerts to cue members into new opportunities or when it's time to close out a position.
This makes following her latest recommendations a breeze.
Members can go about their day knowing that the team is keeping a diligent watch on the markets.
My #1 Play for the Next Chapter of the Great Distortion
Nomi Prins has identified one sector that she believes is poised to grow as the rest of the market stumbles.
She shares some details in her presentation that provide a few hints.
Nomi is seeing strong distortion signals in the electric vehicle space. And she believes there's an opportunity to capture some of the money flowing in.
Members who sign up for the Distortion Money Matrix newsletter receive exclusive access to this analysis.
Distortion Money Matrix Starting Guide
Nomi and team penned an easy-to-follow starting guide for folks new to options.
It covers all the basics, including how to set up an account and place your first trade.
This guide also explains the Distortion Money Matrix Strategy and how Nomi applies it.
If you're already experienced in options, you can skip over the beginner material and jump right into the strategy.
>> Access these benefits and more <<
Monthly Videos from Nomi
During Nomi's decades in the financial world, she built up quite the contacts list. She did work at Goldman Sachs, after all.
She regularly meets with members of Congress, central and Wall Street banks, as well as the political elite.
Each month, Prins shares critical insights from these meetings.
This is a valuable resource that could uncover market-making news before legacy media catches on.
Exclusive Members-Only Website
Signing up for Distortion Money Matrix grants immediate access to the members' portal.
Subscribers can find all the features in one easy-to-navigate location. This includes trade ideas, a model portfolio, bonus reports, and more.
If you've ever had to fumble around your inbox searching for the latest updates, you may appreciate how easy the team makes following the latest news.
US-Based Customer Support
Rogue Economics customer service offers premium support for Distortion Money Matrix members. If you have questions about the service, you can call or email them between 9 am and 7 pm ET.
I appreciate that Rogue Economics offers a more personalized approach than many services out there.
Emails alone can get the job done. However, it's always helpful to have the opportunity to speak to a real person.
Satisfaction Guarantee
New members of Distortion Money Matrix receive a 90-day full-credit refund on the cost of a subscription.
While it's a bit of a bummer that the service doesn't offer cashback, this is par for the course for many premium newsletters. Some don't guarantee refunds of any kind, so I'll give Prins points here.
The good news is that Rogue Economics offers several solid services that you can put your credit toward.
>> Make the most out of Nomi's guarantee <<
Is Distortion Money Matrix Legit?
Distortion Money Matrix is a legit newsletter.
Nomi Prins' extensive background in distortion events makes her an ideal lead for the service.
Her proprietary distortion signals offer members a unique vantage point that they'd be hard-pressed to find elsewhere.
The team thoroughly vets each trade with real market analysis.
Distortion Money Matrix Pros and Cons
Distortion Money Matrix has a lot to offer. But no one is perfect.
Pros
37% discount

Exclusive research based on Distortion Signals

Helmed by Nomi Prins

Two monthly trade ideas'
Cons
No community forums

Refund is in-house credit only
How Much Does Distortion Money Matrix Cost?
An annual subscription to Distortion Money Matrix typically retails for $4,000. But new members signing up for the $4 Trillion Market Shock deal can join the service for $2,500.
This saves you $1,500, which amounts to a 37% discount.
Even better, the discount carries over to the next renewal.
Most services only offer an introductory discount for the first year. So Rogue Economics is going above and beyond with its latest deal.
Members can access all the features mentioned in the $4 Trillion Market Shock presentation, including the exclusive bonus reports.
All in all, this is a solid deal.
Final Verdict
Distortion Money Matrix is a great newsletter that's worth the price of admission.
I appreciate Nomi Prins' distinct focus on distortion signals. It lets folks tap into an overlooked niche with some serious potential.
The cost is higher than many entry-level research services out there. However, it's a premium service, so the price tag is fair.
When factoring in the discount, it costs less than similar newsletters that deal in options.
Plus, members signing up under the $4 Trillion Market Shock can access a 37% discount, which makes the price much more manageable.
There's also a 90-day window to return the service for in-house credit.
As mentioned, Rogue Economics tackles a lot of investing strategies. So if you decide Distortion Money Matrix isn't a good fit, you have a solid selection of options to choose from.
Nomi Prins and team have put together an impressive package with the latest deal. And I recommend giving it a close look if you're searching for a fresh take on options trading.
>> That's it for my Distortion Money Matrix review. Sign up for 37% off TODAY <<