Tim Plaehn claims his 36-Month Accelerated Income Plan could lay out a strong foundation for an income investing portfolio. But is it the real deal? Check out my The Dividend Hunter review for the full breakdown.
What Is The Dividend Hunter?
The Dividend Hunter is an investment newsletter that dials in on dividend stocks. It's led by stock picker Tim Plaehn and published by Investors Alley.
As the name suggests, this newsletter focuses on companies that could pay steady dividends and income investing strategies.
This isn't the only name in the game for income investing, but the team's strategy has a unique twist.
Tim does more than just target stocks that pay dividends. He also looks to build a portfolio with a careful selection of companies that collectively could pay monthly dividends.
It's all a part of what the team refers to as its 36-Month Accelerated Income Plan.
Let's take a quick look at dividends as an investment to see how this all fits into The Dividend Hunter's recommendations.
Sound like a good fit? Sign up today
Are Dividends Actually Worth It?
Dividend investing comes with a whole host of advantages including, the opportunity for passive income, tax benefits as well as the potential to reduce portfolio risk.
With the right stocks, it's even possible to build a steady income stream to live off of. However, this typically requires a large investment.
While there are many pros, there are also some cons to consider.
Most dividends are paid out quarterly or semi-annually, which could leave some long stretches between payments.
Also, companies can cut payouts at a moment's notice.
Sometimes a business can fall on hard times. In other cases, a yield might be so high, it's not sustainable in the first place.
This is why many income-focused strategies, including Tim's, pay very close attention to a company's history and the sustainability of business practices.
Who Is Tim Plaehn?
Tim Plaehn is an excellent stock picker who pens some solid research.
Investors Alley made him lead research analyst for a reason. His unique blend of mathematical analysis and income investing expertise puts him a cut above many of his peers.
He studied mathematics when he was in the US Air Force, and his education served him well during his time as a financial advisor.
After serving in the military, Tim launched his finance career, which includes a stint as a financial advisor.
He began applying his education in mathematics to his investment strategy, and the results were groundbreaking.
Tim quickly realized he was onto something big and made a personal commitment to bring his findings to the public.
In addition to his flagship newsletter, his other popular services include.
Monthly Dividend Multiplier

Weekly Income Accelerator
He was also the mind behind the Automatic Income Machine, but it looks like that might be discontinued.

What Is Investors Alley?
Investors Alley is a great publisher that has many solid services under its umbrella.
The company is dedicated to bringing everyday people high-caliber investment research and analysis.
It's based in the US, and it has a strong track record for customer satisfaction.
Some of its research services include:
Profit Wheel 360

30-Day Double Up

Options Floor Trader PRO

Options Trading Mastery

11-Day Trader
Investors Alley has several prominent gurus under its banner, including Tim, Rick Rouse, and more.
And each of the firm's services targets a different angle. The Dividend Hunter service is one of its leading options for dividend income strategies.
Discover Tim's LATEST recommendation
Accelerated Income Plan
Tim Plaehn's 36-Month Accelerated Income Plan is the centerpiece of this package. It's a unique strategy that has the potential to help people generate a steady income from the stock market.
As discussed earlier, his mathematical training helped him develop this remarkable strategy.
He uses these strategies in his own investments on a regular basis. The plan helped him build a reliable income stream from dividend payments.
Forming a strategy around dividend stocks could be a more effective approach than relying on growth.
If you're planning for retirement, a sudden stock market sell-off could easily derail your dreams if you're solely relying on growth.
Even robust savings might not last very long if you're not generating income from it.
Take a look at this example from Tim's presentation:
Ten years doesn't seem like a very long time.
However, it could be enough to deplete an entire $250,000 portfolio if you're only getting a 5% return on your assets.
Even a slight slowdown could have disastrous effects.
This is why the Accelerated Income Plan aims to generate reliable income regardless of where the market goes.
Speculating on stock prices can be a dangerous game for people who are relying on their investments to fund their retirements.
Without steady paychecks, you need a way to draw sustainable income from your retirement accounts, and dividends could be the solution.
The Accelerated Income Plan doesn't rely on growth and capital gains to provide income.
Instead, it focuses on high-yield stocks with strong dividend growth that have the potential to keep generating dividends for as long as you hold them.
The plan also makes it easy to manage your income in retirement.
It shows you exactly how much income you could generate in a given month. This helps you can plan accordingly and scale positions as needed.
Also, Tim's approach doesn't prioritize price action at all.
His real focus is finding high-quality dividend stocks trading at a bargain price. And as mentioned earlier, the quality of the company's business is much more important than its day-to-day price movement.
Tap into the Accelerated Income Plan TODAY
What Comes with the Service?
The service offers much more than a monthly newsletter.
Follow along for a breakdown of each feature.
Annual Subscription to The Dividend Hunter Newsletter
This is Tim's flagship newsletter and is the centerpiece of this deal.
Each month, you'll get a new issue of The Dividend Hunter with updates on the latest market action, one trade idea, and much more.
The stock picks also come with extensive supporting research and the team's buy case.
This includes the company's background, and why it could make for a strong addition to an income-investing portfolio.
All in all, the team's writing is clear and to the point.
Something I also like about this newsletter is that Tim also occasionally sprinkles in general tips about income investing that could apply outside his recommendations.
So it could be a great place for someone with little experience to start building up their knowledge base.
Weekly Updates
A month is a long time in the market, so the service doesn't leave you hanging between issues.
Every Tuesday, Tim sends out a new alert showcasing the best buys in The Dividend Hunter portfolio, with supporting research explaining each call.
The weekly reports give followers regular chances to add to their positions if a particularly enticing opportunity catches their eye.
The weekly updates also fill the gaps between each monthly issue and keep readers informed on the latest events surrounding the model portfolio.
Between The Dividend Hunter newsletter and weekly updates, readers have all the support they need to take on the stock market with confidence.
Training and Education
The service also offers bonus training and education sessions to help improve your chances in trading.
Stock picks are always nice, but education is a lifelong gift that keeps on giving.
The live sessions give you the opportunity to learn from a proven expert, and you could draw valuable investing insights from his instruction.
You'll never truly master the market until you have a firm grasp on how it works. Even the best stock picks imaginable can't replace a solid education.
The training and education sessions add another wrinkle of value to this sprawling deal.
Access these features and more
New Member Bonuses
The latest deal is loaded with exceptional bonuses.
Read on for a look at each one.
Divcaster Software Trial
Your subscription also includes a complimentary 60-day subscription to Investors Alley's Divcaster software.
Divcaster uses sophisticated algorithms to track and forecast potential dividend plays so subscribers can plan their investing strategies more effectively.
This fully loaded research platform allows you to model out your portfolio for the future and shows you the total dividends your holdings will pay out, how much you'll receive every month, and more.
Divcaster is an excellent retirement planning tool that can help you set realistic expectations.
Depending on the results, you might find that you need to step up your savings, adjust your positions, or make other moves in response to Divcaster's findings.
You can plan your retirement income down to the smallest detail with Divcaster's cutting-edge forecasting tools.
The Monthly Dividend Paycheck Calendar
Tim Plaehn's Monthly Dividend Paycheck Calculator hashes out key dates for all the dividend stocks in the service's model portfolio, including their dividend payment dates, ex-dividends, and more.
It also lists how much each dividend will pay out, so you can find out exactly how much you're getting months in advance.
The calendar looks something like this: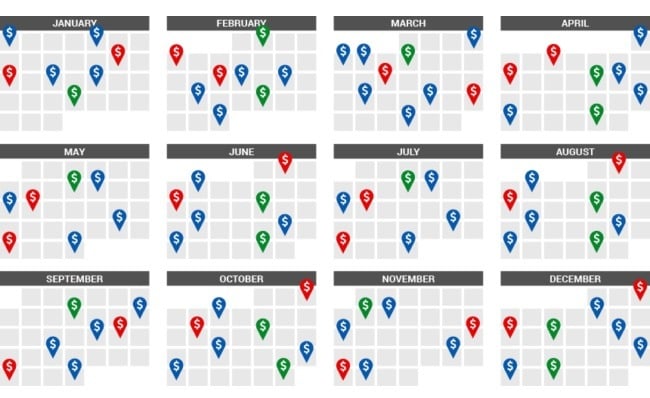 As you can see, it lays out each important date in a straightforward format that's easy to follow. You can quickly identify which stocks are paying when, how much they're paying, and more.
Just a quick glance at the calendar will tell you exactly how much dividend income to expect in a given month.
7 High-Yield Monthly Dividend Payers to Own Today
This report is jam-packed with top-rated dividend stock picks that could be excellent buying opportunities.
Each stock pays an excellent yield and meets the service's strict stock-picking criteria.
These stocks pay monthly dividends, so you could see regular payments if you own them.
Tim doesn't give away much information about these stocks' identities, but it's safe to assume they're high-potential plays.
After all, these are his top "right now" buys, and they could be some of the best opportunities currently on the market.
3 MUST-OWN Dividend Hunter Stocks to Buy Today
This report features in-depth research on three of the team's top picks.
If you're serious about putting the 36-Month Accelerated Income Plan to work, you might want to check out these three stocks first.
The first stock is a buy-and-hold rock star that pays 14 dividends a year, more than once a month, and it has a track record for dividend growth.
Next, there's a rock-solid company that pays a 6% yield monthly. This conservative-risk stock could be a fantastic addition to any dividend portfolio.
Finally, the team calls the third stock a "true high-yield juggernaut." Though, they're tight-lipped about the details.
Tim Plaehn's 3 dividend stocks could form the foundation of a dividend portfolio that's built to last for the duration of your retirement.
And they're the first steps towards putting the 36-Month Plan into action.
365-Day Money-Back Guarantee
Under the latest deal, new members signing up are covered by the team's 365-day money-back guarantee.
This means you have the entire first year to review the service. If it doesn't live up to your expectations, you can opt for your money back on the cost of the subscription.
Most investment newsletters I've seen only offer one month for refunds, so this is definitely a step-up.
A big plus is that it provides ample time to see how a position performs.
One month is usually enough to gauge whether a stock picker provides great analysis, but it's rarely a long enough window to actually see how a position performs.
So I'm giving The Dividend Hunter extra points here.
Is Tim Plaehn Legit?
Tim Plaehn is legit.
Instead of following the hype and chasing hot stocks, he targets reliable dividend stocks that have the potential to generate predictable income.
If you've checked out the Investors Alley website, you've probably seen the wall of reviews left by subscribers to his research services.
I snagged a small screengrab, but this is a fraction of the positive press Plaehn has received.
Here's what Investors Alley subscribers have to say about him: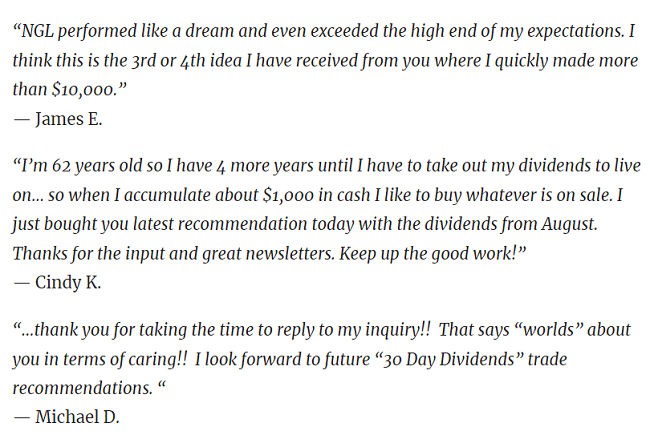 I did some digging for reviews of Tim Plaehn on Stock Gumshoe, but there were only reviews of The Dividend Hunter.
That said, what I found appears to be largely positive, which could put some folks' minds at ease. I'll cover this in more detail later.
Track Record
Tim Plaehn has helped spot some solid stock market opportunities.
Let's take a look at some of his previous calls.
In 2015, he recommended selling Oaktree Capital Group when it had just hit one of its highest price points ever at $54.14.
Over the next 11 months, it sold off for nearly 25% and never recovered to the $50 mark. It was eventually bought out and taken private at $49 per share.
In another example, he accurately called a top in shares of Ventas, Inc. twice in two years, and he was right in both cases.
This chart shows the timeline for each "sell" call and subsequent price action in the stock: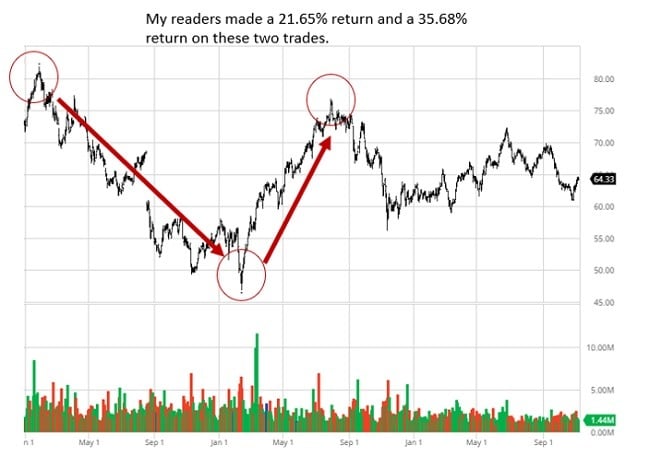 Another of Tim's more recent calls, CyrusOne Inc., saw an opportunity for solid gains in the first 10 months following his recommendation.
This is in addition to paying an excellent dividend yield.
This chart shows how CyrusOne shares performed following his alert: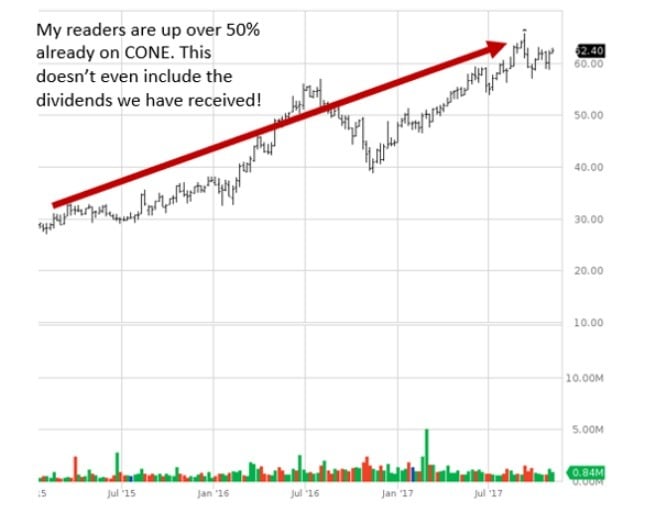 Even though the service primarily focuses on dividend payouts, these dividend stocks have the potential to increase in value as well.
These are just a few examples of his accurate calls. You shouldn't expect results like these with every trade, but they provide a useful example of this service's ultimate potential.
Pros and Cons
The service has many pros, but there are some cons to consider.
Pros
Excellent price

365-day money-back guarantee

Impressive assortment of features

Targets the chance of monthly payouts
Cons
No community forums or chat

Only strict focus dividends/income investing
Is The Service Right for Me?
The Dividend Hunter has a very specialized investing approach that's an excellent fit for anyone interested in income investing. That said, I believe there are some people that could get more out of the service than others.
High-Yield Dividend Hunters
Planning an income portfolio requires a very different approach than a traditional growth-focused portfolio.
If you're serious about building income, you might want to consider a service specifically designed for that goal.
And the service fits the bill perfectly with high-yield dividend stocks for a purpose-built strategy.
Retirement Planners
This deal includes several resources that can help you plan out your retirement with greater certainty.
You can see all your upcoming dividends with the Monthly Paycheck Calendar, so you'll always know what to expect..
Business Fundamentals
Tim doesn't chase the latest "here today, gone tomorrow" fad stocks.
While most gurus are fixated on price action and short-term gains, he prioritizes stocks with strong business fundamentals and dividend growth to ensure each pick has the best possible chance of long-term success.
Monthly Income Chasers
Dividends are great, but most companies only make quarterly payouts.
That might work for some, but if you want consistent retirement income, you might be better off with more regular payments.
The service prioritizes stocks with monthly payouts, so you have as much income flexibility as possible during your golden years.
Sound like a match? Sign up TODAY
Alternatives to the Service
Dividend Hunter is an excellent newsletter. However, there are alternatives worth considering.
The Dividend Hunter Reviews
The Dividend Hunter has locked in a rock-solid 4/5 rating on Stock Gumshoe. This is out of over 500+ votes, which is a pretty impressive number.
Oftentimes, investment newsletters have about 100 votes or so.
Let's take a look at the rating:
While the rating is solid, there's one caveat.
Stock Gumshoe is a third-party rating site, so we can't verify which votes are from real members, good or bad.
However, I think it's a good sign that the service has earned a positive reception online.
Given the quality of the team's analysis, I'm not surprised.
How Much Does It Cost?
Under the latest deal, members can sign up for an annual subscription to The Dividend Hunter for just $79.
Given that the team values the reports at $149, this is an excellent deal.
Your purchase also includes an outstanding 12-month guarantee, so you're still covered if you're not satisfied with the service for any reason for the first year.
At that rate, your overall cost comes out to slightly more than $8 for every month of your The Dividend Hunter subscription. This is a solid discount and offers loads of value at a very affordable upfront price.
Is The Dividend Hunter Worth It?
The Dividend Hunter is an excellent newsletter and a great deal at just $79.
Tim Plaehn offers a unique approach to dividend investing that could set a portfolio up with passive income. Plus, the 365-day money-back guarantee is hard to pass up.
The 36-Month Accelerated Income Plan is a handy all-in-one resource for cutting-edge dividend investing strategies. And the newsletter keeps you updated with the latest research for an entire year.
You also get a ton of additional bonuses, including a free trial to the Divcaster tracking and forecasting software.
There's a lot of value packed into this service, but the free trial is something that I really appreciated.
Since income investing typically appeals toward retirement planning, the more tools to map out the future, the better.
In addition, you get the Paycheck Calendar, plus two bonus reports, Weekly Best Buys, and a whole lot more.
At just $79, it's hard to beat a deal like that.
That's it for my review. Sign up TODAY