First National Realty Partners is known for providing top-tier commercial real estate investment opportunities. But does the company really live up to its reputation? I'm putting the service under the microscope in my First National Realty Partners review to find out.

First National Realty Partners Review: Overview
First National Realty Partners is a real estate investment platform that offers the opportunity to grow wealth through grocery-anchored commercial real estate.
This commercial real estate investment hub was founded in 2015 and is based in New Jersey.
Investments are offered via individual properties or Opportunity Funds. The Opportunity Fund has a holding time ranging from three to seven years.
FNRP commits to expanding its portfolio by acquiring market-dominant and well-located commercial assets significantly cheaper than the replacement cost.
You can receive cash from rental income and a pro-rata share of profits whenever the grocery-anchored retail properties you've invested in are sold.
The platform offers investors stakes in various retail shopping centers anchored by major grocery chains such as Walmart, Shop-Rite, Whole Foods, Kroger, and many more.
First National Realty Partners currently has 47 assets under management spanning across multiple states, including:
Pennsylvania

New York

New Jersey

Georgia

Illinois

Iowa
All offerings on the FNRP platform feature extensive financial models and property information, tenant profiles, and site plans.
>> Already sold on First National Realty Partners? Click here to sign up NOW! <<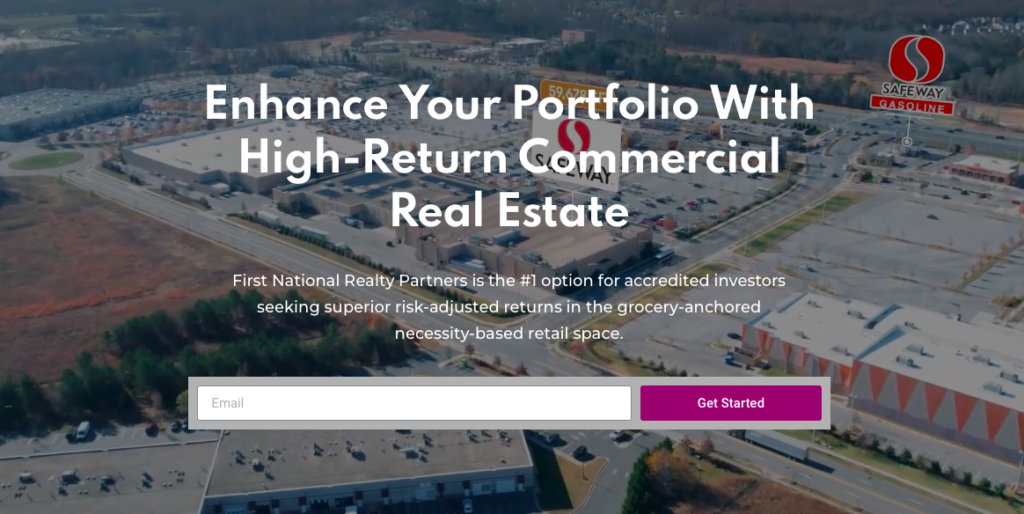 How Does the Service Work?
First National Realty Partners provides two investment deals on the platform: an individual real estate fund and an opportunity fund.
The real estate fund allows you to invest in a single property.
On the other hand, the opportunity fund gives access to all FNRP investments at once.
The team provides details of all prospective offerings and limited information on previous investment opportunities. Though, that limited information doesn't include performance details.
There are two ways that you could make money from an investment:
Quarterly distributions of positive cash flow

Receive a portion of a property sale
Like similar real estate crowdfunding platforms, when you invest with First National Realty Partners, you receive membership interest in a Special Purpose Entity, typically an LL, created specifically for each investment.
The LLC holds either the property's equity, preferred equity, or debt interest.
After all the investments you make with FNRP, you get a separate K1 tax form to report the income share you've received from the LLC.
FNRP focuses on helping accredited investors improve their portfolio diversification by tapping into alternative investments while maximizing their cash flow.
Investment Strategy
First National Realty Partners leverages a vertically integrated approach to investments, which handles acquisitions, managing, leasing, tenant responsibilities, and more.
Here's a snippet direct from the FNRP website, where the company outlines its investing process.
"From acquisition to disposition, our entire investment lifecycle is 100% in-house, ensuring your investment is fully managed effectively, and by those most committed to your success."
Many crowdfunding platforms outsource a range of their responsibilities to third parties.
So if you prefer a top-down approach to operations, this is a definite plus.
While this is already impressive, First National Realty Partners takes its investing approach one step further by using what the team refers to as a "Drag Net Acquisition Model" to find properties.
Essentially, the team cast an exceptionally large net to produce a large deal flow. Then they use sophisticated proprietary tech to evaluate opportunities based on strict investment criteria.
It's a smart system that ensures the team can explore a range of properties while still filtering for institutional quality investments.
Dragnet Acquisition Model
First National Realty Partners utilizes a Drag Net Acquisition Model to build a wide network of potential property deals, so you'll have access to plenty of opportunities on the platform.

The company also utilizes by sophisticated technology to evaluate each opportunity against strict investment criteria, so you can confidently consider every deal.
First National primarily targets high-quality properties in grocery store-anchored retail centers that are leading players in their markets.
Historically, each retail center featured on the platform has a track record for strong anchor tenant sales and a baseline capitalization rate of 6.0%.
First National Realty's highly-vetted commercial assets meet or exceed most institutional investment standards, thanks to its careful and considerate approach to the market.
The Drag Net acquisition model's wide-scale opportunity scanning ensures no deal goes overlooked, and the detailed evaluation separates the wheat from chaff.
By the time the deals get to the platform, First National Reality has already filtered out most of the trash, so you can rest assured every deal you see has potential.
Tenant-Centric Approach
First National Realty Partners takes a tenant-centric approach, putting as much emphasis on tenants as they do on investors.
They've built strong relationships with top-tier grocery and retail giants across the country.
These partnerships make it easier to fill newly acquired shopping centers with reliable, high-quality tenants.
Major players like Kroger, Walmart, and Trader Joe's are among their key partnerships.
By prioritizing tenant relationships, First National Realty not only keeps occupancy rates high but also enhances the overall value of its portfolio.
So when you're investing with them, you know you're not just getting prime real estate; you're also getting centers filled with top-notch tenants.
Triple Net Leases
The team dials in on triple net leased properties for their offerings.
These are properties where the tenant pays base rent, property taxes, and common area maintenance.
According to the team, they provide several benefits:
Attracts higher quality tenants

– These leases tend to attract tenets known as "credit" tenets, which have the size and strength to be rated as investment grade by one of the three main credit agencies.

Increases lease length

– Triple net leased properties tend to offer long-term leases. A combination of longer leases with credit tenants has the potential to provide a more steady, predictable income stream over the years.

Low touch management

– Tenets handle all property expenses, which means that it requires fewer managerial responsibilities for upkeep and maintenance.
These are just a few of the many benefits triple net leases provide.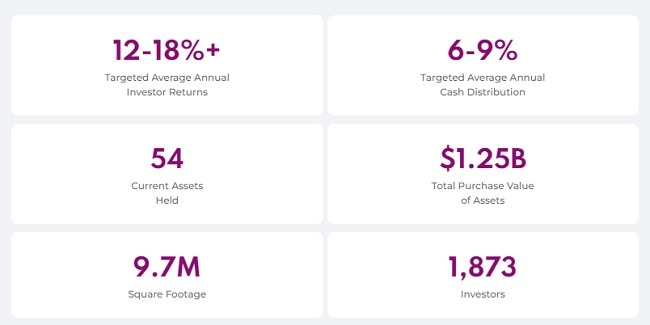 Do I Need to Be an Accredited Investor?
You need to be an accredited investor to access First National Realty Partners' investments.
To be considered an accredited investor, you must have a net worth of one million dollars, excluding the value of your primary residence.
Or, you must have had a yearly income of $200,000 over the last two years (and make that kind of money in the current year) to qualify.
It's important to note that a primary residence does not count toward an individual's overall net worth.
You'll need to prove accredited investor status following registration before participating in any First National Realty-sponsored offering.
Can I Invest Using an IRA or Retirement Account?
You can invest using an individual retirement account (IRA) and leverage the services of a self-directed IRA custodian.
First National Realty Partners can recommend would-be investors to professional service providers or will work with your custodian if you've already retained such services.
How Do I Fund My Investment?
You can fund your investments in commercial real estate through a check or a wire transfer.
Alternatively, investments can be funded through a 1031 Exchange or an IRA.
What Happens if a Deal Isn't Closed or Fully Funded?
If a deal is not fully closed or funded, you will receive 100% of your investment back.
This is a nice touch that offers investors peace of mind knowing that they will be protected if an investment fails to get off the ground.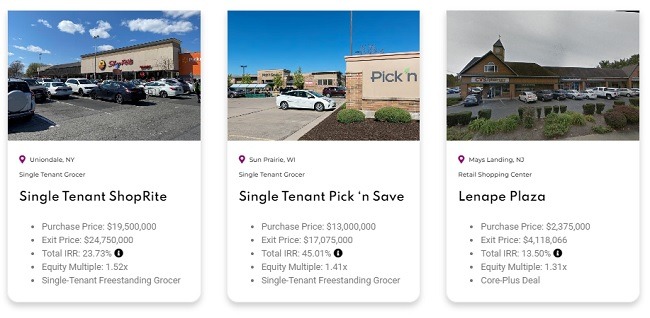 Targeted Returns and Track Record
First National Realty Partners targets average annual returns of 12% to 18% percent on its properties.
That said, this is just the target — returns could be higher or lower depending on market conditions.
The team does share the performance of some of its disposed properties.
These examples are properties that have completed their full life cycle, which includes acquisition, improvement, and disposition:
Single Tenant ShopRite

– Total IRR: 23%

Single Tenant Pick 'n Save

– Total IRR: 45.01%

Lenape Plaza

– Total IRR: 13.50%

Colony Business Park

– Total IRR: 13.88%

Ashland Hanover Shopping Center

– Total IRR 6%
It's important to note that past performance is not an indicator of future results.
And as mentioned, there could be quite a bit of variance in performance.
One example offered a modest total IRR of 6% while another rocketed up to a total IRR of 45.01%.
>> Ready to get started with real estate investing? Sign up TODAY! <<
First National Realty Partners Review: What Comes with the Service?
This investment platform is packed with excellent features.
Keep reading for a breakdown of each one.
Top 0.1% of Deals
FNRP ensures that you get some of the top deals by acquiring market-dominant and highly valuable commercial properties that are run by nationally recognized tenants in primary and secondary markets.
Using its strict vetting process, the team sifts through thousands of properties before choosing one that satisfies their specifications.
Early Access Deals
As an accredited investor on the platform, First National Realty Partners provides priority access to each investment offering.
In real estate, timing is everything, so having an opportunity to buy properties sooner rather than later is a serious benefit.
Deal Webinar
The investment platform also hosts online deal launch events, which provide priority seating, so you can learn about new offerings as they're made available.
You're also welcome to ask questions about the properties.
If you're an active real estate investor, you will want to visit these webinars regularly.
Due Diligence Documents
The commercial real estate investment hub also gives its users full access to its due diligence documents, providing transparency on how it vets its offerings.
This is probably one of the most convenient roles that First National Realty Partners provides, as the team does all the leg-work for you.
CRE Educational Content
First National Realty Partners offers educational podcasts, blogs, and webinars to provide guidance and best practices when investing in commercial real estate.
These are valuable resources that will help you hit the ground running if you're not up-to-speed with how this type of investment works.
>> Get access to TONS of educational content! Click here to sign up NOW! <<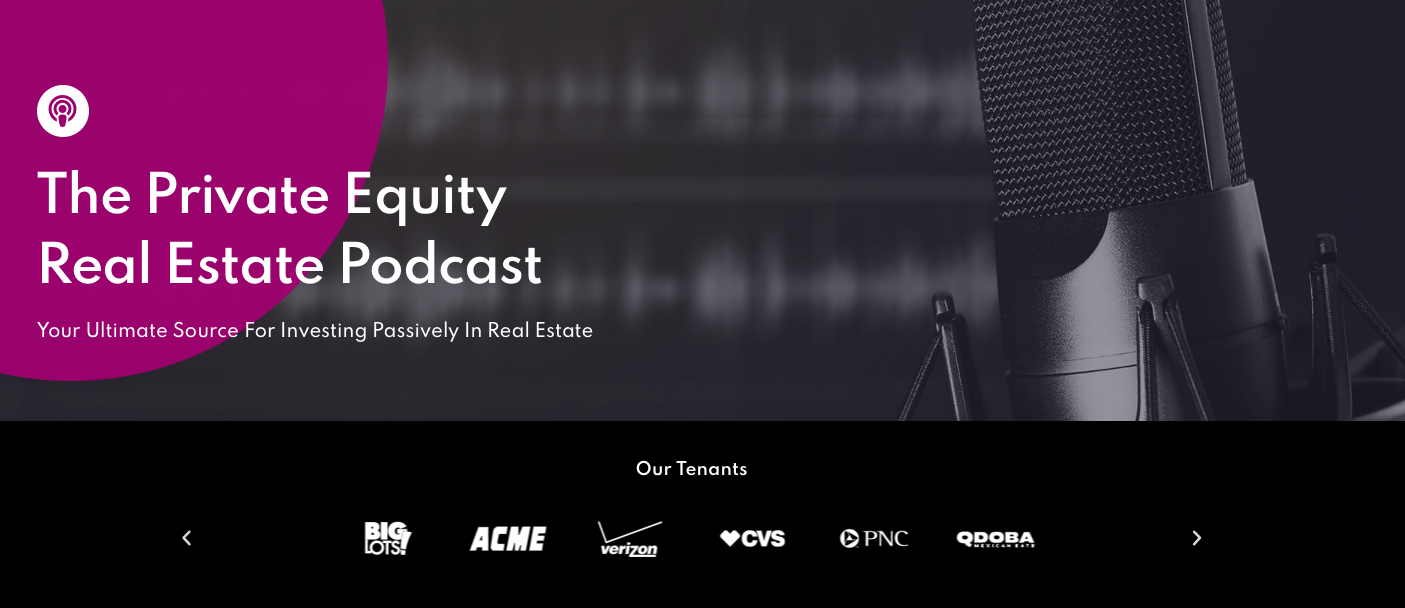 Quarterly Cash Distributions
First National focuses on name-brand national tenants with attractive market shares, which could provide consistent cash flow.
As an investment partner, you are paid quarterly cash distributions from the high-performing companies that the team works with.
Capital Appreciation
FNRP's in-house asset management team includes specialists with decades of property management experience in maximizing property value and investment returns.
As mentioned above, the typical hold period for investments ranges from three to seven years. Following the holding period, First National Realty Partners sells or refinances each property, returning capital and appreciation to all partners.
Track Investments with Investor Portal
FNRP has a proprietary investor portal that allows all partners to track investments and lets users access tax forms and essential reports. All formal reports are generated quarterly.
Each user on the FNRP platform has a dedicated account. And monthly leasing updates are provided to all users.
Is First National Realty Partners Legitimate?
First National Realty Partners is a legitimate company.
It has been fully accredited by the Better Business Bureau since 2018.
This limited liability company (LLC) has an A+ rating on BBB and largely positive customer reviews.

Its team uses rigorous investment criteria to vet all offerings before choosing the properties that match their expectations and standards.
First National Realty Partners Review: Pros and Cons
First National Realty Partners is a rock-solid investment platform with many great features. But the service does have a few drawbacks.
Pros
Property acquisition criteria is clear, comprehensive, and consistent

Strong tenant relationships with several major retail and grocery chains

Passive commercial real estate investing made easy

Potential for exceptional risk-adjusted returns

FNRG owns and operates real estate, so you don't have to

All offerings include detailed financial models and property information

Access to the highest-quality deals with nationally recognized tenants
Cons
Only for Accredited Investors

The FNRP website can be tricky for users to navigate
First National Realty Partners Reviews
First National Realty Partners has earned a stellar reputation online. In fact, the service has locked in an impressive 4.9 out of 5 rating on Bird's-Eye.
Let's take a look at what some reviewers have to say about the service.
>> Don't wait to start investing! Click here to sign up NOW! <<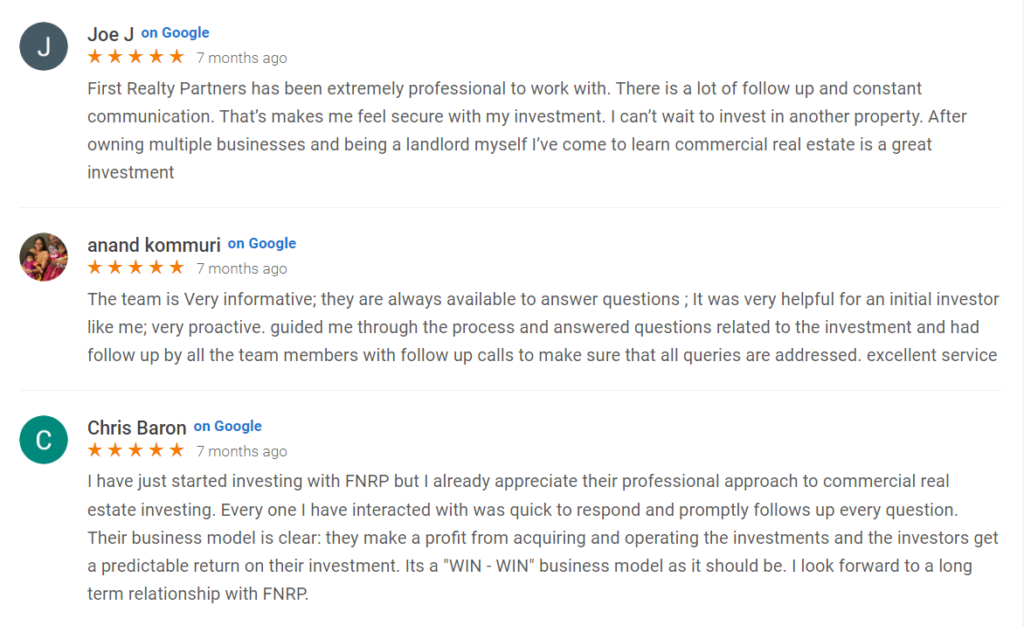 A common thread tying many of these FNRP reviews together is that its team excels at customer service.
Reported members often praise the support team's efforts to keep them in the loop and informed on investments.
So if you're new to commercial real estate investing and need a platform that will provide genuine support to guide you through the process, First National Realty Partners could be a great place to start.
FNRP also has a 4.65 out of 5 rating on the BBB website.
First National Realty Partners Review: Is the Service Right for Me?
First National Realty Partners is best-suited for accredited investors who want to invest in quality commercial real estate.
This platform also caters to a very niche style of investment.
And aside from its rigorous vetting criteria, the unique focus on grocery-anchored real estate could be FNRP's strongest suit.
Another high point is the flexibility the service offers investors in selecting their own properties.
Many alternatives offer a strict basket of investment opportunities, and users cannot select individual properties to add to their portfolio.
Plus, the team provides extensive resources to vet properties, including webinars and due diligence documents.
This lets members decide if they want to invest based on their own criteria, such as geography, tenet mix, and potential returns.
On the other hand, folks who want a more hands-off approach are free to invest in an Opportunity Fund.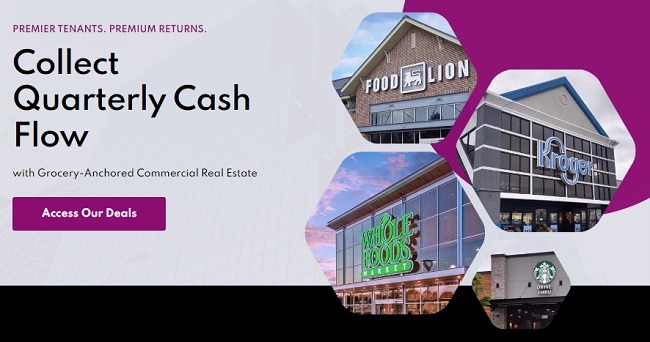 What's the Minimum Investment?
The minimum investment to start using First National Realty Partners is $50,000.
Admittedly, it's a high figure.
But the potential ROI could offset that sum — especially when taking into account the quality of opportunities on offer.
Investors have the chance to make solid passive income and invest in an expertly vetted inflation-resistant asset.
Given current market conditions, these characteristics could be especially appealing.
First National Realty Partners Fees
FNRP does not charge a direct fee for using its platform.
However, the platform does collect multiple fees that accompany each offering, which include:
An acquisition fee

A property management fee

A disposition fee whenever properties are sold or refinanced
Each fee mentioned above is around 1% — though that percentage may vary over time.
You should review all offering documents to get full clarity on the fees you're paying.
You may check best real estate investment apps from our website.
First National Realty Partners Review: Is It Worth It?
First National Realty Partners is an excellent company that provides a wide range of exceptional real estate opportunities.
Plus, its top-tier support makes the service approachable even for new investors.
The fee structure is fair given how extensive the platform's due diligence is. And the Drag Net Acquisition Model ensures that the team is scouring all corners of the market to find exceptional opportunities.
While the minimum investment is higher than many competitors, it's understandable considering that these are intended to be institutional-grade investments.
Keep First National Realty Partners on your radar if you're in the market for quality commercial real estate investments.
>> That's it for my review! JOIN TODAY! <<