Finviz Review: Is Elite The Best Stock Screener Around?
Finviz is one of the most popular stock screeners on the market, but the basic version only provides a fraction of the screener's full capabilities, which is why most investors opt for Finviz Elite. Our Finviz review covers the Elite version, breaking down everything you need to know about this top-rate stock screener.
Finviz Elite is the platform's premium version and includes a wide array of features that aren't available in the free plan.
If you're serious about trading, Finviz Elite can help you take your game to the next level.
Keep reading our Finviz Review, so you can decide if its Elite service is just what you need to boost your stock trading
What Is Finviz?
If you're a stock trader and you haven't heard of Finviz, you're missing out, and this is true for both beginners and experts.
Finviz's web-based stock screener allows you to search through stocks through several filters.
In short, this company and its platform provide leading financial research tools to boost profits by giving you access to in-depth stock data at a moment's notice.
You can filter stocks based on sector, industry, market capitalization, and much more.
This platform is especially useful for active stock traders who need stock market price data on the fly.
Finviz Basic Is Good, but Finviz Elite Is Exceptional
The basic Finviz screener is surprisingly robust, but it falls short of meeting the needs of more advanced investors and traders, which is why many registered users opt to become Finviz Elite subscribers.
Free users can use the basic Finviz stock screener to find stocks; however, the free screener results don't include real-time data, and free users can't customize screener settings.
It's an excellent tool for basic trading and research, but active traders and investors will likely find it insufficient for their day-to-day needs.
That's where Finviz Elite comes in.
This paid subscription plan removes the limitations of the free account so you can tap into the platform's full potential.
Finviz Elite Review: Overview
The Finviz Elite plan turns the basic stock screener into a powerful, professional-grade trading tool that can meet even the most active trader's needs.
Elite users can access all of Finviz's basic features, plus real-time trading info, additional stock screener settings, advanced charts, and much more.
Using these features properly can drastically improve your trade execution, and it makes it much easier to identify up-and-coming stocks.
Active traders and investors love Finviz Basic's user-friendly interface and easy-to-use stock screener, but Finviz Elite provides a host of additional features that make the platform even better.
Let's take a look at Finviz Elite's full docket of premium features in detail.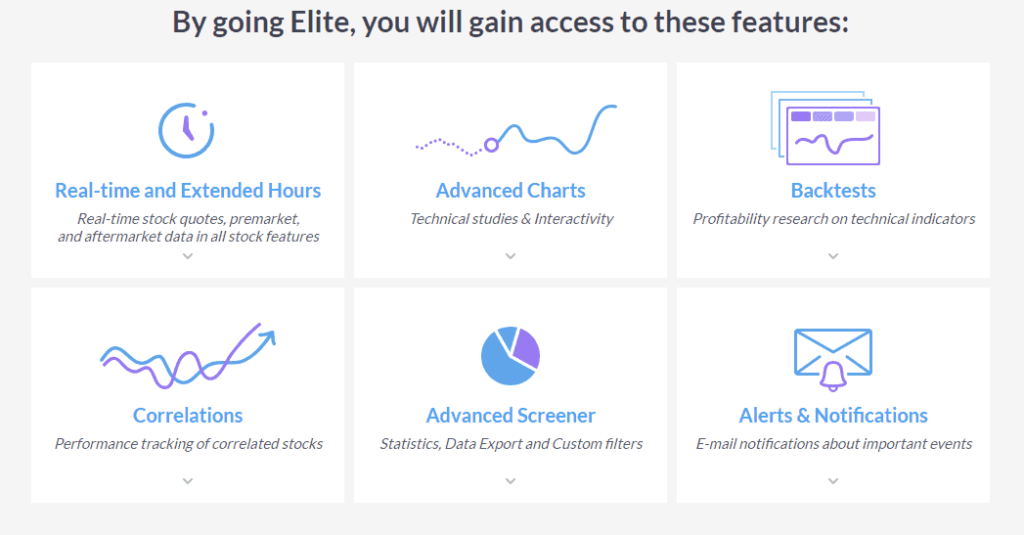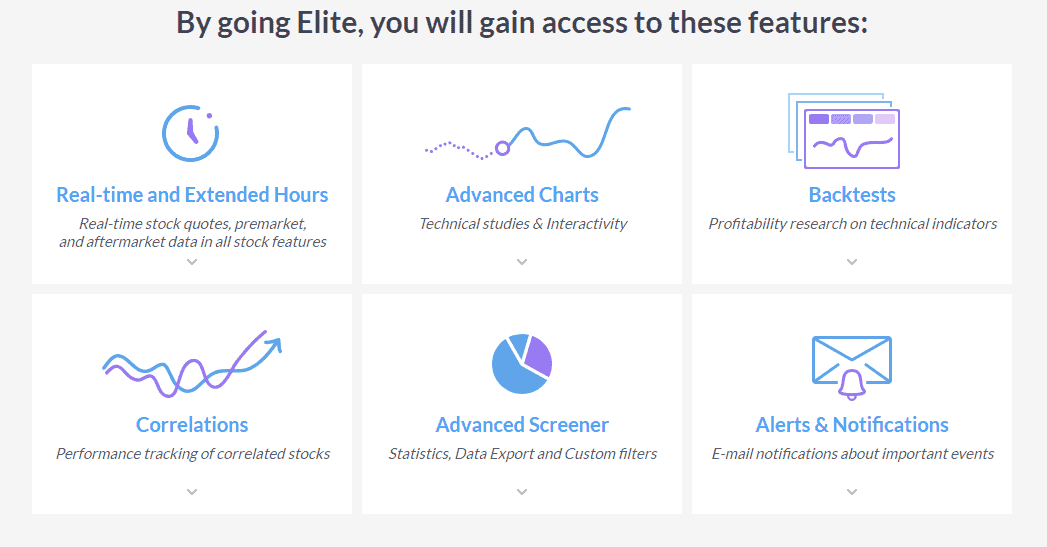 Finviz Review: What's Included with Finviz Elite
Advanced screener
Real-time data
Advanced charting
Backtesting
Correlations
Custom alerts and notifications
Finviz news
30-day money-back guarantee
Finviz Review: Advanced Screener Review
Finviz earned a stellar reputation over the past few years for giving investors and traders free access to its basic stock screener, but it's nothing compared to the Finviz Elite advanced stock screener.
This basic version of Finviz offers users the ability to sort stocks based on a wide array of screener presets, but it doesn't allow users to fully customize their screen settings.
However, Finviz Elite users can completely customize their searches to fit their exact selection criteria.
Search the Stock Market on Your Terms
Just like the basic stock screener, Finviz Elite allows you to search for stocks using various attributes, including technical indicators, eps growth, market cap, and more.
However, you're not limited to the preset search settings, and you can customize each filter based on your preference.
The advanced screener allows you to fully customize every setting, so you can set every filter exactly where you want it.
Search for Any Market Cap Size
With the Finviz Elite plan, you're not limited to the basic version's choppy presets, and you can type in whatever value you want to screen stocks.
That means you can search for companies whatever numbers you want to target, such as EPS growth above 13.5% in stocks with a market cap lower than 7.8 billion.
The ability to fully customize each setting maximizes your stock screening capabilities by helping you identify the best stock picks for your trading strategy.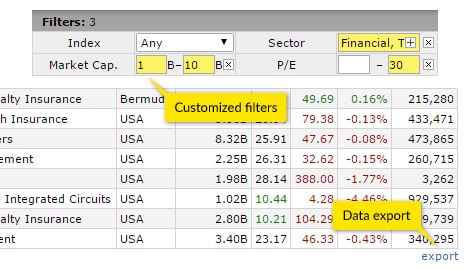 Finviz Advanced Screener Benefits
The advanced stock screener can help you conduct more precise stock market searches, so you can find new trade opportunities more quickly and efficiently.
It can also help you identify stocks that have a high chance of breaking out soon using a combination of technical indicators and chart patterns.
The Finviz Advanced stock screener makes researching stocks quicker and easier, and it can help you generate better returns by identifying high-potential stocks earlier in their growth cycle.
Once you master the Finviz Elite advanced screener, you're fully equipped to take the market by storm.
Stock screening is an important part of your research routine, and the advanced Finviz screeners are vastly superior to the basic version.
>>Click here to start finding new opportunities with Finviz right now<<
Finviz Elite Review: Real-Time Data
Finviz Elite incorporated streaming data feeds throughout Finviz, and it really brings the platform to life.
Better yet, you have data coverage in an extended hours trading session, so you can access up-to-the-minute trading data starting at 8:00 AM on days the market is open.
Elite includes live data on your homepage, heat maps, charts, quotes, and more.
You can also review historical data for each stock, including both technical and fundamental metrics.
Thanks to the real-time data, Finviz Elite provides a seamless experience with streaming market data integrated into all of its trading resources.
Does Finviz Free Use Real-Time Data?
Like many stock screeners, Finviz's free plan doesn't use real-time feeds.
You have to upgrade to Finviz Elite to access live quotes.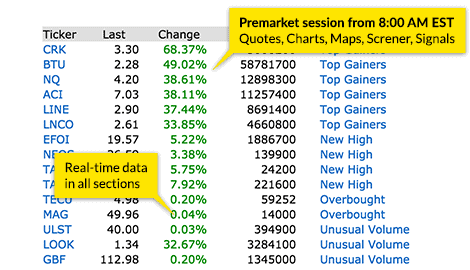 Finviz Real-Time Data Benefits
Live data is an absolute game-changer for day traders because it allows them to access accurate, up-to-date market data during their sessions.
With the free service, quotes are delayed 24 hours, making it much less useful for day traders.
You can't access up-to-date data on the individual stocks you're researching with the free version either.
However, you can access live data throughout the Finviz Elite platform, so you can put this service at the center of your daily trading routine.
You can go to the Finviz page as early as an hour and a half before the trading session opens to get an immediate idea of which way the market is going.
Best of all, the live data funnels right into charts and other research resources so you can make trades with confidence.
Finviz Review: Advanced Charts Review
Charting is an extremely important aspect of proper technical analysis, but Finviz basic's chart features are limited.
Finviz Elite's advanced charts allow users to conduct deeper technical studies with tools that draw on years of historical data.
You can also utilize additional features to help you conduct more accurate research in less time.
Finviz Elite's advanced candlestick charts include the following features: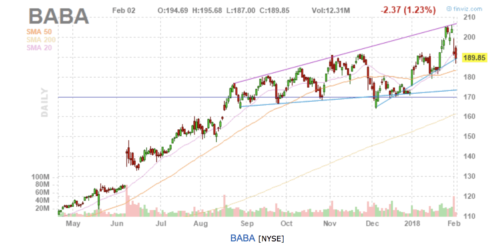 Intraday Charts
Elite's live data feed allows users to access intraday trading charts.
Intraday charts aren't available in the free version because it only offers delayed quotes.
Day traders will certainly appreciate this feature because it allows them to monitor stocks throughout the session.
Heat Maps
The heat map allows you to quickly ascertain the market's prevailing mood with a quick glance.
It uses squares to represent different stocks, and it sizes each stock's square proportionately to its market capitalization.
The map colors each stock green or red to indicate the current trading activity surrounding each stock.
Green represents buying and red represents selling.
It's an excellent tool for day traders.
Overlays and Indicators
You can impose technical indicators onto your charts so you can spot developing trends more easily.
These visual aids can help you identify trade opportunities you might have otherwise missed, and they give you better insights into prevailing trends.
Drawing Tools
You can draw on your charts to keep a record of your technical analysis findings.
Users can draw lines to highlight trends, support levels, resistance barriers, and more
Fullscreen Layouts
You can blow up every chart to fill your entire screen, which makes it easier to focus on the research at hand.
Performance Comparison Charts
Perhaps one of the most useful advanced chart features is the performance comparison option.
You can put together charts that include multiple stocks and immediately see how they perform in relation to one another.
Finviz Advanced Charts Benefits
These advanced charting features are extremely useful for technical-focused trading.
Charts can help you discover trends you wouldn't see if you were just looking at raw data, so they're an important part of your research.
Finviz Elite's upgraded charting features are a significant addition to any trading arsenal.
>> Join Finviz elite now to discover the best stocks to trade <<
Finviz Review: Backtesting
Testing new trading strategies is a harrowing process.
In most cases, you have to put money on the line to really see if your ideas are working.
But putting your hard-earned cash on a hunch isn't the best strategy for profitable trading.
That's where the Finviz Elite backtest feature comes into play.
Finviz Elite has 16 years of historical market data, more than 100 technical tools, and S&P 500 comparison data that you can use to evaluate your strategies.
For example, maybe you notice a certain stock whose price increases whenever a MACD crossover occurs.
You can use Finviz Elite to backtest this theory with its built-in historical data and gauge its performance in relation to the S&P 500.
This immediately tells you whether the strategy is viable and whether it returns significantly more than the SPY benchmark average.
From there, you can take these settings to the stock screener and use them to help you identify new trade ideas.
Finviz Backtesting Benefits
Backtesting is one of the most powerful features included with Finviz Elite; and if you use it properly, this easy-to-use tool can help you find countless stock trading opportunities.
Best of all, you don't have to risk any capital to test your theories.
Past performance isn't necessarily a guarantee of future results, but backtesting adds a powerful new wrinkle to your trade strategy.
Incorporating backtests into your research can help you determine whether your hunch is legit so you can move forward with more confidence in your plan.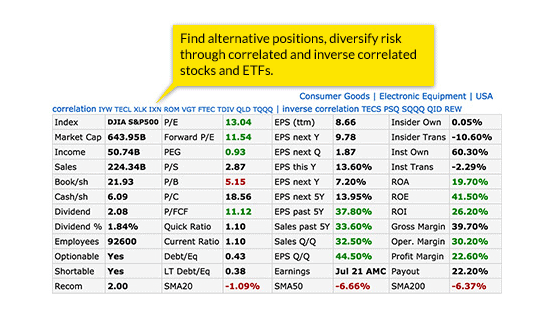 >>Upgrade your trading game with Finviz Elite's advanced tools now<<
Finviz Elite: Correlations Review
Sometimes different stocks tend to consistently move in relation to one and other.
This phenomenon is called correlation, and identifying these trends can help you significantly improve your trading strategy.
Finviz Elite uses proprietary algorithms to help you identify these trends so you can use them to your advantage.
Finviz Correlation Benefits
Identifying correlations can help you develop precise hedging strategies to insulate your portfolio against potential losses.
You can also use correlations to diversify risk by fine-tuning your portfolio allocations.
With a little planning, the Finviz correlation engine can help you bolster your positions and minimize potential losses.
Finviz Elite Review: Price Alerts and Notifications
Finviz premium users can set up email alerts based on stock price movements, news, rating changes, and much more.
It can also tell you when new stocks fall within the range of your preferred screener settings.
Whenever an event triggers a Finviz alert, you'll receive instant e-mail notifications so you can act immediately.
They're especially effective when used in conjunction with the Finviz stock screener and charts.
You might have to pay a hefty price in the form of losses if you're slow-footed in the stock market, but Finviz alerts ensure that you're ready to react quickly to any emerging trends.
>>SIgn up for Finviz Elite now and never miss another trade opportunity<<
Finviz Price Alerts and Notifications Benefits
Finviz Elite email alerts help you stay on top of price moves without checking your positions every few minutes.
No one wants to be the person that constantly checks stock prices on their phone, but it's hard to take your eye off your portfolio when you have a big trade on the line.
Setting up alerts will help you let go of the stress and anxiety that comes with watching every ticker movement.
You can rest easy knowing you'll receive an alert if something important needs your attention, so you can relax and focus on the rest of your day.
You don't need to miss out on life to be a successful trader.
Let go of the day-to-day stress of trading with Finviz notification.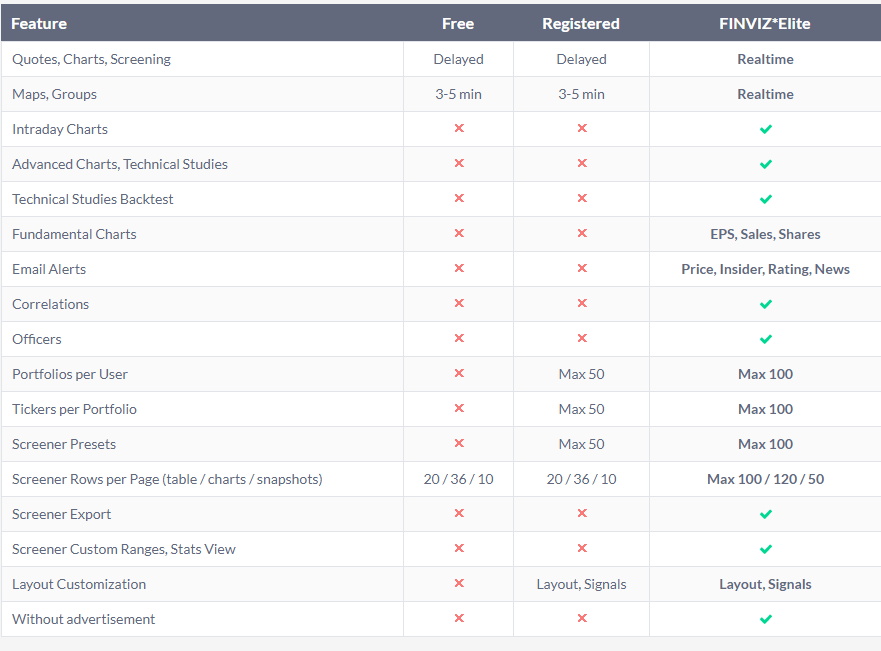 Finviz Elite Review: Finviz News Review
Finviz provides an extensive news feed right inside the platform.
It includes breaking updates organized by ticker symbol and more.
Every stock quote includes a section with the latest press releases for the company, and Finviz's main menu also has a section with the latest market-moving news from across the market.
This feature is available with both the free and elite plan, but it's worth mentioning because it's very useful.
Benefits
The news feed makes it easy to follow the most important stories from across the market without flipping through dozens of different sites.
Finviz provides the news feed for free users too, but it's even more powerful when you use Finviz Elite.
Combined with the platform's other advanced features, the news feed makes Finviz a one-stop shop for all your pre-trade research needs.
Finviz Money-Back Guarantee Review
If you're unsure about upgrading to Finviz Elite, you'll be happy to know that Finviz covers your subscription with a solid satisfaction guarantee.
Finviz will pay you a full refund if you're not satisfied with your purchase within 30 days.
Finviz Miscellaneous Extras Review
Finviz also has some extra features included with the paid version, including the top insider trading alerts on the market.
Real-Time Insider Trading Transactions
From the main screen, you can gain important insights about stocks by monitoring the latest insider buy or sale transactions.
Insider transactions are worth keeping an eye on because no one knows more about the company than its board of directors and corporate officers.
If a company's CEO is selling stock like crazy, there's good reason to believe the company is in trouble.
Monitoring the latest insider trading transactions can help you find new trade ideas and identify up-and-coming stocks.
Finviz includes extensive data on insider transactions, including relationships, dates, transaction costs, and more.
>>Start exploring Finviz Elite's premium features now<<
Finviz Futures
Finviz's future data is available on the free version, but you can tap into live streaming market data with Finviz Elite.
Simply click the futures tab to see the latest prices for the most popular types of futures contracts on the futures market.
The futures section includes the price of oil and other commodities, plus index contracts, and much more.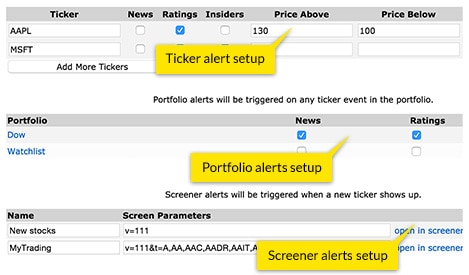 Ad-Free Layout
Finviz uses ad revenues to support its free version, but the ads can be annoying if you use the platform regularly.
However, when you upgrade to Elite, the ads disappear.
Finviz respects its paying customers enough to not bombard them with ads.
Fundamental Charts
The basic version of Finviz doesn't have a lot of charting features, and you can only view price charts.
Elite includes access to charts of important fundamental data, such as EPS, shares, and sales growth.
These charts allow you to analyze the business's true performance instead of just looking at the stock price, which is based on market perception more than underlying fundamentals.
Fundamental charts show you the true health of the business so you can make better trading decisions.
Screener Exports
There are a lot of screeners on the market, and some traders like using more than one.
Finviz Elite allows users to export their screener settings into a CSV file so they can take them outside of the platform.
You can also export your screen settings to share with your friends or online trading community.
The free version of Finviz doesn't have this feature, so pulling your settings out of the screener is much more tedious.
Additional Screener Presets
You can save up to 100 preset screens with Finviz Elite, and that's more than almost anyone needs.
The free version doesn't allow you to save any screen settings unless you register.
Once you register, you can save up to 50 screener presets, but Finviz Elite doubles the limit to 100.
How Much Does Finviz Cost?
Finviz has three levels of access.
Free, registered, and Finviz Elite.
It costs nothing to register and access some additional features, but you'll have to upgrade to premium to tap into the platform's true power.
A monthly subscription to Finviz elite costs $39.50 per month, which is a pretty good value for professional-level trading software.
However, you can really save if you purchase an annual subscription for $299.50.
Paying for the whole year nets you a savings of $174.50 over 12 months at the monthly rate.
If you're an active trader, this is an excellent value.
It could easily pay for itself in a few weeks if you take full advantage of the software.
>>Sign up for one year of Finviz Elite now<<
Is Finviz Elite a Good Deal?
Finviz Elite is an excellent value for the price, as you gain access to an arsenal of advanced features for less than $40 per month.
Competing stock screeners can cost much more: some even have price tags that stretch into the thousands.
A Finviz Elite membership only costs a fraction of that price.
The real-time data feeds allow you to monitor the market and potentially identify trades as they develop.
Free Finviz only has delayed quotes, so it's practically useless to day traders.
All and all, we think Finviz Elite is one of the best stock screeners on the market, and it's an excellent value for the price.
Is Finviz Elite for Me?
Here's a recap and breakdown of what Finviz Elite offers traders:
Great for active traders of all skill levels, but it's especially useful for experienced traders that deal in a high trading volume
Access to technical filters, fundamental filters, daily charts, stock charts
The latest news features media from outlets like Bloomberg, Vantage Point Trading, Market Watch, Wall Street Journal, and much more
Insider trading indicators
Tools and resources are excellent for swing trading, active trading, and more
Charts display key figures that include P/E, dividend yield, and other performance indicators
Proprietary correlation algorithms can help you find stocks that are related to one another
View stock maps to get a moment-to-moment pulse on the market through an easy-to-navigate user interface
Finviz Review: The Final Verdict
You can tap into a wealth of rich features with Finviz Elite, and it's one of the most affordable screeners available.
It's perfect for active traders and beginners looking to take their game to the next level.
Once you check out the free version, you'll have a better idea of how the Elite features will upgrade your user experience.
Properly using Finviz Elite's professional-grade features can take your trading to the next level.
Stop missing out on the hottest growth stocks and up your trading game today with Finviz elite.
>> Ready? Get Started With FINVIZ Elite Today! <<