Gold IRAs could be a great way to diversify your portfolio with exposure to physical precious metals assets. Today, we're looking at a top player in the space in our Goldco review.
Stay tuned to see if this company is the real deal.
Goldco Review: Overview
Goldco Precious Metals, more commonly known as Goldco, was founded over a decade ago with a focus on physical metals.
The firm is based in Calabasas, California, under founder Trevor Gerszt.
Goldco is a precious metals retailer that can help you roll over your retirement portfolio into a precious metals IRA.
What Is Goldco?
The precious metals company Goldco was created to help customers secure wealth by rolling over investments into either a Gold or Silver IRA.
Goldco offers precious metals for customers at a predetermined rate.
As the account owner, the client has complete control over assets, so when you're ready to buy more, you must contact Goldco and place your order.
Goldco offers a wide variety of precious metals, including:
Goldco only partners with very reputable companies to provide either segregated or unsegregated storage.
The company partners with trusted custodian companies that ensure Goldco gold coins and bullion are carefully safeguarded.
The firm is customer-focused, as shown in its incredible reviews.
>> Already sold on Goldco? Click here to start investing in precious metals for your retirement TODAY! <<
How Does Goldco Work?
Most companies do not offer the option to invest in precious metal IRAs, limiting employees to stocks, bonds, ETFs, and other paper assets.
However, investors are adamant that gold and other precious metals are necessary investments for any strong retirement portfolio.
Gold and silver have the potential to resist stock market volatility and can hold up better than traditional assets during a downturn.
And this is where Goldco steps in.
IRA Precious Metals Specialists
Goldco's IRA specialists can help you set up a self-directed silver or gold IRA so you can invest in physical precious metals.
No one can guarantee the performance results of gold or other precious metals, but these staples could be much lower risk than many other available investments.
>> Ready to set up a precious metals IRA today? Click here to get started with Goldco! <<
Who Is Trevor Gerszt?
Trevor Gerszt hails from the second-largest gold-producing country in the world, South Africa.
Growing up in a family of coin collectors, Gerzst quickly developed considerable knowledge about coins and precious metals.
In 2006, Trevor took that knowledge and founded a gold dealing firm in California to provide honest feedback to those looking to invest in precious metals for retirement IRAs.
A proponent of investing in oneself first, Gerszt encourages individuals to take care of their health and well-being so they can make sound financial decisions.
He also stands firm on the belief that it's vital to diversify money and hedge savings across various investment vehicles.

Free Self-Directed IRA Guide Review
Goldco offers a free comprehensive, self-directed gold IRA guide to help potential customers or consumers understand all its services.
The guide is sent out as an eBook, a video, or an audiobook.
These products include information on how to break free of old-fashioned IRAs and take control of your investments.
They also explain how and why to diversify a retirement plan so it can weather financial storms and stock market dips.
Oftentimes, Goldco runs promotions where you can get additional bonuses for opening an account.
Recently, the company offered 10% in free silver coins for qualifying customers.
The company runs these promotions often, so there's a good chance you can get a little extra if your timing is right.
Goldco Review: What's Included?
Goldco features two types of IRA plans as well as other services that include:
Self-directed gold IRAs
Self-directed silver IRAs
SEP IRA Planning
Simple IRA Planning
Traditional and Roth IRA Planning
Buy gold and silver
Safety custodians
eBooks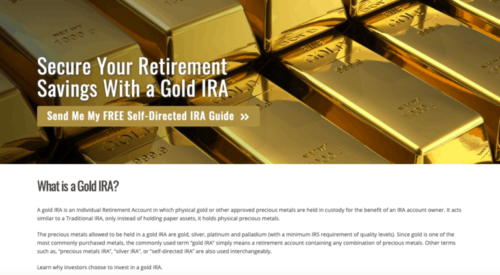 Self-Directed Gold IRA
Goldco's more notable feature is its self-directed gold IRA, which investors use to protect their retirement savings and much more.
The gold IRA acts like a traditional IRA but holds precious metals instead of paper assets.
While it's referred to as a gold IRA, Goldco allows a combination of precious metals to be held in the account.
Precious Metals Options for an IRA, 401 K, and More
Customers can invest in gold, silver, platinum, and palladium, and each precious metal must meet the minimum IRS quality level.
Goldco also makes it easy to roll over funds from another IRA or 401K.
The company can help through the process of selling assets in the existing account, moving those funds to a Gold IRA, and then buying precious metals with those funds.
Goldco IRA Experts Help Every Step of the Way
Funds can either be brought in pre-taxed form as a traditional IRA or post-taxed form as a Roth IRA.
Goldco only offers its customers gold IRAs from well-respected custodian companies.
You can rest assured that your IRA custodian will be trustworthy and qualified.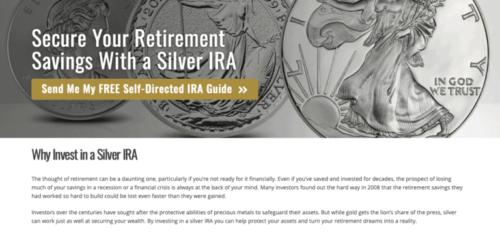 Self-Directed Silver IRA
People have used silver for centuries to protect their wealth from uncertain times.
Today, silver is just as strong a precious metal to invest in, even if gold gets the lion's share of the spotlight.
Like gold, silver maintains its value well but often sees more significant percentage gains.
Silver is seeing an increase in industrial demand and is currently at a place where it shows great growth potential.
Silver may provide a great way to add some diversification to any retirement investment portfolio.
As with all of the Goldco precious metals IRAs, the silver IRA is protected by a trusted private custodian who safeguards money in retirement accounts.
As with gold, silver can be used in either a traditional IRA or a Roth IRA.
Buy Gold and Silver
Any investor can use Goldco to purchase gold, silver, and other precious metals right through the company.
There's no requirement for doing this, and it's a separate service from a precious metals IRA account.
When an investor purchases precious metals in this way, the precious metals can either be stored in a secure vault with Goldco or delivered directly to the investor.
Access to the Goldco Buyback Program for Any Customer
Goldco also has a buyback program if a buyer ever needs to sell any precious metals, be it bullion or coins.
Rates are typically slightly lower than market spot prices, but the company's service is competitively priced in comparison to other competitors.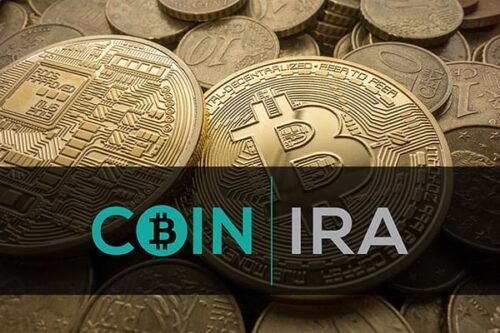 Safety Custodians
Like most self-directed IRAs, Goldco uses a third-party custodian to monitor and safeguard precious metal assets.
The company's preferred custodian, the Equity Trust Company, is highly regarded in the financial world.
Goldco has specialists on hand to help each customer with all the paperwork required to set up an account with a custodian.
Educational Resources
Goldco's extensive educational library contains several free eBooks and videos available for download.
These are available to anyone, not just Goldco customers.
Topics cover tips on how to buy gold and silver, how to keep gold and silver safe, and five ways to get the most out of your IRA.
>> Like what all Goldco has to offer? Click HERE to get started with Goldco TODAY! <<
Goldco Cancellation Policy
Should you ever need to close up your IRA account through Goldco, they make the process easy. By canceling a Goldco account, precious metals are sold at value, and those funds can then be rolled into a new IRA or invested elsewhere.
Goldco Review: How Much Does It Cost?
While Goldco does not provide any pricing information on their website, their customer support team is easily available via online chat. When looking at the different products Goldco offers, fees are different depending on whether customers are enrolling in precious metal IRAs or performing non-IRA transactions.
Fees for Goldco Precious Metals IRAs
Goldco doesn't charge fees directly. They don't charge you anything outside of the price of the precious metals your purchase.
However, your eventual account custodian will likely charge some type of fees. Exactly what those fees are will depend on who holds your IRA.
You'll have to speak with Goldco to get an exact number for your account. However, most of the fees are minimal and in line with industry standards.
Fees for Goldco Non-IRA Transactions
Investors who wish to purchase their precious metals outside of an IRA can do so for no money outside of the cost of the asset itself. There are no fees for setup, maintenance, or storage. However, shipping fees may be applicable.
If you want to purchase precious metals directly from Goldco, you need to show them that you have at least $25,000 in short-term, liquid assets like cash and savings accounts.
Once you can prove that you have the assets on hand, you can purchase metals directly from Goldco.
Investment Minimums
Goldco's goal is to help you diversify your portfolio with precious metals. They don't want you to dump your whole account into gold and silver. However, they want to make sure you have enough assets that they can properly diversify your portfolio.
As a result, Goldco only offers precious metals IRAs to customers who can demonstrate at least $50,000 in retirement assets.
You don't need to transfer that much money over, but you need to show that you at least have that in your portfolio.
That way, they can see that your portfolio is large enough to properly diversify with precious metals.
Is Goldco a Reputable Company?
Goldco has helped customers invest in precious metals since 2006, and even after 15 years, they have stellar ratings across the board.
The company has earned a triple-A rating with the Business Consumer Alliance, citing dependability and ethical business practices along with positive customer reviews. Goldco has also earned an A+ with the Better Business Bureau, which is the highest of their ratings.

Goldco Reviews and Complaints
The few complaints against Goldco are quickly addressed by representatives of its customer support team.
While complaints do exist, Goldco does have an impressive 4.93-star rating, and many reviews rate the company 5 stars.
The firm has chosen only the most reputable custodians and storage facilities to ensure asset protection.
Although ten years newer, sister company Coin IRA shares a similar spotlight with positive reviews and a stand-out customer service team.
Goldco Review: Pros and Cons
As a company with top-tier products that keep the customer in mind, it's not hard to find good things to say about Goldco, including many reviews with a 5-star rating.
That being said, there are a few things to keep in mind, so let's go over the pros and cons of Goldco.
Goldco Pros
Multiple services to choose from
Low custodian fees for account setup and maintenance
Top ratings across company review sites
Many five-star reviews from customers
Stellar customer service
Several educational materials to educate new and existing customers
Specialists help with account setup and money transfer
Wide selection of gold, silver, platinum, and palladium in coins and bullion form
Gold and silver bars are also available
Goldco Cons
Fees are not listed on the website
Some complaints about the markup on certain coins, silver being one of them
Does not provide custodian and storage services, but has partners who do
Is Goldco Right for Me?
When it comes to retirement accounts, Goldco is a great choice for anyone who can meet the minimum requirements.
Goldco's precious metals could be a great tool for diversifying your portfolio.
Gold and silver have the potential to be an effective hedge against economic uncertainty.
This is why many investors flock to gold and silver as soon as the stock market takes a dive, so precious metals could be a good place to be during a downturn.
Goldco may also be a solid option for anyone who wants to purchase physical precious metals instead of promises on paper.
Gold and silver have been sought-after commodities since antiquity, and there's no sign this will change any time soon.
Even if you have no desire to move all your wealth away from a traditional IRA, Goldco is an excellent opportunity to diversify and protect your retirement.
It's common knowledge that it may be best to not put all your financial eggs in one basket; however, precious metals can be a great place to start if you have other assets in your investment portfolio.
Goldco Reviews by Investors
With 98% 4 and 5-star reviews on websites like Trustpilot and Consumer Affairs, it's evident that Goldco is well-received across the board.
Here are just a few of the more recent reviews:
This was our first experience investing with gold and silver. After some research we decided to go with Goldco. Right from the start the team at Goldco was very helpful explaining our options. We had a great deal of questions which were covered in detail. Just completed our first purchase that, I guess, over time we will see if this was a wise choice. One can never tell however If you do plan to invest in precious metals Goldco would be a great choice.
Phillip – on TrustPilot
I wanted to move the assets in my late Wife's IRA to mine to only pay one storage fee. I have had an excellent experience with Goldco for the past 3 years, and wanted to continue doing business with them. Everyone I dealt with in all the departments were more than generous with their time to make sure all the paperwork was done right to complete the transfer of the assets went as smooth as possible.
Charles – on Consumer Affairs
My complete experience from the time I became serious about protecting my money I was completely handled by some very Professional people and they really came through for me. I would recommend the Gold Co team and challenge anyone to not be afraid to take the step in securing your hard earned monies. Thanks Goldco and CNB…
Jeff – on Consumer Affairs
How Do I Contact Goldco?
Fortunately, Goldco Makes communication extremely easy.
If you have any questions, you can reach out to your account executive or customer support through:
Goldco's contact form on its website
By phone
Live chat
By email
Goldco is located at 21215 Burbank Blvd, Woodland Hills, CA 91367.
Goldco Review: Is It Worth It?
Goldco is a trusted company with over 15 years of experience investing in precious metals.
With incredible reviews, few complaints, and strong past performance, Goldco shines as a solid investment platform for your retirement account.
Goldco clearly keeps the consumer at the forefront with competitive rates and responsible services.
Goldco can help you get set up with a self-directed IRA quickly and painlessly, and it's a great way to take control of your retirement portfolio.
It's the way to invest in a physical asset while still enjoying the tax benefits of an IRA.
If you're ready to make the leap to a gold IRA, you should give Goldco serious consideration.
>> Ready to use precious metals to invest in your retirement? Click HERE to get set up with Goldco NOW! <<