HappyNest is a popular investment platform touted as the "gateway to the world of real estate." But are its crowdfunded property investments the real deal? Follow along with our HappyNest review for all the answers.
What Is HappyNest?
HappyNest is an app that works as a real estate investment trust (REIT). Once you sign up, you can invest in its predetermined portfolio of commercial properties.
Jesse Prince and Leonardo Sessa founded HappyNest Invest in 2017. They set out a simple goal: make investing in real estate easy for accredited and non-accredited investors.
You can invest as little as $10 a month in this REIT. For reference, we've reviewed several alternatives, and some investment minimums are as high as $50,000. So HappyNest gets an A+ for affordability right out the gate.
HappyNest's convenience is its other X factor. You don't need to drop a pile of cash or deal with tenants, property repairs, real estate agents, financing, or listings — all the "good" stuff.
The platform could be very alluring for newcomers or seasoned investors who want a hands-off approach to investing in an alternative asset. All in all, HappyNest provides a remarkably easy way to make passive income through quarterly dividends.
In addition to the HappyNest REITs, there are plenty of other excellent features that we're going to dig into shortly. Before we jump into it, let's take an in-depth look at how this property investment platform works.
>> Already sold on HappyNest? Click here to sign up TODAY! <<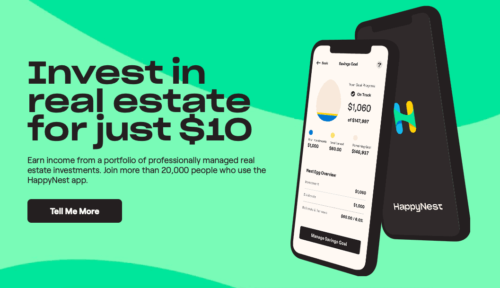 How Does HappyNest Work?
When you invest with HappyNest, you're investing in its sole REIT. You cannot choose which real estate properties you invest in. Every deposit made in the HappyNest app automatically purchases shares of the platform's REIT.
The app itself is free to download, and it's available on the Google Play Store as well as the Apple Store.
You are spared from committing to extensive due diligence on a portfolio of properties because a team of professionals has done the legwork for you. And while some crowdfunding real estate companies have a broader catalog of investment options, this doesn't mean every property is worth your time or money.
Basically, HappyNest is investing on autopilot and a vehicle for passive income.
Who Can Use HappyNest?
HappyNest's app and crowdfunded real estate opportunities are accessible for both accredited and non-accredited investors. You need to be 18 years or older and a United States citizen.
That's it! You can then begin investing in the HappyNest REIT and access its portfolio of properties.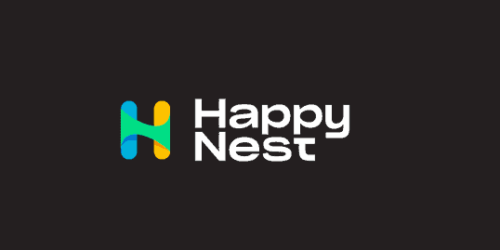 How Can You Make Money with HappyNest?
HappyNest's real estate investment team targets a 6% return. HappyNest pays quarterly cash dividends based on the income it receives from its commercial properties via rent payments. The platform also must pay out 90% of the properties' taxable income to investors.
Something to note is that the 90% threshold is a legal obligation for real estate investment trusts. HappyNest is actually looking to take its dividend payouts one step further.
The HappyNest team states that it looks to increase its net income payout to 100% down the road. But only time will tell if it comes to fruition. Fees will still apply, but this is a huge commitment to its real estate investors.
The share price of the REIT could increase as the properties' net asset value (NAV) climbs. However, increasing share price through appreciation is not HappyNest's primary focus.
The team's main goal is to provide its investors with the opportunity for stable dividend payments through its REIT.
It's important to note that, like with all investments, you are not guaranteed to make money with HappyNest Invest. Commercial real estate investing also comes with risks — even if this asset class has demonstrated a strong performance historically.
How Does HappyNest Make Money?
HappyNest makes money by charging a small management fee for its commercial real estate investments. Investors do not need to pay a fee when signing up.
The company never charges broker fees when you invest in through the platform. When an asset is acquired or sold, HappyNest also earns a portion of the revenue.
We really appreciate Happiness' straightforward fee structure, as some real estate investing platforms aren't as transparent about the cost of using their services.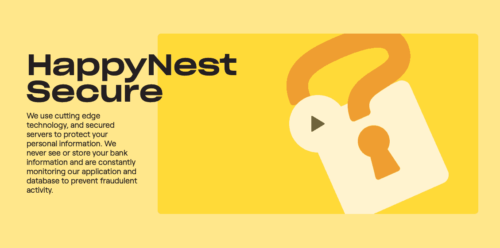 Is HappyNest Safe?
HappyNest is safe to use, and your bank account is linked to the service through 256-bit encryption.
While no service can guarantee 100% safety, HappyNest takes security and your data seriously.
Best of all, this real estate crowdfunding platform never shares your personal data, and none of your information is sold to third parties.
How to Get Started With HappyNest
Setting up your HappyNest account is simple and straightforward.
To get started, you can either download the real estate investing app on iOS or Android — the website links to both of these options. Once downloaded, the app serves as your access point for investing in the real estate market.
You'll need to link your bank account to make payments into the HappyNest REIT. Other payment options are not yet available.
After you open an account, you are required to sign in to the app and make an initial investment of $10 or more.
>> Sign up for HappyNest today <<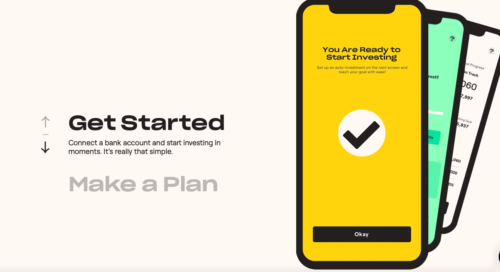 HappyNest Features
HappyNest real estate portfolio

Minimum investment

Goal setting

Recurring investments

Round-Ups

Management team

Refund policy
HappyNest Portfolio
The HappyNest portfolio gives you direct insights into the platform's real estate investments.
Currently, there are three commercial properties within the REIT:
CVS

Bonner Carrington

FedEx Ground
The HappyNest App lets you see the condition of the properties and learn more about why it was purchased by the company. You can also track how much cash you've invested and what your dividends will be.
It's not the most expansive real estate investment portfolio, but HappyNest carefully selected these Fortune 100 company properties.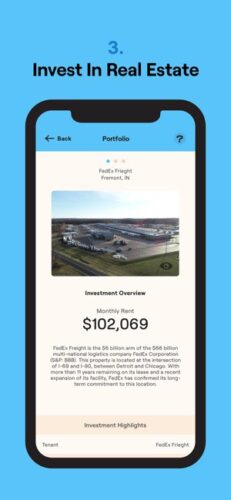 Minimum Investment
A minimum of $10 is all that's needed to make your first investment on HappyNest.
Of course, you can invest any amount you want into commercial real estate opportunities once you've gained entry to the app. Once your account surpasses $5,000, the company may charge a $1 administrative fee per month.
Many premium platforms minimums hover around $5,000, so HappyNest is really driving accessibility.
Goal Setting
After joining HappyNest, you'll be able to set goals based on your preferences.
You can list what you'd like your account balance to be after a certain number of years, and the app will show you how much you need to invest to get there.
There is also a feature for you to list an investment amount, and the app will show you a projected account value after a number of years.
If you're looking to use the platform in the long term, this could be the best way to map out your investment trajectory.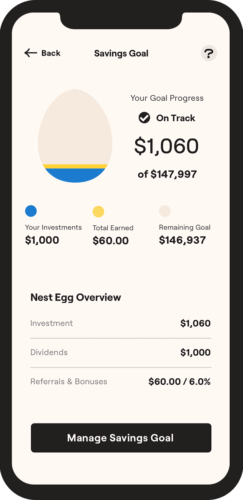 Recurring Deposits
If manual investments aren't your thing, HappyNest has the option to set up recurring deposits. This works exceptionally well if you have a particular goal you're trying to reach and want to make sure you don't miss a deposit.
The app will automatically take the deposits out of your bank account and buy shares of a HappyNest REIT, setting up either weekly or monthly recurring deposits.
Since share prices do rise and fall (albeit much less so than stocks), there may occasionally be the need to supplement a deposit due to this change.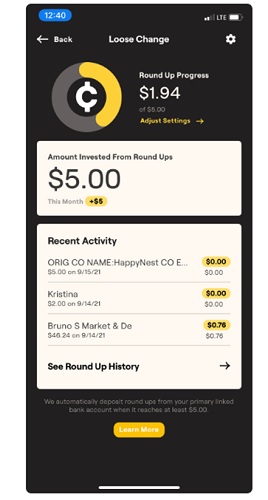 Round-Ups
HappyNest's Round-Up feature lets you automatically invest your spare change into its real estate portfolio. It's a simple but fantastic addition that really cranks up the platform's already impressive accessibility.
After you enable the Round-Up, the platform will deposit any change from a transaction to HappyNest. Each time the change stacks up to $5, it is automatically invested into HappyNest's REIT.
You can also track your Round-Up history to keep tabs on how much you are saving with this feature.
Couple this feature with recurring deposits, and you have a fantastic vehicle for hands-off, passive income.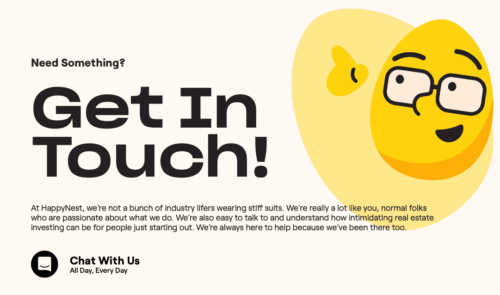 Management and Support Team
HappyNest has a group of experts available to answer any questions at any point before or during your membership.
Whenever the FAQ or learning materials on the site aren't enough, these team members are a great place to ask questions about how to invest in real estate through the platform.
Live chat is available Monday through Friday, between 9 am to 5 pm, and support can also be contacted via email.
If you check the reviews, you'll see that current members speak highly of HappyNest's support network.
HappyNest investments are intended to be held for the long term, but the real estate investing platform does allow you to sell back your shares. That said, there are some stipulations.
Here's a succinct explanation of how the process works straight from the HappyNest website:
"Share repurchases are limited to an annual aggregate repurchase of no more than 20% of the weighted average number of shares of common stock outstanding during the previous fiscal year and, semi-annually, to not more than 10% of the weighted average number of shares of common stock outstanding during the previous fiscal year."

— HappyNest FAQ
There's also a fee for selling shares of the REIT within three years. The fee starts at 3% in the first year and then progressively shrinks.
Real estate is a typically illiquid investment, so this is commonplace in the crowdfunding property investment industry.
>> Like all that HappyNest has to offer? Click here to join now! <<
Is HappyNest Legit?
HappyNest is a legit real estate crowdfunding app, and its property portfolio is carefully vetted by a team of real experts.
While the portfolio is rather small in scope, the properties on offer are curated to provide an opportunity for a 6% target return.
Pros and Cons of HappyNest
HappyNest has many features that set it apart from other real estate investment platforms, but it's not perfect.
Here are the pros and cons of using HappyNest.
Pros
Low minimum investment amount of $10

Easy way to invest in commercial real estate properties

Open to non-accredited investors

No need to hassle with property loans, upkeep, or realtors/brokers

Dividend payments for passive income

Real estate could be a more stable investment than the stock market
Cons
Dividends are paid quarterly instead of monthly or weekly

Small portfolio of commercial investments
>> Ready to use HappyNest to invest in real estate? Click here to get started! <<
What Are People Saying About HappyNest?
HappyNest has earned praise for its real estate investing service. It has locked in a solid 4 out of 5 rating on the Google Play Store, and a slightly better 4.2 on the Apple Store.

Here are some of the top reviews: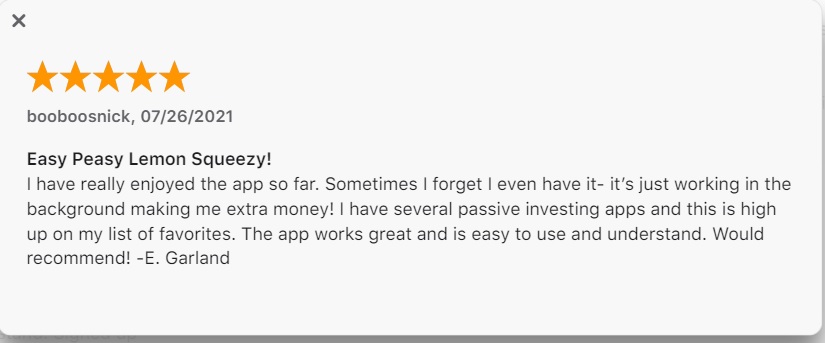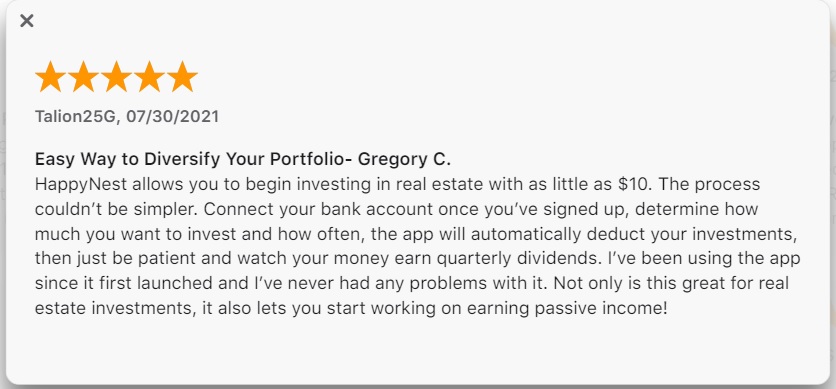 So while we think HappyNest is a fantastic service, you don't have to take our word for it. Its positive reception online speaks for itself.
There is a BBB rating for HappyNest on the Better Business Bureau, but it is not for this company.
How Much Does HappyNest Cost?
HappyNest does not charge any broker commissions or platform fees.
While there are no upfront fees, SEC filings by HappyNest indicated that there can be fees applied to the payments you receive from your investments.
Advisors are paid a 0.0417% monthly asset management fee

There is also a 3% fee during the selling or acquisition of a property
These fees are not outlined on the site and may vary.
HappyNest Refund Policy
HappyNest makes no mention of a refund policy on their site.
If you want to cancel your account, HappyNest will repurchase your shares as per the terms of their share repurchase program.
Shares can be subject to a six-month holding period before the repurchase is granted.
Is HappyNest Worth It?
HappyNest is an excellent commercial real estate crowdfunding platform, and it offers a great value for such a small minimum investment.
The app itself provides an easy-to-use, intuitive system for investing. Ultimately, when deciding to invest in HappyNest, you get what you give.
Putting in just the minimum investment will likely see small gains, but going big presents the potential for so much more.
If you're in the market for an easy-to-use crowdfunding platform for real estate, keep HappyNest Invest on your shortlist.
>> That's it for our HappyNest Review! Click here to join HappyNest TODAY! <<