Residential and commercial real estate investment is starting to attract serious attention from aspiring investors who recognize the potential for low-risk, long-term financial gains.
Investment companies have taken notice.
And right now, developers are churning out apps at rapid-fire pace to meet the growing demand for an accessible, easy-to-use real estate investment solution.
With so many apps to choose from, we at the Stock Dork craft comprehensive reviews so you have a firm understanding of what to invest your time and money in.
This HappyNest review covers all the ins and outs of the real estate investing app.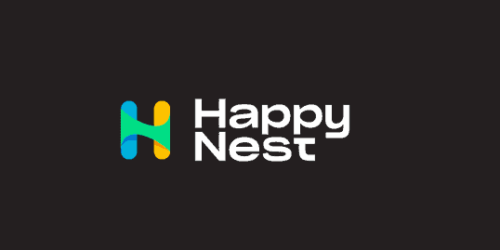 What Is HappyNest App?
HappyNest came to be in 2017 after its founder discovered new ways to make sustainable income through real estate investments.
The company's mission is to provide anyone, financial degree or otherwise, with the ability to make money through smart, stable investments in real estate.
HappyNest is about the long-term, and their approach helps accounts weather market volatility while finding the most value in the investment.
With only a minimum investment of $10 to get started, anyone can join.
From there, the sky's the limit on how much you invest and how you want your portfolio to grow.
The HappyNest App takes real estate investing to a whole new level.
Where many real estate investments have hefty fees or require a lot of cash upfront, with HappyNest, this is not the case.
The company is a real estate investment trust, or REIT.
This means it is an avenue for the purchase and sales of shares of real estate.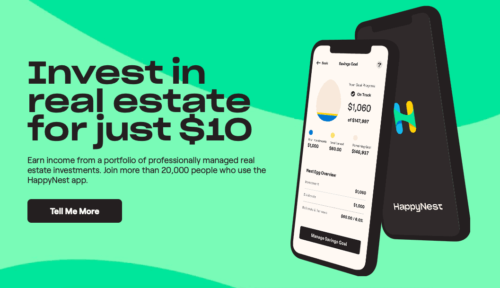 The mobile app sets its sights high and strives to offer each user the foundation they need to build a solid nest egg to sit on for the future.
Investors download the app and, with just a small amount of money, they can start investing in a portfolio of commercial real estate.
Even better, each property that customers can add to their real estate portfolio has been carefully vetted by HappyNest and is deemed a great investment option.
Every user account has the potential to see up to a 6% yearly return on their investment through portfolio management and compound interest.
The main draw here is that real estate investing is often less risky and more stable day-to-day than the stock market.
So you won't need to spend every waking moment watching stocks jump back and forth to hopefully turn a profit.
Better yet, the more you invest, the value of your portfolio will increase and the more "free money" you'll ultimately see in your account.
How Does HappyNest Work?
The app works by linking a bank account with your HappyNest account in the app.
Investors then buy into a portfolio of commercial real estate properties through investments and learn how they will make that money back (and then some) over time.
Every deposit made in the HappyNest app automatically purchases shares of HappyNest REIT.
You won't need to pick and choose what properties to allocate money to because experts at HappyNest have already done it for you.
Investors must sign up for an account through HappyNest's mobile app to start using any of its features.
The app itself is free to download.
Since each location is carefully vetted before it's added to HappyNest's ever-growing list, you can rest assured that your cash is going to a safe place.
How Does HappyNest Make You Money?
HappyNest works by paying out dividend income based on the rent paid from each of your real estate investments, which can be an annualized rate of up to 6% of the money you've invested.
Once you're up and running, it's easy to set up recurring weekly or monthly payments to continue growing your investment — and the money you make in return.
Even more impressive, the company makes it possible to earn money from each real estate investment as the share value increases.
Similar to a stock or ETF, buying and selling real estate shares at the right time can get you more cash.
How Does HappyNest Make Money?
Obviously, HappyNest must have a way to earn a profit.
Fortunately for investors, the business never charges platform or broker fees.
HappyNest earns revenue when it acquires or sells assets and a small annual asset management fee on the total value of assets under management.
It certainly makes sense for HappyNest to partner with reputable professional advisors and properties so that everyone benefits.
Is HappyNest Legit?
HappyNest seeks investment options only in high-quality businesses located in prime locations.
Each real estate investment option has already passed a slew of tests before even being considered.
This ensures each property is suitable to invest in.
Is HappyNest Safe?
HappyNest is safe to use.
The platform uses 256-bit encryption to link up to your bank account while protecting your info.
While no service can guarantee 100% safety, HappyNest takes security and your data seriously.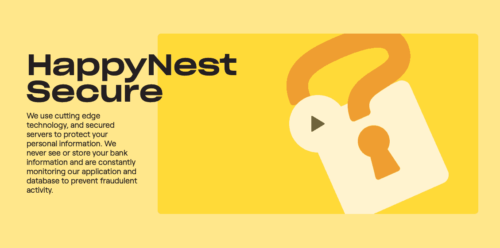 Best of all, the real estate platform never shares your personal data, and none of your information is sold to third parties.
>> Already sold on HappyNest? Click here to sign up TODAY! <<
How to Get Started With HappyNest
Setting up your HappyNest account is simple and straightforward.
To get started, you need to visit the website and download the mobile app.
Once downloaded, the app serves as your access point for uncovering how to invest in the real estate market.
After you open an account, you are required to sign in to the app and make an initial $10 investment.
This initial investment purchases shares of HappyNest REIT for you.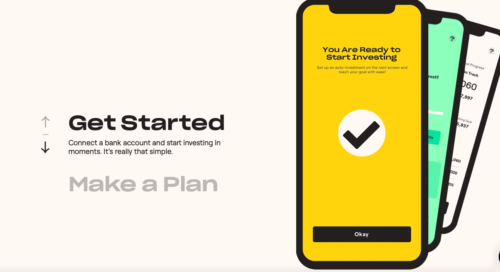 From there on, you can effortlessly search through the app to locate potential real estate investments and see the real estate portfolio that you invested in.
Every property that HappyNest owns, you own.
These properties become the catalyst for savings and income that you can use to obtain future financial goals.
HappyNest Features
HappyNest has some features that make it easy to invest and even easier to manage your assets:
Portfolio

Goal Setting

Recurring Investments

Management Team

Refund Policy
HappyNest Portfolio
Within your HappyNest account, the portfolio showcases your active investments and information about each one.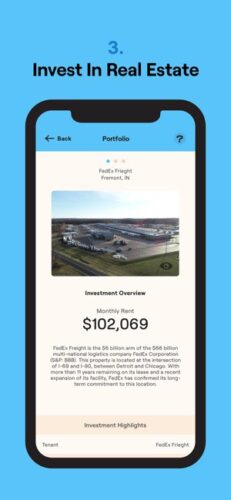 From here, you can see photos and watch flyover videos of the properties.
This lets you see the condition of the property and learn more about why it was purchased by HappyNest REIT.
You can track how much cash you've invested in the portfolio and what your dividends will be.
Your portfolio also shows you the value of each investment so you can decide when is the right time to sell.
Goal Setting
After joining HappyNest, you'll be able to set goals based on what your preferences are.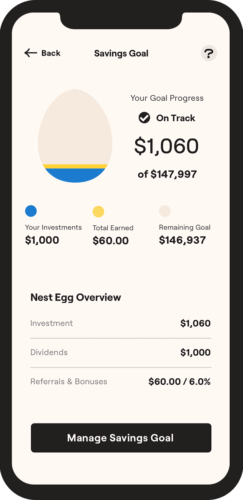 You can list what you'd like your account balance to be after a certain number of years, and the app will show you how much you need to invest to get there.
There is also a feature for you to list an investment amount, and the app will show you a projected account value after a number of years.
Recurring Deposits
If manual investments aren't your thing, HappyNest has the option to set up recurring deposits.
This works exceptionally well if you have a particular goal you're trying to reach and want to make sure you don't miss a deposit.
The app will automatically take the deposits out of your bank account and buy shares of HappyNest REIT, setting up either weekly or monthly recurring deposits.
Since share prices do rise and fall (albeit much less so than stocks), there may occasionally be the need to supplement a deposit due to this change.
Support Team
HappyNest has a group of experts available to answer any questions at any point before or during your membership.
These team members are a great source to turn to should the site's FAQ or learning material not be enough.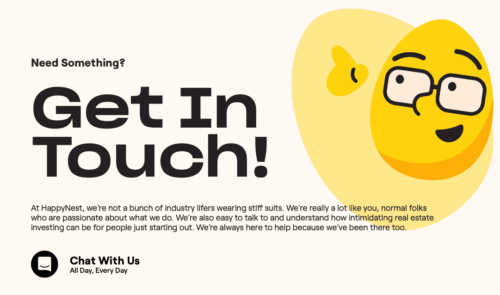 Live chat is available Monday through Friday, between 9–5 p.m., and support can also be contacted via email.
If you check the reviews, you'll see that current members speak highly of HappyNest's support network.
>> Like all that HappyNest has to offer? Click here to join now! <<
HappyNest Refund Policy
HappyNest makes no mention of a refund policy on their site.
Should you wish to cancel your account, HappyNest will repurchase your shares as per the terms of their share repurchase program.
Shares can be subject to up to a six-month holding period before the repurchase is granted.
How Much Does HappyNest Cost?
A minimum of $10 is all that's needed to make your first investment.
Of course, you can invest any amount you want into commercial real estate opportunities once you've gained entry to the app.
HappyNest boasts 0% brokerage commissions and absolutely no platform fees.
Once your account surpasses $5,000, the company may charge a $1 administrative fee per month.
HappyNest Pros and Cons
HappyNest has a great approach to real estate investing that makes it possible for anyone to get involved.
That being said, there are a few details to keep in mind as you open your account.
Here's a list of the pros and cons of the investment opportunity:
Pros
Invest in commercial real estate

Quick and easy to join

Mobile app is very user-friendly

Low risk

Low minimum financial investment

No broker or platform fees

Strong management team
Cons
Dividends are paid quarterly instead of monthly or weekly

Online only through mobile devices
>> Ready to use HappyNest to invest in real estate? Click here to get started! <<
HappyNest Reviews
Current investors have a lot of positive feedback about the service.
Here are just a few recent reviews from users:
Very smooth interface with a lot of growth and potential. Their staff responds promptly with feedback and answered all questions and concerns professionally. If you're hesitant about investing, this is a safe choice.

– S Vodenik, on the Google Play Store

HappyNest is fantastic. Super user friendly with great features showing projected growth on your investment. Customer service has been very responsive for the issue I had with automatic bank verification and took the time to walk me through the manual verification process. I'd give them 6 stars if I could.

– Geoffrey, on the Google Play Store

Easy to use features & you're guaranteed to earn dividends despite disclaimer by the app saying you might earn none or lose money. Well so far I have not lose any money or failed to earn dividends; instead I keep earning dividends on my investment which I absolutely love. It is better to let your money sit in HappyNest & grow rather than in a bank dead.

– Odillio, on the Apple Store

Been using HappyNest for several months and the app makes all the transactions easy and understandable. The low entry limits make it accessible to invest for any income level. Great user friendly dashboard, and I like the stability that Real estate investment affords my portfolio.

– Abdullah, on the Apple Store
Is HappyNest Right for Me?
HappyNest was built from the ground up with a business model designed to give investors at any level the ability to add to their savings.
The founder of the app himself is a veteran who discovered real estate investing as a means to put extra cash in his pocket and evolved from there.
With only a 10$ starting investment, the barrier of entry is extraordinarily low when compared to other apps.
This small amount of cash should not deter anyone from trying out and holds true to the app's promise of creating an accessible point of entry for newcomers.
After the initial investment, there's no knowledge or deeper understanding needed to grow your account.
However, if you find yourself wanting to dig a little deeper, it is possible to play the buying and selling game to get the most out of the shares you invest in.
Investors looking to make back a lot of cash quickly will not find that with HappyNest.
This service is set up to play out in the long-term and reap low-risk gains over several years.
Is HappyNest Worth It?
HappyNest definitely has the potential to offer a lot of value, especially when considering its low initial investment requirement.
Where stocks can be difficult to predict, there's much less risk investing in a portfolio with HappyNest, as you are paid dividends off rent.
There's nothing better than knowing your nest egg is secure and free from the wild swings of volatility inherent in other investment types.
The app itself provides an easy-to-use, intuitive system for investing in commercial real estate properties.
Ultimately, when deciding to invest in HappyNest, you get what you give.
Putting in just the minimum investment will see small gains, but going big presents the potential for so much more.
>> That's it for our HappyNest Review! Click here to join HappyNest TODAY! <<