Experienced, active day traders need a broker like CenterPoint Securities to keep tabs on the constant changes in the global marketplace. What exactly is CenterPoint Securities, and how can you benefit from their service? Our CenterPoint Securities review has all the answers about this premium broker.
CenterPoint Securities Review: What Is CenterPoint Securities?
CenterPoint Securities is an active trading broker with diverse tools and partnerships to help traders capitalize on fast market changes. Their offered platforms provide real-time data and financial news insights while emphasizing speed.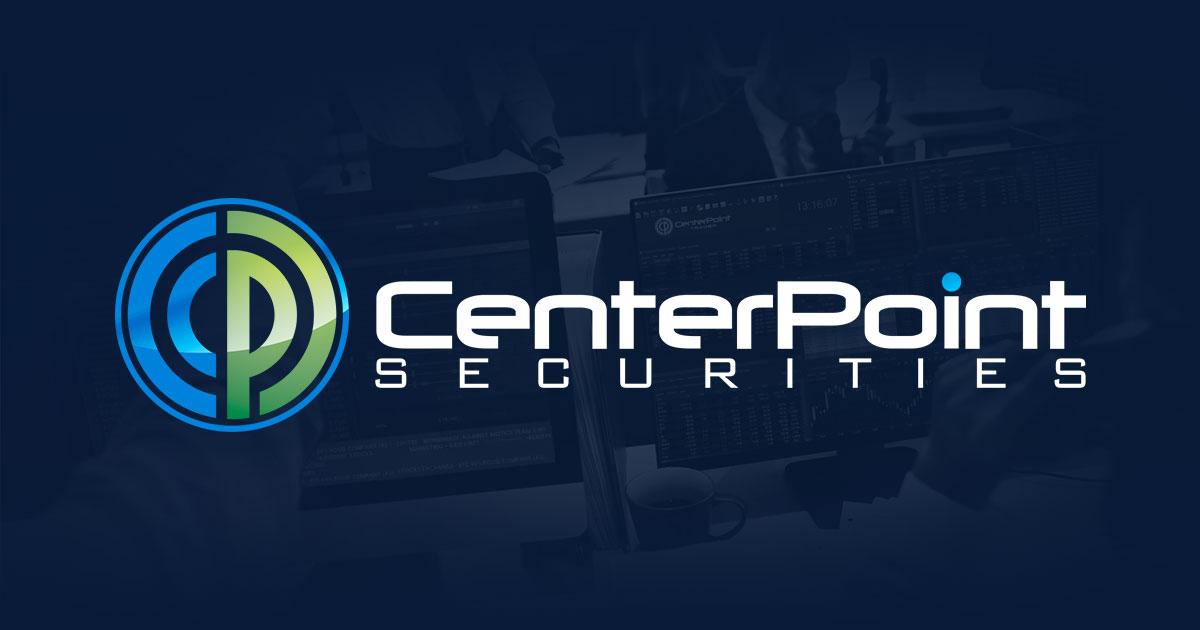 You can take advantage of a series of customizable features to keep you focused on what's important. Built with the experienced trader in mind, CenterPoint offers discounts on software fees for those knocking out high-volume trades.
>> Already sold on CenterPoint Securities? Click here to sign up TODAY! <<
How Does CenterPoint Work?
Those looking to take advantage of all that CenterPoint offers must enroll in one of their available service tiers. Pricing varies whether you want software for PC, web, mobile, or some combination therein.
Bundled plans include basic market data, or traders can take an à la carte approach. Trades do invoke commissions in addition to fees associated with a specific platform. However, a high-volume trader can keep commissions low with large numbers of executions.
Does CenterPoint Securities Have a Mobile App?
CenterPoint Securities offers a mobile trading app for both Android and iOS devices. Explicitly designed for phones and tablets, CenterPoint keeps you right in the thick of things, no matter where you are.
The app allows you to manage your account, choose from multiple routing options, follow your favorite charting scenarios, and stream level 2 data in real-time.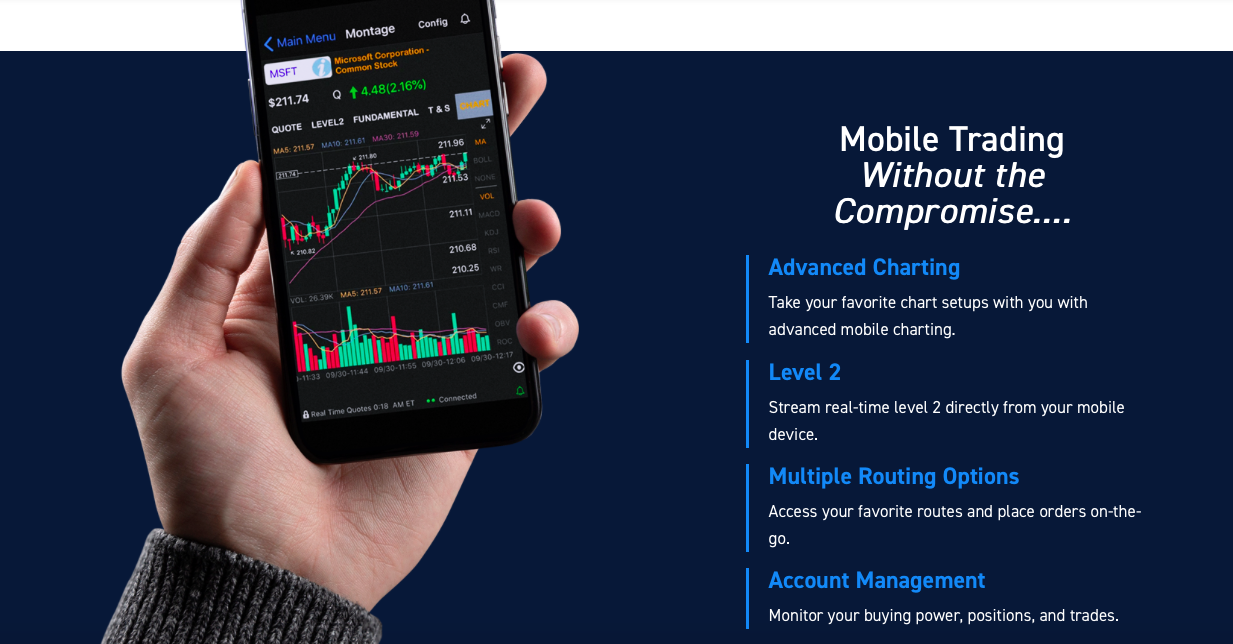 CenterPoint's offered app is included in all platforms except for CenterPoint's web offering, where you'll have to pay an extra $25 per month to use your phone.
>> Start Trading with the mobile app! Sign Up NOW! <<
Who Can Use CenterPoint
CenterPoint isn't for just anyone. It works best for sophisticated traders looking to make serious income from day trading. CenterPoint clients need to understand technical indicators and financial news to bring in more than they spend.
The most active traders will benefit even more thanks to discounts from high-volume trading that help keep outgoing costs to a minimum.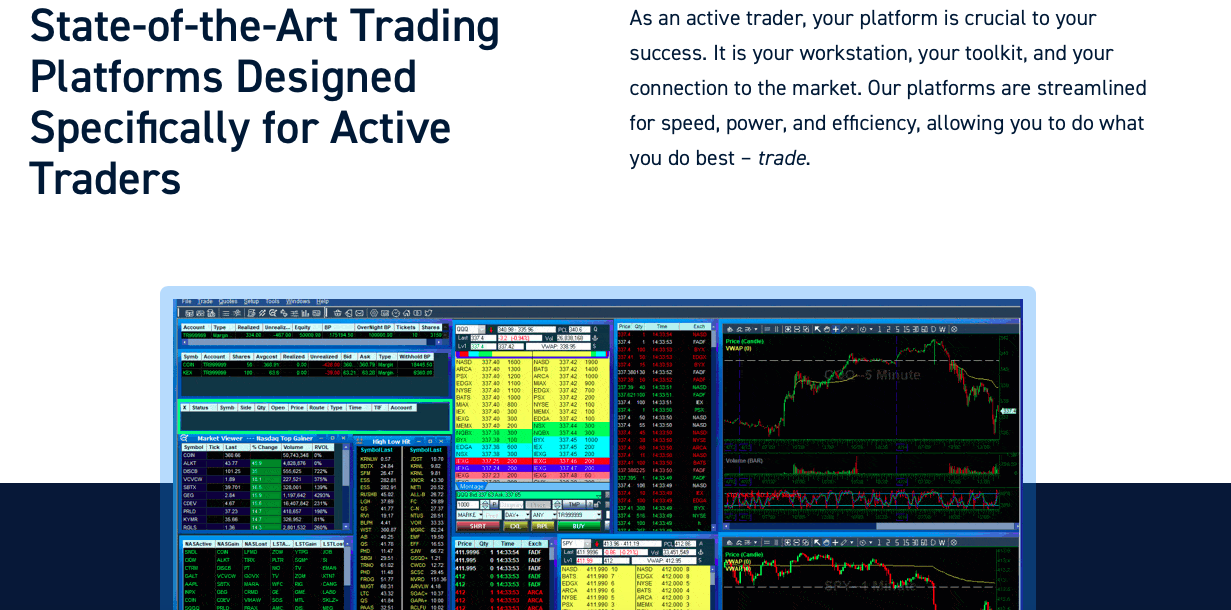 Who Is CenterPoint Securities Best-Suited For?
CenterPoint checks many boxes for those looking to optimize active trading sessions. If you fit into one of the below categories, there's a good chance the brokerage is for you.
Active Traders – CenterPoint markets itself as an online brokerage firm created specifically with active traders. With a focus on growth, it is dedicated to helping traders maximize output where other brokers fall short.
Professional Traders – The online broker isn't afraid to handle individual traders or those dealing with $100 million funds. It embraces professional traders with a keen knowledge of trading strategies who want to make a living off the swings in financial markets.
Value Focused – CenterPoint Securities offers a ton of value for the price you'll ultimately pay. While the sticker price might be higher than big-box trading platforms, the dollar-for-dollar value is exceptional.
Short Sellers – Day traders looking to benefit from shorting stocks will find a worthwhile tool here. CenterPoint has unparalleled access to shorting stocks compared to other platforms, with nearly 8,000 symbols on the easy-to-borrow list. Best of all, the brokerage firm updates this list daily.
Requires Advanced Tools – Experienced traders need more than the typical online broker tools. CenterPoint Securities takes this to heart and provides an elite platform packed with sophisticated trading tools.
>> Ready to give CenterPoint Securities a try? Click HERE! <<
Advanced Trading Platforms
CenterPoint interfaces with some of the best trading platforms out there.
Sterling Trader Pro
Sterling Trader Pro is an incredibly popular trading platform with an emphasis on equities, options, and futures. Its system is built with executions in mind, funneling the latest market news with advanced charting.
Users can also take advantage of basket trading and real-time account management tools to stay one step ahead of the game. All these features lead up to lightning-fast trades across multiple asset classes.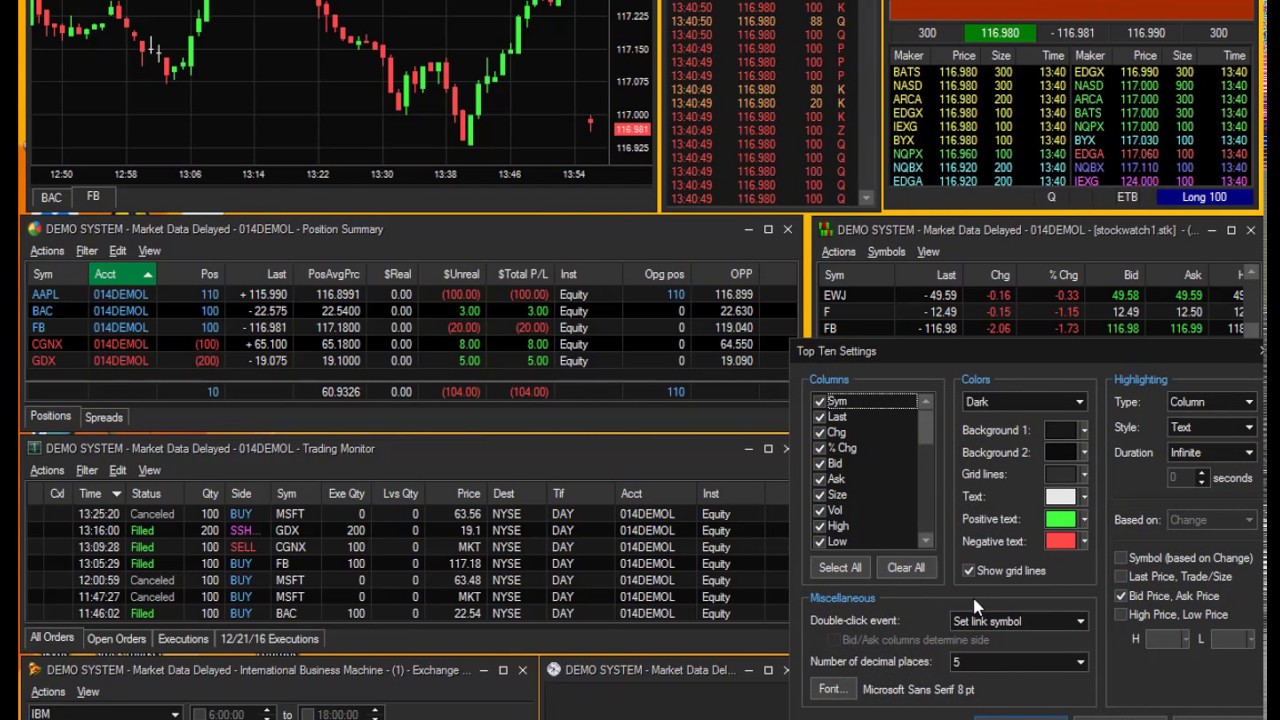 Furthermore, the trading platform is very customizable for a professional to build the interface they desire. You can even use API within Sterling Trader Pro to program trade bots or receive notices when something big is happening.
>> What are you waiting on? Get started NOW! <<
DAS Trader Pro
The DAS Trader Pro platform is one of the few to support multiple monitors, so all your market data can be analyzed simultaneously. The software does an impressive job of splitting up this information into different windows that can be placed anywhere on the screen.
Day traders can access the latest market news, advanced charting, and a stock scanner within the interface. This information is presented in an easy-to-understand format, making DAS Trader Pro an excellent choice for someone who wants a streamlined trading platform.
It also is one of the cheapest platforms available, and it's possible to lower costs further depending on how frequently you're day trading.
Platform Features
Advanced Charting
You can jump into multiple chart types constructed specifically with active trading. Charts are customizable and viewable with advanced technical indicators to pick up even the slightest variances along the way.

>> Get instant access to advanced charting! Click here to sign up TODAY! <<
Level 2 Data
Level 2 unlocks real-time supply and demand levels for traders to analyze executions from the moment they occur. Time and sales data roll out by the minute so you can see first-hand how orders are shaping up.

Stock Discovery Tools
If you're not sure where to look, CenterPoint has stock discovery tools to help you uncover the next big event. You can create custom scanners to hone in on a particular sector or simply utilize one of the platform's many ready-to-use viewers.

>> Take advantage of these top of the line tools! Sign up NOW! <<
News Feeds
There's no need to jump back and forth between the trading platform and news feeds. CenterPoint has built-in feeds for financial and market news to keep you apprised of what's happening from right within the platform.
Platform Selection
The platform is available in three formats, depending on your preferred workstation. CenterPoint offers a pro-level platform solely for desktop platforms and is packed full of tools only a computer can handle.
CenterPoint offers a web version, a well-rounded system that runs on desktops, laptops, or tablet devices. Last but not least, CenterPoint's offered an app which is strictly for those using Android or Apple phones for trading.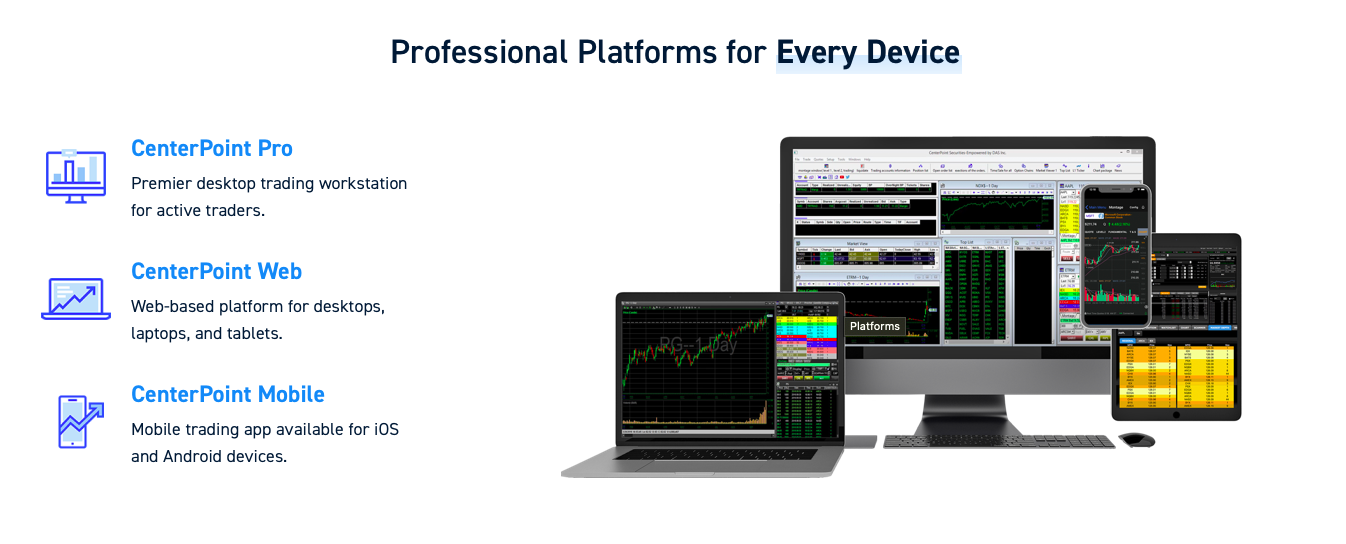 Customization
Every platform component is fully customizable: from your styles and preferences to color themes and the layout that makes the most sense to you. A web, mobile, or desktop platform just the way you like can boost efficiency and catch otherwise overlooked opportunities.
>> Easily trade on the platform of your choosing! Click here to sign up TODAY! <<
CenterPoint Securities Features
Extensive short inventory
Advanced routing
Account minimum
Reliable customer service
Extensive Short Inventory
You won't find a short inventory like CenterPoint's anywhere else. Its industry-leading 8,000+ symbols on a frequently changing easy-to-borrow list leave all other online brokers in the dust.
CenterPoint Securities utilizes locates to dig up shortable stocks, and its several clearing firms are full of easy and hard-to-borrow stocks.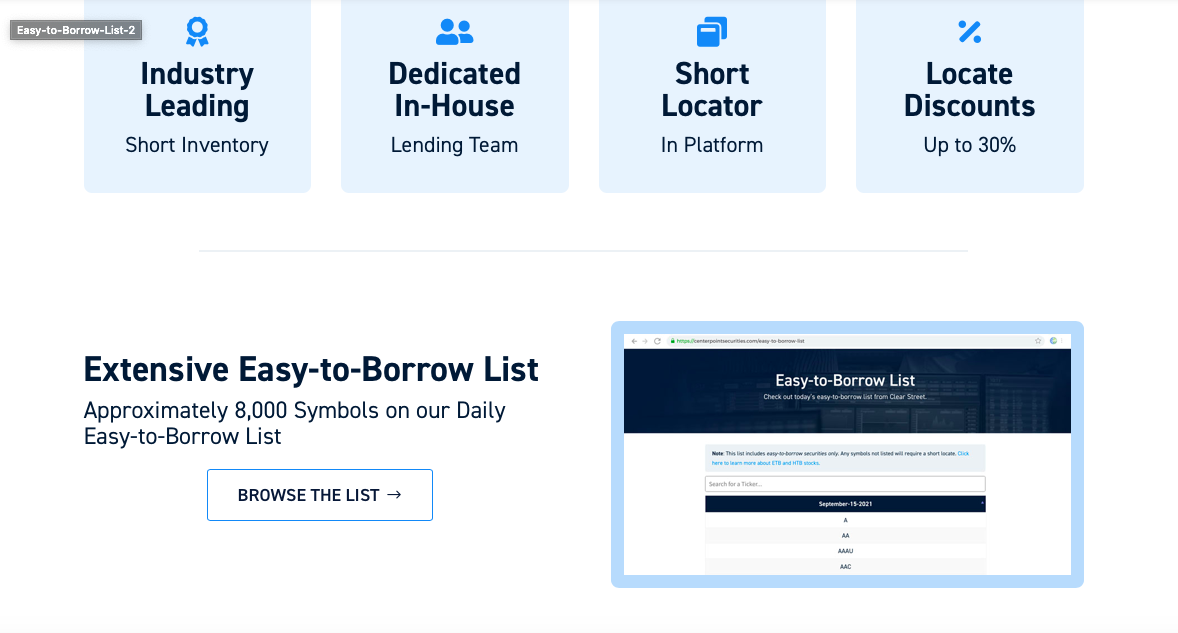 >> Get access to the easy-to-borrow list TODAY! Click here to sign up! <<
Advanced Routing
With over 30 unique routing options, professional investors should have no difficulty achieving optimal order executions without breaking the bank. Some electronic communication networks offer rebates to bring costs down even further.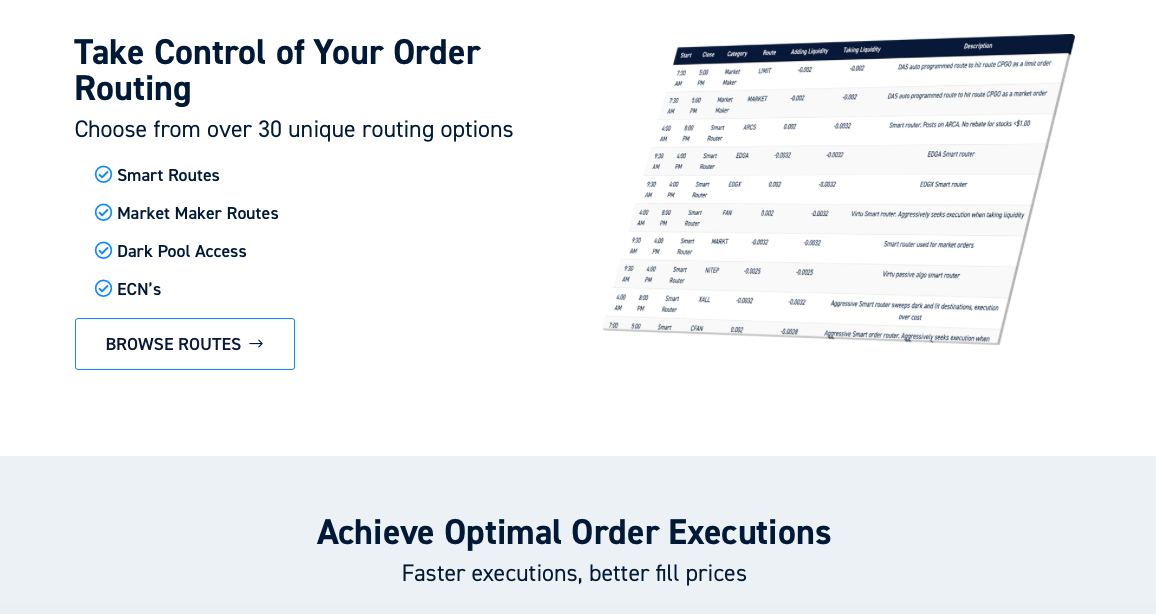 Account Minimum
To set up an account with CenterPoint, active day traders will need a minimum deposit of at least $50,000. Anyone connecting to the service via the Partner Program needs only $30,000 at the onset.
Reliable Customer Service
CenterPoint's customer service line is open from 7:00 am – 4:30 pm EST during the week. The team is well-staffed and does not deal with frustrating automated prompts. You'll likely have a live person on the phone with you within a few rings. If the phone isn't your thing, or you have a question outside normal hours, you can send an email and hope for a quick response.
Is CenterPoint Securities Legit?
CenterPoint Securities is a division of Precision Securities, a prime brokerage that's been doing business for over 20 years. It is a member of both the Financial Industry Regulatory Authority (FINRA) and the Securities Investor Protection Corporation (SIPC). CenterPoint itself has been servicing clients for 10 years.
The brokerage also links up with reputable platforms such as Sterling Trader, with a proven track record in its field. Such partnerships would not be possible if CenterPoint wasn't on the level.
>> Don't delay! Get started with CenterPoint Securities NOW! <<
CenterPoint Securities Pros and Cons
CenterPoint Securities is a solid service with plenty to offer, but there are a few drawbacks to consider.
Pros
Designed for those active in day trading
Level 2 and advanced charting for experienced traders
Deals with equities and options
Features a mobile platform for accessing the brokerage house from anywhere
Short inventory of over 8,000 stocks
Multiple advanced trading platforms
Fee incentives for high-volume traders
Over 30 routing options
Robust human-based customer support team
Cons
Routing and regulatory fees are passed onto traders, leading to additional costs
Still waiting for approval to serve Canadian users
>> Sold on CenterPoint Securities? Sign up TODAY! <<
CenterPoint Securities Pricing
For all CenterPoint Securities brings to the table, there are a handful of fees you'll want to be aware of.
Commission
Whether trading equities or options on CenterPoint, the broker is going to take a small cut.
Commission fees for trades range from $0.003 with a $0.30 minimum order to $0.001 with a $0.10 minimum order, depending on your trading volume.
Options commissions are based on the number of contracts you make per month, with volumes under 10,000 seeing a charge of $0.65 per contract. Volumes over 100,000 pay commissions of $0.20 per contract.
Fees
A service as good as CenterPoint isn't going to be free. Let's check out some of the fees you may encounter while doing your options or stock trading on the platform.
Platform Fees
CenterPoint Securities does have platform fees to keep in mind as well. Monthly pricing for each tier of service looks like this:
CenterPoint Pro Bundle – $138
CenterPoint Pro – $120
CenterPoint Web Bundle – $63
CenterPoint Web – $20
Active traders can see these fees waived by trading 20K+ shares on the Web platform or 200K+ shares on the Pro platform.
Data Fees
You'll need to pay a fee to access a particular feed from just $1.50 to $50 for non-professional traders. Professional traders, on the other hand, will pay anywhere from $32.50 to $100 per feed. Bundle platform tiers include basic market data as part of the package.
Routing and Regulatory Fees
CenterPoint Securities passes all its regulatory and routing fees on to its customers, varying considerably with category, route, and time of day.
Is There a Free Version at CenterPoint?
While CenterPoint doesn't offer a free version, it does offer a 14-day risk-free trial. All of its features are made available to you so you can get a true feel for how everything works. You can even practice with a simulated trading account without putting your own money on the line.
With the trial, you'll receive real-time market data from NASDAQ, but others like the New York Stock Exchange will be delayed.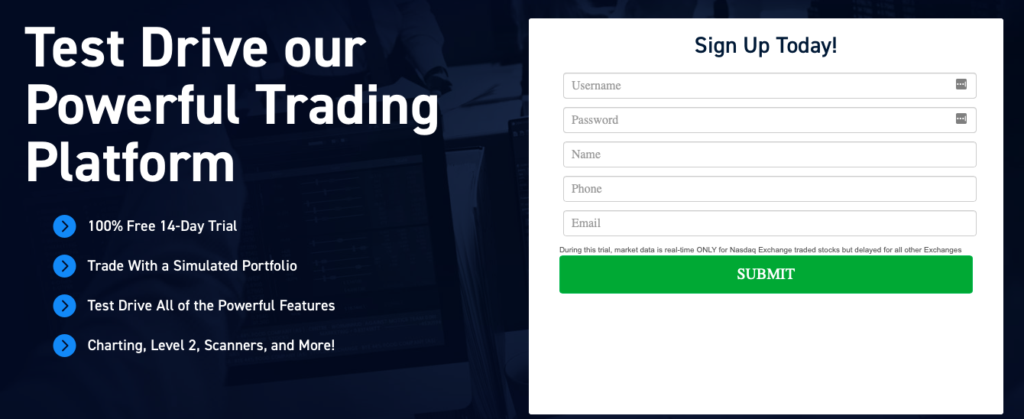 >> Start your FREE TRAIL TODAY! Just click HERE! <<
CenterPoint Securities is a great trading service with excellent prices. Given everything on offer, we believe it's well worth the price. This platform is jam-packed with exciting features to keep day traders know about happenings in the financial world.
Using this tech to uncover crucial insights at the right moment is paramount for any day trader looking to make the most of market changes.
Pricing can be as low as $20 per month for CenterPoint's web-based platform, and already low commissions can be even lower when high volumes are in play.
If you're still on the fence, do yourself a favor and try the risk-free 14-day trial to find out what the platform can do. You can run through your favorite trading simulations and discover what you're missing out on.
Reach out directly for more information and test their service firsthand, here.
>> That's it for our Centerpoint Securities Review! JOIN TODAY! <<