Many are touting SD Bullion as one of the top spots to get high-quality bullion at a fair price. But does its gold and silver bullion really stack up? I'm going to do a deep dive in my SD Bullion review for all the answers. Read on for my take on this precious metals retailer.
What Is SD Bullion?
SD Bullion is an online bullion dealer that provides a secondary market for gold, silver, platinum, copper, and palladium bullion.
This precious metal retailer's defining feature is its below-market prices and offerings.
The company sells bullion in a range of shapes and sizes, including coins (rounds) and bars. Its precious metals selection includes both foreign and domestic coins, including British gold coins.
SD Bullion's extensive catalog of bullion and low prices have propelled it into a premier provider of precious metals. In fact, it has served over 250,000 customers and has executed over a billion dollars in sales since its founding in 2012.

This company has been on the block much longer than many competitors and has adapted with the times to provide a quick, painless, and cost-effective route to purchasing bullion.
Back in the day, all sales were completed by telephone order. However, it rolled out its online website purchasing option.
Since then, it has gained industry market share as one of the best options in the USA for purchasing bullion at low prices.
>> Already sold on SD Bullion? Click HERE to start investing in bullion TODAY! <<

Who Owns SD Bullion?
SD Bullion was started by two doctors who realized that there were very few options for investors looking to purchase bullion online.
For this reason, the two friends, who met in medical school, and invested in bullion themselves, decided to create a way for the average person to more easily invest in the asset.
The "SD" in Silver Bullion actually stands for "silver doctors."
Today, the company is owned by Dr. Tyler Wall, who acts as the CEO.
Is SD Bullion an American Company?
SDB is an American company that is based in Ottawa Lake, Michigan.
In 2017, SD Bullion was named the 177th fastest growing company in the United States by Inc. Magazine.
The company website claims that it is the #1 fastest growing precious metals dealer in the US.

How Does SD Bullion Work?
SD Bullion's website is straightforward to use. All you have to do is browse the selection of products they have available and add your selection to your cart.
If a specific bullion on the website is not in stock, you can choose to be notified when it becomes available.
Once an item is added to your cart, you will need to continue checkout via the checkout page to lock in the price offered.
You will then have various options for completing payment.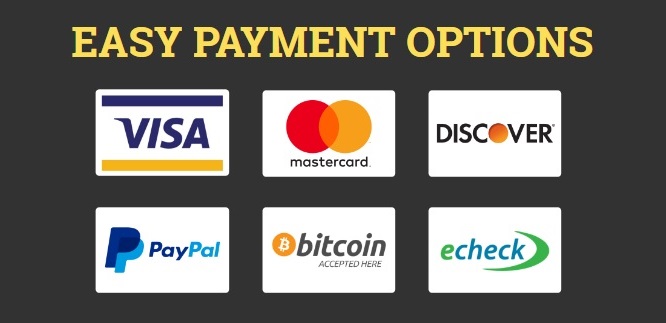 SDB accepts the following as a payment method:
Bank wire or wire transfer

Personal check

Cashiers check

Postal money order

Credit/Debit card

Bitcoin

PayPal

E-check
It should be noted that once you go through with the purchase and lock in the price, you have entered into a binding agreement.
This is outlined clearly on its website's terms and services. Here's the direct quote:
"By placing an order through the SD Bullion website or via telephone and agreeing to our terms and conditions, the customer enters into a contractually binding agreement with SD Bullion, Inc."

— SD Bullion Website
The order cannot be canceled without penalty, even if the spot price of the asset were to decrease. If canceled, the buyer will be responsible for a cancellation fee of 3%-5% as well as any market loss, and a possible restocking fee.
Your order will then be shipped to you fully insured in discreet packaging. US orders over $199 also get free shipping.
Something else that is important to consider is that this SD sells secondary market bullion. This means that the bars could have scuffs or dings.
While some of these bars are fresh off the mint, not all of them are. The purity is still top-notch, though.
If you want pristine precious metals, SD Bullion has MintCertified™ products.
>> Ready to buy your bullion? Sign up now <<

Selling Precious Metals to SD Bullion
SDB will also buy your precious metals if you're looking to sell them.
They claim to offer the highest payout in the industry. In fact, this claim is even guaranteed.
The selling process is pretty straightforward, with a fairly quick payout as well.
To sell your metals to the SDB, you will need to call them at 1-800-294-8732 and an SD Bullion rep will answer any questions you have about the buyback or selling process and lock in a selling price.
After that, you will receive a purchase order with a shipping address to print out and include with your metals.
Once SD Bullion receives your package, the inventory team will inspect the products for authenticity.
When your metals are verified and approved, payment is issued within 1-3 business days.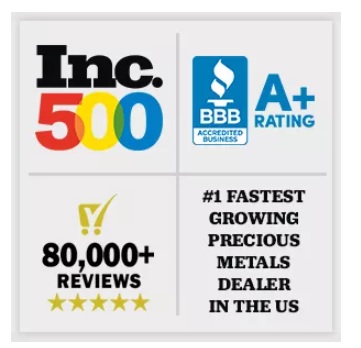 Is SD Bullion Safe?
SD Bullion is completely safe to use when it comes to purchasing, or even selling bullion.
The company has an A+ rating on the Better Business Bureau website.
When it comes to receiving your order, you do not have to worry much. Packages include insurance and are shipped using a pseudonym as the name for the return address. This protects the confidentiality of the contents within.
Now that you know more about SD Bullion, let's take a closer look at its offerings.
>> Access SD Bullion's selection of precious metals <<
What Does SD Bullion Offer?
Bars

Coins

Specialty Precious Metal

Palladium and copper

Mint coins

Precious metals accessories

Gold and Silver IRAs

Precious Metal Storage

Other offerings
Bars
SDB sells gold bars, silver bars, and platinum bars, as well as bars for other metals.
Gold bars are available in weights ranging from just 0.5 grams all the way up to 1 kilo!
The selection of silver bars starts at 1 oz and can also be purchased as a 1-kilo bar and 1,000 oz silver bars.
Platinum bars are available in weights of 1 gram, 5 grams, 10 grams, 20 grams, 50 grams, 1 oz, and 10 oz.
Copper and palladium bars are also available on the site.
The bars are available in a variety of mints, and each specific mint of the bar is detailed in the product description.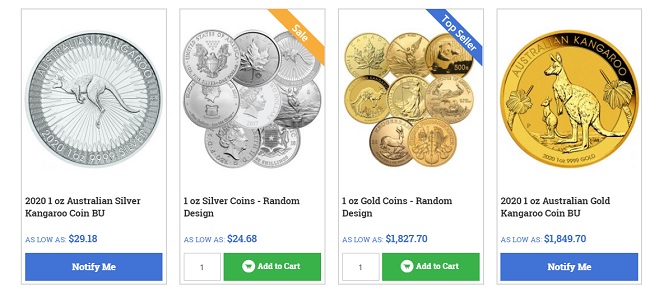 Coins
SD Bullion also offers a wide selection of coins for purchase as an investment.
The website offers:
Platinum coins

Silver coins

Gold coins

American Eagles (including Silver Eagles, Gold Eagle, and Platinum Eagles)

Royal Canadian Mint

And other collector coins
SD Bullion also provides a selection of mint coins in what is called MintCertified™.
This means that you can purchase some of the latest coins for your portfolio that will arrive in impeccable condition.
MintCertified™ purchases are guaranteed to be delivered to you in the same pristine condition as when they left the Mint (the coin manufacturer).
You can find almost any kind of coin that you are looking for and easily purchase it through SDB. Should a specific coin not be available, you can ask to be notified once it is in stock.
>> Stock up on coins and bars today <<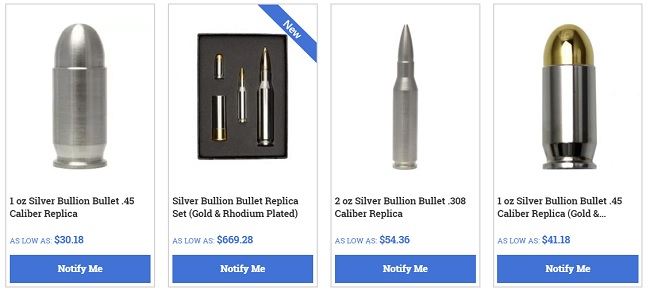 Specialty Precious Metal
One unique offering of SD Bullion is its specialty precious metals.
These include ammunition such as silver bullets in a variety of calibers and weights.
The bullets are actually replicas and not intended to be used as real ammunition.
According to the website, silver bullets are "hidden treasures in the precious metals industry" and offer a unique way to invest in silver.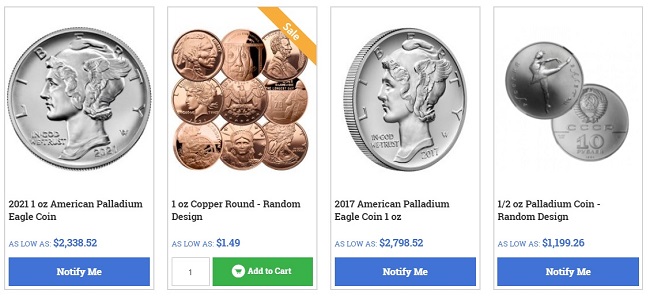 Palladium and Copper
SDB offers other options for investing in precious metals aside from just silver, gold, and platinum.
Both palladium and copper are available to purchase on the website in the form of both bars and coins.
According to SDB, both of these metals are becoming increasingly popular as an investment, especially since the United States Mint recently released the first palladium-based official coin.
The company also claims that investing in these metals is a cost-effective way of diversifying a precious metals portfolio.
>> Access palladium and copper investments today <<

Gold Silver IRAs
SD Bullion also offers a way to fund an IRA with silver, gold, and platinum.
These types of IRAs have become increasingly popular and offer an alternative way of saving for retirement versus simply funding an IRA with other types of investments or via a 401K.
SDB offers a premium selection of IRA-approved precious metal products and can put you in touch with a trusted IRA custodian who can help you fund your IRA with precious metals. You can even start a precious metals IRA separate from the one you currently hold.

Precious Metals Storage
You can also use SD Bullion to store your precious metals.
With the precious metals storage offering, you can safely store your precious metals outside your home in a fully insured non-bank depository specifically designed for bullion.
This service, called SD Depository, offers low prices for precious metal storage, starting at just $19.99 per month.
By storing your precious metals with SDB, you will get top-notch security and will be able to easily take delivery of your precious metals in storage at any time.
You can also add any items you acquire to your storage at any time.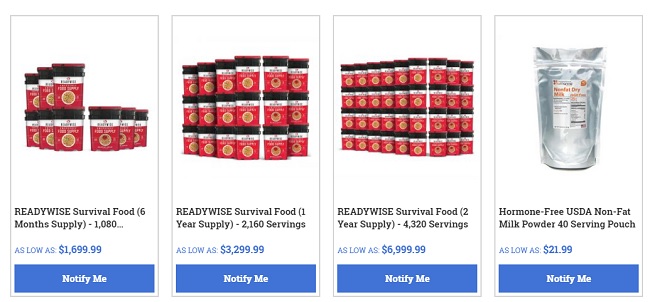 Other Offerings
While SD Bullion deals in mostly precious metals, it also has a wide selection of other premium products.
Here's a short list of some of the company's other offerings:
Survival Food

– SD carries a small selection of ReadyWise emergency food supplies and NuManna GMO-free survival foods and survival food storage options.

Water Filters

– There's a selection of water filters made by a company called Berkey. These appear to be high-end water filtration products that have solid online reviews and provide top-of-the-line water purification.

Precious Metals Accessories

– A variety of precious metal-related accessories are also on offer via the website. These include metal cleaners, bullion bags, coin storage, and tools for testing the purity of different types of metals.

Free Gold and Silver Investing Guide: 21st Century Gold Rush

– This free guide teaches how to invest in bullion. It discusses the fundamentals of investing in, buying, and storing bullion. All in all, it's a good primer for the precious metal market.

Gold and Silver News

– This blog provides up-to-date information and news about the precious metals market. The articles on the blog cover stock news, mid-week reports, price fluctuations, and other updates related to the precious metals industry.
If you are new to precious metal investing, I recommend checking out the Free Gold and Silver Investing Guide: 21st Century Gold Rush. It could be a solid introduction to the nuances of the precious metals market.
>> Check out SD Bullion's catalog of precious metals and products <<
Is SD Bullion Legit?
SD Bullion is a legit online precious metals dealer. It's been in the biz for over a decade and has earned a stellar rep online.
According to customer reviews, items are delivered just as described on the website and there seem to be very few complaints regarding purchases made through SDB.
Additionally, the company appears to have good customer care, and it is easy to reach customer support during business hours with any questions or concerns regarding an order.
Pros and Cons of SD Bullion
There are a few pros and cons that come along with using SDB to purchase bullion.
Let's take a look at them now.
Pros
Free shipping on orders over $199.00

Fast delivery

Excellent reputation online

Cheaper prices compared to other dealers

Wide selection of bullion available

Purchases include insurance
Cons
Hefty cancellation fees that include a stocking fee and market loss

Secondary market gold may not always be in pristine condition
SD Bullion Reviews
SD Bullion has earned high praise all over the web, earning an impressive 4.5/5 rating on Trustpilot. This is out of 2,000+ reviews, which, I think, is a solid sample size.
Here's a snapshot of its rating on Trustpilot:
While this score is already quite high, something that also stood out to me is it has an average rating of "Excellent" — 81% at the time of writing this.
SD Bullion is actually one of the highest-rated precious metals sellers, I've reviewed.
Let's take a look:
Here are some reviews from Trustpilot: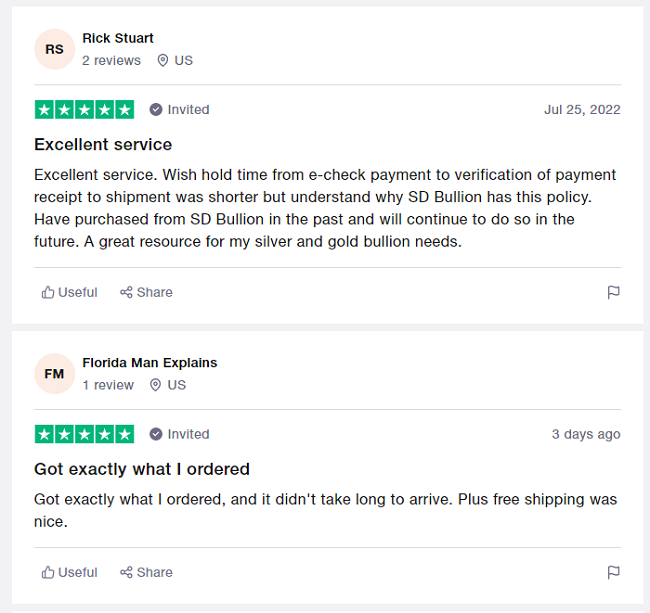 I can't verify which of these reviews are all customers, but I think a 4.5/5 score and 2,000+ reviews at 81% could be a good gauge of public sentiment toward the service.
These reviews look even better when you consider that SD Bullion has a 4.7/5 score on the BBB website and has locked in an A+ rating.
Even some of the biggest names in bullion don't fair too well on these sites, so it looks like SD Bullion is doing something right to maintain such a strong rep for over a decade.
>> Join SD Bullion's satisfied members <<
SD Bullion Pricing
The market price of precious metals is always fluctuating, so there's no set answer for how much SD Bullion's products cost.
That said, when you lock in an order, the price is locked in as well.
This means that when you order a silver, gold, platinum, copper, or palladium product, you don't need to worry if costs spike the following day.
SD Bullion Refund Policy
If you are not satisfied with your order, you can submit a return request by contacting SD Bullion customer service via phone, email, or online chat.
If an exchange is requested, SDB will send an acceptable replacement or refund your purchase if a replacement is not available.
Any product must be returned exactly as it was sent to you, meaning the item must be in the original package and condition.
You will be responsible for any costs related to returning any items for refund or exchange. However, SDB will cover the shipping cost of sending the exchanged item back to you.
Returns are subject to a 5% restocking fee or $35, whichever is higher, as well as market loss at the discretion of SDB.
Is SD Bullion Worth It?
SD Bullion is an excellent service that allows you to purchase precious metals at a great price. After checking out this dealer, I think its services could be well worth the cost.
Its business model makes this online dealer capable of providing precious metal prices that are much lower than its competition.
Plus, the variety of its products is top-notch.
A lot of online bullion dealers only offer gold or silver, so SD Bullion stands out from the pack with its selection of gold bullion as well as platinum coins. It's even possible to purchase copper and palladium.
This level of variety also means that you won't need to swap between separate gold or silver bullion dealers to build a collection of different precious metals.
SD Bullion is certainly a leader in the precious metal industry, and it has a solid rep.
The wide selection of products, as well as the highly competitive prices, make it a top choice when it comes to purchasing silver, gold, and platinum bullion as an investment.
>> Want to add physical bullion to your portfolio? Click HERE to shop the lowest-priced bullion on the market! <<