Ian King's Next Gen Coin taps into an opportunity that his team believes has serious upside potential. But are they really on to something? I'm putting the Ian King Next Gen Coin presentation under the microscope to find out.
Who Is Ian King?
Ian King is a talented investment analyst with decades of experience in the financial markets. Many know him for his insights into technology and cryptocurrency.
Let's start with his career in finance.
At 21, King began his career in finance at Salomon Brothers' mortgage bond department.
King eventually left Salomon Brothers and moved over to Citigroup. At this time, he worked with credit derivatives. It was a bit of a departure from his previous position. However, King quickly learned the ropes.
Further down the road, Peahi Capital hired King, and he later moved up to head trader.
One of his most notable achievements while working at Peahi Capital was when his team generated an impressive 339% return in 2008.
In 2017, King left Wall Street to join Banyan Hill Publishing. Now, he spends his days teaching folks the tricks he picked up as a hedge fund manager.
One of the best ways to get a hold of his latest analysis is through a Strategic Fortunes membership.
If you sign up under the Next Gen Coin deal, King shares exclusive insights on crypto he is especially bullish on.
Now that you know more about King, let's take a look at his Next Gen Coin presentation.
>> Discover King's latest recommendation <<
What Is Ian King's Next Gen Coin?
Ian King's Next Gen Coin is a cryptocurrency that he says could have "20X potential."
The reason that King is so bullish on this crypto is that it could benefit from the "Next Gen Effect."
The Next Gen Effect refers to the phenomenon that occurs when the second version of a popular idea eclipses the original.
Essentially, the first lays out the groundwork and the second builds off it. In King's own words, "2.0 is always better than 1.0."
So if Bitcoin is #1, the runner-up is in a strong position to take the crown.
King shares examples that illustrate the Next Gen Effect at work. And I'll check them out in the next section.
>> Find out the identity of the Next Gen Coin <<
Next Gen Effect in Practice
Throughout the Next Gen Coin presentation, King points to some fascinating examples where the Next Gen Effect took shape.
First up on the list is social media.
Long before the days of Facebook, there was Myspace. This was a widely popular platform and the name to beat in the social media space.
However, Facebook took over, and the rest was history.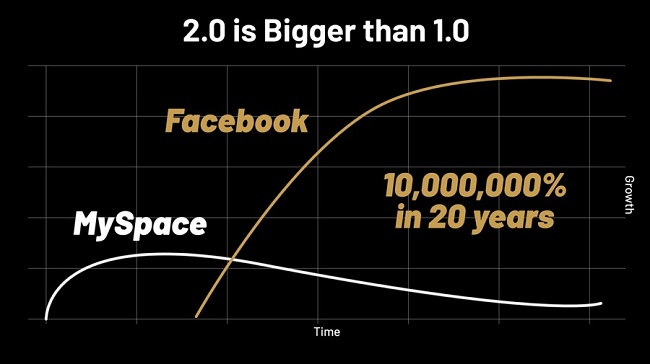 Angel investors, like Peter Thiel, saw the potential in Facebook — even though Myspace dominated the scene.
"Early backers, like Peter Thiel, saw his investment grow about 10 million percent. Every $1 he invested back in 2004 has turned into $100,000."
King also mentions that Thiel has a position in his Next Gen Coin.
Let's look at another example, search engines.
Before Google, there was AltaVista.
AltaVista entered the fold in 1995 and quickly became one of the most popular search engines across the web. It even had a three-year head start on Google.
Unfortunately for AltaVista, Google eventually took the number one spot and has held it for decades.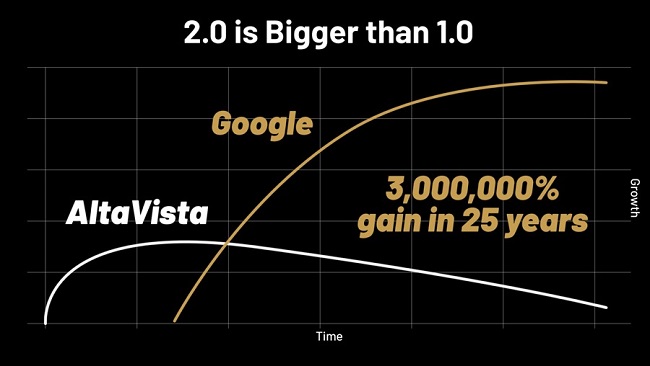 Like Facebook's early investors, many of Google's backers saw serious gains.
Jeff Bezos was one of Google's earliest backers. King shares that Bezos' "$250,000 stake back in 1998 grew into an $8.5 billion windfall." This translates to an astonishing 3,000,000% increase.
King also says he has reason to believe Bezos owns the Next Gen coin. However, King cannot verify this, so take this with a grain of salt.
Let's check out one more example of the Next Gen Effect to drive the point home.
Enter, Apple.
Before Apple dominated the smartphone market, BlackBerry was the brand to beat. Unfortunately for BlackBerry, Apple eventually took the reins and never handed them back.
Many earlier investors had the opportunity to make out like bandits.
"Shares of Apple were priced at a split adjusted 25 cents back in 2002. They've now traded for as much as $180 … that's a gain of 72,000%."
King's graph illustrates a similar trend that we saw with Google and Facebook.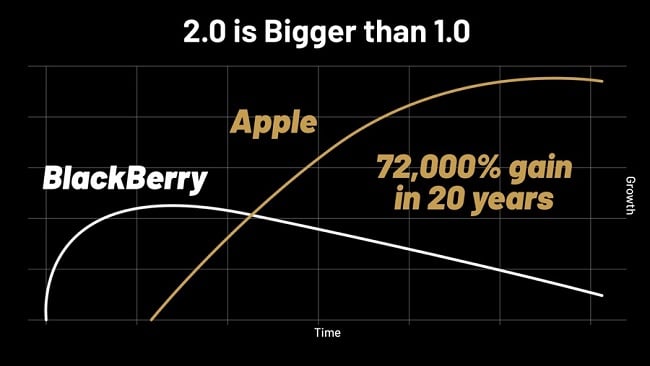 These gains are absurd but understandable in hindsight.
Ian King makes a strong case for the Next Gen Effect. But how does this apply to crypto?
Keep reading for the full scoop.
Bitcoin: The 1.0 of Crypto
Currently, Bitcoin comfortably sits at the top of the food chain. What's more, its meteoric rise gave cryptocurrency a sense of legitimacy.
Bitcoin's performance even determines the price of many other coins. So if Bitcoin drops, the whole market could dip.
While Bitcoin was the first big name on the blockchain, King doubts it has the necessary ingredients to stay at the top forever.
Here's what he has to say:
"Bitcoin was the early mover. It is the 1.0 version of crypto. And while it may still have some room to go up, make no doubt … the better bet is the 2.0 version. This Next Gen Crypto is about to dominate."
In short, King believes that the Next Gen Effect will come for Bitcoin. And when it does, he predicts that crypto 2.0 will take the throne.
He's mum about the identity of the coin. However, King does offer some insights into why he is bullish on this opportunity.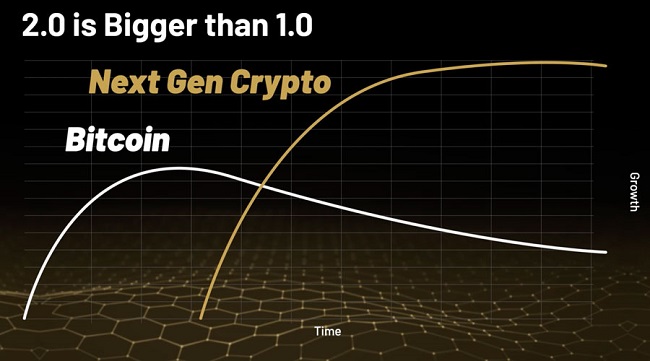 Ian King's Case for the Next Gen Coin
In the latest presentation, Ian King lays out his case for why he thinks folks should be looking into his Next Gen Coin.
First, let's take a look at the industry.
Crypto and Global Finance
Ian believes that cryptocurrency occupies a unique space in the world of finance that positions it for absurd growth.
Some industries that have seen substantial growth over the years include 5G, artificial intelligence, and electric vehicles.
The market worth of these industries pales in comparison to global finance — a space where crypto is uniquely capable of capturing.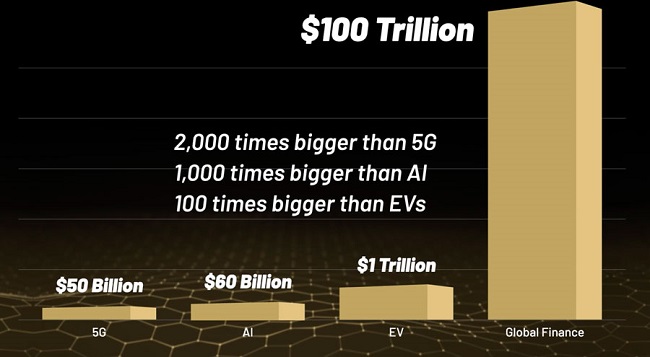 When looking at figures like this, it's easy to understand why Ian believes crypto and, more importantly, his coin could be sent soaring down the road.
We know how Ian feels about the Next Gen Crypto, but who else is looking into this coin?
Smart Money Is in on the Secret
Another point that Ian drives home is that he's not the only one in the know about this crypto. He says that institutional and smart money is scooping up his coin.
Some names that King drops are:
JP Morgan

UBS

Ark Invest

Mastercard and more
Here are some more examples of institutional money…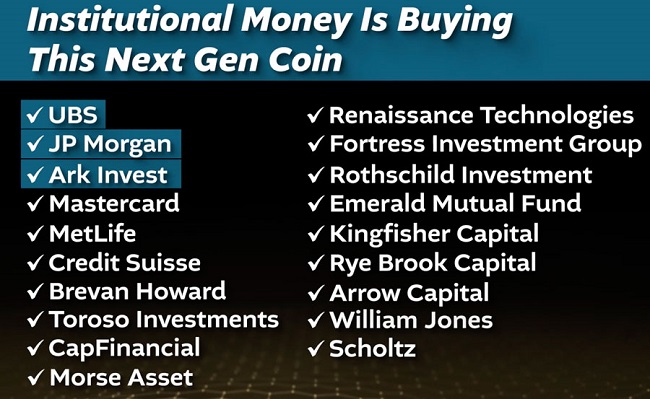 If this wasn't enough, King also mentions that some of the world's wealthiest are holding positions in this crypto, including Mark Cuban and Elon Musk.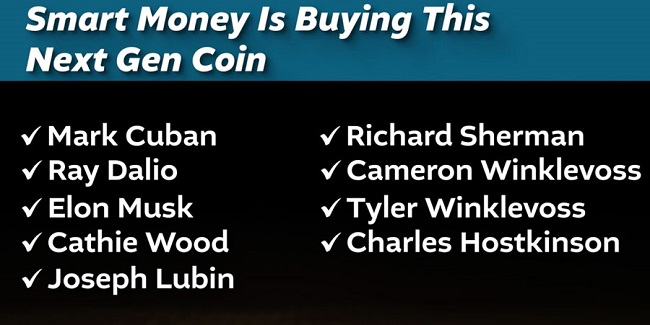 Institutional and smart money throwing their hat in the ring isn't a guarantee that this coin will see a spike in price. However, King says that if they shift just 2% of their money into the crypto market in general, this crypto could "soar."
More insights like this are available with a Strategic Fortunes subscription. Follow along to find out everything you get under the Next Gen Coin deal.
>> Sold on Next Gen Crypto? Sign up HERE <<

What Is Strategic Fortunes?
Strategic Fortunes is an investment newsletter focused on uncovering big trends before the rest of the market catches on. It's led by Ian King and published by Banyan Hill.
This newsletter service offers monthly trade ideas, bonus reports, a model portfolio, and more.
Strategic Fortunes typically recommends mid-cap companies with a proven track record. However, the team does not deal in tech behemoths.
Here's Strategic Fortunes' investment philosophy in Ian's own words:
Now, we are staying away from household names — like Amazon and Google — that shifted the market back in the early 2000s. Those trades are too crowded!
As lead editor, Ian King uncovers what he refers to as "tipping point trends." These are massive developments, typically in tech, with the potential to reshape an industry.
Some examples of a tipping point trend include 5G and artificial technology.
Given Ian's fascination with revolutionary tech, it makes sense that he's zeroing in on crypto. This is still a relatively new technology that's steadily integrating into a variety of industries.
>> Get 12 months of Strategic Fortunes <<

What Is Banyan Hill Publishing?
Banyan Hill Publishing is a research publisher behind many solid investment newsletters. Founded in 1998, the team has delivered market analysis for over two decades.
In its early years, Banyan focused on global strategies to protect and grow wealth. Some strategies included asset protection trusts, private foundations, international business corporations, and more.
The publisher later dialed in its focus in 2016 to US-based investment opportunities.
Today, Banyan is known for its research into commodities, income plays, and natural resources. Its team typically focuses on small and mid-cap stocks.
Some of its newsletters take a different approach, though.
Ian King's Strategic Fortunes crypto research is a bit of a departure from the rest of Banyan's lineup. He taps into disruptive tech stocks and cryptos with potential.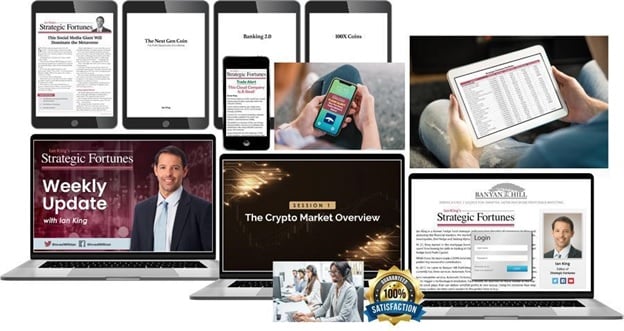 What Comes with Strategic Fortunes: Next Gen Coin?
Ian King's Next Gen Coin bundle offers members some exceptional features, and I'll cover them in detail.
Keep reading for the full breakdown.
Strategic Fortunes Newsletter
Strategic Fortunes is the centerpiece of the package and will be members' go-to for King's latest market analysis.
Each month, the team delivers an eight-page report that details a new trade idea vetted by King.
This report includes the ticker, price, as well as supporting analysis.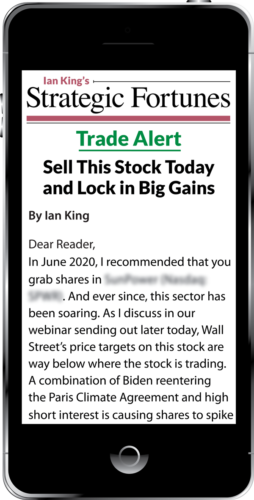 Weekly Updates and Trade Alerts
Ian King doesn't leave members hanging after delivering his monthly trade idea.
The team will keep members in the know with the latest market-moving news and analysis.
The weekly updates are ten-minute videos that keep members up to speed with the newsletter's open positions. It's a great addition for folks on the go who don't have the time to scour the web for news that could affect an investment.
Ian and the team fill you in on all the details, so you can go about your day.
The trade alerts are push alerts that let members know when the team spots an opportune time to enter or exit a position.
>> Stay up to date with regular alerts <<
Model Portfolio
Strategic Fortunes' model portfolio tracks all the services' open recommendations. It includes the stock ticker, price targets, and more.
If you're looking for a bulk of open positions to check out, you might want to start your search here. You can scan through the list and pinpoint positions that could fit well within your own portfolio.
There's a blend of disruptive stocks and cryptos to choose from.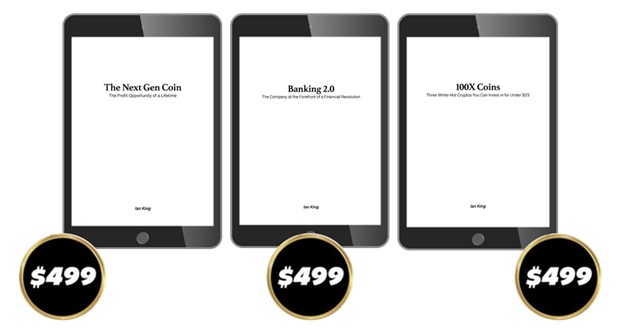 Bonus Reports
Members who sign up under Ian King's Next Gen Coin deal can access a range of additional investing insights.
If you're here for the crypto picks, these bonus reports deliver extensive analysis of blockchain opportunities that King is especially bullish about.
The Next-Gen Coin

– Ian King reveals a cryptocurrency he believes could rocket up in value over the next decade. In fact, he says it could become 20X bigger than Bitcoin.

100X Coins

– King uncovers three under-the-radar coins that he believes could yield 100X returns. The

Strategic Fortunes

team refers to these coins as the Google of Crypto, the Amazon of Crypto, and the Metaverse Coin.

Banking 2.0

– The final report spotlights one company King believes could disrupt the entire banking industry. This mystery opportunity is developing new ways to make crypto even more accessible to the general public.
There is a great deal of value in these bonus reports. Along with Ian King's monthly recommendations, you also get five more high-quality investment ideas.
>> Tap into the team's bonus reports <<
Crypto 101 Video Series
The Crypto 101 video series offers a primer for investing in the blockchain.
This series teaches the basics, including how to open an account and make your first trade.
It is definitely worth checking out if you are new to crypto. That said, folks with more experience could skip over it and focus directly on the trade ideas.
I appreciate that the team provides a service that caters to a variety of experience levels.
Customer Care Team
Strategic Fortunes' memberships also offer premium customer support.
The team is available to answer any questions about the service and membership.
Best of all, they offer phone support. Many services are phasing out phones, so it's a nice touch to see King favoring a more personalized approach.
365-Day Money-Back Guarantee
Under Ian King's Next Gen Crypto deal, new Strategic Fortunes memberships are backed by a comprehensive 365-day money-back guarantee.
This means you have an entire year to test out the service to decide if it is right for you. The industry standard is about one month, which puts this refund policy leagues ahead of many competitors.
Ian's money-back guarantee is just one more example of the lengths he's willing to go to provide a top-tier service to members.
It also shows that the Strategic Fortunes team and Banyan Hill stand by their work.
Even if you decide that the service isn't a good fit, you could pick up several worthwhile tips from Ian.
>> Take advantage of the 365-day guarantee <<
Ian King's Past Performance
Ian King has a strong history of pinpointing opportunities on the blockchain.
Let's take a look at some of his home runs.
Back in May 2020, Ian recommended Binance when it was trading at just $17 bucks a pop.
Less than a year later, someone could have sold out of the same position for about $200 a coin. This translates to a whopping 1,061% opportunity.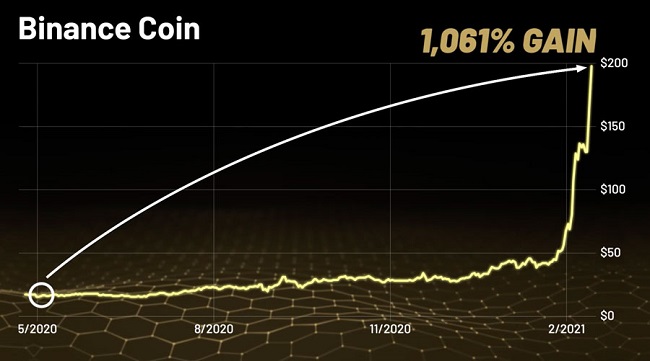 This is impressive, but Ian has uncovered many more cryptos that have grown in value after his initial call.
Next up is Solana.
King recommended Solana at $2 in December 2020.
He recommended selling half the position for an opportunity at a 1,900% gain. The coin continued to soar and even reached heights of a 15,000% increase.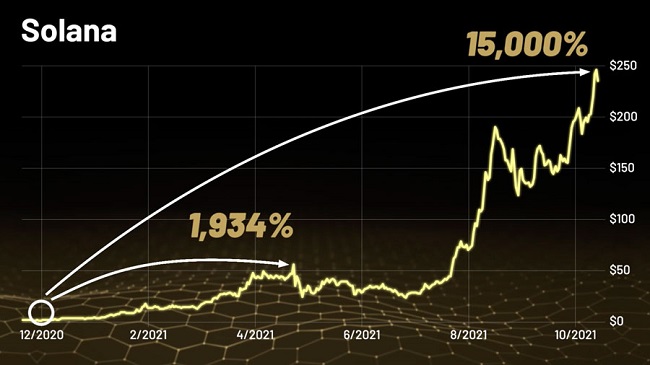 Let's check out the last coin on the list, Luna.
King recommended a position in Luna in December 2020 at 48 cents a coin.
The coin's price skyrocketed by 3,981% in about four months. Ian then recommended selling half of the position at $19.
Later on, Luna shot up to an impressive 18,325%.
These are just some examples that demonstrate King's uncanny foresight on the blockchain.
Keep in mind, however, that past performance is not an indicator of future performance, and these results may not be typical.
>> Check out King's latest recommendation <<
Pros and Cons of the Next Gen Coin
The Next Gen Coin deal has a lot going for it. But there are some rough edges to keep in mind.
Here's what I found.
Pros
Stock and crypto recommendations

365-day money-back guarantee

Four premium special reports

Substantial introductory discount
Cons
No community forums

Cryptos are risky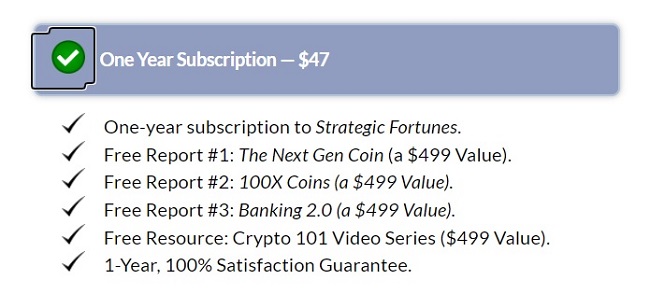 Ian King Next Gen Coin Package Pricing
A one-year subscription to Strategic Fortunes typically costs $199. However, new members signing up under the Ian King Next Gen Coin deal can pick up a subscription for just $47 (about 12 cents a day).
This is a whopping 75% discount, and it includes everything mentioned in this review. There's no trade-off when opting for the discount.
It's important to note that this is an introductory deal. The next renewal price is $79 per year.
If you decide to continue your Strategic Fortunes subscription, your rate will be locked in at $79. This means that you will pay the same amount even if there is a price increase for new members down the road.
Final Thoughts
Ian King makes a compelling case for his Next Gen Crypto. And this deal provides even more insights into the blockchain and stock market.
Crypto is a higher-risk play than most assets, so I appreciate that King looks to balance out his portfolio with more traditional plays in stocks.
There's a lot to like about the latest deal. Members get monthly trade ideas, bonus reports, and more.
The bundle also includes the Crypto 101 video series. This could be great for beginners looking to get up to speed on the blockchain.
Even better, all of these features are currently offered at a 75% discount on the sticker price.
I recommend giving Next Gen Crypto a close look if you're searching for a solid combo of stock and crypto picks.
>> That's it for my Next Gen Coin review. Get 75% off your first year! <<