Stock traders need knowledge about the market to develop and implement a trading strategy that generates profit in the long term. Learn Plan Profit is a trading course explicitly designed to teach traders how to find success on the stock market.
While many other sites offer the tools traders need to be successful, they can't help if you are lacking basic information about trading, especially day and swing trading.
This is where Learn Plan Profit sets itself apart from other trading courses.
The Stock Dork recently took the class and is here to share what the course has to offer and if it's a quality investment in this Learn Plan Profit review.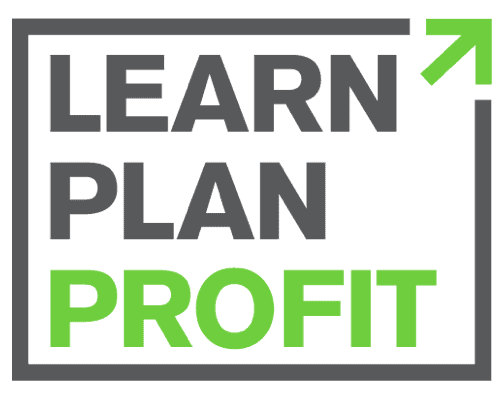 Learn Plan Profit Review: Overview
Learn Plan Profit is an online trading course created and hosted by Ricky Gutierrez.
It starts with trading basics before expanding in a beginner-friendly manner that even the newest trader can wrap their head around.
Even better, the course has a one-time fee with no secret upsells or hidden agendas once you unlock the base package.
This is a relief for many traders who have taken "investment courses" that end up being a long-winded pitch for other services.
That single fee contains everything a new trader should need to start working their way to a successful stock strategy.
The course material includes topics such as:
How to succeed at day trading
Beginner, intermediate, and advanced trading principles
Technical analysis and risk management
Understanding technical indicators, such as support and resistance
Golden rules for maximizing profits
Many more trading concepts
But is the course worth it? Read on to learn more.
Ricky Gutierrez Review
The brain behind the Learn Plan Profit trading course is Ricky Gutierrez, a young swing and day trader from Gilbert, Arizona, who has found success in real estate, flipping cars, and trading.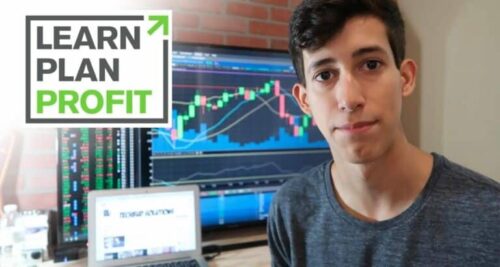 With a wide range of success in multiple niches, Ricky has established himself as a reliable reservoir of insight for aspiring day and swing traders.
He garnered fame by posting videos of himself sharing his knowledge on his free YouTube channel.
And Ricky's youtube videos draw a very large audience from all over.
Ricky Gutierrez has nearly one million subscribers on that channel, over 300,000 on his Facebook group page, and 180,000 followers on Instagram.
Accessible Youtube Videos for New Traders
Each video lesson on his YouTube channel is packed with valuable insights for new traders looking to get into day trading.
By guiding new traders, Ricky has established himself as an expert with proven experience in helping others to develop actionable trading strategies.
Today, Ricky claims to be the "youngest millionaire in Gilbert, Arizona".
The successful entrepreneur has taken his knowledge of the stock market to the next level by creating courses to help beginners learn the basic trading principles needed to start investing.
Exclusive: Stock Dork readers can get 20% off of Learn Plan Profit by using code STOCKDORK at checkout!
>> Already sold on Learn Plan Profit? Click HERE to sign up for the course TODAY! <<
Learn Plan Profit Review: What's Included?
Traders will discover that there's quite a bit under the hood of the Learn Plan Profit course. Let's take a look at everything included in the course fee: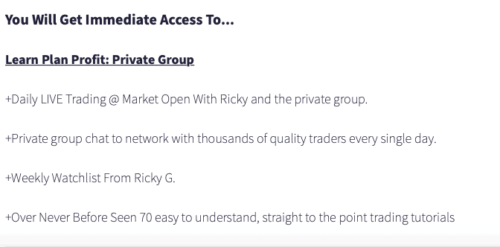 Course lesson library
Private group
Daily live trading
Weekly watchlist
Learn Plan Profit Review: Course Lesson Library
It goes without saying that purchasing the Learn Plan Profit course gives a trader access to every module.
Not only do traders get the current course, but they will also automatically receive any future updates.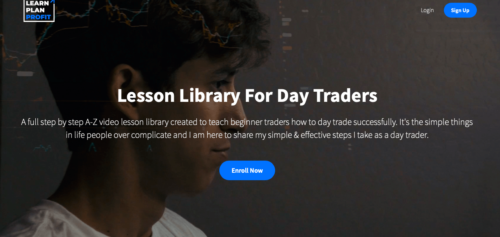 The course material is extensive, and lessons currently cover 36 topics showcasing over 10 hours of content.
What's more, Ricky specializes in a variety of niches, which can appeal to a wide range of aspiring investors.
Learn Plan Profit Review: Private Group Chat
Enrolling in the trading course also gives traders access to Ricky's private group chat room.
In this chat space, subscribers can network with all the other traders who have joined the course.
This is a great way for newcomers to familiarize themselves with trading concepts in a stress-free environment reinforced by community support.
The chat hosts thousands of quality traders during any given stock trading day.
So it's a great place to absorb some knowledge, gain actionable insights, and develop trading strategies.
Ricky uses the chat to host a daily question and answer session where a trader can ask about all things swing trading and day trading.
There's a video in the curriculum that explains how to access the private chat room.
Learn Plan Profit Review: Daily Live Trading
Signing up for the course also grants users access to Ricky's daily live trading stream.
It's here that a day trader can catch Ricky Gutierrez in action as he shares his screen with the private group.
During the stream, he reveals his strategies as he trades.
Ricky explains investment opportunities that he is pursuing for the day, so you can see his thought process develop in real-time.
Many users appreciate the lengths that Ricky goes to communicate with students of the course, as it shows he is truly committed to playing an active role in their growth as traders.
This approach is very different from many other trading courses that only include learning models without any engagement from its instructor.
Learn Plan Profit Review: Weekly Watchlist
In addition to all of the above, Ricky provides a weekly watchlist of stocks as well as actionable trading insights.
This list of stocks can be a great starting point for beginner traders or a place for more experienced traders to put together a new trade strategy.
It's also a great tool for an all-encompassing course that supports new traders as they advance to higher levels of competency.
>> Like all that Learn Plan Profit has to offer? Click HERE to get the course NOW! <<
Learn Plan Profit Review: Learn Plan Profit Course Highlights
The Learn Plan Profit course features five different modules full of lessons on the mechanics and best practices of trading stocks.
Each module serves a specific theme designed to teach beginner traders how to get ahead on the stock market.
The course pacing is constructed to seamlessly drip feed more advanced lessons and supports a trader's gradual shift from novice to expert level swing trading concepts.
Learn Plan Profit Review: Module 1: Introduction
Ricky's course begins with information on how to join the private trading group chat and when Q&A sessions and streams are held.
It's also here that a trader will find excel files to track trades and an affiliate link should they have friends who want to join as well.
The rest of the Introduction module contains over five hours of material, starting with two hours of videos on the basics of trading.
The basics cover topics such as the PDT rule, risk management, and cutting losses.
Ricky moves from there into the mechanics of trading, where each video outlines specific swing trade strategies.
The remainder of the introduction covers the indicators that Ricky uses to see profits when he trades.
New to Trading? No Problem
This module and access to the trading group make for a strong introduction to the world of day trading.
With basic trading information out of the way, Ricky spends the last 45 minutes of the Introduction helping beginners develop a mindset that will help them survive the bumps and bruises that ultimately come with day trading and swing trading.
Module 1 is the perfect place for a beginner day trader to learn the basics of stock trading.
Some lessons may appear a bit simplistic, but the information contained within is ideal for those looking to day trade successfully.
Learn Plan Profit Review: Module 2: Chart Studies and Techniques
In the second section of Ricky's course, he dives into a lot more of the advanced day trading topics.
With the groundwork laid out in the first module, beginner traders can use the advanced topics of module 2 to build upon their budding trading strategy.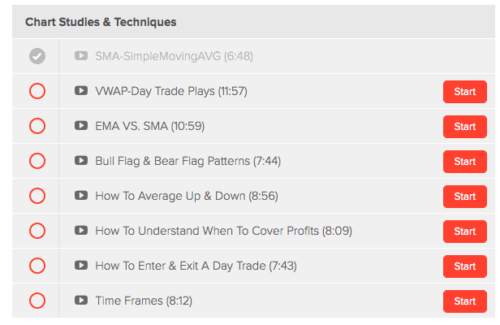 In this module, Ricky explains the technical indicators he uses to locate good stocks to trade without having to wait on news reports.
He provides a technical analysis of topics such as EMA, SMA, averages, and even how to enter and exit a day trade.
At the end of this section, Ricky talks about time frames and how many beginner traders get tripped up on knowing which types of time frames to use.
The tools in this section are not only designed to educate but also to save traders money from costly mistakes in the long term.
Learn Plan Profit Review: Module 3: TD Ameritrade
Module 3 contains two videos where Ricky talks about his preferred broker; and he takes the time to explain why he chose TD Ameritrade, his trade setups, and even the hotkeys he uses to make money.
Learn Plan Profit Review: Module 4: Swing Trading
It should come as no surprise that each video lesson in this section covers some aspects of swing trading.

Ricky first shares how to scan the market for the best swing stocks before outlining his six golden rules for maximizing profits as a swing trader.
Ricky also reveals his trade setups and personal tips that have made him so successful.
He also explains the ideal swing trade, where to find it, and when to buy.
Learn Plan Profit Review: Module 5: ETFs
An ETF, or Exchange Traded Fund, is essentially a group of similar stocks that can be traded together.
An ETF typically covers a particular market or a specific sector such as tech and oil.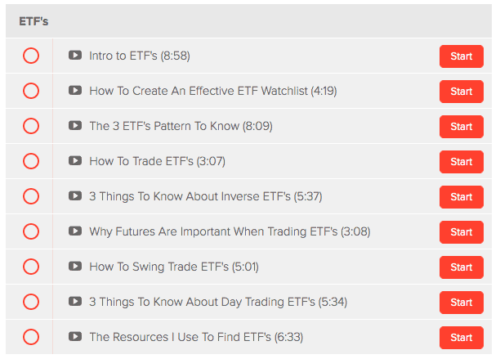 Ricky takes the time to explain how ETF trading is different from stock trading.
Furthermore, the videos in this section of the course teach how to find the best ETFs and how to trade them.
While ETFs may be foreign to new traders, Ricky does an excellent job of explaining their benefits and how to watch for them.
He goes on to show how to trade ETFs effectively in both day trading and swing trading.
>> Ready to learn all about trading with Learn Plan Profit? Click HERE to get started today! <<
Learn Plan Profit Review: How Much Does It Cost?
The Learn Plan Profit trading course costs $299 to join, which can turn some investors away, but there is quite a lot of value packed in these trading courses to consider.
While Learn Plan Profit pricing may seem a lot of money, the one-time fee gives lifetime access to all the lessons the course offers as well as any updates.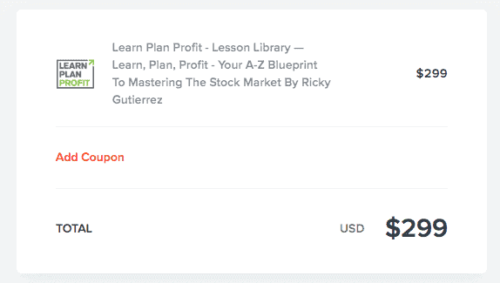 Thankfully, there's nothing in the course to try to upsell traders to other trading courses or other secret features.
Buying Learn Plan Profit is touted as the end-all for learning the mechanics of swing and day trading.
Best of all, you can plug in our special code STOCKDORK when you sign up to grab 20% off that $299 price tag.
Cancellation Policy
Learn Plan Profit makes it explicitly clear that there are no refunds under any circumstance for the course.
It's not uncommon for courses to have no refunds, and this means the user keeps forever access to the chat room, live streams, and any future course updates.
Learn Plan Profit Review: Trading Track Record
Ricky Gutierrez is relatively new to the trading world, but he has not been shy about sharing his successes and trading strategies with aspiring investors.
His Learn Plan Profit program lays out many of the tools that Ricky uses to continue finding big wins on the stock market.
Ricky goes so far as to stream his trading sessions so traders can see first-hand when things work out, when they don't, and how he reacts to them.
With nearly a million followers on his free YouTube channel alone, Ricky seems to be doing something right to draw in such a crowd.
Learn Plan Profit Review: Pros and Cons
It's impressive that at $299, the day trading course is made available forever for anyone who signs up.
After checking out the course, here's what we feel are the pros and cons of the service:
Pros
The course offers good foundational material
Private chat and daily live streams
Weekly watchlists and well-recorded videos
Multiple topics from swing and day trading to ETFs
Explanations are simple and easy to follow
Ricky provides his setups for traders to use
Reasonable price point
Cons
Expert traders may not find a ton of value
Ricky Gutierrez is still a newer trader
Learn Plan Profit Review: Is It Worth It?
A $299 price tag can be daunting to some, but this one-time fee affords a lifetime of private chat and live streams in addition to permanent access to the course itself.
In the grand scheme of online courses, Learn Plan Profit actually sits at the lower end of the cost spectrum.
In fact, some platforms charge a similar amount of money just for access to a trader chat and watching live streams.
Education such as this has the potential to protect against losses and to bring in significant returns.
Other courses that cost $1,000 or more tend to focus solely on the more advanced topics and leave out the tools that benefit new traders.
After having gone through the material, we think that it is a course worth paying for.
Learn Plan Profit Review: Final Verdict
Learn Plan Profit really speaks to newer traders who want to get their feet wet in the world of stock trades, especially swing trading.
The course appears very comprehensive and even suitable for those who have never traded a stock in their life.
At the end of the day, the Learn Plan Profit course seems to best suit those who need to start at the foundation of trading and grow from there.
The course itself won't make you successful, but it provides the tools that may help you get there.
It's up to you to put in the work, and when you do, you're likely to see a vast improvement in your trading strategies.
Exclusive: Stock Dork readers can get 20% off of Learn Plan Profit by using code STOCKDORK at checkout!
>> Ready to get started with Learn Plan Profit? Just click HERE to get access NOW! <<