If you believe that reliable monthly income with instant payouts through options trading sounds like a far-fetched dream, then the Infinite Income Loop system from TradeSmith could be just the thing to change your mind.
This TradeSmith Infinite Income Loop review will walk you through everything you need to know about this innovative trading system, how it works, and whether it's worth diving into today.

What is Infinite Income Loop by TradeSmith?
Against today's economic uncertainty, we could all do with some supplemental income to help steady the ship. The only problem is that most available means to earn additional side income involve either boatloads of work, significant risk, or both.
TradeSmith's Infinite Income Loop intends to solve this problem.
From the pioneering mind of Keith Kaplan, this system engages a paradigm-busting algorithm to help you select profitable options trades with instant payouts and a success rate that's hard to believe.
>> Ready to get started? Join now to save 87%! <<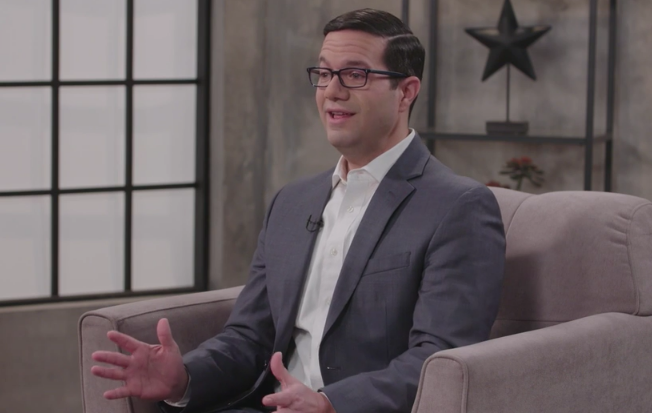 Who is Keith Kaplan?
It may seem outlandish to take investing advice from the former self-proclaimed "worst investor in the world." However, one might argue that Keith Kaplan's journey from struggling trader to viral investing sensation is precisely what makes him such an intriguing figure.
A few years ago, Kaplan, a former software engineer, found his family in dire straits financially. As a result, he committed to changing their entire financial picture through investing. However, he readily admits that he made many mistakes and lost a lot of money along the way.
Kaplan struggled to make reliable progress in investing until he tapped into his secret weapon: his software engineering expertise. In just a few years, he has excelled in integrating modern technology with advanced trading strategies. In so doing, he has managed to take the guesswork and emotional decisions out of the picture.
These strategies, some of which we'll discuss in this review, have brought Kaplan internet fame and a loyal following. He now serves as President and Chief Executive Officer at TradeSmith.
>> Join now to get the latest from Keith Kaplan <<

What is TradeSmith?
TradeSmith is a financial technology and research service founded by a brilliant mathematician.
This innovation-driven firm ambitiously aims to empower individual investors with the level of strategy, information, and technology that typically gives hedge funds and institutional investors the advantage.
Based in Maryland, TradeSmith is an advanced and disruptive company where thought-leading investors like Keith Kaplan can provide modern strategies to tilt the scales in favor of the individual investor.
The Infinite Income Loop System
Let's dive into the Infinite Income Loop system and how it works under the hood.
Overview
At its core, Infinite Income Loop is a system for making instant income trades using options. It sets out with the noble (if ambitious) goal of empowering individual investors with a no-frills approach to reliably successful options trading.
Fully aware of the high level of risk and complexity many investors associate with options, Kaplan has gone to painstaking lengths to take all the confusion and fog out of executing winning options trades while minimizing risk.
The system prioritizes trades that pay out instant cash to provide you with an income solution you can use to elevate your financial life in whatever way you see fit today.
>> Get instant access to Infinite Income Loop tools when you join now <<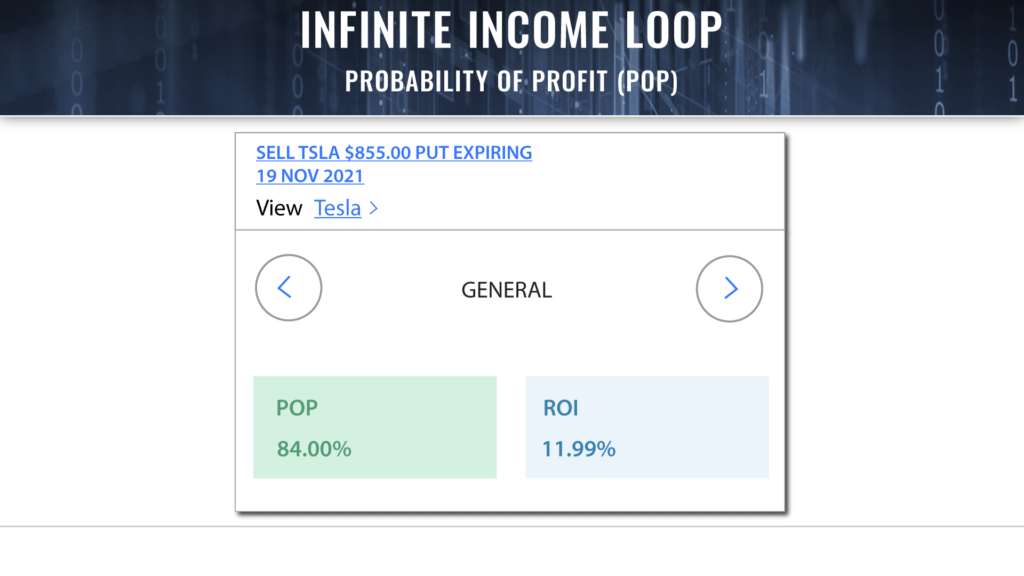 The Key to Winning Trades
The beating heart of this innovative system is the Infinite Income algorithm, which Kaplan developed to streamline the process of selecting high-potential trades.
The algorithm analyzes millions of data points covering shifting market conditions and investor psychology. Using this gigantic data set, the algorithm precisely predicts the maximum directional move of any stock, a metric it then applies to determine the likelihood of earning a profit on any income trade.
Kaplan has obsessively fine-tuned this algorithm to minimize risk and maximize the opportunity for profit. His software scours the markets 24/7, processing mountains of data to highlight ideal trading opportunities. This system uses the full power of modern computing to do all the exhausting work of poring over the information while eliminating the need to take high risks.
Every trade suggestion from Kaplan's system includes a POP (probability of profit) and ROI (return on investment) score, giving you the full transparency you need to make informed trade decisions before committing to them.
The Infinite Income algorithm further streamlines the process by aggressively narrowing down the trade suggestions. Each month, it will suggest only three trades, all with a POP score above 80%. These trades are carefully selected to have the highest probability and margin of profit in your instant income trades.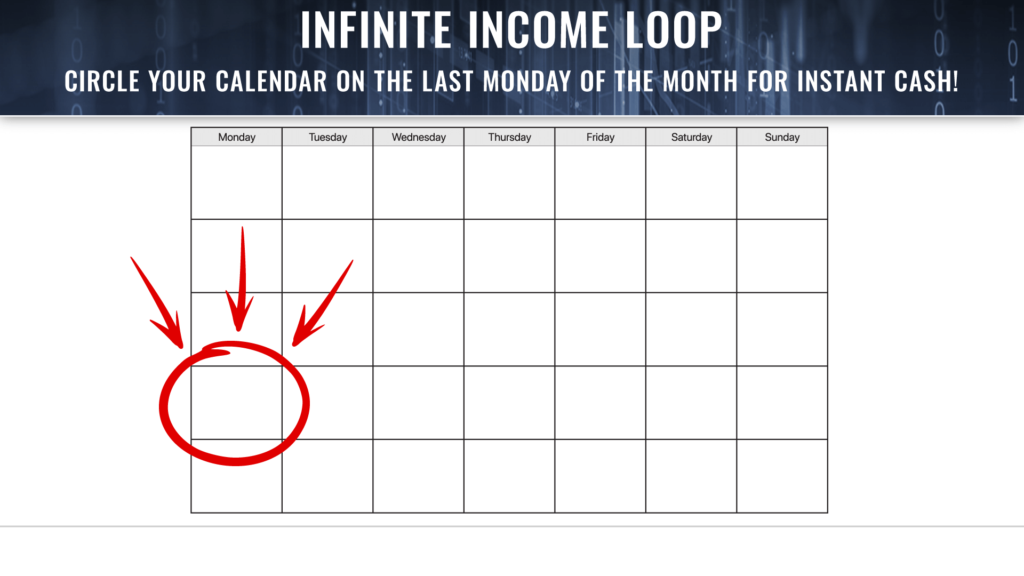 Getting Started
Ever the software engineer, Kaplan has aggressively optimized this system for speed and simplicity in several ways. That includes how efficiently his system processes data, streamlines its output, and emphasizes lightning-fast instant income payouts. It also applies to how quick and easy he has made it to jump in and get up and running with this system as a beginner.
Kaplan and TradeSmith have bundled the Infinite Income Loop program with several valuable resources and guides to help any investor hit the ground running with these killer trade opportunities. Let's take a closer look at those resources below.
>> Sign up for Infinite Income Loop now to save 87% for LIFE! <<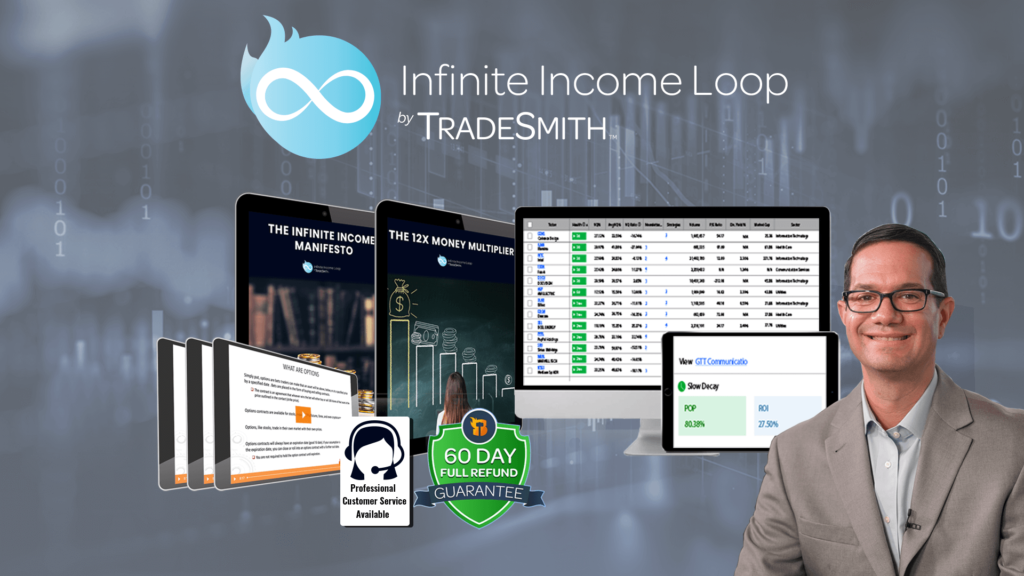 What's Included with Infinite Income Loop by TradeSmith?
One-year access to the Infinite Income Loop system
The Infinite Income Manifesto special report
The 12X Money Multiplier special report
QuickStart Video Training Series
Weekly Trade Updates
Virtual Portal
Lifetime discount
60-Day satisfaction guarantee
Infinite Income Loop System
To start with, enrollment includes 12 months of unlimited access to the Infinite Income Loop trading system. That means monthly updates with the top three instant income trades identified by Kaplan's cutting-edge system. You will also receive a full breakdown of every trade, including its POP and ROI score, along with detailed trade instructions.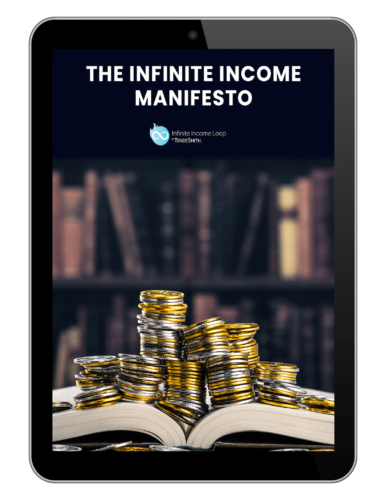 The Infinite Income Manifesto
A new tool without a manual is of no use at all. The Infinite Income Manifesto is an in-depth yet accessible guide to every aspect of the trading system. It will give you all the tools, terminology, and background you need to get up and running, potentially earning up to $2,880 in additional monthly income.
This thorough guide continues the trend of the Infinite Income Loop system at large, bridging the gap between Kaplan's highly advanced trading algorithm and simple practices anyone can use to make money.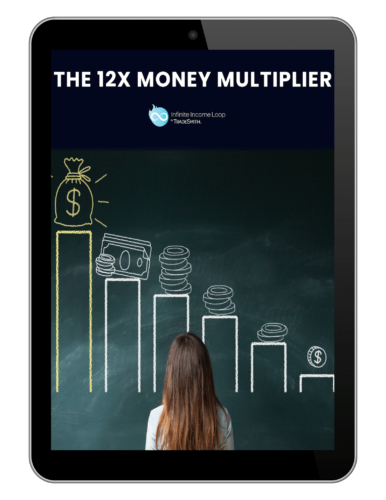 The 12X Money Multiplier
If all this talk of hundreds of dollars in instant cash payouts somehow sounds less than thrilling to you, then The 12X Money Multiplier may be just the thing for you. This report, a $99 value, reveals a strategy that may help you multiply the cash you pull out of your trades by a full 12 times. Moreover, you can start implementing this strategy right away as an even more powerful lever on your trades using the Infinite Income Loop system.
>> Get both bonus reports and save 87% when you sign up now <<
QuickStart Video Training Series
Kaplan and TradeSmith are so enthusiastic about this system that they want to make it as accessible as possible to every type of learner. The training videos in the quickstart series offer everything you need to get up and running with the Infinite Income Loop. In the videos, you'll get a crash course in the program, including:
Risk management techniques
Options trading basics and the different types of options
How to use the system and execute your instant payout trades
With the resources in this quickstart series, you'll not only build proficiency using Kaplan's system but also start developing the skillset to identify and make profitable trades on your own.
Weekly Trade Updates
An informed investor is a powerful investor.
As a subscriber, TradeSmith will email you valuable weekly updates and trading information, including insights on individual trades, precise profitability reports, and upcoming trade exits.
Virtual Portal
Members of the program also gain around-the-clock access to the TradeSmith Finance online portal. Here, they can view open trades and access performance data on all past and present trades.
Lifetime Discount
Perhaps the most prominent value proposition of the present deal TradeSmith is offering is the lifetime discount. The firm is currently offering a shocking 87% discount on enrollment in the Infinite Income Loop system, which we'll discuss more below.
The best part? Anyone who opts in while this promotion lasts will lock in that incredibly low price for life. Regardless of how high the cost of annual membership in the program becomes in the future, those who secure today's deal will retain their discount of nearly 90% off for the entire time they continue to participate.
>> Join now to lock in your lifetime discount! <<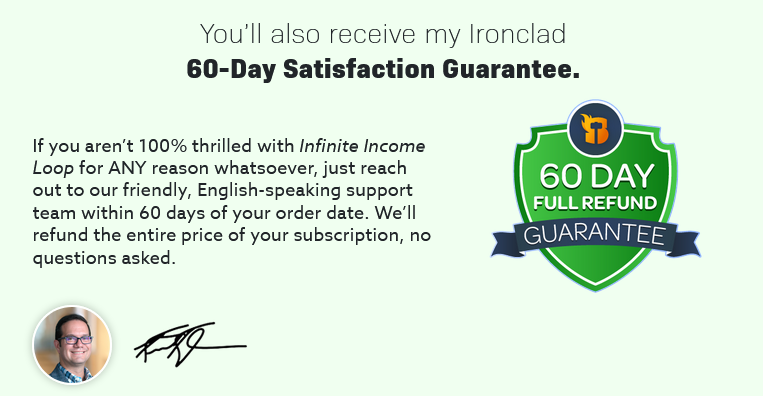 60-Day Satisfaction Guarantee
Not sure if you're ready to commit? TradeSmith has you covered. They are so confident in Kaplan's advanced system's success that they offer a 60-day satisfaction guarantee. If within that time, you find yourself dissatisfied with the program for any reason, you can reach out to their support team to receive a cash refund for the total subscription price.
Pros and Cons of Infinite Income Loop
Pros
Potential to earn monthly instant cash payouts – no waiting periods or delays
Cutting-edge risk management and trade-selecting technology
Minimal time investment – just minutes per month
A bevy of valuable extras included with the program
The advanced trading algorithm does all the heavy lifting for you to select the best trades
Cons
No community forums or chats
Options trading may initially be intimidating to some
>> Take advantage of thiese great benefits and more when you sign up now <<

Is Infinite Income Loop Legit?
The potential for nearly $3,000 a month in simple, reliable investment income may sound so enticing an offer as to be hard to believe. One could hardly fault you for a bit of skepticism, particularly when the system focuses on options trading, which has a reputation for high-risk investments.
Fortunately for us, someone as data-obsessed as Keith Kaplan doesn't show up without the facts to back up his claims.
For starters, Kaplan himself has been personally using this strategy for years — staking his own family's wealth on the success of his system. By his account, he has used it to transform his financial life completely.
>> Get started now to join these satisfied members <<
Historical trade data combined with extensive backtesting have found this strategy to have an astounding win rate between 90% and 100%.
We also don't have to take it from Kaplan alone. In this interview, he shares verified feedback from several of his tens of thousands of avid followers. In these accounts, users of the strategy share their fantastic results with the program. Some subscribers managed to earn six or even seven figures in under a year of using the process.
How Much is Infinite Income Loop?
Usually, enrollment in the Infinite Income Loop program costs $599 for one full year of access. However, as we mentioned above, you may be able to grab it at an incredible discount.
At the time of this writing, TradeSmith is offering a stunning 87% off the regular price, down to just $79. And remember, with the lifetime discount guarantee, anyone who signs up at that $79 rate for their first year will be able to lock in that same annual price for as long as they remain members, even if the standard rate increases to $699 or $999.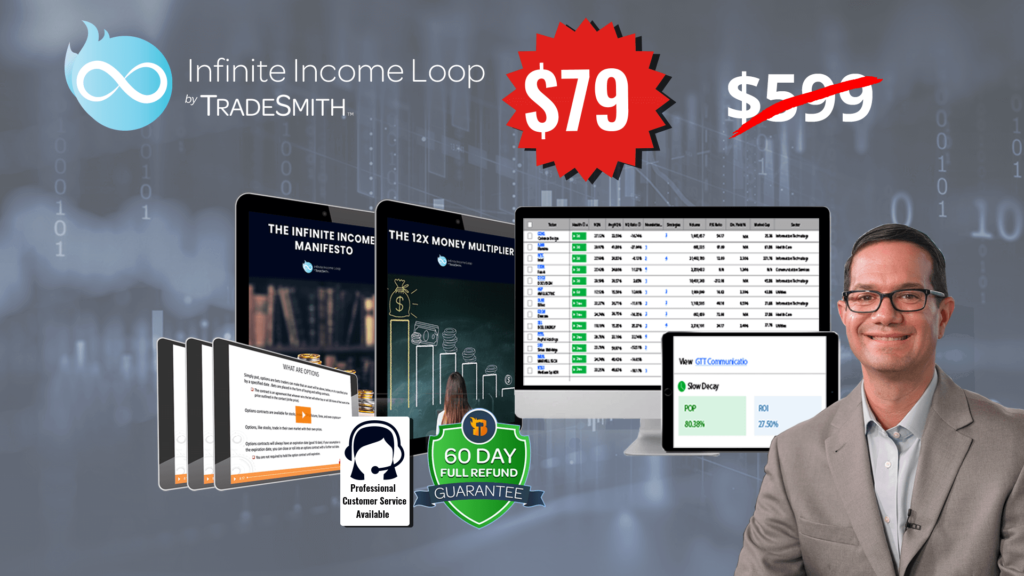 Is Infinite Income Loop Worth It?
At $599, Infinite Income Loop is an impressive deal. With a target estimated profit of a few hundred dollars per trade, an entire year of membership could pay for itself in just a single month of successful trading. That's not to mention the nearly $700 worth of included extras and training materials.
On the other hand, $79, locked in as a lifetime discount, is practically a steal for all the value included in this bundle. At that rate, a single winning trade could instantly pay for several years of membership in the program. If you're looking to start earning steady income to supplement your monthly budget, you can't go wrong with Infinite Income Loop by TradeSmith.
>> Join Infinite Income Loop Now to Save 87% and Lock In Your Lifetime Discount <<