Luke Lango claims that a breakout investment opportunity in automotives could be right around the corner. But is he really on to something? Check out my Innovation Investor review to find out.
What Is Innovation Investor?
Innovation Investor is an investment newsletter packed with monthly stock picks, a model portfolio, and a slew of bonus reports. It's led by Luke Lango and InvestorPlace Media.
As the name suggests, the newsletter targets innovative companies at the earliest phases of their growth.
And this strategy helps subscribers capitalize on tech companies that could have tremendous upside potential.
Recommendations include opportunities on the blockchain, autonomous vehicles, and even supercomputing.
The newsletter's investing profile ranges from moderate to aggressive. It also focuses on mid to large-cap stocks.
Though, some small-cap stocks may be recommended as well — especially if the team believes there could be something big on the horizon.
All in all, there is some good variety here.
>> Sound like a good fit? Sign up and save 75% HERE<<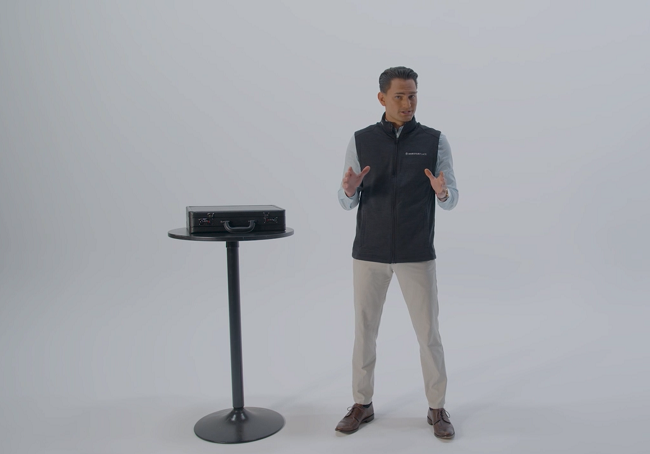 Who Is Luke Lango?
Luke Lango is a great analyst with a reputation for stellar stock-picking skills.
As a growth-focused equities investor, his niche is dialing in on megatrends.
InvestorPlace also tapped him to take on the role of senior investment analyst. Given the publisher's prestige, this is quite a compliment.
In 2020, TipRanks, a community of more than 15,000 investing experts, named Luke their "#1 Stock Picker" for the year. This was a noteworthy accomplishment, but it's just one small part of his lengthy stock market track record.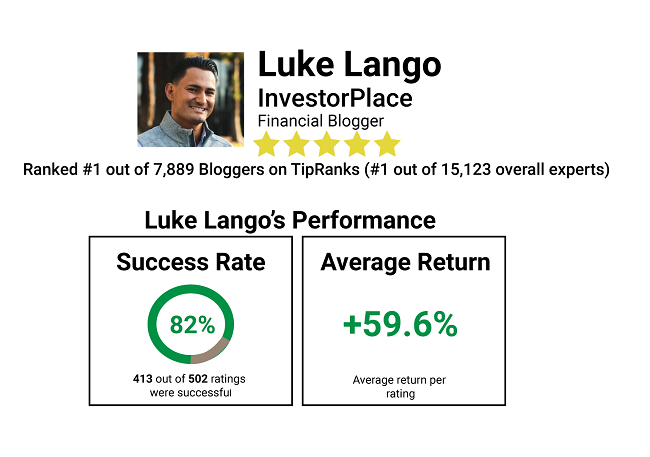 He also has extensive experience as a venture capitalist and developed a vast network of Silicon Valley contacts over the years.
This gives him a direct line to many of the deals going on in the startup world.
Track Record
Over the years, Luke has shown a knack for hitting home runs in the stock market.
Let's look at some of his past picks.
Here's Advanced Micro Devices (AMD), which produced the opportunity for a gain as high as 6,149% following his recommendation.
Another one of his most notable picks is NIO, a China-based EV stock, which soared to a 3,353% gain after he made his call.
Luke also recommended Chegg, a remote learning stock that gave his followers a chance at gains as large as 2,554% in just a few months.
That's only a small sampling of his winning picks, but you get the idea.
He's a highly rated guru for a reason.
It's important to remember, however, that past permanence is not an indicator of future results.
>> Get Luke's latest recommendations <<
Project Titan Prospectus: The Apple Car Supplier
In the latest presentation for Innovation Investor, the team reveals its research into what has the potential to be the most extraordinary growth opportunity of the decade.
It's no secret that Apple has been one of the most successful companies of the past thirty years, but few realize the company has yet to roll out its most promising project.
In fact, Luke says Apple has already spent billions developing this groundbreaking technology.
Apple calls it Project Titan Prospectus, and it could be the biggest thing to come out of the company since the first iPhone.
Project Titan is the internal code name for Apple's efforts to develop an electric vehicle, AKA the Apple Car.
The project has been in development since Steve Jobs was still leading Apple, and it's inching closer and closer to a working prototype.
So far, Luke estimates that Apple has spent billions of dollars developing its groundbreaking electric vehicle, but that massive investment could be small potatoes compared to the potential payoffs at stake.
Just like the iPhone before it, the Apple car could bring EVs into the mainstream and spark a massive growth rush for the EV sector as a whole.
Growth Outlook
The Apple Car could be the key to a massive, $46 trillion megatrend that could "rip through the whole economy," according to a quote from Bloomberg.
Apple hopes Project Titan will propel them to the top spot in the emerging EV industry, which is still ripe for the taking.
Over the years, leading EV makers like Tesla and NIO have seen massive gains, and many people feel like they've missed out on the EV boom.
However, that couldn't be further from the truth. Despite the hype and the billions pouring into the sector, EVs only represent 4% of the overall vehicle market.
Forbes says the industry is ripe for disruption, and the Apple Car could be the key to the next phase of industry-wide growth.
However, Luke says buying shares of Apple is NOT the best way to play this explosive trend. Instead, he has pinpointed a small, under-the-radar stock that could be the Apple Car's biggest beneficiary.
>> Tap into the Project Titan opportunity HERE <<
What Comes with the Service?
The service provides a complete suite of market analysis and trade ideas.
Read on to find out everything you get with the latest package.

Annual Subscription to Innovation Investor
The monthly newsletter is your direct line to the team's latest trade ideas and analysis.
Each issue offers one stock recommendation, supporting research, and market commentary.
The team specifically targets under-the-radar growth stocks, so members could be among the first to discover up-and-coming opportunities.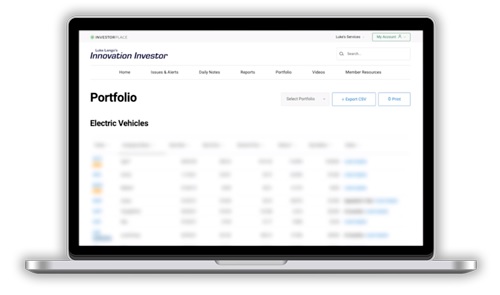 Model Portfolio
Like most research services, Innovation Investor maintains a model portfolio so subscribers can follow along with the latest picks.
The model portfolio looks similar to the investing dashboard at your broker. It includes a list of stocks, their price, current recommendation, lifetime gains/losses, and more.
This is the perfect place to get a bird's-eye view of every stock recommendation.
It's not a particularly unique feature, but the dashboard is functional and user-friendly.
All in all, the Innovation Investor portfolio is an undeniably useful tool, and it makes it much easier to follow the latest trade recommendations.
Daily Notes
Members also get another special bonus when they sign up under the Project Titan deal, a free subscription to Daily Notes.
This complimentary subscription will keep you informed with the latest market-moving news before every opening bell, so you'll never miss a beat.
Daily Notes provides an excellent accompaniment to the newsletter, which only comes once a month.
This quick and easy daily read will give you all the day's biggest news in just a few minutes.
With Daily Notes and the monthly newsletter in your corner, you'll be much more equipped to tackle the market.
New Member Bonuses
An Innovation Investor membership also includes a slew of bonus research reports and other extras.
We'll dive into them in detail, next.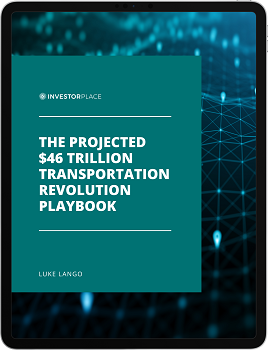 The Project Titan Prospectus: How to Cash In on Apple's Next Potential Trillion-Dollar Product.
The featured report in the Project Titan bundle covers the Apple Car opportunity and two potential Apple suppliers that could see huge gains from the car's launch.
Inside, you'll find extensive research into these promising stocks, along with market analysis, trading strategies, and other valuable info.
The team believes these featured stocks have the potential to produce 40X returns as a result of the Apple Car.
This report gets high marks in my book. The analysis is compelling, and it gives you the complete picture of what's possible with two high-octane growth plays.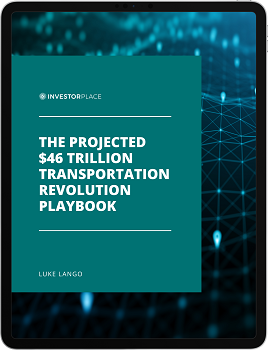 The Projected $46 Trillion Transportation Revolution Playbook
The second report includes additional research into the $46 trillion boom that could transform the transportation industry as we know it.
In earlier sections, we covered how some forecasts predict the mass adoption of EVs could spur tremendous growth and catapult certain stocks to massive gains.
And the Apple Car is just a small piece of the puzzle. In this report, the team reveals seven more stocks that could explode as the EV boom hits its stride.
True to the team's style, this report is also easy-to-read and understand, so you can put the research to use regardless of your skill or experience level.
The Quickening: 4 Tech Stocks That Could Change Society Forever
Luke's finger is virtually welded to the tech sector's pulse, and he fully understands that EVs will not be the only big players in the coming tech superboom.
He says the Apple Car is "one aspect of the many buying opportunities I'm seeing in the market today."
This report features in-depth analysis of four more promising tech stocks that could help Americans achieve massive gains.
These stocks have the potential to be the biggest growth stories of their generations, just like Google, Amazon, and Apple before them.
You'll get all the details you need to get on board each opportunity in this report.
365-Day 100% Satisfaction Guarantee
New memberships are backed by a 365-day satisfaction guarantee.
This means you have around a year to test out the waters. If you feel the service isn't a good fit, you can opt for a refund on the subscription cost.
Considering that the industry standard for similar services is about a month, this is a huge step up from the norm.
It might also provide a long enough window to see some investment ideas through to their conclusion, which a month usually does not afford.
Overall, I'm impressed with this industry-leading refund policy. It shows the team stands by its work.
You could also pick up some valuable insights, even if you ultimately decide the service isn't for you.
>> Join under Luke's guarantee <<
Is Luke Lango Legit?
Luke Lango is legit.
His extensive background in venture capital and tech startups offers him a unique perspective in the industry compared to many of his peers.
As mentioned, he picked up on the potential of many breakout opportunities, including AMD, Shopify, and Tesla, before the broader market caught on.
His money management experience also adds another layer of credibility to his resume.
All in all, Luke is a smart analyst with a finger on the pulse of the market.
Pros and Cons
The newsletter delivers solid insights. However, there are a few downsides.
Pros
Great price with 75% discount

Industry-leading 365-day refund window

Growth-stock focused research

Looks for ground-floor opportunities
Cons
No community chat room or message boards

Doesn't cover options or shorts
Is the Service Right for Me?
Innovation Investor is best suited for folks in search of ground floor opportunities in tech.
Stock picks follow a moderate to aggressive profile, so it's a good idea to make sure your risk appetite matches the opportunities.
Also, because the service deals largely in tech, these picks could add diversity to a portfolio. But alone, they don't offer exposure to a well-rounded group of sectors.
Luke's dedicated to a very tight niche and sticks to what he knows best.
The latest suite specifically digs into EVs, which could be a good place to find the scoop on small companies with room to grow in this industry.
Innovation Investor Reviews
Luke Lango's Innovation Investor has earned an overall rating of 4.1/5 on Stock Gumshoe.
This is out of 85 reviews, which is a solid sample size in the investment research space.
Some similar services have hundreds or even thousands of ratings, but they are more of an exception and not the rule (in my experience).
Here's a snapshot of its Stock Gumshoe rating:
There is one caveat, however.
This is a third-party review site, so I cannot verify the veracity of these ratings (good or bad).
That said, it's a good sign that the service appears to have earned a positive reception since its launch.
>> Find out why so many trust the team's insights <<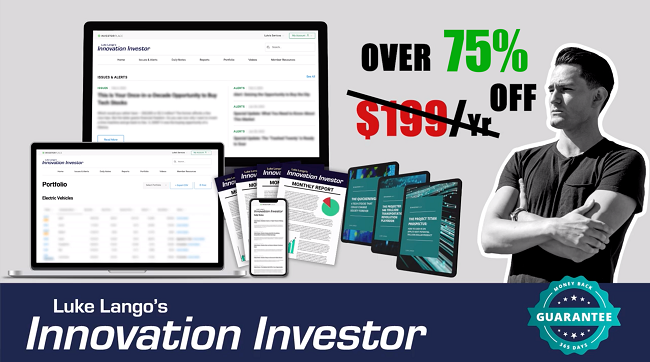 How Much Does the Service Cost?
A one-year subscription to Innovation Investor typically costs $199, but the team is offering a massive discount along with the Project Titan deal.
For a limited time, you can join with a one-year membership for just $49. At that rate, you're saving more than 75% on the full sticker price.
With the discount, your average cost comes out to about $4 per month.
In return, you get everything mentioned in this review, including the bonus reports and the 365-day guarantee.
Is Innovation Investor Worth It?
Innovation Investor is a great newsletter, and it's an excellent value at its full price of $199.
But the 75% discount makes this service a downright bargain at just $49. The deal includes a full membership, plus 13 additional stock picks and other bonuses.
You'll also get a full report on what could be the biggest winners to come out of the Apple Car, which Luke estimates could see gains as high as 40X!
Better yet, your membership is covered with a 365-day satisfaction guarantee.
Luke is one of the most talented young gurus in the game today, and I appreciate his research insights and relatable writing style.
If you're looking for a growth-focused research service with a rock-star guru at the helm, you can't go wrong with Innovation Investor.
>> That's it for my review. Sign up for 75% off TODAY <<