In the ever-evolving world of advancements, the Innovation Investor team, led by Luke Lango, has been diligently working behind the scenes to uncover what could potentially be the most significant growth opportunity of the decade.
Luke Lango is one of the leading tech investing experts on the planet, and his latest presentation is dropping jaws all over the internet. My Innovation Investor review will introduce you to Lango's latest message and explain why it could be one of the biggest tech investment opportunities ever.
What Is Innovation Investor?
Luke Lango's Innovation Investor is a monthly research newsletter from Luke Lango and InvestorPlace Media that offers members a direct line on Lango's latest research, analysis, and stock picks.
As the name suggests, the newsletter targets innovative tech companies at the earliest phases of their growth, so each featured stock pick has enormous upside potential.
Lango focuses on high-growth stocks and cutting-edge technologies so his members will have the best possible chance at game-changing returns.
Some examples of disruptive technologies that have captured Luke's attention in recent years include blockchain, self-driving cars, and even quantum computing.
The newsletter's investing profile ranges from moderate to aggressive, and it primarily focuses on mid to large-cap stocks, which are widely considered to be a sweet spot in the risk-reward curve.
However, the service also recommends small-cap stocks when the opportunity justifies the additional risk.
Innovation Investor is one of the most successful research services for tech stocks on the market, and its success is largely due to Lango's keen eye for growth opportunities and stock-picking prowess.
>> Sound like a good fit? Sign up and save 75% HERE<<
Luke Lango Review
Luke Lango is a veteran investment analyst with a long track record of winning stock picks, and he has a legendary ability to hone in one game-changing growth stocks and super trends
Currently, Lango works as a senior investment analyst with InvestorPlace, one of America's most respected investment research publishers.
In 2020, TipRanks, a community of more than 15,000 investing experts, named Luke their "#1 Stock Picker" for the year. This was a noteworthy accomplishment, but it's just one small part of his lengthy stock market track record.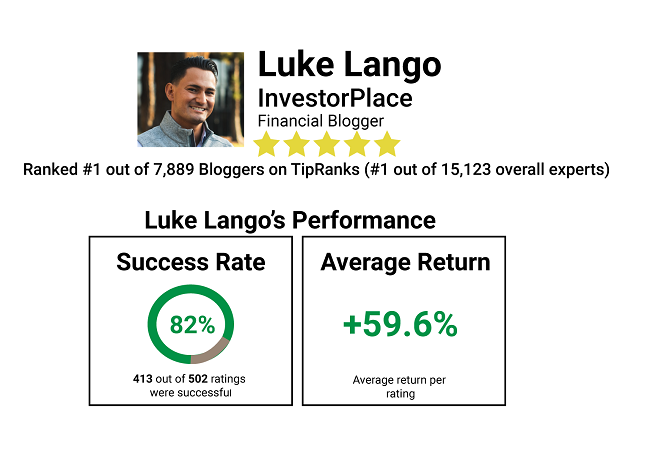 He also has extensive experience as a venture capitalist and developed a vast network of Silicon Valley contacts over the years.
Through his career, Lango has developed a deep understanding of the factors that move markets, and his knack for spotting trends has made him a legend in investing circles.
You're in great hands with a guy like Luke Lango. He has an impressive analytical mind and a penchant for picking winners, so you know you're in good hands if you decided to get started with Innovation Investor.
Innovation Investor Presents: ChatGPT IPO
Unless you've been living under a rock, I'd bet money you've heard of ChatGPT. It's cutting-edge tech straight out of a sci-fi movie and it's already taking the world by storm.
Experts believe ChatGPT could be leading an AI charge that's generating more wealth than anything we've ever seen before. Folks taking advantage of what's to come could be part of a $20.6 trillion wealth shift.
We may be looking at four million new millionaires in the next decade thanks to ChatGPT and its company OpenAPI alone.
>> Get started with Luke Lango's exclusive guarantee <<
ChatGPT is Leading the AI Revolution
The AI revolution is coming on faster than anyone thought imaginable. Its impact isn't shoehorned to one sector, either.
We could potentially see AI anywhere tech can go. Think medical, restaurants, the automotive industry, graphic design…there really is no limit.
ChatGPT is leading the charge. Companies and individuals alike are already using the software to replace manpower across the board. It sucks for the job market, but there's huge potential for folks investing in the new tech.
Think back to other revolutionary products you've been around for. PayPal shot up 355,900% by leading the way in online payments. Airbnb breathed new life into the travel industry and had one of the biggest IPOs in the last 20 years.
Don't even get me started on Google. I used HotBot once upon a time…now everyone just Googles everything. Google's valuation has jumped 1,733,200% after taking over the online search space.
Each of these companies disrupted their niches in a big way. Move over, Google – ChatGPT is revolutionizing the internet itself. We're still discovering just how impactful it will be.
Is a ChatGPT IPO Coming Soon?
Lango believes we're drawing ever closer to ChatGPT's IPO. What clued him in?
The Wall Street Journal reported that OpenAI's in talks with venture capital firms as we speak. Need cash, go IPO, amirite?
Companies pairing with ChatGPT have seen their shares skyrocket overnight. What happens when the ChatGPT itself goes live on the market?
There's little doubt the company's building toward something big. The question is, how many of us is it going to take along for the ride?
ChatGPT opening its doors to the public will likely see a rush of folks trying to get in as close to the ground floor as they can.
I'll bet all those people gobbling up shares at IPO will make some money by being a part of this monumental technology shift. Truth be told, the lion's share of gains will come to folks investing BEFORE IPO.
Uber's a great example. IPO stock buyers are just now breaking even after four long years. Pre-IPO buyers? They've been sitting pretty for quite some time.
Too bad pre-IPO investing with ChatGPT is only available to a select few…or is it?
What is the ChatGPT Loophole?
Luke Lango believes he's found the answer to our pre-IPO conundrum. There's a little-known loophole providing a way to get some skin in the game on ChatGPT before it goes public.
He's keeping his cards close to his chest. However, Lango's says his plan offers a rare chance to piggyback off venture capital firms chomping at the bit to get ChatGPT shares of their own.
These venture capitalists are putting in millions of dollars to be part of the AI sensation. We can get involved for a small fraction of that amount.
ChatGPT's IPO is only going to happen once. Your golden opportunity disappears the moment it goes public.
The earlier you get in, the better your potential for the highest gains should stock prices take off as expected. Getting your hands on this Innovation Investor deal is your only shot at your piece of what could be trillions in riches.
>> Be part of the AI revolution – sign up today! <<
Innovation Investor Review: What Comes with the Service?
The latest Innovation Investor deal includes a treasure trove of in-depth research, stock picks, and more. Here's what you get when you join.
Annual Subscription to Innovation Investor
The monthly Innovation Investor newsletter is your direct line to the team's latest trade ideas and analysis.
Each issue includes one new stock pick from Lango and his team, along with expert analysis of the latest market conditions, and other valuable insights.
Best of all, the newsletter keeps you supplied with a steady stream of promising stock picks, so you'll always have new opportunities to explore.
You'll likely find yourself eagerly awaiting each new issue every month. Lango's insights will help you expand your stock market knowledge and sharpen your skills.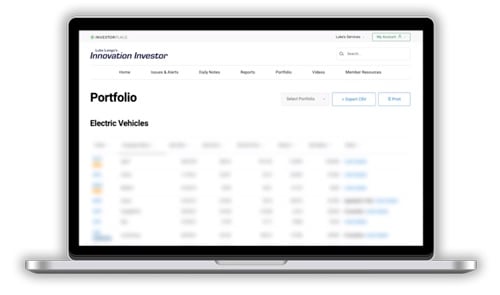 Model Portfolio
Like most research services, Innovation Investor maintains a model portfolio so subscribers can follow along with the latest picks.
The model portfolio looks similar to the investing dashboard at your broker. It includes a list of stocks, their price, current recommendation, lifetime gains/losses, and more.
This is the perfect place to get a bird's-eye view of every stock recommendation.
It's not a particularly unique feature, but the dashboard is functional and user-friendly.
All in all, the Innovation Investor portfolio is an undeniably useful tool, and it makes it much easier to follow the latest trade recommendations.
>> Explore opportunities in Innovation Investor today <<
Daily Notes
Members also get another special bonus when they sign up under the Project Titan deal, a free subscription to Daily Notes.
This complimentary subscription will keep you informed with the latest market-moving news before every opening bell, so you'll never miss a beat.
Daily Notes provides an excellent accompaniment to the newsletter, which only comes once a month.
This quick and easy daily read will give you all the day's biggest news in just a few minutes.
With Daily Notes and the monthly newsletter in your corner, you'll be much more equipped to tackle the market.
Bonus Reports
An Innovation Investor membership also includes a slew of bonus research reports and other extras.
The ChatGPT Pre-IPO Prospectus
It's been proven time and again that this critical stage is where top-tier investors make all their money. For the first time ever, we can also get in the door before ChatGPT's IPO takes place.
All the info you need to become a part of ChatGPT history is right here in this featured special report. Inside, Lango explains how to take advantage of his loophole in full detail.
It won't cost you an arm and a leg. The report reveals how to get in for as little as a couple hundred bucks.
Following his plan is likely your best chance at making the biggest profits both now and after the company goes public. These pre-IPO opportunities trickle down to us once in a blue moon, and here we are with potentially the very best one ever right at our fingertips.
This guide is all you need.
AI's Biggest Convergence Winners
AI is exploding across multiple sectors all at the same time. Some, like autonomous vehicles and the medical field, are more obvious. Other AI plays are less evident.
In AI's Biggest Convergence Winners, Luke Lango lays out his top four plays for when AI merges with other technologies.
He teases one stock in the energy storage market that could grow 20-fold. Any one of these picks could see exponential growth in the near future.
You'll get all the details inside, including company names, tickers, and why they're such great opportunities right now.
4 Tech Stocks That Could Change Society Forever
Lango has his eyes on four tech stocks set to disrupt our society in a big way. He claims these tickers are part of a $25.8 trillion shift you can be on the winning side of.
Each stock is trading for super cheap at the moment. One in particular is less than $3 per share. It likely won't stay that way for long.
These potential winners could very well reach heights 5 to 20 times where they currently stand. Lango's projecting more than a 100X upside for one of them.
You'll need this special report for all the deets on these four stocks.
Unlocking 1,000X Brainpower With ChatGPT
Folks are already making money off ChatGPT and the company's not even public. The secret lies in understanding how to unlock its hidden potential before anyone else does.
It's no different from innovative companies using the internet to expand into something new. Just think of Amazon and the e-commerce empire it created.
With ChatGPT, it's about using carefully crafted prompts. Luke explains how the process works in Unlocking 1,000X Brainpower With ChatGPT.
He's even giving away some of his favorite prompts for maximizing what ChatGPT can do. The right prompts, implemented correctly, could be the gateway to untold gains.
365-Day 100% Satisfaction Guarantee
New memberships are backed by a 365-day satisfaction guarantee.
This means you have around a year to test out the waters. If you feel the service isn't a good fit, you can opt for a refund on the subscription cost.
Considering that the industry standard for similar services is about a month, this is a huge step up from the norm.
It might also provide a long enough window to see some investment ideas through to their conclusion, which a month usually does not afford.
Overall, I'm impressed with this industry-leading refund policy. It shows the team stands by its work.
You could also pick up some valuable insights, even if you ultimately decide the service isn't for you.
>> Join under Luke's guarantee <<
Luke Lango Review: Is He Legit?
Luke Lango is legit.
His extensive background in venture capital and tech startups offers him a unique perspective in the industry compared to many of his peers.
As mentioned, he picked up on the potential of many breakout opportunities, including AMD, Shopify, and Tesla, before the broader market caught on.
His money management experience also adds another layer of credibility to his resume.
All in all, Luke is a smart analyst with a finger on the pulse of the market.
Pros and Cons
The newsletter delivers solid insights. However, there are a few downsides.
Pros
Great price with 75% discount

Industry-leading 365-day refund window

Focuses on high-upside growth stocks

New stock picks every month

4 research reports featuring several promising investment opportunities

Legendary guru in Luke Lango

Respected publisher in InvestorPlace Media
Cons
No community chat room or message boards

Doesn't cover options or shorts
Is the Service Right for Me?
Innovation Investor is best suited for folks in search of ground floor opportunities in tech.
Stock picks follow a moderate to aggressive profile, so it's a good idea to make sure your risk appetite matches the opportunities.
Also, because the service deals largely in tech, these picks could add diversity to a portfolio. But alone, they don't offer exposure to a well-rounded group of sectors.
Luke's dedicated to a very tight niche and sticks to what he knows best.
The latest suite specifically digs into EVs, which could be a good place to find the scoop on small companies with room to grow in this industry.
Innovation Investor's Track Record
When it comes to the track record of Innovation Investor, their strategy revolves around identifying emerging market trends and capitalizing on the growth potential presented by them.
They closely monitor various industries and follow key market shifts to uncover promising investment opportunities.
One of the dynamics that Innovation Investor has successfully capitalized on is the renewable energy sector.
They recognized the increasing demand for clean and sustainable solutions and identified companies that were well-positioned to benefit from this market movement.
One of their positive stock picks in this sector was Axon. With a recommended buy price of 123.9, Axon has seen remarkable growth, currently up 64.57% as of March 2023.
This performance highlights Innovation Investor's ability to identify companies with strong growth potential within specific sectors.
Another area of focus for Innovation Investor is the technology sector, where they actively seek out companies that are driving innovation and disrupting traditional industries. Tesla is one of their notable stock picks in this sector.
With a recommended buy price of $149, Tesla has delivered solid returns, currently up 27.79% as of March 2023. This positive performance reflects Innovation Investor's knack for spotting companies at the forefront of technological advancements.
Additionally, Innovation Investor has also recognized the potential in the solar energy industry.
They identified SolarEdge Tech as a promising stock pick, with a recommended buy price of $273.5. As of March 2023, SolarEdge Tech has shown steady growth, up 21.39%.
This positive outcome demonstrates Innovation Investor's ability to identify companies operating in sectors poised for significant growth.
Lango has displayed a strong understanding for selecting successful stock picks. His expertise and in-depth research have led to the identification of companies that have delivered impressive returns.
Innovation Investor's positive track record reflects Lango's ability to navigate dynamic market landscapes and identify companies with substantial growth potential.
Over the years, Luke has shown a knack for hitting home runs in the stock market.
Let's look at some of his past picks.
Here's Advanced Micro Devices (AMD), which produced the opportunity for a gain as high as 6,149% following his recommendation.
Another one of his most notable picks is NIO, a China-based EV stock, which soared 3,353% after he made his call.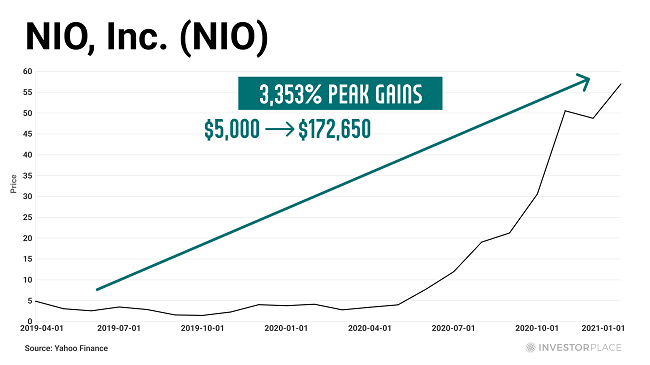 Luke also recommended Chegg, a remote learning stock that gave his followers a chance at gains as large as 2,554% in just a few months.
That's only a small sampling of his winning picks, but you get the idea.
He's a highly rated guru for a reason.
It's important to remember, however, that past permanence is not an indicator of future results.
>> Get Luke's latest recommendations <<
Innovation Investor Reviews
Luke Lango's Innovation Investor has earned an overall rating of 4.1/5 on Stock Gumshoe.
This is out of 85 reviews, which is a solid sample size in the investment research space. Here's a snapshot of its Stock Gumshoe rating:
There is one caveat, however. These Innovation Investor reviews come from a third-party review site, so I cannot verify the veracity of these ratings (good or bad).
That said, it's a good sign that the service appears to have earned a positive reception since its launch.
>> Find out why so many trust the Luke Lango's insights <<
How Much Does the Service Cost?
A one-year subscription to Innovation Investor typically costs $199, but the team is offering a massive discount along with the ChatGPT Pre-IPO deal.
For a limited time, you can join with a one-year membership for just $49. At that rate, you're saving more than 75% on the full sticker price.
With the discount, your average cost comes out to about $4 per month.
In return, you get everything mentioned in this review, including the bonus reports and the 365-day guarantee.
Is Innovation Investor Worth It?
After a through Innovation Investor review, I can confidently say this is a great newsletter, and it's an excellent value at its full price of $199.
But the 75% discount makes this service a downright bargain at just $49. The deal includes a full membership, plus several additional stock picks and other bonuses.
You'll also get a full report on what could be the biggest winners to come out of the Chat GPT IPO, which could be the biggest growth opportunity in the modern era.
Best of all, your membership is covered with a 365-day satisfaction guarantee, so you can get your money back at any time during the first year of your subscription if you're unsatisfied for any reason.
Luke is one of the most talented young gurus in the game today, and I appreciate his research insights and relatable writing style.
If you're looking for a growth-focused research service with a rock-star guru and one of the best money-back guarantees in the business, you can't go wrong with Luke Lango's Innovation Investor.