Investing Daily has several newsletters under its umbrella, but Personal Finance is its longest-running service, with an impressive 44-year run. But is this options trading newsletter legit? Check out our Investing Daily Personal Finance review to find out.
Investing Daily Personal Finance Review: Overview
Personal Finance is a research and options trading service under the direction of Jim Fink.
He's a 20-year options veteran with more than $5 million worth of personal profits under his belt.
While his monthly insights are enough to help you navigate the markets, the service provides so much more.
You'll learn:
Beginner options strategies

Advanced options strategies

How to spot stocks at a discount
Under Jim's steady hand, Personal Finance targets low-key opportunities with a simple options trading system that anyone can quickly pick up.
This balanced approach has helped the service amass tens of thousands of subscribers throughout its four-decade-plus run.
In fact, Jim says his system is so simple and steady that it's almost dull.
However, these consistent, small-ball gains add significant wealth over time.
What Investing Daily Personal Finance Has to Offer
To help you on your way, Jim Fink sends you weekly trade recommendations and alerts, which are backed by a guru with real-world investing experience.
This is like your roadmap to the market, and it's updated every week.
Jim also keeps you updated on the latest market-moving news, so you'll always be ready for what's around the bend.
Even better, under the latest deal, you get a slew of bonus materials when you join.
Stay tuned because we're putting the service under a microscope in our review.
But first, who is Jim Fink, and can you trust him?
>> Get started with Personal Finance now <<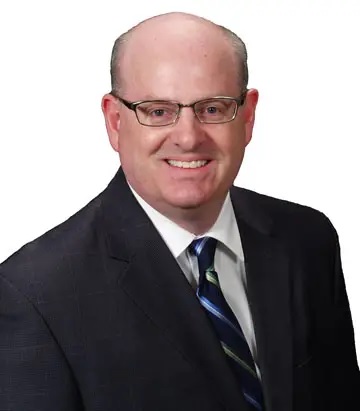 Jim Fink Review
Jim Fink is an excellent stock picker, and he has an impressive background in the world of finance. Fink is the lead investment analyst of Personal Finance and brings a wealth of options trading knowledge to the service.
Fink also runs other services under the Investing Daily banner that include:
Jim Fink's Options for Income

Velocity Trader

Jim Fink's Inner Circle

Investor Daily Personal Finance

Radical Wealth Alliance

Fink has been a hard-working dynamo since his college days.
He has a bachelor's degree from an Ivy League university — Yale, to be exact.
After Yale, he obtained:
A master's degree from Harvard's prestigious Kennedy School of Government

A law degree from Columbia University

An MBA from the University of Virginia's Darden School of Business
That's an impressive array of degrees for any office wall.
Clearly, Fink is a smart guy, but how are his trading credentials?
Jim Fink's Trading Track Record
As you may have guessed, Jim Fink's trading track record is equally as impressive as his credentials.
Jim started trading options more than 20 years ago, and he saw so much success that he decided to do it full time.
Is Jim Fink Legit?
Jim Fink is a reputable guru that offers tons of excellent insights on everything options.
There are plenty of reviews of Jim Fink online testifying to how solid his options trading strategies are.
Now, Jim Fink has settled into his role as a research guru, and Personal Finance's popularity is a testament to his stock-picking skill.
Jim Fink Net Worth
Right now, Jim Fink's net worth is estimated at around $3 million, but there's no way to tell for sure.
Regardless, we're more focused on whether he has the skills to lead such a long-running research service.
Jim is certainly skilled enough to be the head of Investing Daily's Personal Finance.
Now that you know more about Jim Fink, let's dig into our review of Investing Daily.

Investing Daily Review
Investing Daily is a prominent voice in the investing space that has cranked out heavy-hitting stock research for decades.
The firm publishes Personal Finance and several other premium research services, including:
Velocity Trader

Options For Income

Real World Investing

Wealth Society

Mayhem Trader

Options for Income

Utility Forecaster

The Complete Investor

Radical Wealth Alliance

Real World Investing

Investing Daily

Wealth Society
Investing Daily's second-oldest service, Utility Forecaster, has also had an impressive 29-year run.
That type of stability is a rare sight in the retail research industry.
An unreputable or ineffective service would have a tough time staying around for that long without frequently rebranding itself.
Who Owns Investing Daily?
Investing Daily is owned by Capitol Information Group, which was founded in 2009.
The company is an online publisher that provides investment insights in various financial markets.
Investing Daily and its market analysts and stock market veterans are at the front of its services.
Is Investing Daily Legit?
Investing Daily is a reputable research firm that has plenty of exceptional talent leading its services.
Also, it adheres to the US' staunch consumer protection and ethics regulations.
So you can join with the assurance you're dealing with a trustworthy firm.
Investing Daily is clearly doing something right with a multi-decade track record of success, and Personal Finance is the company's longest-running premium service.
That's a tough combo to beat.
Investing Daily Personal Finance Review: What is Included?
Personal Finance

Newsletter

My Options Strategy Manual

Your First "Easy-Start" Options Trade

Bonus Reports

The Biggest Legal Loophole in the IRS Tax Code

My Quick-Start

Online Video Program

How to Buy Stocks at a Discount

Money-back guarantee
> > Join Personal Finance to Access These Benefits Now <<
Investing Daily's Personal Finance Newsletter
The Investing Daily Personal Finance newsletter is the crux of the service.
Every week, the Daily Personal Finance Newsletter recommendations have the potential to lead you to regular gains in the options market.
This is where you can find the latest trade recommendations and the week's biggest market-moving news.
Unlike many competitors that simply follow the latest trends, Personal Finance scours the market for diamond-in-the-dirt opportunities on the options market.
These under-valued opportunities can sometimes turn around for sharp gains.
Also, Personal Finance's trading strategies can perform well even when the market is tanking.
During the stock market's worst crash since 1929, the S&P 500 was in steady decline for about 10 years between 2000 and 2010.
Personal Finance subscribers had the opportunity to gain almost 70% during this historically horrendous period, demonstrating this service's ability to perform in the worst possible market conditions.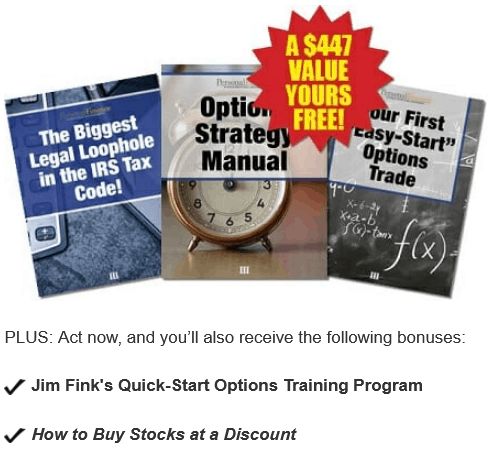 My Options Strategy Manual
Under the current deal, you also get access to Jim Fink's My Options Strategy Manual when you join Personal Finance.
This report is like Fink's options trading Bible.
Inside, he lays out his options trading system in explicit detail.
You'll learn everything you need to know to take on the options market.
Fink takes you through his system step-by-step so you can understand the entire process from beginning to end.
With Fink's Options Strategy Manual, you could be making effective options trades in no time.
Your First "Easy-Start" Options Trade
Options trading can be intimidating right out the gate, but it gets a lot easier as soon as you make your first trade.
To help you make the leap, Fink is including a bonus recommendation and trade blueprint with explicit instructions to lead you through the process.
As soon as you sign up, Fink will send you one of his favorite options trade recommendations.
Then, he'll walk you through the trade, step-by-step.
Typically, the entire process takes less than 9 minutes, so you can get right back to your day.
One trade can help dispel your options trading anxiety for good, and this guide makes it easy to get your feet wet in the options market.
>> Make Your First "Easy-Start" Options Trade Now <<
Investing Daily Personal Finance Review: Additional Bonuses
Profit Switch's latest offer breaks down the subscription into one or two-year packages.
The previous reports are included with both deals, but if you grab the two-year membership, you get these bonus reports:
My

Quick-Start Online Video Program

How to Buy Stocks at a Discount
My Quick-Start Online Video Program
Fink's comprehensive quick-start video program draws on 20-plus years of trading experience.
This course covers all of Fink's most powerful options trading secrets and shows you how to put them to work in your portfolio.
These same strategies helped Fink make millions by trading options for consistent income.
Best of all, it's simple enough for novice beginners to pick up quickly.
If you pay close attention to these courses, you can add tons of new trading techniques to your repertoire.
How to Buy Stocks at a Discount
You can also get an additional bonus report if you upgrade to the two-year subscription package.
How to Buy Stocks at a Discount is a companion to the Quick-Start video program that can help you get up to speed fast.
The report explains how to buy stocks at hefty discounts compared to their current market rates.
Saving just a few percentage points could stack up in the long run.
>> Try Investing Daily Personal Finance now <<
Money-Back Guarantee
Personal Finance has a remarkably strong money-back guarantee policy that should assure any remaining skeptics of this service's credibility.
Most research services only give you 30 days to test them out, but Investing Daily goes a lot further.
With Personal Finance, you're covered for 90 full days under their 100% money-back guarantee.
Best of all, there's no fine print.
All you have to do is give the customer service department a call, and they'll refund your entire description.
Even after the 90-day guarantee expires, you can still cancel and get a prorated refund for the remainder of your subscription.
Quite frankly, that's unheard of in the research service space.
The fact that Investing Daily offers such a robust protection policy with Personal Finance is a true testament to its belief in the product.
You can buy Personal Finance with confidence because you're covered with one of the best satisfaction guarantees in the business.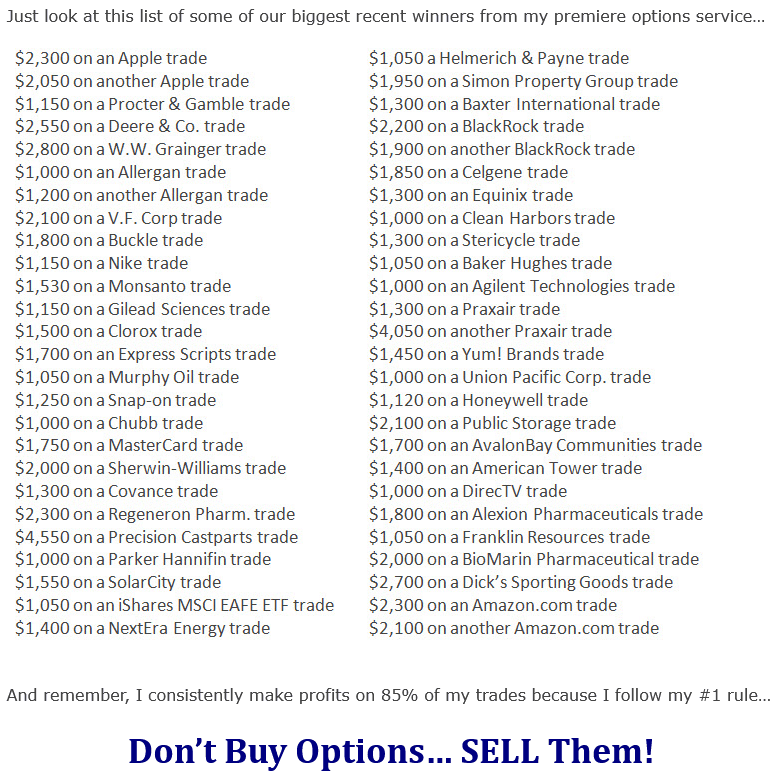 Investing Daily Personal Finance Reviews
We found a few Investing Daily reviews to give you a better idea of what customers are saying.
Hear what satisfied subscribers have to say about the service.
"Well, I am receiving an average of >40% return on my investment advised by investing daily experts. This is much improved over my previous adviser with less overall fees. Moreover, the information shared with the services provide excellent insight and tools to evaluate recommendations. Anything worth having does take some work." –

— Anonymous Visitor, RepDigger
Another Personal Finance review reads:
"Jim Fink is extremely thorough in describing his recommended trades and the rationale for his recommendations. If an option is prematurely assigned, his people are very responsive in assisting his subscribers in "fixing" their problem. I am delighted with the service, support, and results."

— Kenzo, StockGumShoe
>> Join Personal Finance now for as little as $49 <<
Is Personal Finance Right for Me?
Personal Finance is a respected member of the research community.
It has a lengthy track record of performance, and it's earned a loyal following among its users.
A balanced research service like this has wide appeal, so it's a good all-around fit for just about anyone.
However, it's a particularly excellent option if you fall into the following categories.
Interested in Options
So, you want to learn how to trade options?
If so, this could be your best… option.
It's a relatively simple system compared to some of the super-complicated strategies favored by less reputable competitors.
Personal Finance's system is so easy that even a total beginner can learn it comparatively quickly.
Seasoned Stock Pickers
Stocks are just the beginning of the investing rabbit hole.
Options give you access to a whole new world of sophisticated trading strategies.
Unfortunately, if you're an advanced stock trader, you're missing out on a lot by not trading options.
With Personal Finance, you'll be slinging puts and calls in no time.
Calculated Risk-Takers
Options can be VERY risky if they're not utilized properly.
It's one of the reasons many people avoid them.
Fortunately, Personal Finance takes a balanced approach to options trading.
Instead of trying to knock the ball out of the park on every trade, Personal Finance shows you how to make consistent profits from predictable fluctuations in the stock market.
Beginners
The premium package includes a wealth of additional resources that are particularly valuable for beginners.
Fink's reports give you an end-to-end introduction to options trading.
They also include information that can minimize your tax costs, sharpen your stock-picking skills, and more.
Investing Daily Personal Finance Review: Pros and Cons
Like any service, Personal Finance has its ups and downs.
Here are the best and worst aspects we could find about the service in our Personal Finance Review.
Pros
Affordable price point

Robust educational component; perfect for beginners

Includes weekly market updates and trade recommendations

A balanced strategy that emphasizes small, consistent gains

Provides a step-by-step walkthrough of the entire options trading process

Investing Daily's

Personal Finance

newsletter is top-notch

Multiple subscriptions tiers give you the freedom to get what you need and nothing more

Premium includes both print and digital copies of

Personal Finance

Access your

Personal Finance

dashboard from anywhere from your phone

Bonus report includes detailed information on an INSANE tax hack

One of the best money-back guarantees in the industry
Cons
Limited focus, options only

It could be too tame for aggressive risk profiles
>> Take your trades to the next level with Personal Finance <<
How Much Does Personal Finance Cost?
You can sign up for Personal Finance under a one-year or two-year subscription.
But you won't get all the bonuses mentioned in this review unless you opt for the two-year deal.
A one-year subscription to Personal Finance usually costs $99.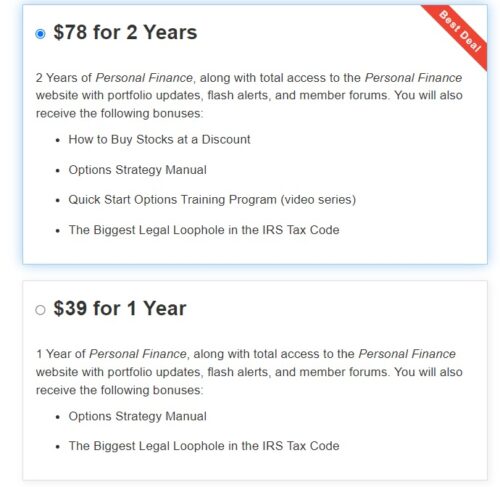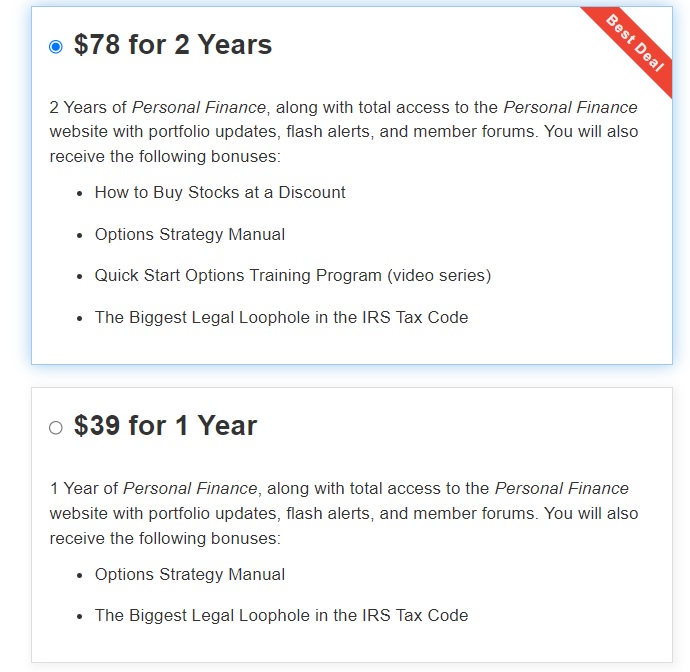 Personal Finance Discount
With a limited-time deal, however, the cost can be as low as $39, and a two-year subscription costs $78.
This is an absolute steal when considering the price of other Investing Daily subscriptions, which can go as high as $5,000.
Difference Between Personal Finance Subscriptions
A one-year subscription includes the Quick-Start video course or the How to Buy Stocks at a Discount bonus report.
If you're interested in either of these two bonus add-ons, you should look into the two-year deal.
The two-year deal affords you some additional bonuses, but the prices are proportionate to the one-year option.
>> Join Personal Finance today for as little as $39 <<
Investing Daily Personal Finance Review: Is It Worth It?
Investing Daily Personal Finance is a fantastic research service with a very affordable price point.
We haven't run into many research services with this long of a track record.
The one-year membership is a fair value at just $38, but you will miss out on the last video series and How to Buy Stocks at a Discount bonus report unless you go for the $78 two-year option.
At $39 per year, Personal Finance's price tag is lower than many competitors.
So, you get a lot of value with this deal.
Personal Finance's research is top-notch, and its bonus reports are extremely informative.
But what really sets Investing Daily apart is its solid satisfaction guarantee.
Investing Daily's 100% refund policy covers you for 90 days from your purchase date.
That's three times longer than what one typically sees in the industry.
After the 90-day cutoff, you can still cancel at any time for a prorated refund for the rest of your subscription term.
Quite frankly, that's unheard of, and it's a testament to Investing Daily's commitment to its product.
All things considered, this is an excellent service, and you get a ton of value for your dollar.
In our opinion, Personal Finance is well worth the cost of admission.
>> That's it for our Investing Daily Personal Finance review. Claim this deal before it's gone for good! <<