For investors, searching through news feeds and analyst reports to discover trending stocks before they take off can consume several hours each and every week.
The team at Ticker Nerd recognized this and created a service that does this research for you.
We at the Stock Dork picked up membership to see if the Ticker Nerd is as good as it says.
This Ticker Nerd review will tell you everything you need to know about the service.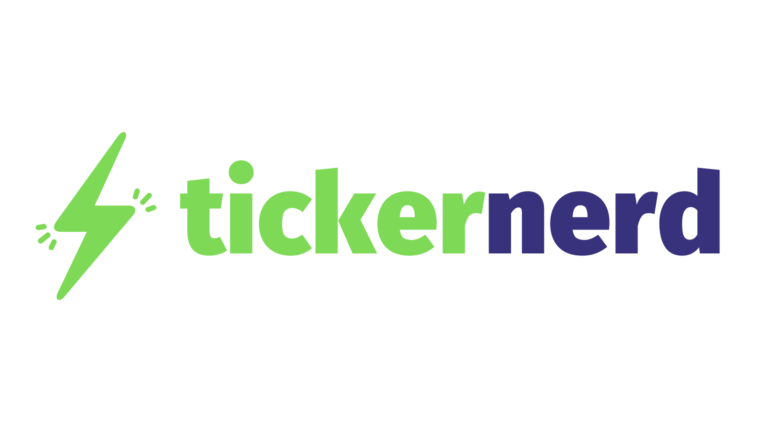 Ticker Nerd Review: Overview
Ticker Nerd opened its internet doors in October of 2020 and is based in Australia.
The company hopes to provide information on upcoming stocks before the hype train arrives. This information comes in the form of a monthly or weekly report.
Investors can use this report at a glance to discover which stocks are being mentioned more often on the web.
Access to this information comes via a yearly subscription plan.
What is Ticker Nerd?
Ticker Nerd is an internet-based site that specializes in scouring the market for great stocks before the hype train arrives.
Their goal is to be the first point of research for investors who typically spend countless hours looking through the internet to find breakout stocks.
Ticker Nerd does the searching for you, so you're left with a few stocks in your email each month alongside detailed explanations of why they are good investment candidates.
All this data is wrapped up in an easy-to-read format so you can get investing before it's too late.
How Ticker Nerd Works
Ticker Nerd is all about discovering the best stock insights before the rest of the world does.
They use software that scrapes the internet, looking for stocks that are trending towards incredible gains.
Data pours in from the web and social media sites like Reddit and Twitter.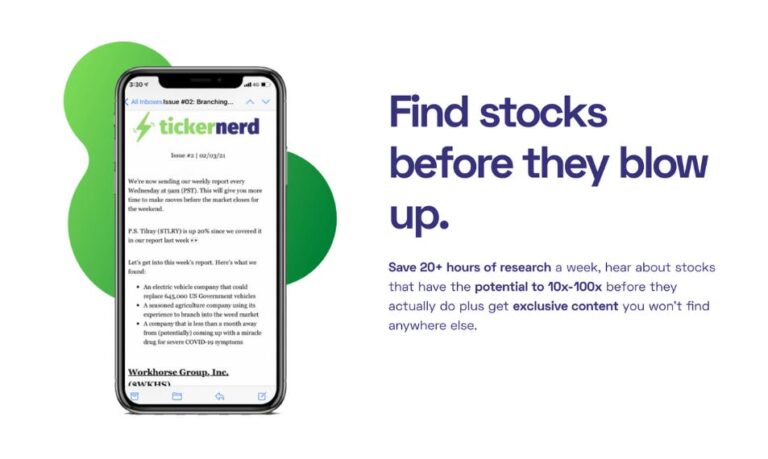 The company then uses a team of analysts to filter through the noise and dig deep into 2-3 stocks they feel are primed for explosive growth.
Those stocks are published in a monthly and weekly report for investors to read and figure out which companies could see significant returns.
This newsletter is sent straight to your inbox at a minimum once every month in hopes of being the first place to find the next great stock to invest in.
>> Already sold on Ticker Nerd? Click HERE to sign up! <<
Ticker Nerd Review: What's included?
Ticker Nerd has some great features that will help you improve your investing game.
Monthly Reports
Signing up for Ticker Nerd gives you access to a newsletter that rolls out once every month.
Each new report will dig deep into 2-3 stocks that are trending on the internet.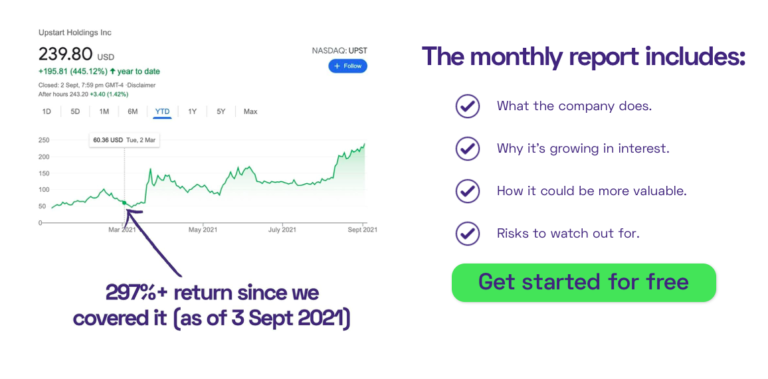 The monthly report contains a plethora of information, including what the company does, why it's growing in interest, how it could be more valuable, and the risks to watch out for.
Weekly Reports
While there's no mention of a weekly report on Ticker Nerd's website, there are rumblings of a weekly report on its social media.
It mentions investors with a Platinum account get new stock data weekly, but there's only one subscription plan currently listed on the website.
Report Archive
Subscribers can make use of the Ticker Nerd website to view all of the site's previous posts.
Once you log in with your email address, users are able to see a previously hidden "Platinum Reports" tab with info on previous trending stocks.
Ticker Nerd Analyzing Hot Stocks
A team of experienced analysts pore through information collected from sites where trending stocks are being mentioned.
This market data comes in the form of investor presentations, earnings results, financial reports, and more.
These minds filter through every document to figure out which stocks may be great investment opportunities, discarding any info that doesn't make the cut.
Sentiment Analysis
Ticker Nerd is able to use software to check for sentiment analysis on sites like Reddit.
Sentiment analysis uses biometrics, computational linguistics, language processing, and more to identity key stocks.
Although not formal investment sites, these social media hubs often share thoughts that can help lead an investor to companies that are otherwise overlooked.
Exclusive Insights
Ticker Nerd uses proprietary tools, databases, and software to discover unique trends that can't be found anywhere else on the internet.
This info comes in a format that's easy to understand so you can get right into investing.
>> Like all that Ticker Nerd has to offer? Sign up HERE! <<
Ticker Nerd Review: Is It Legit?
The team at Ticker Nerd discovered a need for clear and concise market data and created a service to do just that.
The company has been doing just that since October of 2020 and already has 29 reports available for view.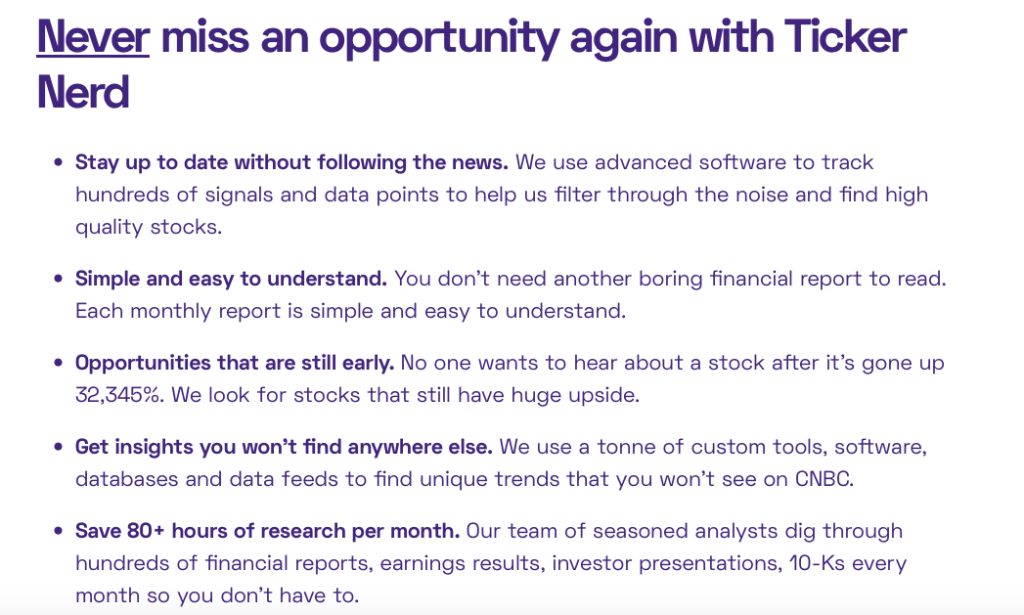 Ticker Nerd doesn't do any investing for you, nor do they access any of your brokerage accounts.
The group simply provides insights and recommendations on what they think are the best stocks to invest in at that time.
It's possible to cancel a membership at any time, and those leery of their service can try it out for 30 days risk-free.
Ticker Nerd Review: Is It Reliable?
It's a bit soon to tell just how reliable Ticker Nerd's picks will be, but the consensus on the web is that the team does an excellent job of weeding out the noise.
The detailed analysis of Ticker Nerd's picks with every report showcases why each stock was chosen and what potential pitfalls may be so that members can invest with confidence.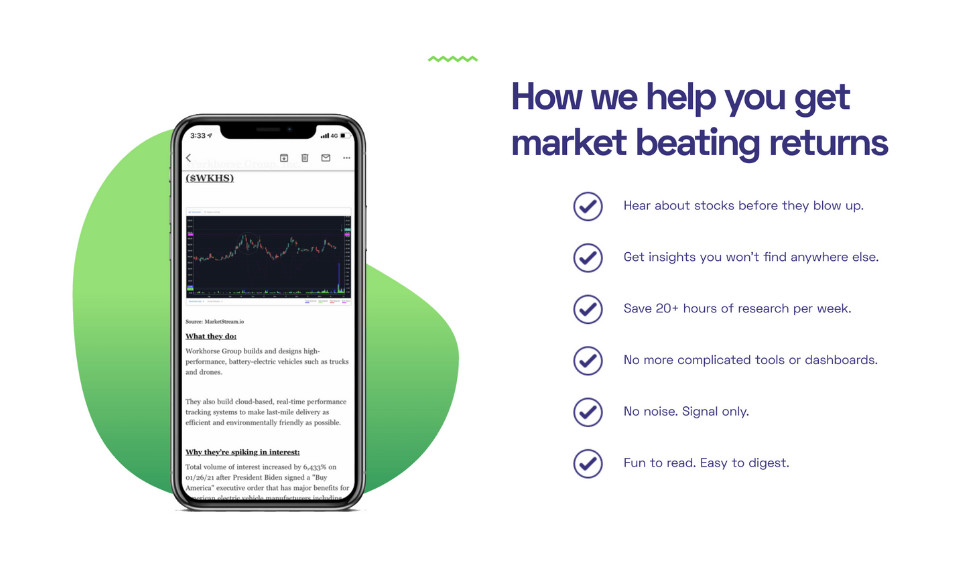 Cancellation Policy
Ticker Nerd makes it incredibly easy for investors to cancel a membership.
Once in your Ticker Nerd internet account, click the "Cancel" button to end your membership.
If you're unsure about the service, there is a 30-day free trial so that you can give Ticker Nerd a go without risk.
You'll need an email address and credit card, but you will be refunded if you cancel within those first 30 days.
The Ticker Nerd team makes it clear that there are no refunds offered should you cancel in the middle of your subscription.
Ticker Nerd Review: How Much Does It Cost?
Ticke Nerd currently has one yearly subscription model that includes 12 reports for an annual rate of $99.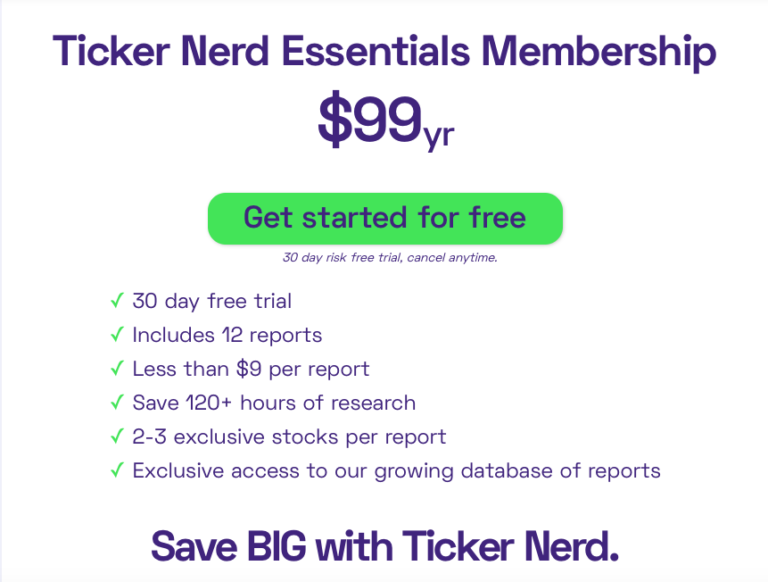 This membership also provides access to all previous reports through Ticker Nerd's website.
>> Ready to get started with Ticker Nerd? Click HERE to sign up! <<
Ticker Nerd Review: Pros and Cons
Ticker Nerd takes a unique approach to searching for breakthrough stocks.
Here are the pros and cons of the service.
Pros
Monthly reports sent straight to an email inbox
Proprietary software that scrapes the internet for breakout stocks
Team of expert analysts to filter through data
Detailed analysis of 2-3 stocks
Free 30-day trial
Reasonable yearly subscription fee
Cons
Service is relatively new
Requires credit card even for the free trial
Is Ticker Nerd Right for Me?
Ticker Nerd is designed to take away hundreds of hours of investment research.
Anyone who finds themselves scrubbing the internet for the best breakthrough stocks would likely find a benefit in this service.
Ticker Nerd Customer Reviews
Subscribers have a lot of good things to say about what Ticker Nerd has done for them.
Take a look at some of these recent reviews:
"TickerNerd's value is insane. I allot funds for stock but no time for research/plan. That's when TickerNerd comes handy. It has market analysis & breakdowns published with a summary of key events, stock's current interest level, and the risks associated with it. Totally worth it."
– Dinakar, on Twitter
"A neat capsule highlighting some of the most mentioned stocks across the net.
With pros and cons, the bite-sized emails give you some insight on what to look out for when choosing your next stock.
Some clever minds behind these reports!"
– Andrew, on Twitter
"Super Impressed with @TickerNerd. I no longer need to take out too much time to find and research stocks.
Love how they breakdown why the stocks are spiking in interest, plus the overview of who is investing in them.
Big fan, props to the team!"
– Dejan, on Twitter
Ticker Nerd Review: Worth it?
Paying $99 a year to save hundreds of hours in research seems like a no-brainer.
This is a small price to pay for access to software that scrapes the internet to find stocks that are ready to pop.
This research has the potential to help you take your portfolio to the next level and see massive gains with a minimal amount of time.
>> Ready to save time looking for hot stocks? Sign up for Ticker Nerd TODAY! <<