Artificial intelligence (AI) is taking the world by storm, and the growth potential we're seeing could be bigger than any technology that's come before. That's great news for those of us looking to make some money along the way. The question is, where to invest?
Ross Givens is no stranger to great stock picks, and he believes he's found a big winner in AI. In this Live Action War Room review, I'll tell you everything you need to know about this new opportunity.
What is Live Action War Room?
Live Action War Room is a new research service led by Ross Givens. He publishes it through Traders Agency.
In lieu of newsletters, Givens chooses to take all his analyses live through video.
Inside the war room, you're given a front-row seat to live analysis and big-money trade opportunities every week. Ross scours the market for trade ideas before discussing them in real-time.
He weeds out the trash by vetting plays through a proprietary system he's developed over the last decade. You'll only ever hear about the ones that pass all the tests.
Givens isn't interested in sticking to a certain sector, either. He goes where the money is across all the top industries.
I'm not surprised at all that his focus right now is artificial intelligence. Ross thinks he's found a real winner in the space and can't wait to talk about it.
We'll get to that in a minute, though. First, let's learn about the guru himself.
>> Already sold? Join now for a discount! <<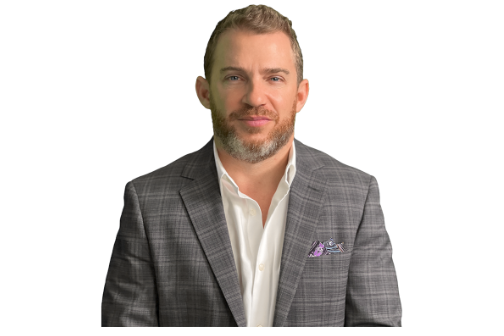 Who is Ross Givens?
Ross Givens is a top-tier advisor, broker, and money manager.
The guru got his start in investing back at age 12 when he purchased 100 shares of Microsoft stock. He hasn't looked back.
After obtaining a degree in finance, Givens earned his Series 7, Series 66, and Series 3 securities licenses. From there, it was a natural transition onto Wall Street.
Ross climbed as high as VP of a major bank, where he managed billions in assets. Not long after, he got fed up with the system and decided to go his own way.
Now, Givens devotes his time and energy to building his private database to locate the best opportunities across all sectors.
Live Action War Room is his latest way of bringing his findings straight to you.
Is Ross Givens Legit?
Givens is well-sought-after for his market skills. You may have seen him on BNN Bloomberg, Fox Business, and CNBC.
He's not all talk. Ross was one of the first on the Green Revolution trend, where he earned over 1,000% gains on two separate occasions.
Not long after, he bought shares of Celsius Holdings and walked away with 6,000% returns. That's just the tip of the iceberg.
These successes stem from 10+ years honing his private database and the skills he learned working at the top of Wall Street.
>> Join now to get Ross Givens' latest picks <<

What is the $3 AI Wonder Stock?
Artificial intelligence has been the craze of late, and rightly so. Many big opportunities have already come and gone, though – is it too late to get involved?
Ross Givens has been hard at work, scouring the markets for the next big winner.
He's shrugged off the tech giants like Nvidia and IBM with already high share prices. That works for me – I don't need to pay hundreds of dollars for incremental gains.
Instead, Givens has found a $3 AI wonder stock with incredible growth potential. Now's the time to get in though, while the going's good.
The Promising New AI Bull Market
The AI revolution is here whether you like it or not. You can't deny its impact on just about everything we do. This trend is only going to continue.
Many companies embracing AI are enjoying the fruits of increased revenue and more efficient operations.
Givens' little $3 stock could be a part of an estimated $15.7 trillion increase to the world economy if AI stays on track.
I'm definitely keeping an eye on what AI's doing, and I believe we're still just scratching the surface.
Don't just take my word for it, though. Co-founder of Microsoft Bill Gates casually tossed out that a breakthrough in AI could be worth 10 Microsofts. This stock could be that breakthrough.
Therefore, waiting to invest in this $3 AI wonder stock could prove disastrous. Givens has already noticed some suspicious buying activity that caused its share price to jump 260% in just 19 days.
>> Get the top AI stock when you join now <<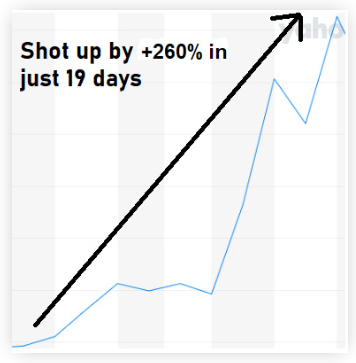 Historical Success: Microsoft's IPO and Beyond
I'm guessing most of us missed out on picking up some shares of Microsoft when it went live back in 1986. I still kick myself for being an infant at the time.
Last time I checked, Microsoft is doing quite well for itself. It's up some 328,000% since IPO.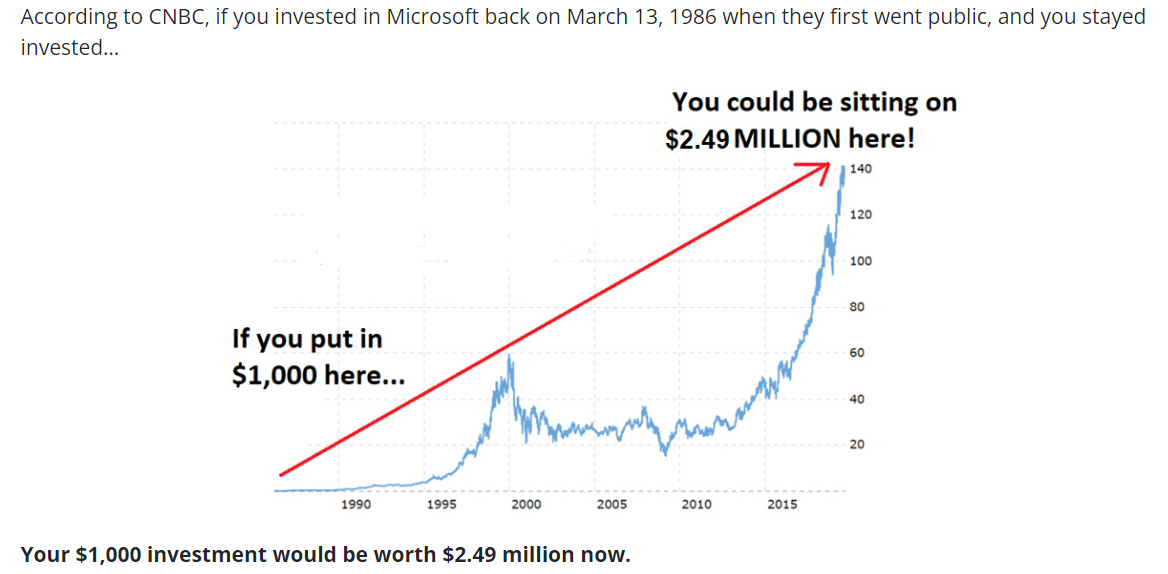 It led our buddy Bill Gates to billionaire status, along with thousands of ordinary folks who bought some MSFT stock. The past is in the past, but we could be face to face with an even bigger opportunity.
Ross Givens has run the numbers. He believes this $3 AI wonder stock could make Microsoft's accomplishments look like chump change.
Not sure about you, but I don't have any excuse for not investing this time around. The only question is, how?
How To Capitalize on this Big Money Breakout Opportunity?
If Givens is right, this $3 AI wonder stock could take off at any time. The last thing you want is to be left on the ground if it goes places even Microsoft hasn't been able to reach.
There's nothing stopping it from taking off, either. It's already obtained 98 patents and lined up partnerships with some of the biggest names in the tech world.
We shouldn't have to wait years to reap the rewards. Givens thinks its price could blow up before the end of the year.
Best of all, word's still not out on this AI play. That means few people will know about this opportunity before you do, if you know where to look.
The only way to get the full scoop on Ross's $3 AI wonder stock is through a membership to his Live Action War Room. Let's take a deep dive into this package now.
>> Get started now to access this exclusive research <<

What's Included with Live Action War Room?
Check out everything you'll receive for signing up to Ross Givens War Room bundle: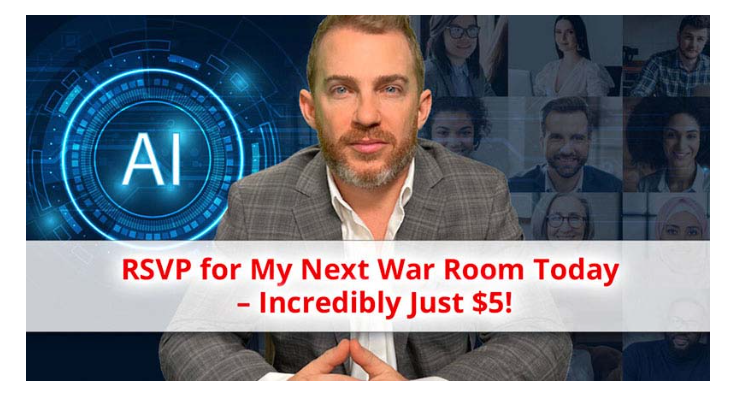 Access to LIVE Weekly War Room Sessions
Ross Givens foregoes a traditional newsletter in favor of a one-of-a-kind weekly trading room. Every Thursday at 9 a.m. EST, he'll jump on for a full 60 minutes of live and uncensored discussion.
During the hour, Givens doles out all his secrets for out-scoring and out-thinking the competition. He then zooms in on his favorite market opportunities and explains how to get involved with each one.
No topic is off-limits. One session may cover top dividend stocks, where the best could be on a big IPO play.
Post-Trading Room Summaries
Your schedule may not always allow you to be live with Ross on Thursdays. We're all busy – I get it.
Givens records every session and slaps them on his website so you can catch what you missed. Or watch a session again to double down on some information.
He also provides written details of all the stocks he recommends trading on a session if you're looking to get right to the point.
>> Join now to get the complete AI bundle <<
Trading Idea Tracker
Think of the trading idea tracker as Givens' model portfolio. Head here to track the status of each recommendation he covers during his live war room sessions.
At a glance, you'll be able to see which ones have moved up, down, and sideways since Ross talked about them. You can check how your actual investments are performing and whether you should have made a play you were hesitant about.
I appreciate that Givens keeps everything on the table and in front of members. He's not trying to hide bad trades behind a curtain and only highlight the good ones.
Access to V.I.P. Members-Only Website
The VIP members-only website is your access point for everything war room-related. You'll need to log in here each week to catch Givens' live war room sessions on Thursdays.
It's also where he keeps all his bonus material. There's a section for video and text archives of previous sessions, trade recommendation performance, alerts on current plays, an FAQ, and tons more.
Members have unlimited access to the entire website. You can log in any time, day or night, to double-check something you heard or peruse content you've never seen before.
>> Join today to access exclusive benefits <<

Special Bonus
Right now, Givens is throwing in a handful of bonus materials for new subscribers. Here's what you'll get: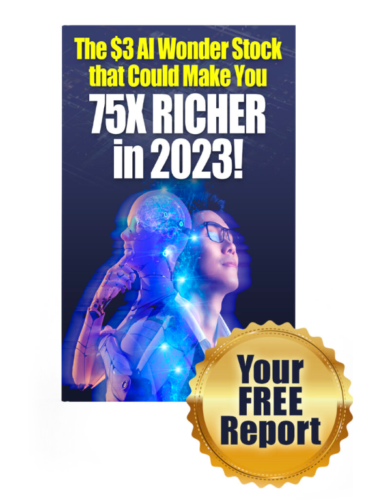 Free Report: The $3 AI Wonder Stock That Could Make You 75X Richer in 2023
This free report has all the answers you've been looking for about Ross's $3 AI wonder stock.
Inside, you'll get access to crucial details like the ticker symbol and the name of the company. Givens also offers guidance on the best time to buy shares for maximum profit potential. He even mentions how much to pay down to the penny so you don't spend more than they have to.
The fun doesn't stop there. You'll get to hear the why behind this big play so you're not jumping in blind. This is huge for me, as I love having all the info I can muster before I invest.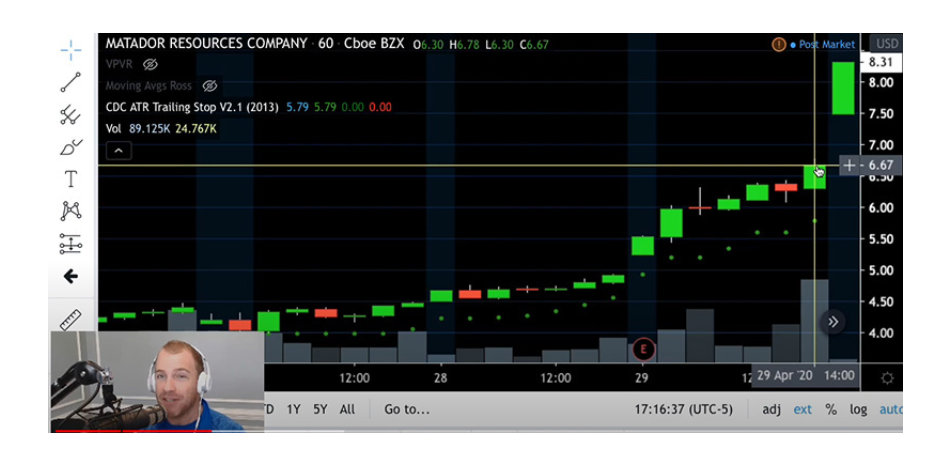 Exclusive 3-Part Video Tutorial on Bankable Patterns
Three Bankable Patterns to Help You Secure a Solid Financial Future is a brand-new series included for free to new Live Action War Room subscribers.
Givens performs a deep dive on three of his favorite big-money breakout patterns that have allowed him to bank three-digit returns so you can have the same kind of success.
He reveals his secrets for timing big volume, volatility, and price moves many folks run scared from.
Videos are clear, concise, and can have you making money in areas you never thought possible.

365-Day Money Back Guarantee
Givens already offers this package for next to nothing, but he wants to remove all barriers to jumping in.
He's currently offering an "every penny back" guarantee of your enrollment price if you're ever not 100% satisfied with your purchase.
That means you've got the full 12 months to try everything out and can get your money back at any time. You don't even need to offer a reason why.
Keep all the bonus materials you've received until that point as thanks for trying out the service.
>> Sign up under Ross's 365-Day Money Back Guarantee <<
Live Action War Room Review: Pros and Cons
Ross Givens' War Room has a lot of great features, but it's not perfect. Check out the pros and cons of the service:
Pros
52 live trading sessions with Ross Givens himself

24/7/365 access to V.I.P. members-only website

Trading idea tracker on all active recommendations

Special report with details on $3 AI stock

Bonus video tutorial on bankable patterns

365-day money-back guarantee

Heavily discounted price
Cons
Does not cover options

No community forum or chat
Ross Givens Reviews by Member

We're impressed by what Ross Givens brings to the table, but don't just take our word for it. Here are reviews from actual members touting their success with his other services: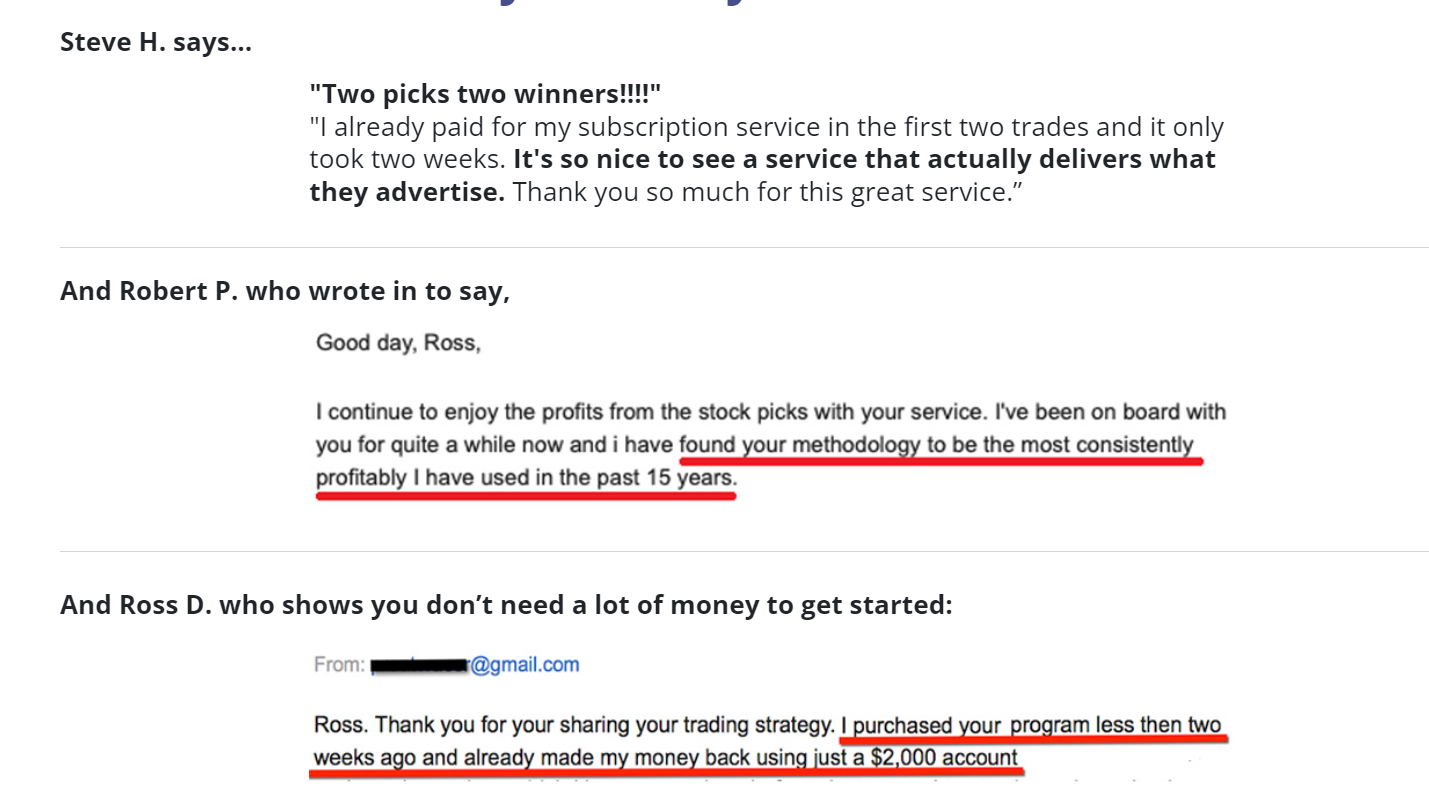 As you can see, these members were very satisfied with their experience. The contented experiences of these members make a compelling case for Ross Givens' credibility, reinforcing why his services are well worth trying.
>> Join these satisfied members now <<
How Much Is Live Action War Room Subscription?
Right now, you can pick up a year of Live Action War Room for just $5. You read that right. I had to double-check the number a few times to make sure it was right.
I normally break down the price into more manageable monthly or daily chunks, but I don't even need to do that here. You can become a member for less than the price of a cup of coffee.
This minuscule fee includes the $3 AI stock special report that could make you a pretty penny if it reaches the heights Givens anticipates. That alone could be worth the price of admission.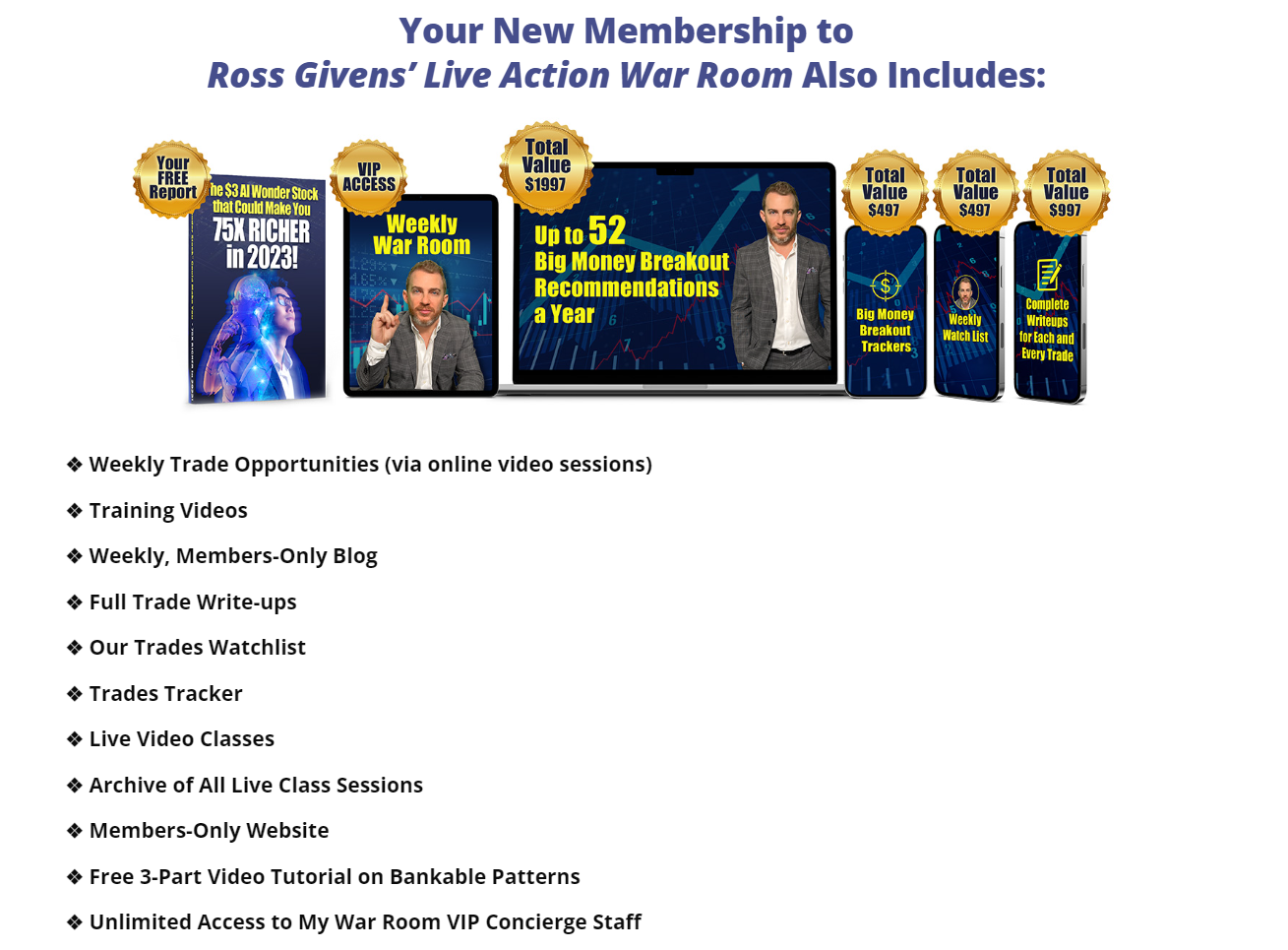 Live Action War Room Review: Is It Worth It?
Ross Givens' War Room is an excellent service, and you just can't beat that price. $5 for an entire year is simply unheard of for a bundle of this caliber.
You're getting 52 unique live sessions with Ross Givens, where he talks through his favorite industries and strategies. Each session has stock recommendations you can act upon.
In my opinion, it's a much better approach to some of the bland research newsletters you'll find out there. There are TLDR versions if you don't have time to watch the whole thing.
Givens is known for solid picks, so any one of his suggestions could be a boon to your portfolio. He doesn't stick to a certain niche, instead following where the market's hottest.
What makes this bundle really stand out is the special report on Givens' $3 AI wonder stock. AI is undoubtedly on fire right now, and this one pick could be the tech breakthrough we've all been waiting for.
After thoroughly reviewing Live Action War Room, I love what I've seen. The low price point and money-back guarantee remove any barriers to getting in.
If you're looking for a good entry point into AI, join Live Action War Room today.
>> Get started with Ross Givens' Weekly War Room NOW for just $5! <<