Lance Ippolito's Master Indicator has been making waves in the trading world, but is it worth the hype? 
To find out, I decided to take a closer look at Ippolito's track record and his tool's performance in the current market. 
Check out my Master Indicator review below to see if Lance Ippolito is the real deal or just another overhyped trading guru.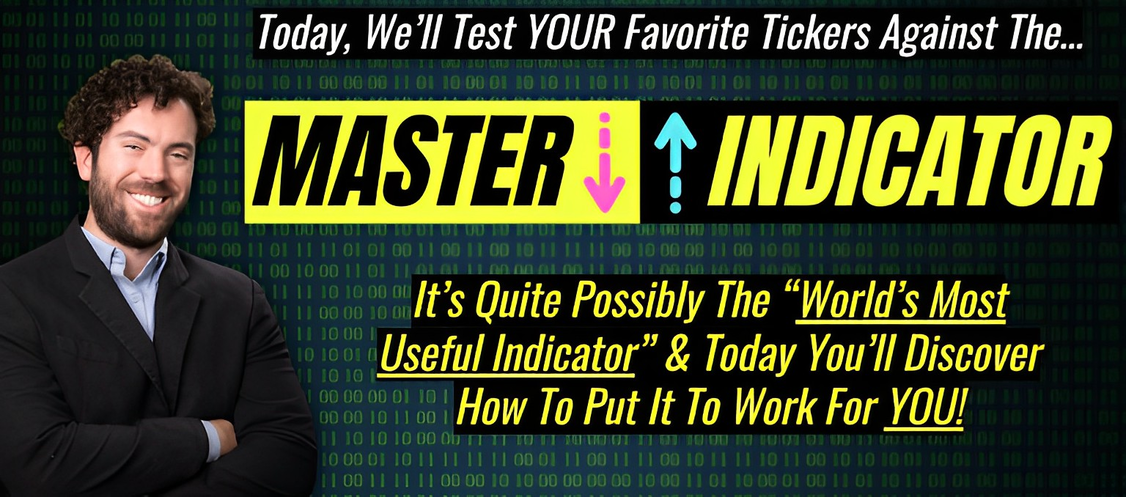 What is the Master Indicator?
Lance Ippolito's Master Indicator is a cutting-edge trading tool designed to help traders easily navigate the complex world of stock markets. 
It's a comprehensive service that includes daily market insights, trade recommendations, and alerts to help traders make informed decisions.
What makes the Master Indicator so groundbreaking is that it's powered by a proprietary algorithm designed to analyze market trends and identify potential trading opportunities. 
This algorithm is based on Ippolito's years of experience in the trading world and advanced data analysis techniques that give traders a real edge in the market.
But who exactly is Lance Ippolito? And is he worth trusting? Keep reading this Master Indicator review to find out.
>> Sound like a good fit? Sign up for 85% off HERE <<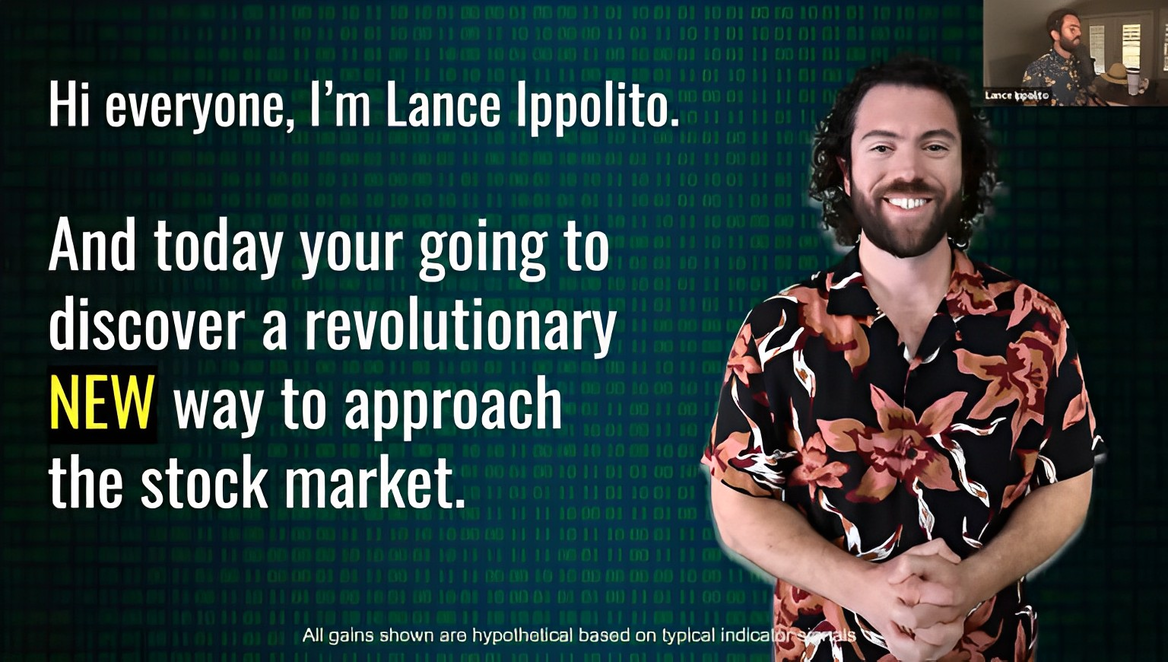 Lance Ippolito Review: Who is He?
Lance Ippolito is a well-known name in the trading world and has years of experience as a professional trader and market analyst.
As an ex-hedge fund trader, he's worked with some of the biggest names in finance and has a proven track record of success, with a strong reputation for providing accurate and timely market insights.
Lance Ippolito has also made several appearances on media outlets such as CNN Business and Cheddar TV, among others, sharing his market insights and analysis with a broader audience. 
In addition to his media appearances, Ippolito is the founder of several successful trading services, including Master Indicator and Weekly Blitz Alert. 
These services provide subscribers access to Ippolito's unique trading strategies and his proprietary tools and indicators, which have been developed through years of market experience.
Lastly, he is also a member of a reputable financial advisory company WealthPress and CEO of InTheMoneyTrading.com. 
All-in-all, Lance Ippolito's impressive track record illustrating his ability to generate significant returns show that he's worth listening to if you're serious about improving your trading strategy and making informed market decisions.
What is Lance Ippolito's "Revolutionary New Way to Approach the Stock Market"?
Lance Ippolito's "Revolutionary New Way to Approach the Stock Market" is the Master Indicator, a comprehensive trading system that provides a unique and innovative approach to trading. 
The Master Indicator is a package that includes various proprietary tools and indicators, all of which have been developed by Ippolito himself using his experience in trading.
How Does the "Master Indicator" Trading System Work?
Master Indicator offers a new way of navigating the markets by providing a handy roadmap to identifying new trading opportunities.
It uses just a few high-quality ingredients, including volume, moving averages, closing price, and average true range (ATR), which have been combined in over 118 lines of code that can be easily installed into top trading platforms. 
Even though it's pretty straightforward, it's still incredibly effective at anticipating the rise and fall of prominent stocks. Plus, this simplicity helps avoid extra market noise and allows even novice traders to quickly grasp the trading systems.
One of the most remarkable features of the Master Indicator is that it signals not only long and short trades but also where to take potential profits or exit a position. 
It achieves this by using a stock's ATR, which is a good indicator that shows how much it moves within a given time period. By averaging the range over a few days, the ATR is calculated, and target and stop levels are then determined. 
Has the "Master Indicator" Been Effective in the Past?
Lance Ippolito's Master Indicator has a proven track record of accurately predicting market patterns and movements. 
For example, on January 6, 2022, just two days after the S&P 500 made its 71st record high, the Master Indicator started waving red flags. Warning that the S&P 500 was likely to move lower. And it wasn't wrong. 
Over a period spanning about three weeks, the index encountered a decline of about 12%. In general, it effectively suggested that market and commodity trends would move downward in numerous instances during the initial part of the year.
Similarly, it generated correct calls on the downfall of prominent stocks like Nvidia and DocuSign. 
In fact, it called the downfall trend of Nvidia eight separate times, which could have been eight chances to sell the stock before it moved lower or eight opportunities to go short! Likewise, it also correctly predicted the 24% crash of DocuSign five times before it happened.
All of this tells us that the Master Indicator shows great promise and definitely has the potential to boost a trader's chances of striking gold.
>> Join now for instant access to Lance's revolutionary trading system <<
Can the "Master Indicator" Work for Me?
Yes, the Master Indicator can work for traders of all experience levels. It's not just for veterans of the market. 
It's designed to be accessible to anyone interested in trading, regardless of their capital size or experience.
With easy-to-read signals, it provides clear buy-and-sell indications based on real-time data, taking most of the guesswork out of trading.
In addition, another advantage of the Master Indicator is its versatility. It works with stocks, options, and exchange-traded funds (ETFs), giving you a range of trading options to choose from. 
Depending on your risk tolerance and goals, it can also be used for short-term or long-term trading strategies.
Lastly, the tool also comes with a comprehensive training program that teaches you how to interpret the signals and use them to make successful trades. Making it even more accessible to newer traders!
What's Included with this Trading Systems Deal?
You'll get instant access to the "Master Indicator" and a treasure trove of additional bonuses if you sign up under Ippolito's latest deal. Here's what you get.
Full Access to Lance Ippolito's "Master Indicator"
By purchasing this deal, you'll get full access to the powerful "Master Indicator" tool without any ongoing subscription fees (one-time purchase). This means that you can use it for as long as you'd like without any hidden charges.
The Master Indicator Quick Start Guide
If you're new to using trading indicators or just want to hit the ground running with the Master Indicator, then you'll definitely appreciate the free "Quick Start Guide" included in this deal. 
This guide provides a step-by-step tutorial on how to install the software into your trading platform, how to read and interpret the signals, and how to set your target and exit levels based on the ATR. 
With this guide, you can start using the Master Indicator with confidence, even if you're new to trading.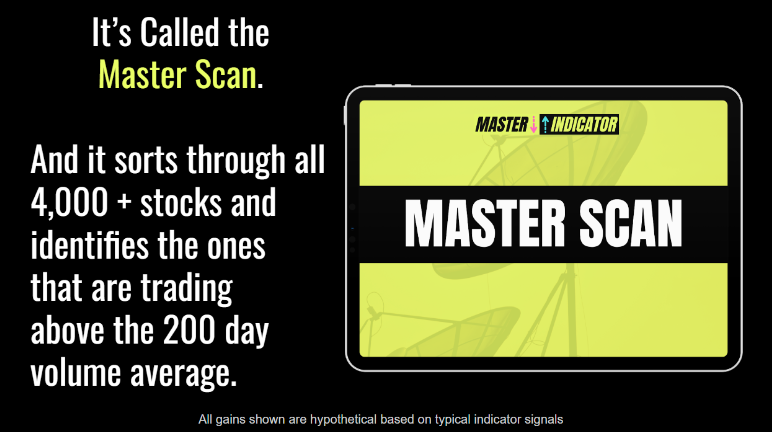 Master Scan
The Master Scan is another powerful tool that comes for free with Lance Ippolito's Master Indicator package. 
It is designed to help you identify stocks trading above their 200-day moving average, which could indicate a potential move up or down. 
It does this by automatically sifting through over 4,000 stocks and analyzing the ones with heavy buying or selling volume to identify those with the most potential.
This strategy is particularly useful for swing traders who want to capture larger price moves over timeframe periods like a few days or weeks.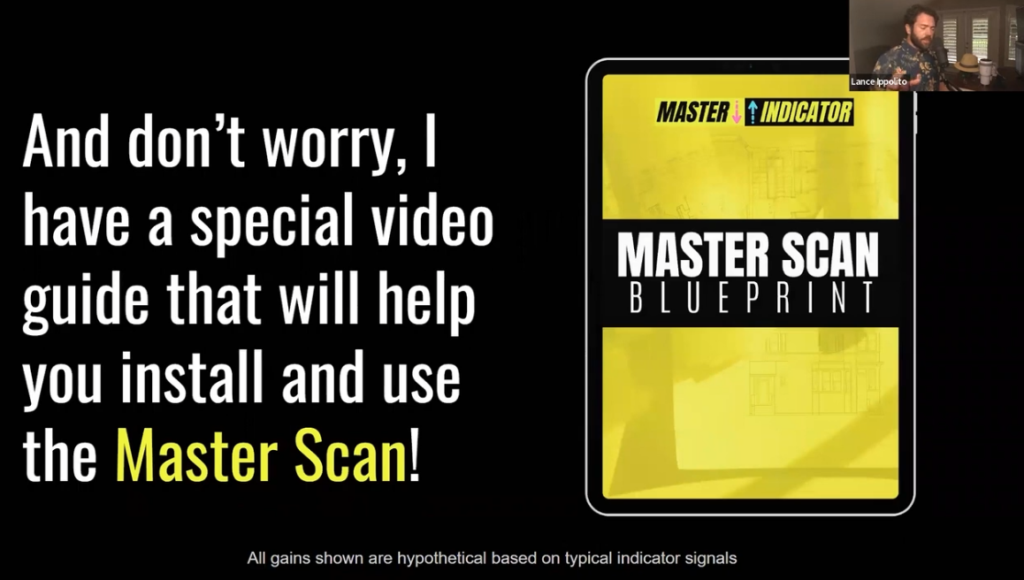 Master Scan Blueprint
This bonus video resource is particularly valuable for those who are new to trading or may not be as technically savvy. 
It provides clear instructions on how to install the Master Scan software and how to use it to identify potential trade opportunities. 
It also provides tips and tricks on customizing the software to suit your trading style and preferences.
By following this blueprint, you can start identifying potential trade opportunities using the Master Scan software right away.
>> Join now for instant access to Lance's trading blueprint <<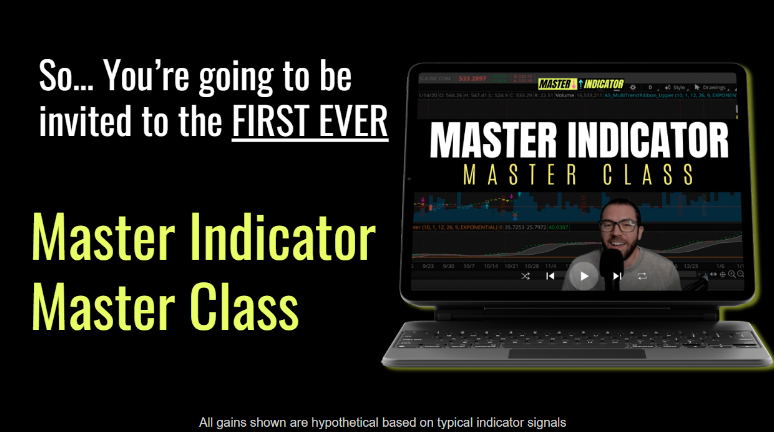 The Master Indicator Master Class
The Master Indicator Master Class is an exclusive opportunity for members to join Lance Ippolito in a live trading session. 
During this session, members can trade alongside Ippolito as he uses the Master Indicator to make real-time trades.
Not only will members have the chance to see the tool in action, but they will also have the opportunity to ask Lance Ippolito questions and learn some of his trading secrets. 
This course can be an invaluable resource for anyone looking to improve their trading skills and gain insights from a seasoned professional.
Details and dates for the Master Indicator Master Class will be posted in the members-only section of the website, so make sure to sign up to get full access.
>> Sign up now to access these features and much more <<
VIP Customer Support
Apart from all the bonuses, you'll also receive VIP customer support. 
This means that if you run into any issues, have questions about the software, or need help getting started, you can reach out to the dedicated customer support team for assistance. 
So rest assured that you won't be left in the dark and will have access to the help you need to succeed with the Master Indicator system.
Master Indicator Review: Pros and Cons
The deal is undoubtedly compelling, but no Lance Ippolito Master Indicator review would be complete without mentioning the most obvious pros and cons:
Pros
It's a powerful tool that simplifies trading for everyday people

The deal includes a quick start guide to help you get started

A bonus

Master Scan

software that identifies potentially profitable trades

Free included Master Class for live trading and Q&A with Lance Ippolito

The deal is a one-time purchase, not a subscription

VIP customer support to assist with any issues

The

Master Indicator

has a track record of success, with real-world results and testimonials from satisfied customers
Cons
Limited time offer, so you'll need to act fast to avail it

No community chat for users to connect and discuss trading strategies

The

Master Scan

only looks for stocks trading above the 200-day moving average, which may limit its usefulness in certain market conditions

Trading itself also carries a risk, so it's important to keep in mind that there is no guarantee of success even with the help of this tool
How Much is the Master Indicator?
You get $3,338 worth of bonus materials and software when you sign up under this deal, but you'll only pay $497 under this limited-time special pricing deal.
That's a discount of more than 85%!
But the best part?
It's a single-time purchase, so you don't have to worry about extra charges down the line, either.
>> Get started now at 85% off <<
Lance Ippolito's Master Indicator Review: Is it Worth It?
In conclusion, after going through this Master Indicator review, you should already know that Lance Ippolito's Master Indicator package is an excellent deal for anyone who wants to improve their trading game. 
The Master Indicator is a powerful tool to help traders make better decisions. The additional bonuses that come with this deal, like the Master Scan software and a Masterclass with Ippolito himself, make it an even better value. 
And yes, while there are some minor downsides to consider such as the lack of a community chat and the fact that trading always carries a risk, I believe that the benefits of this offer far outweigh the costs. 
Overall, if you want to take your trading to the next level, the Master Indicator deal is definitely worth it.
Sign up now to get instant access to this powerful software and additional bonuses included in this offer.
>> That's it for my review. Sign up for 85% off today. <<
Disclaimer: The profits and performance shown in this article are not typical. We make no future earnings claims, and you may lose money. The trades expressed are from historical backtested data in order to demonstrate the potential of the system.