Gold IRAs are rising in popularity again, thanks to skyrocketing government deficits and currency concerns. Our Monetary Gold review explores if this A-rated company is a suitable destination for your besieged retirement portfolio.
What Is Monetary Gold?
Monetary Gold is a precious metals firm specializing in precious metals IRAs, most commonly referred to as Gold IRAs.
The company opened its doors in 2000, more than two decades ago.
And it's grown to become one of the top-rated providers of gold-backed retirement accounts.
Precious metals are an extremely competitive industry, but Monetary Gold has the advantage of being a direct dealer.
Many gold IRA companies only broker transactions between investors and dealers.
That usually means they pay more for their precious metals, and consequently, you pay more for your precious metals IRA.
Being a direct dealer helps Monetary Gold secure fantastic deals on precious metals, and they pass much of the savings along to their clients.
The company offers a wide variety of gold, silver, palladium, platinum coins, and bullion.
Monterey Gold also offers foreign coins, semi-numismatic coins, and much more.
Semi-numismatic coins are widely regarded as the best investment-grade precious metal asset, so their presence adds a lot of value to Monetary Gold's precious metal IRAs.
If you're interested in opening a Monetary gold IRA or precious metals IRA account, stay tuned because Monetary Gold has a lot to offer.
You can also download their free gold guide here if you'd rather get the details from the horse's mouth.
Is Monetary Gold Legit?
Monetary Gold is a legit IRA provider.
The service is highly rated among independent reviewers as well as third-party sites.
It also has a solid A+ rating from the Better Business Bureau (BBB).
Who Owns Monetary Gold?
Monetary Gold's owner is not publicly disclosed.
The IRA provider is a US corporation that is headquartered in Westlake Village, California.
The company's primary contact is listed as Ms. Andrea Powers, a principal partner at the company.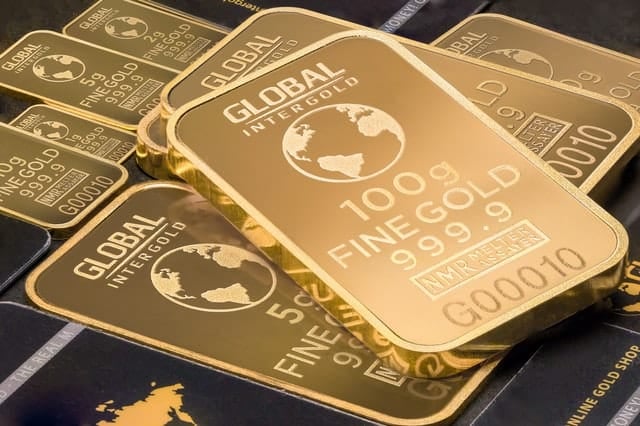 What Is a Gold IRA?
A gold IRA combines traditional retirement account tax advantages with physical precious metals ownership.
These specialized tax vehicles make it easy to diversify your portfolio with actual gold and silver that belong to you.
With a gold IRA, you own actual precious metals that you can hold yourself or place in secure storage.
It's totally different from owning a gold ETF or other representative asset vehicle.
Benefits Physical Gold, Silver, and Other Precious Metals
Owning gold gives you direct physical control of your retirement assets.
If you're a particularly independent investor, you can even get gold and silver coins shipped directly to your house from a precious metals dealer.
Taking possession of your metals gives you direct control over your investments, and you can liquidate your assets as needed.
Most coins are considered non-reportable, so you might not even need to tell the IRS.
With your gold and silver in hand, you won't have to worry about losing access to your wealth if the stuff hits the fan.
Your wealth is stored outside the global financial system, so it's protected against fallout from a potential economic disaster.

Owning physical metals also makes passing down your wealth much easier.
You can privately pass your precious metals down to your next of kin without cutting through a wall of red tape.
Precious metals also offer a potential hedge against inflation and paper asset volatility.
Even if you're not planning on going all-in on precious metals, they can be an effective rainy-day insurance policy in a worst-case scenario.
Storage options are also available for those who worry about protecting their assets, and the custodial fees are relatively low.
You don't have to buy a safe or a security system to get started.
Owning metals helps you avoid fund management fees and provides a solid hedge against uncertainty.
It's the superior option for committed gold bulls, but gold IRAs make the deal even sweeter.
>> See how physical gold can protect your investment portfolio <<
What's Included with Monetary Gold?
Gold and Silver IRAs

Certified-graded coins and bullion

Direct buyer experience

Available home delivery (free shipping)

Secure storage at the Delaware Depository

Free online workshops

Private Storage IRAs

Free Gold Guide

Top-rate gold IRA staff

Gold and Silver IRAs
Gold IRAs are Monetary Gold's flagship product, but silver IRAs are also available.
These specialized retirement accounts allow you to invest in precious metals while maintaining the tax benefits associated with traditional IRAs.
When you're ready to get started, Monetary Gold's helpful IRA team will help you through every step of the onboarding process.
They'll even show you how to roll over your IRA with minimal to no tax consequences.
However, you don't have to transfer assets from an existing IRA.
You can also make cash contributions to your new account to make the process even smoother.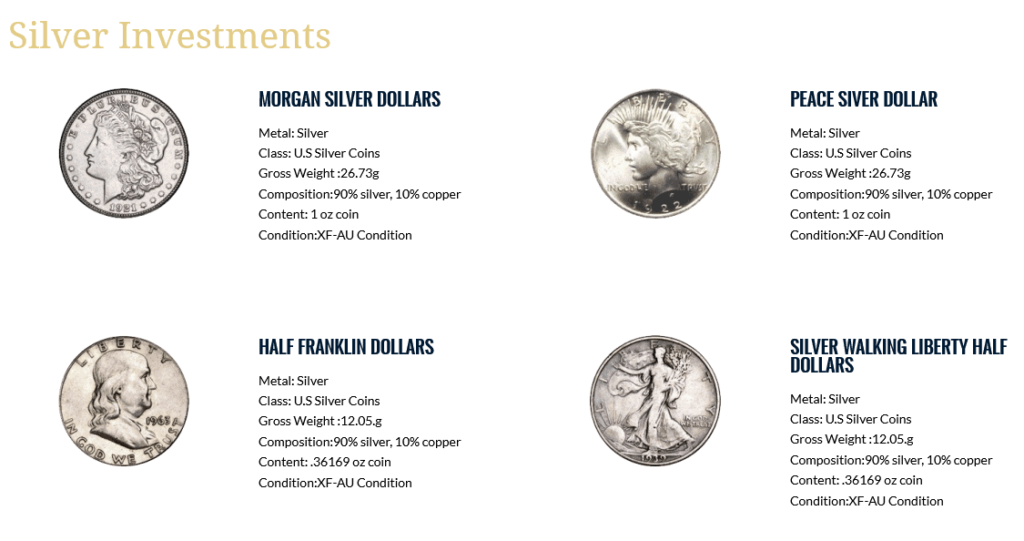 Coins and Bullion
Monetary Gold offers tons of options for coins and bullion.
Monetary Gold products include:
Gold

Silver

Platinum

Palladium
Its offerings include both foreign and domestic coins as well.
Here's a quick overview of some coins and bullion provided by Monetary Gold:
| | | | |
| --- | --- | --- | --- |
| Gold | Silver | Platinum | Palladium |
| $20 Saint Gaudens | Morgan Silver Dollars | Platinum American Eagle | Maple Leaf Coin |
| Gold British Sovereign | Half Franklin Dollars | Platinum Maple Leaf | |
| Swiss 20 Franc | Silver Polar Bear Coin | | |
| Belgium 20 Franc | Silver Britannia Coin | | |
While the platinum and palladium options are limited, there are plenty more gold and silver coins in addition to the ones that we listed.
Direct Buyer Experience
Monetary Gold buys precious metals directly from the source.
Cutting out middleman markups gives Monetary Gold a significant advantage over other gold IRA companies.
You could net considerable savings throughout the account's lifetime with Monetary Gold's low prices.
"We are one of the few prestigious precious metals firms in the nation that is a direct dealer making your acquisition through the source."

— MonetaryGold.com, About Us
You should always get your precious metals from as close to the original source as possible.
The more middlemen you have, the higher the prices go.
As a direct buyer, Monetary Gold is as close to the source as most everyday retail investors can get.
You'll quickly find that it offers superior pricing to most competitors.
>> Buy precious metals for cheap with Monetary Gold <<
Home Delivery (Free Shipping)
Many investors prefer to control their assets directly, and this is especially true for gold IRAs.
Securely storing your own gold and silver has its challenges, and it's not cheap.
Many sites sell gold and silver, but Monetary Gold allows you to combine physical metal ownership with the tax advantages offered by IRAs.
However, if you want your gold delivered to you, your account will be a private storage IRA.
Private storage IRAs have additional conditions you should consider before deciding whether this approach is feasible for you.
Physical ownership gives you complete control over your precious metals without the broker, government, or anyone else in between you and your hard-earned money.
All deliveries require signatures and are fully insured.
Private delivery is available for a flat rate of $30.

Delaware Depository Storage
Secure storage in an insured depository is available for gold IRA customers for an annual fee.
The Delaware Depository Storage Company operates the facility, and it's insured by Lloyds of London, one of the most prestigious financial institutions in the UK.
With state-of-the-art security systems and 24/7/365 monitoring, you can rest easy knowing your precious metals are protected from any eventuality.
Monetary Gold Online Workshops
Every month, Monetary Gold hosts free workshops for its investors and anyone else who wants to attend.
It's a great place to learn the ins and outs of precious metal investments.
If you're still unsure about the company or gold IRAs in general, attending one of Monetary Gold's monthly webinars could be a great way to introduce yourself to this investing style.
The staff covers various topics relating to precious metals, including the outlook for inflation, central bank policies, and other vital issues.
It's an excellent arena to see the Monetary Gold staff in action.
Best of all, it's entirely free.
If you want to check one out, you can register for the invite list here.
Private Storage IRA
Private storage of your IRA-held precious metals is available, but Monetary Gold flat-out says that they don't recommend it.
Currently, private storage of RA precious metals is a legal gray area.
It hasn't been approved by the IRS, but it hasn't been disapproved either.
Right now, it's allowed, but regulators could change the rule at any time.
If the IRS eventually disapproves of private storage, it could create significant headaches down the road.
You could be forced to transport all your metals to approved storage or, worse, forcefully liquidate them.
That's all just speculation, but the point is that we don't know what will happen with this rule in the future.
Monetary Gold can't be held accountable for your decision to store your own precious metals, and the firm doesn't recommend or advertise private storage.
You should consult with your tax advisory or attorney before deciding to go this route, but it is available if you're so inclined.
You can take delivery of your metals for a $30 flat fee and store them in your home, a safe deposit box at your bank, or wherever else you choose.
Also, monetary Gold is currently offering free shipping for new customers, so you can avoid the fee on your first transaction.
A Private storage IRA comes with some potential risks, but it allows you to keep direct control of your assets.
Some may prefer it for that reason.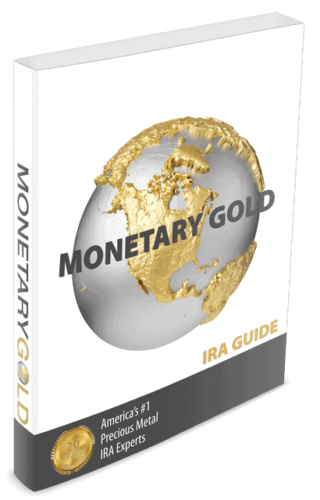 Free Gold Guide
If you're interested in a gold IRA, you can download a free investment guide on the Monetary Gold website.
It's available for free for anyone interested, with no strings attached.
You can download your free gold IRA investor's guide here.
The guide covers many of the most pressing questions investors have about gold IRAs.
It also guides you through the latest market conditions and lays out a compelling bull case for gold.
The price is right (it's free), so there's no reason not to check it out.
Gold IRA Staff
Monetary Gold has a fully staffed IRA department that's standing by to answer your questions and help you set up your precious metal IRA.
The team gets excellent reviews from clients on the various platforms we covered above.
The IRA staff is in the office on weekdays from 6 am to 4:30 pm from Monday through Thursday.
On Friday, the office closes at 2 pm.
It seems odd that this type of business would open so early in the morning, but it makes sense because the office is on the West Coast.
By opening early, they allow investors from across the country to call them during regular business hours.
These hours also closely align with the New York Stock Exchange, which is open for trading from 9:30 am to 4 pm in the Eastern time zone.
>> Get started with a gold IRA now <<
How Much Does Monetary Gold Cost?
There are no costs to open a gold IRA with Monetary Gold.
However, there is a minimum investment ranging from $5,000 to $10,000, depending on the IRA custodian you choose.
You can also avoid early withdrawal tax penalties.
The IRS views the transaction as a transfer because you're just moving assets from one custodian to another.
If you decide to store your precious metals through Monetary Gold's Delaware Depository program, you'll only pay an annual fee of $100 for up to $100,000 worth of assets.
The fee covers both secure storage and insurance.
You'll also pay a small markup on your precious metals purchases, but that's the standard operating procedure in the precious metals business.
Fortunately, Monetary Gold's markup is small compared to most, thanks to its direct dealer status.
Monetary Gold Fees for Storage
Annual storage and insurance costs start at $100 for up to $100,000 worth of assets.
If your account holds more than that, you'll pay $1 for every additional $1,000 in storage.
For example, if your gold IRA has a $150,000 balance, you'll pay just $150 for secure, fully insured storage.
This is a very competitive pricing model, which is why most investors don't mind Monetary Gold's fees.
Delaware has investor-friendly tax policies as well.
You won't pay any state sales tax, personal property tax, inventory tax, or commercial net worth tax like you would in other states.
There's also no tax on the payment of depository storage fees like there is in New York, so your tax costs are significantly lower in Delaware than they would be anywhere else.

Pros and Cons of Monetary Gold's IRA and Products
Monetary Gold has a lot to offer precious metals investors, but no service is perfect.
Here are the pros and cons of using Monetary Gold IRAs.
Pros
Direct precious metals dealer; minimal markup on IRA-approved metals

Setting up a gold IRA account is relatively simple compared to other services

Secure storage starting at $100 for up to $100,000 worth of assets

Private storage IRA options are available (not recommended)

Can buy precious metals outright

Free precious metals investing guide available on the website

Excellent industry ratings — BBB Accredited business with an A+ rating

Versatile gold IRA can hold gold, silver, platinum, palladium, stocks, bonds, and more

Monetary Gold covers up to five years of custodial fees for clients that qualify

Roll over your portfolio with no tax penalties or fees

Minimum opening investments as low as $5,000

Complete the application process and open an account in 48 to 72 hours

Choose from certified-graded coins, bullion, and semi-numismatic coins
Cons
Private storage IRAs come with some regulatory risks

Platinum or palladium options are fairly limited when compared to its cold and silver coins
Monetary Gold Reviews
If you browse around online, you'll see that Monetary Gold is held in high regard among many reviewers.
TrustLink, a third-party review site, has a lot of positive things to say about this precious metal IRA provider.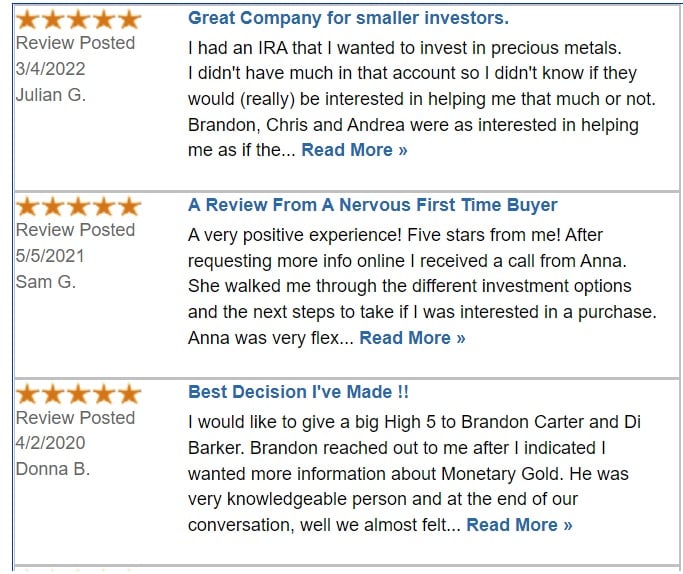 Monetary Gold BBB Rating
Currently, Monetary Gold holds an A+ rating from the Better Business Bureau.
It also has an impressive 5-star rating, with 24 reviews.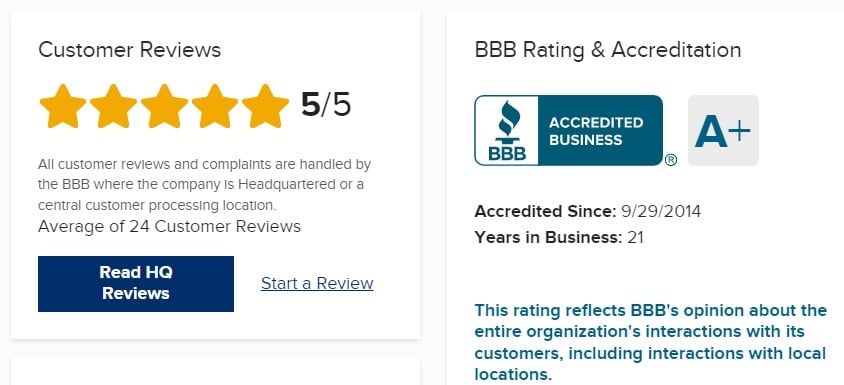 When you take into account that the BBB site is usually a place where people go to vent their frustrations about a business, this five-star rating is even more impressive.
Monetary Gold Google Reviews
Monetary Gold is also sitting at a 5/5 rating on Google reviews.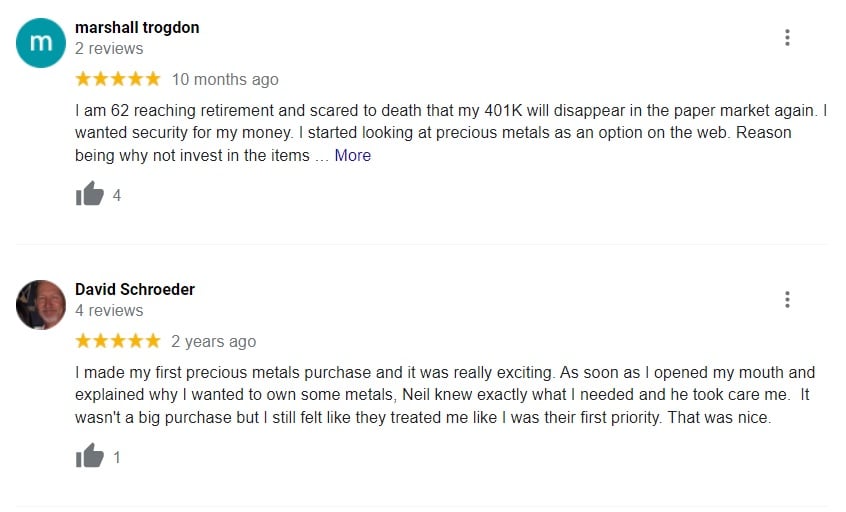 Not too shabby.
In fact, as of writing this, we couldn't find any bad Monetary Gold reviews through Google's ratings — though, this could certainly change in the future.
Is Monetary Gold Worth It?
Monetary Gold is an excellent destination for your investment portfolio.
The gold IRA onboarding process is quick and painless, and the company offers some of the best precious metals prices in the industry.
BBB gives this company an A+ rating for a reason, and many of Monetary Gold's clients agree that this is a fantastic company.
You can choose from a wide selection of gold, silver, platinum, and palladium, so you get the perfect asset mix for your investing goals.
And the staff will also explain how you can minimize potential tax penalties.
Also, secure storage at the Delaware Depository comes at a great rate as well.
Many gold IRA firms offer storage at this facility, but Monetary Gold has some of the lowest rates we've seen.
All things considered, Monetary Gold is an excellent option for precious metals investors.
It's a quality company with competitive pricing, affordable services, and a highly knowledgeable team.
If you're in the market for a gold IRA, you should give Monetary Gold a serious look.
>> That's it for our Monetary Gold review. Get your Free Gold Guide Here <<