The stock market can be a volatile roller coaster of thrills and spills for anyone investing in it. There's nothing like a good research platform to help smooth out the drops and boost the climbs. With many different platforms out there, it can be hard to decipher which one to choose.
The Stock Dork is here to study these companies and give you the information you need to make an educated decision.
Look no further than this Morningstar review to discover how the service will work for you.
Morningstar Review: Overview
Morningstar is an investment research platform that provides actionable data for investment decisions.
It's become one of the leading research firms since American entrepreneur Joe Mansueto founded it in 1984. However, the current CEO is Kunal Kapoor.
Although Morningstar's headquarters is in Chicago, the firm has nationwide influence. Over its 30-plus year history, the company built a strong track record of insightful research and service.
Eventually, the firm developed such a strong reputation that it began managing client assets. In addition to its research arm, Morningstar's asset management business currently holds over $200 billion in client funds.
What is Morningstar Premium?
Morningstar Premium is a subscription-based investment research service. Morningstar's analysis primarily relies on fundamental investing principles, so its reports don't typically emphasize technical analysis.
Unlike other research services, Morningstar reports don't emphasize complex charts and vague technical patterns.
Instead, Morningstar takes a more traditional approach that focuses on company fundamentals and value. These same techniques helped make Warren Buffett one of the wealthiest people in the world.
Fundamental investing strategies use business criteria to analyze stocks and identify trade opportunities. It's one of the most successful investing techniques.
>>>Sign Up for Morningstar Premium Now and Get a 14-Day Free Trial<<<
How Does Morningstar Premium Work?
Morningstar Premium's research identifies potential investments, analyzes them, and regularly monitors their progress.
Subscribers receive regular stock recommendations and insightful advice from world-class experts. Morningstar Premium also provides in-depth analysis of securities in various asset classes, including equities, ETFs, mutual funds, bonds, and more.
Traders can also access analyst-backed ratings, premium articles, and many other high-value features.
Morningstar Premium provides professional-grade screening tools, so users can find new investments that fit their strategy. Best of all, Morningstar Premium has a mobile app for Apple and Android phones.
The app allows premium subscribers to peruse articles and access other premium features from almost anywhere.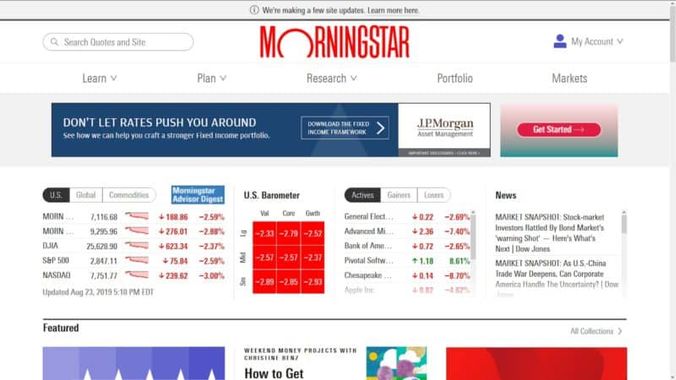 Morningstar Review: Features
Morningstar Premium's main draw is its extensive research library, but users can also access a wealth of useful extras, including:
Analyst Reports & Investment Picks
Portfolio Manager
Portfolio X-Ray
Screeners
Article Archive
Customer Support
Let's take a deeper dive into each of Morningstar's best features:
Analyst Reports & Investment Picks
The real draw of the whole Premium subscription is the analyst reports and investment picks. Morningstar uses a proprietary mathematical framework to evaluate and rank different trading options to give you the most lucrative ones.
Over 150 analysts provide detailed reports on stocks, ETF's, and mutual funds. These assets are given a rating based on a 5-star system, indicating how much they believe they will perform on the market.
Reports further indicate each analyst's top investment picks. These picks can be great grabs to boost your portfolio and turn more profits.
Portfolio Manager
The portfolio manager makes it much easier to track your investments. You can also use it to create watchlists and quickly manage your portfolio directly through the Morningstar Premium platform.
The interface is easy to use, but it includes all the information you need to make sound decisions.
The platform also allows you to easily search through your investments and navigate links to your account. It functions as a central hub for your trading endeavors.
Portfolio X-Ray
The portfolio X-ray tool lets you look into the heart of your stock portfolio to see if you are over or under-allocated in a specific area.
You may not even be aware of everything that's held in a particular mutual fund, so the X-Ray tool can uncover how those funds are allocated. In this way, you can decrease uncertainty and investment risk while boosting gains.
Screeners
Screeners quickly identify potential investments based on user-designated criteria. It's like a search engine for stocks.
Morningstar Premium's screener features dozens of adjustable parameters so users can find what they're searching for in a matter of seconds.
You can customize Morningstar's fund screener using more than 100 different parameters. Each parameter is fully adjustable so that you can modify them to your liking.
This tool helps you find suitable investments in seconds instead of hours, so it's a game-changer for people who are searching for new opportunities.
Article Archive
The article archive also includes research and resources for a wide selection of assets. These articles provide essential financial insights and expertise.
An in-house team of veteran analysts writes most of the materials, but you will find some guest articles.
Here are some examples of the kinds of articles on the archive:
Is the '4% Rule' Broken?
2 Stocks We Find Attractive
The New Big Buyer of Bond ETFs
Morningstar groups its articles by categories so you can easily find what you need. Some of the available types include market updates, stock strategies, advisor insights, and more.
The archives come loaded with a variety of research, so you're bound to find something that fits your investment objectives.
Customer Support
Morningstar Premium also offers customer support for clients having technical issues.
They don't provide live chat support, but users can contact support via email and phone. There is also a self-service FAQ page that is pretty comprehensive.
>>>Start Putting Morningstar's Game-Changing Research Tools to Work Now<<<
Morningstar Premium Reviews: Investment Strategy
Morningstar rates their securities based on fundamental analysis, so their analysts consider revenues, earnings, and other fundamental business attributes.
They use this information to determine the stock's 'fair market value.' From there, you can compare the asset's current price with Morningstar's fair value to decide whether it's a buy.
Other popular research services use more technical analysis techniques to analyze securities.
Technical analysis uses mathematical and statistical measurements to identify suitable investments and buying opportunities.
Conversely, Morningstar focuses more on underlying businesses and economic trends. Neither approach is superior, but each has different strengths and weaknesses.
Morningstar Premium is best suited to investors who prefer investing based on fundamentals.
Customer Support
Morningstar Premium also offers customer support for clients having technical issues.
They don't provide live chat support, but users can contact support via email and phone. There is also a self-service FAQ page that is pretty comprehensive.
>>>Sign up for Morningstar Premium Research Service Now<<<
Morningstar Premium Free Trial Review
If you don't know whether Morningstar Premium is for you, you can try it free for two weeks. The free 14-day trial option allows you to test out the platform before committing to a purchase.
As long as you cancel the service within the first 14 days, it won't even cost you a penny. Should you stay with the service, there are a few different options for membership based on subscription length.
Morningstar Cancelation Policy
Morningstar provides an easy way to cancel your service at any time should the need arise by visiting "My Account" and then clicking "Membership".
The platform doesn't offer refunds should you cancel in the middle of a billing cycle.
How Much Does Morningstar Premium Cost?
There are a few options when investing in the premium service, but you'll save more money the longer you subscribe for.
The monthly plan costs $29.95 and is the least cost-effective model. Jumping to a one-year plan, the price drops to $199. This is almost half off the monthly rate.
If you're gung-ho about jumping on board with Morningstar Premium, consider the two-year or three-year subscription plans for $349 and $449, respectively.
Morningstar does offer promotional pricing from time to time, so there's a chance you can get it even cheaper.
Is Morningstar Premium a Scam?
Morningstar has a long history with the stock market and has an excellent reputation in the investment community. It's also one of the top investment research firms in the country.
The firm's asset management business has thousands of clients and manages billions of dollars, and those high-caliber numbers say a lot about the company.
Morningstar Review: Pros and Cons
Morningstar Premium serves up several features that will help a trader at any level succeed on the stock market. Let's take a look at what Morningstar Premium does well and what it can improve upon.
Morningstar Premium Pros
Morningstar proprietary rating system
Large research library
Interface is easy to navigate
Excellent analysis and portfolio management tools
Expert ratings and investment picks
Reasonable pricing
Company has an outstanding reputation
Mobile app
Morningstar Premium Cons
Does not contain much technical indicator analysis
Niche investors might want a more directed information source
No advisory or management services
Is Morningstar Premium Right for Me?
New and experienced traders alike can benefit from the extensive services that Morningstar Premium has to offer. The service's fundamental approach to investing and streamlined user interface appeal to a vast number of people.
Furthermore, beginning traders will be able to capitalize on the expert advice from 150 different analysts that share their findings on Morningstar Premium. This information, plus the ability to build and manage a portfolio, are a huge blessing.
More experienced traders will also benefit from stock advice, and tools like the X-ray help create a portfolio that minimizes risk and offers the best chance at profit. These traders can also use the research to diversify their portfolios with new investments.
Morningstar Review: The Final Verdict
Morningstar Premium offers a lot for the cost of a $199 yearly subscription. For most investors, Morningstar Premium is well worth the cost. It's an excellent value, and it can quickly pay for itself if you use the knowledge correctly.
The site has a laser focus on stocks, mutual funds, and ETF's. Investors who enjoy working with these assets should find what they are looking for here.
Morningstar's research library and easy-to-understand rating system also make it an excellent option for beginners.
If you're still on the fence, there's no risk in trying out the 14-day free trial to see if it's a good fit for you.
>>> That's it for our Morningstar Premium Review. Click here to Sign Up for this Industry-Leading Research Service Now<<<