Nick Hodge has made a name for himself by uncovering ground-floor opportunities on the stock market. But does his premium newsletter carry on the tradition? Read my Hodge Family Office review to find out.
What Is the Hodge Family Office Newsletter?
Hodge Family Office is an investment newsletter that provides weekly market commentary on emerging growth opportunities.
Nick Hodge leads the service, and it's published by Digest Publishing.
Some membership perks include trade ideas, bonus reports, special alerts, and more.
The newsletter pinpoints early-stage companies that could see significant growth over a two to five-year period. Nick scours all sectors for trade ideas, but there is a distinct focus on mining operations (precious metals and oil).
Because these companies are in the early stage of their life cycles, many of the stock recommendations are in the penny stock range.
Also, while most positions are intended to be held for the long haul, there are some trade ideas that follow a short-term investment horizon.
>> Sound like a good fit? Sign up and save 50% HERE <<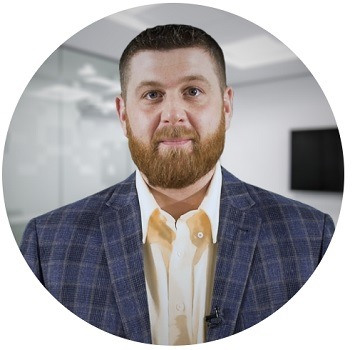 Who Is Nick Hodge?
Nick Hodge is a talented analyst with a keen eye for early-stage opportunities in the stock market. He's somewhat of a contrarian compared to many of his peers.
His philosophy is that these small companies could be a serious boon for speculative capital.
Outside the newsletter, he says he holds positions in more conventional plays and blue chips.
But his focus with the Hodge Family Office newsletter is providing members with a chance to see a small investment grow into a sizable nest egg.
These are carefully vetted high-risk, high-reward opportunities.
Given Hodge's experience raising millions of dollars of investment capital for resource, energy, and medical technology companies, he's a good fit to lead the charge.
What Comes with the Service?
Hodge Family Office offers a suite of premium research and resources.
Follow along for a full breakdown of each feature.

Annual Subscription to Hodge Family Office
The weekly newsletter is the centerpiece of the service, as it provides a direct line to Hodge's latest research and investment ideas.
As mentioned, these are early startups, so the recommendations have a riskier investment profile than most.
Not every issue comes with a new trade idea, but each one is packed with rich market commentary and a look at market-moving events.
The newsletters keep members up to date with happenings in relevant sectors or with the companies in the model portfolio.
Special Alerts
If news can't wait until the next issue of Hodge Family Office, members receive special alerts about open positions or new investment ideas on Nick's radar.
This is a helpful feature for folks who want to stay one step ahead of the markets without committing every waking second to research.
Updates are brief and informative, so you can quickly pivot if needed and then go on about your day.
It's features like this that show the team really respects members' time.
Free Subscription to the Daily e-Letter Daily Profit Cycle
Under the latest deal, new members receive access to Nick's daily e-letter.
It provides a bunch of supplementary insights into the market that could tide you over until the next weekly issue of Hodge Family Office drops.
If you're a big fan of Nick but short on time, I recommend giving it at least a skim every day to make sure you're in the loop.
The connection between the two publications is not one to one. But the daily newsletter could help cue you into macro market events that might be covered in Hodge Family Office's weekly issues.
24/7 Access to Our Members-Only Website and Archives
All research and reports are available through the members-only website portal.
Having everything under one roof provides a convenient solution for checking in on the team's recent musings and updates.
Features like this are par for the course in the research space, so I wouldn't give extra points here.
That said, you might be surprised how big of a difference something so small makes.
I've reviewed plenty of informative newsletters that were cumbersome to navigate because they were email-only.
>> Access these features and more for 50% OFF <<
New Member Bonuses
The latest research suite comes with additional insights that members can sink their teeth into.
Let's take a look at each one.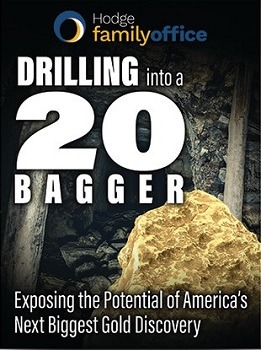 Drilling Into A 20-Bagger
This report reveals a $1 stock with a firm foothold in the gold mining industry.
Nick committed to a boots-on-the-ground investigation to personally vet this opportunity.
He says the site he visited could have the potential to produce 10 million ounces of gold, not too shabby.
The report offers an extensive deep dive into the company, Nick's findings, and why he's so bullish on this small stock.
Even better, it also comes with video footage of his visit to the site and includes interviews with company execs as well as geologists.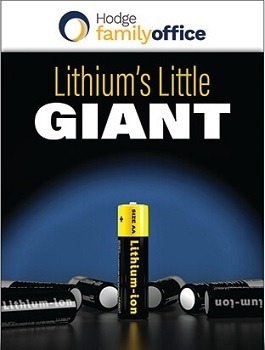 Lithium's Little Giant
Nick believes that this lesser-known company is in a unique position to become a major North American lithium mine.
He also says that an independent study recently found that this project could be worth almost $1.9 billion.
Currently, the mine has federal approval but is standing by for local authorization.
Nick anticipates that the stock's price could skyrocket after approval is granted, so now might be a great time to hop on board.
With so much potential, it's no wonder that it's Nick's biggest position in lithium.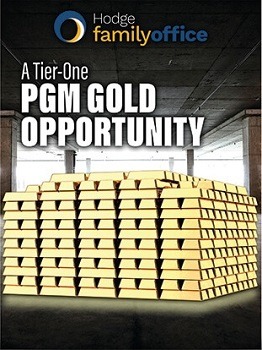 A Tier-One PGM-Gold Opportunity
This precious metals miner is a large mining company that could have a "tier one" project in the pipeline.
For those who need a little refresher, tier-one projects in precious metals are extremely rare, company-making opportunities.
They are typically cheaper, longer-lived operations that can produce thousands of ounces of precious metals for years.
In fact, some of the industry's heavy hitters spend absurd resources to land these big fish.
Everything you need to know, including the ticker, is tucked away in this members-only report.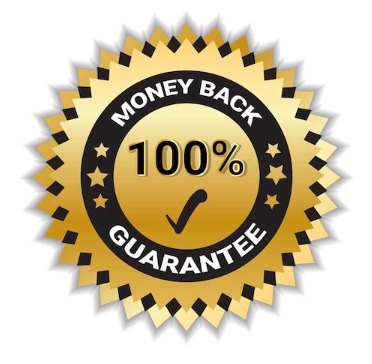 Nick's Ironclad Guarantee
New memberships are backed by a 60-day refund period.
This means you have about two months to test the waters. If you ultimately decide it's not a comfortable fit, you can opt for a full cash-back refund on the cost of your subscription.
Plus, you can keep the reports and information you receive during your subscription.
In my experience, the industry standard for premium newsletters is a 30-day in-house credit refund. So the team is going above and beyond with the latest deal.
>> Sign up under Nick's Guarantee <<
Is the Service Legit?
Hodge Family Office is a legit newsletter.
Nick Hodge leverages a more contrarian approach than many, but his insights check all the boxes.
He also understands the risks involved with speculative investments and takes every step necessary to provide real opportunities on the stock market.
Vetting early-stage companies isn't easy, but his experience raising capital for a range of burgeoning businesses offers him a unique vantage point.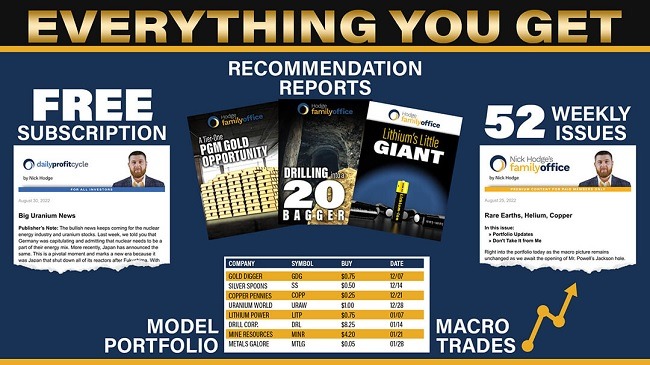 Pros and Cons
Hodge Family Office is a rock-solid newsletter. However, it has a few rough edges.
Pros
Great price with 50% discount

Weekly issues

Three additional investment ideas

60-day refund period
Cons
Speculative investments have higher risks

No options or blue-chip recommendations
How Much Does It Cost?
An annual subscription to Hodge Family Office typically costs around $2,000. However, Nick and the team are running a special discount that drops the sticker price by 50%.
This means you can sign up for $999.
The price is higher than many entry-level newsletters. But this is a premium newsletter.
If we're comparing apples to apples, many premium research services cost about $2,500 and do not offer a cash refund.
So I'll give Hodge Family Office the edge.
It provides premium research with pricing between what you could expect from entry-level and elite alternatives.
There's also a Lifetime Membership for $3,999, with a $99 annual maintenance fee.
These are great offers, and both are backed by a 60-day refund period. That said, I think the annual membership will appeal to most new members.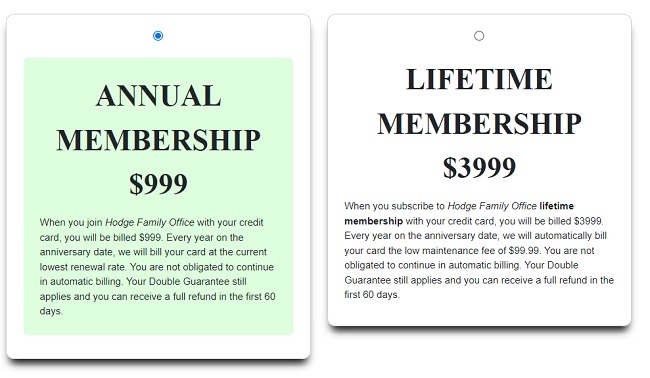 Is the Service Right for Me?
Hodge Family Office is best suited for folks in the market for high-quality speculative investments with a long-term horizon.
The risk profile is higher than many newsletters out there. And Nick isn't billing this as a magic bullet to build a well-rounded portfolio.
The strategy is to hold relatively small stakes of speculative capital for the chance at a substantial return. Though, members are free to put up as much (or as little as) they want.
There's also a good blend of variety here — with a current slant toward precious metals and energy.
The service does not deal in blue chips or companies late in their growth cycle, which makes sense given Nick's focus on junior mining companies.
Is Hodge Family Office Worth It?
Hodge Family Office is a great newsletter. It lives up to its name as a premium service with contrarian investment perspectives.
The $999 price tag might seem a bit much. But in the larger scheme of things, this newsletter is more reasonably priced than many of its competitors.
Plus, both the annual and lifetime memberships are backed by the team's iron-clad 60-day guarantee.
The positions are intended to be held for up to five years, so this isn't enough time to see an investment thesis to its conclusion.
But it's a generous enough window to gauge the quality of analysis on offer. You also get to keep any resources provided during your subscription.
All in all, Hodge Family Office is a solid place for insights into early-stage opportunities.
I recommend giving it a close look if you have a healthy risk appetite and want a steady stream of ground-floor opportunities.

>> That's it for my review. Sign up and SAVE 50% <<