The electric vehicle market is here to stay. There are already several Teslas on my street, and I have little doubt that more are on the way.
Just because electric cars are popping up everywhere doesn't mean it's too late to make money off the industry. According to Nick Hodge, now's the absolute best time to get involved.
More cars mean more demand for the intricate pieces that make them run. Industry growth can spell massive gains for folks investing in the right place at the right time.
This Foundational Profits Review reveals the biggest opportunities in the electric vehicle world and everything you need to know to profit from it.
What is Foundational Profits?
Foundational Profits is a publication from Digest Publishing and the brain of financial expert Nick Hodge. He uses the monthly newsletter to identify unknown long-term market trends and show subscribers how to profit from them.
Nick pores his knowledge and research into making the best recommendations from large-cap companies and funds. Many of his suggestions outpace average stock market returns.
These successes have created quite a following. Foundational Profits is Nick's most widely read publication.
Let's take a look at the man behind the magazine.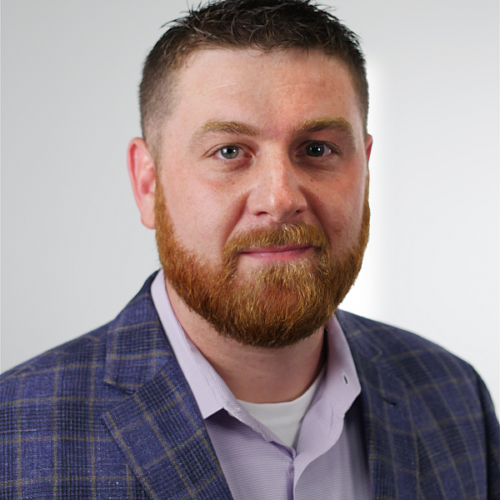 Who is Nick Hodge?
Nick Hodge is a guru who's made quite a name for himself despite his young age. In his early 30s, he'd already amassed millions investing in early-stage companies across multiple sectors.
His no-nonsense approach and ability to predict the market have earned him quite the following. He's appeared on several media outlets and often meets with company executives around the world.
Today, Hodge shares his insights with the masses as co-founder of Digest Publishing. He's responsible for much of the content coming out of Daily Profit Cycle, Foundational Profits, and Hodge Family Office.
If that's not enough, he's also penned two successful books on investing before turning 30. Both of them are on the very topic this bundle's about.
Is Nick Hodge Legit?
Nick Hodge isn't all talk when it comes to investing. He had several triple-digit winners during the 2008 downturn and finished the year without a single losing stock.
In lithium alone, Nick's made huge profits in just four months during the first lithium boom. He led folks to triple and quadruple digit gains thanks to his ability to read the market at that time.
It's no wonder Hodge is so sought after around the world for his expertise. It doesn't hurt that he made millions for himself while still in his early 30s.
>> Subscribe now and profit from the electric vehicle boom! <<
What is the Lithium Boom Profits Report?
The Lithium Boom Profits Report is a new offer from Nick Hodge and the minds at Foundational Profits.
It tells the tale of the death of oil and the subsequent rise of lithium, the new major player in the energy scene.
The metal already powers many of the electronics we use today. What's coming down the pipe will send lithium to a whole new level.
It's so impactful that Hodge estimates triple-digit gains in any market condition for folks investing early.
Several billionaires are already on board. Elon Musk, Jeff Bezos, and Bill Gates are just a few leading the charge.
The good news is there's still time for you to get involved too. First, let's see why lithium's such a big deal.
The Lithium Boom Story
Lithium was practically an unknown metal for many years. It didn't serve much purpose outside of minor medical applications.
The metal gained some traction in batteries to power laptops and smartphones. These devices use only small quantities and didn't make much of a dent on lithium prices.
About seven years ago, lithium rose into the spotlight with the birth of electric vehicles (EVs).
These cars rely on the stuff for their massive batteries. As such, lithium demand has absolutely skyrocketed.
Whether you're a fan of EVs or not, they're here to stay. Tesla produced nearly a million cars in 2021 and blew that number away in 2022.
To keep up with projections, Elon Musk needs as much lithium as possible – and he needs it year after year.
He's willing to buy lithium mines and build his own batteries if that's what it takes.
All this demand is sending lithium prices to new heights. Costs are nearly 20 times what they were back in 2012.
Musk and his Tesla empire aren't the only players here. Warren Buffett is on the hunt for lithium as well, building a massive supply chain through his China-based manufacturer.
They're reading the writing on the wall. EVs are proving to be efficient and much cleaner than their gas counterparts.
California's already passed measures to be 100% electric on the roads by 2035. Other states look ready to follow suit.
Every car company worth its salt is trying to source lithium and manufacture enough batteries to meet demand.
Lithium's place in history is evident, for sure. But why isn't anyone considering an alternative battery technology?
There is No New Battery Savior
The answer's simple. There's no new battery savior – no new battery metal that'll render lithium obsolete.
These EV car manufacturers have already chucked billions of dollars into making lithium viable to build batteries from. We're talking about countless mining permits and resources.
Innovations may make for more efficient use of lithium, but it will remain the primary component of EV batteries for at least the next decade.
It's taken this long to put supply chains in place to bring in the amount of lithium these guys already are. Major car manufacturers are on track to build six million cars this year.
They need new material each year, too. No one's cracked the code on recycling the old stuff in any meaningful way. I sense another money-making investment opportunity once that happens.
The American lithium industry will be working hard for the next few years. Lithium is the only solution to the EV battery problem, and the time to invest is right now.
>> Get ahead of the competition – join Foundational Profits today! <<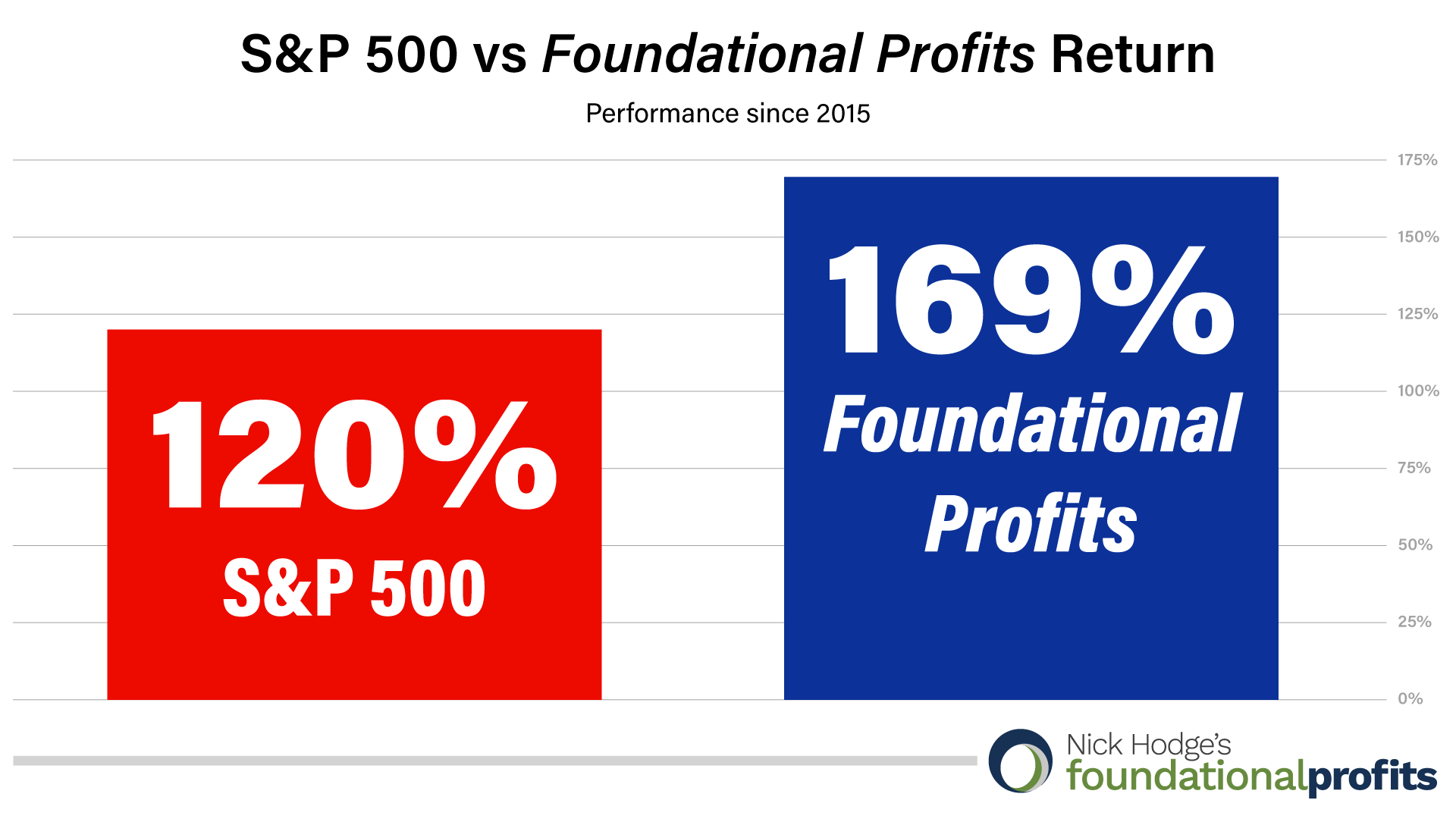 The $2 Lithium Mining Stock – Fail-safe Way To Get Rich?
Elon Musk is scouring the globe for sources of the metal for his Teslas. The largest mining companies are stiff-arming him in hopes of a bigger payout.
Instead of caving, Musk is looking to source lithium to build his own batteries. Whoever he chooses is going to be one happy camper.
Let's face it – not every lithium stock is going to benefit from the next big boom. Some will fall by the wayside and never be heard from again.
One company is at least 1.5 years ahead of all the others. Nick Hodge has it pegged to be the lead in the lithium boom story.
Hodge anticipates Tesla joining forces with this $2 lithium mining stock. The metal provider already has one of the largest lithium land packages on the continent.
Tesla isn't the only one taking this approach. Other companies wanting to remain in the EV market will need to do the same.
You know as well as I do that these auto manufacturers aren't going to let their plans fail. There's way too much money at stake for them here. This one lithium stock could be the answer to all their problems.
The only way to get the name and ticker of this lithium company is with a Foundational Profits subscription.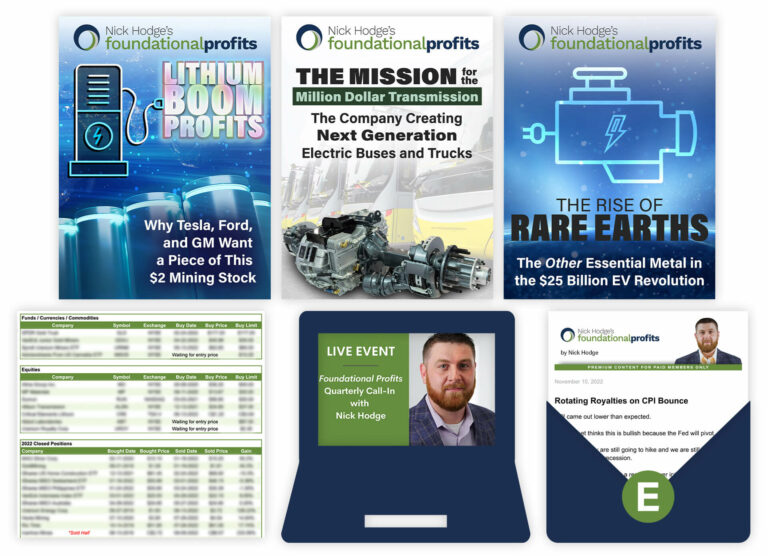 Foundational Profits: What's Included In Your Subscription?
Here's everything you get when you sign up for Foundational Profits:
12 monthly issues of Foundational Profits
Nick's monthly newsletter is packed full of research on the latest trends and themes in the global economic landscape.
He boils those findings down into actionable steps for you to follow. Recommendations include buy and sell targets so you don't miss peaks or fall off cliffs.
The primary focus here are long-term picks you can leave for some time and watch the profits roll in. Hodge hunts for little-known opportunities with the potential for significant payouts.
When you become a member, you also get access to the issue archive with additional investment options.
24/7 Access to Foundational Profits Model Portfolio
Every one of Nick's open recommendations ends up in his model portfolio. You're free to browse the list at any time and see how Nick's picks are moving in current market conditions.
Use the portfolio to build out and diversify your own strategy as you see fit.
Email Trade Alerts
If you're watching the market all day, every day, you're doing it wrong.
Nick Hodge will toss an email your way any time he issues a new buy or sell alert on one of his picks. All you have to do is open up your inbox from time to time.
For urgent matters, Nick sends out fast-breaking flash alerts when news breaks. Acting quickly could spell the difference between big gains and catastrophic losses.
>> Invest in the future of transportation – sign up now! <<
Access to Nick's growing Financial Independence Library
Nick's built quite the collection of special reports during his time as an investor. He stores them in his Financial Independence Library that you're privy to as a Foundational Profits member.
This growing list of reports showcases additional profit opportunities from stocks, ETFs, and funds few people talk about. These key insights could offer the chance to pick up some shares on the ground floor.
A Dedicated Customer Service Team
Foundational Profits is a straightforward service, but Nick Hodge has a customer service team standing by if you ever have any questions. You can reach the crew via phone or email and they'll help you with whatever you need.
Quarterly Call-ins
Nick Hodge leads a quarterly webinar you have a front-row seat to as a Foundational Profits member. On the call, he lays out the current state of the markets and provides updates to his positioning or portfolio.
You'll also get a chance to submit questions to the guru himself and have your questions answered on the air. There's simply no better way to get inside the mind of an expert.
Foundational Profits Bonuses
A Foundational Profits membership also includes the following bonus materials if you act now: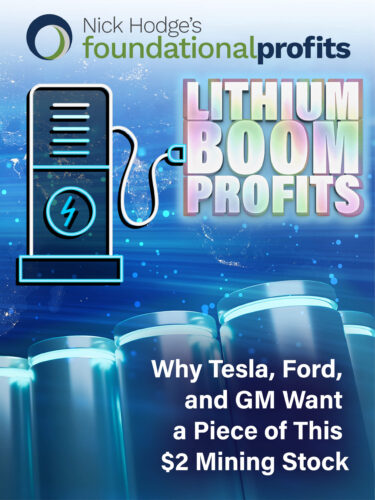 Personal Copy of Nick's Urgent Research Report: "Lithium Boom Profits: Why Tesla, Ford, and GM Want a Piece of This $2 Mining Stock"
Every major car manufacturer in the US is scrambling to acquire as much lithium as possible to keep up with growing EV demand.
Some are even looking to build their own supply chains for lithium, starting right at the mine itself.
One small lithium mining company appears perfectly positioned to benefit greatly from the increase.
The lithium boom has already earned Hodge and his members some nice change. He believes this little $2 lithium miner could offer the best investment opportunity yet.
It could reach $10 or more in the coming weeks.
This report features the name of this key player in the lithium space and full details on why it's so hot. Nick even explains how and when to buy in for maximum gains.
>> Unlock exclusive insights and maximize your investment potential <<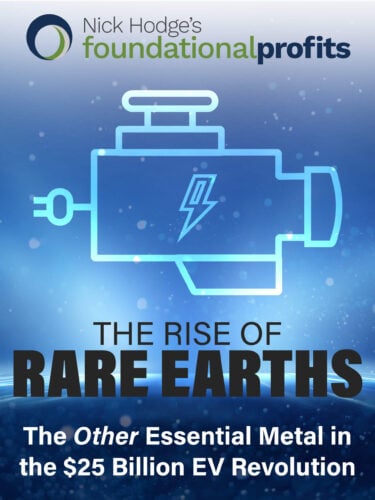 Bonus Report #1 — "The Rise of Rare Earths: The Other Essential Metal in the $25 Billion EV Revolution"
Nick Hodge predicts the coming lithium boom will have a similar effect on rare earth metals as well.
Rare earths make up the magnets inside electric vehicle motors necessary for forward motion. They're also essential in generating electricity from wind turbines.
There's a push for sustainable energy and EVs across the globe. This means a spike in the demand for these types of metals.
Where there's demand, there's profit.
The problem is sourcing these minerals. Chinese companies all but monopolize the world's rare earth metal supply.
Any US company involved in rare earths is primed to win big from the growing trend. That means profits for folks getting involved early enough.
In this report, Nick Hodge shares one such company that's at the top of the list. It's tapping into an old mine and expects to generate 15% of the world's supply.
Shares are currently at a reasonable $25, but Hodge doesn't expect that to last long.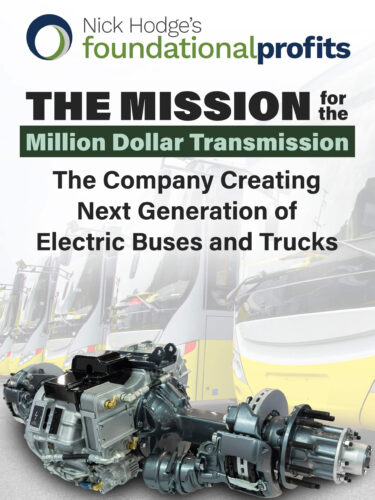 Bonus Report #2 — "The Mission for the Million Dollar Transmission: The Company Creating the Next Generation of Electric Buses and Trucks"
Everyone's talking about lithium batteries, but electric cars don't rely on batteries alone. Many other components require redesigns to keep cars running smoothly.
EV transmissions are one such component. They have to operate entirely differently from those in gas vehicles.
One small company's already at the forefront of the transmission revolution. It's already making a name for itself as an essential supplier.
The company's also developing a drive system perfect for EV trucks and buses.
In addition to potential profits from share price gains, this manufacturer also pays out a hefty dividend to shareholders. It's done so for years.
This report reveals the name of this EV transmission company and everything else you need to know to buy in.
Refund Policy
Nick Hodge wants you to be happy with his Foundational Profits bundle. He's giving you 60 days to try everything out before you're locked in.
Take the time to read the reports, check out the portfolio, and peruse the newsletter.
If you're not thrilled with anything you encounter, reach out for a complete refund of your purchase price.
You can keep the bonus reports and any information you've collected until that point as a thank-you for trying out the service.
>> Don't miss out on the biggest opportunities in the lithium market <<
Foundational Profits Review: Pros & Cons
Foundational Profits has a lot going for it, but it's not perfect. Check out the pros and cons of this service.
Pros
12 issues of Foundational Profits newsletter

Access to model portfolio

Lightning-fast updates whenever stocks move

Three bonus reports

Quarterly webinars with Nick Hodge himself

60-day money-back guarantee

Currently half off retail price
Cons
No community forum

Focuses only on long-term opportunities
Foundational Profits Reviews by Members
We think this service is great, but don't take our word for it. Here are some Foundational Profits reviews from actual members:
We've got some clearly happy members here, which speaks volumes about the quality of this service.

Foundational Profits: How Much Does It Cost?
Nick Hodge chose $399 as the retail price for a year of Foundational Profits. That's a good price in its own right.
Right now, you can pick up this bundle for just $199. That's 50% off the normal amount.
You can have access to groundbreaking opportunities in lithium and beyond for just over 50 cents per day.
That price point doesn't even factor in the additional perks and bonus materials you're receiving for free.
Foundational Profits Review: Is It Worth It?
This Foundational Profits bundle comes with several delectable morsels to sink your teeth into.
You get 12 issues of its namesake newsletter, a portfolio of stock picks, and quarterly meetings with Nick himself.
Let's not forget the bonus reports, each holding the key to incredible investment opportunities.
All these materials are well worth the $399 sticker price. It's hard to believe you can grab your subscription right now at 50% off.
Feel free to use the 60-day money-back guarantee if you're still unsettled at the two-month mark.
EV sales and lithium demand are growing at such a breakneck pace. With the right tools, there's a lot of money to be made.
Subscribe to Foundational Profits today so you don't get left in the dust.
>> Take action now and secure your financial future with Foundational Profits! <<