Optionsonar is a specialized platform that detects unusual trading activity while tracking options trades to evaluate the outlook of the options market.
On the platform, options traders can monitor and track activity consistently to follow every large order flow across various stocks.
Is this a legitimate platform for options trading opportunities, and how good is it at tracking unusual options activity?
Our Optionsonar review answers these questions and offers valuable insight into the platform so you can decide if it's right for you.
Optionsonar Review: Overview
Based in San Francisco, Optionsonar provides options traders a powerful tool to scan the entire order flow through every options exchange in the U.S. It helps you follow the smart money into the most intriguing stock option trades on Wall Street.
By tracking where the smart money is moving, you can identify large volume orders that could trigger jumps in the underlying stock price.
Founded in 2017 by Rezart Bajraktari, Optionsonar lets an options trader follow unlimited stocks, add top stocks to a watchlist, and receive any email alerts whenever unusual activity is detected.
Users can track unusual option volume and underlying asset volatility, helping them build better insight into options trading.
Optionsonar Review: How Does Optionsonar Work?
Optionsonar provides options traders with an unusual activity scanner to help them track any unusual goings-on that affects their stock on Wall Street.
The platform implements dark pool orders and block trades while also providing a multiple options scanner
This allows an options trader to look for new and opening positions where contract volumes are more than the open interest during the prior trading day.
Their most prominent scanner is used to track net unusual options activity.
This broaches major ETFs across the market and FAANG stocks, so users get a comprehensive market overview.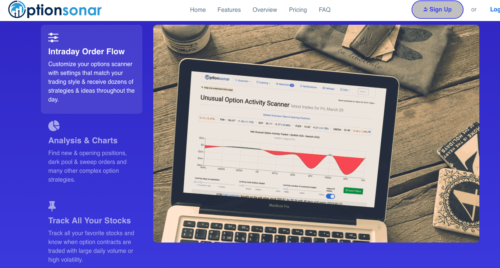 Different versions of this option scanner are available, focusing on any unusual options activity among option contracts with an expiration date within a week, month, or even longer.
Data picked up from the options scanners include:
Options Prices

Technical Analysis Sentiment

Strike Price

Volatility
The scanners create alerts directly and send push notifications to users looking for more precision regarding options traders.
Additionally, Optionsonar allows users to filter trades at any time for more precision.
You can also change the options scanner criteria and adjust your filters on the fly. The tool shows you how many traded options contracts are available.
Optionsonar insights let you check the highest daily volumes compared and view expiration dates.
And you can choose between out-of-the-money (OTM), in-the-money (ITM), or at-the-market (ATM) options.
Furthermore, Optionsonar offers an order flow screener that uses multiple visualization tools and several adjustable parameters.
You can also use one watchlist to connect options activity to particular stocks.
Optionsonar is arguably the leading options trading service for research. It works as a browser-based platform that gives you a comprehensive analysis of the options market and provides a detailed overview of significant market moves that outline trading activity involving institutional investors.
>> Already sold on Optionsonar? Click HERE to sign up for an account today! <<
Optionsonar Review: Is Optionsonar Legit?
Optionsonar is a fully legitimate company for tracking options trades that provides actionable trading information for users.
Their information is fast and reliable. However, the Optionsonar website doesn't provide you with any adjustable settings to change their layout or page content.
Optionsonar Review: What Does Optionsonar Include?
Optionsonar's four packages include unique features to help users track unusual activity seamlessly.
There's the initial free version called Preview where users receive a watchlist of up to three stocks and a delayed Unusual Options Activity Feed.
It is also important to note that the free plan delays data by three hours.
The three paid plans include:
Unusual Activity Scanner

Multiple Options Scanners

Multiple Options Scanners and Alerts
Optionsonar Review: Unusual Activity Scanner
The unusual activity scanner allows you to track an unusual activity stream and trading log while providing a watchlist of unlimited stocks.
You can also analyze block trades and dark pool orders with this package.
Optionsonar Review: Multiple Options Scanners
With this package, you can do everything that's included in the unusual activity scanner package, plus view new and opening positions.
You can also use a sweep scanner to conduct options sweeps. And you receive push notifications via your web browser.
Optionsonar Review: Multiple Options Scanners & Alerts
With the multiple option scanners and alerts package, you receive text messages and email alerts for any data related to unusual activity.
However, their default scanners don't offer much customization, as they're built to be monitored by traders daily.
A couple of the features that you will access when you use their scanner are:
Optionsonar Review: Intraday Order Flow
You can customize your options scanner using settings that best suit your options trades style. You also receive dozens of strategies each day.
Optionsonar Review: Charts and Analysis
With charts and analysis, you can discover new and opening positions, dark pool prints, and more complex strategies for options traded.
The dark pool prints are used to identify any trades that take place outside of the main exchanges.
Optionsonar Review: What is Included in Optionsonar's Scanners?
Here's more information on the types of scanners that Optionsonar uses.
Optionsonar Review: New and Opening Positions
Much like options sweeps, this type of options scanner is listed in tabular form. You can easily filter trades by using stock or by using puts and calls.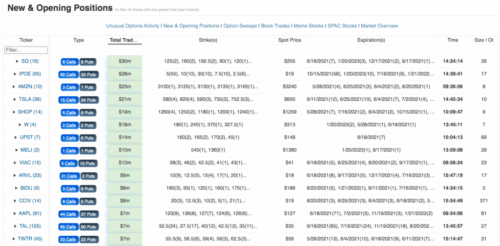 The scanner clearly displays the number of options traded, allowing users to find substantial trades within the unusual activity data displayed.
Optionsonar Review: Block Trade Scanner
This scanner for block trades has more visual appeal as it's color-coded using moneyness while presenting graphics that show block trade sizes relative to the activity surrounding the traded option contracts.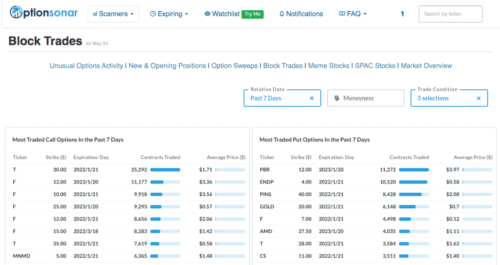 Optionsonar Review: Order Flow Screener
The screener offers you more precision when you're assessing unusual trading activity.

With its adjustable parameters, you can take a look at the expiration date, the full amount traded in contracts or dollars, as well as whether trades were OTM, ITM, or ATM.
Once results are provided, it's easy to investigate any unusual activity without leaving the list. You can view the underlying asset's volatility.
And you're provided with a bar graph displaying the total amount that has been traded at every strike price for that asset, spanning several expiration dates.
A neat feature is that it allows you to save a screen of your choice to your account to use down the road.
This can be used as your basis for future alerts. Speaking of…
Optionsonar Review: Alerts and Watchlist
You can customize Optionsonar alerts. They are applicable across the market or can be limited to major ETFs and select stocks.
You can do time remaining for expiration dates, the tool amounts traded, moneyness, and more. Through the order flow screener, you can create alerts directly.
Meanwhile, Optionsonar's watchlist operates like the standard scanners that they use.
You'll almost immediately see net unusual options activity, then find all unusual options trades made for any stocks you're interested in.
Though you can filter using expiration dates and volume, you can only use one watchlist.
It gives you a strong summation of options trading activity within stocks that you follow daily.
Optionsonar Review: What More Does Optionsonar Offer?
Optionsonar is an actively developed platform that regularly updates its users with new features.
Among these additional features is the introduction of meme stocks scanners.
Their scanners for meme stocks span companies that have grown in popularity over the past year.
These companies include:
Furthermore, Optionsonar utilizes a SPAC stocks scanner which provides a similarly unique appeal.
Additional features like these are particularly useful for any options traders interested in tracking short-term market trends.
>> Like all that Optionsonar has to offer? Click HERE to sign up NOW and start tracking your options trades! <<
Optionsonar Review: How Much is the Fee for Optionsonar?
The unusual activity scanner costs $35, while the multiple options scanner is more than double at $75.
The largest package is the multiple options scanner with alerts, which costs $105.
Though their packages are comprehensive, they are considered expensive compared to other unusual options activity companies.
However, you can save 30% when signing up with Optionsonar by opting for an annual subscription instead of a monthly one.
Optionsonar Review: Optionsonar Pros and Cons
Optionsonar Pros
Strong Visual Presentation of Data — Through their bar graphs, charts, and watchlists, it's a visually appealing platform that makes its interface distinct and easy to interpret.
Alerts — Their alerts are customizable and available on different platforms.
Order Screener — It has many adjustable parameters, and you can save your data at a moment's notice.
Block Trade Scanner — The block trade scanner's color coding and graphics make navigation a breeze.
Optionsonar Cons
Costs — Monthly plans are costly compared to other unusual options activity sources.
Limited Watchlist — You can only use one watchlist at a time.
Optionsonar Review: Is Optionsonar Good?
When it comes to tracking unusual options activity, Optionsonar is arguably the best platform of its kind.
Optionsonar is not quite as comprehensive as other outlets for options trading opportunities like Motley Fool, which focuses more on long-term growth opportunities.
Regardless, it's a good source for stock advice and options trades information.
>> Ready to use Optionsonar to track your options trades? Just click HERE to sign up now! <<
Optionsonar Review: Is Optionsonar Right For Me?
Optionsonar is a flexible service that gives you the option to examine order activity from various angles while making block trades and sweeps easy.
The platform is at its best when used by an option trader who wants to turn unusual options activity into enormous profits.
It's an easy-to-use option scanner that allows you to develop long-term trade ideas thanks to its trade monitoring by expiration date.
However, you will need to do significant legwork to trade safely on the platform while using their data.
Optionsonar Reviews By Customers
Aylmer H., Equity Trader:
"I have gotten at least 50 times the value from Optionsonar."
Ansel W.:
"I could probably go into sales for you. I made back the purchase price in just 48 hours! It's really wonderful. I wish I would have thought of it first."
Final Review: Is Optionsonar Worth It?
For unusual activity specialists, Optionsonar's platform is as good as it gets. Its multiple scanners and data collecting methods make it a seamless process.
And it's also an educational tool to help you learn more about how stocks operate.
So if you are in the market for a quality unusual activity scanner, Optionsonor is the way to go!
>> Want to start tracking unusual activity for options trades easily? Click HERE to sign up for an Optionsonar account NOW! <<