Alexander Green's Single Stock Retirement Play is causing quite the stir in investing circles, and I wanted to see if it makes the grade. Keep reading for everything you need to know about the strategy, as well as a breakdown of the latest Oxford Communiqué package.
What Is Alexander Green's $4 Stock?
Alexander Green's $4 stock is a tiny tech firm that's the centerpiece of his Single-Stock Retirement Play presentation.
Green believes that this under-the-radar company has all the necessary ingredients to grow into a global powerhouse down the road.
"The company has inked deals with Cisco, Dell, Microsoft, Intel, Sharp, IBM, HP, Motorola, Sony, Nokia, Amazon and Apple…

In total, I expect it to receive more than $35.3 BILLION from these partnerships alone."

— Alexander Green, Single-Stock Retirement Play Presentation
Green only reveals the ticker of this secret stock to Oxford Communiqué members who sign up under the Single-Stock Retirement Play package.
However, he does offer some clues as to why he's bullish on this under-the-radar tech firm.
I'll take a closer look at Green's $4 stock, the Single Stock Retirement Play, as well as the Oxford Communiqué package, so stick around.
Before I dig into it, let's turn our focus to the mind behind the strategy.
Who is Alexander Green, and what are his qualifications?
>> Get the scoop on Alex Green's $4 stock <<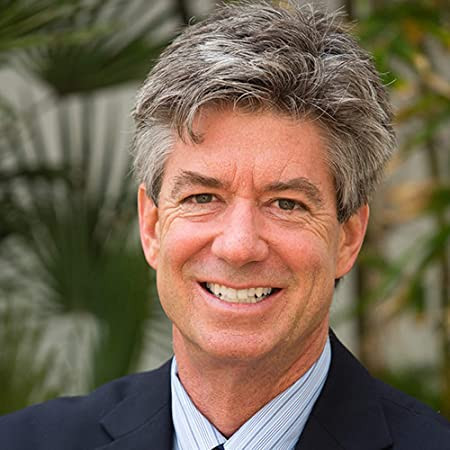 Who Is Alexander Green?
Alexander Green is an investment analyst with a distinguished history on Wall Street.
He's also Chief Investment Strategist of The Oxford Club, a well-respected publisher and the world's largest financial fellowship.
Green's background on Wall Street spanned about 16 years. During this time, he worked as an investment advisor, research analyst, and portfolio manager.
His success in the markets allowed him to retire at just 43 years old.
After achieving financial freedom, he spends his time traveling the globe and penning investment insights for everyday folks through a variety of publications, including Oxford Communiqué.
Some of Alex's other investment newsletters include:
Oxford Microcap Trader

The Momentum Alert

The Insider Alert
I've had the opportunity to review both Microcap Trader and The Insider Alert. These are both solid services, and it's clear that Green's reputation as a talented stock market analyst is well-earned.
In addition to his writing exploits in the research space, he's also the author of four national bestsellers: The Secret of Shelter Island, Beyond Wealth, An Embarrassment of Riches, and The Gone Fishin' Portfolio.
The Gone Fishin' Portfolio is actually included within the Single-Stock Retirement Plan deal. However, it is only available through the higher level membership.
>> Find out Green's latest stock pick <<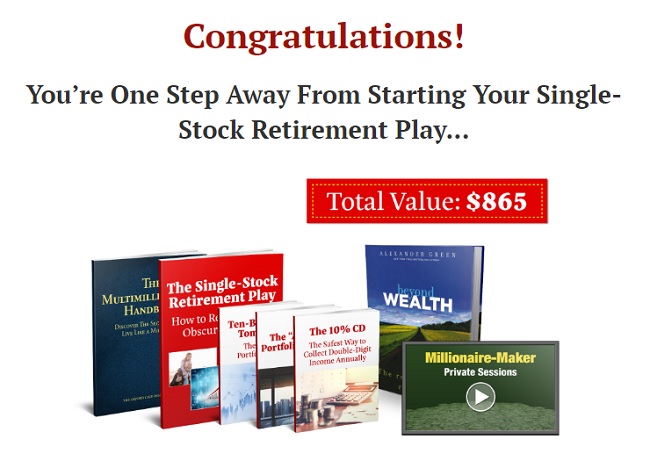 Alexander Green's Single Stock Retirement Play
As mentioned, Alexander Green's secret stock is the centerpiece of his Single Stock Retirement Play presentation.
Its stock price is under $5 which puts it comfortably in the category of penny stocks.
Typically, Green isn't a fan of stocks trading under $5, but he says he sees something special in this company.
Based on what I've seen from Alex Green, he tends to stay away from penny stocks. His research reports for Oxford Microcap Trader tend to focus on microcap stocks trading around at least the $10 mark.
There's likely a good reason for Green deviating from his typical investment strategy.
He lays out some breadcrumbs to walk readers through why he believes this small company has so much potential.
What We Know About Green's 4-Dollar Stock?
As mentioned, Alexander Green reveals several details about his special stock — save for the ticker.
We know that it is a small firm connected with many heavy hitters in tech. In his presentation, Alexander Green talks about how many different industries its product could apply to.
Some applications that Oxford Club's chief strategist mentions are:
Artificial intelligence

Smartphones

Virtual reality

Robotics

Medical equipment

E-commerce
With this bit of info, it makes sense that companies, like Motorola, Sony, and Apple, have inked deals with Green's 4-dollar stock.
Also, according to Green, this mystery company has also obtained "36,241 patents inside the United States and 108,749 globally."
The patents span across a wide array of technology, including fiber-optic transmission, lithium-ion batteries, smart TVs, and more.
>> Discover the company behind the $4 stock <<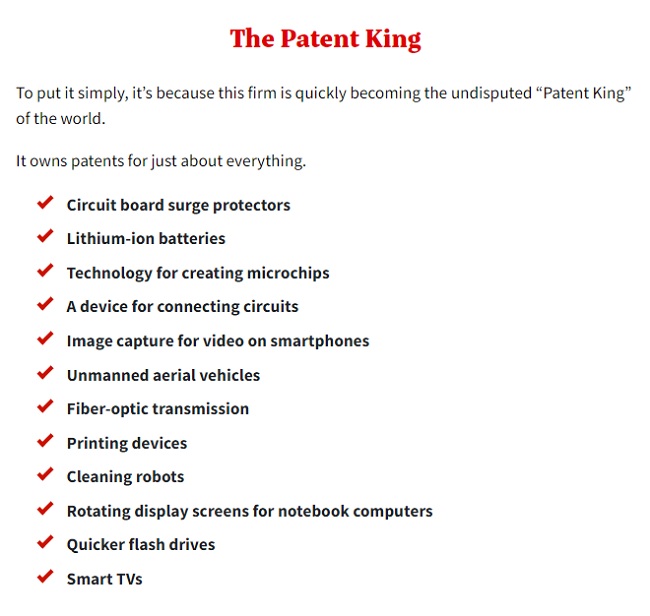 Another draw to this stock is that it pays dividends. This is a rarity in the penny stock world. A lot of penny stocks are unproven companies or don't have enough free cash flow to pay out holders.
Green also shares some more details about how the company could continue to grow.
The key is that it has a pile of sales contracts that have locked in guaranteed sales that all add up to billions of dollars.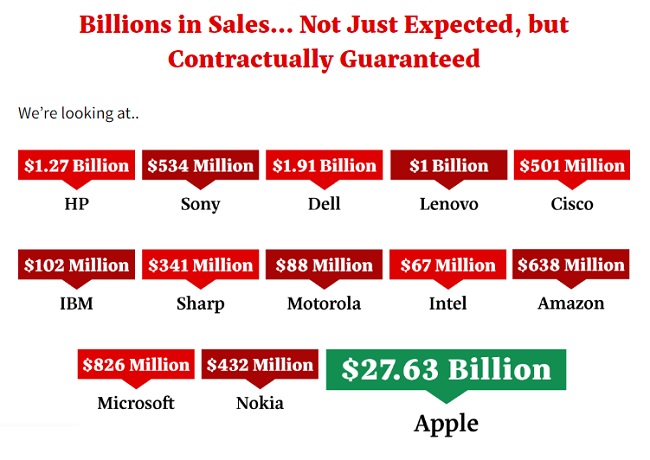 In fact, Green says that "the company is set to generate $5,739 or more per second in the coming year." These are some pretty impressive figures.
The more Green shares about the stock, the easier it is to see why he feels he may have found something special.
It appears that he's not the only one believes there's potential in this stock. Green reveals that some heavy hitters on Wall Street might already be in the know about this up-and-comer.
"The big Wall Street sharks are circling… quietly building up multimillion-dollar positions in preparation for the company to suddenly become a household name.

Fidelity now has $564 million worth of shares.

iShares is backing up the truck with $900 million invested.

And Vanguard has taken the lead position with just over $1.25 billion invested."

— Alexander Green, Single Stock Retirement Play Presentation
All in all, Green lays out a solid case for his four-dollar stock. He provides even more details with the Single-Stock Retirement Play bonus report.
There's more to unpack here, though, so stick around for additional info on this stock, including how to put Green's strategy into practice as well as where this stock can be found.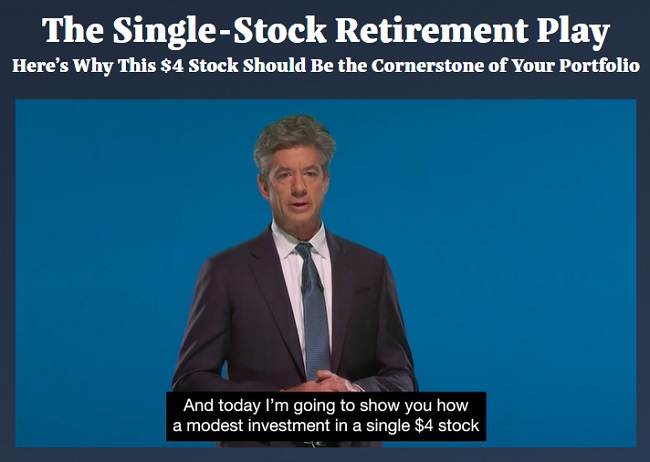 How to Invest in Alex Green's Stock?
While Alex's under-the-radar opportunity is unknown to most folks, the team reports its shares can be found through a regular brokerage account. Not every broker carries these shares, however.
Oxford Communiqué members signing up for the Single Stock Retirement Play package are told exactly where to find the stock.
Alex does mention that his 4-dollar stock is trading on Charles Schwab. So that is one option that is widely available to readers.
Now that you know more about Green's secret stock, let's check out Oxford Communiqué.
>> Access Green's One-Stock Retirement Play <<

What Is Oxford Communiqué?
Oxford Communiqué is an investment newsletter led by Alexander Green and published by The Oxford Club. It's considered The Oxford Club's flagship research service.
Some perks of the newsletter include monthly stock recommendations, buy and sell alerts, and bonus reports.
Up to four model portfolios are available depending on your subscription level.
The majority of stock market services I've seen provide one model portfolio that tracks current buy and sell positions. So four is a solid upgrade.
Another impressive feat that Oxford Communiqué has achieved is that Hulbert Financial Digest ranked it as one of the 10 top-performing investment letters in the nation for 15 years.
Now that you have the general overview, let's take a closer look at each feature.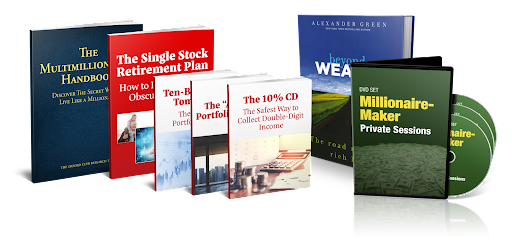 What Comes with Oxford Communiqué?
Oxford Communiqué is packed with premium features. Here's what you get for signing up.
The Oxford Communiqué Newsletter
A key component of this investment research package is the Oxford Communiqué. New issues are delivered every third week.
Each issue includes a new investment idea from Alexander Green. The stock picks provide a ticker, a price range, and supporting analysis.
Green is known for his insightful writing, so readers looking for descriptive investing insights are accounted for.
In addition to the monthly recommendation, Green also informs readers of his thoughts on the current state of the market.
Couple this with the weekly Oxford Communiqué Portfolio Update, and you'll always stay in the know about Green's latest strategies and predictions.
>> Sign up for Oxford Communique today <<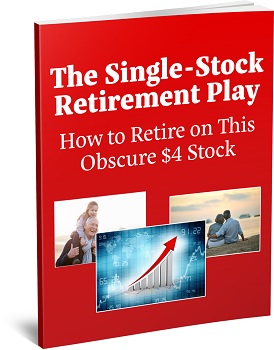 The Single-Stock Retirement Play
As mentioned, The Single Stock Retirement Play offers all the details of Green's $4 stock opportunity.
This report is packed with additional info on the stock that's not shared in the presentation. So anyone looking to find out the name of Green's highly coveted stock will need to sign up for a paid membership.
It contains the ticker, supporting research on the company, and tips on how to get a hold of it.
Best of all, this report is available with every membership tier under the Single-Stock Retirement Play package.
Bonus Reports
Memberships also come with a range of bonus reports with even more insights from the Oxford Communiqué team.
Here's what you get: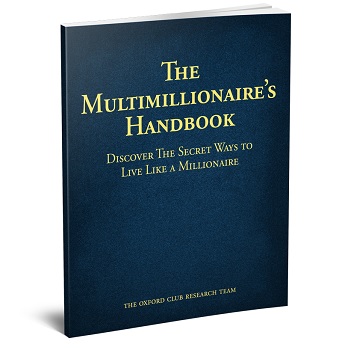 The Multimillionaire's Handbook
This bonus report shares tips and tricks used by wealthy elites to grow and protect their wealth. It also has some insights on how to live like a millionaire.
Some tips included are:
How to pay off taxes with gold — and keep the gold

How to pay off a mortgage 20 years early

Five-minute "chore" that could offer a 100% return on an investment

How to get four free flights a year
Similar to the Single-Stock Retirement Play, this bonus report is available with all membership tiers.
The 10% CD: The Easiest Way to Collect Double-Digit Income
Finding cash returns higher than 1.0% APR is difficult in this yield-starved market.
Fortunately, the Oxford Communiqué team developed a method that could generate 10%+ returns through a relatively low-risk savings vehicle.
This report provides a step-by-step guide to using this high-yield strategy, and it's free to Oxford Communiqué members.
>> Access these insights and more <<
New Member Bonuses
If you sign up now and you're new to The Oxford Communiqué, you'll also get the following bonuses:
Beyond Wealth: The Road Map to a Rich Life

Wealth Building Private

Sessions

Ten-Baggers of Tomorrow: The Official Portfolio Guide

The All-Star Portfolio Strategy
In addition to Green's book, it includes a free video course that explores the team's best practices for building long-term wealth.
You'll also get access to the Ten-Baggers of Tomorrow model portfolio. This report details how to use speculative investing techniques to spot quality tech disruptors and other high-growth companies.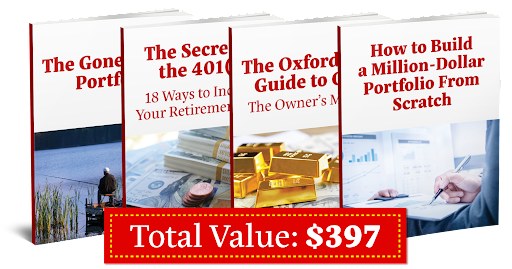 Premium Bonus Reports
Oxford Communiqué offers a premium subscription that provides access to even more bonus reports.
This is how members can tap into all four of Alex Green's model portfolios.
The Gone Fishin' Portfolio

– It presents one of the most successful Oxford Club model portfolios. As a primary trading strategy, it uses Modern Portfolio Theory (MPT), which includes diversified opportunities across several sectors.

The Secrets of the 401(k): 18 Ways to Increase Your Retirement Cash

– There are a few hacks that could quickly build a retirement nest egg. It takes very little time and effort to implement these 18 steps, so even a novice can do it.

The Oxford Club Guide to Gold: The Owner's Manual

– In 2020, gold was a great investment, but that isn't always the case. The Oxford Club bonus report explains what influences the gold market, including potential pitfalls, and how to profit when trading gold.

How to Build a Million-Dollar Portfolio from Scratch

– The team explores methods to build wealth the right way with tested strategies for long-term success. If you're new to investing, this should be your first stop.
Again, access to these reports is only available with the premium membership to Oxford Communiqué.
>> Sign up for premium today <<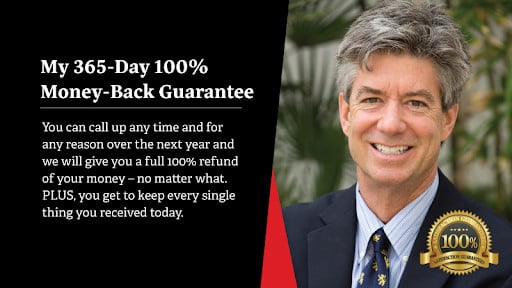 365-Day Satisfaction Guarantee
Oxford Communiqué is going above and beyond with its latest money-back guarantee.
With the One Stock Retirement Play, new members have a 365-day refund window. This means members have a full year to test out the service. If you feel like it's not a good fit, you can opt for a full refund on the cost of your subscription.
Most research services offer a 30-day refund period, at most, so Oxford Communiqué's policy is around 12X the industry average.
It's clear that Alex Green stands by his work.
Pros and Cons of Oxford Communiqué
Oxford Communiqué is a fantastic service, but there are some rough edges to keep in mind.
Check out my pros and cons:
Pros
Stock picks from Alexander Green

365-day money-back guarantee

$4 stock bonus report

Up to four model portfolios
Cons
No community chatroom

Not suited for day trading
>> Get Green's latest analysis <<
How Much Does The Oxford Communiqué Cost?
A basic subscription to The Oxford Communiqué costs just $49 per year. However, this is just one of three subscription levels.
Here's how the pricing for Oxford Communiqué's subscriptions breaks down:
Basic Subscription – $49
Standard Subscription – $129
Premium Subscription – $99 (typically $249)
I think Basic and Premium offer the best value of the bunch.
With the Basic membership, you will receive Alexander Green's monthly trade recommendations and the one stock to hold for retirement.
Premium, on the other hand, offers even more value. And it lets you tap into four Alexander Green model portfolios.
It is important to remember that these are introductory prices. Oxford Club states that the renewal price will be $79.
Final Thoughts
Alexander Green's $4 stock offers an alluring opportunity to potentially build retirement savings with the help of one company. It's an interesting prospect worth looking into.
In addition to the One Stock Retirement Play, an Oxford Communiqué membership includes a bunch of fantastic features.
Green delivers highly vetted trade ideas every month, so subscribers get a steady stream of recommendations and analysis.
Plus, with the 365-day money-back guarantee, members have an entire year to test-drive the service.
All in all, Oxford Communiqué is a solid newsletter, and I recommend checking it out if you are in the market for Green's latest analysis.
>> That's it for my review of the One-Stock Retirement Play. Sign up HERE <<