There's simply too much stock information out there for anyone to process on their own, so stock scanners are par for the course when investing. Our Scanz review will fill you in on everything you need to know about this stock scanner service so you can decide if it can boost your investment strategy.
Stock scanners exist to simplify the search for those lucrative stocks by allowing users to scan through data and pull out worthwhile information quickly.
With several similar programs on the market, you'll need the help of The Stock Dork to discover what's good and what's not.
Keep reading our Scanz review to learn more about the platform and its features.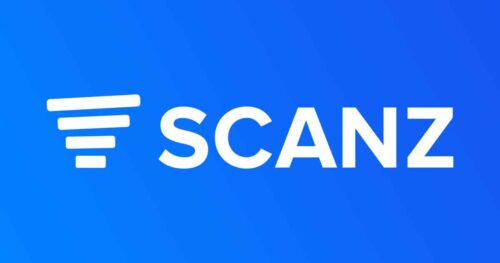 Scanz Review: Overview
Scanz is a scanning platform and news feed designed to provide the second stock data from around the market.
The platform began back in 2002 and was known as Equityfeed until being rebranded in 2019.
The scanning software prides itself on getting critical data to users, especially day traders, at break-neck speeds.
With that data, users can build customized scans using filters to stay in the know about stocks they are most passionate about.
More on Scanz Scanning Platform
Scanz also has a powerful news streaming service to keep traders on the stock market's pulse as information is being released.
These two tools can work seamlessly together to help traders make some big money.
Scanz Review: What's Included with Scanz?
Scanz has a bunch of cool features for both real-time stock scanning and tracking news feeds to better position investors for success on the stock market.
Scanz Pro Scanner
The Pro Scanner is an incredible tool that allows traders to perform real-time stock scanning between 4:00 am and 8:00 pm EST.
This easily customizable interface allows a day trader to perform simple scans, complex scans, and everything in between.
This market scanner has more filters than some platforms combined.
With a click of a button, traders can filter through different price, liquidity, technical, or fundamental options to get the market data they specifically want to see.
It's possible to scan by specific stock type or market.
The range can be limited so that only the most pertinent stock market information appears.
You can save unlimited scans and export them to a CSV file for further analysis.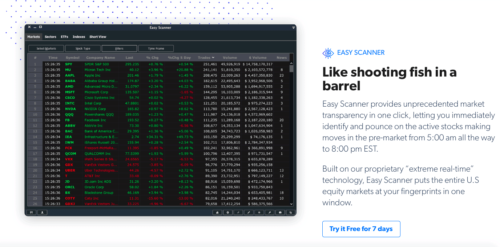 Scanz Easy Scanner
While the Pro Scanner can be used to track down complex real-time trading data, the Easy Scanner is a tool designed for fast scanning to get trade ideas in one window with zero effort.
The goal here is total market transparency — thousands of stocks updating live in one window.
There are a few filters that day traders can use to make all the data a little easier to digest.
With the click of a button, traders can filter by markets such as NASDAQ or OTC penny stocks.
Filter by stock type to see foreign stocks, regular stocks, bankrupt stocks, and more.
While the Easy Scanner feature may be a good place for beginners to search and get results, it offers nothing that the Pro Scanner can't do.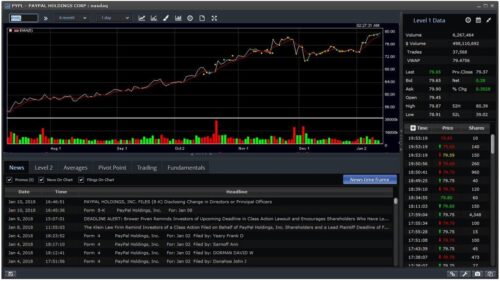 Scanz News Scanner
The News Scanner provides data and news in real-time.
The Scanz news feed includes over 100 information streaming sources both news providers and financial websites.
The scanner also picks up live SEC filings, which are often available before press releases.
This information can be viewed on the news streamer, or audio alerts can be enabled so you never miss a beat.
Like most of the other features on the platform, the News Scanner is equipped with custom filters to sort through real-time data so you can perform technical analysis.
The tool allows you to search by using custom keywords to find the news that you are looking for.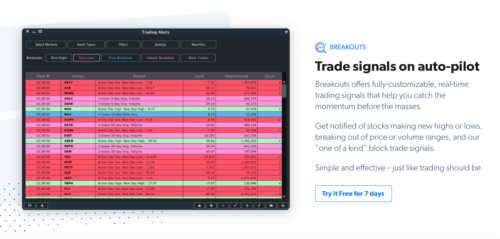 Scanz Breakouts & Notifications
The Breakouts feature is the place to get lightning-fast streaming alerts.
As the name implies, this tool locates and informs a day trader about stocks that are breaking out from the norm.
Scanz promises that breakout alerts will show up in real-time with zero latency.
These alerts can help users quickly develop a good trading strategy.
The stock scanner is designed to provide breakout alerts when stocks reach a new high or a new low price point.
The price breakout feature is also available to alert day traders to stocks that break out of their moving averages and may be ripe for profit.
Trading is, in many ways, all about volume.
When stock volume increases, it's likely that the stock price will also rise.
To capitalize on this, Scanz issues volume breakouts when a stock starts moving in the trading world.
Notifications are a slightly different beast that lets day traders set up custom notifications for price, volume, and SEC filings.
This feature allows users to set up watch lists for breakouts and be notified immediately by the application or through email.
Scanz Montage
A clever play on the word, the Montage feature provides a complete real-time picture of all the day trading information one could hope for.
Within this window, traders can view pre-market, regular market, and post-market data at a glance.
Streaming Charts
The Montage tool also allows users to create streaming charts with the charting module to view pertinent investing information for analysis.
Level II Window
Scanz has reached Level II! This window lets users look at level II data in color-coded displays and tabbed windows for easy trackability.
The order book summary allows for efficient analysis of supply and demand in real-time.
Education
To get the most out of Scanz, the stock screener has set up a host of tools to learn all the features it has to offer.
The trading platform has cheat sheets on some of the more challenging technical aspects that can be easily printed to keep on hand.
Video tutorials and webinars cover tools like charting and how to use scanners.
The platform has a blog where traders can find articles on technical analysis, trading strategies, scanning, and so much more.
Perhaps most importantly, its customer service team will help you iron out all the software kinks so you can scan for trades and get the results you need to make money.
>> Like all that Scanz has to offer? Click here to sign up today! <<
Scanz Review: Scanz Cancellation Policy
Scanz offers a 7-day free trial that allows users the chance to try out the Total Tier.
No credit card is even required for the free trial.
Once subscribed, you'll be charged for the entire month.
Even if you decide to cancel service in the middle of the month, the service will remain available to you until the billing cycle ends, at which point you will no longer be able to access Scanz.
There are no partial refunds for canceling in the middle of a billing cycle.
Scanz Review: How Much Does Scanz Cost?
The platform has three pricing tiers to subscribe to so users can choose what level of support they want from Scanz.
All tiers allow access to the montage, charts, two broker integrations, and all of the customizable screener features.
Though it is important to note that some can find Scanz's broker integration a little lacking compared to other services.
From there, each tier captures only a portion of what the platform can do.
It's worth pointing out that pricing with OTC data is an additional $15 per month on top of what each plan already costs.
More on Scanz Broker Integration
In the future, Scanz plans to integrate ten more brokers that include TD Ameritrade and Interactive brokers.
So if Scanz broker integrations are not where you want them to be, there are plans to improve the service.
News Tier
The News Tier gives access to all of Scanz's real-time news streams and SEC filings information.
With this feature, you'll receive real-time news on stock trading across all markets as soon as the information is made available.
You can set up notifications on stocks to be made aware of trades and indicators of movement without constantly watching the screen.
The News Tier currently sits at $79 per month.
Scanner Tier
The Scanner Tier lets you scan for trading data on any market with or without technical filters.
You can also use this tier to create charts, set and monitor breakout alerts for price and volume, and read through level II stock trade information.
Unfortunately, the scanner tier doesn't offer any of the news streaming that the News Tier offers.
The Scanner Tier is $99 per month.
Total Tier
The Total Tier offers all of the features found in both the News Tier and Scanner Tier.
Surprisingly, it offers nothing new to the mix.
At $149 per month, it's simply a combined price savings of $30.
>> Ready to get started with Scanz? Click here to sign up now! <<
Scanz Review: Is Scanz Legit?
Scanz has nearly 20 years of scanner experience under its belt.
The service has been one of the top trade scanners for several years, even before evolving from Equityfeed in 2019.
The platform never touches your investment accounts or any of the money you have out on the exchange.
It's simply a tool used to view trade information, which you can then take back to your investment portfolio and use as you see fit.
Scanz Review: Pros and Cons
Scanz has a lot going for it but loses points in a few areas.
Here's a list of the pros and cons of the platform.
Scanz Pros
Relatively easy to learn software and platform
Scanz platform is a great education and support system for technical analysis
Swift scan and stock screener results
Excellent news coverage, news sources, and news feed
Review stock information in one place
Provides real-time stock data to find the best stock
Custom filters allow for specific scans
Software is very customizable
Level 2 Data available
Technical indicators
Drawing tools for charts
Scanz Cons
Broker integration is not yet fully implemented, though Interactive Brokers and TD Ameritrade are on the way
Plan pricing is expensive
OTC package costs extra
No community of traders
>> The pros outweigh the cons, so what are you waiting for? Click here to get started using Scanz NOW! <<
Is Scanz Right for Me?
Scanz has many great features and is worth investing in if you have a big enough portfolio to cover the costs.
With an abundance of features and education tools, even a beginner can get started right on this platform.
Scanz Reviews by Subscribers
Scanz has a long list of reviews and testimonials that detail the satisfaction that many users have experienced by using the platform.
Here are just a few reviews from subscribers:
"I've been using Scanz/Equityfeed for most of my trading career. I cannot overstate how happy I've been with their versatile scanning software and quick news alerts. It's incredibly user-friendly and extremely reliable, I cannot imagine my day-to-day trading without it. Highly recommended! – Tim Grittani via Twitter
One more review reads:
"I have been using the Scanz platform for over a decade and the scanners are an essential part of my trading toolkit. I have the platform pulled up every single day. The news alerts and intraday price alerts help me catch momentum before the crowds. If you're looking for a powerful scanning platform, I highly recommend Scanz." – Nathan Michaud of Investors Underground
Final Review: Is Scanz Worth It?
Scanz may be a great tool, but only for those who have already reached a level of trading where they can justify the monthly fee.
Investors who try to use Scanz with lesser amounts in their portfolio will struggle to reap the benefits.
Broker integration is still somewhat minimal, so you may want to wait if you rely heavily on a broker.
Regardless, the Scanz platform has a lot of value to offer for traders who are savvy enough to use it.
>> Ready to start using Scanz to make investing easier? Click here to sign up for an account TODAY! <<