Ever felt lost or confused when researching stocks? Or maybe you just don't have enough time to keep up with the latest movements?
The good news is that you're not alone. Many investors, including myself, have found themselves lost in research and stuck on what to do next. This is why stock newsletters are like secret cheat sheets. They give you all the important information you need to make a decision – right in your inbox.
I've tried many stock and investment newsletters over the past few years, but the ones I'll cover today are my favorite. Let's get started!
Best suited for: Active stock investors that want daily alerts and deep insights (including SMS).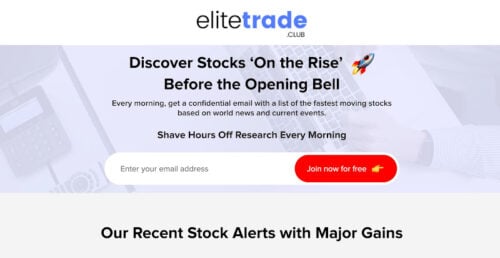 Elite Trade Club is a high-performing daily stocks newsletter that covers the fastest-moving stocks on the NYSE and NASDAQ. You'll get instant access to the analyst picks, along with their latest discoveries. This includes things like new patents, product releases, election results, world events, and everything you'll need to know in order to make a wise investment decision.
Their track record is also impressive. They've covered stocks right before they blew up, including Zoom, Stealth Therapeutics, and Vertex Energy. So if you're an investor looking to make frequent trades based on high-quality information, I highly recommend trying Elite Trade Club for free.
Price: Free to join.
>> Subscribe to Elite Trade Club <<
Best suited for: Investors looking to trade and hold quality US Stocks.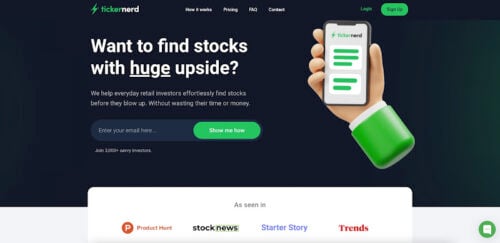 Ticker Nerd surfaces undervalued US stocks worth investing in. They keep a long-term perspective, so each report is crafted with a time horizon from three to five years. One thing that separates Ticker Nerd from the other newsletters is that they always cover the risks of a stock. Whether this is a legislation update, geopolitical challenge, or a growing debt on a company's balance sheet, they will surface the issue early so you know everything, not just the exciting things.
The team sends one report per month, and they cover two growth stocks that should be on your radar. You can expect to see hedge fund trading data, Wall St analyst ratings, social media sentiment on Reddit and Twitter, and fundamental and quantitative analysis. If you're looking for a stock newsletter that is objective, well-rounded, accurate and does not hold any positions in the companies they mention, you should sign up for Ticker Nerd. The good news is that you can get started for free with their all-access 14-day free trial.
Price: $39/mo or $199/yr (free trial available).
>> Subscribe to Ticker Nerd <<
Best suited for: Investors that want macro-level information on the economy.

Exec Sum is another daily newsletter read by over 200,000 professionals and investors. The team sends well-researched finance and business news, usually with a humorous take. You can expect a brief, clear summary of important news, insightful interviews with top executives, and trend analysis, making it a trusted source. I find their newsletters engaging, funny, and an entertaining reading experience.
What I like most about this newsletter is that it keeps me informed on everything happening within the market at a macro level but is also engaging to read. Exec Sum is the perfect combination of funny and informative, so if you can appreciate this, I recommend signing up, especially since it's free.  
Price: Free to subscribe.
Best suited for: Investors that want a service with a long-standing track record.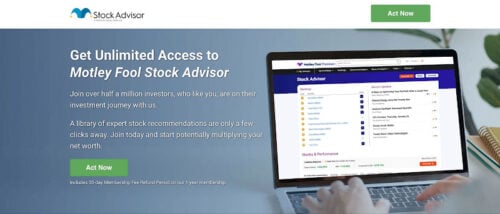 As a newsletter with over 20 years of credibility, the Motley Fool Stock Advisor is one of the most popular in the field. When I subscribed, I received two stock picks each month, exclusive research reports and analyses, and up-to-date investment strategies. I got access to a community of like-minded investors.
Over the years, they've recommended stocks such as Amazon, Apple, Netflix, Microsoft, and Alphabet, which have all generated substantial returns. However, it's worth mentioning that their extensive presence in the market influences their perceived performance. Since they've been around for so long, they've inherently had winners. If you're like me and on the lookout for a newsletter with a solid track record and a substantial user base, I would recommend considering Motley Fool Stock Advisor.
Price: $19/mo or $99/yr (pricing varies).
>> Subscribe to Motley Fool Stock Advisor <<
Best suited for: Investors that want access to a newsletter and research platform.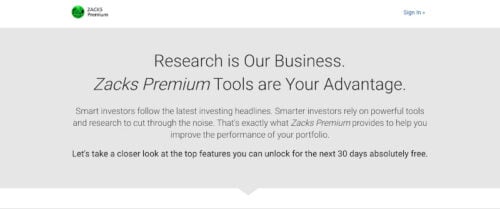 Zacks Premium is a stock newsletter that has been running for over 25 years, so naturally, I had to try it out. It's helped me understand how to buy and sell stocks efficiently. Their research equips investors with distinctive market analysis from Zacks Investment Research. It provides daily market updates and recommendations for buying, selling, or holding shares. It also has additional tools like Zacks Rank, Zacks Equity Research, and the Focus List, which helps investors make accurate decisions.
What's special about Zacks is they do all their homework themselves. They don't use third-party information or sources to decide which stocks to talk about. Some people might say this makes their reports biased, but I haven't seen that to be true. If you want access to all the extra stuff, like screeners and research reports, you should think about joining Zacks Premium. It's been really helpful for me!
Price: $249 (free trial available).
>> Subscribe to Zacks Premium <<
Best suited for: Investors that want holistic wealth advice, not just stock picks.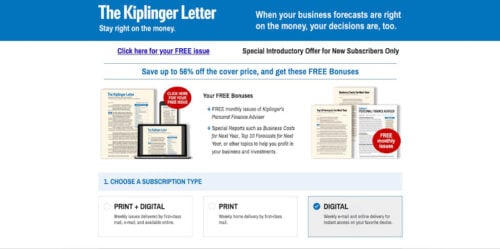 The Kiplinger stock newsletter is a comprehensive weekly newsletter offering insights and analysis on the stock market. Similar to Motley Fool and Zacks, it's been around for decades and is run by seasoned financial journalists and analysts. You can expect diverse topics like specific stock picks, market trends, and investment strategies in each report. It is a bit old school with print magazines. However, this doesn't affect the quality of their reports.
This newsletter isn't just about recommending which stocks to buy; it goes beyond this and helps investors grow their wealth. Once you subscribe, you'll gain access to expert advice from a team of experienced financial journalists and analysts. Most other newsletters do not offer this; instead, they just offer stock reports. The Kiplinger Letters contains a lot more opinion-based information. And for some people, this is perfect!
Price: $99/yr.
Best suited for: Investors that want news and updates from various writers.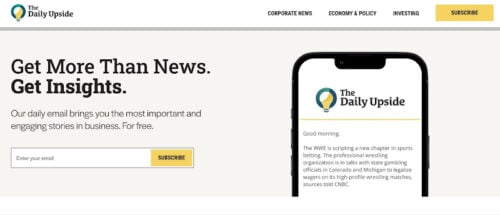 As the name suggests, The Daily Upside is a daily newsletter (Mon-Fri) that brings you business and financial news in a simple and easy way. The newsletters are written by a trustworthy team who knows a lot about money, stocks, and the latest tech trends. Their author profiles are available for you to read, so if you do find a particular writer you like, you can read their whole database of previous newsletters.
If you want to stay on top of the market, you should consider joining The Daily Upside. It's totally free and comes straight to your email every morning. What separates the Daily Upside from other newsletters is that you get additional value, like interviews with big business leaders and thoughts from experts. You can also share your own ideas with other readers.
Price: Free.
>> Subscribe to The Daily Upside <<
Best suited for: Investors that want a clear recommendation from a trusted platform.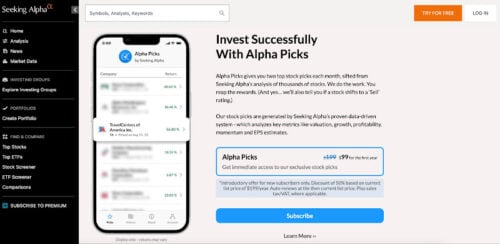 Seeking Alpha is known for its extensive stock platform, which helps investors research and save stocks they're interested in. They've even got a section on "trending analysis" by their top stock analysts. The newsletter is a combination of this research along with expert opinions on which stocks are most valuable and why.
With a Seeking Alpha Picks membership, you can expect to receive two monthly picks along with the "Sell" or "Buy" rating. For investors that want specific advice on which shares to invest in and are not interested in doing additional research, this newsletter will do exactly that.
Price: $199/yr but $99/yr for the first year.
>> Subscribe to Seeking Alpha Picks <<
Best suited for: Investors that want exposure to alternative assets like collectibles and art,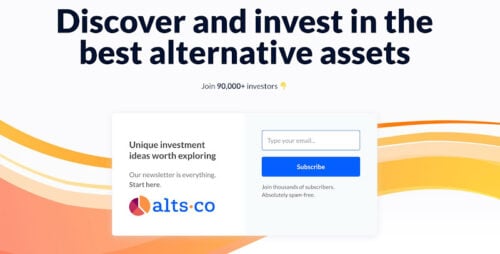 Alts.co is very different from the other newsletters in this list but deserves a spot. This is an alternative assets newsletter that primarily covers other assets like art, collectibles, precious metals, real estate, and cryptocurrency. The reason I signed up for this newsletter was to gain exposure to new asset classes and investments I had never heard of. It's incredibly difficult to find accurate information on alternative assets like art or collectibles.
So if you're an investor that can appreciate alternative assets and is interested in learning along with 90,000 other investors, then Alts.co is worth exploring. Each week you'll receive reports breaking down the asset class along with a roadmap to start investing in them for the highest returns.
Price: Free
Best suited for: Investors that want to learn more about M&A, business, and stocks.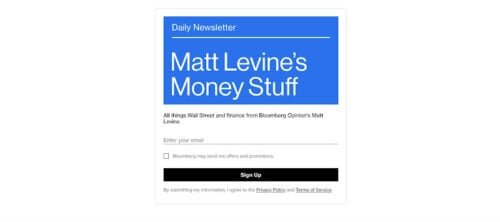 The Matt Levine Money Stuff newsletter is almost like a free weekly book; you can read a chapter each week and learn all about finance. Matt Levine, who writes it, used to be a former mergers and acquisitions lawyer. He works for Bloomberg Opinion now and is great at explaining complex ideas in a way that's easy to understand. He talks about various topics like news about the stock market, big businesses, money trends, rules about money, and even cryptocurrency.
I can confidently say I've learned key concepts from this newsletter. If you're like me and want to understand more about money, how big businesses operate, and stocks, then you should totally sign up for Matt Levine's free Money Stuff newsletter.
Price: Free
>> Subscribe to Matt Levine's Money Stuff <<
Best suited for: Investors that want access to a newsletter and research platform.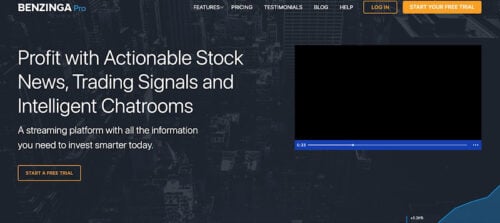 Benzinga Pro is another stock news and research platform designed to provide investors with market data, news, and analysis. It's not your traditional stocks newsletter, but you still get access to breaking stories and real-time alerts sent to your inbox. Benzinga is a tool for everyone, whether you're new to investing or an expert. It gives you all the important information you need to make smart investment choices. Plus, you don't have to be a pro to use it.
Choosing to join Benzinga Pro could be a game-changer for any investor. It offers lots of helpful information, like up-to-the-minute data, in-depth market studies, and even perspectives from other investors on social media. You'll find tools to spot possible good investments and keep up with the newest trends. Benzinga Pro is a super useful resource for everyone, whether you're just starting out or you've been investing for years. It's a smart move to sign up.
Price: $27 – $457/month.
>> Subscribe to Benzinga Pro <<
In summary
By now, it should be clear that stock and investing newsletters help investors save time and make better decisions. Although, choosing the right newsletter for you can be tricky. You'll want to be clear on your end goals, budget, investing proficiency, and time horizon.
I highly recommend signing up for each newsletter that has a free trial; this reduces your risk whilst giving you exposure to something new. From here, you can form an opinion and select a newsletter closely aligned with your values, goals, and budget.
Frequently asked questions
A stock newsletter is a regular email that talks about the stock market, offering advice and analysis from financial experts. Subscribers leverage them to make informed investment decisions, stay updated on market trends, and potentially increase their investment returns.
Subscribing to investment newsletters can be helpful if you're interested in putting your money in the stock market. These newsletters are usually written by experts who spend a lot of time and resources ensuring an asset is of the highest quality. So not only will you get better information, but you'll also save a lot of time.
But remember, newsletters are just one tool to help you with your investments. You also need to do your own research and understand what level of risk you're comfortable with. And, of course, you need to know what your investment goals are.
The best-performing stock newsletters are usually the ones with the longest track record. This is due to the age-old saying, "time in the market over timing the market." Motley Fool, for instance, has been covering stocks for over 25 years. They've had such a great track record, but mostly because they've covered stocks so early that it's grown with the S&P500. The same applies to Zacks Premium; they've been around for 20+ years, which has given them a headstart.
However, it's important to note that past performance, in this case, is not an indication of future performance. This is why I recommend subscribing to a few newsletters to see which is best for you.