Steve Sjuggerud's 2022 Oil Boom Portfolio Presentation is making waves in investing circles, and I wanted to see if it lives up to the hype. Follow along for a full breakdown, including a look at True Wealth Systems.
What Is Steve Sjuggerud's 2022 Oil Boom Portfolio?
Steve Sjuggerud's 2022 Oil Boom Portfolio is a recent presentation offered by the folks over at True Wealth Systems.
It covers lead editor Steve Sjuggerud's latest predictions about the state of the oil market.
It's no secret that Europe is having a tough time at the pump and in their homes.
Energy costs are spiking across the board.
The cost of oil has even surpassed $1,000 per barrel.
There are also forecasts that the energy crisis could grow worse with the upcoming winter.
"And the BBC reports that Germany, Poland, Bulgaria, the Netherlands, Denmark, Finland, Austria, and the Czech Republic are all likely to face energy shortages this winter…"

— Steve Sjuggerud's 2022 Oil Boom Portfolio Presentation
Even worse, Steve doesn't believe this is isolated to Europe. The US could be in dire straits if it follows its current trajectory.
In short, Europe is the canary in the coal mine.
It's not all doom and gloom, though. Steve does believe there is an opportunity to profit from rising energy prices.
In fact, he has built a portfolio with five oil stocks to meet the energy crisis head-on. All his research is available with True Wealth Systems' latest package, Steve Sjuggerud's 2022 Oil Boom Portfolio.
I'll give the full rundown of the presentation as well as everything that comes with the latest package, so stay tuned.
Let's start by looking at True Wealth Systems.
>> Tap into Steve Sjuggerud's Oil Boom Portfolio <<

What Is True Wealth Systems?
True Wealth Systems is a monthly investment newsletter led by Steve Sjuggerud and published by Stansberry Research. Brett Eversole is the lead analyst.
Memberships to True Wealth Systems include monthly research, trade ideas, buy and sell alerts, bonus reports, and more.
The draw is that Sjuggerud identifies opportunities based on a proprietary system he and the team developed in-house.
The system doesn't just pinpoint market opportunities, however. It also warns members when a sector or market might be about to take a dive.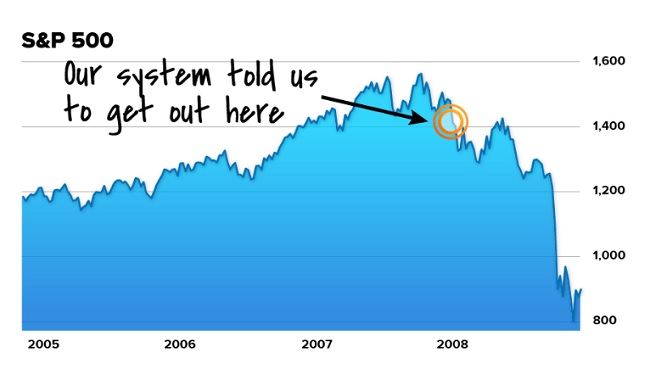 Today's market is exceptionally volatile, so it really pays to have an advanced warning system in place to help time entries and exits.
Also, just because the team recommends an exit, it doesn't mean that the trade idea is off the table for good. They will reintroduce it into the rotation if the system signals it's time to get back in.
As mentioned, True Wealth Systems has a new package that offers members even more insights.
Before we dive into it, let's switch gears and check out the mind behind the service, Steve Sjuggerud.
>> Already sold? Sign up for True Wealth Systems <<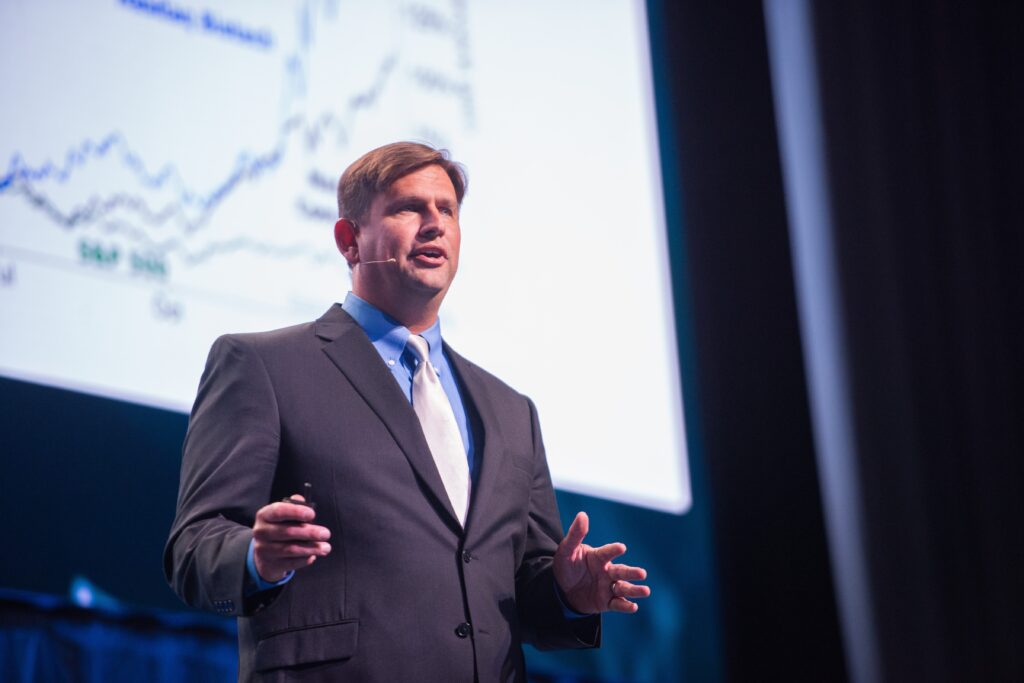 Who Is Steve Sjuggerud?
Steve Sjuggerud is a talented investment analyst that worked with Stansberry Research for more than two decades.
He's a big name in the investment world and is especially well known for his research into commodities and ETFs.
His investing strategy typically leans into the more conservative end of the spectrum.
Sjuggerud's mantra is that "you don't have to take big risks to make big returns." This is an approach many could appreciate considering current market conditions.
It's not 2018 anymore. Gurus can't just throw darts at a board and hope for a single growth stock to rocket portfolios into the stratosphere.
Compared to Steve's other services, like True Wealth, True Wealth Systems does have a more moderate risk level. However, he still brings his signature cautious approach to every trade idea.
Something else to note about Steve is that many of his newsletters are well-received online.
Here's a look at ratings from Stock Gumshoe for True Wealth Systems: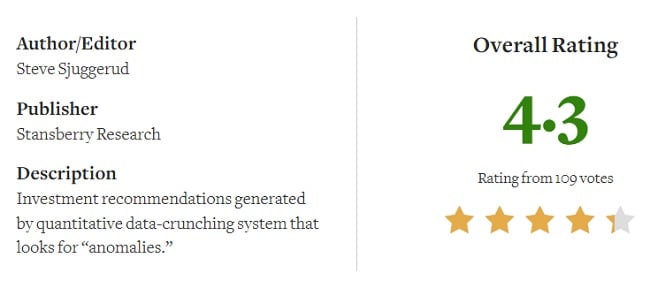 As you can see, True Wealth Systems has comfortably locked in a 4.3/5 rating on this review site.
Keep in mind, however, that this is a third-party site. So we can't verify which of these ratings (good or bad) are from real members.
That said, it's a good sign that online sentiment about Steve's insights seems very positive.
Now that you know more about True Wealth Systems and its lead, it's time to turn our attention to Steve Sjuggerud's 2022 Oil Boom Portfolio Presentation.
>> See Steve's latest predictions <<
The Beginning of a Historic Oil Boom
The True Wealth Systems team believes that the US is on the cusp of an energy crisis.
While Steve Sjuggerud kicks off the presentation, he quickly hands the reins over to his lead analyst, Brett Eversole.
Brett says that the current trend is far "more troubling than the oil shortages of the 1970s."
If you need a quick primer about the oil and gas crisis in the 70s, Brett offers some historical context.
In 1973, the OPEC Oil Embargo caused a complete disruption to energy access for the US and the Western world.
Oil prices skyrocketed for 12 years. They even quadrupled at one point.
If circumstances were this dire in the 70s, it's difficult to imagine how we could soon be on the precipice of something much worse.
However, Brett describes in great detail why he and the team believe this is the case.
The presentation is two hours, so I will hit on the most important beats.
The Current State of the Oil Industry
Starting off, Brett states that global inflation and the War in Ukraine have impacted oil prices. However, he says that this is far from the full picture.
Before we develop the rest of the picture, it's critical to understand that the price of oil is cyclical. And these cycles often have enormous highs and lows.
There are two main reasons:
New oil production requires substantial upfront costs.

Bringing new production to the market is a slow process.
So it's basic supply and demand. With oil, however, meeting demand is excruciatingly slow when supply is rapidly outpacing it.
Energy prices don't just drop the moment companies pump oil.
When enough new production finally reaches the market, the price drops. Once the price drops, production slows down.
If a project cannot maintain profitability during this period, it will be terminated.
And the cycle continues…
However, Brett and the team believe that when demand for oil rises again, the US could struggle to meet it for years.
There are two factors at play.
>> Prepare for the Oil Boom <<
The Two Catalysts for the Oil Boom
The True Wealth Systems team believes that there are two forces at work behind the Oil Boom: Joe Biden and Wall Street.
Before I get into it, the team isn't pointing the finger at Biden because of partisan politics. Instead, they focus on the policies of the current administration.
Let's look at what Brett has to say:
"President Biden has made it his policy to prevent any measure that would have gone against his clean energy initiatives…

Even if it meant shutting down cheap and abundant energy resources that our country desperately needs."
He offers tangible examples, including shutting down pipelines, blocking the approval of new pipelines and projects, etc. It's fair to say that some of Biden's policy has been hostile to producers of fossil fuels.
This doesn't even account for supply chain issues or strategic oil shortages.
These are some pretty easy examples to follow. Where this really gets interesting, though, is the role Wall Street plays.
According to Brett, Biden isn't the only one stifling the oil space. There are 273 asset managers dead-set on these companies "reaching net-zero greenhouse emissions by 2050 or sooner."
They are fighting to halt new developments to achieve this goal. The team believes that there may be an ulterior motive, however.
While it's true that some of the figureheads for these oil companies are environmentalists, Brett implies that this could be a smoke screen.
"But by stopping future oil production, these activist "environmentalist" investors are freeing up MASSIVE amounts of cashflow that they can send right back to investors."
In short, the team believes that the real green initiative has nothing to do with setting up more windmills. It's about moving greenbacks into the pockets of insiders.
The motive really doesn't matter at the end of the day. The salient point is that if an energy crisis is looming on the horizon, there's good reason to believe the US doesn't have the capacity to meet it any time soon.
This is why the True Wealth Systems team has put together a suite of research to give folks the opportunity to come out better on the other side.
>> See what Steve is recommending <<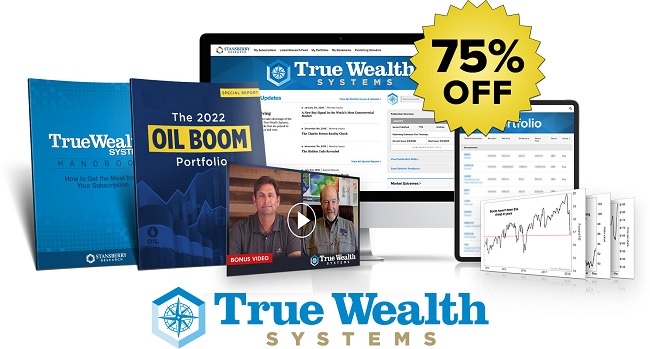 Steve Sjuggerud's Oil Boom Portfolio Features
There are a number of excellent features packed into Steve Sjuggerud's Oil Boom Portfolio.
Keep reading for a breakdown of each one.
Two Years of True Wealth Systems
Signing up under the current deal provides members with a two-year subscription to True Wealth Systems.
The team delivers each issue on the first Thursday of every month. It includes one trade idea that's vetted by their analysts and proprietary software, along with supporting research.
They target opportunities of all shapes and sizes: whether it's under-the-radar companies or those following a strong trend.
However, True Wealth Systems does not deal in options, income plays, or blue chips.
Some stocks may pay dividends, but it's not the team's primary focus.
The typical holding period ranges from about 6 to 18 months. This means these recommendations could be a good fit for someone searching for mid to long-term positions.
Trade Alerts
As mentioned, the True Wealth Systems team alerts members of market-moving events that could affect any open positions.
This is par for the course with most research services out there. So I usually wouldn't give someone extra points for including a standard feature.
That said, the team is also using its software to get constant reads on the market. This offers an additional layer of due diligence that I really appreciate.
Members can go about their day knowing that the team and their software are keeping a close eye on the markets.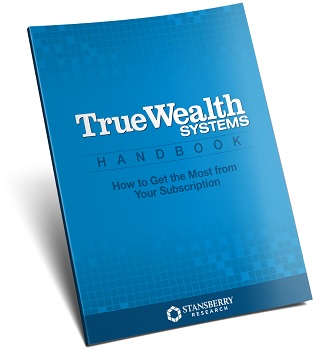 The True Wealth Systems Handbook
This guide fills members into the True Wealth Systems approach to investing.
It explains everything you need to know about how the team built its software, how they put it to use, and what types of recommendations they target.
As an added bonus, they also reveal their secret for finding the opportunity to double normal gains, as well as how to generate serious gains with ETFs.
This isn't just a starter guide. So even advanced members could get a lot of value out of reading it.
>> Sign up for True Wealth TODAY <<
Oil Boom Portfolio Bonuses
On its own, True Wealth Systems is an impressive package. But Steve and the team are sweetening the pot with bonus features, including additional trade ideas.
Let's see what's under the hood.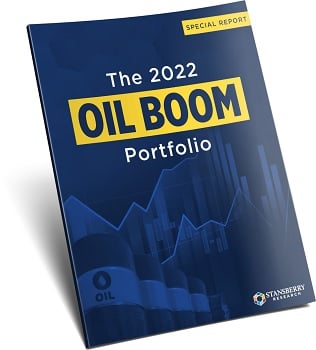 The 2022 Oil Boom Portfolio
This research report is the centerpiece of the deal.
Steve Sjuggerud reveals five oil stocks that could provide the opportunity to profit from the Oil Boom.
Here are some of the details Steve shares about these five oil stocks:
He likens this company to the "Royal Gold" of oil and gas

This company builds, operates, and maintains rigs in over 100 countries

This company manufactures one of the most important parts of an oil rig

This company is Steve's favorite independent oil company

This company is one of the largest pipeline companies in the US
Also, each trade idea targets a unique approach to tapping into oil profits.
Given Steve's track record, this is a must-read for any member.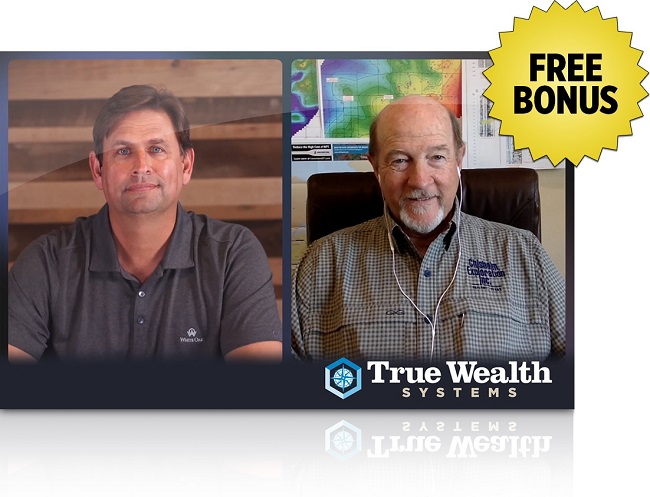 Exclusive Interview with Oil Industry Insider Cactus Schroeder
In this interview, Steve Sjuggerud discusses the current state of the market with Cactus Schroeder.
Cactus has been in the oil and gas industry for over three decades, so he has a firm grip on the pulse of the energy market.
If you're interested in the future of fossil fuels, it's definitely worth a watch.
This interview is only available for True Wealth Systems Members.
>> Access this exclusive insider interview <<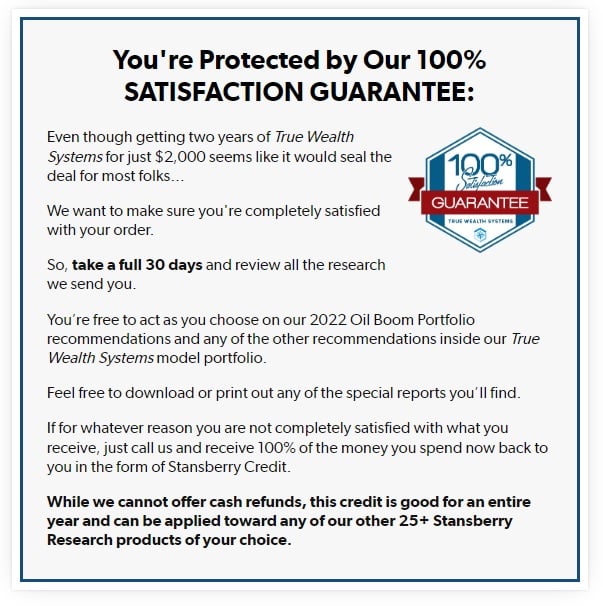 100% Satisfaction Guarantee
Under the Steve Sjuggerud's 2022 Oil Boom Portfolio deal, new memberships to True Wealth Systems are backed by a 30-day in-house credit guarantee.
This means you have 30 days to test drive the service. If you decide that it's not a good fit, you can opt for full credit on the cost of the subscription.
The credit is good for a whole year and can be applied to any of Stansberry Research's 25+ subscriptions.
Stansberry has been in the business for over two decades and has amassed an impressive catalog in its run. So there are plenty of excellent options to choose from.
Pros and Cons of Steve Sjuggerud 2022 Oil Portfolio
True Wealth Systems is a great newsletter, but it does have some rough edges to keep in mind.
Here are the pros and cons of the service.
Pros
Trade ideas based on a proprietary system

Exclusive oil and gas stock research

Extra 5 trade ideas on signup

75% discount
Cons
No blue chips or options

In-house credit refund only
>> Access all these benefits now <<

True Wealth Systems Pricing
True Wealth Systems typically costs $8,000 for a two-year subscription. However, the team's Oil Shock Portfolio package is knocking the price down to just $2,000 for two years.
This shakes out to $6,000 off the sticker price or a 75% discount.
As far as premium subscriptions go, this is an absolute bargain.
For reference, the average cost for many premium investment newsletters is about $2,000 per year (with discounts).
But Steve Sjuggerud and team are sweetening the deal by offering two years for the price of one.
Keep in mind, however, that this is an introductory offer, which means the discount only applies to the first two years.
Steve Sjuggerud 2022 Oil Boom Portfolio: Final Thoughts
Only time will tell if Steve Sjuggerud's investment thesis will play out as he expects. However, the Steve Sjuggeryd Oil Boom presentation builds a solid case.
Because of the cyclical nature of oil and gas, there can be quite a few ups and downs. This makes it difficult to judge when to exit a position.
Advanced warning systems, like the one offered by True Wealth Systems, could go a long way in making the most of an oil boom.
Plus, Steve and the team are really packing in the value in the latest research suite.
Members get a free year of True Wealth Systems, five additional stock picks, and much more.
It's a great deal and definitely worth checking out if you are looking to stay one step ahead of Sjuggerud's Oil Boom.
>> Sign up for to True Wealth for 75% off HERE<<