Steve Sjuggerud's 2023 predictions paint a bleak picture for US energy security. But is he onto something, or simply being alarmist? I'm taking a look at his Oil Boom Portfolio presentation and True Wealth Systems' latest research package to find out.
What Is Steve Sjuggerud's Prediction?
Steve Sjuggerud predicts that Europe's energy crisis could spill over into the global scene, including here in America.
Just like how oil prices have shot over $1000 per barrel across the pond, the same thing could occur on home soil.
This price point has the potential to radically change the landscape of commerce and everyday lives.
However, Steve Sjuggerud's prediction doesn't stop there.
While he's concerned about the possibility of an energy crisis gripping America, he says that there could be opportunities to see serious windfalls as a result.
And he says that these opportunities have the potential to thrive even amidst this devastating bear market.
Steve's research service, True Wealth Systems, has curated a shortlist of investment ideas that he believes could help people make it out better on the other side.
This includes a portfolio designed to help everyday Americans play the energy crisis.
I'll dive into the details of Steve Sjuggerud's portfolio a little later. But first, let's dive into what he calls the Oil Boom.
Sound like a good fit? Sign up and SAVE 75%
The Oil Boom
The Oil Boom is Steve Sjuggerud's forecast that select oil stocks could see a seismic spike in value in the face of an energy crisis.
Steve cites a combination of political and economic forces as the primary culprit for this potential spike.
Basic concepts like scarcity, the cyclical nature of commodities as well as supply and demand play a role here.
This all makes sense, but these factors are probably the least interesting part of his analysis.
Steve Sjuggerud is predicting that the Oil Boom could be fueled by a different set of political and economic catalysts: Joe Biden and Wall Street.
Joe Biden's Directive
According to Steve, Joe Biden has hampered fossil fuel production by enacting his clean energy directive.
He also says the president has made it his mission to prevent any measure that conflicts with his initiative. That includes stifling the procurement of cheap and abundant energy resources.
Biden has shut down various pipelines, blocked the approval of new oil projects, and has even capped the number of refineries allowed to operate within the country.
Pipelines and refineries are crucial to making and distributing the gas needed to keep the lights on throughout America.
But as mentioned, this current administration is just one piece of the puzzle of The Oil Boom.
Wall Street's Role
Steve says that there are 273 asset managers set on "reaching net-zero greenhouse emissions by 2050 or sooner."
In his presentation, he reveals that one big player in the shift is Engine No. 1.
With a relatively small stake in ExxonMobil, Engine No. 1's hedge fund manager convinced Blackrock, Vanguard, and State Street Capital — who collectively hold roughly 20% of ExxonMobil shares — to alter ExxonMobil's direction.
Instead of focusing its efforts on developing new wells, new refineries, and the whole nine yards, Engine No. 1 has successfully convinced ExxonMobil's majority shareholders to focus on achieving net-zero greenhouse emissions by 2050.
Another example of this trend is Chevron.
Chevron Corp's investors have ordered the company to cut greenhouse emissions.
Royal Dutch Shell has been ordered to do the same.
While many mainstream environmental activists predict that green energy demand could skyrocket to fill the void, Steve believes this couldn't be further from the case.
He also suspects that there might be another ulterior motive at play.
Cutting back on investing in infrastructure frees up cash flow that could be redirected to insider investors' pockets.
Regardless of the motive, the oil supply could be seriously restricted as a result of these emerging shifts in priorities.
Demand For Oil Outweighing Supply
Fossil fuel demand isn't going anywhere anytime soon.
There has been much talk about gas-powered cars being replaced with electric vehicles and whatnot, but that reality sits decades away.
As of right now, people still need gas to seamlessly live their everyday lives.
And according to Steve, green energy pushes by activists like Engine No. 1 might prevent this need from being met in a meaningful way.
We're already seeing it play out in real time.
Usually, when gas prices rise, an appropriate level of production rises in tandem.
But since more oil companies have shifted their focus from producing oil to reducing emissions, this equivalent rise in production has slowed.
Steve points to some interesting figures to support his claim:
"One recent survey by the Federal Reserve Bank resulted in 29% of US oil producers said they won't expand their drilling, no matter how high prices get.

And the same survey found that 60% of oil and gas executives say that they won't grow production because of Wall Street."
In other words, many companies responsible for refining and producing gas are following a new objective, one that's far removed from the oil industry.
Opportunity In Chaos?
Steve purports that Wall Street and Joe Biden might have helped engineer a radical oil shortage.
And as a result, the demand for oil could greatly exceed its supply in the coming months, which has the potential to send oil prices soaring.
While this doesn't bode well for prices at the pump, Steve and his team say that there could be an investment opportunity opening up on the horizon.
And their latest research package reveals a selection of strategies that could help members make the most out of it.
All this research is available with Sjuggerud's True Wealth Systems' latest package, The Oil Boom Portfolio.
Stay one step ahead of The Oil Boom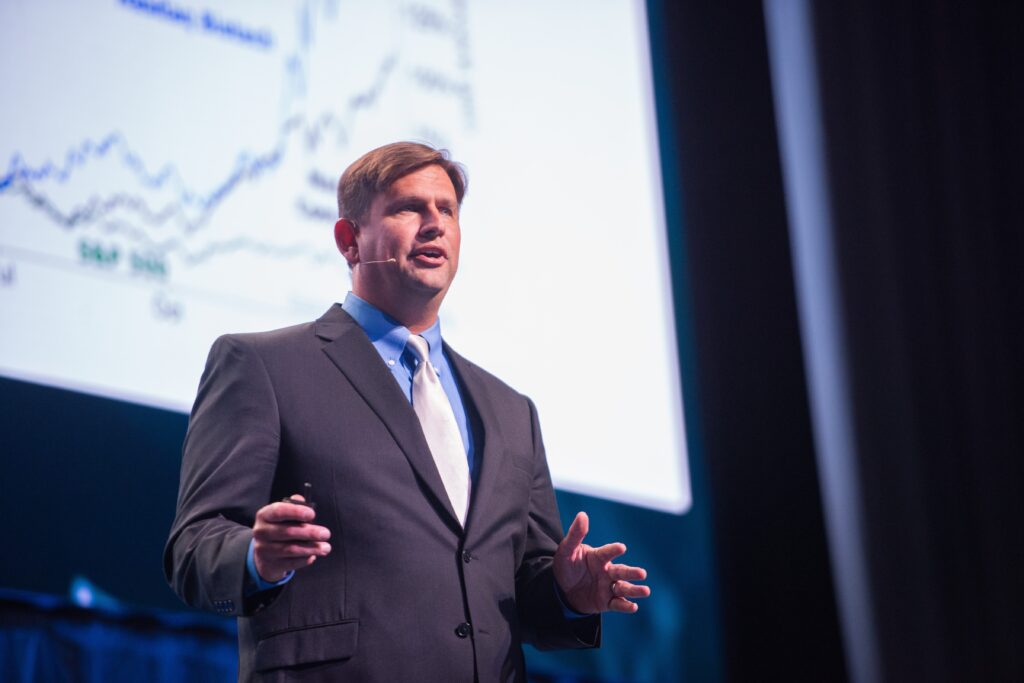 Who Is Steve Sjuggerud?
Steve Sjuggerud is veteran stock market analyst that has worked in the front lines of Stansberry Research's stock-picking team for over two decades.
He's particularly known for his in-depth research into commodities and ETFs.
Unlike many of his peers, Steve's stock-picking strategy is pretty conservative.
He says that "you don't have to take big risks to make big returns."
This cautious approach could be critical to preserving wealth throughout the course of the ongoing bear market.
It's worth noting that compared to Steve's other services, True Wealth Systems has a slightly higher risk profile (moderate).
However, he still maintains his general cautious stock-picking principles in every trade opportunity he identifies.

What Is True Wealth Systems?
True Wealth Systems is a monthly investment newsletter.
Steve Sjuggerud leads the service, and it's published by Stansberry Research.
True Wealth Systems X factor is its proprietary stock-picking software developed by Steve and the team.
Also, the system doesn't just identify market opportunities. It has the potential to pinpoint the early rumblings of a drop-off in a market or sector.
So it also serves as an advanced warning system.
With the market growing increasingly volatile and unpredictable following the S&P 500's shocking decline, it's important to have an edge that can identify potential collapses.
And True Wealth Systems could be that edge.
It's also worth noting that True Wealth Systems boasts a 4.3/5 rating on Stock Gumshoe, a platform aimed at dissecting financial newsletters.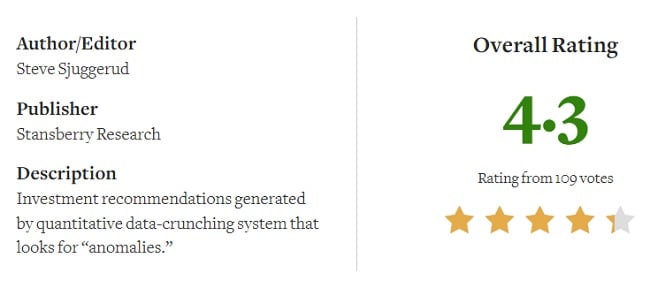 Of course, being a third-party site, we can't verify how much of its ratings are from real members.
But that being said, a 4.3 rating is still a good measure of online sentiment with regard to Steve Sjuggerud's True Wealth Systems.
Now that you know more about True Wealth Systems and its lead, it's time to turn our attention to the latest package.
What Comes with the Service?
Memberships to True Wealth Systems come loaded with access to the services model portfolio, True Wealth archives, and a slew of other helpful resources.
Here's a comprehensive look at the service's benefits.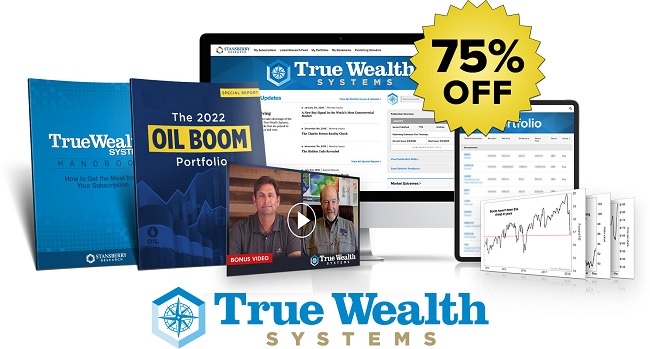 Two Years of True Wealth Systems
Stansberry Research is running a rare deal that provides new members with a two-year subscription to True Wealth Systems.
The team sends out a new newsletter issue on the first Thursday of every month.
These issues typically include one trade idea thoroughly vetted by the newsletter's analysts and proprietary software. It also provides market commentary and additional research.
True Wealth Systems does not deal in options trades, income plays, or blue chips.
And the typical holding period ranges from about 6 to 18 months.
This means these recommendations could be a good fit for someone searching for mid to long-term positions.
Trade Alerts
True wealth subscribers gain access to real-time trade alerts as part of the service.
This helps keep you in the loop with any news that can affect open positions.
Given that this is a monthly newsletter, trade alerts are an excellent addition to the service.
It lets you go about your day knowing that the team is keeping a diligent watch over the stock market.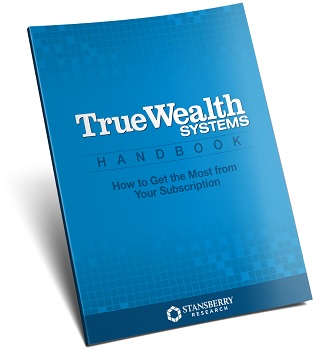 The True Wealth Systems Handbook
This handbook brings members up to speed with the True Wealth Systems approach to identifying explosive market opportunities.
It fills you in on everything you need to know about the team's proprietary software and stock-picking process.
Given that it offers an in-depth look at the overall strategy, I think members should at least give it a solid once-over.
That said, new faces on the stock market might want to revisit here and there as a refresher.
Access these features and more for 75% OFF today
New Member Bonuses
While a subscription to True Wealth Systems represents an incredible deal on its own, Steve Sjuggerud has included bonus reports to go along with the subscription.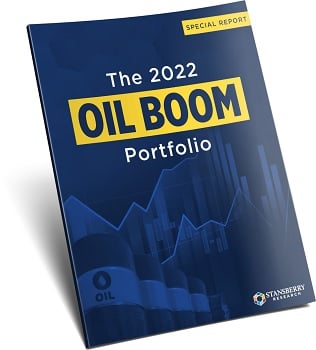 The 2022 Oil Boom Portfolio
This research report is the primary focus of the deal.
Inside, Steve Sjuggerud reveals five oil stocks that could help everyday Americans profit from the oil boom.
Here are some of the details Steve shares about these five oil stocks:
He likens this company to the "Royal Gold" of oil and gas

This company builds, operates, and maintains rigs in over 100 countries

This company manufactures one of the most important parts of an oil rig

This company is Steve's favorite independent oil company

This company is one of the largest pipeline companies in the US
New members can discover the names of these companies as soon as they sign up under the new deal.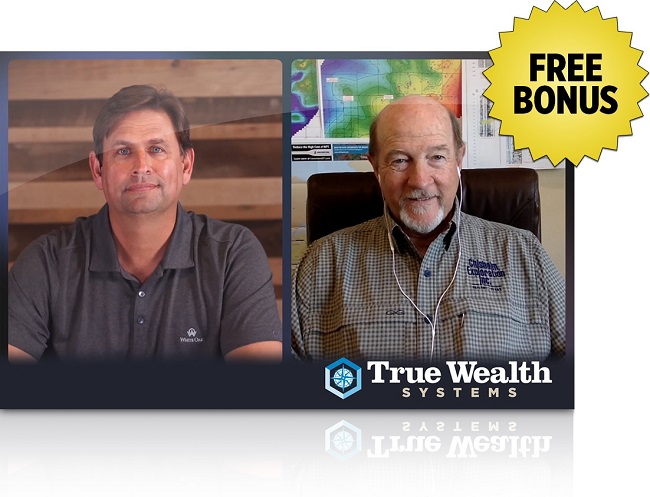 Exclusive Interview with Oil Industry Insider Cactus Schroeder
As part of a subscription to True Wealth Systems, you can access an exclusive interview with Cactus Schroeder.
In this interview, Steve Sjuggerud sits down with oil Industry insider Cactus to discuss the state of the oil market.
Cactus operated within the oil and gas industry for over three decades, so he boasts expert knowledge of the energy market.
As an insider, Cactus provides comprehensive insights into this industry that you'd be hard-pressed to find anywhere else.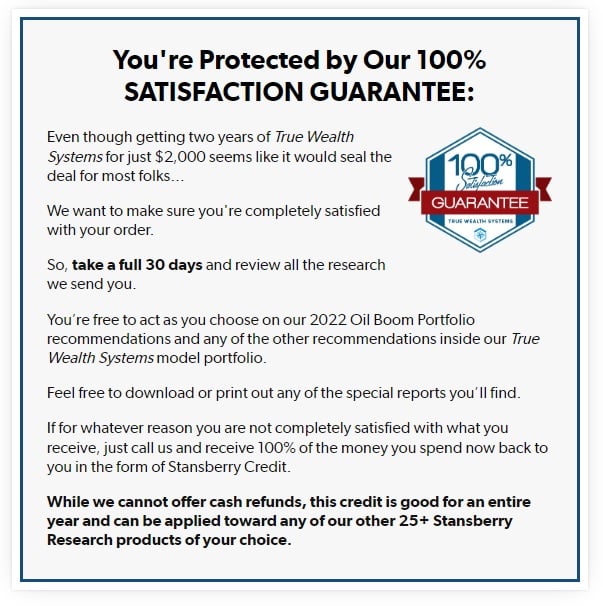 100% Satisfaction Guarantee
Under the latest deal, new memberships to True Wealth Systems are backed by a 30-day in-house credit guarantee.
This means you have 30 days to test drive the service.
If you decide that it's not a good fit, you can opt for full credit on the cost of the subscription.
The credit can be put toward any services within the Stansberry Research umbrella.
How Much Does It Cost?
True Wealth Systems typically costs $8,000 for a two-year subscription.
However, the team's Oil Shock Portfolio package is knocking the price down to just $2,000 for two years.
This shakes out to $6,000 off the sticker price, or a 75% discount.
Final Verdict
At first glance, it might be easy to dismiss Steve Sjuggerud's thesis as radical or unnecessarily contrarian.
However, based on the facts in his presentation, he does build a strong case.
After all, when demand outweighs supply, the prices of commodities could see a spike.
And with the demand for oil poised to outweigh its supply due to Joe Biden's policies and Wall Street's new-found environmental activism, it's possible that an oil boom could take off.
All in all, Steve and the team have put together an impressive research package. I recommend checking it out if you are in the market for top-tier research at a solid price.
That's it for my review. Sign up and SAVE 75% today