The Stock Dork is reader supported. We may earn a commission, at no additional cost to you if you buy products or signup for services through links on our site.
Investing in the stock market can be a frustrating experience for even experienced traders. Fortunately, The Motley Fool has some great tools available in the form of Stock Advisor and Rule Breakers. How do these services compare, and which is the better service out there? In this stock advisor vs rule breakers article we explore just that!
Overview: Stock Advisor VS Rule Breakers
Stock Advisor and Rule Breakers are services created by David Gardner and Tom Gardner as part of their investment firm, The Motley Fool. The brothers were co-founders of the Fool back in 1993 and have grown it to be one of the most sought-after locations for financial and investment information anywhere. Stock Advisor and Rule Breakers are just two of the many services The Motley Fool has to offer stock picks.
About Stock Advisor
The Motley Fool Stock Advisor is one of the premier stock picking services on the market. Both David Gardner and Tom Gardner work with a team of analysts to offer a new stock pick for investors to buy each month. Each team scrubs the market for stocks with excellent growth potential that should stay in your investment portfolio for at least five years.
Stock Advisor also features a continually updating starter stock list that the team feels every subscriber should have in their stock portfolio.
The service has a stellar track record of making successful stock recommendations over its nearly 20 years of existence.
You can read our full stock advisor review here.
About Rule Breakers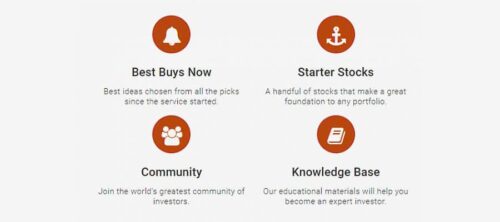 The Motley Fool Rule Breakers service, on the other hand, looks for stocks that are primed for significant growth opportunities. David Gardner and a different team of stock advisors do some serious analysis on the stock market to hunt for companies that are likely to have a major return on their stock. The service has been around since 2004 and has had great success so far.
Rule Breakers offers two new stock recommendations each month but also keeps a best-buy list for investors to consider investing in.
You can read our complete rule breakers review here.
Performance: Stock Advisor VS Rule Breakers
Looking at the performance of The Motley Fool Rule Breakers VS Stock Advisor, there are quite a few familiar trends. Both stock picking services have outstanding track records when it comes to picking stocks with high yields. Let's take a look at just how much Rule Breakers and Stock Advisor picks have outperformed the market.
Stock Advisor Performance
The Motley Fool Stock Advisor has had major success with its investment advice over the last 18+ years. Stock Advisor has identified many of the best stock picks over this period and shows no signs of stopping. The stock newsletter has seen its picks return over 500% as of the end of 2020. By comparison, the S&P 500 has only seen a 100% increase.
>> Does Stock Advisor sound like it's for you? If so, click here to become a member now! <<
Rule Breakers Performance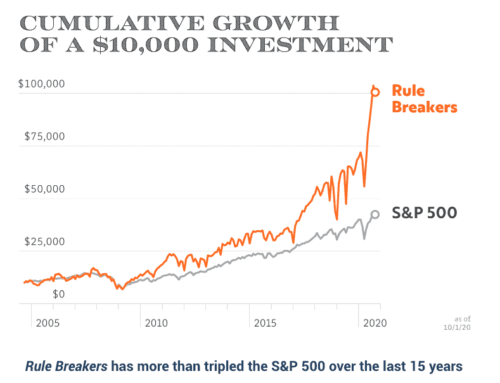 David Gardner and his team at Rule Breakers are experts at making recommendations of stocks poised to do a lot of growth and see a large return. While this stock picker service is higher risk, their stock recommendations have seen some amazing growth – often in a short period of time. The average Rule Breaker stock sees a 277% return, and the platform has outperformed the S&P 500 by more than 300%.
>> Already sold on Rule Breakers? Click here to sign up today! <<
Investment Strategy: Stock Advisor VS Rule Breakers
The Motley Fool Rule Breakers and Stock Advisor each have different investment strategies for success. Which of the services is right for you will largely depend on what your investing goals are.
Stock Advisor Investment Strategy
Both Tom and David Gardner have built The Motley Fool Stock Advisor into their flagship by being intentional with each pick. The stock picks that Stock Advisor recommends are lower risk and already have a history of past price appreciation.
Both David and Tom have management teams that search different categories for solid stock market picks to add to your list of investments. They may have slower growth in the short term, but chances are high that each pick will do well in the long term.
Rule Breakers Investment Strategy
The Motley Fool Rule Breakers service is all about helping you pick growth stocks to invest in that look to have large returns in the short term. Rule Breakers can help you build a strong portfolio with those specific picks by offering these recommendations before the growth stocks take off.
There's a little more risk involved with Rule Breakers since these growth stocks have yet to prove themselves. David Gardner and his team perform a careful analysis of stock picks and release two to investors each month.
Starter Stocks: Stock Advisor VS Rule Breakers
Both The Motley Fool Stock Advisor and Rule Breakers have a strong list of starters to use as a strong foundation or to strengthen any portfolio. The difference between the two lies in what they offer beyond that.
Stock Advisor Starter Stocks
The Motley Fool Stock Advisor updates their list of starter stocks once yearly. Since starting a portfolio can be an overwhelming process for a new investor, The Motley Fool suggests using this list as a launching pad to grab some good market picks. These recommendations serve as a robust foundation to build a portfolio around.
The list is not just for new investors, though. Even experienced traders can use the stocks on this list to strengthen their portfolios.
>> Sold on Stock Advisor? Click here to sign up today! <<
Rule Breakers Starter Stocks
The main focus of Motley Fool Rule Breakers is to provide stock picks that have enormous growth potential. If you're an aggressive investor just starting out and want a strong investment core, Rule Breakers also has a list of starter stocks that are safe picks for a positive return on the market. Their recommendation is to pick at least three of these stocks to build a portfolio around.
Experienced investors looking for the substantial short-term gains that Rule Breakers is known for can also take advantage of these picks to strengthen their portfolio.
>> Is Rule Breakers for you? If so, click here to become a member! <<
Stock Picks: Stock Advisor VS Rule Breakers
Both Stock Advisor and Rule Breakers have plenty of experience picking great stocks, and that pattern doesn't appear to be changing any time soon. The difference is in their approach to selecting their favorites from the market.
Stock Advisor Stock Picks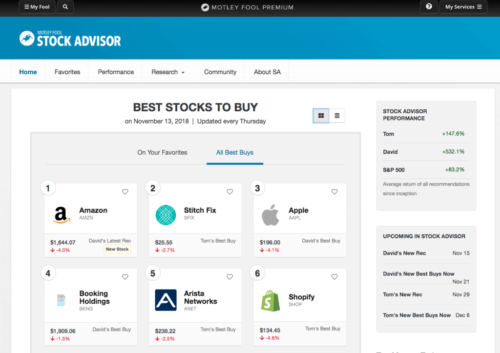 The Motley Fool Stock Advisor is all about making stock picks they feel will have a strong long term performance. We're not talking stocks that burn out quickly – these picks are designed to be held for at least five years. For example, years ago, they identified companies like Netflix and Amazon that have seen an insane return and are now in the S&P 500.
Both Tom and David Gardner have a team that uses their own unique methods to find these long term stars.
Tom and his team hunt for stocks in industries that have lost popularity in recent years. This means stocks can be bought for lower than expected, and the team only chooses stocks whose companies have a great business model to be able to grow.
David and his team search out a company that may be off-trend but have something special about them, including a strong business model and a great brand that show good growth signs.
>> Ready to become a Stock Advisor member? Click here to start your subscription today! <<
Rule Breakers Stock Picks
Rule Breakers only offers up two new stocks each month that David Gardner and his team have carefully studied. They keep a "best buys now" list of five stocks, updated monthly, that often see great success on the market.
Rule Breakers has had an excellent track record over the years and is still performing incredibly well today. Several stocks the team has chosen over the last year have already seen a massive return.
As an added bonus, you can use the search query to look through the exhaustive list of all the stocks in the Rule Breaker database.
Community: Stock Advisor VS Rule Breakers
A great community at your back is a huge blessing in the investment market. The Motley Fool understands this and gives you access to the best of the best.
Stock Advisor Community
The Motley Fool has one of the strongest investment communities on the internet. Stock Advisor has a large number of supporters to bounce ideas off of, pick up stock tips, and more. Stock Advisor also offers community events to encourage engagement among fans. All you have to do to gain access is to become a subscriber.
Rule Breakers Community
Rule Breakers' investing community is a great place to increase your stock knowledge by sharing thoughts with other investors on the site. You can also search through the forum for trading ideas and use this space to check your hunches against what others think.
The community is an often overlooked feature that can take your skills and portfolio to the next level. If you decide to subscribe to Rule Breakers, do not miss out on this tool.
Pricing: Stock Advisor VS Rule Breakers
Stock Advisor and Rule Breakers are both services from The Motley Fool. Because of this, they have similar price structures and a very generous option to try each service at no risk.
Stock Advisor Pricing
You can currently pick up everything the Motley Fool Stock Advisor has to offer for just $99 for an entire year, which boils down to only $1.90 per week. This is advertised as being 50% off the regular price, so it could potentially double at any time. Click here to buy now before the offer is gone.
No matter the price, there's a 30-day no-risk guarantee. If you're not completely satisfied with the service for any reason within those first 30 days, just cancel to get every penny of your membership fee back.
Rule Breakers Pricing
Rule Breakers is also available for just $99 a year at present. While advertised at $299 for a yearly subscription, it's been available at this low price point for a while. No one knows when the price will go back up, though. Click here to purchase the service before the subscription fee goes back up.
Since the same company created both services, Rule Breakers also comes with a 30-day money-back guarantee. As long as you can make up your mind about the service within those first 30 days, there's no reason not to give it a try.
Top Differences Between Stock Advisor and Rule Breakers
While the foundation between these two services is unsurprisingly alike, the differences between Rule Breakers and Stock Advisor almost comes down to a mindset.
Stock Advisor is a bit like the calm, cool, and collected sibling. Decisions are a bit more rational and certainly less volatile. Stock picks are more mainstream, but on average still see significant returns.
Rule Breakers, on the other hand, is the more impulsive sibling. They see some massive wins by focusing on companies with a lot of growth potential. That being said, there is always the risk of a loss in there as well. The volatility and discipline that goes along with this doesn't sit well with everyone.
Looking at data from the last five years, Rule Breakers as a whole has outperformed Stock Advisors. An investor picking a few recommendations with Rule Breakers will certainly not see those kinds of returns.
Conclusion: Stock Advisor VS Rule Breakers
Both Stock Advisor and Rule Breakers have a strong core in The Motley Fool and are solid pillars in the stock market community. Each service frequently makes solid picks and sees returns that far surpass even the S&P 500.
When it comes to choosing one or the other for a source of investments, the answer is simple – choose both! While the foundation is the same for each service, the advice each one provides is in a league of its own. At $99 each currently for an entire year, it feels like a buy one, get one free scenario.
If you do need to land the plane on just one of the two services, the choice has to come down to precisely what your portfolio needs.
If you're the type of investor to ride the market for the foreseeable future, picking strong stocks to hold onto for years to come, step into the Stock Advisor camp.
If you're a bit more of a risk-taker and are big into buying low and watching for stocks to skyrocket, go with Rule Breakers.
In either case, you're in good hands with The Motley Fool. They are a company that is open, honest, and transparent in their dealings. They have a passion for succeeding, and they genuinely want to pass that success along to you.
>> Is Stock Advsior the better choice for you? Click here to become a member today! <<
>> Interested more in Rule Breakers? Click here and become a member in just minutes! <<