I've seen some chatter online about Bonner Private Research since it was bundled with True Wealth's Nightmare Winter deal. I want to see if it lives up to the hype. Keep reading for the full breakdown in my Bonner Private Research review.
What Is Bonner Private Research?
Bonner Private Research is a daily investment newsletter helmed by Bill Bonner and published by Blackwater River Press.
The Bonner Private Research team pens market analysis to help subscribers find opportunities that could grow and protect their wealth. Its core members include Bill Bonner, Joel Bowman, Tom Dyson, and Dan Denning.
As you can see, this service has some impressive talent steering the ship.
The newsletter has two parts, a free subscription and a paid subscription that provides even more insight into the world of investing.
The free subscription gives members a daily stream of newsletter issues overseen by Bonner, as well as a weekly recap from Joel Bowman. There's also a premium weekly and monthly issue.
In the premium weekly issue, Dan Denning delves into shifts in the macroeconomic and geopolitical landscape. On the other hand, Tom Dysan presents premium subscribers with "his single-best investing or trading idea" in the monthly issue.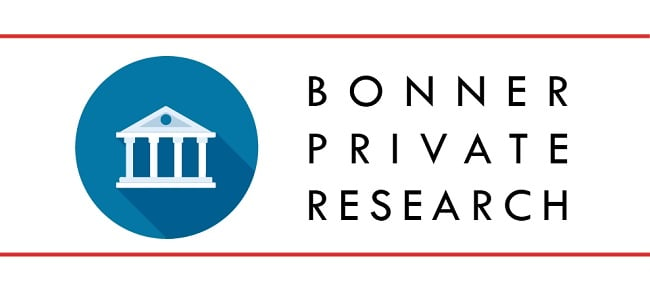 Is Bonner Private Research Legit?
Bonner Private Research is a legit service packed with solid analysis.
The team knows their way around the markets, and their insights are top-notch.
All in all, Bonner Private Research is an excellent newsletter that offers a lot of value.
Under the "America's Nightmare Winter" bundle, Bill Bonner's latest team-up with True Wealth and Steve Sjuggerud, provides even more features for subscribers to sink their teeth into.
Before we get into it, let's turn our attention to Bill Bonner.
>> Access Bonner Private Research through True Wealth <<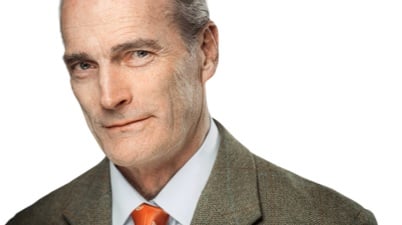 Who Is Bill Bonner?
Bill Bonner is an established investor, author, and founder of Agora Inc.
Agora is a network of publishers, many of which offer a collection of stock market research services.
Bonner founded the company in 1978. Since then, it has grown into one of the largest networks of independent market analyst publishers.
In addition to his role as the head of Agora, Bonner has overseen several investment research services.
Some of these include:
The Bill Bonner Letter

Bill Bonner Diary

Bonner Private Research
Dan Denning — one of Bonner Private Research's contributors — also worked with Bonner on The Bonner Letter. So it makes sense that the two would team up again for Bonner Private Research.
Bonner's impressive resume doesn't stop here, though. He's also written two New York Times Best Sellers: Reckoning Day and Empire of Debt.
Now that you know more about Bill Bonner, let's take a look at True Wealth's latest deal that includes a one-year subscription to Bonner Private Research.

What Is True Wealth?
Similar to Bonner Private Research, True Wealth is an investment newsletter.
Dr. Steve Sjuggerud is the lead editor of the service, and it's published by Stansberry Research.
Stansberry Research is a widely popular research publisher within Agora's orbit.
True Wealth members gain exclusive access to market analysis that provides one trade idea per month. A subscription also comes with a slew of additional features, including bonus reports, a model portfolio, and more.
As mentioned, True Wealth is offering a research package that includes a one-year membership to Bonner Private Research.
This iteration's bonus reports offer insights and investment ideas tied to what bill Bonner refers to as "America's Nightmare Winter."
Essentially, Bonner believes that there could be an epic financial crisis around the corner because of reckless government spending and the mass adoption of underdeveloped green energy tech.
>> Already sold? Sign up for True Wealth HERE <<
"America's Nightmare Winter" Bundle Features
In addition to an annual subscription to Bonner Private Research, True Wealth members can access a range of excellent features and investment analysis.
Let's start by looking at the newsletter.
True Wealth Newsletter
Signing up to True Wealth provides members with a full 12 months of trade ideas selected by Steve Sjuggerud.
The picks are available on the third Friday of every month.
While many of Sjuggerud's recommendations are stocks, he does offer other trade ideas. Some other picks include ETFs, real estate trusts, and commodities.
The investment strategy is on the conservative side of the spectrum, and positions follow a long-term investment horizon.
There's also a handy portfolio that members can access through the members' portal to keep track of positions.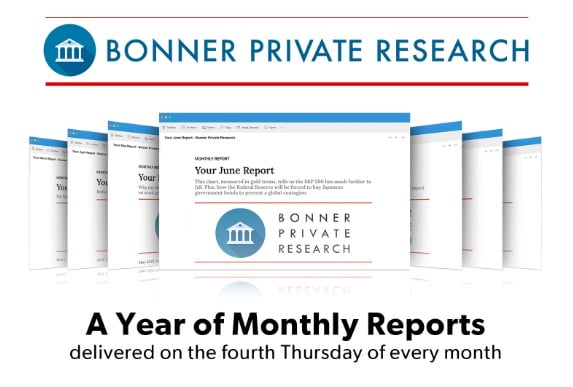 Bonner Private Research Annual Subscription
As mentioned, signing up for Bill Bonner's Nightmare Winter deal gives access to an annual subscription to Bonner Private Research.
Like True Wealth's newsletter, this service offers a new issue once a month filled with additional investing insights.
The premium issue is delivered on the fourth Thursday of each month.
>> Get one year of Bonner Private Research <<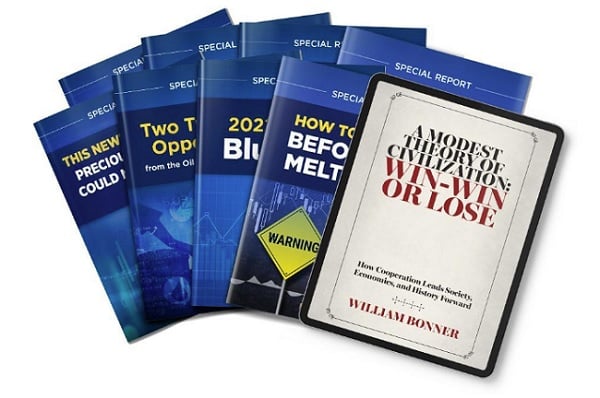 Research Archives
A subscription to True Wealth also comes with unlimited access to Steve Sjuggerud's archives.
The archives include over 100 special reports, which adds a great deal of value.
Many of these resources provide deeper insights into investment strategies, including how to build a portfolio and timing trades.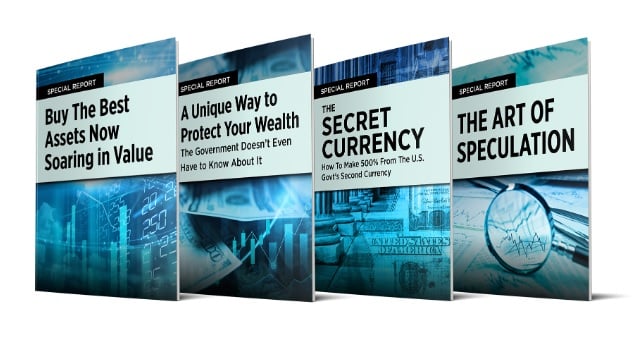 Bonus Reports
Bill Bonner and Steve Sjuggerud's Nightmare Winter package delivers a suit of exceptional bonus reports.
Here's what's on offer:
Buy the Best Assets Now Soaring in Value

–

One sector has been quietly making a massive move higher while the rest of the stock market faces severe struggles. In this report, Steve Sjugerrud and his team provide a step-by-step blueprint for cashing in on this booming sector.

A Unique Way to Protect Your Wealth

–

Bonner says this secret approach can offer you the best way to operate outside the US dollar, so you can shelter yourself from inflation and avoid the prying eye of Uncle Sam. This report doesn't directly relate to stocks or investment assets, but it could be the most valuable information covered in the "America's Nightmare Winter" bundle.

The Secret Currency – How to Make 500% from the U.S. Govt's Second Currency

– The third report in the bundle also comes from the mind of Steve Sjugerrud, and it includes details on a unique way to buy gold and silver that has nothing to do with owning physical metals or trading stocks. According to the team, this investment's unique characteristics make it an ideal alternative to gold, silver, and other cumbersome safe harbor assets.

The Art of Speculation

–

Inflation causes huge distortions that often result in prices being totally disconnected from reality, and the subsequent chaos often creates a world of opportunity for sharp-eyed speculators. In this report, Bonner shares ideas from a famous contrarian investor from Britain named Tom Dyson that can help everyday folks cash in on this momentous wealth-building opportunity.
All in all, these are some pretty fantastic resources. I recommend members check out Buy the Best Assets Now Soaring in Value first. Bonner's market predictions in this report are very fascinating.
>> Check out Bonner and Sjuggerud's bonus reports <<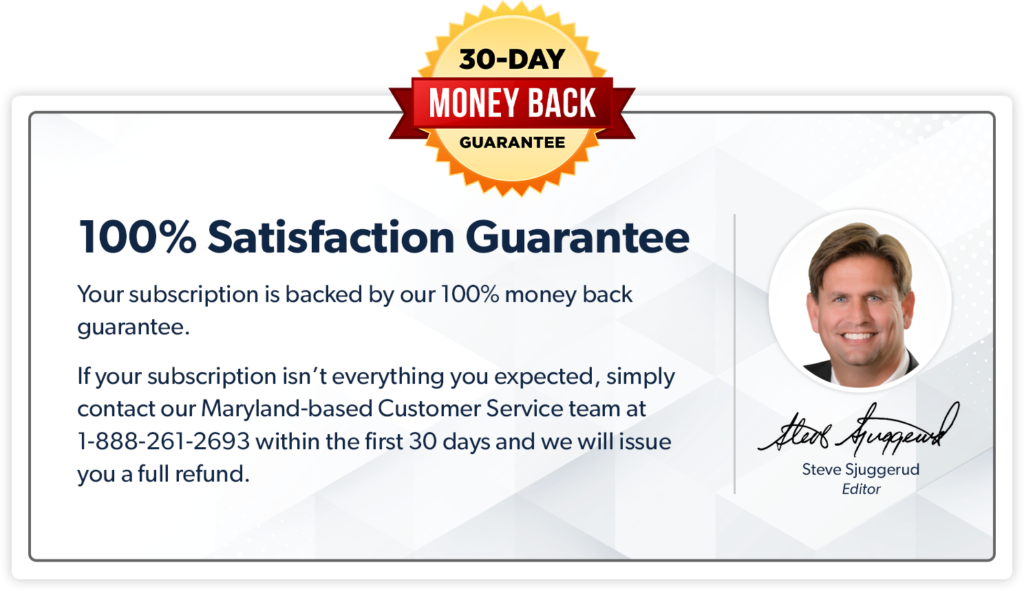 30-Day Money-Back Guarantee
Stansberry Research provides new members of True Wealth with a 30-day money-back guarantee.
If for any reason, new members aren't satisfied with Sjuggerud's insights, they can opt for a refund on the price of their subscription.
Thirty days isn't long enough to see a recommended position to its conclusion, but it does offer a comfortable window to see if Sjuggerud's analysis makes the grade.
Pros and Cons of True Wealth
True Wealth is a solid newsletter, but it's not without its flaws.
Here's a look at my pros and cons of the service.
Pros
Annual membership to

Bonner Private Research

12 months of Steve Sjuggerud trade ideas

Bonus reports from Bill Bonner

30-day refund policy
Cons
No community forums

No options trades
>> Access these benefits today <<
How Much Does True Wealth Cost?
Typically, True Wealth costs $299 for an annual subscription, but the current deal lets new members sign up for just $49 for the first year.
This amounts to more than an 80% discount, which is an exceptional deal.
Members signing up under this deal can access all the benefits mentioned here.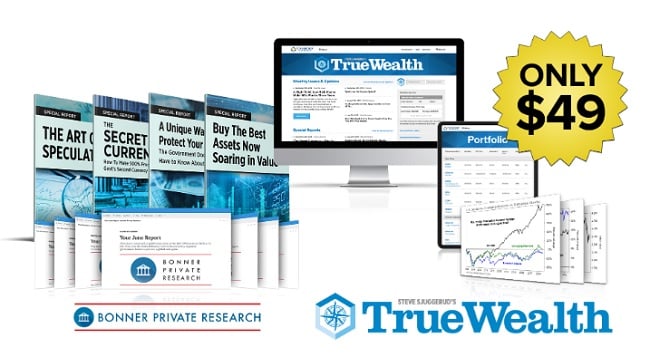 Is Bonner Private Research Worth It?
Bonner Private Research is an excellent investment newsletter and a great addition to True Wealth. The 80% discount makes this package a bargain.
Steve Sjuggerud and Bill Bonner make a fantastic team. Even better, the bundled deal lets members tap into insights previously unavailable for these individual services.
This package is also backed by a 30-day guarantee. It's clear that Steve Sjuggerud stands behind his work.
Keep this "America's Nightmare Winter" package on your radar if you're in the market for Sjuggerud and Bonner's expert analysis.
>> Sign up for True Wealth and get 1-year of Bonner Private Research <<