Read our 5%ers review to find out everything you need to know about this top prop trading firm.
The5ers is one of the biggest prop firms in the industry and offers programs that cater to a variety of trading styles, including more aggressive strategies.
Its instant funding programs are a game changer for anyone looking to dive right into trading forex, and the firm also offers an account-level system that allows you to progressively build up capital.
But is The5ers legit, and can this firm help you make money?
Read our 5%ers review to find out!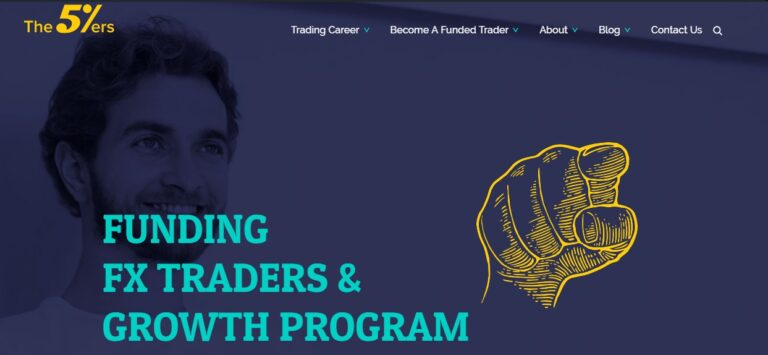 The5ers Review: Overview
The 5%ers was founded in 2016 by Gil Ben-Hur and Snir Achiel.
Ben-Hur and Achiel are day traders from Isreal who created the platform to help skilled traders increase their profitability without risking their own money.
The prop firm funds forex traders up to a million dollars in capital through its Growth Trading Plan.
5%ers Evaluation Process
The5ers lets users prove their trading skills through an evaluation program dubbed Level 1.
During the program, traders must reach set profit targets to gain access to a fully funded account.
Once traders have proven their risk management capabilities, they can proceed to Level 2, where they can earn more capital and boost their earning potential on the platform.
For the Level 1 account, users must:
Attain the set profit target

Stay below the maximum leverage limit

Have a reasonable stop loss for all trades
After successfully reaching Level 1 target goals, you officially become a Funded Trading Partner and receive a fully funded account.
Is The5ers Legit?
The 5%ers is a legitimate prop trading firm that caters to serious forex traders who want the opportunity to make money with fewer trading restrictions.
It's cultivated a growing user base since its inception, and this shows no sign of slowing down anytime soon.
Is The5ers Regulated?
Because The 5%ers is not a broker, it is not regulated.
This is par for the course for prop trading firms.
What Broker Does The5ers Use?
The5ers does not trade with retail brokers; instead, it trades directly through commercial liquidity providers.
The firm states that it values confidentiality, which is why it has not publicly disclosed its supplier's identity.
>> Already sold on The 5%ers? Click here to sign up today! <<
How Does The5ers Work?
The 5%ers seeks out new and experienced traders and helps them sharpen their skills while they earn money by trading.
The firm's instant access accounts allow forex traders to earn profits, even during the evaluation process.
The accounts that The5ers offers vary depending on risk level, as well as the capital level.
Each account caters to traders with different investing styles, which include aggressive traders who live to take chances or beginner traders trying to gain some much-needed experience.

After deciding the risk and capital level you're comfortable with, all you need to do is log in, pay the participation fee, then begin trading.
The forex trading program is hosted on MetaTrader 5 (MT5), a highly advanced platform for forex traders and brokers.
Users can access the platform on their desktop or mobile device.
>> Ready to get started with The 5%ers? Click here to sign up today! <<
Who Can Get a Fully Funded Account?
Traders who can complete The 5%ers' evaluation programs gain access to a fully funded account.
These three programs include:
Low-Risk Evaluation Program

High-Risk Program

$100K Bootcamp (New)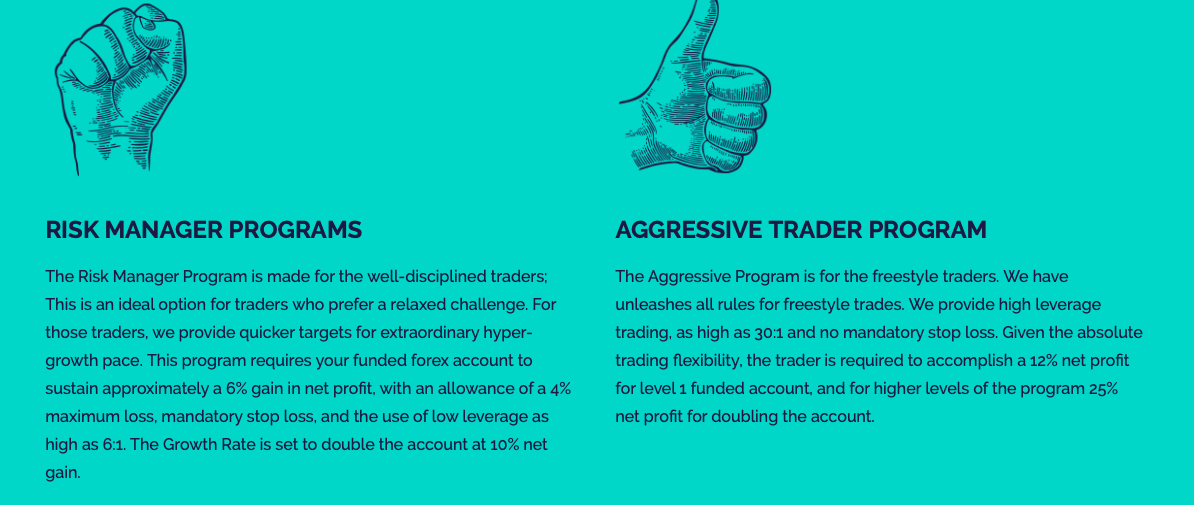 Low-Risk Evaluation Program
The Risk Manager program requires each forex trader to sustain a net profit gain of 6–7%, with an allowance of 4% maximum loss.
Its goal is to maintain profitability while minimizing risk, so it's tailor-made for more disciplined traders.
The leverage for the low-risk evaluation program is relatively low at 6:1, and there is a mandatory stop loss.
The growth rate, meanwhile, can double your trading balance for every 10% of profits you earn.
You get an extended window to pass the low-risk challenge, 180 days, to be exact.
So if you're new to trading with a prop firm, you might want to try out one of these low-risk accounts first.
High-Risk Program
Also called the Aggressive Trader program, the high-risk program is for freestyle forex traders who prefer high leverage trading.
The program offers higher account leverage of 30:1, with no mandatory stop loss.
The aggressive risk option gives traders the potential to make higher profits.
You're required to reach a net profit rate of 12% for the Level 1 funding account, and your trading balance can be doubled for every 25% of profit earned.
You are given a 60-day window to complete the high-risk challenge.
$100K Bootcamp (New)
The $100k Bootcamp is a newer offering by the 5%ers that provides a lower price point to enter.
The fees for this program are broken into two parts: 50€ to enter and €250 once you pass.
Unlike the other challenge accounts, this one is broken up into 3 steps and completion will provide you with 10:1 leverage.
This program can take up to 12 months to complete, so you might want to consider the other two if you want to trade with a fully funded account sooner.
Is Hedging Allowed with The5ers?
The 5%ers site expressly forbids using separate accounts to hedge a position.
However, it does not state whether you can hold an opposite position within one account to offset potential losses.
Many prop trading firms do allow traders to hedge positions, but you usually need to coordinate with the firm, so it's possible that this is The 5%ers' stance.
Can I Trade the News with The5ers?
Yes, news trading is allowed with the 5%ers.
This is a point in the firm's favor, as not every prop firm lets funded traders trade the news.
Can You Trade Gold with The5ers?
Yes, you can trade Gold (XAUUSD), as well as Silver (XAGUSD), with a funded account.
>> Start trading with a funded account today! Sign up NOW! <<
The5ers Review: What Do You Get?
Growth Trading Program

Access to Weekend Holdings

Trading Resources

Profit Splits, Payments, and Withdrawals

Growth Trading Program
The growth program allows you to double your trading balance with every milestone you reach.
You receive a growth program schedule that tracks:
The initial balance

Milestone target

Maximum Loss

Leverage

Maximum stop loss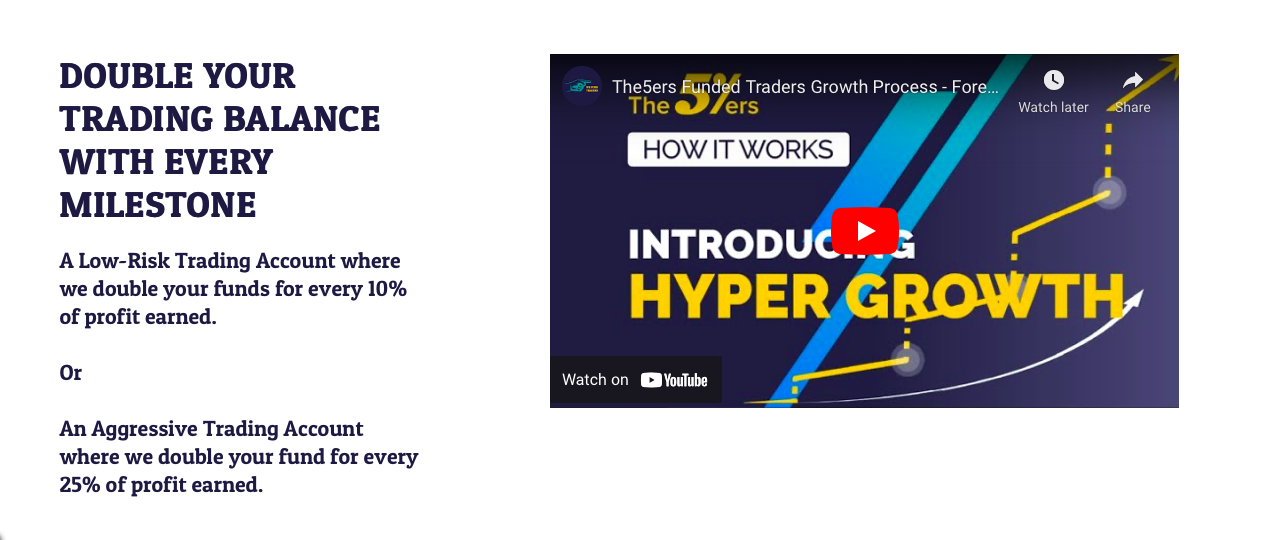 Access to Weekend Holdings
One of the biggest advantages the 5%ers has over other prop firms is that it allows traders to hold positions over the weekend.
This is especially attractive for long-term traders working with weekly and monthly charts.
Other prop firms don't allow traders to hold positions over weekends or have very strict guidelines.
But with the 5%ers, trades can be held overnight, on the weekends, and after the market closes.
Trading Resources
The5ers includes a forex blog with articles, interviews, and trading psychology tips.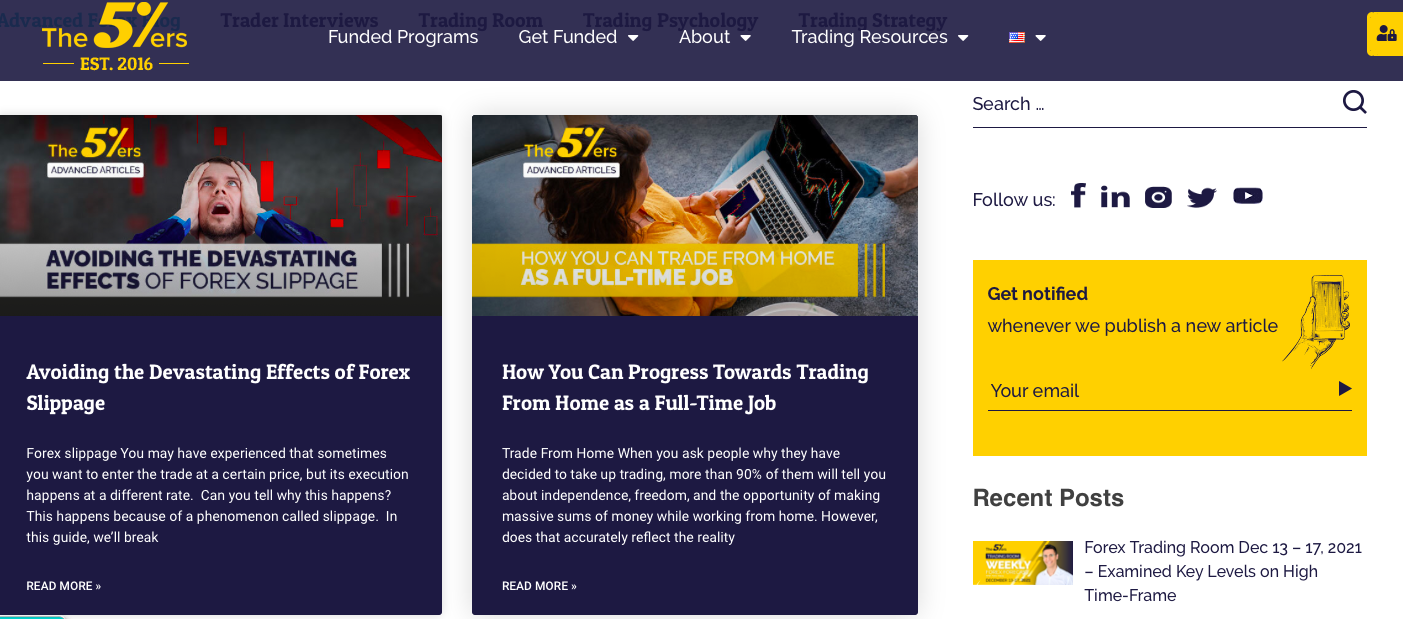 The firm also offers a forex trading room, equipped with weekly and monthly charts, to guide traders, monitor dollar index behavior, and trade with other traders in real-time.
Additionally, there are trading courses, which are particularly useful for a beginner looking to become a more advanced trader.

The 5%ers also provides a look at forex pivot points, an economic forex calendar, and various webinars and live events to educate users on the financial markets.
Also included among its comprehensive learning tools are countless videos, tips on how to reach profit targets, and workshops covering topics such as forex scalping and supply/demand.
The firm's resources are ideal for professional forex traders and upstarts looking to become full-time traders.
Profit Split, Payment, and Withdrawals
Traders gain access to a 50% profit split after completing the first stage of the program, risk-free, with the split added to their account.
At Level 2 and beyond, traders can withdraw their percentage of the profits at any time by using the platform's dashboard.
You can withdraw $1,000 through PayPal, but any withdrawals exceeding the $1,000 mark will be paid through a bank transfer via TransferWise.
Each month, traders receive a fee-free payout, with further withdrawals incurring a minimum charge of $15 or a handling fee worth 3%.
>> Like what The 5%ers has to offer? Sign up today! <<
The5ers Review: Pros and Cons
We found a lot of pros in our 5%ers review; however, some areas can be improved on.
Read our pros and cons list to find out more.
Pros
Instant funded accounts
Can hold positions over the weekend
Excellent education materials
Fairly priced entry fees
Simple scaling plan
Cons
50/50 profit split is average
Only for forex trading
The 5%ers Trader Reviews
The 5%ers has built a name for itself as a reputable prop trading firm and has the reviews to prove it.
Check out what others have to say about the service.
The 5%ers Trustpilot Reviews
The 5%ers has locked in an impressive score of 4.7 out of 5 on Trustpilot, with 430 reviews.
For a third-party site with critical reviewers, these ratings say a lot.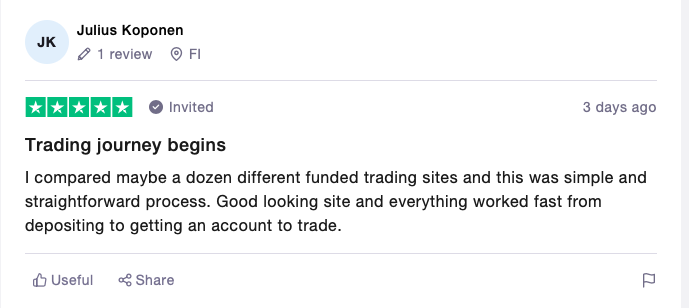 The5ers Forex Peace Army Reviews
Unfortunately, there are no reviews or ratings of The 5%ers on Forex Peace Army.
We'll update this when the site reviews this prop trading firm, but for now, the Trustpilot reviews offer glowing recommendations of the service.
How Much Does The 5%ers Cost?
The 5%ers' fees depend on the account size and the starter capital that goes with the account.
Four funded capital account sizes are available on the Risk Manager Program or Aggressive Trader Program, featuring varying participation fees.

5%ers Fees
$24,000 – The profit target for this one is $375 (6%) for the Risk Manager or $750 (12%) for the Aggressive Trader, with $6,000 of instant funding provided. The participation fee for this level is $275.
$40,000 – Here, the profit target is set at $600 (6%) and $1,200 (12%), with $10,000 of instant funding. The participation fee for this level is $450.
$52,000 – The profit target is $910 (7%) for the Risk Manager and $1,560 (12%) for the Aggressive Trader. The instant funding provided is $13,000, while the participation fee is $565.
$80,000 – Users get $20,000 of instant funding, with the participation fee set at $875. Here, the profit targets are $1,400 (7%) and $2,400 (12%) for the Risk Manager and Aggressive Trader programs, respectively.
5%ers Cancellation Policy
The 5%ers offers a 14-day money-back, risk-free guarantee.
If you're unsatisfied with the service the prop firm provides, you will get a full refund within 14 days of making a purchase.
However, the signup fee for the service is non-refundable if:
You have started trading
You violate the firm's terms and conditions
Any Level 1 accounts that have reached or exceeded the maximum stop-out rate will be closed.
If there are remaining profits in the account, the trader will receive the remaining balance at the next payout cycle.
The5ers Review: Is It Worth It?
The 5%ers is a rock-solid prop firm for forex trading and offers a fair pricing model compared to its competitors.
While the 50/50 split may turn some away, this firm offers a lot of trading flexibility that goes above and beyond industry standards.
The 5%ers instant funding accounts are perfect for traders that don't want to wait for months to start earning profits.
So if you're a forex trading looking for a firm with a stellar reputation and the tools to help you develop as a trader, you should definitely take a close look at the 5%ers.
>> That's it for our 5%ers review! Click here and JOIN TODAY! <<