Trademetria's trade journaling software is designed to help boost your future performance by helping you identify errors and successes in your past trades. Read our Trademetria review to discover what this service offers and whether it has the tools to take your trading to the next level.
It is challenging to study trade patterns to see what's working and what's not, and we don't always have the time to hunt for details.
That's why trade journals, like Trademetria, are crucial trading companions that can improve trading strategies while reducing the time it takes to catalog endless bits of trade information.
Can Trademetria's trade journal increase your trading performance?
Take a look at our Trademetria review and find out!
Trademetria Review: Overview
Trademetria started with the goal of helping novice traders boost trading performance through trade analyzer software.
The platform was developed after the 2008 financial crisis that troubled many people financially.
Since then, Trademetria has grown into a powerful tool with stellar customer service and a tech support team that investors can use for goal tracking and trade analysis.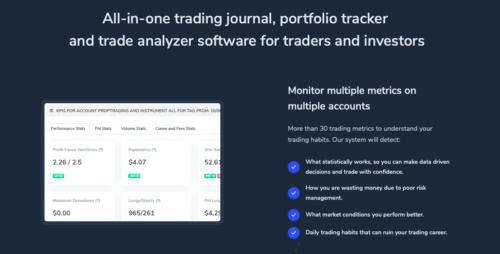 Trademetria Review: What Is Trademetria?
While not a stock trading company, Trademetria includes a trading journal, trade analyzer software, and a portfolio tracker.
The platform lets users track every cent that they invest in the market, whether they are a stock, options, forex, or futures trader.
With a powerful trading journal tool, investors can carefully analyze trades to further develop their trading style and tweak their trade strategy.
As Thiago Ghilardi puts it, understanding and learning from your trades is the way to succeed in day trading.
These features are fleshed out through three different tiers of service, each catering to a different level of trader.
>> Already sold on Trademetria? Click here to sign up for an account TODAY! <<
Trademetria Review: Who Founded Trademetria?
Thiago Ghilardi is a computer science major and professional trader who went on to found Trademetria after learning the ins and outs of the stock market.
Ghilardi started trading during his college days back in 2001 and quit his job after graduating to pursue trading full time.
He even moved to New York in 2006 as a prop trader to get closer to the action.
Ghilardi Started a Successful Trading Company Before Trademetria
In 2008, Ghilardi started his trading firm and rode out the stock market recession.
After discovering the key to his success was analyzing trades and past performance to improve future results, Ghilardi founded Trademetria.
Since then, his goal has been to help traders and investors improve trading results by teaching them what they are doing right and wrong through trade tracking and analysis tools.
Trademetria Review: What's Included with Trademetria?
Trademetria offers some cool features to help traders avoid pitfalls, correct poor risk management, and boost trading performance:
Trade tracker
Reporting
Trading journal
Entry and exit trading points
Risk management metrics
Trade simulations
Fundamental research
Trademetria Review: Trade Tracker
The bread and butter of Trademetria, the trade tracker is the place for traders to view all their online trading in one convenient location.
The best part is that importing trades is exceptionally easy.
To import trades, investors can simply use the import option to bring over trade data from their preferred trading platform.
Fortunately, Trademetria is compatible with over 140 of the top trading platforms and firms.
With trading data imported, traders and investors can review trading history and fill gaps in their portfolios.
Discover Patterns with Trade Analyzer Software to Boost Your Trading Performance
The trade tracker is the ideal place to discover patterns that reduce performance.
The detailed analysis makes it clear whether a trader is letting profits run, holding on to losing stocks, or if stops are too tight.
The software also helps reveal the best trading strategies and which symbols are the biggest winners and which are constant losers.
Traders can also look at their trading month at a glance to see if they are meeting goals or overtrading on a specific day of the week.
Trademetria Review: Reporting
Within the reports tab, Trademetria has several day trading tools that can be used to better understand how stocks are performing.
Key Metrics
Reports feature analysis tools in over 30 key metrics to analyze stocks such as win rate, maximum drawdown, gross P&L, net P&L, trade duration, and expected return.
Daily Trading Report
Within the daily trading report, investors can look back and see how trades have fared for a single trading day.
A trader can view details such as total trades, win rate, average net per trade, market condition, and profit factor.
This tool helps day traders view trading performance, analyze trading habits, and plan a strategy.
Trade Calendar
The trading calendar allows an investor to see their trades through various charts and graphs.
These charts show trading performance over a specific time interval so you can analyze several key metrics.
Trademetria Review: Trading Journal
What's a trade tracking platform without a space to record some notes?
Trademetria features a trading journal where traders and investors can pen ideas about any single trade or the overall market day.
This feature is also an area to record behaviors, ideas, thoughts, and emotions that may have played into a day's trades.
It's a breeze to use keywords to search through past notes and pull up pertinent information quickly.
Entries are auto-filled with vital trade information to save time and effort.
Trademetria intentionally keeps its trading journal simple, featuring an HTML editor and some customization options.
Day traders can stay organized by formatting text and embedding screenshots to any entry, making them easy to locate for future analysis.
Trade journal entries are suitable for stocks, options strategies, futures, forex, and even other markets.
Trademetria Review: Back Office Management
Trademetria has a back-office reporting feature that allows firms to improve their administrative efficiency.
Brokers and firm managers can use fully customizable tools to analyze reports, study trades, and sift through analytics on organizations they represent.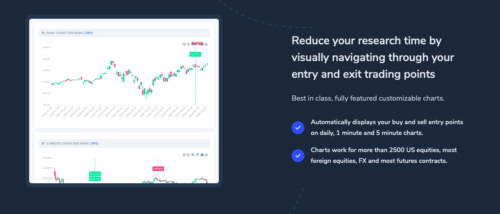 Trademetria Review: Entry and Exit Trading Points
Trademetria also helps traders save time by automatically displaying entry and exit points on one-minute, five-minute, and daily charts.
These charts track trade entries and exit points for most futures, forex, and over 2,500 U.S. equities.
Trademetria Review: Risk Management Metrics
Risk management is an essential feature for anyone looking to protect their money from the markets' potential pitfalls.
Traders can set stops and targets for trades, and also track proximity to those markers.
The platform provides an estimation of expected risk before, during, and after an investor has placed a trade.
This helps traders avoid trading blind.
Trademetria also lets users view their risk in terms of Dr. Van Tharp's R-multiples.
If a visual format is more appealing, traders can also post this data to charts and view risk analysis from there.
Trademetria Review: Trade Simulations
Another of Trademetria's helpful features is the trade simulator.
This is where a trader can go back in time and run simulations on past trades through the platform's charting software.
By studying past trading habits, users can discover ways to improve future trades.
Tools such as the P&L simulator can help swing traders locate the best conditions for trades.
It's also possible to save simulations for further exploration at another time.
Trademetria Review: Fundamental Research
A trader can do some basic research on financial data within one of 20+ world exchanges within the platform.
Clicking on a stock will provide traders with the company profile, the earning dates, and the ability to track trade data through charts.
The fundamental research section functions much like screening software, serving to highlight stock opportunities that might be ripe for investment.
Trademetria Review: Customer Support
Trademetria has a team ready during trading hours to help users through any issue they may encounter.
The company also has a YouTube channel with several videos containing information on how to get the most out of the website.
>> Like all that Trademetria has to offer? Click here to sign up now! <<
Trademetria Review: Is Trademetria Safe?
Trademetria is a legit company that is no stranger to the financial space.
Founder Thiago Ghilardi has been trading for over 20 years.
Trademetria gets high marks from its members, which may speak to the quality of the service.
Although trade history is imported from brokerages and firms, not a cent of your invested money ever passes through Trademetria's site.
You can use Trademetria without having to worry about your money flowing through an additional source.
If something goes awry with your account, the company is known for having an excellent customer service team to get users back on track as quickly as possible.
Trademetria Review: Trademetria Cancellation Policy
Trademetria makes it easy to sign up, and you don't need to use a credit card for their Free Tier service.
Once you decide to dive into one of the subscription plans, all plans must be paid for in advance.
Trademetria states it's easy to cancel at any time.
However, the platform also spells out very clearly that they offer no refunds on any of their services.
Trademetria Review: How Much Does Trademetria Cost?
Trademetria has three pricing options for traders to consider: Free, Basic, and Pro.
Free
The Free Tier service offers a lot to traders, even though it costs zero dollars per month.
The majority of the platform's features are available for free, including the trade journal, key metrics, the day trade report, trade calendar, analytics, trade history section, and the ability to track deposits and withdrawals.
At this tier, the platform only allows a trader to import 30 orders a month.
Anything from equities to options to futures and forex can all be brought in.
Free users are also limited to 3 real-time quotes per month and can only track one account.
Basic
The Basic Tier is a clear step up from the Free Tier.
It offers more reports and a P&L simulator to analyze trading performance more thoroughly.
This tier also introduces fundamental research, strategy rankings, and the ability to export trade data to another source.
As with the Free Tier, a day trader can still only track one account but can now obtain unlimited real-time quotes and import up to 100 trades per month.
Pricing details vary depending on the length of the subscription.
The monthly rate is $19.95, but members can save 30% by purchasing the annual plan for $169 per year.
Pro
While the Pro Tier doesn't add any new features, it gives you unlimited trade imports.
In addition, the Pro Tier allows users to track multiple accounts, up to 50 in total.
This plan costs $29.95 per month.
As with the Basic Tier, there's a 30% discount for signing up for a year at a time.
This lowers the annual price to $249.
>> Ready to sign up for Trademetria? Don't wait, just click HERE to get started! <<
Trademetria Review: Pros and Cons
It's hard to find much fault with a journaling site that gives away many of its top tools and features for free.
But there are areas where the service can improve.
Take a look at the pros and cons of this service:
Trademetria Pros
Broker import feature for over 140 brokerages
Easy-to-use analyzer software for traders of any experience level and type, including swing traders, options traders, and more
Several tools to track and filter trades, including fully featured customizable charts
Effortlessly import and export trade data to track trade history
Trade journaling as well as an individual trade journal to track select trade data with custom strategy tags
Track every detail of your trading business
Key metrics trade tracking to track a particular trade or multiple trades
Reporting features with several key metrics
Three tiers of service, including a free account
Competitive platform pricing options
Pro users can track multiple accounts
Excellent customer support team
P&L simulator for swing traders and active traders
Trademetria Cons
No mobile app
Not a trading platform or trading firm, unlike some all-in-one services, though Trademetria trade journal's quality far exceeds those that you would find on all-in-one solutions
Lack of trading community
Trademetria Review: Is Trademetria Right for Me?
Almost any trader can benefit from what Trademetria has to offer.
Its trade journal alone is one of many key features that should be in any trader's repertoire.
If you're a novice or part-time trader, you can get plugged into Trademetria's free tier at no cost and start journaling your trades easily.
Additional features such as reporting and trade tracking to analyze your trades only serve to sweeten the pot.
If you're an investor with a little more experience, you'll find the advanced features of the Basic Plan right up your alley.
The P&L simulator and ability to research trades may have you rolling in dividends.
Upping the import limit to 100 trades also opens up many more possibilities.
Full-time investors with more than 100 trades per month who want to track several accounts can benefit from the Pro Tier.
By going Pro, you're only limited by the amount of time you have in front of the computer.
Trademetria Reviews by Members
Investors who have subscribed to Trademetria have a lot of good things to say about the platform.
The service has a 4.7 out of a 5 rating on Capterra, with many positive reviews.
Here are just a few of the recent reviews from the site:
Very good. Grateful for the free trial option… Everything is very intuitive, no entry barrier really. This is the only app that felt less painful than a handmade excel sheet. Most amateur users prefer excel not because its flexibility but because it starts very simple and you can make it more complicated on the go, this makes us feel safe and not too silly. Trading platforms tend to show charting and data as a sort of pseudo-science the more complicated it looks the better. – Carlos, on Capterra
Another Trademetria review reads:
Excellent customer service, I switched from another logging software because I trade in Europe and my trading software uses a comma for decimals instead of a period. In my old logging software I had to switch comma for a period for every trade and then import – after contacting customer support they were not able to do anything. With trademetria I contacted customer support and explained the situation, the issue was fixed in 5 minutes so my import is flawless and takes seconds. – Tim, on Capterra
Here's one more Trademetria review:
I get a very clear breakdown of my trades and support is available for any help I need. They even worked with a fellow trader from Australia to make sure date formats were usable for his country. This was very nice to hear, because it means they are motivated to make changes to their software as needed to accommodate everyone and all needs. – Dana, on Capterra
Final Review: Is Trademetria Worth It?
Trademetria was designed with an active trader in mind and features several tools you can use no matter what price point you're starting at.
Depending on your needs, you can choose between free, basic, and pro memberships — each of which appeals to a different type of trader.
The trade journal and reports make it easy to analyze stock trades.
The data will help you see what you're doing well and where your trades might need a little work.
With an impressive free entry-level tier, there seems to be no reason not to try the service.
Once you outgrow the Free Tier, it's easy to upgrade to the next level and capitalize on the other plans' extra features.
>> Ready to start better analyzing your trades? Click HERE to sign up for a Trademetria account NOW! <<