Charlie Shrem's Crypto Insider Summit is generating a tremendous online buzz, but is Shrem's crypto investment advisory service worth it? Read our Ultimate Crypto review to find out the truth.
What Is Ultimate Crypto?
Ultimate Crypto is a research service and newsletter from crypto investing veteran Charlie Shrem and the talented researchers at Weiss Ratings.
The premium service brings members in-depth research on promising cryptocurrency investing opportunities across the market, including crypto recommendations, market analysis, and more.
Members also enjoy a wide range of extra benefits such as special research reports, portfolio updates, an excellent satisfaction guarantee, and much more.
You can get even more bonuses and a tremendous discount if you sign up under Shrem's Crypto Insider Summit deal.
Next, we'll take a closer look at the guru behind the service, Charlie Shrem, before we dive deep into his Crypto Insider Summit bundle.
>> Sign up now to see Shrem's latest Crypto picks <<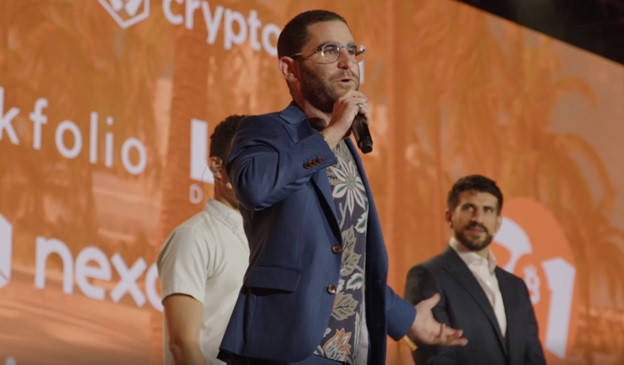 Who Is Charlie Shrem?
Charlie Shrem is a cryptocurrency investing pioneer and one of the earliest advocates for Bitcoin and other digital currencies.
Back in 2011, Shrem launched one of the first-ever crypto exchanges, and it eventually grew to encompass one third of all Bitcoin transactions.
Shrem's long career in the crypto world has also given him keen insights into the sector. He's part of a team that built a crypto portfolio with an open average return of 582% as of Jan. 3rd.
Before Bitcoin made its big boom, Shrem was one of the most vocal advocates for the benchmark crypto, and he's been urging his followers to get on board since it was trading for just $5 apiece.
Now, Shrem is focusing his efforts on helping everyday folks take advantage of the once-in-a-lifetime opportunities in the cryptocurrency market with Ultimate Crypto and Crypto Investor Network.
Charlie Shrem Net Worth
The Crypto Insider Summit reports Shrem's net worth at about $40 million, and a large chunk of his fortune was a direct result of his crypto investments.
Clearly, Shrem is no slouch. He's made a fortune in the cryptocurrency market, and he strives to help his followers achieve similar results.
Is Charlie Shrem Legit?
Charlie Shrem is the real deal. He's done impressive work in the cryptocurrency market, and his track record speaks for itself.
Shrem's accomplishments include appearing on 60 Minutes, hosting his own TED Talk, and launching one of the world's first Bitcoin exchanges, BitInstant.
Few gurus can match Shrem's experience and knowledge in the crypto space. He's a true innovator that understands the industry better than almost anyone else on the scene.
>> Get Charlie Shrem's latest crypto picks <<
Charlie Shrem's The Crypto Insider Summit
In the latest presentation for Ultimate Crypto, Charlie Shrem discusses how the next phase of the cryptocurrency revolution will unfold.
Bitcoin has soared a whopping 1,200,000% since Shrem bought his first Bitcoin for about $5, and crypto has become a mainstream asset.
The early days of easy gains may be gone for good, but Charlie Shrem says there's still plenty of money to be made. However, you'll have to play the market smart to get ahead.
The Problem With Crypto
Shrem warns that a sizeable portion of the latest cryptos hitting the market are nothing more than glorified scam coins.
It's such a big problem that Shrem says that over half of these cryptocurrencies are "completely worthless."
"There are a lot of amazing projects evolving in the cryptocurrency space right now that are going to completely change the world and make investors a ton of money…

But you need to be really careful about which coins you're backing…

If there's one thing I want you to take away from this event, it's that."

— Charlie Shrem, Crypto Insider Summit
There are still plenty of legit opportunities in the cryptocurrency markets, but the widespread prevalence of so-called scam coins presents a tremendous obstacle for beginners.
Fortunately, Shrem knows a winner – and a loser – when he sees one, so you easily separate the wheat from the chaff with Ultimate Crypto in your corner.
How to Play Crypto in 2022
Stocks and cryptos have many similarities, but it's a totally different ball game when it comes to trading these assets.
When it comes to crypto, the most important thing is understanding the team and the technology behind each new project.
According to Shrem, before you even THINK of buying crypto, you need to ask one question: "Are the creators of the coin scammers or legit crypto innovators?"
For most, this isn't an easy question to answer. Most everyday people simply don't have enough time to monitor the crypto sector closely enough to know for sure.
However, being able to tell the difference is often the key to crypto investing success.
Fortunately, Shrem is a longtime crypto insider with deep industry expertise, and he can help you avoid the potential pitfalls of scam coins.
As an Ultimate Crypto member, you'll have Shrem's insights at your disposal every step of the way, so you can lock in on promising cryptos while ignoring the gimmicks.
The Next Phase of the Crypto Boom
The Crypto Insider Summit presentation also includes details on the top up-and-coming crypto opportunity on Charlie Shrem's radar.
This promising new digital currency built on the blockchain has been in development since 2016, and Shrem says it's finally starting to go mainstream in 2022.
Shrem calls it M.A.T. technology, and he says it will "bridge the gap between crypto investors and the average person who still has no idea what crypto is."
Crypto has soared in popularity over the past few years, but only 16% of Americans said they have ever invested in, traded, or used a cryptocurrency in a recent Pew Research survey.
Despite crypto's huge growth, there is still a large portion of the population that has never used or traded it, but Shrem says the new generation of M.A.T. currencies could take the niche market to the mainstream.
"I believe this new M.A.T. technology is going to finally make digital currencies relevant to the average person."

— Charlie Shrem, Crypto Insider Summit
If he's right, M.A.T. could pay off big for early holders, and there's still time to get in on this trend on the ground floor.
In fact, Shrem predicts the M.A.T. market could grow to $100 trillion within the next decade alone.
"It's going to be like the altcoin mania of 2017 on steroids…"

— Charlie Shrem, Crypto Insider Summit.
Shrem has identified several coins that could be in prime positions to effectively leverage M.A.T. technology and lead the next phase of the crypto revolution.
Charlie Shrem's Top-5 M.A.T. Cryptos
M.A.T.s or Mass Adoption Tokens could be the biggest thing to hit the crypto market since stablecoins, but the trend is still flying under the radar.
Shrem has identified five particularly promising M.A.T.s that could have the best potential for success, and he's sharing them with Ultimate Crypto members as part of his Crypto Insider Summit deal.
If you sign up under the Crypto Insider Summit, you'll get an in-depth report featuring Shrem's top-rated M.A.T.s, including ticker symbols, expert analysis, and much more.
You'll also get several more bonus reports and other valuable crypto resources when you join. Plus, it all comes at a substantial discount.
Next, our Ultimate Crypto review will take a deep dive into the Crypto Insider Summit deal and show you everything you get with this research bundle.
>> Get in on the next phase of the Crypto Boom <<
What's Included with Crypto Insider Summit?
12 Months of the Ultimate Crypto newsletter
Charlie Shrem's monthly Crypto Watchlist
Portfolio updates and trade alerts
The Phase 3 Playbook: 5 MATs That Will Change the World
5 DeFi Coins Disrupting the $20 Trillion Financial Industry
Crypto Investing for Beginners
12-Month satisfaction guarantee
12 Months of Ultimate Crypto
Ultimate Crypto is your main source for Charlie Shrem's latest research into up-and-coming crypto opportunities.
Each week, you'll receive a new issue of the Ultimate Crypto newsletter, featuring new crypto recommendations and Charlie Shrem's analysis of the latest cryptocurrency market moves.
Over the course of your one-year subscription, you'll get up to 52 new crypto recommendations through the Ultimate Crypto newsletter.
At that rate, you'll have plenty of new trade ideas to explore. Plus, Shrem's insights into the market will help you navigate the crypto space like a pro.
You'll also get unrestricted access to a complete model portfolio featuring every active Ultimate Crypto recommendation, so you can follow along with each crypto's progress.
In a fast-moving market like crypto, up-to-the-minute analysis is especially important, and Ultimate Crypto delivers with weekly updates on hot cryptos and market-moving news.
Crypto Watchlist
Shrem maintains a running watchlist of the most promising crypto opportunities currently on his radar, and Ultimate Crypto members get unlimited access to this valuable resource.
You can access the watchlist in the member's only section of the Ultimate Crypto website, and it's updated every month with the latest information and findings.
To be clear, Shrem isn't necessarily recommending these cryptos, but he's sharing them with his followers anyway because they could have potential.
Either way, the Crypto Watchlist is an excellent source for new trade ideas and cryptos to explore.
Model Portfolio Updates and Trade Alerts
You'll never miss a beat in the crypto market thanks to Ultimate Crypto's model portfolio updates and trade alerts.
Whenever you need to take action, you'll receive an alert explaining what you need to know and what action you should take as a result of the news.
Furthermore, Shrem also keeps you updated on the model portfolio's progress with periodic reports on each crypto's progress.
You don't need to worry about missing out on a move thanks to Ultimate Crypto's comprehensive schedule of alerts and updates, so you can go about your day without sweating the market.
>> Join Ultimate Crypto for the full package <<
Crypto Insider Summit Bonus Reports
In addition to your Ultimate Crypto subscription, you'll also get several special research reports when you join under the Crypto Insider Summit deal:
FEATURED: The Phase 3 Playbook
The featured report in this bundle showcases Shrem's research into five of the most promising MATs currently on the market.
As we mentioned in the previous sections, Shrem says this sector could have enormous growth potential that could see its market cap expand to $100 trillion in the years ahead.
Each featured opportunity has tremendous growth potential, and you'll discover five promising coins to explore in this report.
The coins featured in this report could play a pivotal role in advancing the third phase of the crypto revolution, and you'll get the entire report free when you sign up for the Crypto Insider Summit.
5 DeFi Coins Disrupting the $20 Trillion Financial Industry
In addition to the five MATs detailed in the featured report, you'll also get five more promising cryptos in the second report, 5 DeFi Coins Disrupting the $20 Trillion Financial Industry.
The "decentralized finance" concept has exploded in popularity over the past year, but Shrem says the overall trend is still in its earliest phases.
Many experts believe that decentralized finance will power the next generation of financial systems, and these five coins could be instrumental to the transition.
These five coins could help you get in on the ground floor of the new blockchain-based financial system, and you'll get extensive details on each opportunity in this report.
Combined, the first two reports will introduce you to a total of 10 promising cryptocurrencies that could have extraordinary growth prospects.
Crypto Investing for Beginners
Expert crypto recommendations are great, but they won't do you much good if you don't understand the crypto market.
So, Shrem is also including his Crypto Investing for Beginners bonus report, giving his newer members a crash course in crypto.
This handy report provides a step-by-step blueprint for hitting the ground running in the crypto market that will show even the most novice readers how to start buying and selling digital currencies within minutes.
Even veteran crypto enthusiasts are sure to learn something new by reading this report. Shrem has unique insights into the crypto market thanks to years of experience, and this report provides a first-class introduction to crypto trading for beginners and experts alike.
Satisfaction Guarantee
Ultimate Crypto is dedicated to delivering value to its subscribers, and it's putting its money where its mouth is with a comprehensive 12-month guarantee.
If you're not fully satisfied with your Ultimate Crypto membership at any point during the first year, you can contact customer service for a full refund, no questions asked.
Unfortunately, cash refunds aren't available due to the valuable nature of Shrem's crypto research.
Instead, you'll receive a credit towards any of InvestorPlace's 20 premium research services.
The satisfaction guarantee should dispel any lingering doubts you may have about Ultimate Crypto. It's not a cash refund, but the refund policy is understandable given the nature of the research.
Ultimately, you can rest a little easier knowing you have some recourse if you're not satisfied with the product.
>> Take advantage of Charlie Shrem's airtight money-back guarantee <<
Ultimate Crypto Pros and Cons
Here are the pros and cons of Ultimate Crypto and the Crypto Insider Summit bundle:
Pros
Ultimate Crypto weekly newsletter featuring crypto recommendations and much more
Comes with 3 Crypto Insider Summit bonus reports
Includes Shrem's Top-5 recommended MATs
Bonus report featuring Shrem's Top-5 decentralized finance cryptos
Crypto Investing for Beginners crypto trading guide
Led by a world-renowned crypto expert, Charlie Shrem
Backed by a reputable publisher in InvestorPlace Media
Covered with a comprehensive 12-month satisfaction guarantee
Excellent performance track record
Unlimited access to the Ultimate Crypto model portfolio and Crypto Watchlist
Trade alerts and model portfolio updates
Substantially discounted under the Crypto Insider Summit deal
Cons
No community chat or forum
May be price prohibitive for some
Is Ultimate Crypto Legit?
Ultimate Crypto looks like the real deal, but let's take a closer look to see if this service lives up to its reputation.
Charlie Shrem Track Record
As we mentioned earlier in the review, Charlie Shrem has an impressive record for picking winners.
As of January 3rd, a crypto portfolio assembled by Shrem and his team has achieved a whopping 582.95% open average return.
If you go further back into Shrem's track record, the results are even more astounding. Bitcoin is up a whopping 1,200,000% since he first recommended it at just $5.
In fact, Shrem works on a team that has identified four cryptos that are up more than 1,000% as of January 2022.
In a market rife with losers and scam coins, those numbers are especially impressive. Clearly, Shrem can pick winners with the best of them.
Trading is unpredictable by nature, so you shouldn't expect results like these every time. However, these impressive returns demonstrate what's possible with this premium service.
Ultimate Crypto Pricing
A one-year membership to Ultimate Crypto typically runs for $3,500. Stock Dork readers can get a huge discount under Shrem's Crypto Insider Summit deal.
For a limited time, you can join Ultimate Crypto for a half-off rate of just $1,750. Plus, you'll also get the bonus reports and other resources covered in this review.
At the discounted rate, your average monthly cost comes out to just $145 a month; less than $5 per day.
It's an excellent deal on an excellent product, and you'll also get three special research reports containing 10 additional crypto recommendations and crash course in crypto trading for beginners.
>> Claim your 50% discount to Ultimate Crypto here <<
Is Charlie Shrem's Ultimate Crypto Worth It?
When it comes to research services, you get what you pay for, and the rule is especially true when it comes to crypto. Ultimate Crypto is no exception.
Charlie Shrem's service may carry a higher price tag than most run-of-the-mill monthly research services, but you get a lot more for your dollar.
Most notably, you'll get a new issue of Ultimate Crypto every week instead of every month, and that adds up to roughly four times more valuable research over a one-year membership.
You'll also have one of the world's most influential crypto millionaires, Charlie Shrem, in your corner every step of the way, and very few crypto gurus can match Shrem's experience or expertise.
Furthermore, you'll get two Crypto Insider Summit research reports with 10 additional crypto recommendations from Charlie Shrem, including his top-5 MAT and DeFi coins.
Best of all, it's all covered with an airtight satisfaction guarantee, so you can get a full credit for your subscription cost if you decide Ultimate Crypto isn't for you.
You get all these resources at a 50% savings under this special limited-time deal, and that's one heck of a bargain.
High-quality research isn't cheap, but crypto research is one area where you don't want to skimp. Spending a little extra now could make the difference between countless missed opportunities and cashing in on the growth opportunity of a lifetime.
If you're serious about making money in crypto, Ultimate Crypto is exactly what you're looking for. At 50% off, the Crypto Insider Summit bundle is an excellent value that's well worth the cost.
>> That's it for our Ultimate Crypto review. Sign up today for a massive 50% discount <<