The Green Zone Fortunes team sees an outstanding opportunity in the energy sector, and they're filling folks in with their latest presentation. But are they really on to something? Follow along with my breakdown of Adam O'Dell's "Infinite Energy" Software for the full story.
What Is Adam O'Dell's "Infinite Energy" Software Stock?
Adam O'Dell's "Infinite Energy" Software stock is a tiny company that the Green Zone Fortunes team believes could revolutionize energy conservation and storage.
In fact, Adam reveals this company could be "set to become a household name as they disrupt the $7.6 trillion energy market."
This under-the-radar opportunity uses artificial intelligence to tap into the largest unused energy source in the world.

Sure, it sounds a little outlandish at first. But once Adam starts digging into the details, it's crystal clear why he's bullish on this energy stock and its potential.
Also, the Green Zone Fortunes team and Adam aren't the only ones in the know…
Major players in several industries are trying to roll out similar "Infinite Energy" technology. Some heavy hitters include Walmart, Facebook, Home Depot, and Wells Fargo.
The name of Adam's stock can be found in the Green Zone Fortunes' research package.
I'll take a deeper look at Adam's opportunity, as well as everything on offer with the package. So stay tuned.
>> Discover the ticker behind "Infinite Energy" TODAY <<
Setting the Stage
Adam O'Dell kicks off his "Infinite Energy" Software presentation by spotlighting one, if not the greatest, "wealth-generating resource in the history of mankind."
What he's referring to is Ghawar, a 2,000-square-mile oil field located in the Eastern Province of Saudi Arabia and owned by Saudi Aramco.
This land is absurdly resource-rich. And Saudi Aramco's value has rocketed into the stratosphere as a result.
In fact, the company was the world's first to reach a $2 trillion market cap.
Adam goes on to say:
"The amount of oil in this one place is worth nearly FOUR TIMES more than every single ounce of gold held by every central bank in the world … combined

It's the reason why the owner of this field — Saudi Aramco — soared to become the largest company in the world … as the first business to ever hit a $2 trillion market cap."
For reference, industry behemoths, like Amazon, Microsoft, and Tesla have yet to reach these astounding heights.
So why is Adam bringing Saudi Aramco up?
Is this the name of his secret "Infinite Energy" stock?
No. Not even close.
He and the Green Zone Fortunes team believe they've spotted an opportunity that could one day tower over this two-trillion-dollar company:
"In short, Ghawar is arguably the greatest wealth-generating resource in the history of mankind.

That is, until now…

Because there is an untapped energy resource that's much larger…

That up until recently has been out of reach…"
This all sounds great, but what is the untapped energy that Adam is referring to?
I'll give you a hint. It has nothing to do with fossil fuels, wind, solar, or ocean power.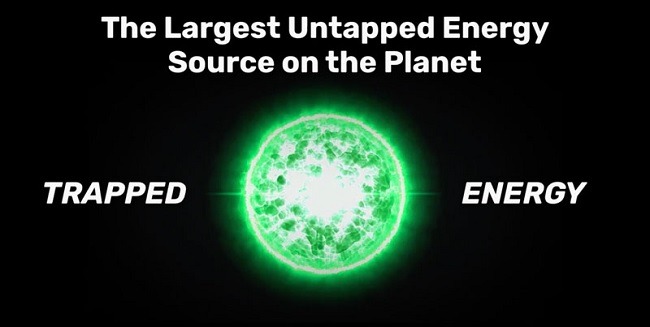 Tapping Into Trapped Energy
There's a dirty secret in the energy biz that anyone investing in it should know… 60% of all energy that hits the legacy power grid flows straight down the drain.
You read that right. More than half of all energy produced falls by the wayside.
I did a bit of digging into Adam O'Dell's claim. And his 60% figure matches up with findings from the US Energy Information Administration.
Adam aptly refers to this wasted energy as "trapped energy."
And this really cuts into the heart of his interest in the "Infinite Energy" Software…
It makes use of existing power.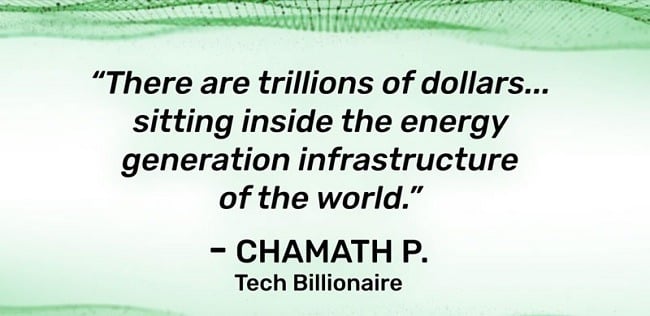 The gist is that Green Zone Fortunes' under-the-radar company uses an artificial intelligence platform to locate and store trapped energy.
Adam offers a very succinct explanation in his presentation, so I'll let him take the floor:
"[The] 'Infinite Energy' software uses AI to collect 700,000 raw data points per second from the power grid…

This allows them to tap into an ever-growing universe of connected storage batteries, and automatically grab much of this trapped energy and store it before it's lost.

Meaning: that energy can now be used again.

And with trillions of kwh of trapped energy up for grabs, the impact this will have on energy is transformational…"
Given the amount of energy that the software could save, it's not surprising that Adam is so bullish on this company.
The applications are seemingly endless.
And again, it's not creating new energy. It's making use of what already exists.
The implications are massive, and Adam even believes it could dramatically reduce energy prices across the board.
>> Get in on the ground floor of Adam's opportunity <<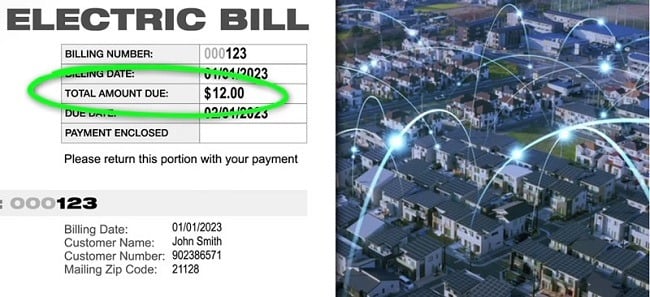 Passing on the Savings
As Adam alludes to earlier in his presentation, many companies are already implementing some form of "Infinite Energy" software — albeit to varying degrees.
However, they are not the only ones that could benefit from this software.
According to Adam, harnessing trapped energy could substantially reduce energy costs for everyday folks.
He continues on to say:
"In fact, this ability to harness trapped energy is in the early stages of ushering in a new era of cheap, abundant electricity the likes of which the world has never seen…

And soon, many Americans could pay next to nothing for electricity."
The logic makes sense. Cheaper energy prices could be passed on to consumers.
And given the current estimates, tapping into this wasted energy might effectively double the pool of usable power across the globe.
This could drive prices down quite a bit.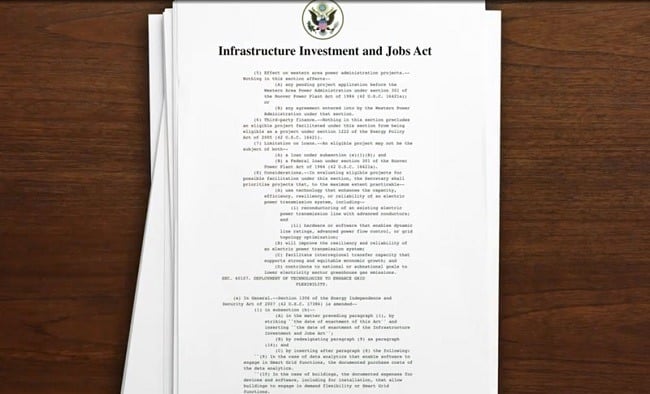 A Multi-Million Dollar Tailwind?
Another reason Adam O'Dell is bullish on this tiny tech firm is that it might benefit significantly from the US Senate's 2021 infrastructure bill.
For those who need a brief refresher, part of the bill earmarked $65 million for green energy initiatives.
And Adam believes that the company behind "Infinite Energy" could seize on the opportunity…
"And the small Silicon Valley company developing 'Infinite Energy' Software is a top candidate to grab a huge chunk of this cash…

You see, they're the industry leader in an area the government is directly funding in Section 40107 of the bill…"
The significance of this is that government funding could give Adam's mystery ticker the boost it needs to take off.
How Much Does the "Infinite Energy" Stock Cost?
In the "Infinite Energy" Software presentation, Adam O'Dell says that this tiny Silicon Valley company trades for less than $15 a share.
The stock market is always moving, so this price could fluctuate.
If you want to know the name of the ticker and price, he reveals the company and everything you need to know in his bonus report, The Tiny Company Dominating Tesla in the Trillion-Dollar Green Energy Race.
This is just one of the many opportunities packed into the "Infinite Energy" Software bundle.
I'll break down everything on offer, but let's take a look at Adam's background first.
>> Uncover the name of Adam's secret stock <<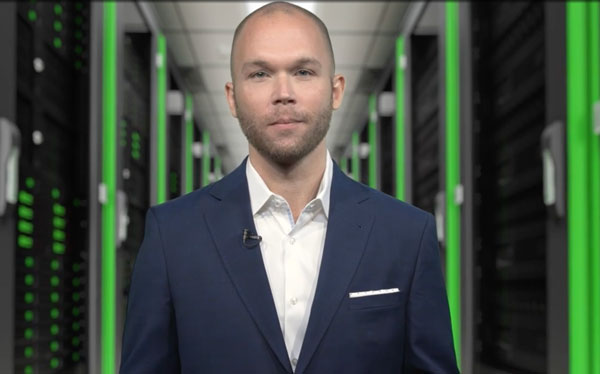 Who Is Adam O'Dell?
Adam O'Dell is an analyst and former hedge fund manager. He's also the chief investment strategist over at Money & Markets.
Many know Adam for his insights into green energy technology, but he has a well-rounded background trading a variety of asset classes. These include stocks, gold, bonds, and more.
Over the years, he's developed a unique strategy called Adaptive Investing™.
It's a simple approach that he uses to pinpoint trends in the financial markets before they take off.
Adam also oversees a range of popular newsletters, including Green Zone Fortunes, 10X Fortunes, as well as Max Profit Alert.
With Green Zone Fortunes, he uses his Adaptive Investing™ along with the team's proprietary software to spot investment opportunities that many overlook.

What Is Green Zone Fortunes?
Green Zone Fortunes is an investment newsletter run by Adam O'Dell.
Some perks of a subscription include stock recommendations, bonus reports, a proprietary rating system, and more.
Currently, the team is offering a bundle based on their "Infinite Energy" Software presentation that provides even more investment ideas.
In addition to stock picks, Adam and the team place a heavy emphasis on investment education.
Their ultimate goal is to give members the knowledge and the tools necessary to help them achieve financial freedom.
Signing up for Green Zone Fortunes offers immediate access to a video course that teaches the ins and outs of Adam's Adaptive Investing™ strategy.
>> Sound like a good fit? Sign up for 75% HERE <<
What Comes with the Service
Signing up for Green Zone Fortunes under the latest deal comes with much more than the monthly newsletter.
Read on to find out everything you get.
12 Months of Green Zone Fortunes Newsletter
Each month, members receive trade ideas vetted by Adam O'Dell and the Green Zone Fortunes team.
The recommendations include the ticker, buy price, and supporting analysis.
Subscribers also gain exclusive access to the member portal.
This handy resource contains all the research, newsletter issues, and bonus reports included with the service.
There's also a model portfolio that keeps track of all open positions.

Weekly Hotlist
Memberships to Green Zone Fortunes also come with Adam O'Dell's Weekly Hotlist.
Every week, the team sifts through around 8,000 stocks using their proprietary rating system.
Then each Wednesday, they offer members a shortlist of the 10 stocks with the highest rating.
This shakes out to about 40 extra trade ideas each month (520 opportunities).
Although these aren't considered traditional trade ideas, they offer the potential for impressive gains.
In fact, Adam says that his shortlist has "produced 52 triple-digit peak gains on [the] top-performing stocks over the last few years."
Proprietary Rating System
Members can access the Green Zone rating system the moment they sign up.
This is the same tool Adam and the team use to scout out their Weekly Hotlist.
The software uses a fine-tuned AI that the team has developed to help uncover breakout stocks with the potential to take off.
Even better, you have unlimited access and can run as many searches as you want.
Simply enter your preferred ticker symbol in the search box, and the software will give you the most recent Green Zone Fortunes ratings.
It's a helpful tool for members looking to do some self-directed investing. You could even use it to grade stocks in your personal portfolio.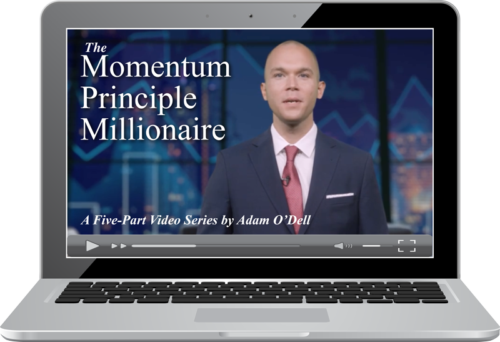 Momentum Principle Millionaire Video Series
This video series is your one-stop shop to learn everything you need to know about Adam O'Dell's investment strategy.
He calls his approach Adaptive Investing™. This is the same strategy he uses to pinpoint opportunities through his newsletter.
Adam describes it as a simple style of investing that's the polar opposite of what most investment experts recommend.
Like the team's proprietary rating system, this will likely appeal to folks who enjoy self-directed investing.
It's a solid blueprint that gives you a bird's-eye view into how Adam's contrarian strategies help him locate opportunities in the stock market.
>> Access these features and more <<
New Members Bonuses
The Green Zone Fortunes team is offering members additional trade ideas with the latest deal.
Altogether, this amounts to four more stock picks vetted by Adam O'Dell and company.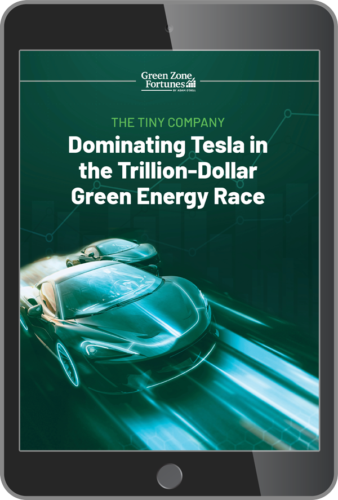 The Tiny Company Dominating Tesla in the Trillion-Dollar Green Energy Race
The featured report includes in-depth research on Adam O'Dell's favorite trapped energy stock.
I touched on the basics, but that only scratches the surface of the analysis in this report.
If you decide to invest, you'll be in good company.
Adam says that World-famous tech investor Peter Thiel is an early backer, and he has a fantastic track record for picking winners.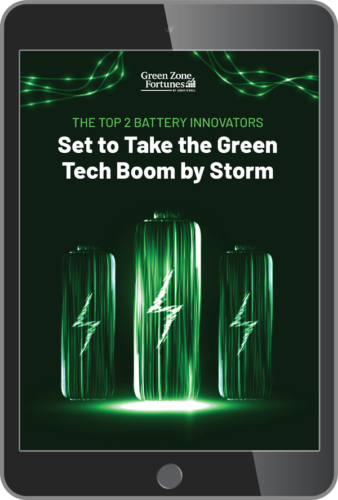 The Top 2 Battery Innovators Set to Take the Green Tech Boom by Storm
The anticipates that Battery storage demand could surge within the next five years.
In fact, Adam says it could increase by 50% every year during this time.
The Green Zone Fortunes team believes that they have found two stocks that could soar as a result.
These companies could also benefit from Adam's trapped energy phenomena.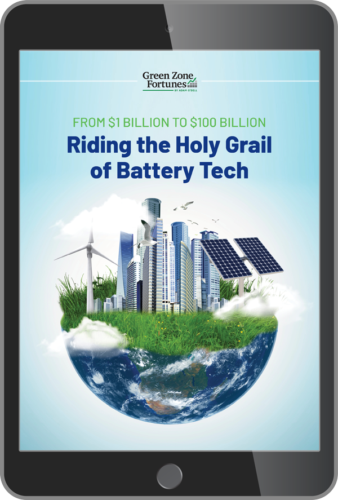 From $1 Billion to $100 Billion Riding the Holy Grail of Battery Tech
The last bonus report of the lineup spotlights a more speculative play.
Because of the risk and potential upside, the team recommends holding a smaller stake in this company.
The draw here is that this secret ticker is developing a novel type of battery with the potential to 10X the power output of conventional batteries.
It might even reach a usable lifespan of half a century.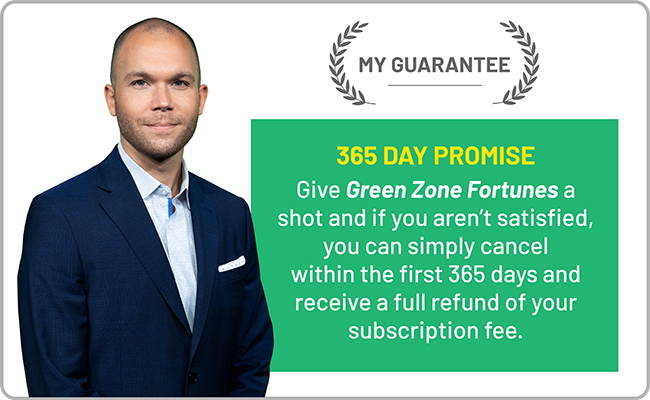 365-Day Money-Back Guarantee
Under the "Infinite Energy" Software deal, Green Zone Fortunes memberships are backed by a 365-day refund policy.
This means you have a year to test drive the service. If it doesn't match your expectations, you can get a refund of the subscription cost.
The industry standard is about 30 days, so they are really going above and beyond here.
It's gestures like this that show the Green Zone Fortunes team is confident in their analysis.
You can also keep the bonus reports, plus the investment ideas.
>> Make the most out of Adam's guarantee <<
Is the "Infinite Energy" Software Opportunity Legit?
Adam's "Infinite Energy" Software presents a legit opportunity to tap into a new green energy resource.
There's a lot to like about this company.
For one, its AI solution is based on tech and energy that already exists. Adam and the team are not touting unproven technology that's still in its conceptual stage.
Additionally, the "Infinite Energy" Software appears to be compatible with most, if not all, current energy sources.
It could even complement and even benefit from new innovations.
Further, the US government's recent infrastructure bill might also send a gust of wind behind the company's sails. So this could make it an ideal time to jump in.
Pros and Cons
There's a lot to like about the Green Zone Fortunes service, but there are some places it could improve on.
Pros
Adam O'Dell is a legit analyst

75% discount on the first year

Extensive 365-day refund policy

3 exclusive bonus reports
Cons
No community forum

No options trades
How Much Does It Cost?
Green Zone Fortunes usually costs $199 per year. That said, the team is dropping the price tag by 75% for folks signing up under the "Infinite Energy" Software deal.
This means you can access all the features mentioned above for just $47.
Keep in mind, however, that the 75% discount is an introductory offer.
Once the subscription renews, it costs $79. This adds up to a 60% discount.
While it would be ideal to keep the 75% discount, 60% is nothing to scoff at.
To sweeten the deal, the subscription price is locked in — even if the price tag increases for new members down the road.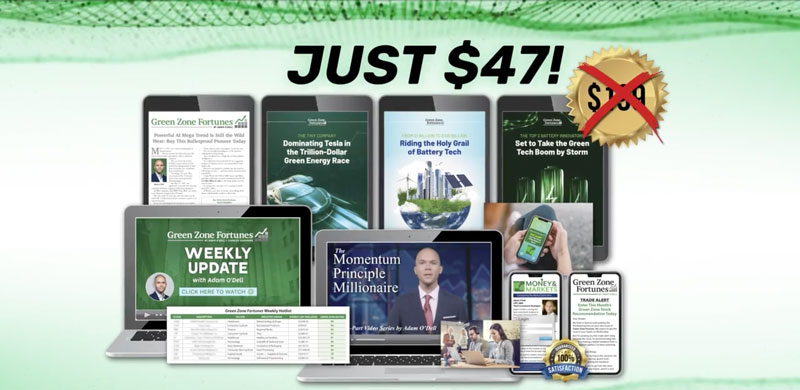 Final Verdict
Adam O'Dell's "Infinite Energy" Software presentation pinpoints an opportunity with a lot of potential.
If you're interested in investing in this tech, I recommend checking out the latest Green Zone Fortunes bundle.
Plus, it comes with much more than one trade idea.
Members can access monthly recommendations, a proprietary stock rating system, and much more.
This newsletter service is the complete package.
Subscriptions also offer an industry-leading 365-day money-back guarantee. Even if you ultimately decide it's not a good fit, you could still pick up some valuable insights from Adam.
All in all, this is an excellent deal worth considering. You can sign up today for 75% off and lock in a rock-solid 60% off on future subscriptions.
>> That's it for my review. Claim 75% off HERE <<