Gold was a top-performing asset in 2020 and could be gearing up for an even bigger run in 2021. Inflation fears are rising, and retirement investors are looking to Gold IRAs to protect their nest eggs. Our Advantage Gold review will tell you if this gold IRA is an excellent place to shield your money from inflation.

Advantage Gold Review: Overview
Advantage Gold LLC is a leading precious metals broker that offers a wide selection of investment options for the retail investing crowd.
The firm primarily focuses on gold IRAs as well as precious metals IRAs.
In fact, Advantage Gold is an industry leader in precious metals IRA rollovers.
Advantage Gold's IRA department is fully staffed with experienced professionals and knowledgeable account executives that will walk you through the process from beginning to end.
The company makes setting up a gold IRA account easy.
However, the firm doesn't stop with IRAs and precious metal IRA rollovers: Advantage Gold products and services cater to all precious metals investors.
Advantage Gold: Gold and Other Precious Metals Products
The company carries a wide range of products on top of gold bullion and gold coins, providing even more ways to invest in precious metals.
Other products include silver, palladium, and platinum bullion that can be easily incorporated into your IRA.
A solid lineup of US and Royal Canadian mint coins is also available.
So you don't have to just rely on U.S. mints, as foreign mints are always an option.
Advantage Gold: Precious Metals Investing You Can Trust
The metals industry has had its share of bad actors over the years, but Advantage Gold stands out as a trustworthy service for setting up precious metals IRA accounts.
The investment firm even offers a free gold IRA guide to ensure you know exactly what you are getting into when you invest in precious metals.
The company's commitment to transparency is what has earned Advantage Gold great ratings from both its clients and consumer advocacy groups like the BBB, Trustpilot, and more.
In fact, Advantage Gold has been rated the highest rated precious metals company in the U.S. by TrustLink five years in a row.
Those are the basics, but we're just getting started.
>> Get the "The Ultimate Guide to Gold IRA Investing in 2021" for free <<
What Is a Gold IRA?
A gold IRA is a specialized type of individual retirement account (IRA) that specifically holds gold and other IRA-approved precious metals like silver, platinum, and palladium.
These highly focused accounts offer all the same tax benefits as a traditional IRA.
The only difference is you're holding real-life physical assets instead of paper assets like stocks and bonds.
This means that contributions in a Gold IRA or other precious metals IRAs can be deducted from your federal income taxes, just like you would with a traditional IRA.
>> Talk to an Advantage Gold IRA specialist now <<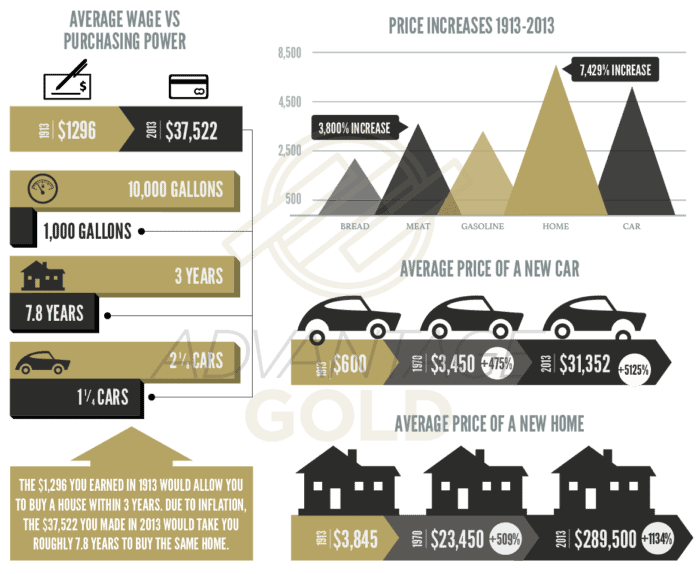 Is Gold a Good Play Right Now?
This is a question many investors are asking in 2021.
Given the current state of the U.S. economy, it's a reasonable question to ask.
Massive government spending, labor market shortages, wealth disparity, and other major economic issues are piling up at an alarming rate.
Some seasoned market veterans believe we could be headed for another era of stagflation like we had in the late 70s.
But what does that mean for your investments?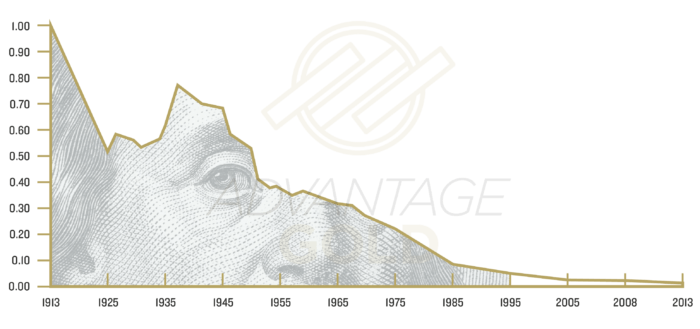 Stagflation on the Horizon?
The 1970s saw one of the worst economic events of the 20th century.
The economy ran into the worst possible circumstances: inflation, stagnant business activity, and low rates.
Eventually, inflation overheated and went wild.
Unfortunately, today, we're seeing many of the same warning signs that preceded the stagflation era.
>> Diversify your portfolio with an Advantage Gold IRA today <<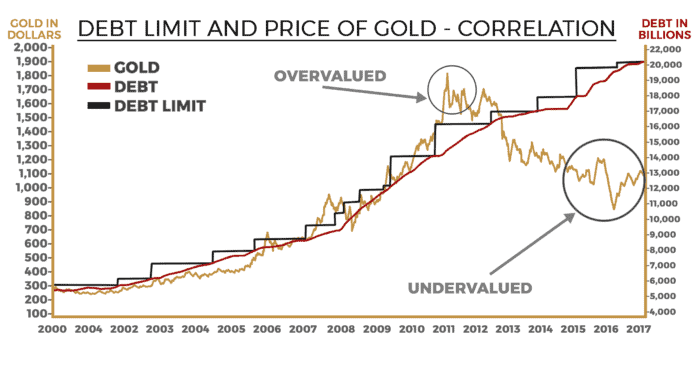 Inflation Fears
When you combine rising prices, high inflation, low economic growth, and high unemployment, you have a recipe for stagflation.
Mix in low interest rates and high levels of government debt, and you could be looking at an all-out economic catastrophe.
Today, those are the very same circumstances facing the post-COVID U.S. economy, as inflation has been soaring.
April's CPI report showed a 0.9% month-over-month increase, the highest single-month jump since 1981 during the tail-end of stagflation.
This can spell bad news for your retirement.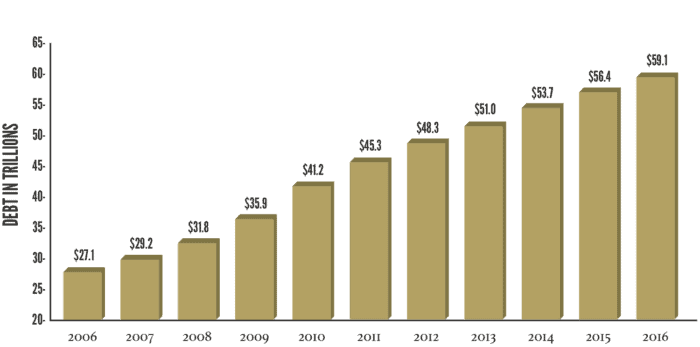 Retirement Red-Alert
If you're retired or within ten years of your target date, you should take inflation seriously, as it's a threat to every dollar in your portfolio.
A gold IRA could cushion your portfolio and carry you through the first few years of your retirement, giving you enough time to wait for your other stocks to rebound.
Don't wait until the last minute to set up a precious metals IRA, especially when Advantage Gold can streamline the entire process faster than other gold IRA companies.
>> Download the gold guide and protect your retirement today <<
Investing in Precious Metals
Precious metals are one of the oldest and most reliable inflation hedges around.
Also, in 2020, gold skyrocketed to $2,200 an ounce in the early days of the pandemic due to the prevailing economic uncertainty.
Things cooled off once the tech rally started to take route, but the drastic move proves that gold could be a top performer if the market panics again.
So if you want to get ahead of the next surge in precious metal value, you need to find a firm that you can trust.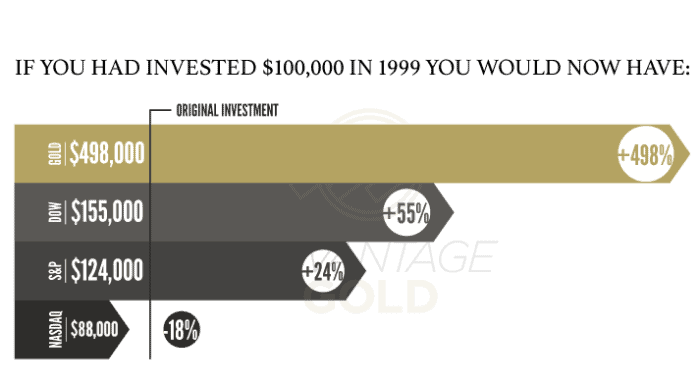 Advantage Gold Reputation Review
Advantage Gold is an established presence in the precious metal industry.
The Los Angeles-based company first opened its doors back in 2014 with a team of experienced gold-industry insiders at the helm.
Since then, it's become a leading player in the gold IRA industry.
It's one of the highest-rated companies in the sector, and former clients are quick to praise it for its service and support.

Reviews and Ratings
Advantage Gold has a BBB rating of A+, and clients give them a 4.75 out of 5 rating on the Better Business Bureau website.
In today's consumer economy, that's a significant accomplishment.
Customers quickly criticize businesses online for the smallest perceived slight, yet Advantage Gold regularly receives no complaints.

More on Advantage Gold Reviews
Trustpilot gives the company an "excellent" rating on more than 1,000 perfect, five-star reviews.
TrustLink also gives the company a perfect 10-out-of-10 score based on more than 300 reviews.
In fact, Advantage Gold has won "Best of TrustLink" awards every year since 2016.
Advantage Gold is also a mint-listed dealer of precious metal.
The company is accredited by the U.S. Mint to sell gold and silver coins, yet another testament to the business's credibility.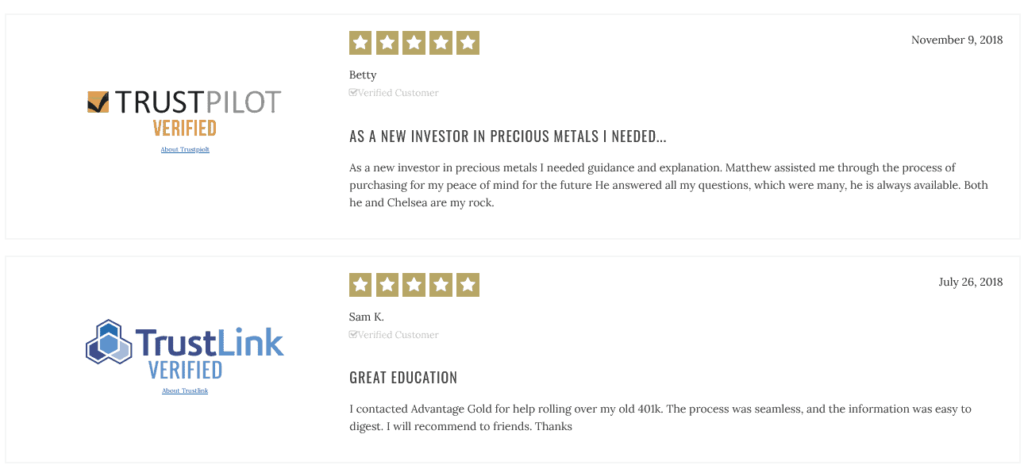 >> Join these satisfied customers and get started with Advantage Gold now <<
Advantage Gold Management Review
Advantage Gold has two all-stars of the gold and precious metals industry at the helm: Kirill Zagalsky and Adam Baratta.
These two were Advantage Gold's original co-founders, and it's still leading the charge in 2021.
Here's a closer look at the two precious metals entrepreneurs.
Kirill Zagalsky Review
Before founding Advantage Gold, Kirill Zagalsky served as a senior account executive with the United States Mint-listed dealer.
Safe to say, this man knows his way around the precious metals industry.
During his time at the aforementioned mint-listed dealer, Zagalsky was a gold IRA account specialist.
He personally helped hundreds of clients roll over their IRA assets into gold IRAs.
Zagalsky clearly understands physical precious metals from the market's perspective.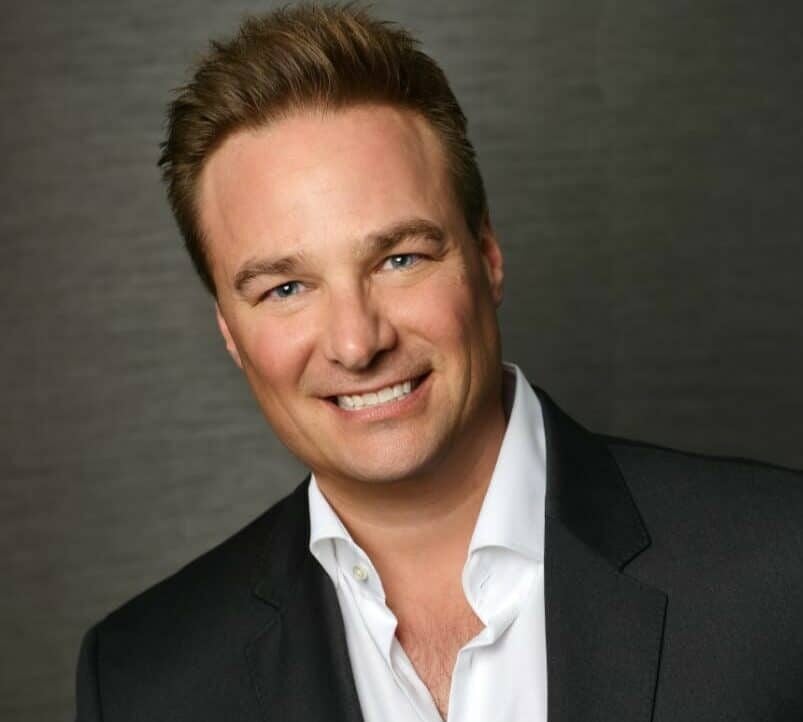 Adam Baratta Review
Adam Baratta previously served as a senior account executive at a mint-listed dealer specializing in gold IRAs.
Baratta is a very successful entrepreneur specializing in the formation, financing, and organization of seed-to-startup stage businesses.
He's seen success in the entertainment industry as an award-winning writer, director, and producer and even founded a motion picture production company that currently has partnerships in place with the NHL and NBC Universal.

For a limited time, Advantage Gold is offering both of Baratta's books for free.
This is no ebook either.
The company will ship you an actual hard-copy book for no charge!
Advantage Gold IRA Review
Unlike other companies who dabble in numerous ventures, Advantage Gold has one focus and one focus only: Gold IRAs.
Many precious metals brokers only offer gold IRAs as a secondary service to supplement their income.
And in many cases, they don't even manage the IRAs, acting as a middleman in exchange for commission instead.
Advantage Gold is different: the company knows all about gold IRAs.
Keep reading for more information about what makes Advantage Gold Unique.

Advantage Gold Precious Metals IRA
Advantage Gold's self-directed gold IRAs are the company's flagship service.
The firm has a highly trained and educated staff standing by to help investors through the entire process of setting up investment accounts.
You have several options for opening your self-directed IRA account and can even choose your own IRA-approved custodian.
The first and most obvious option is opening a new account with a cash investment.
Alternatively, you can roll over your existing IRA or 401(K) retirement account into a gold IRA with the help of Advantage Gold's experienced pros.
You can also opt for a combination of these two options.
The third and final option is a direct transfer or a trustee-to-trustee transaction.
If you're not sure what the best option is, you should check out Advantage Gold's complimentary gold guide.
The gold IRAs don't have to be an end-all investment solution either — even Advantage Gold admits that your entire retirement plan shouldn't be tied up in one asset.
Diversification is the name of the game, and you can achieve this when you hold precious metals in addition to other investments.

Advantage Gold Review: Costs and Fees
For a full report on Advantage Gold's fee structure and service costs, get the complimentary gold guide here.
Obviously, there are no one-size-fits-all solutions when it comes to investing, and fees can vary depending on the nature and complexity of your investments.
We don't want to steer you in the wrong direction.
You should talk to the pros at Advantage Gold if you want more detailed information on IRA pricing.
>> Get the full story on Advantage Gold pricing here <<
Advantage Gold Pros and Cons
We're nearing the end of our Advantage Gold rundown.
Here are the pros and cons that come with a Gold IRA.
Pros
Tax-advantaged investing in IRA-approved physical precious metals
Potential inflation hedge
Advantage gold is a U.S. mint listed dealer in addition to being a precious metals IRA provider
Advantage Gold partners with Equity Trust Company & STRATA Trust Company for their custodial services
Portfolio diversification
Secure storage in the Delaware Depository or Brink's storage facilities
A fully staffed IRA team assists you with opening/funding your account
Offers a free gold guide for download on their site
Get a hardcover copy of Gold is the Better Way and The Great Devaluation for no charge
Perfect 5.0 ratings on Trustpilot and Trustlink; Accredited by the Better Business Bureau
You can move over an existing IRA
First-time delivery discount (with stipulations)
Get started quickly with the First-Time Gold Investor program
Excellent Advantage Gold reviews from clients (many recommend Advantage Gold)
No BBB customer complaints in the past 3 years
Choose from a wide selection of investment-grade, IRA-approved precious metals, including coins, bullion, and more
Direct phone number for quick access to live support
Buyback program that pays fair market value
Cons
No live chat feature
The company doesn't work with anything less than $10,000
Doesn't deal much with collectible coins
Is Advantage Gold Right for Me?
Advantage Gold's gold IRA could be an excellent option for a lot of investors.
Here are the most obvious beneficiaries of this service.
Gold Bulls
If you're bullish on gold, there's no reason to leave behind the tax advantages that come with an IRA.
Advantage Gold's IRAs allow you to own physical precious metals — not promises on paper — with the same tax benefits that come with traditional retirement accounts.
Fiscal Conservatives
Debt-fueled government spending is at historical highs, and inflation is raging.
With interest rates near zero, it all spells bad news for the U.S. dollar.
A Gold IRA can help you shield your assets in the event of a currency collapse, so you and your family's finances remain intact.
Retirement Savers
Getting close to retirement can be stressful when there's uncertainty in the market.
Plus, bond yields are super low, and it's hard to find decent returns on your cash anywhere.
A gold IRA can protect your portfolio from a last-minute downside move that could derail your retirement.
Preppers
Do you work overtime to prepare yourself for anything?
A gold IRA could be the missing piece in your contingency plan to protect your property, your family, and your portfolio.
First Time Gold Investor
Advantage Gold products and services make it easy for new investors to get started with gold or precious metals IRAs.
The company's highly qualified team of IRA experts is standing by and ready to answer all your questions.
Make sure you ask about the First-Time Gold Investor program if you decide to reach out!
>> Does Advantage Gold sound like a fit? Get the Free Gold Guide here <<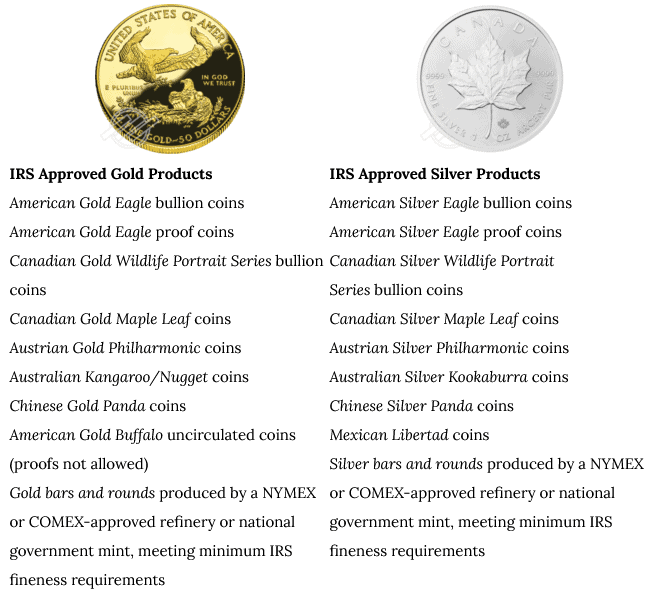 Is an Advantage Gold IRA Worth It?
An Advantage Gold IRA could be an excellent option to strengthen your retirement investment.
If you're bullish on gold or bearish on the USD, it's definitely something you should consider.
Owning gold through an ETF isn't the same as investing in physical metals.
Funds charge fees to manage those accounts, and good luck collecting your gold if it ever came down to it.
You could always buy bullion and coins directly, but you're foregoing tax benefits that could save you thousands of dollars over time.
A gold IRA gives you the best of both worlds.
Compared to fees associated with ETFs and mutual funds, a gold IRA is a reasonable and sometimes more affordable alternative to high expense-ratio funds.
From a cost-benefit perspective, we'd say Advantage Gold's IRAs are definitely worth it for the right people.
However, we're not qualified to give investment advice, so you should chat with an Advantage Gold representative to learn more about it if you're interested.
Advantage Gold Review: Final Verdict
After a thorough review of Advantage Gold, we have to say we're impressed.
This company has a fantastic track record for client satisfaction with hundreds of perfect five-star reviews and no complaints.
Plus, Advantage Gold has a highly educated team that exclusively handles gold IRAs.
So if you're considering investing in gold or other precious metals, you should give Advantage Gold a look.
The company has tons of educational resources for new investors, so you can find out a lot if you're still on the fence.
There's even a hardcover book that Advantage Gold will ship to you for free — all you have to do is ask for it!
There's a lot of uncertainty in the U.S. economy right now, which is especially troubling for close-to-retirement investors.
So if you're thinking about a gold IRA, don't wait.
>> That's it for our Advantage Gold review. Click here for a Free Gold Guide to learn more about these powerful financial tools <<