Stephen Leeb is back with another presentation for his The Complete Investor newsletter and research service, but does this opportunity have as much potential as it seems? We're going to find out in our The Complete Investor review, so stay tuned.

The Complete Investor Review: Reset 2021 Overview
The Complete Investor is an investment newsletter and research service led by Dr. Stephen Leeb and the experienced publishers at Investing Daily.
Members enjoy a wide spread of benefits including regular stock recommendations and full access to Leeb's model portfolio.
Each subscription is also covered with a robust 100% money-back guarantee and includes support from a first-class VIP member services team.
In his latest presentation for Complete Investor, Leeb is calling attention to a startling trend that could have severe implications for investors everywhere, Reset 2021.
>> Already sold on Reset 2021? Get started now! <<
What is The Complete Investor: Reset 2021
The latest package deal for The Complete Investor includes Leeb's startling insights into what could be around the corner for the US economy.
With this deal, you'll get all the standard features typically included with The Complete Investor, plus several special research reports and other bonuses.
We'll give you an in-depth Reset 2021 review, but first, who is Dr. Stephen Leeb and why is he worth listening to?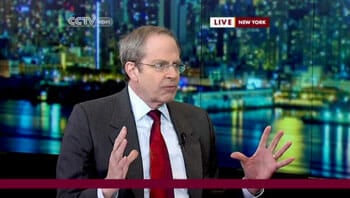 Dr. Stephen Leeb Review
Dr. Stephen Leeb is an experienced analyst, a veteran market watcher, and the Chief Investment Strategist at The Complete Investor.
In addition to his investing resume, Leeb also has several advanced degrees, including a B.S. in economics, a master's in mathematics, and a Ph.D. in psychology from the University of Illinois.
Leeb is one of the most seasoned members of the Investing Daily, and he's amassed lots of valuable insights over his years working around the market.
>> Sign up now for exclusive research from Stephen Leeb <<
Who is Stephen Leeb?
Leeb has spent decades around the stock market working as an investor, analyst, and board member of various tech and financial firms.
Over the course of his career, Leeb had a front-row seat to many of the most devastating financial events of recent memory. However, Leeb survived and thrived while many others went broke.
The investment industry has recognized Leeb on several occasions for his stock-picking prowess. Time Digest and Hulbert Financial Digest once named him their #1 Stock Market "Timer".
Leeb also won both the Forbes and Wall Street Journal stock-picking competitions in the past, and he was recently ranked in the top 5% of US money managers.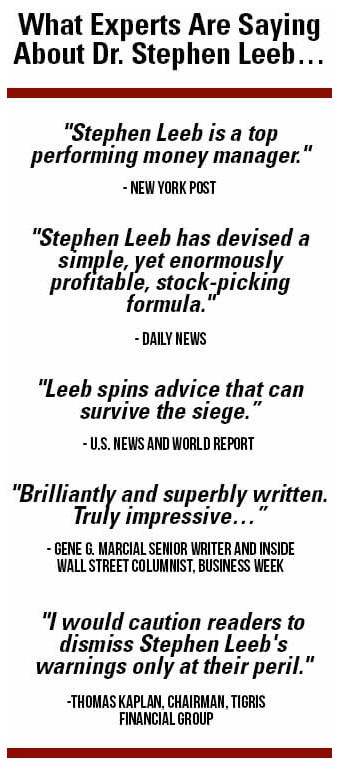 Is Stephen Leeb Legit?
We could go on a lot longer about Leeb and his credentials, but suffice to say this guru is extremely qualified.
Leeb was watching markets before some gurus were even born. He knows the ins and outs better than almost everyone, and he's been recognized with awards on several occasions for his analytical ability.
You will be hard-pressed trying to find a guru with a more impressive collection of credentials than Dr. Stephen Leeb. He's extremely educated, experienced, and he's proven himself on countless occasions throughout his career.
>> Get instant access to Leeb's latest research when you join now <<
The Complete Investor: Reset 2021 Reviews
The global economy has been on shaky ground ever since the pandemic took shape in early 2020, but, despite outwards signs of a recovery, the worst might still be yet to come.
According to Leeb, the downside could be worse than anything this country has experienced since the Great Depression, and it could have devastating consequences for unprepared investors.
Many of the concerning trends creating this existential threat to the nation have been slowly developing for decades, but COVID-19 threw a barrel of gasoline on the fire.
The convergence of this multitude of social, economic, and political trends could totally transform life as we know it in the US, and you could be steamrolled by the changes if you don't start preparing now.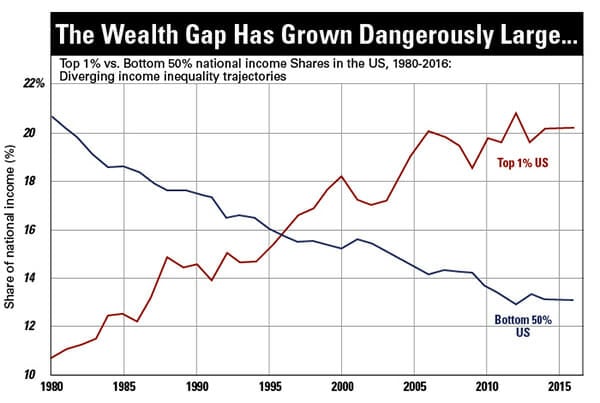 The Worsening Wealth Gap
There's no denying that the wealth gap is growing in the US. You can argue about the reasons for it all you want, but the undeniable truth is the gap between rich and poor is concerningly large.
The US minted a new millionaire every 75 seconds on average recently, and there are a stunning 623 billionaires in the country with a combined wealth of nearly $2.4 trillion.
Meanwhile, the median US income is only $63,179, and large swaths of the working class are struggling to get back on their feet in the wake of the disastrous COVID-19 lockdowns.
Worse yet, this divide could accelerate in the coming years as AI-powered computers replace more and more jobs.
The pandemic also threw gas on this trend as government lockdowns forced businesses to favor automated solutions over human labor.
Political division is also higher than we've seen it in quite some time, and inflation is running hotter than it has in decades. It's all shaping up to be a very uncertain future for the average American.
Fortunately, you don't have to sit still, and there's still time to take preemptive action that can help you keep pace with America's wealthiest and help you avoid the worst of Reset 2021.

A New Path to Wealth
One of the main reasons for the widening wealth gap in America is the recent run-up in tech stocks. Investors who were fortunate enough to get into the early phases of the tech boom won big, and they've been winning ever since.
Many of the wealthiest men in the world built their fortunes through tech companies, whether by founding them, investing in them early, or otherwise.
Unfortunately, this lesson has been lost on much of the population, and many people are still overlooking the opportunities awaiting them in the tech sector.
Leeb believes the only way to sidestep the potentially disastrous effects of Reset 2021 is to position yourself at the forefront of the tech sector.
>> Get the details on Leeb's The New Path to Wealth here <<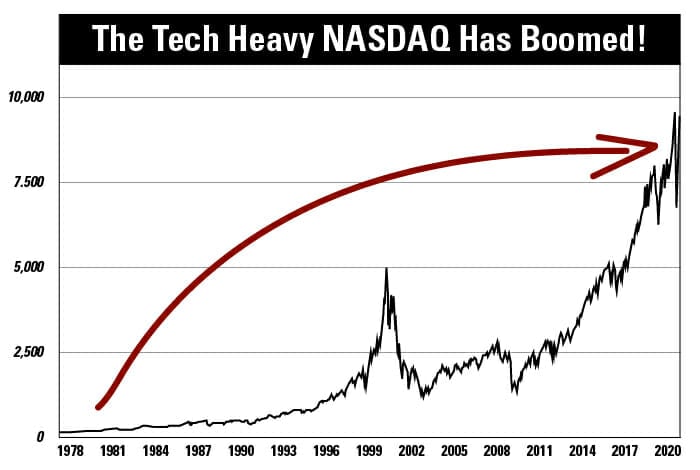 The Growth Shortcut
The technology industry has been the driving engine behind the American economy for decades, and there is still plenty of room for future growth.
Leeb assembled his best research on Reset 2021 into a groundbreaking research report, and he's including it with his The Complete Investor: Reset 2021 deal.
This report includes in-depth research into the developing trends and Leeb's number-one stock pick for taking advantage of the opportunity.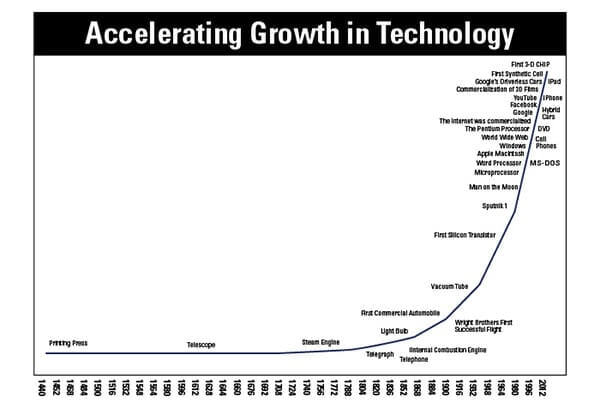 This stock recommendation could put you on course to capture huge growth in the tech sector while Reset 2021 wreaks havoc on other parts of the economy.
The Reset 2021 package also includes several additional bonus reports on promising tech trends, and we're going to cover it all in the next section of our The Complete Investor review.
Stay tuned to get the complete details on everything that's included with the Reset 2021 deal.
>> Join now to get Leeb's top Reset 2021 stocks <<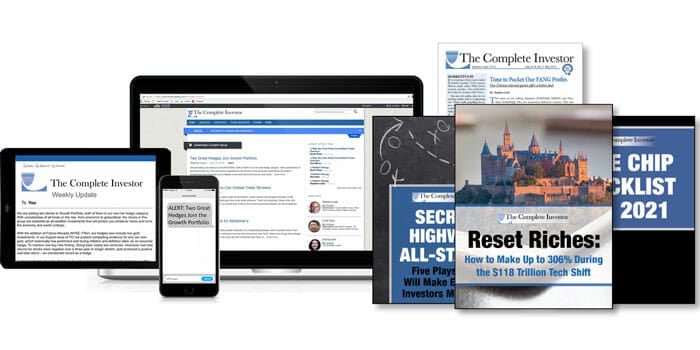 What's Included with Reset 2021
12 issues of

The Complete Investor

monthly newsletter

Access to

The Complete Investor

model portfolio

Weekly updates from Stephen Leeb and his team

Flash alerts for fast-moving opportunities

FEATURED REPORT:

Reset Riches: How to Make Up to 306% During the $118 Trillion Tech Shift

Secret Highway All-Stars: 5 Plays That Will Make Early 5G Investors MILLIONS

BONUS REPORT

Blue Chip Blacklist for 2021

BONUS REPORT

VIP customer support team

100% Money-back guarantee
The Complete Investor Monthly Newsletter
The Complete Investor monthly newsletter is your main source for exclusive research and stock recommendations from Stephen Leeb.
This monthly brief is the foundation of The Complete Investor service. Each month, you'll find in-depth research, market analysis, stock picks, trading instructions, and much more.
You'll find that it's much easier to make sense of what's happening in the market when you regularly read Leeb's research. His insights will help you see through the chaos and make the right decision when it counts.
The monthly newsletter is an invaluable resource that will keep you busy with monthly trade ideas for an entire year. It's the main entree in this research service, and it's where you'll find Leeb's most up-to-date investment research.
Model Portfolio
Complete Investor's model portfolio hosts all of Stephen Leeb's active stock recommendations and includes detailed information on each opportunity.
The model portfolio comes complete with every stock pick featured in The Complete Investor monthly newsletter along with their tickers, company names, price points, and more.
You can easily track every recommendation with the model portfolio. Just a quick glance tells you everything you need to know about Leeb's recommendations and their progress.
You get unlimited access to the model portfolio as soon as you join, and it includes access to Leeb's picks from before you joined so you won't miss out on any of the action.
>> Join now to access The Complete Investor model portfolio <<
Weekly Updates
Leeb keeps you informed on the latest model portfolio happenings with weekly reports detailing the latest news affecting and more. If something is happening that needs your attention, Leeb will let you know in the weekly report.
The Complete Investor weekly updates keep you informed between monthly newsletter issues, so you'll always be up to speed on the latest news.
You'll also get Leeb's insights on market-moving news and trends, and the expert's take can help you navigate the day-to-day market volatility more effectively.
The weekly updates are a valuable addition to the service, and they make it much easier to stay on top of the market.
Flash Alerts
Sometimes, Leeb's alerts can't wait for the monthly newsletter or even the weekly update. When it's time to take action immediately, he sends out a flash alert containing details on the news and instructions for responding to it.
For example, if a company has a bad earnings report and its stock starts tanking, you might get a flash alert recommending you sell out of your position.
The flash alerts complete the spectrum of regular updates. Along with the monthly and weekly updates, flash alerts ensure you'll never miss a beat on The Complete Investor's model portfolio stocks.
>> Sign up now to get onboard for Leeb's next Flash Alert <<
The Complete Investor: Reset 2021 Special Reports
The latest promo from Stephen Leeb also includes several exclusive research reports analyzing Reset 2021 and other promising trends. Here's a breakdown of what's included in each research brief: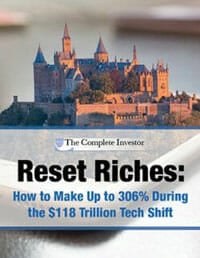 Reset Riches
The featured report in the Reset 2021 deal focuses on the troubling economic trends we discussed earlier in the review. It also includes Leeb's number-one stock pick for taking advantage of the chaos to come.
Leeb believes this company has enormous potential. If he's right, this single stock pick could catapult your portfolio to massive growth in the near future.
We discussed Reset 2021 at length in the previous sections, so we'll spare you a repeat. However, suffice to say this tech stock could be a game-changer for your portfolio, and this report includes all the details you need to take advantage of the opportunity.
>> Get instant access to Reset Riches when you signup now! <<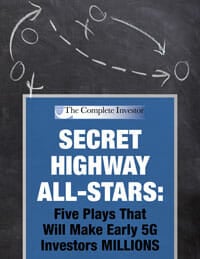 Secret Highway All-Stars
This special report zeroes in on the growth opportunity in the 5G sector and includes five promising stocks that could see enormous gains as the next-gen wireless tech gains ground.
You might think 5G is old news by now, but there could still be plenty of upside in 5G stocks. This advanced wireless signal is still relatively new, and engineers are only scratching the surface of its capabilities as of yet.
According to Leeb's analysis, 5G could add as much as $12.3 trillion to the global economy, and these five 5G stocks could be sitting in a perfect position to capitalize on the expected growth.
The report includes in-depth research into 5G along with detailed information on the five featured stocks, including names, ticker symbols, and more.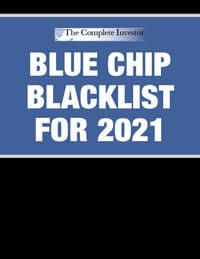 Blue Chip Blacklist for 2021
Reset 2021 is going to have long-term implications for the economy, and it's going to spell the end for many of the market's established blue-chip stocks.
This report outlines the most popular blue chips facing the greatest risks from Reset 2021. Many of these stocks are common portfolio holdings, and you could face disastrous losses if you are holding them when the other shoe drops.
The report includes details on ten stocks that Leeb says you should abandon immediately. These blue-chip stocks are widely regarded as "safe" investments, but many investors could be in for a rude awakening when Reset 2021 fully develops.
>> Join now to get all three special reports FREE with your subscription <<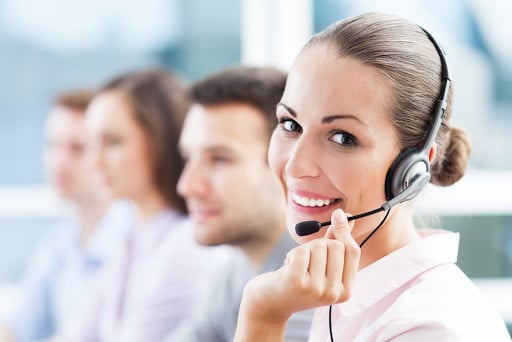 VIP Customer Support Team
Once you join, you'll have access to a special VIP concierge team that can assist you with any issues relating to your The Complete Investor subscription.
The team is available via email, and you can call in Monday through Friday during regular office hours for live support.
Having the option to call in if there's an issue is a definite plus. You know your issues will be addressed promptly and efficiently by a dedicated team of professionals.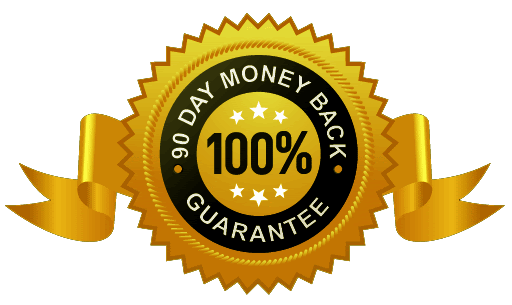 100% Money-Back Guarantee
The Complete Investor includes a 100% money-back satisfaction guarantee for a full 90 days with every new subscription.
If you're not satisfied with the service, you can contact the VIP support team at any time within the first 90 days of your subscription to get a full refund of your subscription cost.
Similar services typically offer guarantees of only 30 days, if they offer them at all, so The Complet Investor deserves some praise here.
This money-back guarantee goes above and beyond to reassure you that you'll be satisfied with the service.
>> Sign up today and take advantage of the 90-day money-back guarantee <<
The Pros and Cons of Complete Investor: Reset 2021
Here are our top The Complete Investor pros and cons.
Pros
Extremely qualified guru in Dr. Stephen Leeb

Monthly newsletter with new stocks in each issue

Weekly updates and flash alerts

In-depth research into

Reset 2021

Three bonus reports with additional stock recommendations

VIP customer support team

90-day, 100% money-back guarantee

Full access to

The Complete Investor

model portfolio

Affordably priced
Cons
No community chats or forums

Limited to stocks; no options, futures, etc.
The Complete Investor Track Record
Stephen Leeb and The Complete Investor have an excellent track record for picking winners. Since early 2018, Leeb has introduced his readers to 32 double and triple-digit trade opportunities with total returns of 3,367%.
Those are some pretty impressive numbers. Here are some of The Complete Investor stock recommendations that went on to produce big gains:
Leeb's top-5 core holdings in The Complete Investor model portfolio are also performing well. Here are some of the numbers:

A track record like that is hard to argue with. Stephen Leeb knows his stuff and his insights have been an asset to The Complete Investor readers in the past.
>> Join The Complete Investor now for more great stock picks like these <<
The Complete Investor Reviews by Real Members
We searched for verified The Complete Investor reviews by real members so you could learn more about their experience with the service. Here's what we found: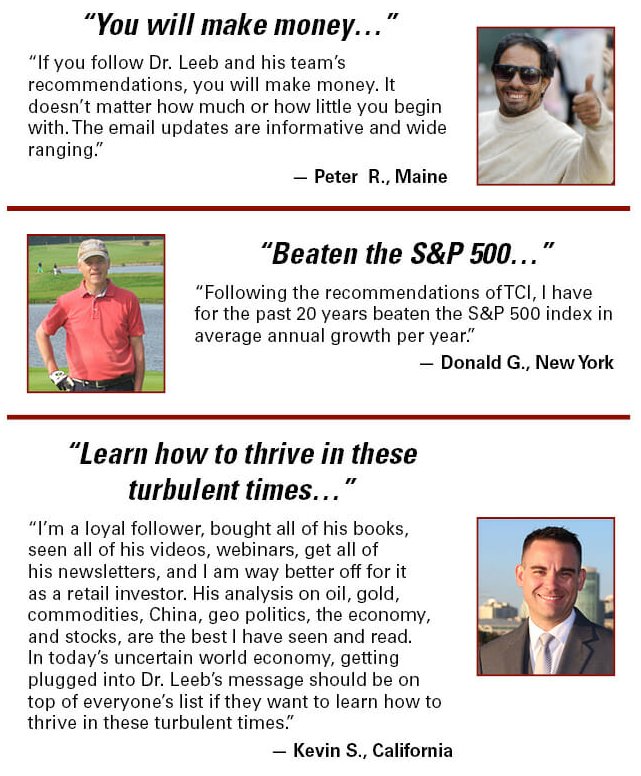 These reviews came from the Reset 2021 presentation, so take that into consideration. However, they still give you some insights into what you can expect from The Complete Investor.
>> Signup now to join these satisfied Complete Investor members today! <<
How Much Is The Complete Investor: Reset 2021?
A one-year subscription to The Complete Investor typically costs $199. However, our readers can access a substantial discount with the Reset 2021 deal.
You'll save 80% on the price of a one-year subscription and pay just $39 for one year. This promotional price also includes all the special reports and other resources we covered in this Reset 2021 review.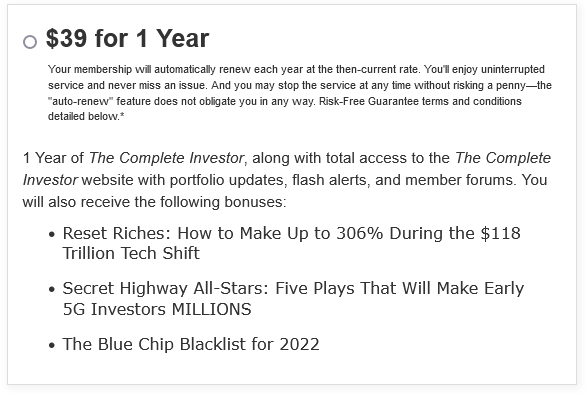 If you upgrade to a two-year subscription, you'll lock in your low rate for an additional year and get two additional research reports when you join:
Gold Spike: How to Make Massive Profits From Gold's New Bull Market

The Tiny $9 Company That Could Hand You 20-Times Your Money
Here's a breakdown of the upgraded two-year package: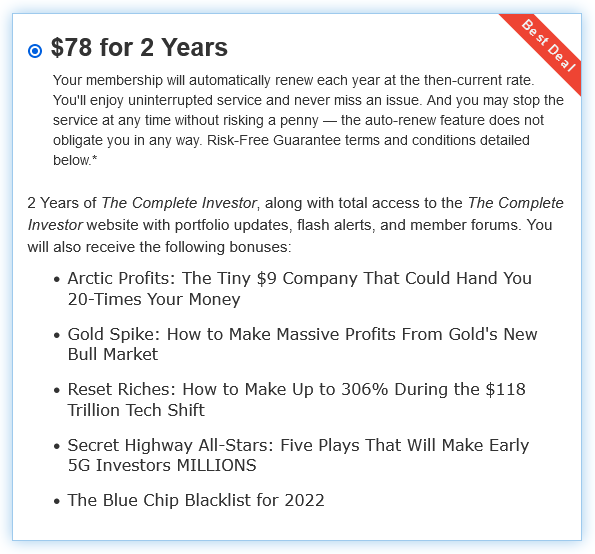 Whichever you choose, you'll pay $39 per year. However, the two-year option offers additional benefits.
>> Click here to get started now for as low as $39 <<
Is The Complete Investor Worth It?
The Complete Investor is a good value at its full sticker price, but it's an outright steal at just $39 a year. You get a lot for your dollar with the Reset 2021 package.
Stephen Leeb is one of the most qualified gurus we've seen in quite some time. His educational and career credentials are impressive, and his The Complete Investor track record is excellent.
You get a full-year of The Complete Investor plus three bonus reports with details on promising stocks. If you upgrade to two year, you get two additional report as well.
The Complete Investor keeps you covered for an entire year with a steady stream of stock picks every month, full model portfolio access, and portfolio alerts.
There's also a 100% money-back guarantee for 90 days, so you can buy with the confidence of knowing you're covered if you're not satisfied.
You're in good hands with an experienced stock market veteran like Stephen Leeb leading you through the market. At just $39 per year, you can't go wrong with The Complete Investor.
>> Claim your 80% discount and join The Complete Investor for just $39 <<