Inflation fears are spiking yet again, so more investors are looking to gold as a potential rainy-day refuge. It's no surprise Gold IRAs are making a comeback, but this industry is as competitive as they come. Our Noble Gold review looks at one of the top players in the Gold IRA game and tells you if they're a worthy destination for your hard-earned dollars.
Noble Gold Review: Overview
Noble Gold is a precious metals services firm that offers a variety of investment options for everyday folks.
The firm's stated mission is to provide clients with a "safe and easy way to buy precious metals," and the company remains true to its cause.
In short, Noble Gold provides top-rate buying experiences for precious metals buyers from all walks of life.
Whether you're a big investor or an aspiring gold bug, Noble Gold's products and services can fit both your budget and your investment goals.
>> Get your complimentary Gold IRA Guide here <<

The Bull Case for Precious Metals
The recovering post-lockdown U.S. economy collided with constrained supplies to produce a historic upsurge in the price of everyday consumer goods in early 2021.
Since last year, steel prices have more than doubled.
Lumber is at all-time highs after increasing by more than 2,000%, and even copper is at all-time highs.
This list only covers materials.
Consumer goods like appliances, ammunition, diapers, and more are also drastically rising in price.
Even food like eggs, chicken breast, ground beef, and ketchup are up big.
Combine that with an unquestionably overvalued stock market, and you have something pretty indistinguishable from widespread inflation.
It all spells bad news for the U.S. Dollar, and investors' anxiety is evident in the recent run-up in cryptocurrency prices.
Even real estate has skyrocketed as investors scramble to snatch up limited supply ahead of a potential currency crisis.
This is why investors are focusing their sights on precious metal IRAs, so they can invest in an asset that retains its value.
The Precious Metals Hedge
Gold and silver have long been seen as an obvious inflation hedge, but prices have remained stubbornly in place for almost a year.
Both metals rallied early during the coronavirus crisis, but they've been stagnant for close to a year.
Some investors see a possible disconnect between current inflation trends and the price of gold and silver, and many people are adding precious metals to their portfolio in hopes that they'll be in an excellent position if the market begins to panic.
After all, if the dollar collapses, do you really think you can sell your gold ETF and pull out cash?
Worst yet, some scammy companies don't even allow you to take physical possession of "your" so-called gold and silver assets.
The alternative is to buy and store the metals yourself.
However, buying physical precious metals has its own set of challenges, not the least of which is tax-related.
You typically can't write off physical gold purchases, and missing those deductions could cost you a lot at tax time.
The second most significant issue is security because you need to protect your physical gold once you buy it.
Costs can include safes, insurance, cameras, firearms, or whatever else you need to secure your investment from bad actors who would be more than happy to relieve you of your precious metals.
This is why many opt to store their precious metals with reputable precious metals IRA companies, Like Noble Gold.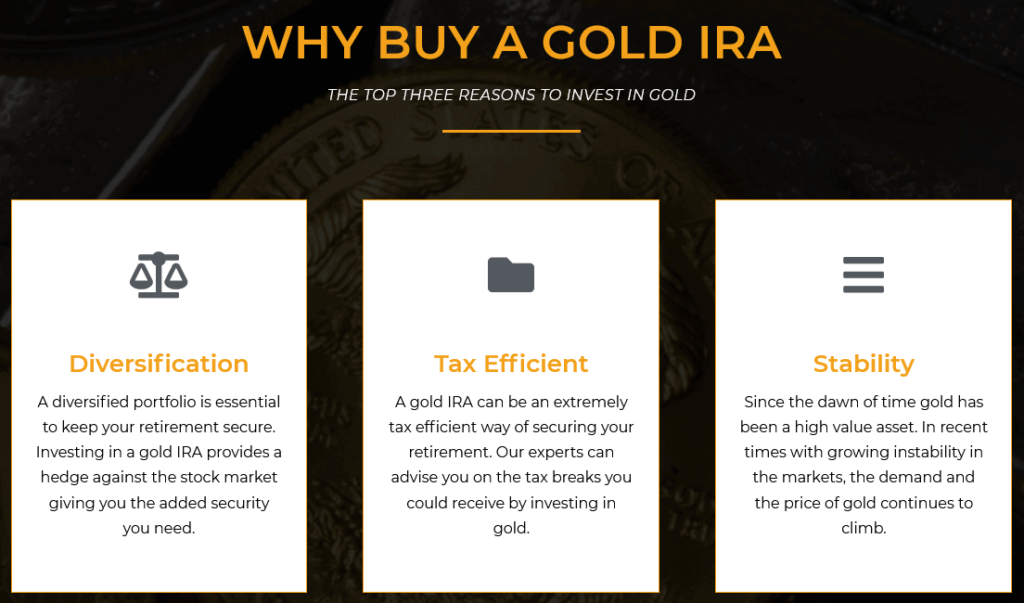 The Answer: Noble Gold
Noble Gold is fully aware of these common concerns, so the firm is built around addressing all the core issues of owning physical precious metals.
The company offers services that can take care of all these issues while still providing the peace of mind that comes with owning physical gold and silver.
Noble Gold offers various solutions for non-traditional gold buyers.
For starters, Noble Gold's gold and silver IRAs can help you own precious metal without sacrificing the tax benefits that come with an IRA.
The company also offers physical gold and silver storage at its secure gold depository in Dallas, Texas, the first and only facility of its kind in the southern U.S.
It also has a facility in Delaware.
Both facilities are accredited by the International Depository Services, so you can trust that your gold and silver coins and bars are safe and sound.
Finally, precious metals are available for direct purchase for investors who aren't afraid to secure and defend their stash.
In fact, many independent investors would prefer things this way.
That's a brief overview of Noble Gold's services.
Now, it's time to take a deeper dive into the company and the people behind it.
>> Talk to Noble Gold about a precious metals IRA <<
Is Noble Gold Legit?
Noble Gold is an established company with an impressive track record of honest business practices.
On its website, Noble boasts that it is the #1 trusted gold IRA company in the U.S., and it has hundreds of five-star reviews to support the claim.
Noble Gold has a nearly perfect five-star rating on Consumer Affairs.
Plus, the Better Business Bureau gives it an A- rating with a BBB Accredited Business seal of approval to boot.
The company has also been featured on established media outlets like Fox News Radio and the Next News Network.
Customer reviews report excellent service experiences with Noble Gold's staff.
Noble Gold Is Different than Other Gold IRA Companies
The precious metal industry is known for high-pressure sales tactics, but we didn't see any Noble Gold reviews that complained about it.
There are tons of scams in the precious metals world, but you don't need to worry about getting ripped off with this company.
This is a legitimate company with an extensive set of five-star customer endorsements and an impressive BBB rating.
One thing is sure, Noble Gold isn't a scam.
Collin Plume Review
Noble Gold's CEO and president is Collin Plume.
He's been in the financial business for more than 15 years, with stints in sectors like property insurance, commercial real estate, precious metals investments, and more.
During his time managing client assets, Plume read some books that led him to an economic epiphany.
He quickly realized that physical gold and silver are superior to currency and other paper assets.
Shortly after, Plume found himself neck-deep in the precious metal business.
He eventually became one of the top precious metals brokers in the U.S.
Today, Plume serves as Noble Gold's chief executive and lives with his wife in the San Fernando Valley, not far from Noble Gold's home office in Pasadena, California.
Collin Plume is a respected authority in the precious metals industry, so you can rest assured that Noble Gold has a steady hand at the helm.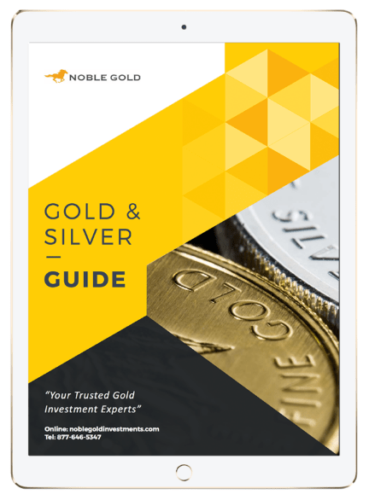 >> Download this complimentary Gold and Silver Guide Here <<
Noble Gold Services Review
Noble Gold offers a wide array of precious metals-related services.
Today, we'll review Noble Gold's most popular offerings in detail so you can see if they're suitable for your investment needs.
Noble Gold Review: Precious Metals IRA
Noble Gold's precious metals IRA accounts combine the benefits of a stock market IRA with the practical utility of physical precious metal ownership.
You can use a precious metals IRA to securely hold gold and silver without any headaches.
Noble Gold secures your funds in an International Depository Services-accredited vault in Dallas at competitive rates.
Plus, you still get all the tax deductions associated with a traditional IRA.
These benefits can save you hundreds of dollars in tax costs in comparison to non-advantaged precious metals purchases.
When the time comes to liquidate your gold or silver IRA, Noble Gold gives you a couple of options.
More on Noble Gold Investments
Noble Gold makes it easy to roll your existing retirement portfolio into a gold IRA, and you can complete the entire process without paying a dime in taxes or penalties from Uncle Sam.
Unfortunately, Noble Gold's IRAs do not include platinum and palladium, but it still has plenty to offer gold investors.
This is probably for the better, anyways, given the company's stated objectives.
Platinum and palladium can be much harder to offload during an emergency than gold or silver.
Noble Gold's Buyback Program Review
You can cash out your account through Noble Gold's convenient buyback program, which is a convenient way to sell precious metals that don't fit your investment strategy anymore.
You'll receive cash for your gold or silver IRA balance.
However, we're not 100% sure how Noble Gold calculates the buyback rate.
We assume the program goes by the current spot price, but we couldn't confirm it through the Noble Gold website.
For more information, we recommend reaching out to a Noble Gold representative because rates can change.
What Is a Gold IRA?
A gold IRA is an individual retirement account that allows you to hold physical gold coins and bars remotely, and it has all the benefits we outlined earlier in the review.
Noble Gold secures each gold IRA account's assets in a segregated section of one of its International Depository Services-approved vaults, ensuring its safety at all times.
Noble Gold Fees
The company charges a recurring annual fee of $80 for gold IRAs and a $150 fee for Texas storage and Delaware storage.
The fee policy is somewhat confusing.
We're unsure if it's $150 plus $80 or $150 instead of $80, but you can find out more when you get the Free Noble Gold's IRA guide.
When you're ready to cash out your gold, you can use Noble Gold's buyback program.
You can also have your physical gold assets sent to your home through secure, insured shipping.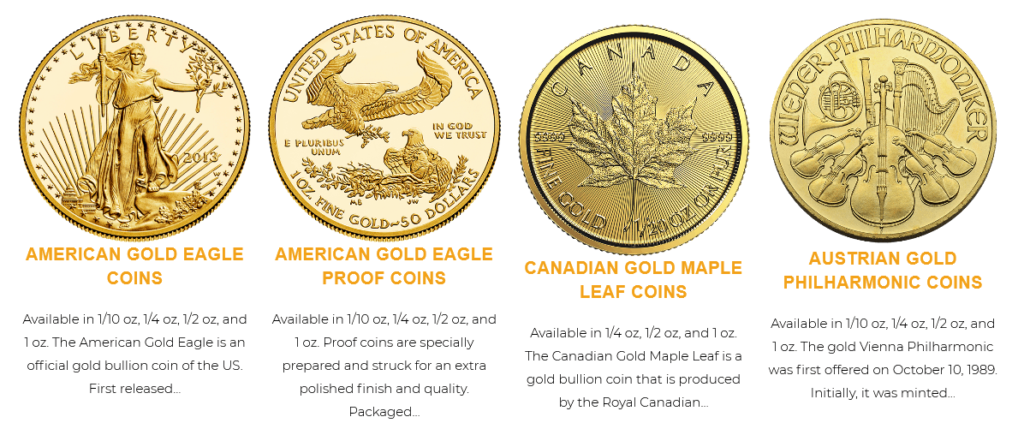 >> Shop gold coins and bullion with Noble Gold now <<
What is a Silver IRA?
A silver IRA is like a gold IRA, but it lets you own silver coins and bars.
Just like the gold IRA, a silver IRA also stores your silver in a segregated section of Noble Gold's storage facilities.
You can't own gold with a silver IRA, and you can't own silver with a gold IRA.
If you want to include these two precious metals in your retirement portfolio, you must sign up for both accounts.
One area where silver IRAs differ is fees.
Texas Storage & Noble Gold
Noble Gold offers silver IRAs for a recurring annual fee of $225 and a $250 annual fee for Texas storage.
You might wonder why there's a difference, but it becomes understandable when you give it some thought.
Silver goes for around $25 an ounce at the time of writing.
On the other hand, gold goes for approximately $1,800 — that's more than 70 times the per-ounce cost of silver.
As a result of the weight and volume difference, you need a lot more room to store silver.
Security practices for silver are just as extensive as gold, so there are not many cost savings.
Besides the cost difference, everything else pretty much works the same as with a gold IRA.
Noble Gold also offers a buyback program, or you can elect to have your silver shipped to your home when it's time to cash out.
How to Get Started with a Noble Gold IRA
Fill out this form to get started.
Noble Gold will send you a complimentary precious metals IRA guide as soon as you sign up, and a representative will reach out to you shortly.
You can transfer your existing retirement account or open a brand new one.
There are many options, but you're better off talking to a Noble Gold representative than looking for generic answers online.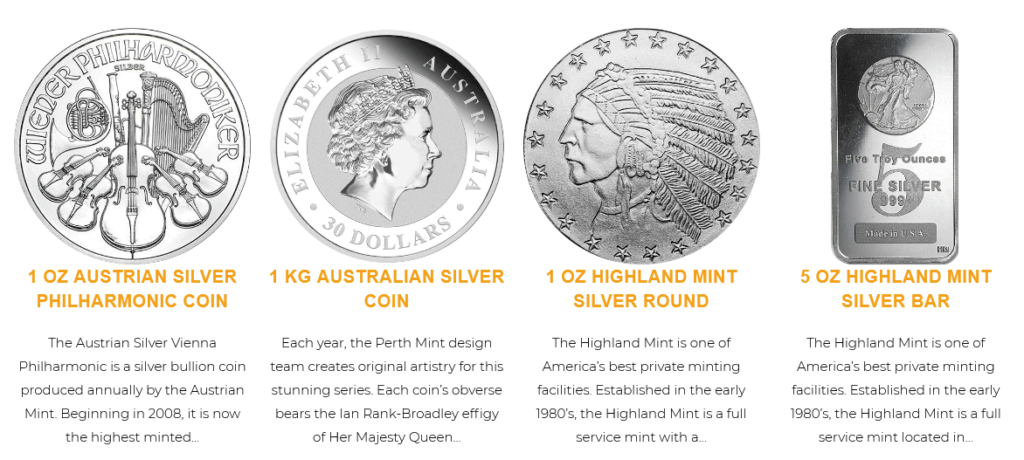 >> Get great prices on silver coins and bullion with Noble Gold <<
Noble Gold Physical Precious Metals Review
If a silver or gold IRA sounds like too much red tape for you, Noble Gold's precious metal marketplace might be a better option.
You can choose from a wide array of precious metals and coins for investment on Noble Gold's website.
Other types of precious metals investing include buying:
Gold coins, including American Gold Eagle coins, Australian Gold Kangaroo coins, Canadian Gold Maple Leaf coins, and much more
Other precious metal coins, including silver coins, platinum coins, even palladium coins!
Gold bullion
Collectible coins
In addition, Noble Gold offers survival packs.
These collections of in-demand assets are hand-selected by Noble Gold's experienced precious metals pros.
Prices aren't listed on the company's website.
The Gold IRA firm prides itself on providing a personal buying experience for every customer, so you have to open a dialogue with representatives to learn more.
This can be a bit of a hassle if you're an experienced investor who knows what they want.
However, precious metals beginners will appreciate the added service.
If you're interested in purchasing specific quantities of gold, silver, platinum, and palladium coins, contact Noble Gold to get started.
Noble Gold's Royal Survival Packs Review
Noble Gold sells and ships precious metals to customers in the form of Royal Survival Packs.
These packs are designed to hold you over in an emergency scenario such as the collapse of the U.S. dollar or the global financial system.
How Much are Royal Survival Packs?
Royal Survival Packs require a minimum investment that starts at $10,000 for the Noble Knight package.
Noble Gold also offers a variety of packages, and each has a different required investment amount.
For example, the Noble Baron pack requires a $25,000 minimum investment, the Noble Viscount comes in at $50,000, and so on.
The most expensive Royal Survival Pack is the Noble Duke, with a minimum investment of half a million dollars.
Noble Gold can accommodate you with a custom solution if you want to put in more than that.
How to Get Your Survival Pack
Once you buy your Royal Survival Pack, you have two options.
You can use the Noble Express delivery service to securely ship it to your home or storage facility.
Alternatively, you can opt to store your precious metals with the Noble Fortress network.
With this option, Noble Gold will put your precious metals into segregated storage in one of their secure depositories in exchange for an annual fee.
Royal Survival Packs can be an excellent insurance policy against a disaster scenario.
So they're especially popular among preppers and other disaster-conscious people.
If you want a quick and easy way to add some precious metals to your vault, Royal Survival Packs are the way to go.
How to Buy Collector Coins on Noble Gold
Noble Gold also offers a wide selection of rare coins for investment purposes, including the coin collector's Holy Grail: Morgan Silver Dollars.
The procedure for purchasing collector coins is similar to the process for other precious metals.
You have to contact Noble Gold to get the purchase process started.
Once you contact one of the company's reps, you can quickly order and purchase your rare coins.
It's not as straightforward as an online shopping cart, but this method ensures you get what you really need.
>> Protect your nest egg with a Noble Gold IRA <<
How to Get Started with Noble Gold?
Opening a gold IRA is a little more complicated than filling out online forms, so it pays to get help from a qualified consultant.
Fortunately, Noble Gold reps are standing by to walk you through the entire process.
You'll also get a complimentary gold guide as soon as you sign up.
This special report gives you a crash course in the precious metals markets and prepares you for the next steps in the process.
The same goes for regular precious metals and collector coins.
Noble Gold Investments Reviews
If the rave reviews from the Better Business Bureau and Consumer Affairs didn't win you over, check out these Noble Gold reviews from actual clients.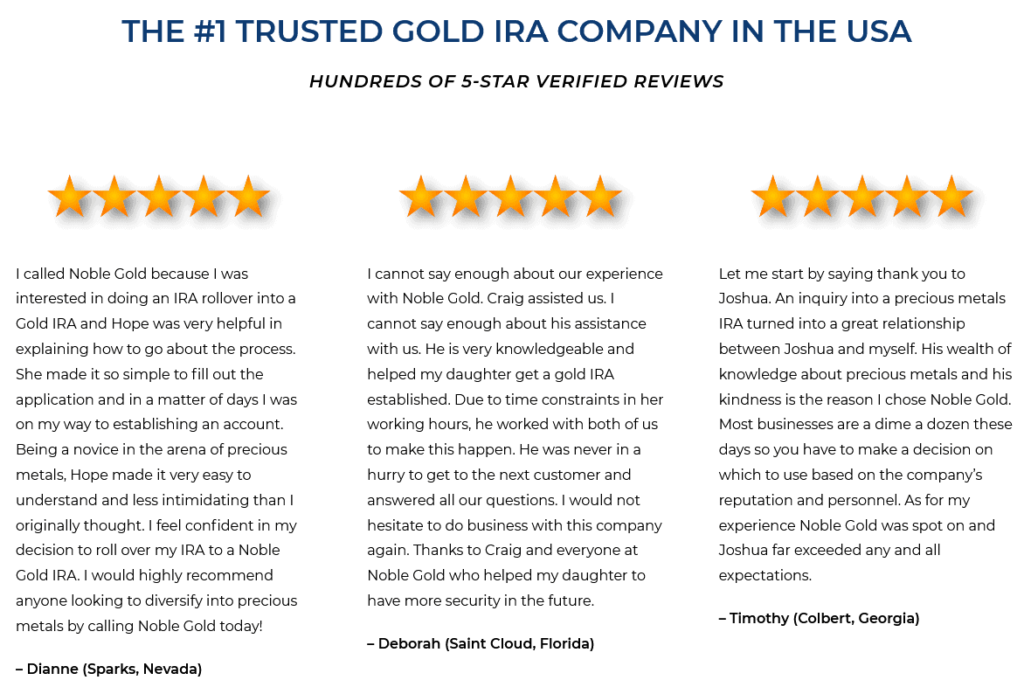 Those are some strong endorsements from customers.
If you're considering a precious metals investment with Noble Gold, these should provide some additional reassurance that you're dealing with a legit company.
>> Talk to Noble Gold now and join satisfied customers like these <<
Noble Gold Review Pros and Cons
That covers most of what you need to do about Noble Gold and its services.
Now, let's review the best and worst points about this company.
Pros
More gold and silver IRA options than other precious metal IRAs
Free gold IRA guide for newcomers entering the precious metals market
Take direct custody of your precious metals or store them in a secure depository
A simple way to buy and store precious metals
Gold IRA rollovers and gold and silver retirement account transfers
Concierge customer service and ordering
Get a free gold guide just for contacting Noble Gold
Precious metals for direct sale
Platinum and palladium options are available (but not for IRAs)
Wide selection of collector coins available
Royal survival packs are perfect for a startup stash
Highly-rated company with solid ratings from customer
Cons
Can't purchase precious metals without going through a sales rep
Noble Gold IRA fees are difficult to understand without doing a little digging
No platinum IRAs are available

>> Enjoy top-rated service and support with Noble Gold's precious metals IRAs <<
Is Noble Gold Right for Me?
Noble Gold is a great company, and it's an excellent precious metals buying option for many different investors.
Keep reading to find out more about who Noble gold's services are best suited for.
Precious Metals Retirement Planners
Noble Gold makes it incredibly easy to roll your retirement assets into a gold or silver IRA.
The firm has a team of dedicated support reps standing by to assist you through the entire process, and they also help you avoid any unnecessary taxes or penalties.
Preppers
Suppose you're worried about a potential currency collapse or other disasters.
In that case, Noble Gold's survival packs are an excellent option for building a quick precious metals stash that you can use in the event of an emergency.
Gold and silver have been standard currencies for years, so it has a proven track record as a table asset.
Platinum Bulls
Noble Gold has an excellent selection of platinum and palladium.
If you have a good feeling about this precious and industrial metal, you'll find everything you need to invest in your hunch.
IRA Beginner
Noble Gold is a perfect option for anyone new to precious metal investing with secure storage and beginning-to-end concierge service.
Simply reach out to the Noble Gold team and tell them about your investment goals.
They'll walk you through the entire process.
Best of all, you can store your gold in Noble Gold's secure depository to make the process even easier.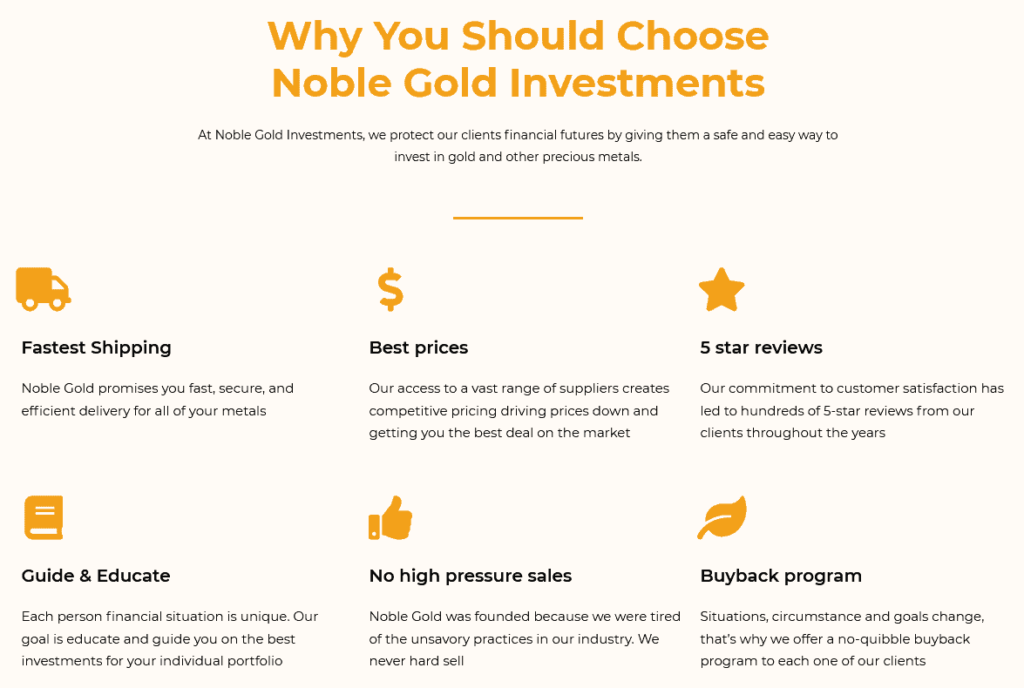 >> Talk to Noble Gold and get started with a top-rated precious metals IRA today <<
Is Noble Gold Worth It?
Our Noble Gold review found lots of valuable services for precious metals investors.
You can effortlessly start investing with the company, and you can choose from a wide selection of precious metals.
The silver and gold IRAs are potent tools because they come with extensive tax benefits.
Noble Gold's team also takes care of your investment from beginning to end — they'll even store it in a secure facility if you choose.
Noble Gold storage is an outstanding value.
It offers stark savings compared to the costs associated with storing and insuring large quantities of precious metals in your home.
This company also has some of the highest service standards in the industry.
Add in the rave reviews from customers and consumer advocacy groups, and you can see that Noble Gold provides a lot of value for everyday folks.
Noble Gold Review: Final Verdict
After a thorough Noble Gold review, we can confidently say that Noble Gold is an excellent option for gold and silver IRAs.
If you're interested in putting this powerful financial instrument to work for your retirement portfolio, you should give them a call and chat with one of their reps.
Also, if you want to buy precious metals directly, Noble Gold is a solid option.
However, experienced investors might get impatient with the purchase procedure.
Many people prefer to add the items to their cart and send their money, but Noble Gold makes you go through a rep.
Then again, some people enjoy a personal touch, so it really comes down to personal preference.
Last but not least, you can deal with Noble Gold with the utmost confidence: this is a legitimate company with a lengthy record of excellent customer reviews and industry accolades.
Noble Gold is one of the best options out there for anyone interested in gold investing.
Reach out to their team today to learn how Noble Gold can help you meet your investing goals.
That's it for our Noble Gold review. Click here to claim your free gold and silver guide now!