The best stock screener saves your time and provides you with the market intel you need to trade effectively. Even beginners can benefit from these powerful trading tools. However, there are a ton of stock screeners online, and choosing the best one for your trading style can be a difficult task.
Fortunately, your friends at Dork are breaking down the top options in the sector in our best stock scanner review.
What Is a Stock Screener?
A stock screener is a powerful trading tool that allows you to search through market data using customizable filters for fundamental metrics and technical criteria.
There are thousands of publicly traded stocks on the market, so it's impossible to search through them all manually.
You can also program stock screeners according to your personal trading strategy, and it will automatically scan the market for stocks that fit your specific criteria.
What to Look for in the Best Stock Screener
If scanners are a new concept, you might not know what to look for when shopping around.
Here's what you should search for when shopping for a stock screener.
Price
Stock screeners come in all shapes, sizes, and levels of sophistication.
The most sophisticated screeners can cost thousands of dollars, but basic free stock screeners are also available, though many investors opt to pay for a premium stock screener for the added features.
You shouldn't necessarily run out and buy the most expensive stock screener you can find, especially if you are just starting and don't know how to use certain features like chart drawing tools, hedge fund portfolio trackers, complex data analysis, etc.
Generally, you want to look for screeners that fit your needs and have the tools to boost your investment strategy.
Customization
Customizability is a big deal for serious traders.
If you're a highly focused technical analysis trader, then you need a fully adjustable screener that allows you to input multiple filters to track pre-market data, fundamental and technical data, general stock data, and so on.
Some stock screeners only accept preset screens.
This isn't a major problem for some stock traders, but it could be a dealbreaker for data-focused fundamental and technical traders looking to use their own technical screening criteria.
Make sure the stock screener you choose has capabilities that match your trading style.
Data Feeds
Every stock screener doesn't use live, real-time data.
Typically, live-data screening tools cost more than delayed data options.
The screener companies have to pay to access real-time quotes, and the added cost gets passed along to the customer in most cases.
Long-term investors and swing traders might be okay with delayed data in return for the savings, but most day traders and other fast-paced investors will want stock screeners with live data.
If you have a fast-paced investing style, you will probably want to choose a screener with real-time data feeds.
The 5 Best Stock Screeners for 2021
We reviewed the best stock screeners to help you narrow your search.
These are all excellent tools, but they each have their own unique features and benefits that make them stand out as exceptional in comparison with other options on today's market!
Keep reading for a deep dive into the best stock screeners.

Best Stock Screener: Stock Rover
Stock Rover is the first stock screener on our list that has a free component. However, it has plenty of advanced features, and its premium upgrades make it a worthy tool for any serious trader.
This stock screener is built on a web-based desktop, so you don't have to download any software to get started, and older computers that struggle to run other software will also appreciate this.
Stock Rover offers everything you would expect from a high-quality screener, and it's a little more user-friendly and has a less intimidating interface than some of the other options on our list.
Stock Rover's free stock screener allows you to get a feel for the platform and access some basic features, but you'll need to upgrade to premium to unlock its full potential.
Premium subscriptions come in three tiers, each with a different set of features and prices.
>> Get started with Stock Rover now. It's free to join! <<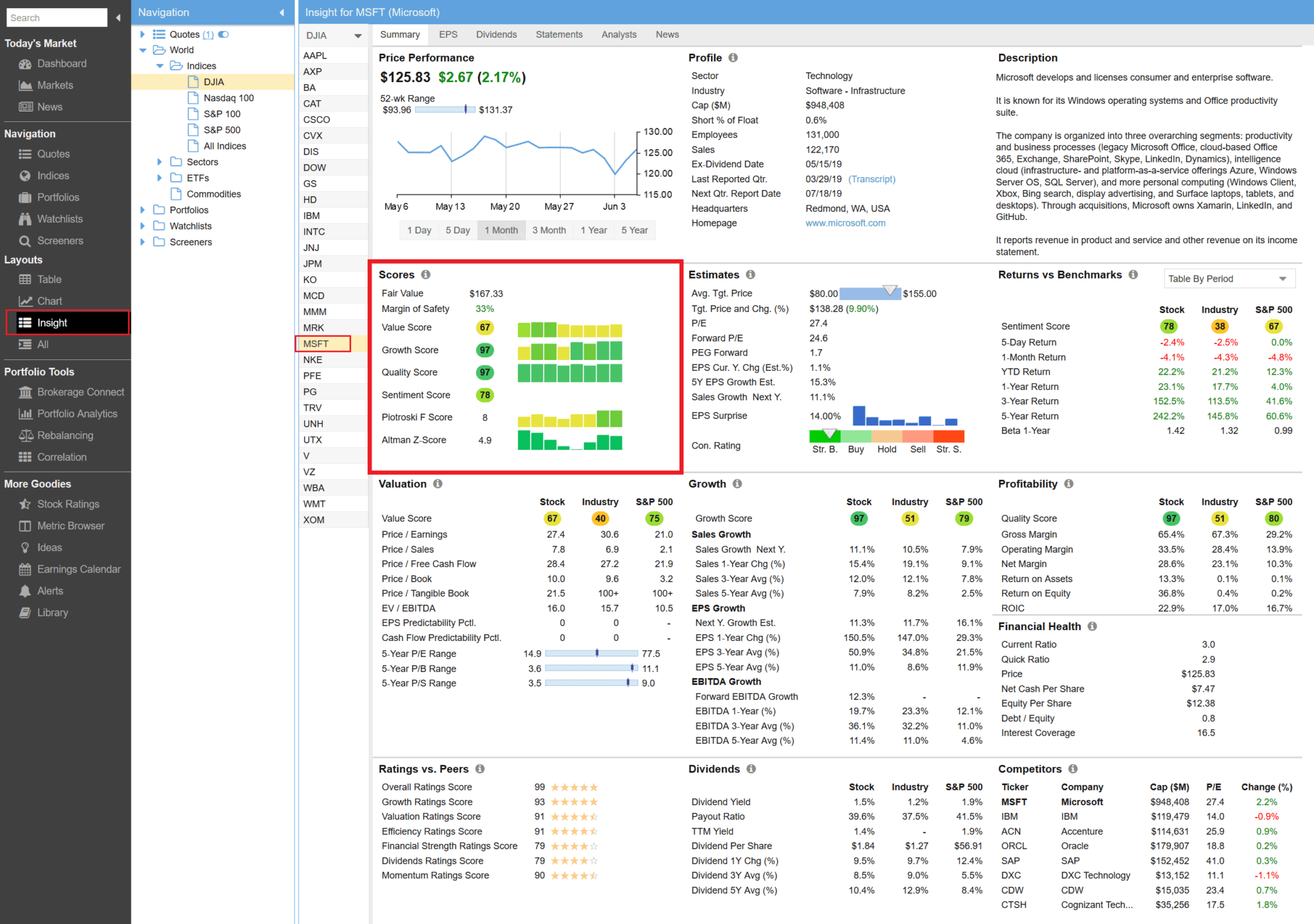 Stock Rover: Best Features
Stock Rover has an impressive lineup of features, but these are the most notable benefits:
Free Stock Screener and Premium Trial
You can sign up for Stock Rover for free and get complimentary access to premium features for a full two weeks when you join.
Best of all, you don't need a credit card to register.
Simply sign up with your email and you'll automatically have access to premium.
Once the trial ends, Stock Rover will automatically downgrade you to the free version, and you'll have to subscribe to restore your access.
It's all free, so sign up here.
Stock Rover Built-In Research Reports
Stock Rover has detailed research reports built directly into the platform.
Reports are available for each of the 7,000+ stocks in Stock Rover's database, and the reports feature independent investment information from qualified pros.
Each individual equity report includes a detailed evaluation of a wide array of investing factors and more than eight pages of in-depth analysis.
>> Signup for a No-Obligation Free Trial Now (No CC Needed!) <<
Stock Rover Pros
Partial access is available for free
Complimentary 14-day premium trial with no billing information required
Stock ratings are great for beginners that want to start screening stocks with confidence
Built-in research reports
Advanced portfolio analytics with available brokerage integration
Extensive charting capabilities and dynamic tables
Portfolio analysis
Insight panel with in-depth financials
User-friendly interface makes it easy to chart patterns
Up to 10+ years of historical data
Sophisticated metrics available
Database includes mutual funds, ETFs, and stocks
"Investor Warning" feature alerts users to potentially risky stocks
Correlation analysis
Future dividend income projections
Portfolio Rebalancing shows you how to properly diversify your holdings
Wide variety of affordable pricing options
Stock Rover Cons
No social component
No trader education courses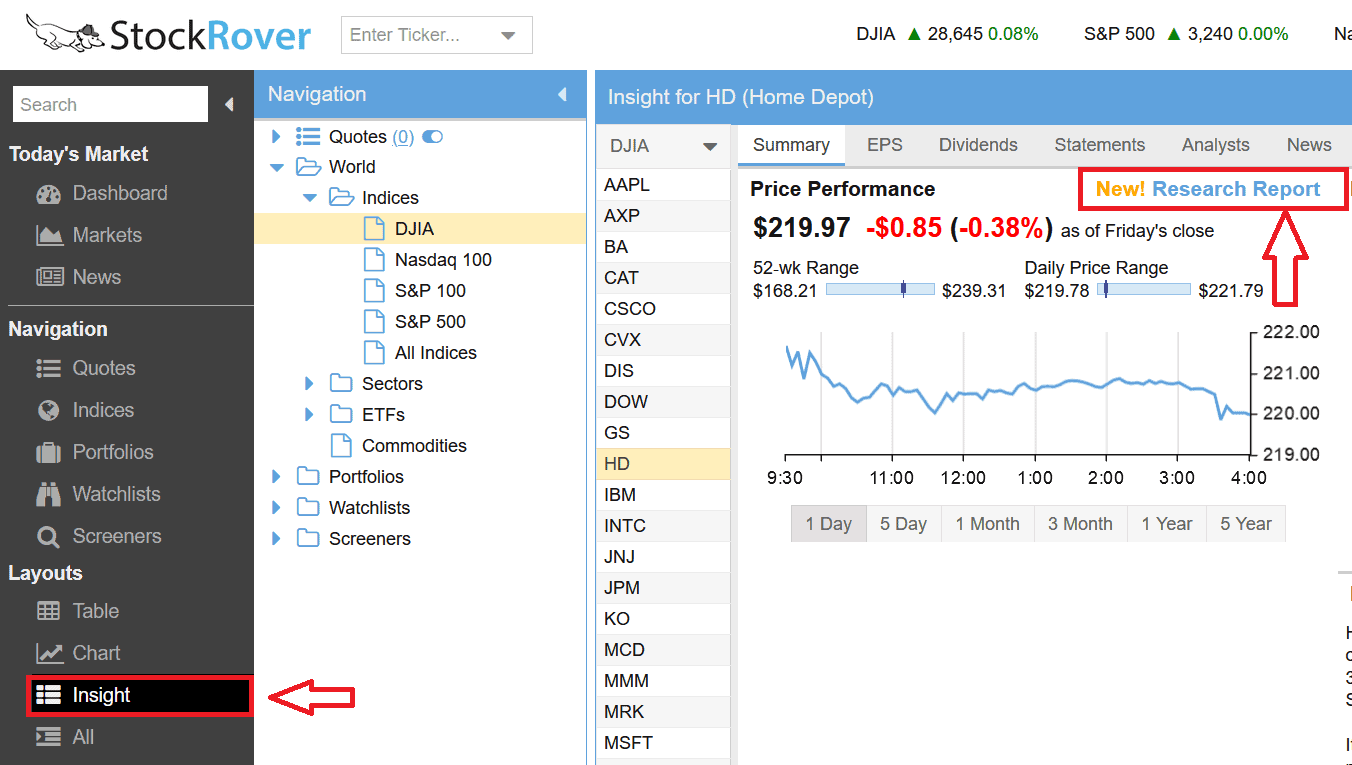 Who Is Stock Rover Best For?
Stock Rover is a contender for the best stock screener for these applications:
Casual Trading
Stock Rover is user-friendly and affordable.
The platform offers many of the same features as more advanced stock screeners, but it has a less intimidating user interface than many of its competitors.
Better yet, it has several affordable pricing options, so you only have to pay for what you need.
Fundamental Analysis
Many of Stock Rover's most notable features focus on good ol' fashioned fundamentals.
Stock Rover has built-in research reports and a massive arsenal of metrics to help you zero in on the best trades without getting weighed down in a mire of endless technical analysis minutia.
Read our full Stock Rover review for more info.
>> Try Stock Rover Free for 14 Days <<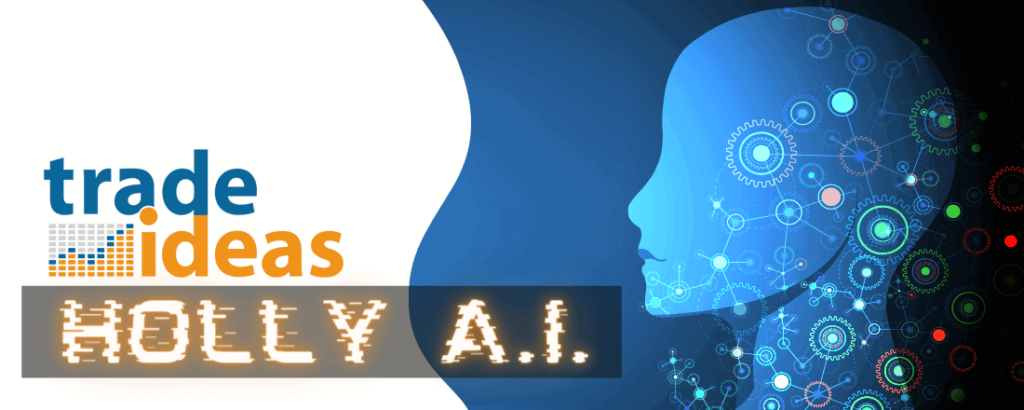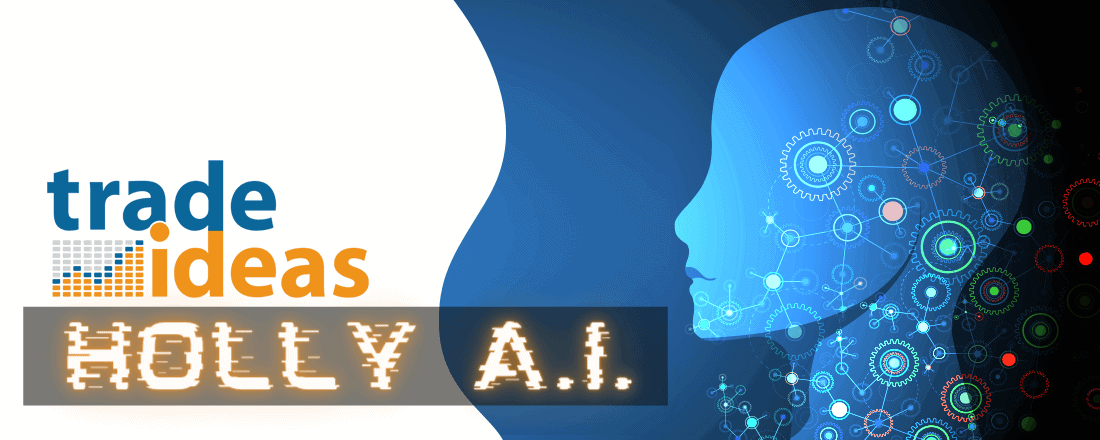 Best Stock Screener: Trade Ideas
Trade Ideas is probably the most sophisticated, powerhouse stock screening tool on our list.
It's not just a good stock screener, it's quite possibly the best overall stock screener.
The screener boasts an impressive array of premium features, including AI-powered stock screens, pre-market scanning capabilities, brokerage account integrations, real-time data, and more.
It's the priciest option on our list, but its capabilities more than justify the costs.
You can use Trade Ideas to set custom screens using a wide array of fundamental and technical criteria.
Trade Ideas' built-in stock charts also make it easy to conduct detailed technical analysis through the platform, so there's no need to switch through multiple apps.
>> Get Started with Trade Ideas Now <<
Best Trade Ideas Features
Here are some of the top reasons to sign up for Trade Ideas:
AI Holly with IBKR Integration
Trade Ideas' AI trading capabilities put this stock screener in a category all its own. This powerful system can automatically spot trade opportunities and execute them.
Unfortunately, fully automatic AI Holly trading only integrates with Interactive Brokers at the moment.
Automatic trading is only available with Trade Ideas premium so you can't use it with a basic account either.
However, automatic trading can be a gamechanger if you're willing to set it up.
OddsMaker Backtesting and Simulated Trading
Serious fundamental and technical traders put a lot of work into finding the perfect trading formula.
OddsMaker backtesting uses a vast cache of historical market data and shows you what kind of results your chosen strategy produced in the past.
There's no guarantee that history will repeat itself, and what worked in the past might not work in today's market.
But this is a good place to start.
>> Join Trade Ideas to Take Advantage of These Powerful Trading Tools Now <<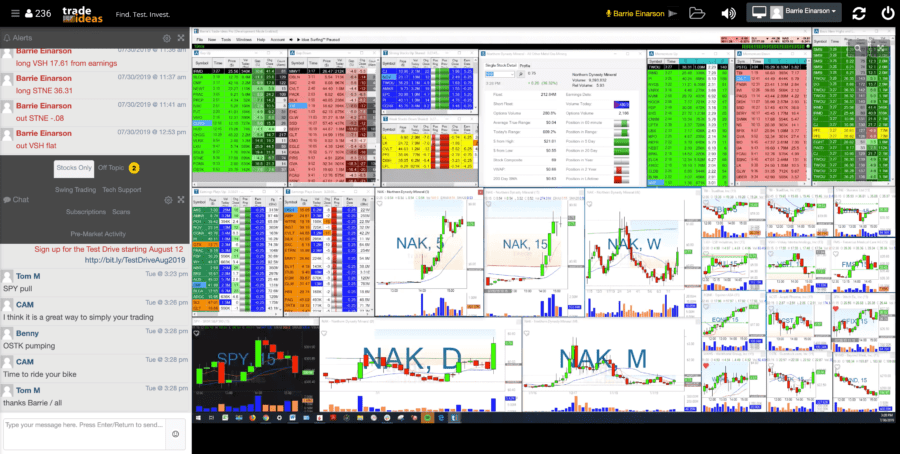 Trade Ideas Pros
AI-powered automatic stock picking with interactive Brokers
Brokerage account integration with several popular brokers
Make trades directly through the platform with one click
Backtest your trading strategies with OddsMaker
Built-in chat feature
Data centers are located near major stock exchanges for faster updates
Screen of a company's financial indicators
Fast and accurate integrated newsfeed
Multi-variant, color-assisted sorting (patent pending)
Integrated paper trading
Feature-rich chart windows
Dozens of pre-set "Channel Bar" screens
Sophisticated fundamental and technical analysis tools
Alerts and notifications
Rich selection of educational resources and classes
Trade Ideas Cons
Could be cost-prohibitive for smaller budgets
Steeper learning curve
Who Is Trade Idea Best For?
Trade Ideas is a great fit for these applications:

Active Swing Trading and Day Trading
Trade Ideas AI-powered scans and trade suggestions make it easy to identify fast-moving opportunities in real-time.
It automatically scans trading volume, technical indicators, and more to find the best momentum plays quickly and efficiently; perfect for fast-paced day trading.
AI-powered automatic trading
If you want to put your portfolio on autopilot, Trade Ideas is one of the only truly autonomous tools on the market.
Trade Ideas' sophisticated AI will buy and sell stocks using the latest technical data to identify opportunities with a high probability of success.
So far, "AI Holly" has racked up an impressive track record of winning trades, and it's hard to pass up on its automated trading feature.
Read our full Trade Ideas review to see if it's the best stock screener for you.
>> Sign up for Trade Ideas now and start trading with Holly AI <<
Best Stock Screener: BlackBox Stocks
BlackBox Stocks is a sophisticated stock screener and trading platform with a rich selection of features.
It's suitable for advanced users, but beginners also report success with the platform.
This stock screener has all the features you would expect from a top-tier scanner, including automatic market movers, real-time price quotes, volume ratio scanners, and much more.
It has a robust educational program for new traders and community features, including a members chat room.
The platform also has a sophisticated options screener built-in so it's a great choice for options traders.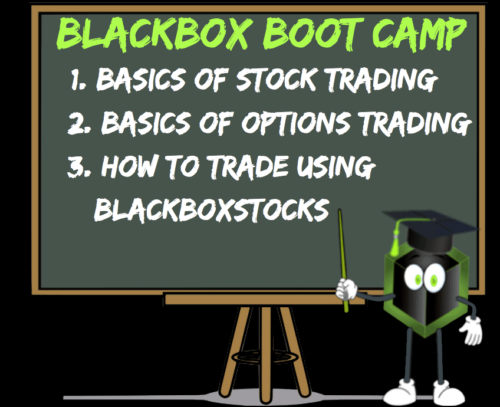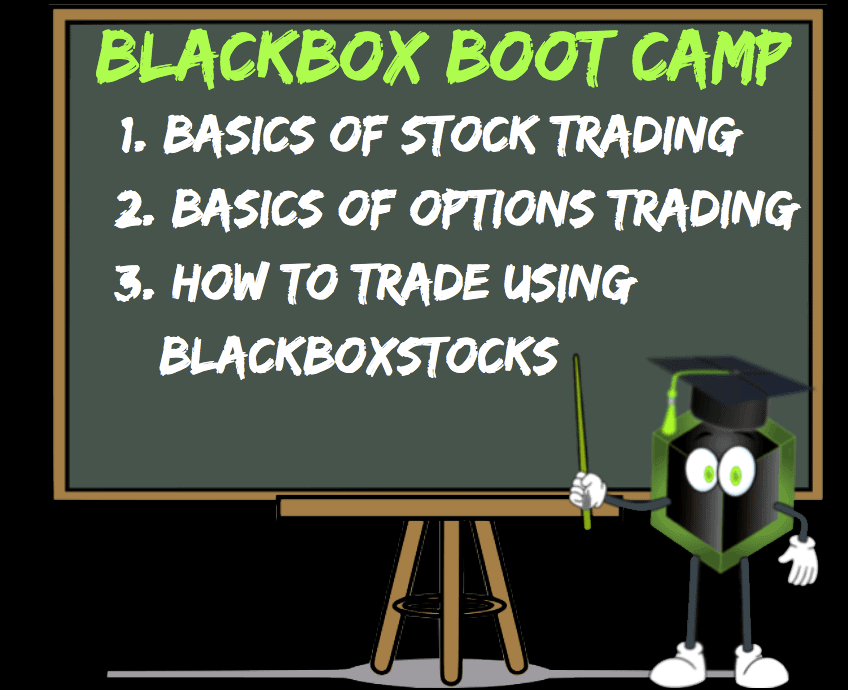 Best BlackBox Features
BlackBox Stocks has a few notable features worth mentioning:
Specialized Options Software
BlackBox Stocks' options screener adds a valuable element to the usual stock screener functions.
This unique tool makes it easy to find suitable options trades just as easily as regular stocks.
It's a no-brainer for options traders, and it has the potential to make your trading routine much more efficient.
Community Features
As is the case with many things in life, trading is a lot easier with a little help from a few friends.
BlackBox Stocks community features make it easy to network and share insights with other traders.
The platform has an integrated social media component that allows you to follow trending stocks and members of the BlackBox Stocks community.
>> Build Your All-Star Trading Team with Blackbox Stocks <<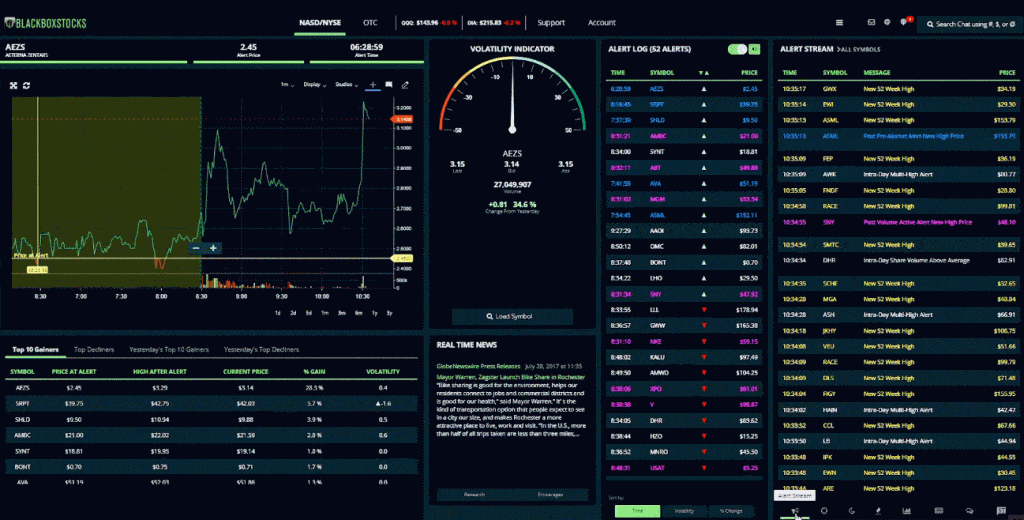 BlackBox Pros
Powerful, built-in options screener
Excellent stock screener with advanced functionality
Automatically tracks and alerts you to developing trade opportunities
Pre-market scanner finds trade opportunities hours before the opening bell
Integrated social media and community functions
Includes BlackBox Boot Camp trader education course
Real-time quotes and price action
Proprietary volatility indicator
Real-time explosive gains watch lists
Integrated stock charts and screening options
Alerts and notifications
Built-in StockTwits feed
Excellent tools for day traders and options traders
BlackBox Cons
No brokerage integration or in-platform trading
Maybe cost-prohibitive for small-budget traders
>> Join BlackBox Stocks Now and Start Screening! <<

Who Is BlackBox Best For?
BlackBox Stocks might be a good option for you if you fit into one of these categories:
Day Trading
Day trading stocks is a lot more effective when investors work in groups.
BlackBox Stocks makes it easy to follow other day traders with its integrated social follow features.
Options
BlackBox Stocks' unique options scanner makes this stock screener a natural fit for options traders.
It has intuitive features that will save you hours of research time, and it can help you find the best contracts for your trading strategy.
Also, you can program it to scan for exactly what you want.
Read our full BlackBox Stocks review for more info.
>> Click Here to Get Started with BlackBoxStocks <<

Best Stock Screener: Scanz
Scanz is a unique addition to our best stock screeners list.
Most screeners focus on the financial side of the stock market, but Scanz lets you search through the latest news reports for potential catalysts.
By following the news, you can get a very good idea of which way the market will go.
Scanz has various subscription options, but the most affordable plan only includes the news screener.
Aside from its unique news scanner, Scanz also has several notable benefits that put it ahead of many of its more prominent competitors, including Level 2 market data and support for OTC stocks.
>> Start Screening with Scanz Now <<
Scanz Best Features
Here are some of the best features that Scanz offers: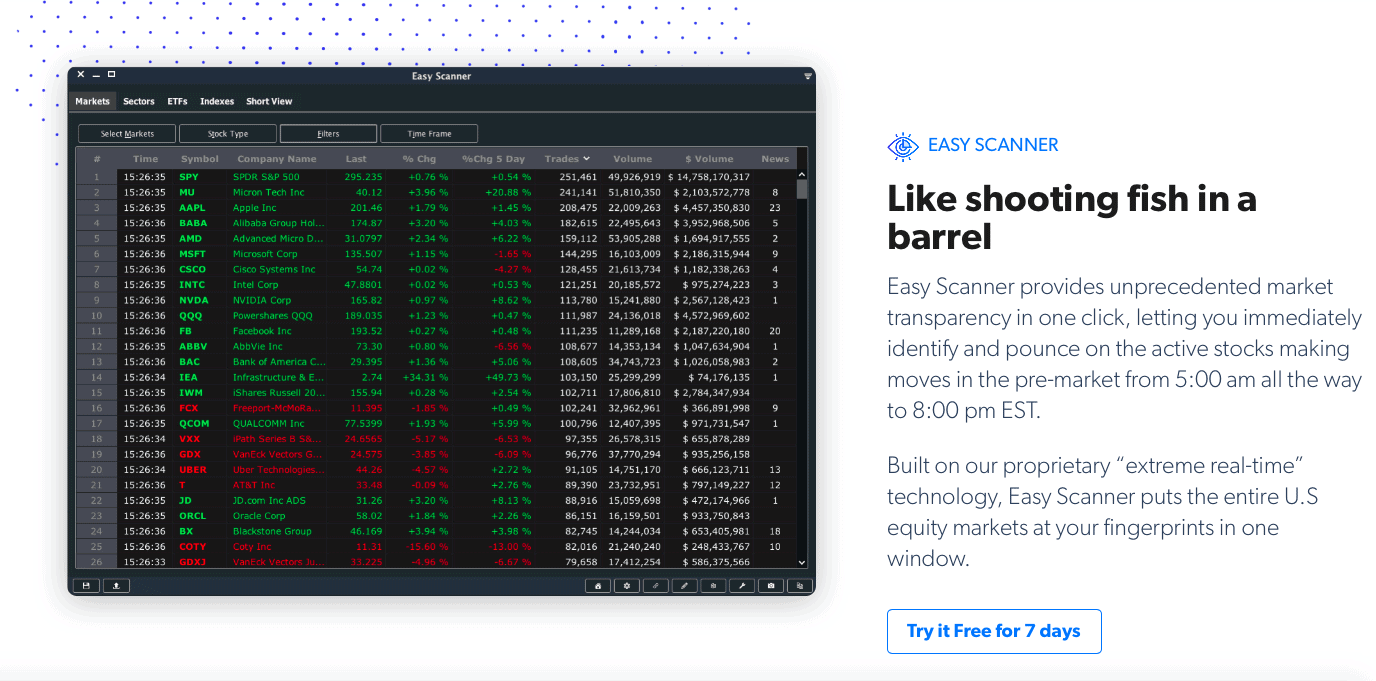 Scanz Best Features
Here are some of the best features that Scanz offers:
Level 2 Market Data
Real-time quotes are good, but Level 2 market data is even better.
Scanz users can access Level 2 market data from the NASDAQ, NYSE, and AMEX exchanges when they sign up for the scanner package.
This data gives you much more insight into a stock's price action than a regular quote, so you can base your trading decisions on the most accurate and timely data possible.
News Scanner
Technical investing has its benefits, but you can greatly improve your trading outcomes by factoring the latest news into your trades.
This is especially useful for day trading, where a single headline can spark sharp moves in share prices.
Using the news scanner in conjunction with the Scanz stock screener gives you a significant advantage over the competition.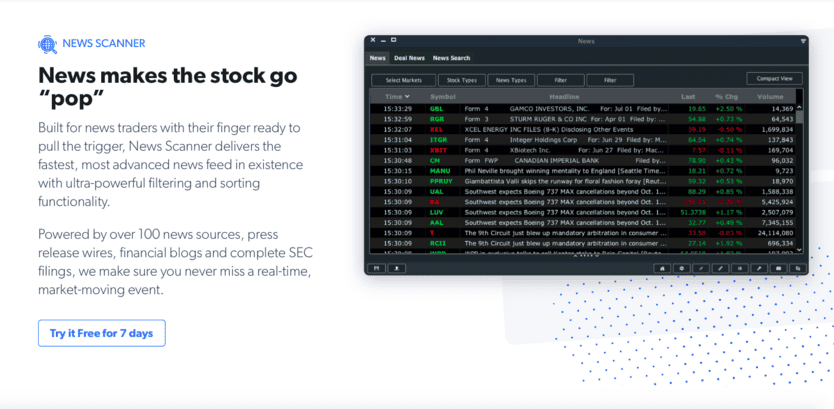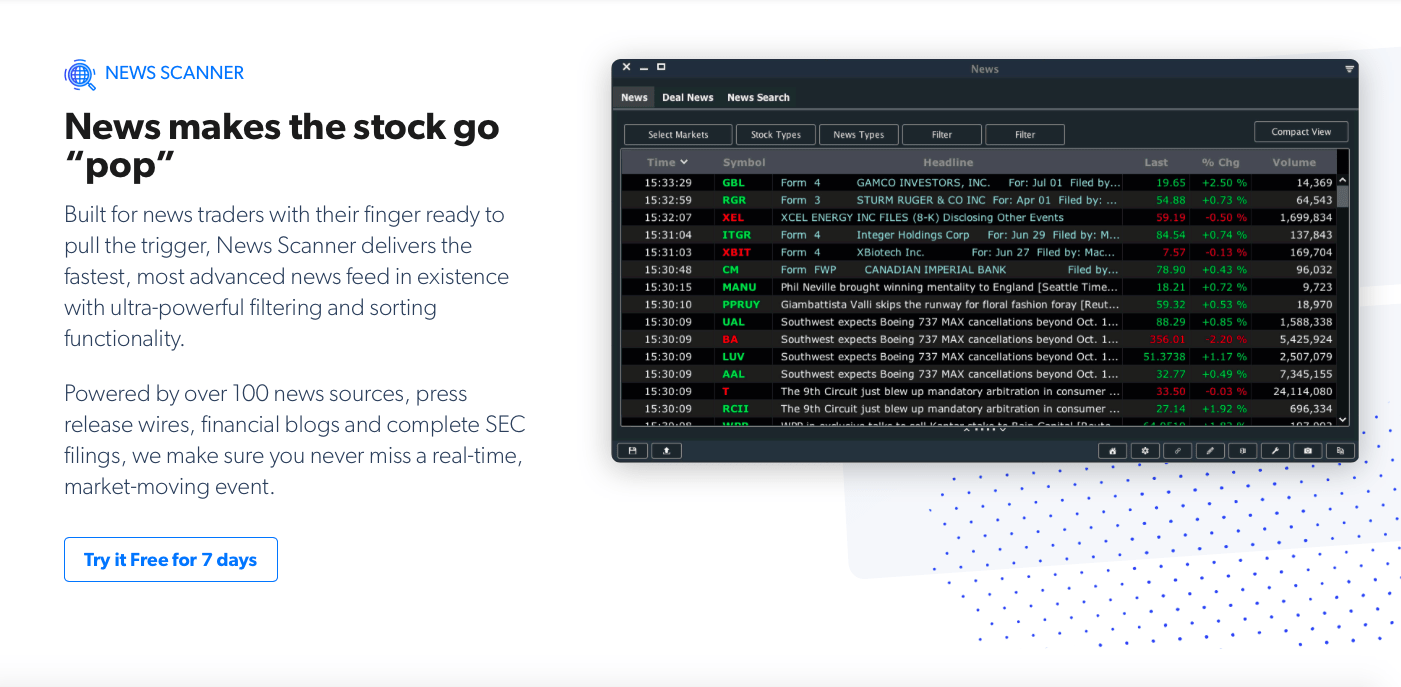 Pros
Fully customizable news scanner
Powerful stock screener
Flexible pricing options
Save when you sign up for Screener + News
Streaming charts
Integrates with popular brokers
Unlimited watchlists
OTC stock screener add-on
Scans the Nasdaq, NYSE, and AMEX for data, news, and SEC filings
Level 2 pricing and 100% real-time data for all supported exchanges
Vast video tutorials library and trading knowledge base
Advanced montage data for every ticker
Customizable breakouts scanner
7-Day free trial available; no credit card needed
Cons
No chat, social component
No annual billing option
>> Take Scanz for a No-Obligation, 7-Day Test Drive Now <<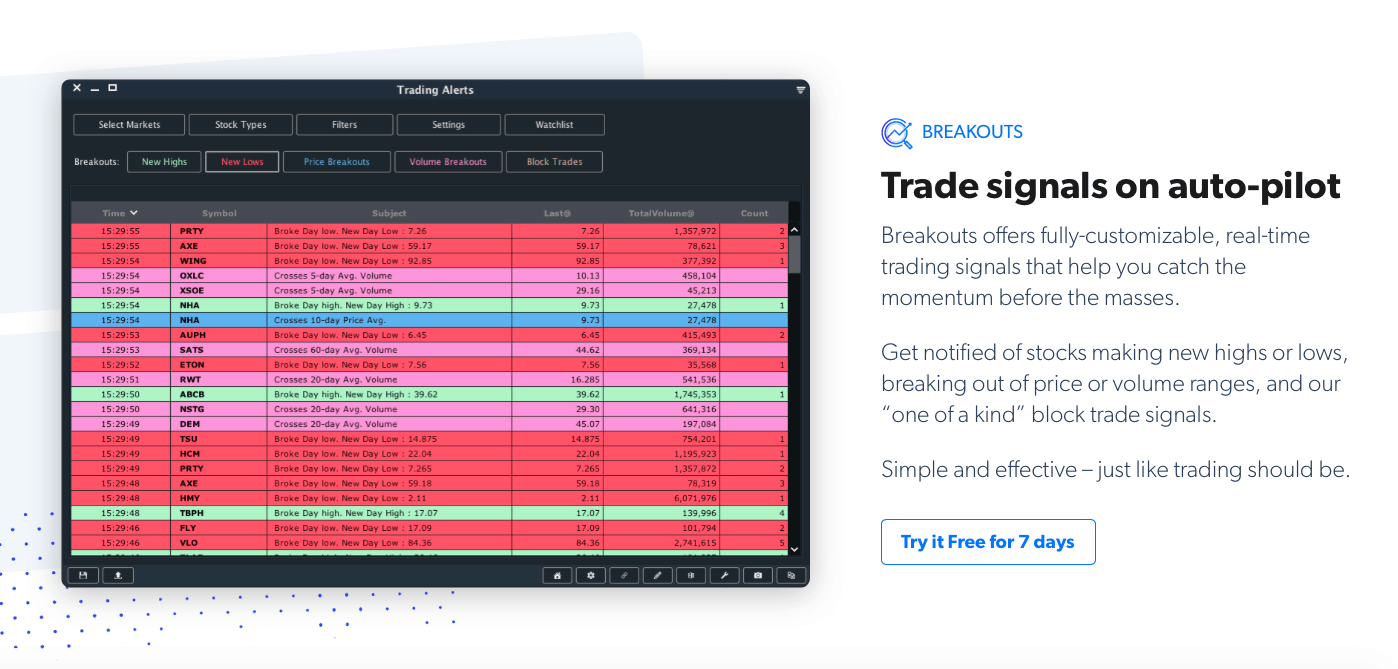 Who Is Scanz Best For?
We think Scanz is on the shortlist for the best stock screener for the following uses:
Penny Stocks
Investing in penny stocks is challenging, but the potential payoffs can be enormous.
Scanz is one of the best stock screeners for penny stocks because it can scan OTC markets with a $15 per month add-on.
Many penny stocks trade on OTC markets, so you'll likely get a lot of value out of the upgrade.
Leveraged Day Trading
Real-time data, quick timing, and price execution are essential for successful day trading, especially if you leverage your trades with margin.
Scanz includes access to the Level 2 order book for the NYSE, NASDAQ, and AMEX, so you know you're getting the most accurate pricing information.
Read our full Scanz review for more info on this powerful screening tool.
>> Try Scanz for Free for 7 Days (No CC Required!) <<

Best Stock Screener: Finviz
Finviz is one of the best free stock screeners on the internet.
However, the free version has limited features so you should upgrade to Finviz Elite (premium plan) for the most comprehensive trading experience.
If you can't afford to upgrade to Finviz Elite, you can find great stocks with the free stock screener.
The Finviz stock screener has a ton of common fundamental and technical filters, built-in stock charts, a live news feed, investment analysis, financial analysis, and more.
Unfortunately, Finviz's free scanner has one notable drawback: it uses delayed market data with no live quotes.
As a result of its day-old quotes, Finviz free is practically useless for day traders.
We think it's always better to have live pricing data if you can get it, so we generally recommend our readers to go for Finviz Elite.
Finviz Elite is also relatively inexpensive compared to some of the other options on our best stock screener list, so it's great for beginners and anyone investing on a budget.
>> Try Finviz Elite Risk-Free for 30 Days <<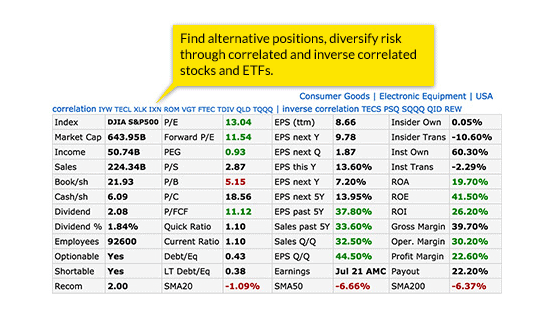 Finviz Elite Best Features
Here are some of Finviz Elite's best stock screening features.
Simple Interface
Finviz Elite has a very similar interface to the free version, so it's a familiar user experience for most investors.
The best stock screeners tend to have very sophisticated dashboards that can be difficult to navigate for less advanced traders, but Finviz has a very straightforward, easy-to-use stock screener with equally powerful capabilities.
Money-Back Guarantee
If you're asking yourself, "Is Finviz Elite worth it?" you should know that Finviz offers a 30-day satisfaction guarantee on new subscriptions.
Once you upgrade, you have a full month to try out the upgraded features; plenty of time to determine whether it fits your needs.
If you're not happy, simply contact support and request a refund.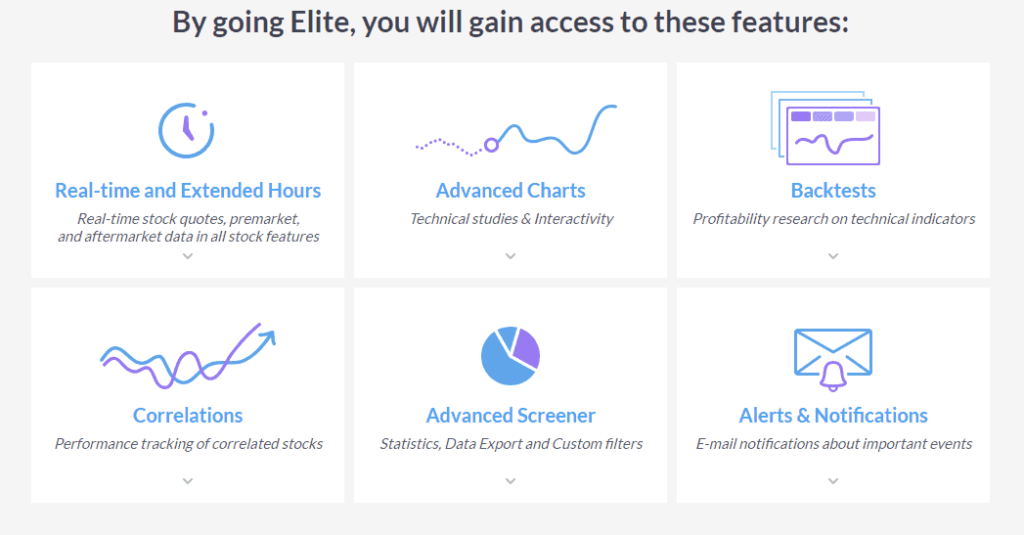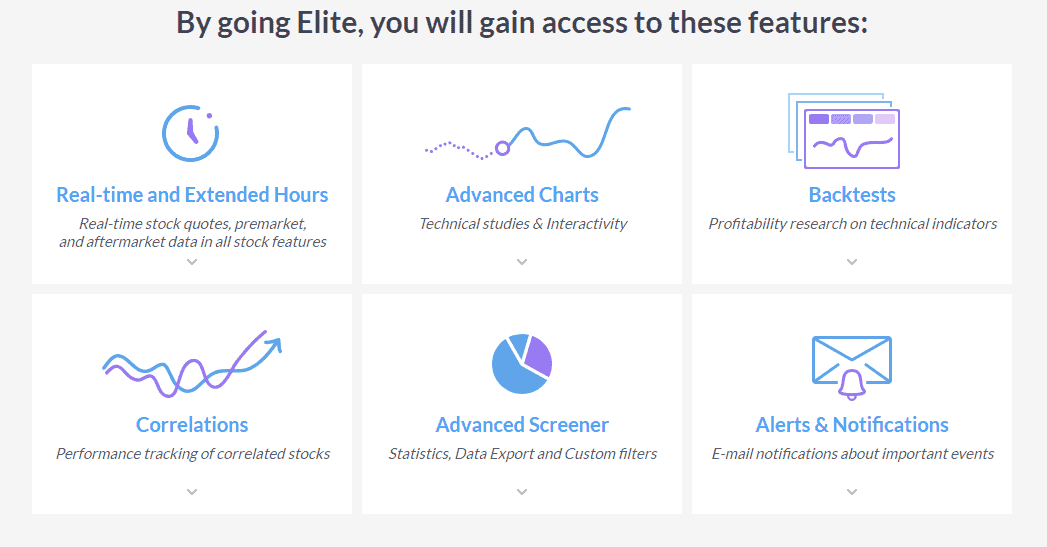 Finviz Pros
Very user-friendly
Built-in news feed
Affordably priced
30-day money-back guarantee
Available free stock screener with limited features
Detailed financial data and analysis of every stock
Quotes include insider trading data
Track the performance of correlating stocks
Backtest technical indicators and trade strategies
Save up to 100 custom screens
Ad-free experience
Screen for stocks, ETFs, futures, forex, crypto, and more.
Real-time stock quotes with premarket and aftermarket scanning
Email alerts for price moves, insider trades, rating changes, and news
Track financial statements going back 8 years
Export screeners for use in external applications
Finviz Cons
No data on OTC or AMEX stocks
No social component
>> Take Your Trades to the Next Level with Finviz Elite <<

Who Is Finviz Best For?
Finviz Elite is a great stock screener for these investing styles:
Beginners
Finviz has one of the gentlest learning curves of any of the options on our best stock screener list.
It's easy to use, and you can practice with the free version for as long as you want without paying a dime.
Once you master the screener, you can upgrade to Finviz Elite for even more functionality.
It's the perfect way to acclimate yourself to the stock market quickly and efficiently.
Fundamental Investing
Finviz seems to prioritize fundamental trading and analysis, so it's a great option if you use these types of metrics for your investment portfolio.
The Finviz quote layout lists all the most important fundamental factors for every ticker so you can quickly find the best stock picks for your investing style.
Read our full Finviz review for more info.
>> Start Screening with Finviz Elite Now <<
Featured Stock Scanners by Category
Stock screeners make it a lot easier to find high-quality stocks for your investment portfolio.
However, everyone has different personal finance needs, so we wanted to organize our best stock screeners list into a few popular categories. Here they are:
Best Free Stock Screener
Finviz is the best free stock screener on our list.
The free version has more functionality than any comparable free scanners on the market.
Best Day Trading Stock Screener
It has a robust stock screener, an arsenal of built-in financial tools, and a cutting-edge news scanner that can scan financial data from the NYSE, NASDAQ, and AMEX.
It even has an add-on for OTC stocks.
Plus, you get standard access to the Level 2 order book for every exchange too when you sign up, in addition to real-time quotes.
Best AI Stock Screener
If you want fully automated AI trading, consider Trade Ideas.
You can connect directly to Trade Ideas' Holly AI with an Interactive Brokers Brokerage Plus account, and Trade Ideas will trade stocks in your portfolio based on Holly's analysis.
Best Stock Screener Review: Closing Thoughts
Stock screeners are an essential part of any trader's tool chest.
They can lead you to high-potential stock picks that you may have never come across otherwise.
If you want more options, Zacks Stock Screener, Yahoo Finance, and Benzinga Pros' Stock Screener are other solid all-arounders.
Stock screeners can find stocks based on your investment style so you take an independent approach to the market.
It's the surest way to get the most out of the stock market, and our best stock screener list is chock full of excellent options.
Remember to click the links to read out our full-length reviews for each screener.
Good luck and happy screening!