These days, there's just too much stock data out there to keep track of, so traders won't get far without a reliable stock scanner. But with so many scanners on the market, it's hard to know which one to choose. Our Trade Ideas review gives you the rundown on this top-tier stock scanner so you can decide whether it has the tools to boost your trading strategy.
Trade Ideas is a highly sophisticated AI-driven stock scanner that automatically finds new Trade Ideas and setup opportunities — it's also one of the best scanners out there.
The Trade Ideas platform features powerful analysis tools active day traders have used for years.
Want to know more about how the Trade Ideas software can take your trading to the next level?
Keep reading our Trade Ideas review and find out.
Special Offer: Use Trade Ideas Promo Code DORK15 for 15% off of any Trade Ideas Subscription
Stock Scanners: What Are They?
Stock scanning tools are extremely helpful for anyone trading stocks.
So if you're not using one, you should be.
They save you a lot of time researching stocks and help you find better opportunities.
You can use scanners to search through thousands of different stocks to find stock options that fit your criteria.
How Stock Scanners Bolster Your Trading Strategies
Stock scanners are totally customizable, so you can adjust them to fit your investing style and enhance your trading strategies from top to bottom.
For example, let's say you're searching for value penny stocks with solid revenue growth.
You could set a screener for:
Price: Under $5
Price-to-Book Ratio: Under 3.0
YoY Revenue Growth: Over 10%
The possibilities are limitless.
However, some scanning tools are more powerful than others and when you are paying to use premium trading platforms (like most pro day traders do) you need to make sure your scanner is pulling its own weight.
Some high-quality screeners offer free versions of their tools, but they're almost always hollowed out into an empty shell of their paid counterparts.
Trade Ideas Review: Overview
Trade Ideas takes stock screening to the next level with tons of sophisticated trading and research tools.
Most stock screeners use trading databases that are a day behind the market, but Trade Ideas uses real-time data feeds to keep users informed with up-to-the-second market intelligence.
Trade Ideas also has tons of advanced features you won't find on competing platforms, including AI-powered automated trading, brokerage account integrations, real-time alerts, and much more.
So you really can't compare Trade Ideas to a typical stock scanning tool because it's on a completely different level.
Keep reading to see why Trade Ideas is better than any stock scanner you've ever used before.
>> Get Started With Trade Ideas Now <<
How Does Trade Ideas Work?
Before we dive into our Trade Ideas review, let's start with the basics.
Trade Ideas is a sophisticated scanning platform that offers a host of unique features that most competitors can't match.
This platform doesn't just screen for stocks, it uses artificial intelligence to identify opportunities with the highest statistical likelihood of success in real-time.
Sifting through conventional scanners is tedious and time-consuming, but Trade Ideas can cut down on research time and help you make better trading decisions.
You can also use Trade Ideas to conduct extensive research on companies and emerging trends.
It combines the research utility of a screener with advanced AI-based analytics to help you find many new stock options in real-time.
More on Trade Ideas
The Trade Ideas scanner settings are totally customizable.
For example, the channel bar allows you to organize content by themes like premarket, after-hours, cryptocurrency, and more.
Having quick access to this content through the channel bar helps you make more informed trades.
Plus, the channel bar graphics are self-explanatory too.
The software monitors the market in real-time so you can get actionable info you'd never find with a regular scanner.
It also includes pre-built scans that are programmed to discover the best setups.
Since it works in real-time, it's a great day trading and pre-market scanner.
Best of all, you can adjust the scanner settings and channel bar preferences to fit your trading strategies.
The scanner platform is impressive, but we're going to break this review down feature by feature.
Dan Mirkin Review
Dan Mirkin is the CEO of Trade Ideas.
Mirkin was one of the Trade Ideas' original founders, and he currently holds the top executive role at the firm.
As the number one, Mirkin is heavily involved in the company's big-picture plans.
He regularly appears on the Trade Ideas podcast, and you can learn more about him on the company website.
More on Mirkin
Mirkin is a Russian immigrant whose family moved to Houston from the Soviet Union in 1978.
He got involved with trading at a young age, and that enthusiasm later led him to join the Trade Ideas project.
Mirkin and the other Trade Ideas founders designed this tool for self-directed investors who manage their own portfolios.
They believed this type of platform could help level the playing field between Wall Street and the little guy.
So far, it looks like they were right.
>> Ready To Start Finding The Best Stocks To Trade? Join Trade Ideas Now <<
What's Included?
Trade Ideas artificial intelligence: Holly
Brokerage Plus
Trade backtesting with OddsMaker
Advanced charting
Trade Strategy Window
Real-time trade alerts and notifications
Full stock quotes with news
Trader education resources
Unlimited access to the Trading Room chatroom
Broker integration
Artificial Intelligence Engine Review
Most screeners just put the data and charts in front of you, but Trade Ideas helps you make sense of it all through alerts and features.
There are three different Hollys, and the first Holly is called the Holly Grail.
As the name suggests, it's considered to be the Holy Grail of financial technology.
The Holly Grail successfully ran for two years until the Holly 2.0 and the Holly Neo came out.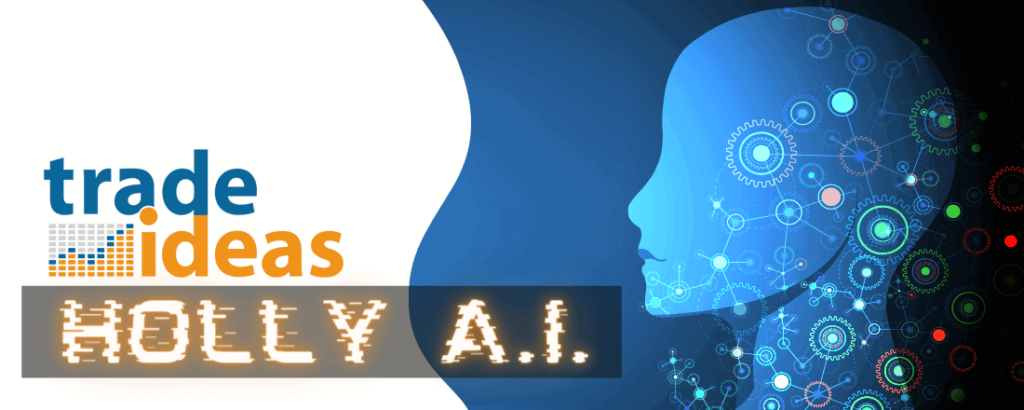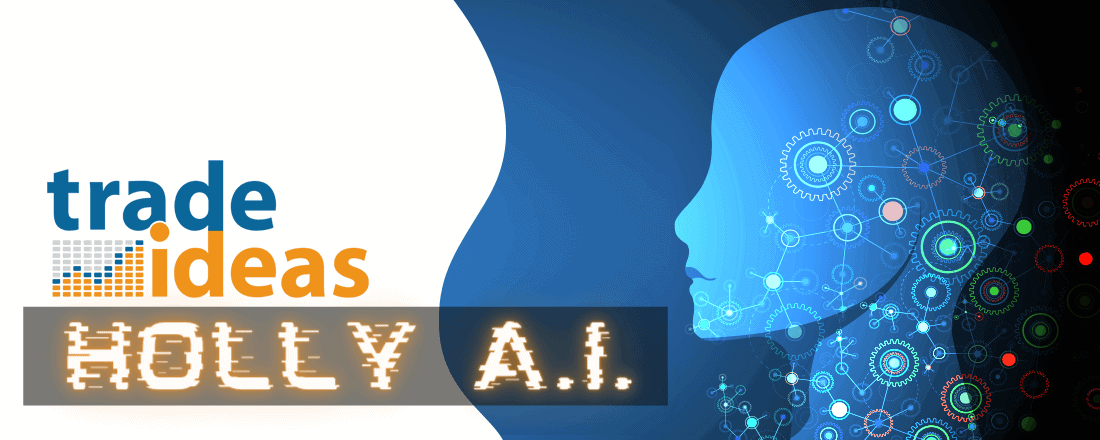 Trade Ideas Holly: Artificial Intelligence Review
Pro also includes access to Trade Ideas Holly, a revolutionary artificial intelligence engine that automatically scans millions of data points to find trade opportunities.
This artificial intelligence trade scanner uses advanced data analysis to pinpoint trading opportunities, so Holly stock picks are definitely worth paying attention to.
Laid-back traders will love watching this artificial intelligence machine trade in real-time.
Holly actively tracks the market to find trades with the highest statistical chance of profit success.
The AI uses 35 long and short strategies to identify trades that historically average success ratios over 60% with at least 2:1 profit ratios.
Holly also analyzes the market for volume-driven trading opportunities.
Holly's results are updated in real-time throughout the trading day, so you can track them throughout the session.
The system keeps working overnight, scanning for millions of potential trades while the market is closed.
By the time the market opens, Trade Ideas scans the best opportunities and serves them up in an easy-to-read format.
Holly's list goes into the AI Strategies window so users can follow them throughout the day through the top-list windows.
Ideal for Day Trading and Swing Trading
The AI works for just about any type of trader, but it's a particularly powerful scanning platform for swing trading and day trading.
>> Check out some of Holly's Top Stock Picks <<
Trade Ideas Holly Performance
Holly has performed excellently as of late.
In 2016, Holly's picks were up 52% by the end of the year, that's over five times more than the S&P 500 index returned that year.
This is good news for active traders who want to be confident in the data they act on within short time frames.
Fully Automated AI Trading with Brokerage Plus
If you want to let Holly manage your portfolio, you'll have to purchase a software license for the integration program.
Click Here to learn more about the auto trading platform with Holly.
Brokerage Plus Review
Trade Ideas Premium subscribers can also access TI Brokerage Plus.
This revolutionary system allows users to fully automate their stock trades.
You can connect Holly to your broker, and it will automatically trade and manage your portfolio.
Once you connect Trade Ideas Broker Plus, your portfolio is pretty much on autopilot.
Best of all, you can run auto trading with absolutely no coding knowledge.
Holly will use millions of statistical data points to identify trades with the highest potential for success.
Currently, Brokerage Plus only supports Interactive Brokers (IBKR) accounts.
Hopefully, they'll add more soon but, for now, you'll have to open and fund an IBKR account to automate your portfolio with Brokerage Plus.
Brokerage Plus Features
As of June 2019, basic Trade Ideas subscribers can also access some Brokerage Plus features.
TI-Standard subscribers can connect their brokerage accounts and manage their portfolios through Trade Ideas.
Connected users can place trades, view a strategy, and manage positions directly from Trade Ideas.
However, you'll need a premium subscription to access the auto trading platform and watch Holly's trades.
OddsMaker Review: Trade Backtesting
Trade Idea Pro also includes unlimited backtesting with the Trade Ideas OddsMaker.
Traders can use Oddsmaker to backtest their Trade Ideas and gauge their effectiveness.
Simply input the entry and exit criteria of any trading strategy like long/short and stop loss.
You can also adjust elements like share size and starting equity.
Oddsmaker shows users the success probabilities of their trading strategies, and they can even tweak the settings and immediately see how the changes affect the results.
Backtest Trading Strategies
Use Oddsmaker to put your trading strategies to the test before you put your hard-earned capital on the line.
Backtesting is a powerful feature that only comes with the most advanced trading software.
Even a novice trader can gain powerful insights from backtesting their trades.
Advanced Charting
You can use Trade Ideas to access charts right inside the app.
Depending on your subscription, you can view up to 20 simultaneous charts at once, right inside the platform.
Keep in mind, this isn't a charting platform, so you will probably still need to rely on your primary charting app for more advanced chart-based research.
However, simultaneous charts are a big plus because you can view and compare multiple time frames.
>> Already Sold on Trade Ideas? Click Here to Sign Up Now! <<
Full Stock Quotes with News
You can access tons of information on each stock directly through the Trade Ideas platform.
Simply click the ticker to open the Full Quote Window, and you'll see detailed statistics for each company.
One glance at the Full Quote Window will tell you everything you need to know about the stock and the company behind it.
Plus, you won't have to search through multiple websites to find what you need.
Trade Idea's full quote menus don't include every detail on the company, but they relay the necessary basics.
It's enough to determine whether the stock meets your criteria to advance to further consideration.
Recent News Rundown
Unfortunately, Trade Ideas doesn't have a dedicated news content panel, but it offers news on individual ticker symbols.
You can find stock-specific news items in the Single Stock Window.
This section lists the latest news reports on the selected stock along with other relevant information.
Obviously, these little tidbits of news can't replace a top-tier financial news website; however, it's a very convenient feature.
You can quickly ascertain the reasons behind a stock's move just by glancing at the full quote window.
It's not exactly a full news feed, but that's not Trade Ideas' real purpose anyway.
The news feature just adds more valuable content to the quote screen, and that's an undeniable positive.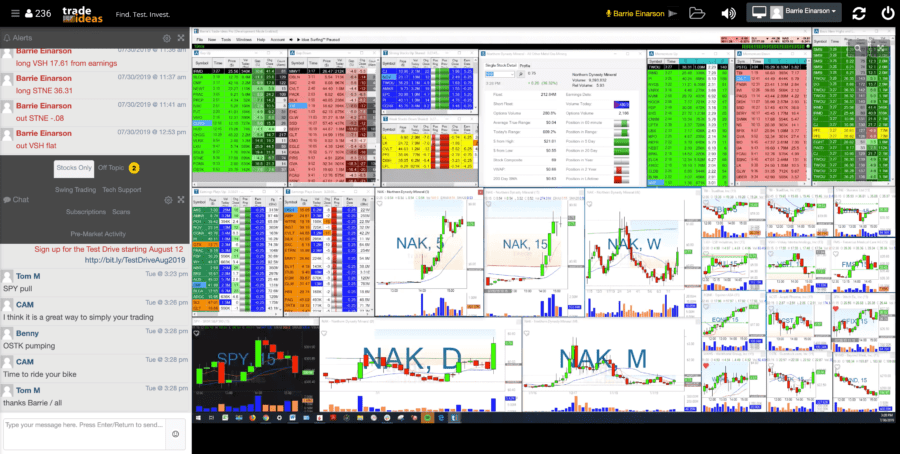 Trade Ideas Investor Education
Trade Ideas also comes with valuable educational tools that can help every trader improve their trading skills and strategy.
Sharpening your investing skills is a lifelong process, so traders of all skill levels can get something out of these valuable resources.
Trade Ideas has dozens of educational videos available on its YouTube channel, and you can find even more helpful guides on its website.
These education resources are very user-friendly and easy to understand, so it won't take long to get a good understanding of how everything works.
Training Webinars
TI subscribers can also access a catalog of on-demand videos and live webinars that cover a variety of investor education topics.
Every week, there are several live webinars to choose from, and traders can access recorded versions at any time.
Trade Ideas University
If you really want to dive into trader education, you need to check out Trade Ideas University.
These video courses provide valuable insights that can help you get the most out of the platform.
If you watch them all, you'll be well on your way to successful trading.
>> Ready To Sign Up for Trade Ideas? Click Here to Get Started <<
Chatroom Review
Active traders might want to consider joining the Trade Ideas chat room where they can share and interact with a community of like-minded traders of all skill levels.
Being an active part of a live trading room can help you vet your techniques and make smarter trades.
The Live Trading Room adds tons of value to a Trade Ideas subscription.
Trade Ideas has Built a Strong Community
You can quickly form trading packs with other day traders and instantly multiply your combined capital firepower.
If that's not for you, you can still get a lot out of the chatroom.
You will discover tons of useful insights just from reading the conversations, even if you don't say a word yourself!
Trade Ideas Review: Broker Integration
Trade Ideas offers integration options with a handful of featured brokers.
Once you connect your brokerage, you can input orders directly from the platform, so you won't have to leave the Trade Ideas to buy stocks.
Trading inside the platform allows you to concentrate on your research and make trades quickly.
It's especially helpful for day traders who have to make split-second decisions.
Can I Use Any Broker With Trade Ideas?
No. In fact, it doesn't work with most brokers.
As of right now, Trade Ideas only integrates with Interactive Brokers and eSignal.
Trade Ideas Membership Options
The Trade Ideas platform sounds great, but what's the price tag?
In this section, our review will cover trade-ideas cost and value.
There's no arguing that this platform offers an incredible stockpile of resources but, for many investors who are trading on a budget, price is important.
Keep reading our Trade Ideas review to find out what's included with each package.
Trade Ideas Standard: Features and Price
Trade Ideas standard includes the following:
The best trade ideas strategies
Real-time Trade Ideas
Simulated trading
View up to 20 charts simultaneously
Chart based visual trade assistant
Monitor up to 500 price alerts
Share up to 10 price alerts
Channel Bar (Curated Workspaces by TI)
Manage your IBKR portfolio in Brokerage Plus
One-click ordering with participating brokers
Easily view active trades with the open positions tab
Access to the Live Trading Room, hosted by Barrie Einarson
Plans come in two different flavors, monthly and annual.
An annual subscription averages out to have a cheaper price than the monthly option, but it costs more upfront.
It costs only $2.90 per day for an annual plan, or you can purchase a monthly plan for only $3.90 a day.
Trade Ideas Pro: Features and Price
You have to upgrade to the premium package Trade Ideas Pro to take advantage of the platform's most advanced features, including:
All the Trade Ideas standard features, plus:
View up to 20 charts simultaneously
TI Holly Artificial Intelligence trading analyst
Entry and exit signals
Oddsmaker risk assessment
Unlimited price alerts
AI Trade assistance chart integration
Trade Idea backtesting
Auto trade your portfolio with Brokerage Plus
For a few extra dollars per day, you can upgrade to Trade Ideas Pro.
The premium plan includes all the standard plan features, plus a host of premium extras.
An annual subscription costs $6.20 per day, and a monthly subscription comes to $7.50.
>> Click here to sign up for a no-risk trial of Trade Idea <<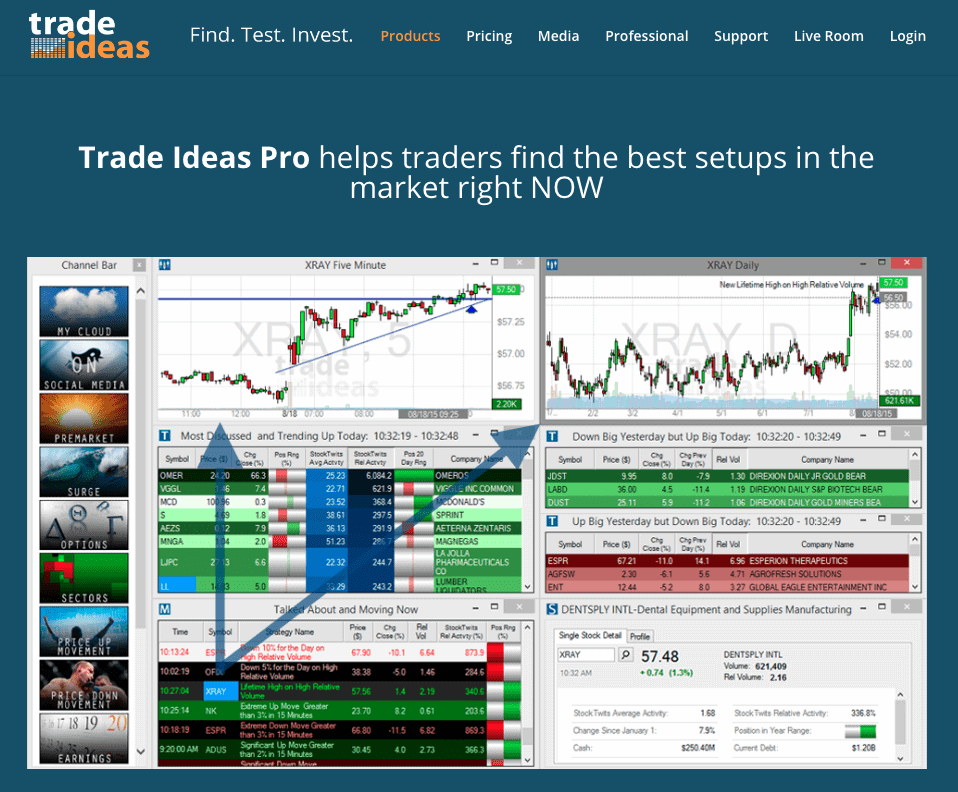 Is Trade Ideas Right for Me?
Trade Ideas offers a suite of exceptional features, so it can obviously benefit any trader, but it's a particularly good option if you fall for the following traders.
Active Traders
The Trade Ideas scanner makes it much easier to find new opportunities in the market.
It will drastically reduce your research time for each trade.
It's a great stock scanner for swing traders, day traders, long-term investors, and everything in between.
Self-Directed Investors
If you manage your own finances, you need the best technology to keep up with The Street.
Trade Ideas Pro gives you access to a treasure trove of powerful services and tools that make it much easier to effectively manage your portfolio.
Pack Hunters
Even retail traders can move stock prices when they team up.
The Trade Ideas chatroom is the perfect place to find like-minded users to link up with.
You can easily find susceptible, low-float stocks with the stock scanner and then build a raiding party in the chat room.
Autopilot Investing
With Trade Ideas Pro, you can link your brokerage account with AI Holly and put your investments on autopilot.
It only works with certain brokers, but it's a game changer for busy adults who want to get more out of the market and don't have time to run a million trading scenarios before committing to a stock.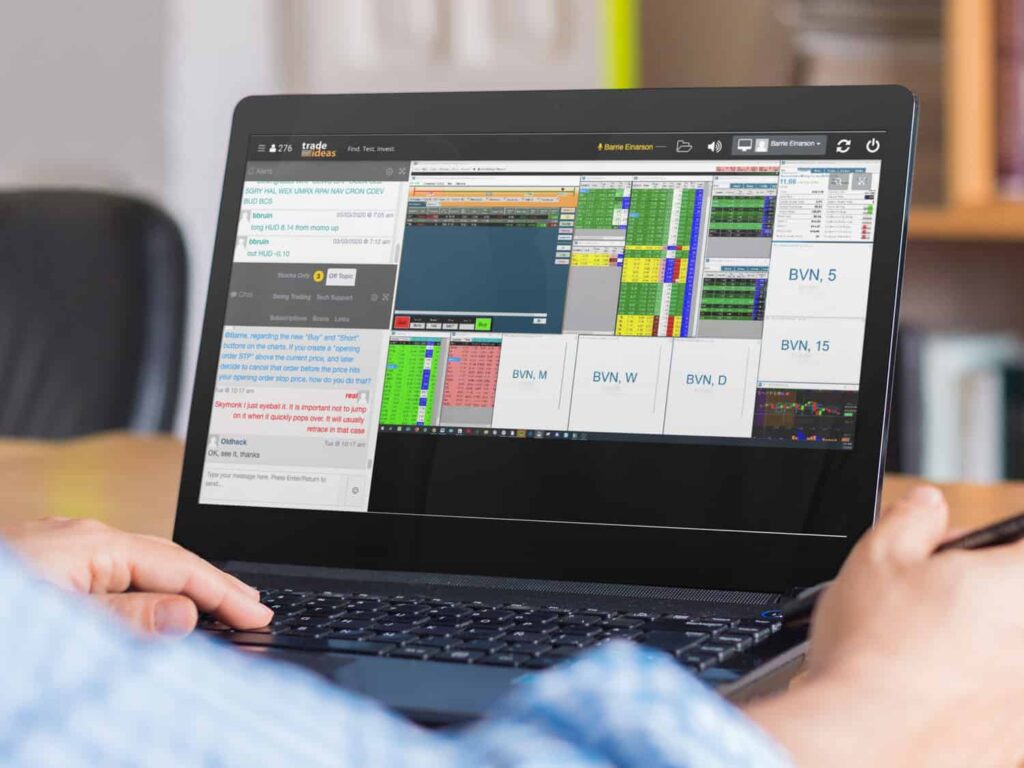 Is Trade Ideas Worth It?
Trade Ideas is one of the top stock screeners on the market.
In fact, calling it a stock screener is a bit of a misnomer because it's so much more: Trade Ideas is an all-inclusive trading and research platform.
Traders can greatly sharpen their skills and master financial markets by using Trade Idea.
Traders of All Types Are Welcome to Try Trade Ideas
It doesn't matter if you're a beginner or a seasoned pro dealing with massive trading volume, this standalone platform offers tremendous value for everyone looking to improve day trading strategies and performance.
A Trade Ideas subscription might seem expensive, but if you use the platform to its full potential, it can easily pay for itself in a matter of days — and this is especially true for day traders.
But, whether you're a day trader or a long-term investor, Trade Ideas is definitely worth the cost of admission.
Trade Ideas Review: Final Verdict
Veteran stock traders understand the importance of accurate and timely research, so a good scanner with features like this is an invaluable resource.
The Trade Ideas software gives you access to:
Chart windows packed with valuable market data
Free trade ideas, scanner trade ideas, free trading room, and live training room recap at the end of the trading day
Backtesting to develop strong strategies
Alert windows and trade signals
Auto trading with a proven AI
It's a great day trading scanner among the many different options you see in the market.
If you're serious about making money in the stock market, you should consider purchasing a subscription to Trade Ideas.
Trade Ideas is a complete package that can help you make better trade across the board.
Give Trade Ideas a try with a free demo account today, and you'll quickly see why it's one of the best stock screeners on the market.
Reminder: Use Trade Ideas Promo Code DORK15 for 15% off of any Trade Ideas Subscription
>> Ready to get started with Trade Ideas? Click here to Join Now! <<