JR Butts is back with an exciting new deal on his Top Stock Advisory research service from Street Authority. This time, he's discovered a unique new opportunity in the space sector, but is it the real deal? Keep reading our Street Authority Top Stock Advisor review to find out the truth.

Top Stock Advisor Review: Overview
Top Stock Advisor is a monthly research newsletter and advisory service by investing guru JR Butts and investment research publisher Street Authority.
This subscription-based research service brings members fresh investment ideas monthly through the Top Stock Advisor newsletter.
According to its profile on the Street Authority website, Top Stock Advisor's goal is to find opportunities for triple and quadruple-digit winners for their members.
The ultimate objective is to help you build the kind of portfolio that you can retire on and pass down for generations to come.
Triple and quadruple gains sure sound good, but does Top Stock Advisor live up to its mission?
We're going to dig deeper to find out, but, first, what's the deal with Top Stock Advisor's frontman, JR Butts.
>> Already sold? Click here to join Top Stock Advisor now <<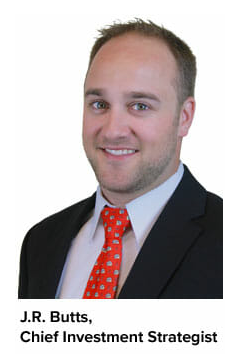 JR Butts Review
JR Butts — also known as Jimmy Butts — is the chief investment analyst for Top Stock Advisor, and, as such, he calls the shots at this monthly advisory service.
Besides his duties with Top Stock Advisor, Butts is also a regular contributor to StreetAuthority Insider.
Before joining Street Authority, he worked as a financial advisor in the financial services and banking industries.
However, Jimmy Butts's expertise isn't limited to financial advisory.
He graduated from Boise State University with a degree in business administration and finance, so he understands business fundamentals and investment markets.
Butts is also a globetrotter.
He spent multiple years studying language, international business, and finance in Germany and Argentina.
Jimmy Butts's resume was impressive enough to earn him several securities licenses, including series 6, 63, 65, and 26.
With a book of credentials like that, Butts seems to be well qualified for his role at Top Stock Advisor.
>> Get instant access to JR Butts' latest research here <<
StreetAuthority Review
Based in Austin, TX, Street Authority is the publisher behind Top Stock Advisor, and the company is as respected and established as the guru leading the service.
Founded back in 2001 by industry veterans, Street Authority is a financial research and publishing division of its parent company, Investing Daily.
StreetAuthority's research services include:
Maximum Profit

— sometimes StreetAuthority users refer to this as "Maximize Income"
It also covers the latest stock market happenings with insights from StreetAuthority's team of experienced analysts.
Street Authority goes a step further than many similar sites, most of which just repurpose the day's stock market news.
Instead, it provides detailed research and unbiased investing ideas.
The firm seems to have earned a reputation for legitimacy over its 20 years track record.
NASDAQ, Dow Jones, Barron's SmartMoney, and more respected financial media outlets have featured StreetAuthority's research over the years.
You can take comfort in the fact that A reputable firm like Street Authority publishes Top Stock Advisor.
Our StreetAuthority.com review found that this site is the real deal, so you can confidently follow their research.
StreetAuthority Reviews
StreetAuthority.com has earned excellent praise online, but it hasn't been reviewed by go-to third-party sites such as Trustpilot or Stock Gumshoe.
That said, Google reviews have a lot of great ratings for this research firm.
See what others have to say:


>> Get onboard with StreetAuthority Top Stock Advisor here <<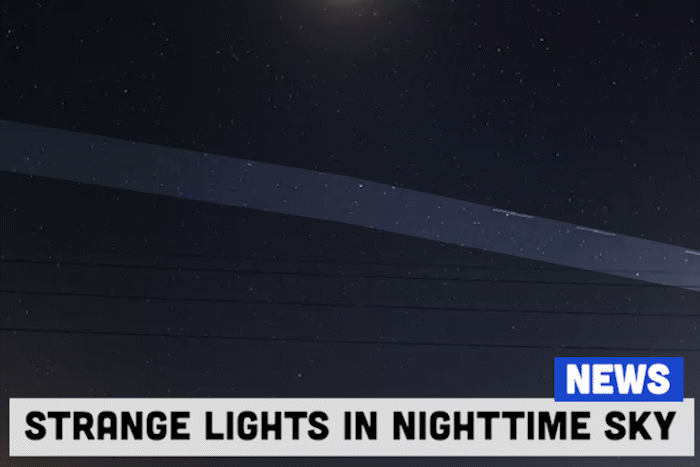 Space-Net's Secret Partner Review
Tesla CEO Elon Musk has been the subject of many headlines over the past few years, but many people are unaware of what could be his most consequential project to date.
Musk is working on a $10 billion project that will use a low-altitude network of breadbox-sized satellites to broadcast high-speed internet signals all over the planet.
Butts calls it "Space-Net", and the implications for this technological breakthrough could be huge.
This cutting-edge service is available anywhere, and it's extremely fast.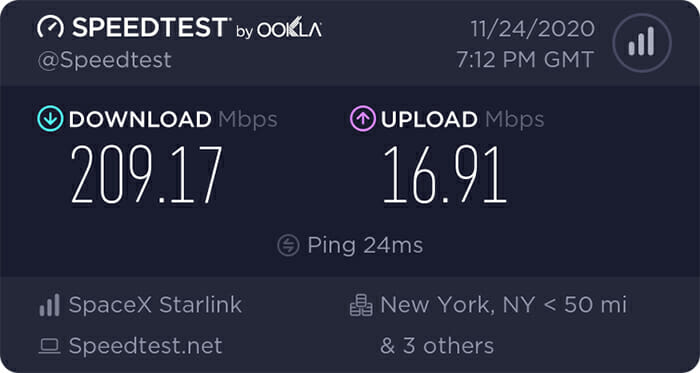 However, you can't buy shares of this privately held company on the open market.
So instead, Jimmy Butts's plan could be the second-best way to get some exposure to this game-changing technology.
Butts has uncovered a back door investment that helps everyday people get in on the ground floor of Musk's epic project.
This small company could be one of Star-Link's biggest suppliers, and it's trading for dirt cheap.
This value trade could provide a rare opportunity to get in on the ground floor of a tech trend disruptor, and, judging by the past, the potential gains could be massive.
>> Get more info on Starlink's secret partner here <<

Other Elon Musk Home Runs
Elon has had several enormous successes in the past.
He's launched several companies that have generated considerable returns for investors since their inception.
His first run-in with success came with one of his early companies, PayPal.
PayPal debuted on the stock market back in 2002 and, since then, it's rocketed to a 4,151% gain.
Next came SpaceX, another private company that's unavailable on the stock market.
Nevertheless, the firm has become a leader in the aerospace sector despite widespread doubt among financial analysts in its early years.
Now, SpaceX's valuation is 531,835% higher than it was when it first opened its doors.
Finally, Elon's most recent success came from the EV sector.
Of course, it's Tesla.
Tesla has been a stock market darling for the past few years, and it's posted enormous gains since its IPO.
A $500 investment in Tesla at its IPO price would be worth $114,585 today.
Imagine what your portfolio would look like with those types of gains?
Clearly, Elon has an enviable track record for stunning successes, and there's a chance that Space Net could be the next chapter in the Elon Musk success story.
Jimmy Butts has put together an entire research report covering this potentially life-changing opportunity, and he includes it free with the latest Top Stock Advisor offer.
We'll cover it in detail in the following section.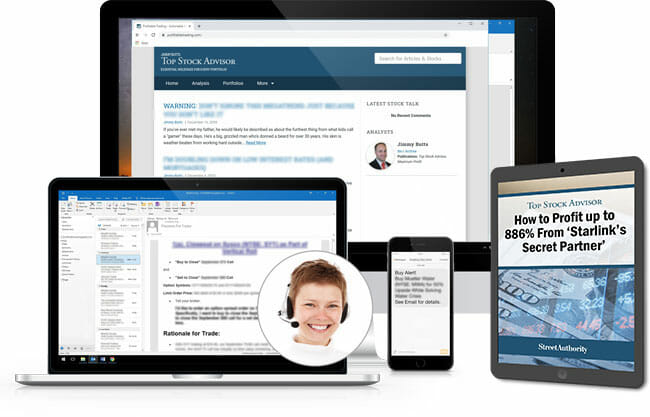 What's Included with Top Stock Advisor?
12 monthly issues of the

Top Stock Advisor

newsletter

Special FLASH alerts

Unlimited members-only access

VIP concierge customer support

How to Profit up to 886% with Starlink's Secret Partner

Retire Rich on the "Tesla of Space" research report

The One Ticket to Profit From the ENTIRE Space Industry

research report

How the Explosion of Smart Devices Can Flood Your Account with Cash

"

Double-Barreled" money-back guarantee
>> Access these Top Stock Advisor perks here <<
Top Stock Advisor Newsletter Review
JR Butts puts out a monthly newsletter for Top Stock Advisor with his most up-to-date research and stock recommendations.
You'll get a new issue every month for an entire year when you sign up.
The newsletter is the backbone of the service, and it serves as a valuable guide for the month-to-month stock market action.
When JR Butts identifies a new high-potential stock, he'll release his findings here along with supporting research and analysis.
Each issue of the newsletter is written in user-friendly terms, so you don't need to be an expert to make an educated decision.
As a result, it's a pleasant, engaging read, and odds are you'll find yourself looking forward to each new issue.
Overall, the Top Stock Advisor newsletter delivers everything you'd expect from a premium research service and then some.
It's a worthwhile read and the primary vehicle for the newest stock picks.
Flash Alerts Review
Top Stock Advisor members receive flash alerts whenever something occurs that could impact their recommended stocks.
When something needs your attention, you'll receive a notification explaining what's going on and how you should respond to it.
The flash alerts help the gap between each monthly issue of the newsletter, so you won't be left out in the cold if something noteworthy happens.
Sometimes, Butts will use flash alerts to announce a new trade opportunity.
Other times, he'll notify you that it's time to take some profits off the table.
Whatever the case, Top Stock Advisor will make sure you stay well informed with new flash alerts whenever it's time to take action.
So you don't need to meticulously track every stock because the flash alerts have got you covered.
Members-Only Access Review
The members-only area of Top Stock Advisor is your leading source for all of JR Butts' most recent and past research.
Here, you can find every issue of the newsletter dating back to the first issue.
You can also browse the special reports archives to find even more research and investment ideas.
Whenever JR Butts puts out new research, you can find it here.
In addition, his most recent special reports are also available through the archives, so you'll always have access to the latest Top Stock Advisor research for as long as you're a member.
You can also access the complete Top Stock Advisor model portfolio through the members-only section of the website.
The model portfolio includes every active recommendation along with pertinent data on each stock.
The members-only area is like a repository for all of Top Stock Advisor's research.
Having all the research in one centralized location allows you to quickly and conveniently access whatever you need without digging through your inbox.
Plus, the archives are a veritable treasure trove of valuable information.
>> Get instant access to the Top Stock Advisor members portal when you join now <<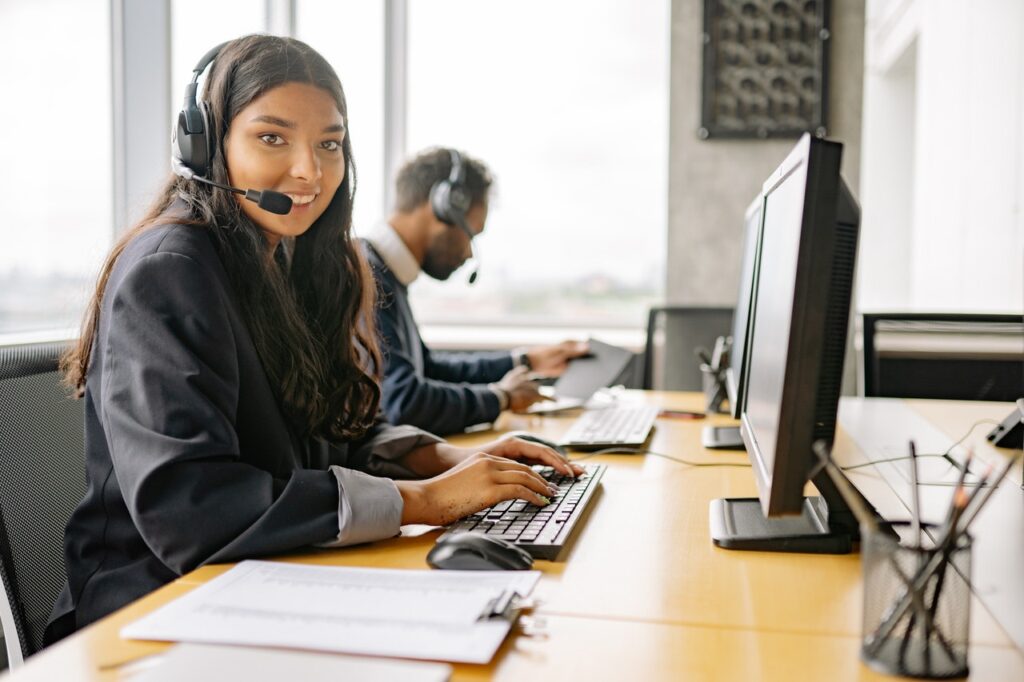 VIP Customer Support Review
Top Stock Advisor has a dedicated customer service team that's available to help address any issues you might have.
The VIP support team is available via phone or email on weekdays from 9 am to 5 pm.
There's not too much to talk about here.
The customer service team provides all the support and courtesy you would expect.
However, it's worth noting that Top Stock Advisor's commitment to customer service goes a bit further than the industry norm.
You can contact them via email or phone, which is a plus.
Some services only have one or the other, so Top Stock Advisor deserves some credit for making their reps incredibly accessible.
Special Reports Reviews:
This deal includes three new bonus reports that you can access as soon as you sign up.
Here's a detailed breakdown of each piece: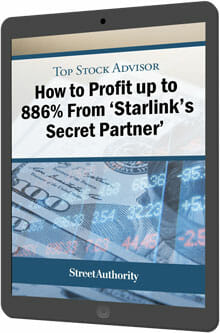 Starlink's Secret Partner Review
Starlink's Secret Partner is Butts's featured report for this deal, and it primarily focuses on the opportunity detailed in the Space-Net's Secret Partner presentation.
The report contains detailed information on Starlinks's "secret partner," including the company's name, ticker symbol, supporting research, and much more.
According to Butts, this opportunity could be massive, so this might be the most critical report in the entire lineup.
Butts estimates this opportunity could drive gains as high as 886%.
You've probably never heard of the stock mentioned in this report, but that's not a bad thing.
Butts has a talent for digging up hidden gems, and this tiny firm could grow in leaps and bounds if it starts getting mainstream attention.
As a significant supplier of Musk's Starlink program, this stock could have significant growth potential.
This stock tip adds a lot of value to the package, and the report is jam-packed with valuable info.
>> Get the full report on Starlink's secret partner here <<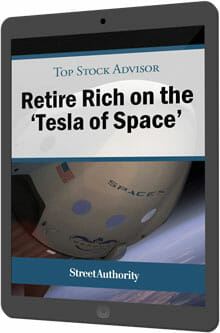 Retire Rich on the "Tesla of Space" Review
Starlink isn't the only company making headway in the space sector.
This company could revolutionize space travel by taking everyday people into orbit for a once-in-a-lifetime experience.
Some of the world's most prominent investors have already poured millions into this company, and the firm has made tremendous progress over the next few years.
Now, the company could be on the verge of finally realizing its dream.
It could soon begin operations and, when it does, the stock could skyrocket to record highs.
This report includes a complete breakdown of the "Tesla of Space", along with a detailed trading blueprint and much more.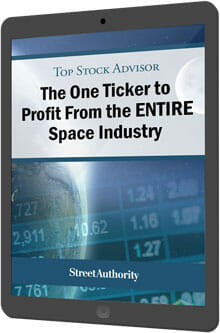 The One Ticket to Profit From the ENTIRE Space Industry Review
The space sector has become a hot topic in 2021.
Investors are eager to get a piece of this high-growth market, and the demand could send several tiny, up-and-coming stocks soaring over the next few years.
Billions of dollars could flow into the space sector over the next few years, and Butts has a strategy for tapping into this massive pool of capital with just one stock.
In this report, Butts reveals his top stock in the rapidly growing space sector and outlines a step-by-step plan for taking advantage of this potential high-growth opportunity.
This stock is already starting to get some attention from major financial news outlets like CNBC.
It's still reasonably cheap, but it could explode soon as the hype around the space sector continues to build.
>> Access this top space stock report here <<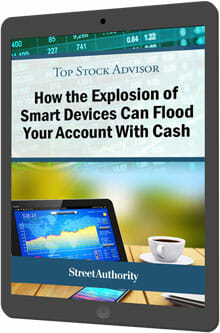 How the Explosion of Smart Devices Can Flood Your Account with Cash Review
This special report focuses on an entirely different tech megatrend, smart devices.
IoT stocks have been a buzzword on Wall Street for years, but with 5G technology advancing rapidly, this sector could be entering a new era of explosive growth.
Butts isn't the only one forecasting significant gains in this sector.
Business Insider called this opportunity "the next tech megatrend", and many analysts believe the outlook is bright for this sector.
Consumers could spend billions of dollars on next-gen smart devices in the coming years, which could translate to massive gains for early investors.
Companies that can capture even a small piece of market share could see their earnings explode as the trend hits full speed.
This report includes three top smart device stocks that could capitalize on the expected growth in the IoT market.
Butts believes these stocks are in the best position to skyrocket from this looming megatrend.
His smart device research is insightful and meticulous.
Moreover, these three stocks look like attractive long-term growth plays, so this report adds a lot of value to this membership deal.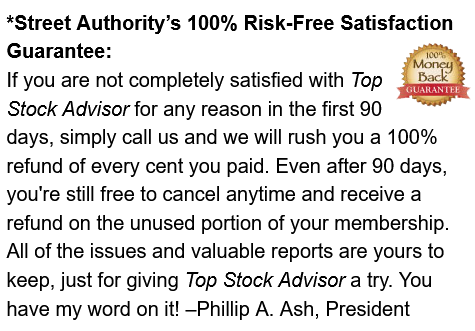 Money-Back Guarantee Review
Jimmy Butts' "double-barrel guarantee" is included with every new membership, and it guarantees your satisfaction with your purchase for the first 90 days.
You have a full three months to try out the service and, if you don't like it, you're entitled to a full, cash-back refund, as long as you request during the 90-day guarantee period.
However, Butts takes it a step further than most.
If you decide you're not satisfied after the 90-day guarantee period passes, you can still get a prorated refund for the remainder of your unused subscription.
Many research services offer money-back guarantees, but Top Stock Advisor's policy blows most of its competitors out of the water.
The most common guarantee we've seen only covers 30 days, but JR Butts goes the extra mile with his "double-barreled" guarantee.
The 90-day guarantee term is three times longer than what most newsletters offer.
Better yet, you can still get a partial refund after the initial guarantee expires.
Most services can't touch a guarantee like that.
Top Stock Advisor's lengthy 90-day refund period gives you plenty of time to try out the service, and the prorated refund option gives you even more flexibility.
As a result, we give this service an A rating in this category.
>> Take advantage of Top Stock Advisor's iron-clad guarantee here <<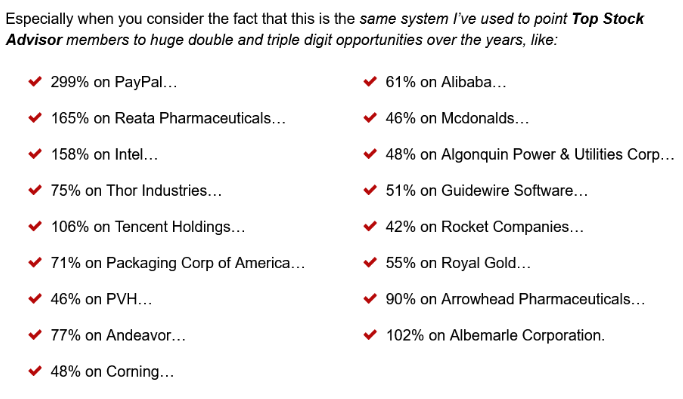 Top Stock Advisor Review: Track Record
JR Butts has a sharp eye for stocks, and he's made many successful calls over the years.
Many of those successful calls went on to notch double or even triple-digit gains.
Butts used the same system with Top Stock Advisor to pinpoint more than a dozen big winners in recent years.
Here's a clip from JR Butts's Space-Net's Secret Supplier presentation showcasing some examples of where the Top Stock Advisor strategy may have paid off in the past:
As you can see, this is an impressive roundup of gains.
Of course, many investors would be thrilled to see these kinds of gains in their portfolios.
If this lineup of winners is any indication, JR Butts isn't just blowing smoke.
He knows what he's doing, and his system has proven to be very effective in the past.
Of course, you can't expect every pick to be a winner, and this example doesn't claim to show his complete stock-picking record.
However, it's still a testament to JR's stock-picking prowess.
>> Join Top Stock Advisor to access cutting-edge research now <<
Pros and Cons of Top Stock Advisor
Nobody's perfect, and Top Stock Advisor is no exception.
Here are the best and worst points about the service.
Pros
Affordably priced

Excellent 90-day money-back guarantee policy

Eligible for a prorated refund after the guarantee expires

Includes three special reports with a total of six additional stock picks

Experienced and qualified guru in JR Butts

Full access to the

Top Stock Advisor

model portfolio

Extensive member's archive with past newsletters and special reports

Bonus research focuses on high-growth sectors

Utilizes a proven stock-picking system

Regular

Flash Alerts

to keep you informed between newsletters.
Cons
No options or short recommendations

Doesn't have chat rooms, message boards, or other social features
Top Stock Advisor Reviews by Members
We searched Trustpilot and Investimonials to dig up some member testimonials for Top Stock Advisor, but we came up dry.
We couldn't find any other verifiable Top Stock Advisor reviews online, but we pulled a few examples from the Top Stock Advisor presentation to give you some background.
Here are some Top Stock Advisor reviews from members:



The results reported in these reviews might not be typical, but they still shed some light on Top Stock Advisor's potential benefits.
These people had positive experiences with the service, and we couldn't find any complaints or other red flags that would cast doubt on their claims.
Members appear to be generally satisfied by the service, or we would've been able to find some negative press online.
So with that in mind, it's safe to assume the general sentiment towards Top Stock Advisor is positive.
>> Signup for Top Stock Advisor and join these successful members here <<
Is Top Stock Advisor Right for Me?
Top Stock Advisor appeals to a broad audience, but it's a particularly good fit for these purposes:
Disruptive Tech
JR Butts' latest presentation includes extensive research on some of the day's hottest investing trends, including space and IoT stocks.
Butts has an eye for up-and-coming tech stocks, and he's had success identifying many opportunities in the past.
High-Growth
Top Stock Advisor aims for stocks with excellent growth potential.
It favors stocks that have the potential to post double or triple-digit gains, so many of the service's recommendations have outstanding growth attributes.
These high growth rates can help you get the most out of the market.
Space Stocks
The bonus reports included with this deal include two space stocks with excellent growth potential.
Butts believes the space sector could see some serious growth, so you might get more picks in this category in the future.
If you're bullish on space companies, Top Stock Advisor is a good fit.
How Much Does Top Stock Advisor Cost?
Top Stock Advisor offers two different membership packages with varying term lengths.
The entry-level package includes one year of Top Stock Advisor for $39, and it comes with all the bonuses mentioned in this report.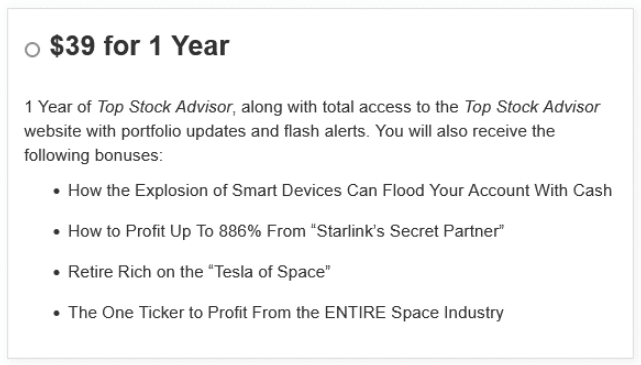 If you decide to upgrade to a two-year deal, you get even more:
The two-year membership costs $78, which is the same annual rate as the one-year deal.
However, it comes with two additional bonus research reports: 3 Biden-Proof Stocks Destined to Soar Now and Three Undercover Stocks for 10x Gains.
In total, these bonus reports add six more stock picks to the mix, but you have to upgrade to the two-year deal to access these bonus reports.
>> Click here to sign up for Top Stock Advisor now <<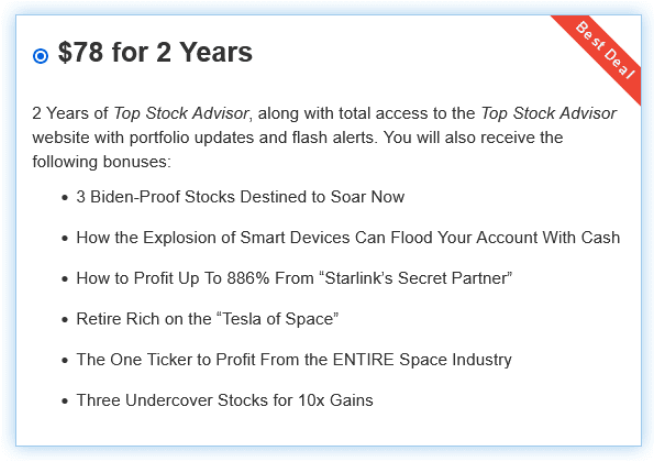 Is Top Stock Advisor Worth It?
Top Stock Advisor is an excellent value at just $39 per year.
It offers everything you would expect from a professional-grade research service, and it does it at a fraction of the price.
The reports include a total of six additional stock picks, and you can access them as soon as you sign up.
With a monthly newsletter and weekly alerts, you'll always be in the know about the latest stock market news.
Plus, you can always check in on the model portfolio to get a bird's-eye view of the Top Stock Advisor portfolio.
When you top it all off with an excellent, 90-day money-back guarantee, you have one heck of a value.
Top Stock Advisor might not be the most well-known name in the research business, but they sure give you a lot of value for your dollar.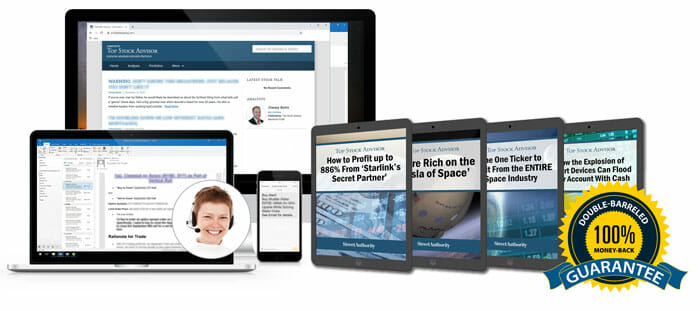 StreetAuthority.com Top Stock Advisor Review: Final Verdict
After a thorough Top Stock Advisor review, we've come to our final verdict.
Overall, we give this service high marks.
It's an excellent value at just $39 per year, and it has one of the best guarantees in the business.
JR Butts's insights into the space sector are worth the cost of admission by themselves.
However, you have a genuine bargain when you factor in the 12 monthly newsletters and other bonuses.
The price is low enough that the service is accessible to just about anyone.
In addition, membership includes access to tons of additional research through the included bonus reports and the reports archives.
If you're still unsure, remember, you have the protection of JR Butts's "double-barreled" satisfaction guarantee.
Top Stock Advisor seems like a hidden gem among the crowded retail research market.
It offers tons of dollar-for-dollar value and an unprecedented promise of quality through its money-back guarantee.
With JR Butts's insights, you're well equipped to take on the space sector and other promising trends.
Top Stock Advisor delivers everything you need for stock market success and more.
>> That's it for our StreetAuthority Top Stock Advisor review. Join here for just $39 <<