Andrew Keene is back with a new advisory service that's generating a tremendous online buzz. Get the full story on his 1-Hour Trading Blueprint in my Andrew Keene Trade Kings review.

What is Andrew Keene's Trade Kings?
Andrew Keene's Trade Kings is a research service focusing on high-octane options trading and other growth-driven investment strategies.
Trade Kings also incorporates in-depth coaching and guidance that are usually not included with similar services in this price bracket.
The service features a live trade room, access to top trading coaches, and other educational resources that can help members drastically improve their trading skills.
For a limited time, Keene is offering especially valuable bonus resources as part of his 1-Hour Trading Blueprint deal, including a steep discount on a one-year subscription to Trade Kings.
I'm going to cover all the ins and outs of this jam-packed investing bundle in my Trade Kings review, so stay tuned.
But first, let's take a closer look at the man behind Trade Kings, Andrew Keene.
>> Ready to get started? Click here to save 87% on Andrew Keene's Trade Kings <<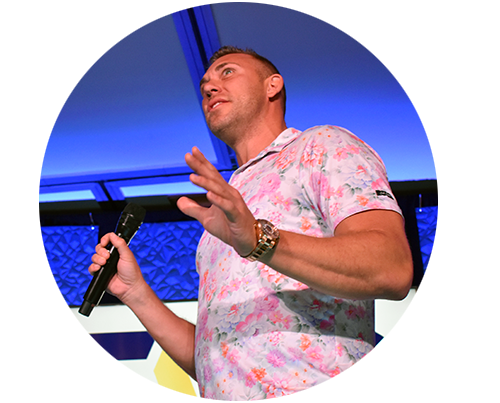 Who is Andrew Keene?
Andrew Keene is a former Chicago Board Options Exchange floor trader and the lead analyst for Trade Kings.
Keene got his start as a clerk at the Chicago Board Options Exchange and graduated to floor trader just nine months after getting started.
As a floor trader, he quickly gained a reputation for being one of the fastest traders in the world to "make a market," and great success soon followed.
Keene had dozens of noteworthy achievements over the course of his career, but he is best known for making a whopping $5 million during the peak of the 2007-2008 Financial Crisis.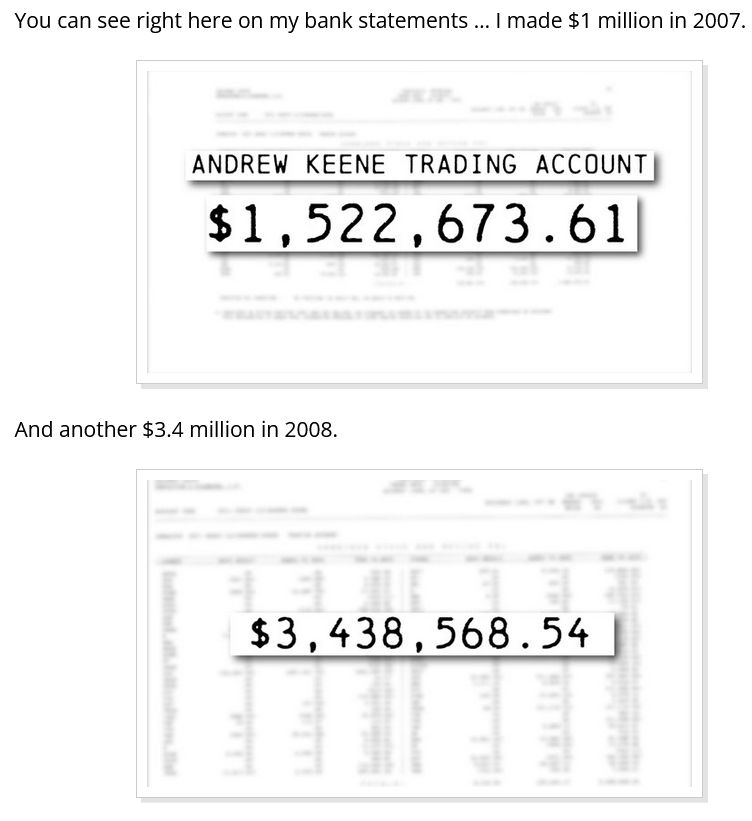 Years later, computer-based trading eventually replaced the old school trading pits, and floor traders soon became unnecessary as automated tech took over the role.
However, Keene saw potential in the old style floor forums, and used his floor trading experience as inspiration to develop his very own all-digital online trading pit.
The idea eventually blossomed into the hallmark of Keene's career, and he refined the concept into one of the world's first live, online trade rooms.
Today, Keene makes regular appearances in the online trading pit and showcases many of the same options trading techniques that helped him make millions at the CBOE.
Keene's commitment to one-on-one interaction and investor education has made him a favorite among his followers, and Trade Kings is the latest iteration to incorporate his time tested principles.
>> Join Trade Kings Now to Access Andrew Keene's Latest Research <<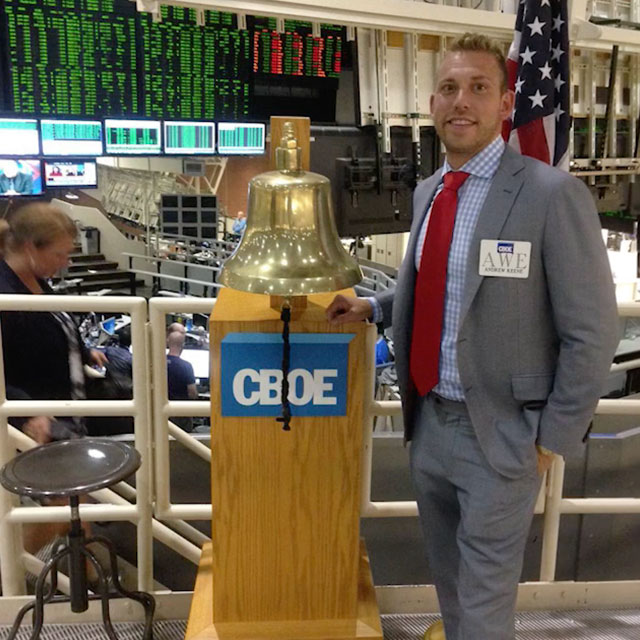 Andrew Keene Review: Is He Legit?
Keene has amassed more than his fair share of investing credentials over the years, and his accomplishments dwarf those of many competing gurus.
He is the author of a popular investing book, Keene on the Markets: Trade to Win Using Unusual Options Activity, Volatility, and Earnings.
Keene also makes regular appearances on some of the most prominent financial news outlets in the western world, including Fox Business News, CNBC, Bloomberg TV, and Business Insider.
He's also the author of another premium Banyan Hill Publishing offering, Super Options!, where he shares more hand-picked trade recommendations with subscribers.
I always get questions about how much certain gurus are worth. We don't have any data on Andrew Keene's net worth, but safe to assume he is doing well for himself.
So, is Andrew Keene legit? I say yes, certainly. His investment experience alone is impressive, and his frequent TV appearances show he has Wall Street's respect.
Andrew Keene is an insightful analyst with a long track record of winning investments. He's one of the best options trading gurus around.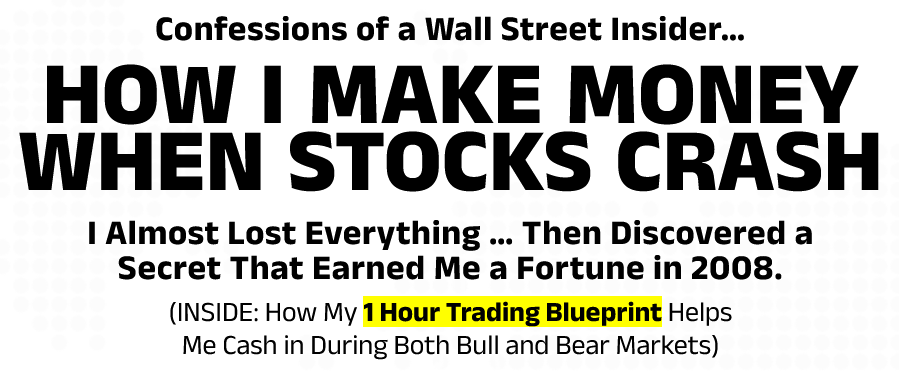 Trade Kings Review: How I Make Money When Stocks Crash
In his latest presentation for Trade Kings, Andrew Keene showcases his most effective bear market trading strategies and resources that can help you put them to work in your portfolio.
It all starts with Keene's 1-Hour Trading Blueprint. This cutting-edge options trading strategy can generate jaw-dropping gains in as little as 60 minutes.
I had a hard time believing Keene's system could live up to the hype when I first heard about it, but I quickly changed my tune once I saw some of the results.
Keene's 1-Hour Trading Blueprint could be the most revolutionary options trading service to hit the stock market in years, and we're going to break it all down, next, in my Trade Kings review.
>> See How Andrew Keene Beats the Market Here <<
Andrew Keene's 1-Hour Trading Blueprint
The 1-Hour Trading Blueprint is designed to accomplish one simple goal: help traders generate big gains in any market, and it utilizes many of the same principles that helped make Andrew Keene an investing legend.
In 2007, Keene stumbled upon a game-changing investing secret. Little did he know, it would help him become a multimillionaire before he reached 30.
Keene quickly realized that his newly-discovered secret could help him capture enormous profits in scenarios where other investors lost as much as 50%.
He calls it "wiretapping," and the strategy has become the signature element in Keene's options trading repertoire.
A deluge of success followed Keene soon after his breakthrough discover, and he's spent the last 20 years using his insights to educate traders across the globe.
But now, he's giving traders a rare glimpse at the inner workings of his personal options trading strategies, and the actual results surpass even the wildest expectations.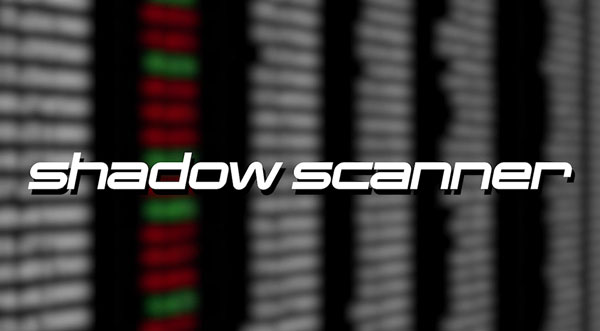 How does the 1-Hour Trading Blueprint Work?
Keene leveraged two-plus decades of investing experience to build an easy-to-use approach for members seeking to replicate the same strategies that made him a successful trader.
The end result of his efforts is the revolutionary 1-Hour Trading Blueprint, and he's opening it up to the public for the first time ever in this special presentation.
The blueprint is built upon one of Wall Street's oldest adages, "follow the Smart Money."
Keene uses his tried and true "wiretapping" strategy to "see" what trades Wall Street Insiders are making as soon as they make them, so he can see the "Smart Money's" biggest moves before the rest of the public catches wind.
He's built a specialized scanning tool called "Shadow Scanner" that analyzes thousands of stocks for signs of unusual activity. It's purpose-built to identify emerging opportunities, and Keene's recent track record is a strong endorsement of its effectiveness.
During the peak of the Financial Crisis, Keene used these very same techniques to turn a $3.4 million profit in 2007 and a $1.6 million profit in 2008.
This seemingly simple technique has delivered huge windfalls for Keene, and it can work for everyday folks like you too.
>> Join Trade Kings to Start Trading with the 1-Hour Trading Blueprint Now <<
How to Get Started
The 1-Hour Trading Blueprint is the key to hitting the ground running with Keene's groundbreaking trading strategy.
He designed the 1-Hour Trading Blueprint to provide a fast-and-easy crash course in his "wiretapping" trading techniques, so readers can quickly put it to work for themselves.
You can get instant access to the complete course when you sign up for a trial subscription to Keene's Trade Kings service.
You'll get everything you need to master the 1-Hour Trading Blueprint, plus tons of bonuses and a steep discount on your first year of Trade Kings if you decide to stick with the service.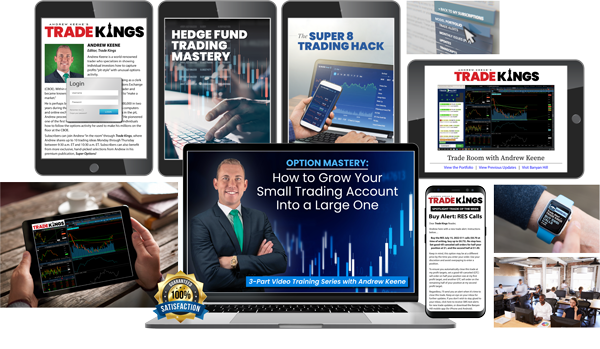 What Comes with Trade Kings: 1-Hour Trading Blueprint Deal?
So, what else comes with the Andrew Keene's 1-Hour Trading Blueprint deal? We'll cover that next in my Trade Kings review.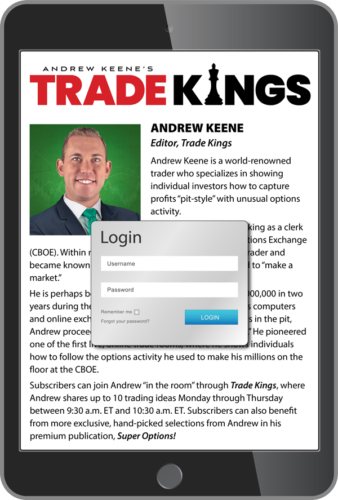 One-Year Subscription to Andrew Keene's Trade Kings
You'll get a one-year subscription to Andrew Keene's Trade Kings at a shocking 84% discount under the current deal.
If you decide it's not for you, you can get a full refund of your purchase price with no questions asked thanks to Keene's 60-day 100% money-back guarantee.
Either way, you get to keep the 1-Hour Trading Blueprint bonuses as a thanks for giving Trade Kings a shot.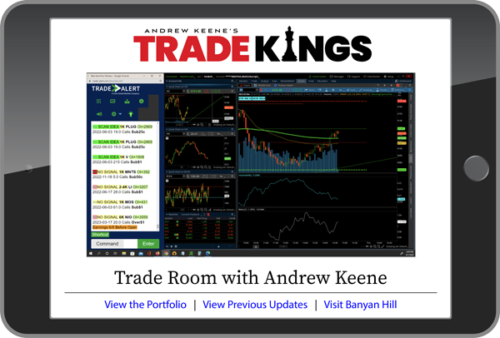 Trade Kings LIVE Trading Room
Your subscription to Trade Kings includes unlimited access to Andrew Keene's live trading room, where you can connect directly with Keene and his team.
It doesn't matter if you're a novice or an experienced trader. You're almost certain to pick up some valuable trading insights in this live online chat room.
The chat room is a great place to discuss trade strategies, stock picks, market-moving news, and more with a diverse group of like-minded users.
Recordings of the live trading sessions are also available in case you can't attend one of the calls, so you'll never miss out on the action.
Live Coaching Sessions
Keene and his team regularly host coaching sessions to help subscribers get the most out of their Trade Kings membership.
Every day at noon and 3 p.m. ET, Keene's team joins the live trading chat and makes themselves available for general questions and guidance.
To be clear, the Trade Kings team cannot and will not provide personalized financial advice. Nonetheless, you can still garner valuable knowledge from their investing insights.
The live coaching sessions give users a rare opportunity to pick the brains of true trading experts, and their insights are a valuable resource for traders of all experience and skill levels.
Spotlight Trade of the Week
Keene watches the market closely to identify high-potential opportunities, and he shares the highest-potential trades with his followers every week.
Each week, Keene will send an official trade recommendation via email, and you can also receive notifications through the mobile app and text message.
You'll have new trade ideas to explore every week with Keene's spotlight trade of the week, so you'll have plenty of stock picks to explore over the course of your one-year subscription.
>> Sign Up Now for Instant Access to Trade Kings Member Perks <<
Andrew Keene's 1-Hour Trading Blueprint Bonus Resources
This bundle also includes several special reports and other resources. Here's what you get when you sign up.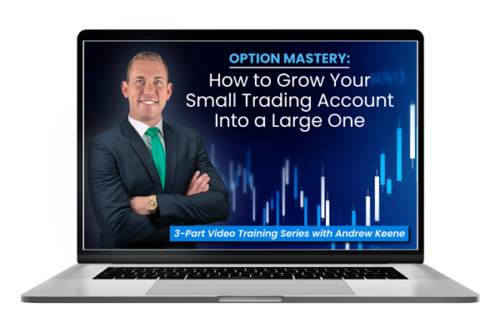 Options Kings: How to Grow Your Small Trading Account Into a Large One
This three-part video series provides a fast-and-simple crash course on Andrew Keene's 1-Hour Trading Blueprint, and it's the featured resource in this limited-time deal.
Keene's instructional videos are entertaining and easy to follow. By the time you finish the course, you'll have a complete understanding of Keene's cutting-edge trading strategy.
You'll be fully equipped to start trading options with the info you learn in this course, regardless of whether you're a novice or more experienced.
>> Get Andrew Keene's Option Mastery Video Series When You Join Now! <<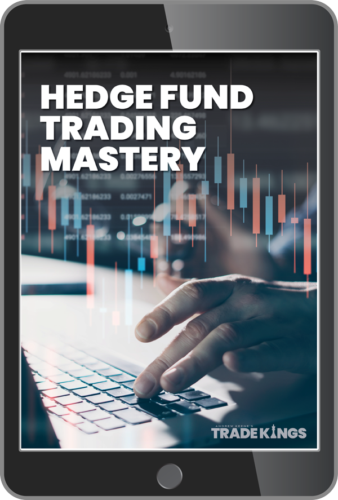 Hedge Fund Trading Mastery
In this special report, Keen takes you through his trading methodology from top to bottom, including details on Wall Street's most effective trading tricks.
You'll learn how you can follow the Smart Money by tracking the moves made by hedge funds, executives, and other market insides the moment they buy.
Institutional investors have enormous resources, including some of the best analysts on the planet, so you can benefit greatly by riding their coattails.
You can quickly master Wall Street trading tricks and put them to work in your own portfolio with this report. Better yet, it will help you get the most out of your Trade Kings membership.
>> Learn How Hedge Funds Generate Massive Gains With This Special Report <<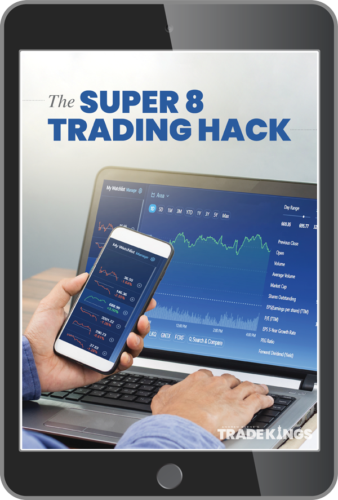 The Super 8 Trading Hack
Keene has discovered a strange stock market anomaly that can deliver massive windfalls to anyone who can take advantage of it.
He found that there are eight trading days in every month when the market consistently gains harder and faster than any other day, and he built a strategy to capitalize on the phenomenon.
The Super 8 Trading Hack includes a step-by-step walkthrough for putting this mind-blowing strategy to work, plus other valuable trading secrets.
>> Join Trade Kings Now for Instant Access to The Super 8 Trading Hack <<
Additional Bonuses
Your Trade Kings subscription also includes a couple of more bonus goodies.
US-Based Customer Care
Trade Kings members have access to a top-tier customer service team based right here in the US, and they're available to respond to any questions or issues you have with your subscription.
If you ever have a problem, you can rest assured that you can get the help you need quickly and efficiently by reaching out to the service's talented customer support team.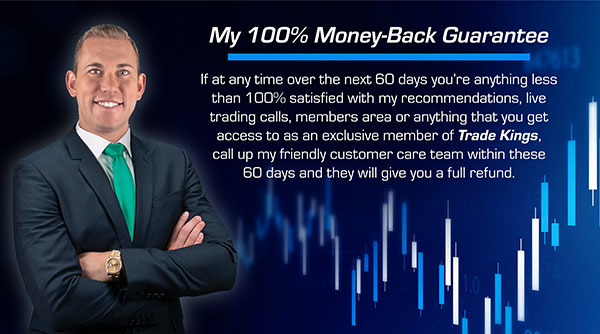 100% Money-Back Guarantee
Each Trade Kings subscription comes covered with a robust 60-day money-back guarantee. If you're not satisfied for any reason, you can get a 100% cash refund on your subscription cost.
That's roughly double what many entry-level competitors offer, if they offer a guarantee at all, and there's virtually no fine print.
Trade Kings' no-questions-asked money-back guarantee shows Keene stands by his product, and it gives new members tremendous peace of mind.
Pros and Cons of Andrew Keene's Trade Kings
Trade Kings is great, but nobody's perfect. Here are the pros and cons of Andrew Keene's Trade Kings:
Pros
Andrew's Spotlight Trade of the Week, featuring Keene's trade recommendations
Access to top trading coaches and fellow members
Unlimited access to the Live Trade Room
Recordings of Live Trade Room sessions
Trade alerts via email, text, or mobile app
One year of Trade Kings advisory service at an 84% discount
Full access to the Trade Kings model portfolio
Options Kings 3-part video series
Two valuable bonus reports included free
US-based customer support team
100% 60-day money-back guarantee
Multiple pricing options available
Talented lead guru in Andrew Keene
In-depth educational resources for options trading
Cons
Options trading can be difficult for beginners
>> Enjoy These Perks and More When You Join Trade Kings <<
Andrew Keene Trade Kings Track Record
Keene's trading projects have pinpointed many noteworthy winners over the years.
He can't share his latest picks out of respect for his paying members, but here are a few of his recent greatest hits: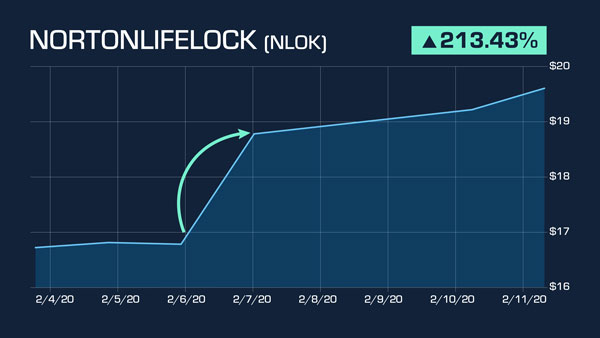 Keene's followers had the chance at a 213% gain in just one day trading NLOK.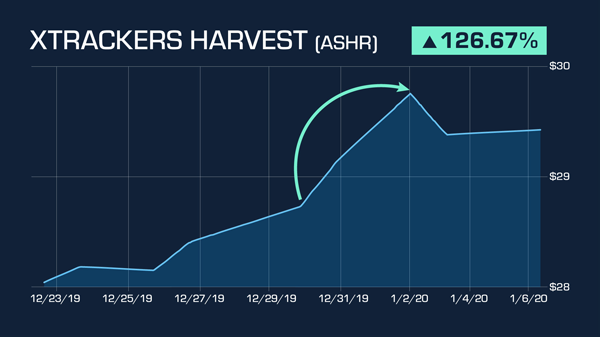 Followers could have tapped into a 126% on this ETF tracking China stocks in just three days if they listened to Keene's recommendation.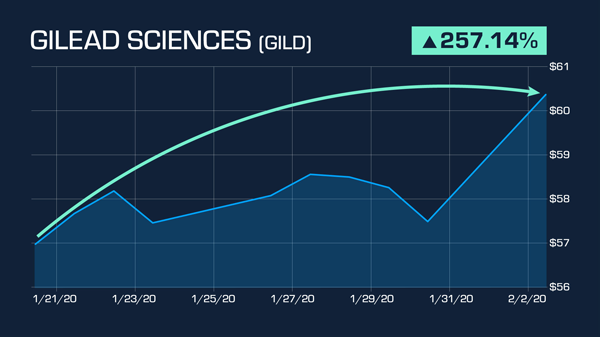 GILD gave members a chance at a 257% return in just over a week after Keene made his call.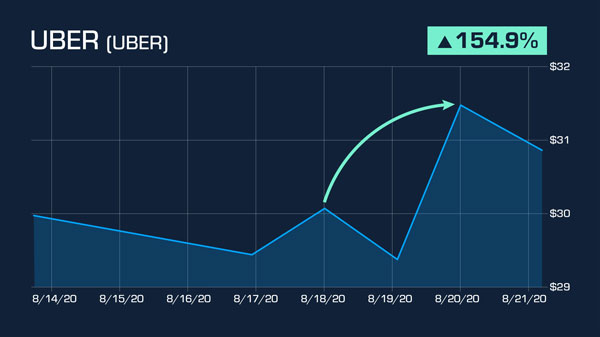 Keene's UBER recommendation shot up 154% in just two days.
If you want to go even further back, we can look at Keene's performance during what was arguably the worst Financial Crisis in modern history.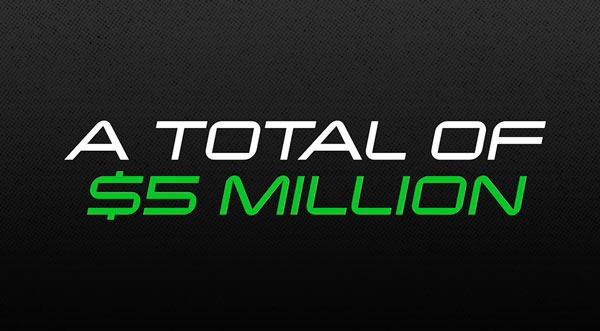 From 2007-2008, during the peak of the Financial Crisis, Keene generated a whopping $5 million return with his trading strategies. That's incredibly impressive.
The Power of Options
These gains may seem hard to believe at first, but this performance is very possible with the power of options. Let's take a closer look at the Uber trade as an example.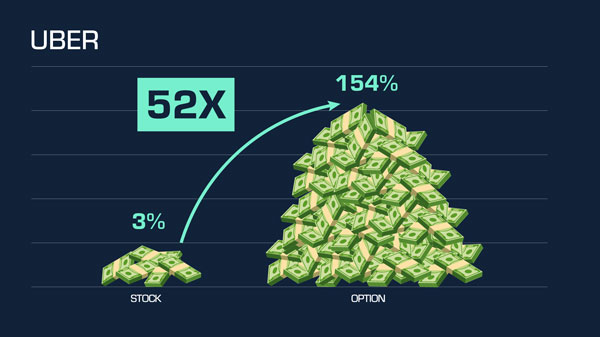 During the time frame shown in the chart above, common shares of UBER stock went up just 3%, but Keene's follows could've seen much larger gains thanks to his options techniques.
Keene's options strategy gave members the opportunity to earn 52X more than they would've by simply trading the stock.
Options are extremely powerful trading tools, and Andrew Keene's Trade Kings is built from the ground up to help you take advantage of their life-changing return potential.
>> Get More Great Trade Ideas Like These with Andrew Keen's Trade Kings <<
Andrew Keene's Trade Kings Reviews
Andrew Keene's followers have seen great results with his options trade ideas. Here are some of the most notable testimonials:
That's an impressive collection of positive feedback from real people. Results like that are hard to argue with, but let's take a closer look into some Trade Kings users and their successes.
>> Get Started Now to Join These Satisfied Trade Kings Members <<
Trade Kings User Success Stories
Here are some notable examples of successful member trades based on trade ideas from Andrew Keene.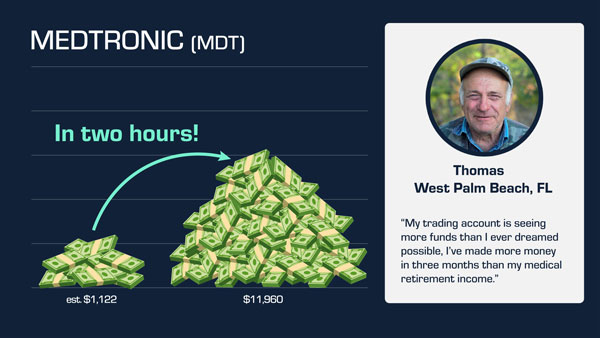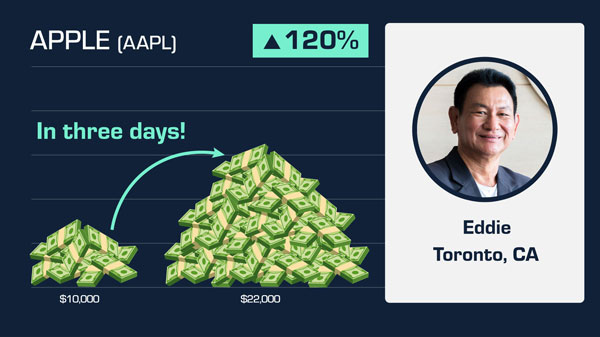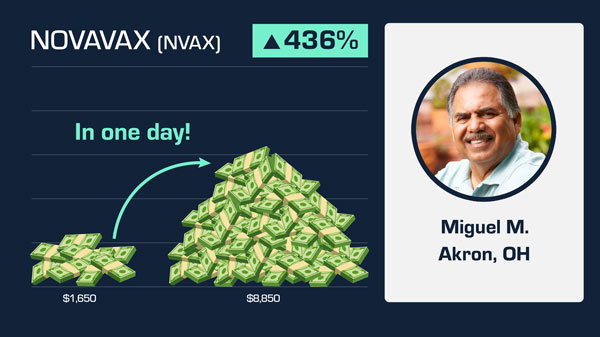 We rarely see a guru provide such in-depth information regarding member results, feedback, and performance.
Trade Kings gets a lot of credit in this department. Keene is doing something right, and his successful trade ideas has earned him widespread respect among his followers.
>> Join Now to See What Trade Kings Can Do For YOU <<
How Much is Andrew Keene's Trade Kings?
You can choose from several pricing options when you purchase a Trade Kings subscription under the current deal.
Standard
The standard tier includes a one-year subscription to Trade Kings, plus access to Keene's weekly spotlight trade ideas and all the 1-Hour Trading Blueprint bonuses.
It costs just $99 for the year. However, you don't get access to the live trading room with this package. It's the cheapest option, but you'll miss out on the live trade room.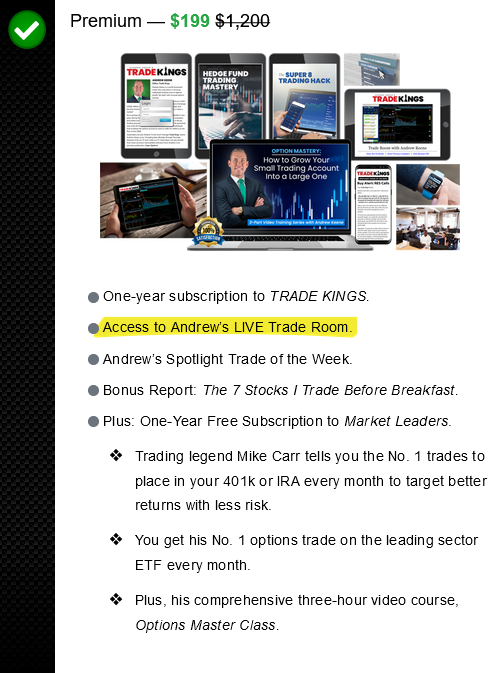 Premium (BEST DEAL)
A premium Trade Kings subscription includes everything covered in this review, including unlimited access to the live trading room, at an unbelievable 87% discount.
Typically, a premium membership costs $1,200 per year, but you'll pay just $199 under this limited-time deal.
In addition to the resources covered in this review, you'll also get the following bonus extras exclusively for Platinum members.
Bonus Report: The 7 Stocks I Trade Before Breakfast
Free one-year bonus subscription to Mike Carr's Market Leaders, including:

Monthly stock picks
Carr's No. 1 options trade every month
Comprehensive three-hour Options Master Class.
Deluxe (Lifetime Membership)
If you're ready to go all-in on Trade Kings, this is the package for you. It gives you lifetime access to Trade Kings plus everything included in the platinum package, for $5,000.
>> Join Trade Kings Now for as little as $99! <<
Alternatives to Trade Kings
Trade Kings is an excellent newsletter. However, there are alternatives worth considering.
Some of these services tackle different niches, which could complement Trade Kings and add even more diversity to your portfolio.
If you're in the market for multiple research products, these alternative services might also be a good fit.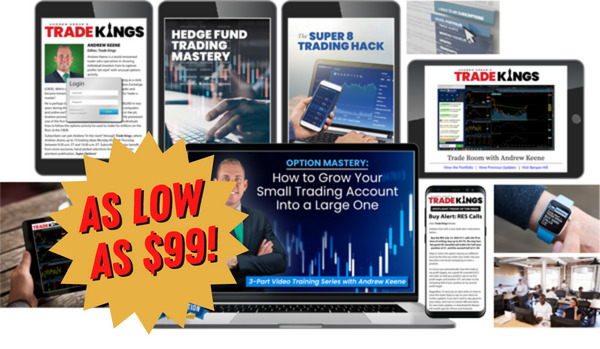 Is Andrew Keene's Trade Kings Worth It?
Andrew Keene's Trade Kings is a promising service that has delivered amazing results over the years. Both Keene and his members have seen excellent results with his trade ideas.
This service is always worth the cost of admission, but it's a mind-blowing deal under the 1-Hour Trading Blueprint bundle, which includes a whopping 87% discount on a Platinum membership.
Keene's options techniques have demonstrated their effectiveness time and time again over the years, and this package has everything you need to utilize them effectively.
The most attractive part about Keene's approach is that it has the potential to work incredibly fast. Member testimonials note seeing huge gains in as little as one hour.
This deal includes an in-depth video course, special research reports, and tons of other bonuses, plus weekly trade ideas from Andrew Keen, LIVE trading room access, and more.
The research alone more than justifies the cost, but, when you factor in the live trading room with direct access to Andrew Keene and top trading coaches, this bundle is an absolute steal.
Direct access to trading experts, new options picks every week, in-depth education, coaching, and research with an 87% discount and an airtight 60-day guarantee.
I am blow away by this deal. You get so much bang for your buck that it's hard to see how you can lose here. I highly recommend you take advantage of this Andrew Keene's Trade Kings deal.
>> Join Trade Kings today to lock in your 87% discount! <<